1. Create an HTML email signature
2. Design your email signature in Photoshop or any other image editor
3. Create an email signature in a text editor. Never do this!
4. Use Fiverr
5. Use email signature generator
In business, details matter. To be more precise, in a successful business. Unfortunately, many entrepreneurs focus only on global challenges, missing out subtle yet significant instruments of influence on a target audience such as an email signature. A well-designed email footer helps set a business-like tone and create loyalty and trust for the sender. We have already discussed what makes your email signature to be a good one. We will therefore not elaborate on this topic further, but will instead tell you what not to do when creating an impactful signature for your online letters.
Email Signature as important part of brand identity and marketing strategy
Did you know that one of the biggest mistakes on signatures is inconsistency across the organization because each employee used their own templates and tools? By creating a consistent and perfectly branded email signature for each member of your team, you build brand recognition among your company's contacts. That is why you should use the same or similar template across your company to make sure that every signature matches the style and format you've approved.
The ideal process of creating a company email signature

Some believe that they can easily create it in Photoshop or directly in their email program. Others prefer using Microsoft Word, then copy it from there, and voila, the email signature is ready to go. Nope, it doesn't work like that.
It's obvious, but you have to think about using the right tools at early stages and remember that you're dealing with a signature, not a document, not a web page, and definitely not an image. Today, you can create a beautiful, informative virtual business card for almost any email client in just a few steps using email signature generators.
If you know HTML or have a team member who has a good command of it, go to the coding.
Once you have decided to create it yourself, be prepared to do a lot of testing. Not to annoy your customers with an improperly displayed email footer, you need to know how it'll look on various devices and different email clients like Outlook, Apple Mail, Gmail, etc.
Distribution across all team members

As we mentioned before, a well-branded email footer is a tiny yet powerful detail that promotes your business with every message sent by your employees. Did you know that companies offering to create professional email signatures online may even provide you with a central management option for all signatures and users in your organization?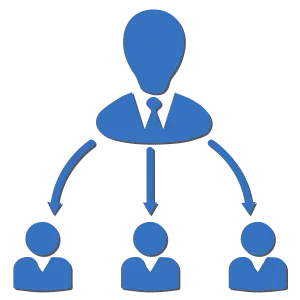 You are lucky if you have a small team and employees cooperative in adopting their email signatures. But what if there are dozens or hundreds of mailboxes in the company? How do you control everything manually? No worries, some email signature design software or services can even do that for you. From the dashboard, an administrator can see what signatures have been installed and what haven't.
Create an HTML email signature
When it comes to creating the HTML email signature, you should consider the pros and cons which will help you make up your mind.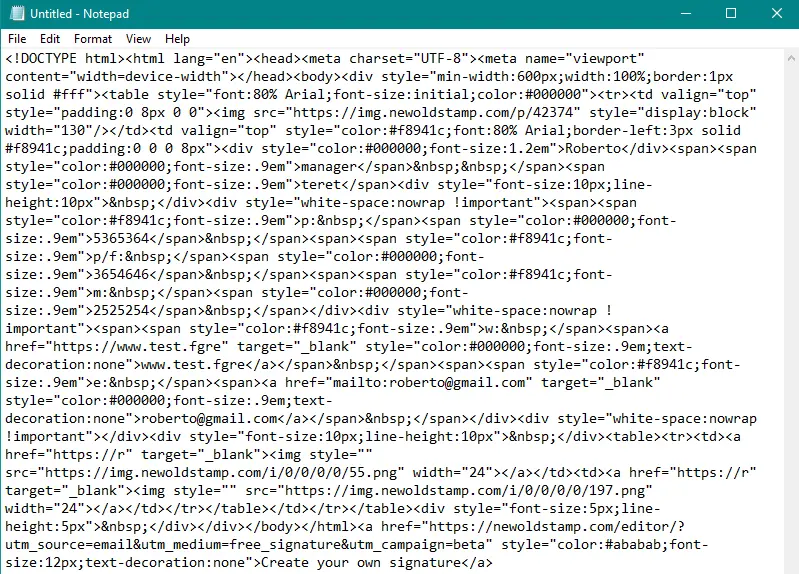 Let's start with the Pros.
Full control over your signature template
If you or your developer have a good command of HTML, you have no limits and can implement any idea.
Your signature can be edited at any time
Often, email signature services offer various subscription plans allowing to create one, two, ten, and more signatures during a year. But if you want to be able to modify your signature at any time for free, you should use HTML. Once you created your footer for email, you won't have to pay anyone but will be able to edit it at any time. However, bear in mind that every time you want to change even a small bit of your signature, you will need to go through a somewhat large piece of code. Which brigns us to the disadvantages of using HTML.
Cons
Learning something new is always good, but sometimes you just don't have enough time. Moreover, you may need something very urgently.
So if you're a busy individual and have no time to learn HTML or improve your coding skills, you need to start looking for people who are capable of doing your project. In case you have no previous experience in hiring a web developer, it may also be a very time-consuming task to find a knowledgeable one.
While one recipient may see your signature as the way you designed it, another one may receive it as a plain text message or just all messed up. Why? You should understand that different email clients have different tech requirements for signatures.
Bear in mind that you will need to test your signature in all email clients and how it will look like after being sent.
Preview issues at different devices
It's hard to imagine our life without smartphones. That is why we can assume that someone may be reading our emails using a smartphone or tablet device. By the way, more than a half of all mobile phones in the United States are now smartphones. A lot of business people prefer using mobile for their business correspondence, so it is in your best interest to ensure that your email signature displays correctly on all types of devices.
Design your email signature in Photoshop or any other image editor
There is a huge number of tutorials on the web on how to create a professional email signature in Photoshop. But are those worth trying? Let's find out!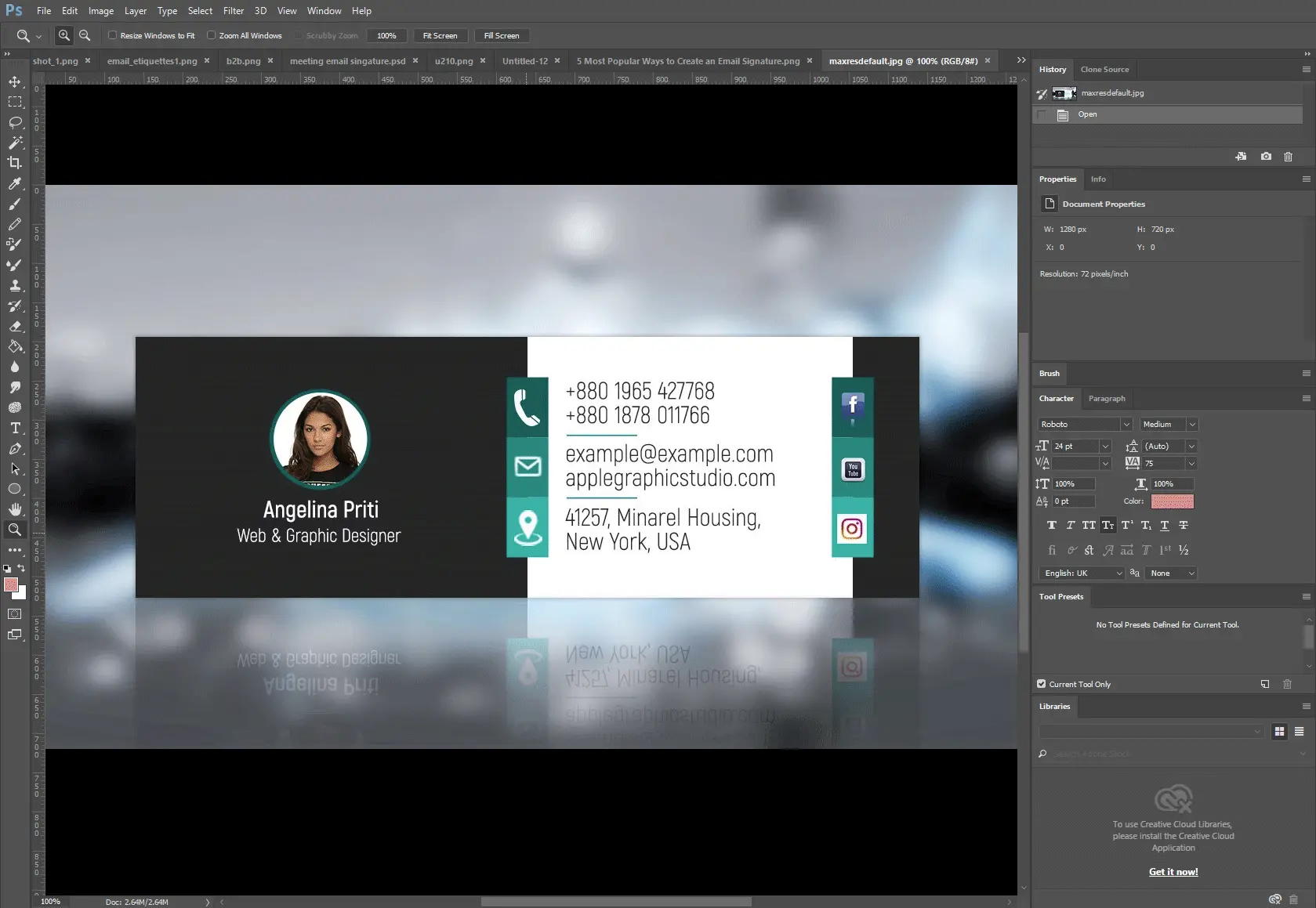 Pros
The sky's the limit to your creativity
If you're a Photoshop guru, this option is the very first choice for you. A wide range of image-editing functions allows you to get not just a signature, a work of art! But don't overdo it, all right?
Full control over your signature template
You can customize your email footer's contact text, labels, icons, fonts colors and styles, margin widths, images, banner, and more.
Your signature can be edited at any time
Just as with HTML discussed above, you won't have to pay again and again every time you want to change anything.
Cons
Learn Photoshop or hire a designer
For non-Photoshop people among us, creating an email signature in this editor can be quite hard. You have two options here: you either need to improve your graphic design skills or hire a pro who can do the work for you.
Problems with signature visibility in email
When you create your signature in Photoshop, remember that the image can go to attachments and won't be displayed automatically. To see your signature, the recipient must click a "download images" button. Also, you risk that some recipients won't be able to see it at all because they have disabled images in their email client.
Your email signature won't be interactive
But even if they haven't, they still won't be able to click on your links, social icons, banner, call to action. Now imagine your customer clicking your Facebook page link or expecting to subscribe to your monthly newsletter. Instead of getting what they want, they are taken to the place where you located the signature because it is just a picture with only one clickable area. You'd be frustrated too, wouldn't you?
Code it to make elements clickable
As you can see, you need to know a lot about the details (including HTML) in order to get it to work. Also, keep in mind that some mail software is not particularly good at interpreting HTML.
Long time for uploading in email
Sometimes images are taking an insanely long time to upload.
Your message may never arrive if your signature is just an image because it can be caught as spam.
Create an email signature in a text editor. Never do this!
Another popular way of designing a professional signature for emails is using a Microsoft Word or Google Docs template. You probably heard of Word Rendering Engine by Microsoft for creating the HTML code. The produced code looks the same across almost all Microsoft products like Outlook, Word, and Excel. For instance, if you copy a table from MS Word and paste it directly into a message in Outlook, it will be appropriately displayed in most versions of Outlook. Although this method is free, some specific things will go wrong if you choose to follow this approach.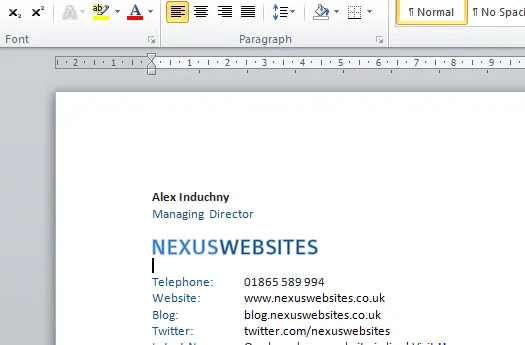 The issues include:
Because other email clients like Gmail, Thunderbird, Apple Mail, etc. can't read the "HTML code" produced by the Word Rendering Engine, the recipients using these email applications will see extra spacing, gaps, and wrong fonts in your email signature.
Problems with visibility in email clients
Besides, the beautifully formatted template that you created in Word will most likely look okay in Outlook and terrible and unformatted in all other major email clients. Your signature may even be somehow not available to the recipient.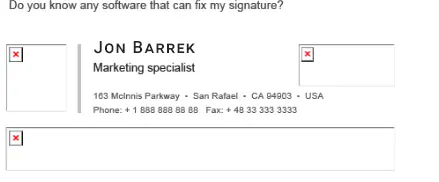 Your logo and other images can go to attachments.
Signatures are not mobile-friendly
If you have poor knowledge of HTML, never use Microsoft Word to draw your template. The email signature will most likely look awful on mobile devices.
Use Fiverr
Fiverr is a freelance platform for people who want to sell or buy services starting from five bucks. There is a variety of categories available on Fiverr to choose from. The most popular are graphic design, web development, copywriting and translation, video creation, digital marketing, and many more.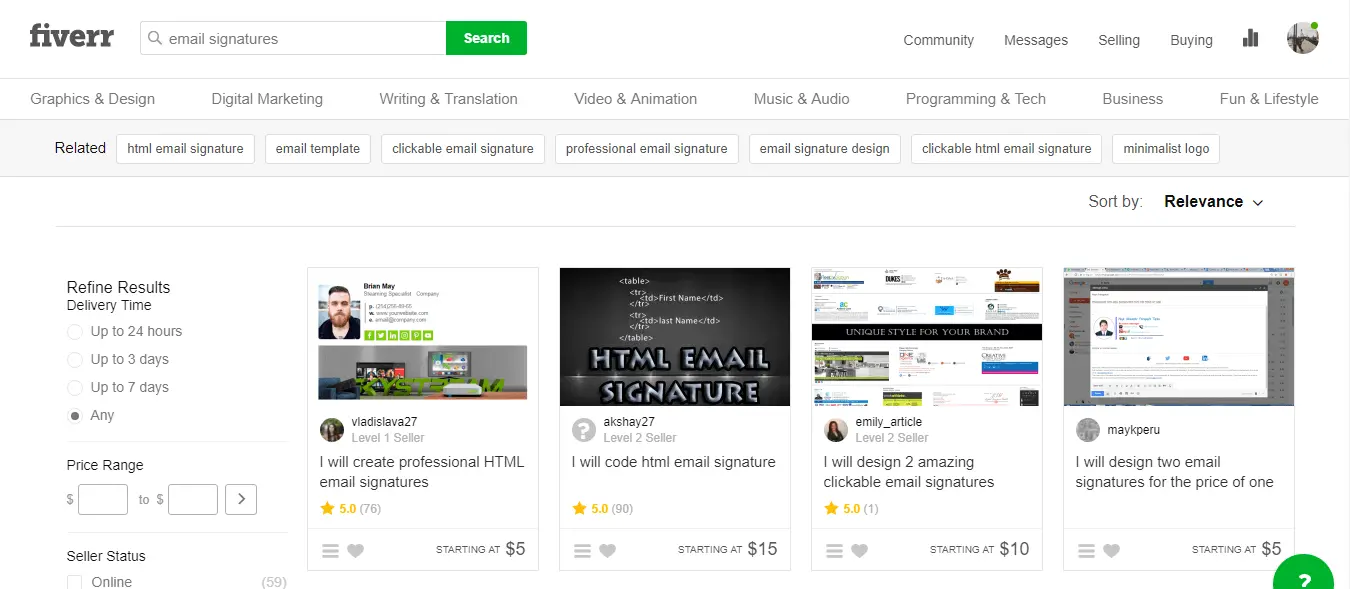 Pros
If you choose to create an email signature using Fiverr, you can find someone who will do that for you at a very cheap rate.
Can be lucky to have a custom email signature template
Besides, you can find a person who will be able to bring all your ideas to life rather than just take a ready-to-use template.
Since you don't need to learn HTML and Photoshop, you'll save a lot of time to focus on more important things on your plate.
Cons
Your vendor can be not reliable
Although you can see the ratings of freelancers who provide services, you can never be sure that you'll be 100% satisfied with the result, the freelancer's way or working, and adherence to deadlines.
The vendor has control over your email signature
Keep in mind that each time you'll want to correct your email signature (e.g., change any design details), you'll need to contact your vendor for updates.
Your vendor can use an email signature generator
Why not take it out for a spin?
Use email signature generator
Nowadays, there is a variety of online email signature creators that can make a signature for you, your business, and every member of your team in an effortless way.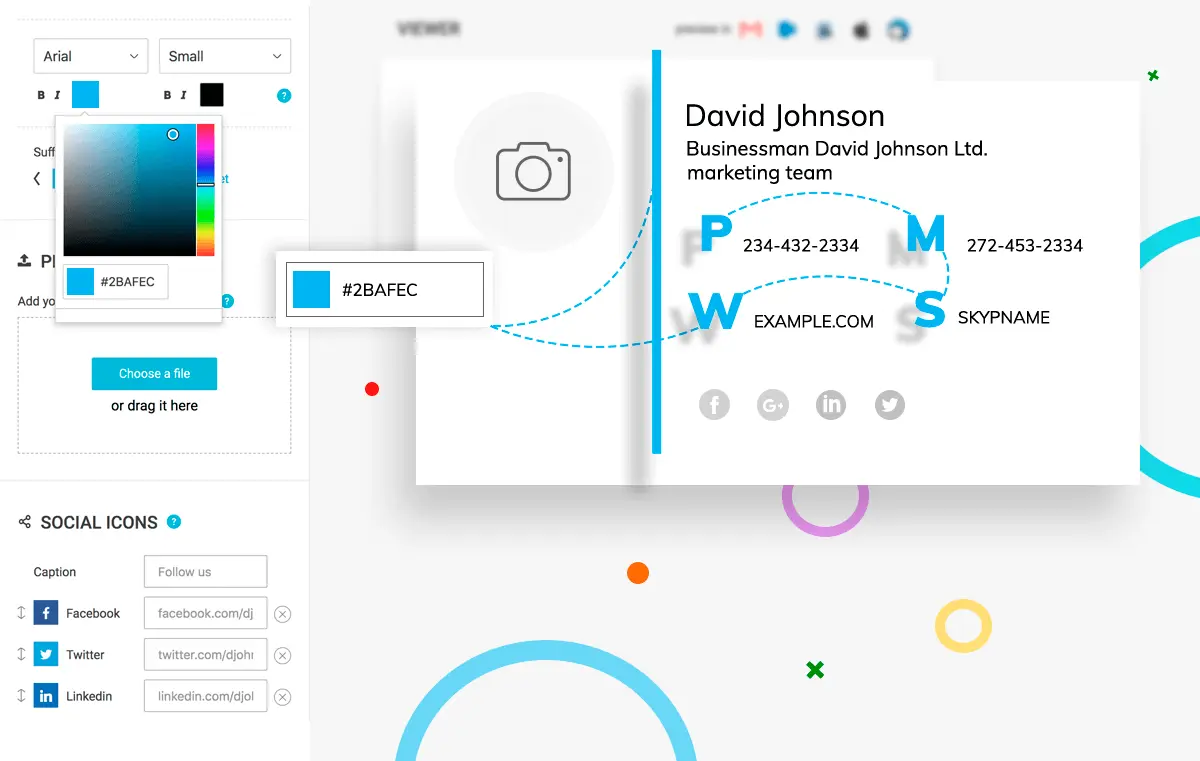 Pros
Can be free or almost free
You can create a simple footer for electronic letters for free. Advanced premium features are available in paid version.
You can create email signature yourself
No coding or graphic design skills required. All you need to do is to input your personal data and upload images to the website.
Email signature is compatible with all email clients
If you are using Gmail, you may be looking for a reliable Gmail signature generator, but the good news is that there is a plethora of tools that will let you make a signature you can use with a variety of email service providers.
Mobile-friendly email signature
A good email HTML signature generator creates email signatures that are correctly displayed on different mobile devices.
Interactive email signatures
If you prefer to design a signature on your own, sometimes it's not easy to make all the links in your signature active. To motivate the recipient to view your website, Facebook page, or online store, you should be able to insert clickable links to your social media profiles, use promotional banners with effective CTAs. This is possible and easy to achieve with the help of signature generators.
Easy to update and manage
Some email signature generators have central management to control and update your and your team's signatures.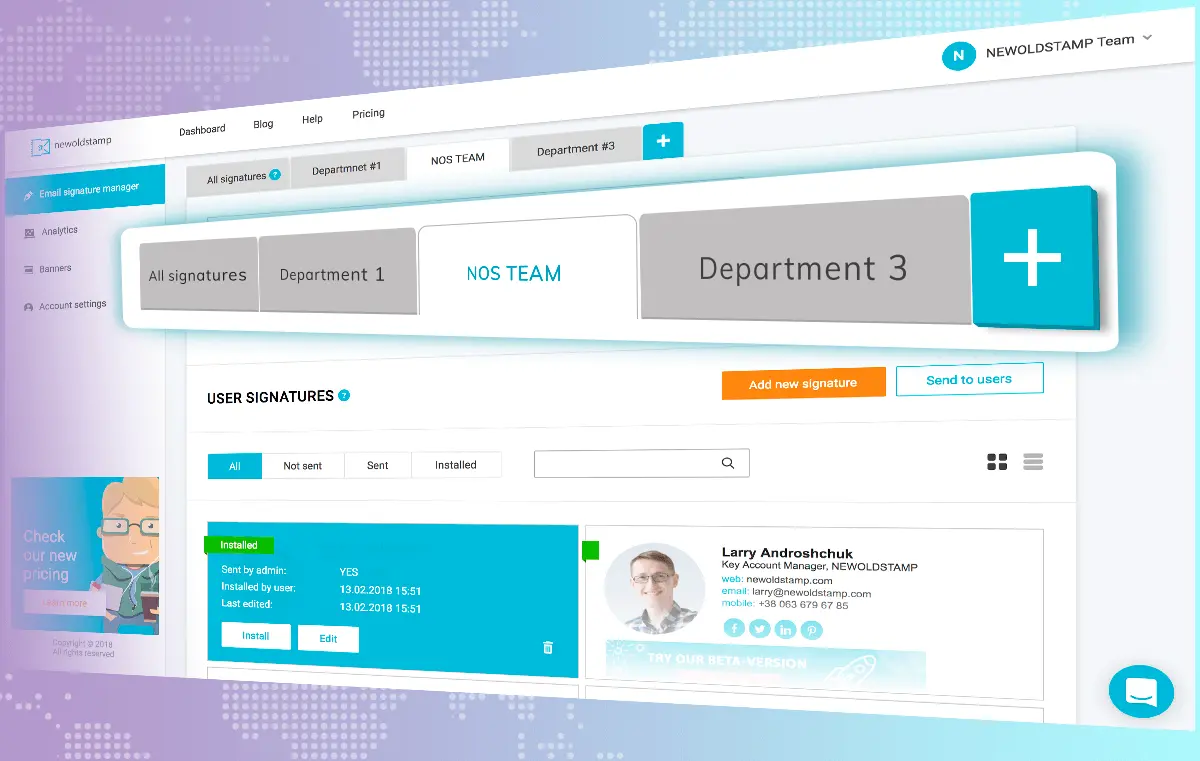 Doesn't cause spam issues
Poorly formatted HTML may be a cause of the letter blocking or filtering. To minimize the chances of your email along with your HTML email signature being sent to a spam folder, use signatures that are coded using the best HTML practices.
Allows to use email signatures as a marketing channel
A well-designed professional signature is an efficient marketing channel. With its help, you can generate more traffic to your website, notify your contacts about your product, events, activities, updates, encourage the recipient to connect with you and your brand.

Cons
You are limited with templates
Although you can be offered a wide selection of professional ready-to-use templates to choose from, you may still not like them or want something specially designed for you.
To use advanced features you have to sign up for subscription
You have to pay for premium features.
Troubleshooting. Why your email signatures corrupt.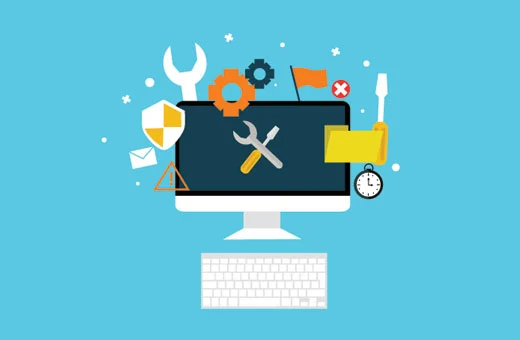 You have just installed your brand new virtual business card and sent your first email. Now you may face various issues. So let's take a closer look at some of them.
Signature corrupts after being forwarded
Unfortunately, it's impossible to control what email signatures look like after the recipient replies to your emails. You need to understand that the user may have settings to reply only in plain text.
Pictures don't show up in my email signature
You can either see a blank square with a red "X" or your images can go to attachments. This is probably happening because you copied and pasted the image into your email signature. To resolve this issue, host the pictures you will be using in your email signature online. For this purpose, you can use your web server or image hosting sites like Imgur, Tinypic, and Photobucket. However, be aware that some email clients can automatically block any externally hosted pictures for security reasons.
Email signature doesn't look good at my phone
To create a signature that will look good on mobile devices, remember that the phone screen is usually much smaller and the space is pretty limited. Therefore, the objects must be larger, while the number of them smaller. Because a typical smartphone screen is vertical, be sure to align your email signature elements vertically too. You should also remember that social icons must be big enough to be clickable. We usually recommend limiting their number to three.
Email Signature appears in an attachment
First of all, make sure your signature isn't a single image.
Conclusion
Email signatures play a vital role in your brand's success. Also, a carefully composed and professional signature can distinguish your business from the rest. While it may be easy to create it yourself, it may be quite hard to get the email signature to display fine across various email clients. Because you're dealing with a signature, not a document, and not an image, you shouldn't use Microsoft Word or Photoshop. Our best recommendation would be to use email signature generators which can offer a variety of templates, created by professional designers, compatibility with almost any email client, and good technical support.