The Ultimate Guide to Email Signature Call-to-Action
1. Add promotional banners and CTAs to your email signature
2. Be careful with images
3. Remember about limited space
4. Keep your message clear
5. Test how it looks in other mail clients and devices
CTA email signature is an email sign-off that contains a clickable banner or button and leads to action. Some examples of CTAs in an email signature could be a clickable link to an event, a CTA button with an invitation to book a demo, or an interactive banner with an offer to sign up for a future webinar.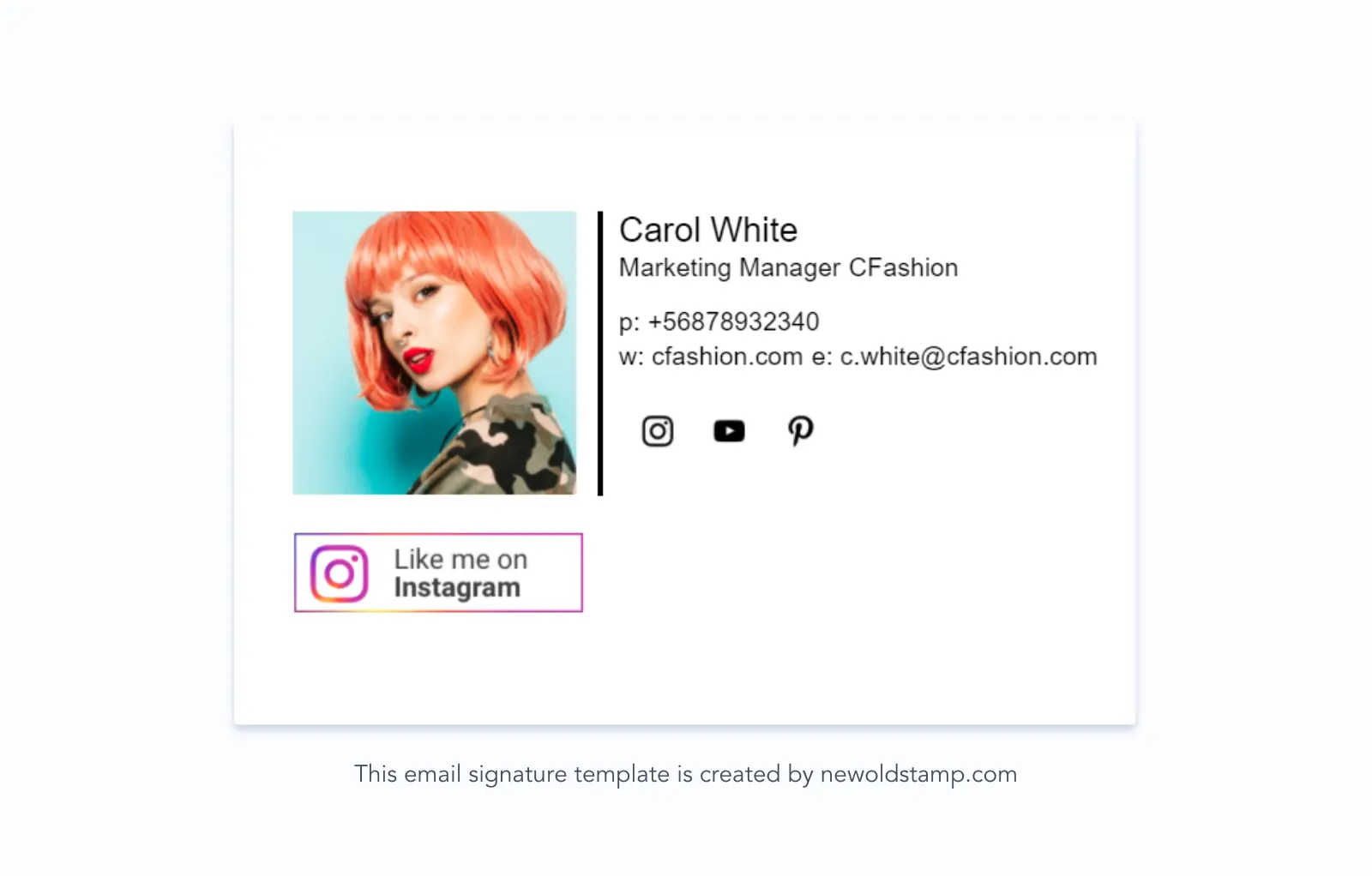 Adding a call-to-action to your email signature is not a complicated process. Using online signature generators, you will be able to create an interactive email sign-off with a CTA in a matter of minutes.
This article will cover what a CTA is, how to optimize your email call-to-action and how to make it work in your regular business emails.
Read more: "How to Run a Successful Email Signature Marketing Campaign"
How to optimize your email call-to-action
Have you ever thought, what motivates users to read your marketing emails? Sure, you will think about an excellent template design, a captivating email subject line, or an astonishing product or service with attractive images.
However, there is no less important element that makes your potential customers click that message and land on your website or product page - a call-to-action. So what is call-to-action or so-called CTA?
Call-to-action is a marketing expression that simply means a specific action from your target audience. CTA encourages your recipients to make a certain action immediately.
For example, if you own your e-commerce site and selling products, you can add to your marketing emails a call for engagement like the "Buy today" or "Special offer" buttons, and this way create effective CTA.
However, to show your clients a killing CTA, you have to:
Keep it simple
You should place simple call-to-actions on links or buttons you share to triple your leads. Content and call-to-action in an email must not overwhelm your recipients. This way, your potential customers will easily understand what they will get after clicking on the button.
For example, Mailerlite, in their newsletter, applies a plain "Show me the new features" button near the summary about new features added.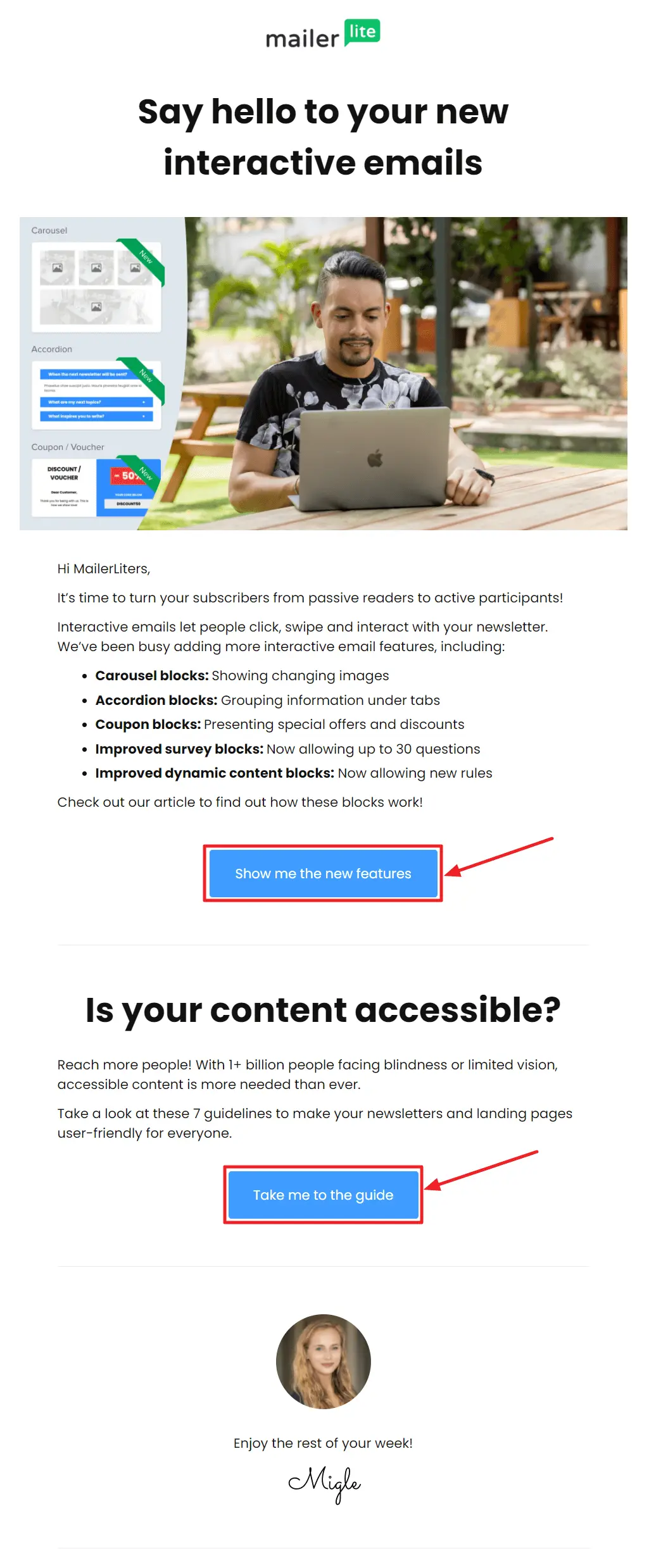 Highlight some discounts or special offers
Incentives are coupon codes that can be a nice CTA to encourage client's decisions to purchase. With an opportunity to get two subscriptions for the price of one, would your prospects be more motivated to click on the link? The possibility that recipients of your promotional email will click to complete a purchase is undoubtedly higher.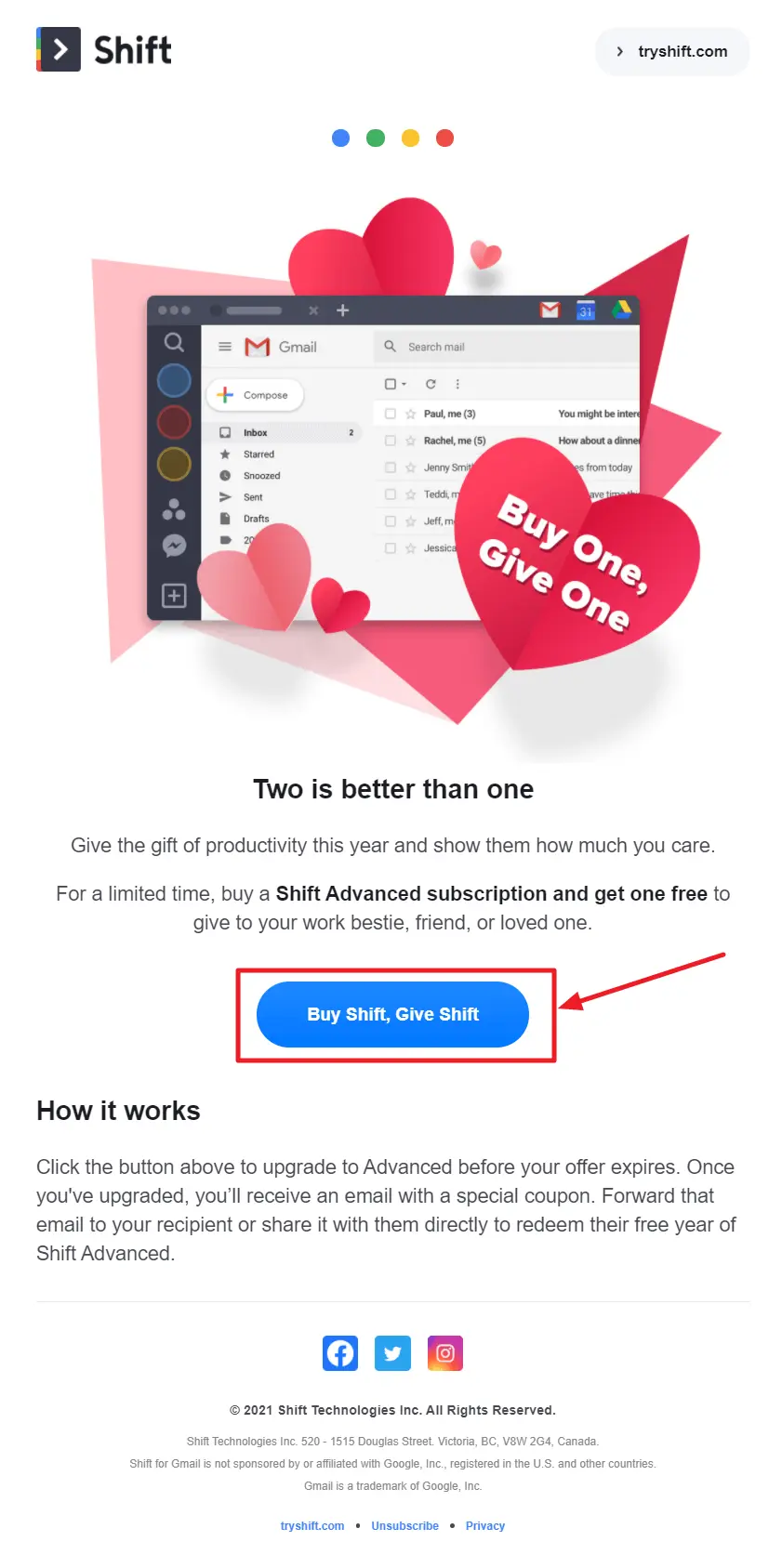 Add action words
It is very important to include strong verbs and nouns such as "Buy", "Sale", "Add to cart", etc. You need to include expressions that clients are familiar with, this way you will avoid any confusion and misunderstanding.
Don't be afraid that your words are too strong, it is even great to give your users command to action. For example, you can use the following CTAs for your promotional banners in an email signature: Buy Today, Sale!, Get. Purchase. Order, I need this!, Shop, It's Free, Register.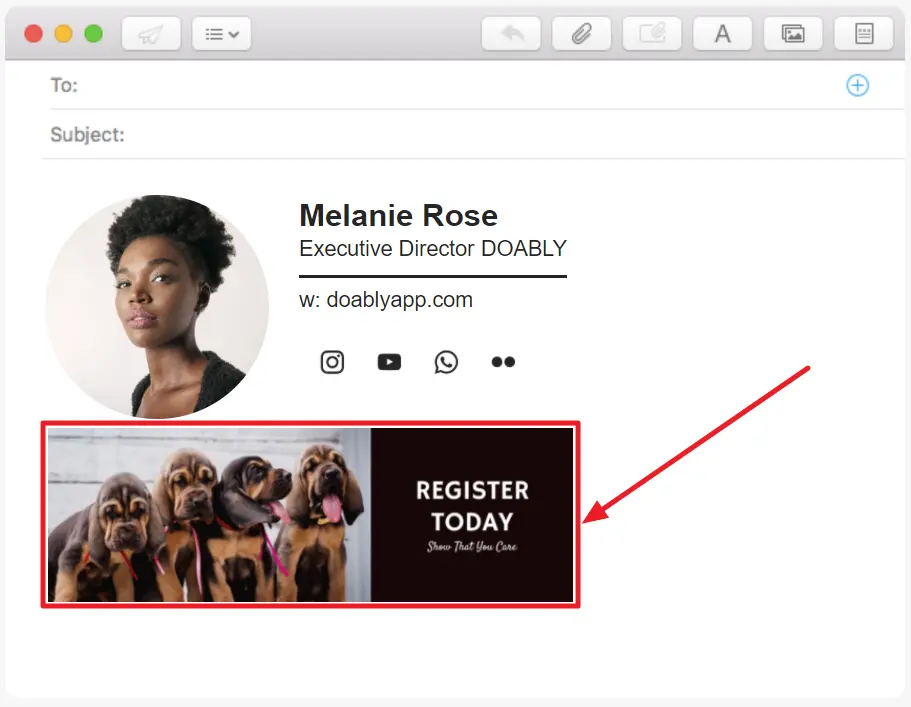 Check visual appearance
You should keep your CTA simple and make it look attractive to your clients. Check your CTA format and colors. It is perfect to make your CTA buttons the same color and edit your text with the same format as your logo.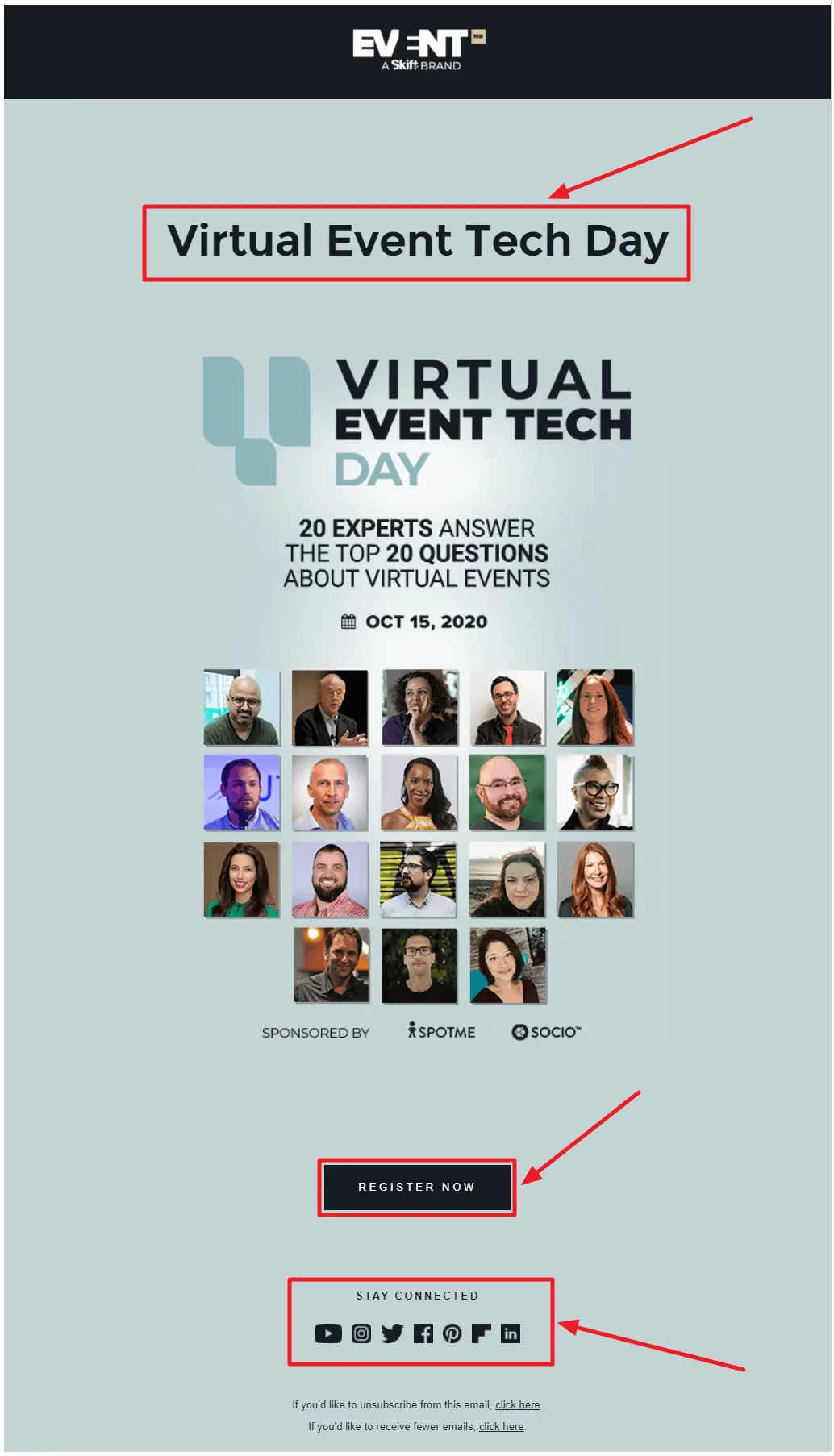 Choose the right place
CTA must be placed in the prominent block. Add it where it's more likely to be viewed by clients. The best place is at the end of the product description or just below the price. As after viewing the price, users might want to purchase a product. Additionally, do not forget to use a sense of urgency to motivate and stimulate clients to click on the offer. Season sales promotion is a good marketing move to sell products.

Creating a CTA email signature that generates leads
If you decided to include call-to-action engaging buttons or links to your email messages, it's better to place them in your email footer. You can simply use email signature block as the main tool to drive prospective users and generate leads.
You can add different types of call-to-actions to your email signature. The CTAs range from offers like a free download to links that send recipients to landing page fill-out forms. To know more about call-to-actions and how to use add a CTA to your email signature, check the below guide.
So, the following are the basics:
1. Add promotional banners to your email signature
Adding promotional banners and CTAs is very effective in making your email signature more appealing to potential customers. Here are a few points to help you create an effective banner with CTA for your email signature:
With the Newoldstamp email signature creator, you can easily upload the unique images you would like to use and create your promotional banners. You can f

ormat email signatures

according to your business needs and requirements.



The next step requires you to add a link to all the images you use for your banner, clicking this link will directly lead to a website where customers can get more details about what you are offering.


An important part of a business is knowing what kind of attention your products are receiving. Therefore, adding a tracker to measure the number of clicks made on your email signature banner image must be considered to make the email signature more effective.

There is a way for potential customers to access websites or social media platforms, where they can find your content.
This can be done by adding a button with CTA, which in many cases can be in the form of an icon to your email signature. This will enable any email recipients to look at what you are offering directly. This is one of the must-have features of a professional-looking email signature.
2. Be careful with images
Adding simple images with a call-to-action to your email signature is a crucial step in establishing a direct connection with your potential customers. Adding images to HTML email signature is relatively simple; the following points must be kept in mind.
PNG images are more convenient for use in email signatures. And make sure you set the right dimensions for your image in HTML. Not doing so would make software identify your image as strange.

Do not forget to add the Alt text. This enables anyone who receives your email to hover over an image and have an initial idea about what they might get themselves into. The image Alt text is always required for the purpose of validating images.

Do not use images that do not work well with the written text for reasons, such as large size or adding too many images to a single email signature. The images in an email address must be able to complement the written text and not overwhelm it.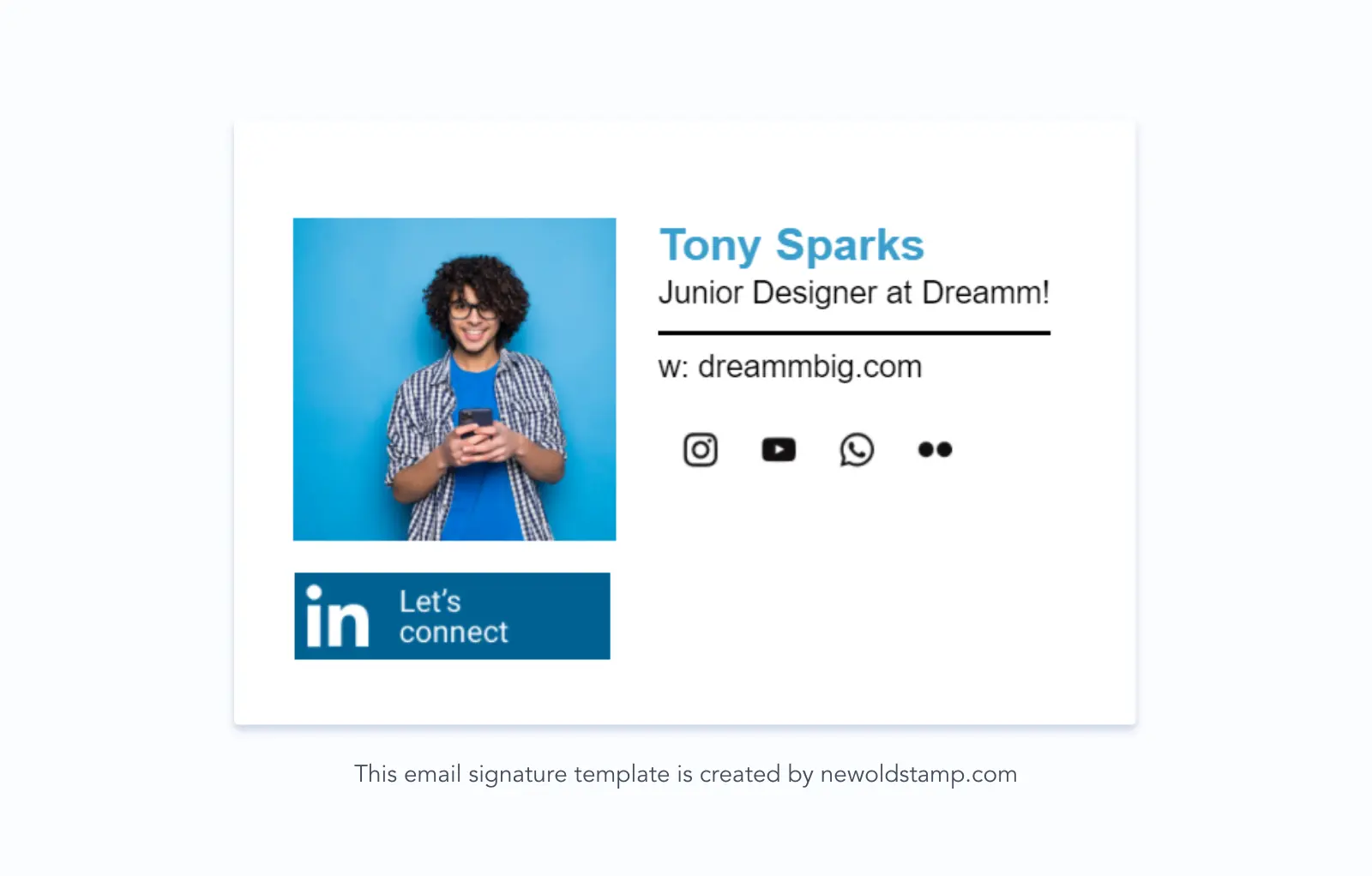 Adding images to your email signatures can be facilitated by the HTML email signature generator. All you need is to keep the above points in mind before you decide to add images to your email signature.
3. Remember about limited space
Your email signature is supposed to be eye-catching to anyone who sees it. Many individuals feel like adding as much content to the signature is more beneficial to their cause. This is, however, not the case. And putting too much information will get the email recipients bored before they can even try to identify what your email is about.
Do you think the Black Friday CTA banner will have a higher CTA in the first signature, which is overloaded with call-to-action buttons and social icons, or in the second example, clean, minimalist, and without any unnecessary elements?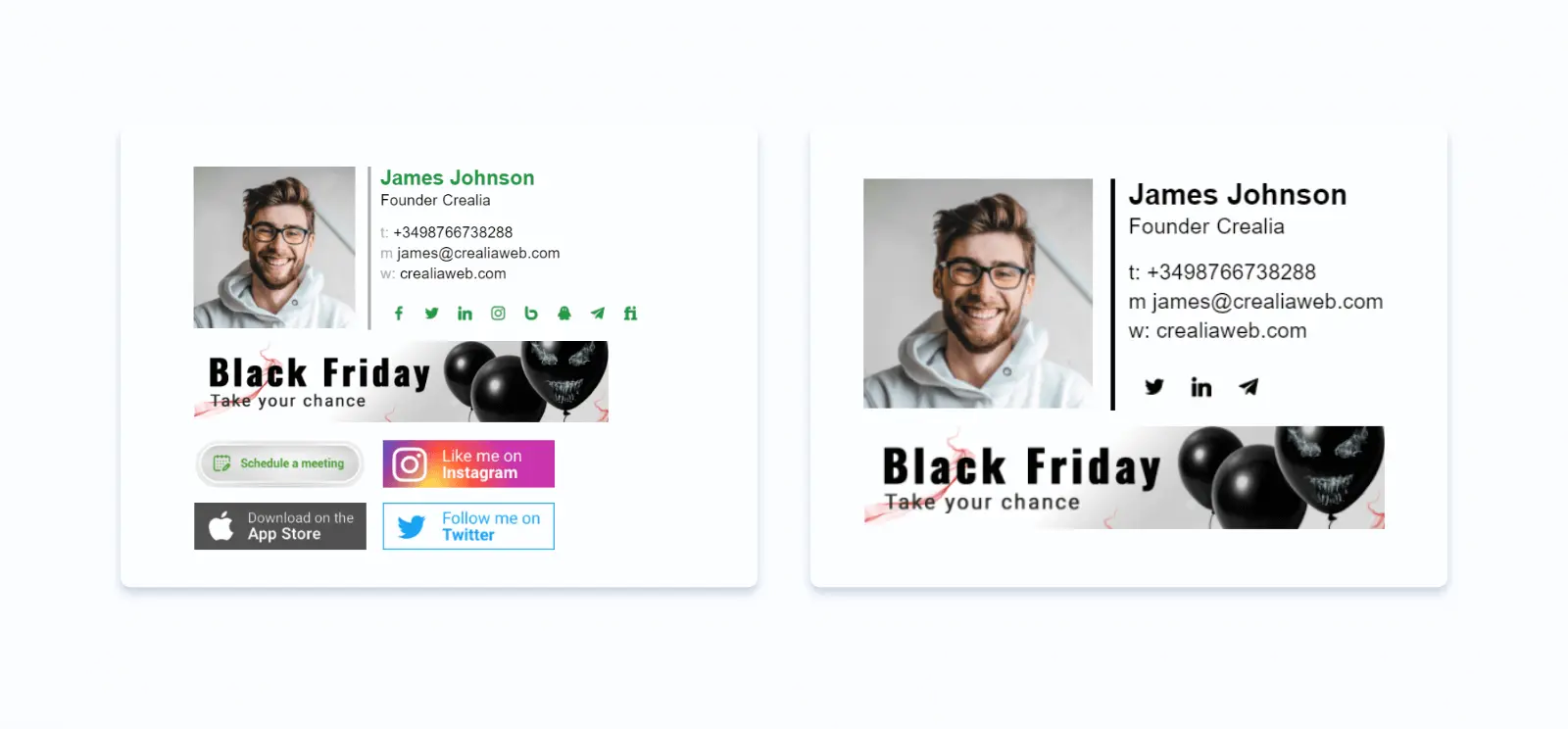 To make a good impression and attract attention, you can add a banner and CTA and promote your offer. Keep the email signature banner and call-to-action as simple as possible by limiting the number of texts you add to them. Not only will it make it a robust promotional banner in your email signature, but it will also complement other information you add to your email signature.
4. Keep your message clear
As we mentioned above, limiting the amount of information on your email signature is important, so try to get your message understood with the little information you add to it. This principle also applies to the CTAs.
An effective email signature has to apply this quality, so any email recipient can quickly identify and understand why you have sent them the email.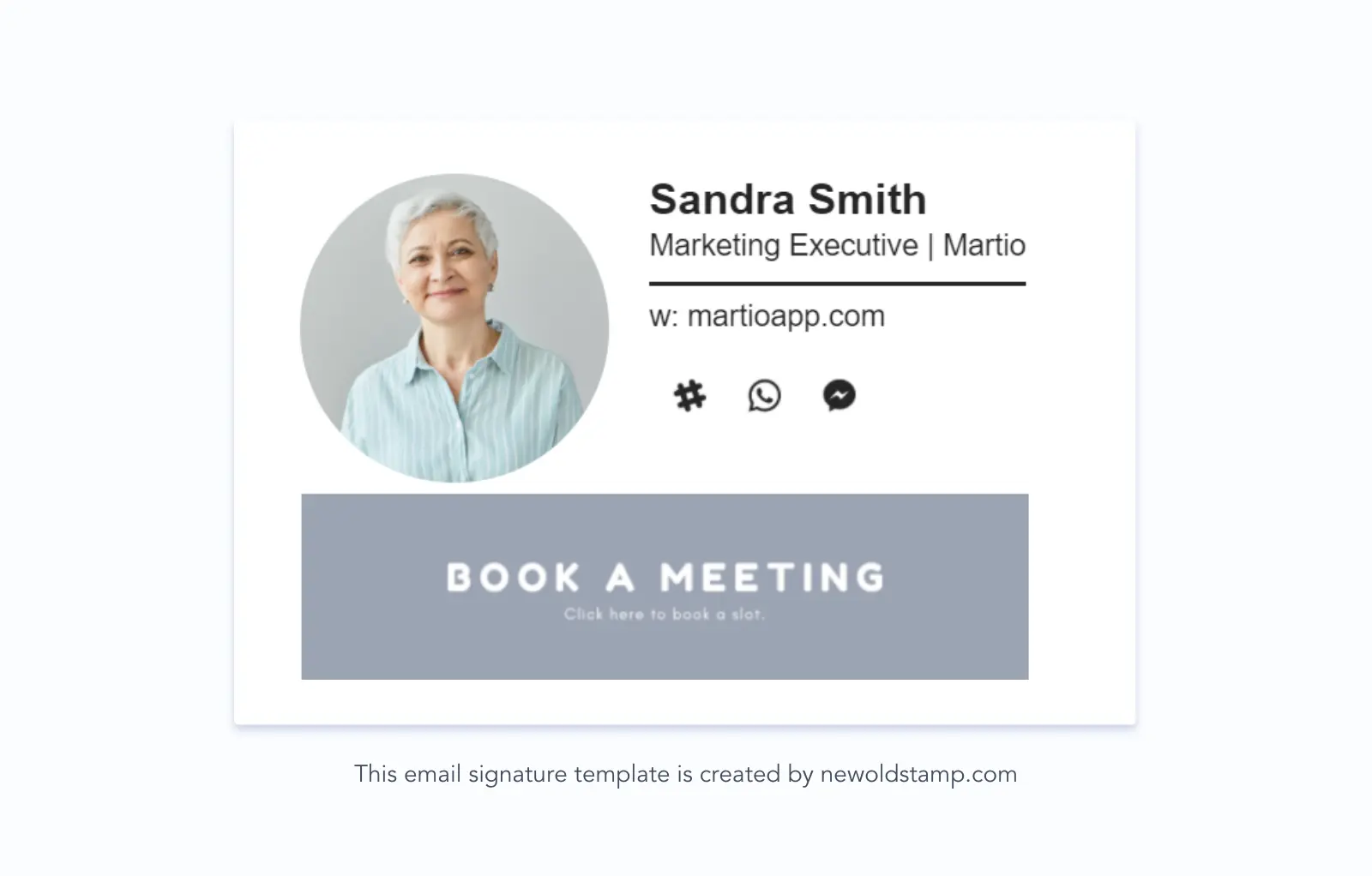 5. Test how it looks in other email clients and devices
At this point, you probably have your email signature ready and set to send it to different individuals. However, do not send it just yet. Now you have to make sure your email signature's appearance is the same on any device that potential customers will use to view it. This includes various laptops, mobile phones, and other devices. Make your email signature look good on all devices and email clients.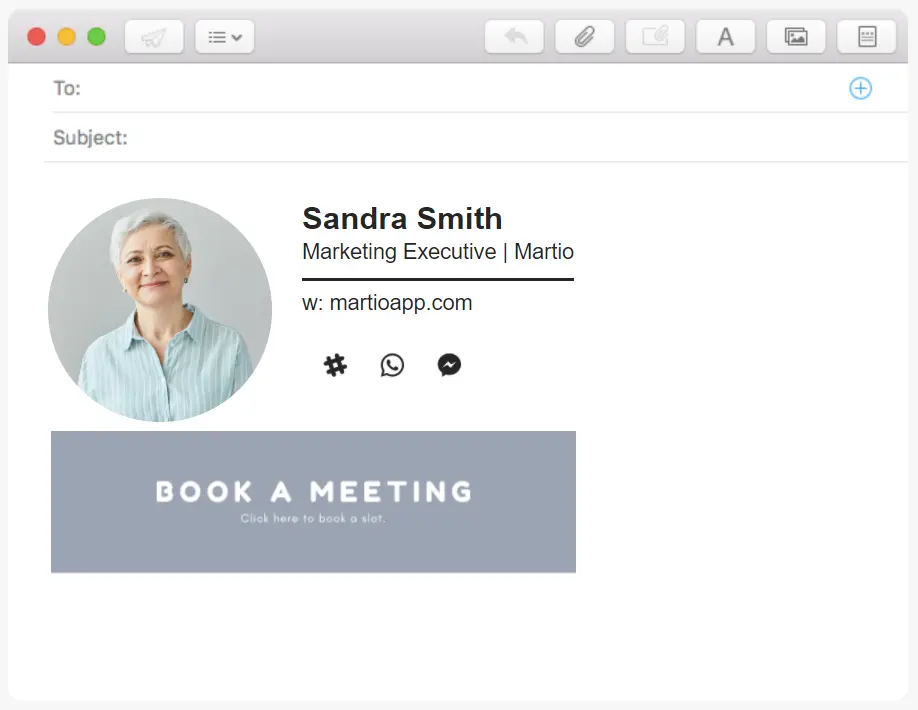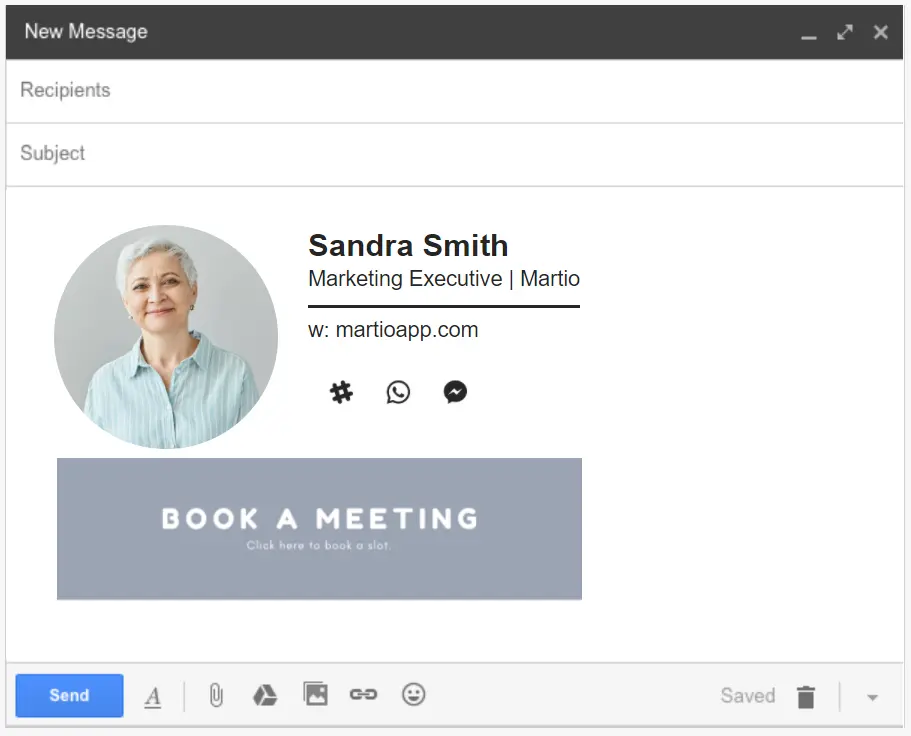 Your journey to more exposure is guaranteed by using this step by step guidelines. This article outlines all the important details of an effective email signature and usage of CTAs. Using these tips will, without a doubt, help you engage more with audiences not only locally, but internationally as well.
Conclusion
As stated above, creating your own email signature and CTA is not a complex process, especially with the availability of email signature generators like Newoldstamp. It will make the whole process easier for you and your business. Besides, HTML email signature templates can also be utilized as effective email signatures for both companies and individuals trying to get their content a bigger audience.
Moreover, email signatures have revolutionized how businesses communicate with their customers, creating a more intimate interaction between the two parties. Email signatures are the best for anyone trying to get more people to pay attention to their business.
You can easily create a great promotional campaign using HTML email signatures and include your call-to-action to make very specific promises!