The Huge Benefit of Email Signatures from the Marketing and Sales Perspective
1. Increases brand awareness
2. Makes your email look more professional
3. Makes your emails more personalized
4. Gives quick access to your contact details
5. Provides social proof in your email
6. Promotes your services, products or offers
7. Drives traffic to your website
8. Increases response rate
9. Helps to send more targeted email messages
10. Is cost effective
Have you ever thought to incorporate your company's marketing and sales efforts into your business correspondence? Meet Email Signature Marketing, a powerful yet often overlooked channel which can boost sales, drive brand awareness, and do other great things to your business.
Let us convince of its multiple advantages in this article. Below, we have outlined our favorite 10 benefits of using an email signature in your communication with partners, clients, and prospects:
Increased brand awareness

The professional look of your emails

Marketing personalization

Quick access to your contact details

Social proof

A robust promotion tool

Traffic generation

Higher response rate

Better targeting

Cost-effectiveness
Increases brand awareness
Having a business signature in corporate emails makes your company's brand more recognizable among your prospects, clients, and partners. This way, every employee who uses an email signature reinforces the company brand.
The signature needs to have all the necessary brand identity elements, such as the company name and logo, corporate fonts, and company colors. Make sure they are all present in the signatures of every department's employees. When a recipient scrolls to the bottom of an email, he or she will see a style that is characteristic of your company. Thus, consistency drives recognition, and recognition facilitates awareness.
Makes your email look more professional
Your email signature is equal to your business card. Instead of chasing prospects offline with a paper card, you share all the necessary information with him or her online. A business signature also signals to people that you are not on your own, but act on behalf of your company. This gives you more credit in the business world.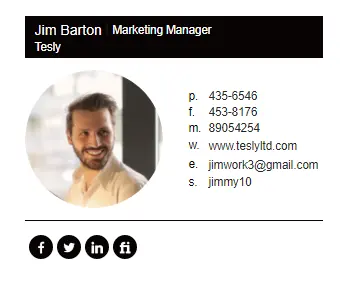 To give your message a more professional look, add an HTML email signature that:
states your position within the company

includes the company name

lists all your corporate contact information

provides additional value (has a link to useful content etc.)

has a legal disclaimer (which is required in many countries)
Ensure that your email signature is concise, well-structured, and nicely designed. Nothing will scare off potential customers like a messy signature look.

Makes your emails more personalized
Some might argue that business signatures only make emails look more formal. Still, they open a lot of opportunities for personalization. Let's see how you can use your corporate signature to offer more meaningful communication.
First of all, you can customize your closing. Try using something different from the impersonal "Best regards," such as "Greetings from [Your Location]" or "Have a delightful week."

Secondly, you could use different contact details with various contacts. Giving a recipient a chance to connect with you on social could be a gesture of trust. (Just make sure that you don't enforce your friendship on a person.)

Thirdly, you can include a personalized link at the bottom of your signature. Let it be something that offers value to a particular person — an article your recipient could find useful or a link to a trial version of your product.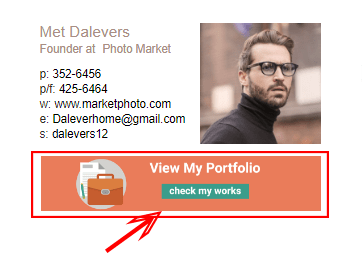 Gives quick access to your contact details
Your business signature helps people you've been writing to access your contact information at any time. So, always make sure you list all the main contact details at the end of your message. It can be your phone number and alternative email address for quick reach. Alternatively, it can be your work address, which could be used for invoicing or, for example, sending thank-you cards :)
Don't forget that, in your email signature, social media icons are currently a must. At least make sure to include a link to your LinkedIn profile for your contacts to connect with you professionally. If you are using Twitter or any other social network professionally or striving to gain more followers for your social media channel, link to it as well.
Provides social proof in your email
If you want to increase your contacts' trust in your brand, business correspondence comes here in handy as well. For instance, you can play around with an email signature banner. Place a happy customer's testimonial inside of it. Moreover, you can add some social stats that could help to improve your credibility, such as the number of company's followers on one of several of your channels.
You can also use social media icons for this purpose. If a recipient wants to check out how many people are publicly engaging with your business, they will simply click on the respective icon and get their assurance in a blink of an eye.
Promotes your services, products or offers
A promotional banner in an email signature can help to drive publicity to the company, its products, and activities. People with whom you already have established business relationships are more likely to click on your promotional link or share it with their contacts than recipients of mass marketing emails. As a result, you will be looking at growing sales rates.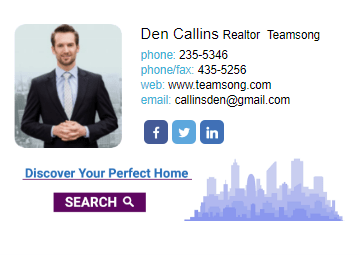 Take a look at what your business can promote via business signatures of its employees:
Services and products

Deals and offers

Events and webinars

Content: articles, case studies, infographics, videos, podcasts, etc.

Surveys

Newsletter
Drives traffic to your website
When your employees add a signature to email messages, make sure they include the company website URL. It's very likely that some recipients will click on the link even if they weren't your website users before. This way, your corporate website gets more visits. Even if the purpose of the mentioned email correspondence is not to drive sales, including a website link in your signature might generate some.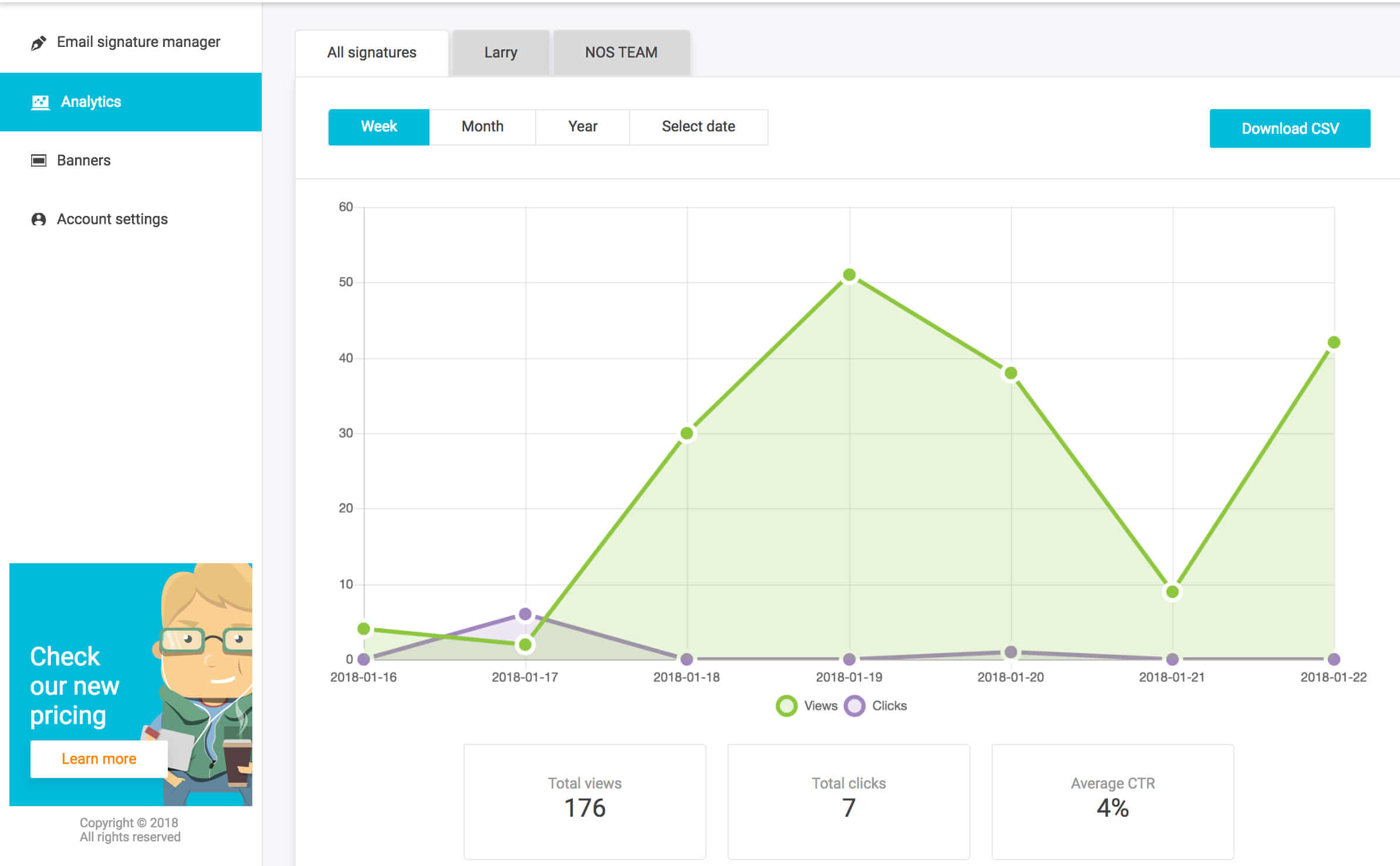 Apart from linking to the company's homepage, you and your colleagues can experiment with different links. You can direct people to your landing pages, to the contact page, to the About Us or Portfolio page, or to the company's blog. Make sure the links in email signatures are relevant and useful for a particular recipient.
Increases response rate
Email signatures help to increase the response rate, sometimes even significantly. First of all, your signature can tell your contact a story about you. This way, it adds more personality to your email. It creates trust. Secondly, the signature informs the recipient of who you are, what your position is, what company you work for, and how you can be contacted. This all adds your credibility (and also to the company you represent).
So, if you want people from outside the company to respond to your corporate emails, make sure every one of your employees has a business signature.
Helps to send more targeted email messages
Email signatures can be customized according to different audiences and different target groups. For example, you can include the latest case study link in an email to a potential partner or an attractive offer in an email to a potential customer. Basically, you can create a few different signatures and change them depending on the situation.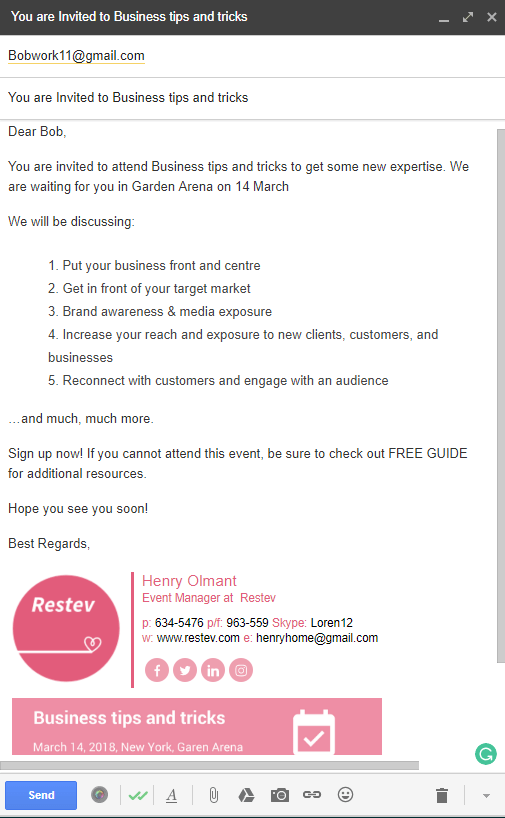 And just imagine what wonders can a personalized email signature do! Instead of using a standardized sign-off, you can tailor your existing one to individual people. Of course, you don't need to do this with every contact of yours, but it won't hurt adding a specific item to your signature that a very particular person would appreciate.
Is cost-effective
Maintaining marketing channels and using third-party sales tools can be extremely costly. At the same time, you can utilize email signatures for different marketing and sales purposes will cost your company next to nothing.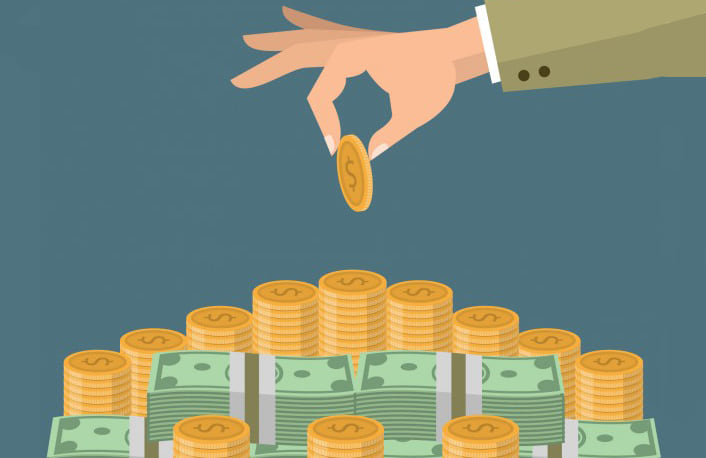 What you need for your signature marketing strategy:
1. To set up signatures for your teams. It would require either involvement of someone familiar with HTML or a professional signature maker like NEWOLDSTAMP.
2. A little bit of strategy, which would help you to achieve your marketing and sales goals with the help of different email signature elements (banners, links, images, etc.). By the way, we have some great tips on using email signatures as part of your marketing strategy.
4. Start running your email signature marketing campaign.
4. An analytics tool to track progress. It can be either Google Analytics (you'll need to add campaigns and customize your URLs) or a built-in tool that comes with your signature-generation solution.
As you can see, you can either do email signature marketing for free or just pay for a single tool. But what you get in return is greater publicity, more leads, a higher response rate, and increased sales.
Conclusion
As you can see now, there is no need for you to separate business correspondence from a company's marketing and sales activities. You can combine them all by utilizing your and your employees' corporate email signatures. When managed effectively, email signature marketing can become your powerful marketing channel that can bring in outstanding results.
By providing clickable URLs in the signature, you can achieve all kinds of marketing and sales goals: generate traffic, nurture leads, increase brand awareness, promote your products and services, and boost sales. But, before you start your email signature marketing exploits, make sure that your tool—the signature—is well-structured and complies with your corporate brand.
Learn to benefit from business email signatures — it is the secret ingredient of your business success.