The Best Black Friday Emails: Examples & Templates in 2023
1. The secret element
2. Black Friday email #1: 3 for 2
3. Black Friday email #2: Teaser
4. Black Friday email #3: Choosing black for Black Friday
5. Black Friday email #4: All about the urgency
6. Black Friday email #5: Curiosity
7. Black Friday email #6: Charity
8. Black Friday email #7: Extended sale
9. How to make your Black Friday sale even more successful?
10. Get inspired by our Black Friday and Cyber Monday email signatures
11. Mistakes to avoid in your Black Friday campaigns


Every year in November, shop windows are all decorated with stickers to advertise the discounts brands offer their customers. That's Black Friday, a fantastic opportunity for businesses to end the quarter on a high note.
However, in the past few years, much has changed due to Covid. For example, most Black Friday transactions will now take place on the Internet.
When everything goes online, retailers need to send out emails almost non-stop during the Black Friday sales season to win more customers.
But we all understand that the main problem with Black Friday email marketing is the insanely high level of competition. So is it anything retailers can do to get as much attention from customers as possible?
In this article, we will share seven good Black Friday emails you can copy or get inspired by to make more from your campaigns. But that's not all. There is another secret element that can help you win the competition. Read further to find out more.
The secret element
So your sales campaigns are all planned and ready. You wait to hit the button to launch. But have you checked all the small details thoroughly? We bet we know what you've missed. Have you updated your email signatures to notify your clients and partners about your upcoming sales with Black Friday banners?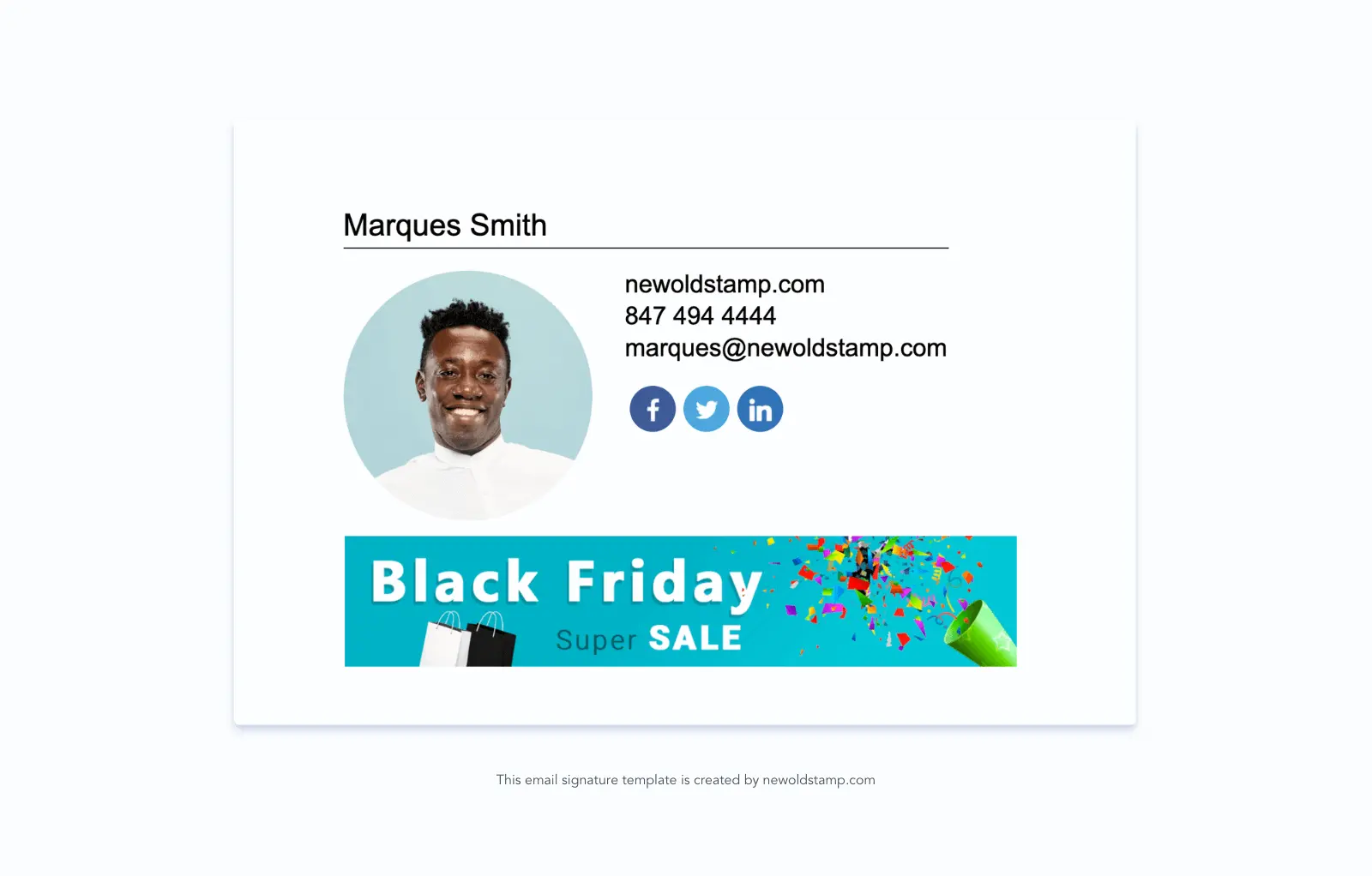 The email signatures are a free marketing channel to advertise your Black Friday deals in every email you send.
If you would like to create your own email signature or refresh the existing one to better match the seasonal trends, please feel free to use the templates that we have baked specifically for the Black Friday 2023 sales event.
Now, to the Black Friday email examples.
Black Friday email #1: 3 for 2
This is a nice-looking, elegant Black Friday email example.
Pandora used black and white colors because they make everything look luxurious. The offer is crystal clear: buy two items, receive the third one for free. I would buy it, wouldn't you?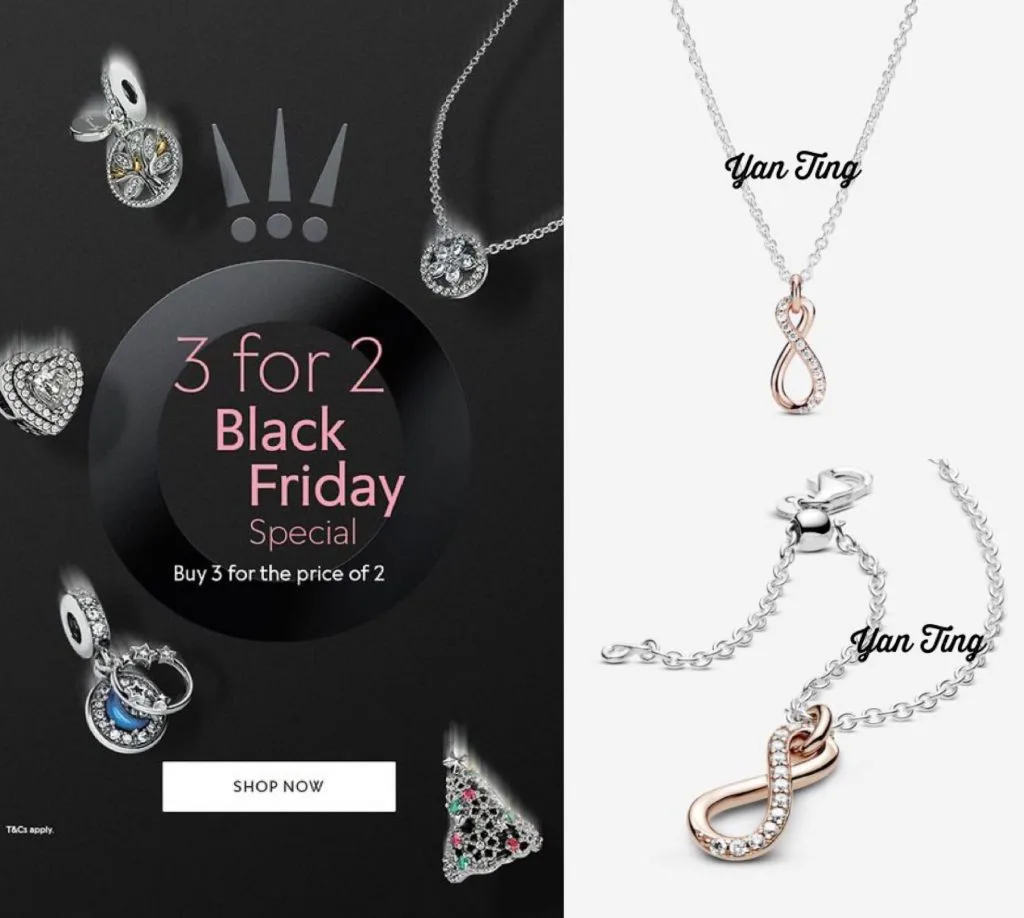 source: the art of pandora
Discounts are great, but giving freebies is an even better method to increase your sales. If you don't want to give free things, consider offering free shipping, a guaranteed delivery date, or gift wrapping.
Black Friday email #2: Teaser
Chances are recipients didn't even expect to see such an email in their inboxes because one year, Apple refused to participate in the Black Friday frenzy. In this email, they don't reveal the deals, yet tease their one-day shopping and offer the recipients to set up a reminder in their calendars.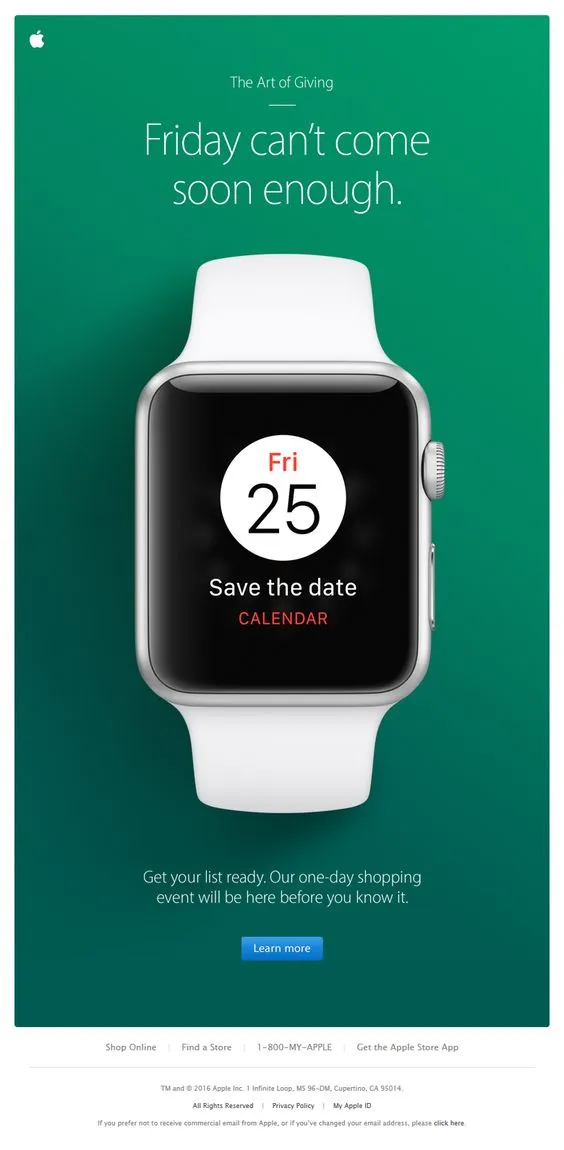 source: Pinterest
By sending teaser email campaigns, you are planting seeds of scarcity to get recipients not to postpone their purchases for later. They know the date, they set the reminder, then come and buy.
On top of that, you can use wording like "sale ends at midnight," "limited amount," "today only" to get more sales this holiday season.
Black Friday email #3: Choosing black for Black Friday
As you can see, Machine Fitness implemented a straightforward design in their Black Friday email campaign. We love their clear, white-on-black offer and models who make the campaign more human. Customers see the guys and understand how they will look in the brand's clothing. Machine Fitness also offers their best-selling items at discounted prices using a clear call to action "shop now."

source: Mailbakery
We mentioned that the photos of people made this email human. How about making your holiday season emails more personal? For instance, personalized subject lines can dramatically increase open rates. Simply add your recipient's name to the subject line to make the email stand out and grow the chances of it being opened.
Black Friday email #4: All about the urgency
The best Black Friday/Cyber Monday campaigns create a sense of urgency that motivates the email recipient to benefit from the offer and place an order immediately.
If you don't provide a clear deadline, customers will think, "Oh, I can do this another day," which we all understand will likely turn into never.
Forever 21 offers a one-day discount only to those who want to order today. They also are keeping a secret. 15%, 20%, 25% off? This is like a lottery. A call to action says, "Reveal your offer now." So, to see your discount, you have to click the button and go to their online store. Now, probably, you are trapped!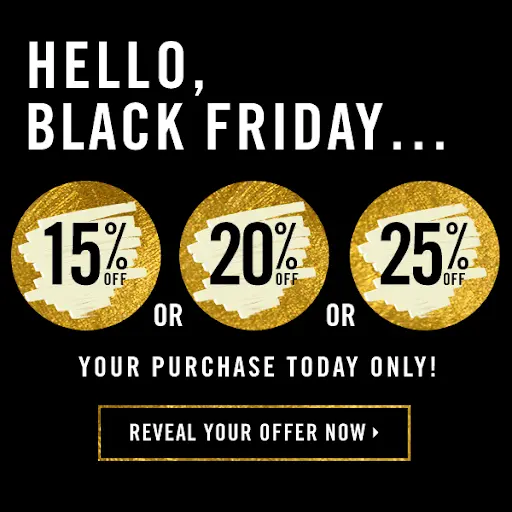 You can implement this "lottery" trick in different ways. For example:
Use a "scratch-off" like the one Forever 21 did.
Include a surprise present with a customer's order.
Black Friday email #5: Curiosity
Look how brands like Tarte open a curiosity loop to drive more engagement. They are teasing the audience with the cryptic headline, "We never do this." On top of that, the bright design for sure attracts customers' attention. Use animated GIFs in your Black Friday email marketing campaign, especially if that style matches the tone of your brand.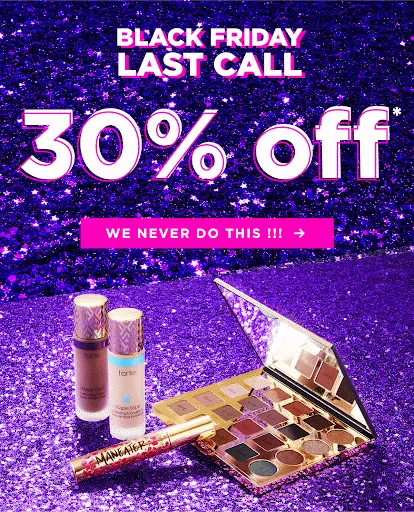 Utilize "power" words in your Black Friday email campaigns to arouse curiosity. These are "secret," "exciting," "exclusive," "forbidden," "provocative," etc.
Black Friday email #6: Charity
If you want to look at Black Friday from some other perspective this year, you will love FatFace's charity-focused campaign. This can really make a difference for your customers. The move is great for brand-building.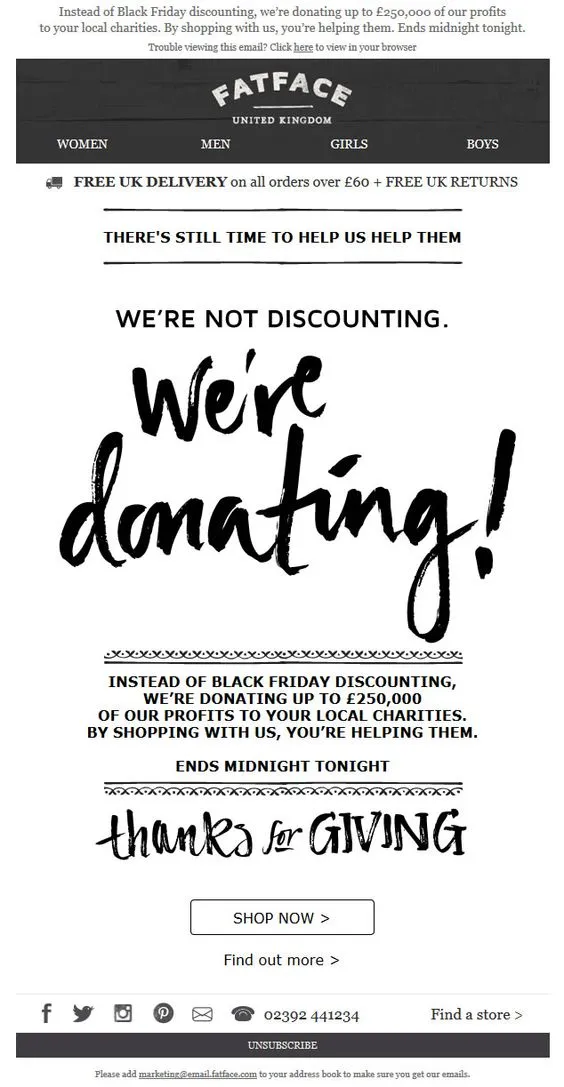 source: emailonacid
Such charity campaigns have the chance to be picked up by news resources and social media because charity is not that common on Black Friday when most businesses are so focused on profit.
Black Friday email #7: Extended sale
Many people get a lengthy Thanksgiving break. So keep in mind that not everyone is back to work after Cyber Monday. Consider extending your sale. Here's how Forever 21 did it (see the image below). They also make their customers feel special by naming the discount code VIP25. They may have even only sent this Black Friday email to a certain group of customers who made a certain purchase amount earlier.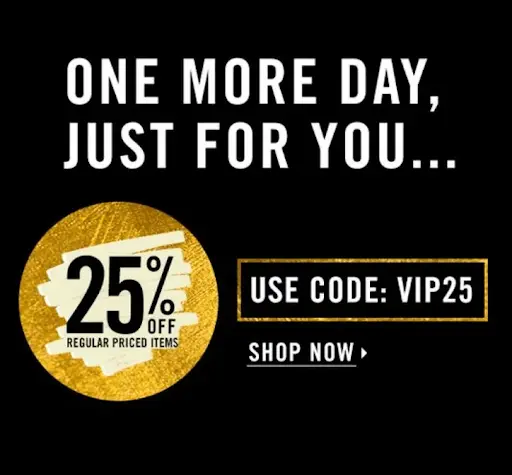 There are two things to keep in mind with this tactic. Firstly, don't tell subscribers that your sale will be extended. Otherwise, they might put off placing their orders, and you could lose customers. Secondly, make sure you don't use this tactic very often, or customers will catch on and expect it.
How to make your Black Friday sale even more successful?
Many businesses notify the potential prospect earlier than Black Friday morning. And this makes sense.
Lots of decisions take a long time, involve too many people and discussions. One of the small hacks that can help accelerate the decision is an early notification about upcoming discounts at this time of year.
As we already mentioned, the email signature campaign is one of the easiest and effective ways to share your sweet offer and push your potential customer to the right decision.
Get inspired by our Black Friday and Cyber Monday email signatures
Professional email signatures with Black Friday banners
Most companies and businesses have developed their brand kit and tone of voice that fit corporate positioning. An email signature should support and represent the brand. Check corporate style signature examples below.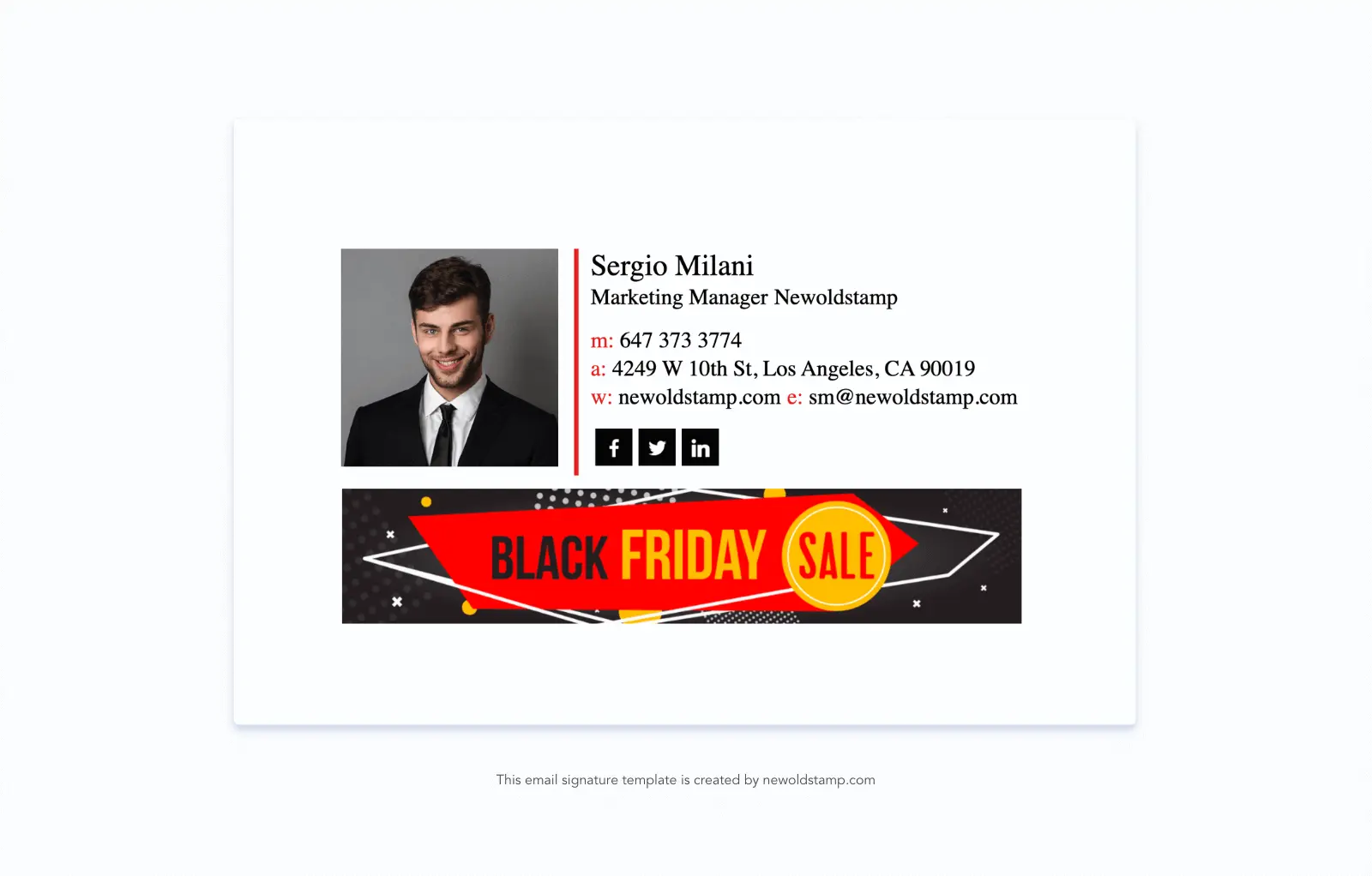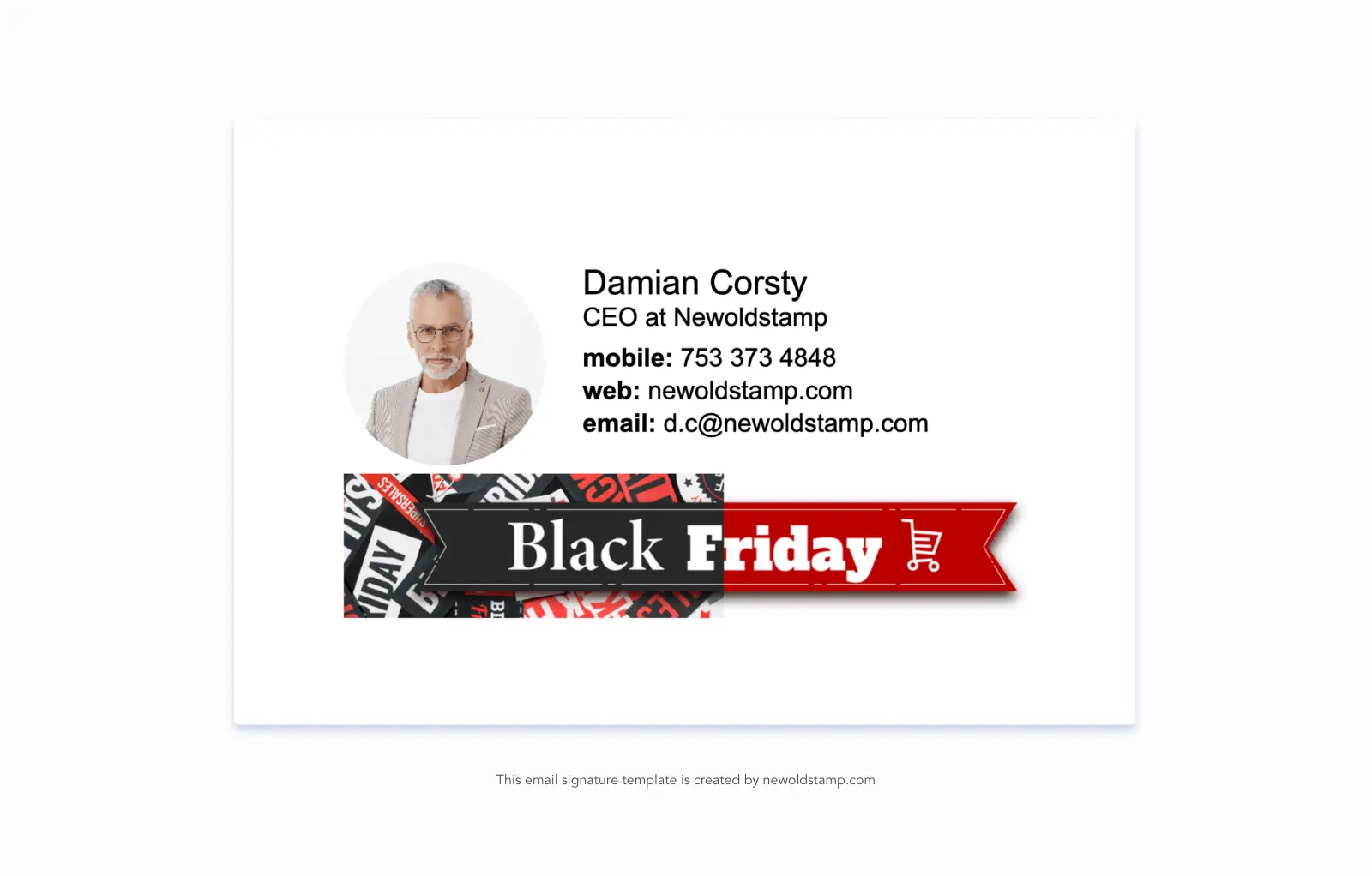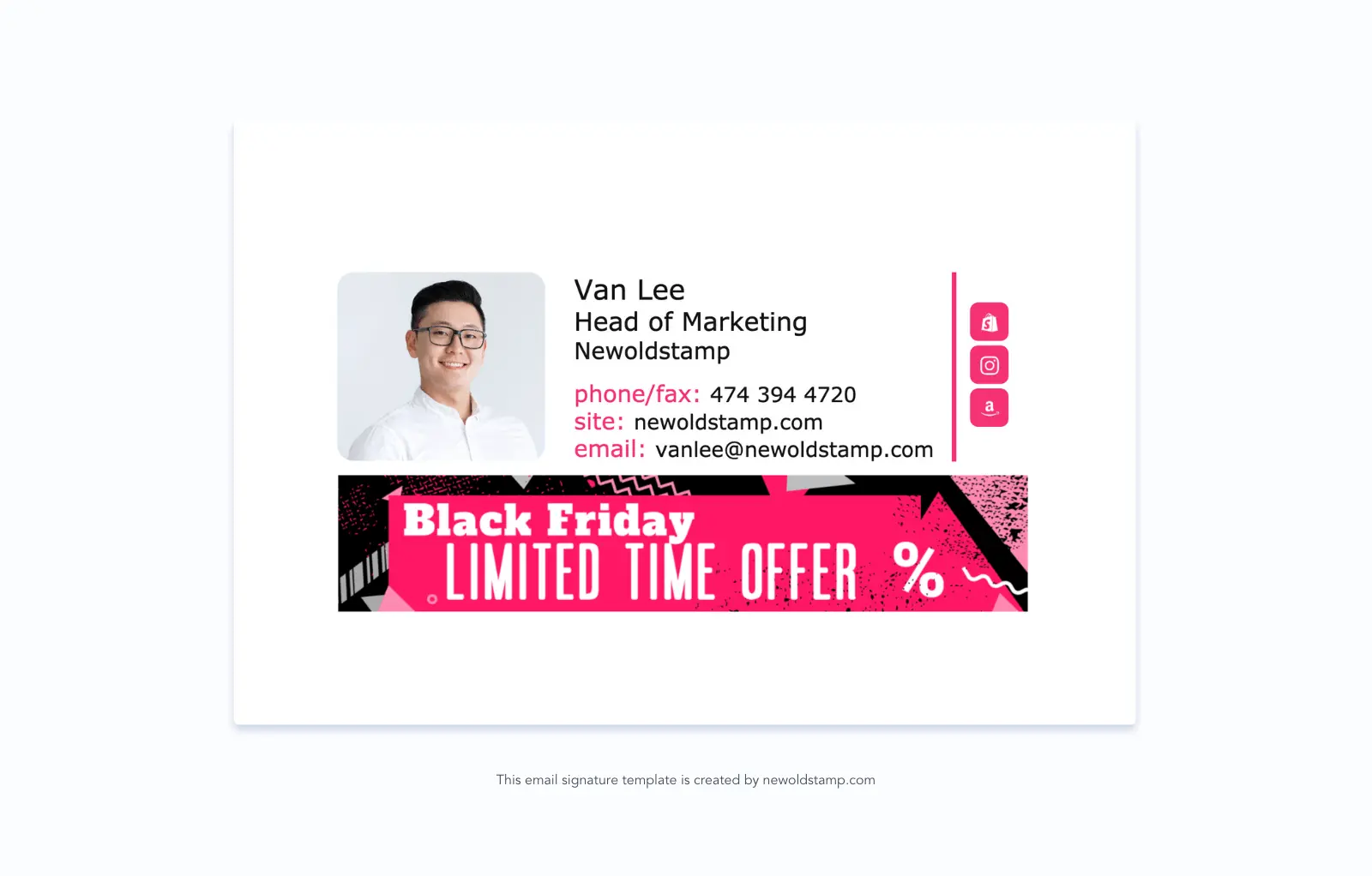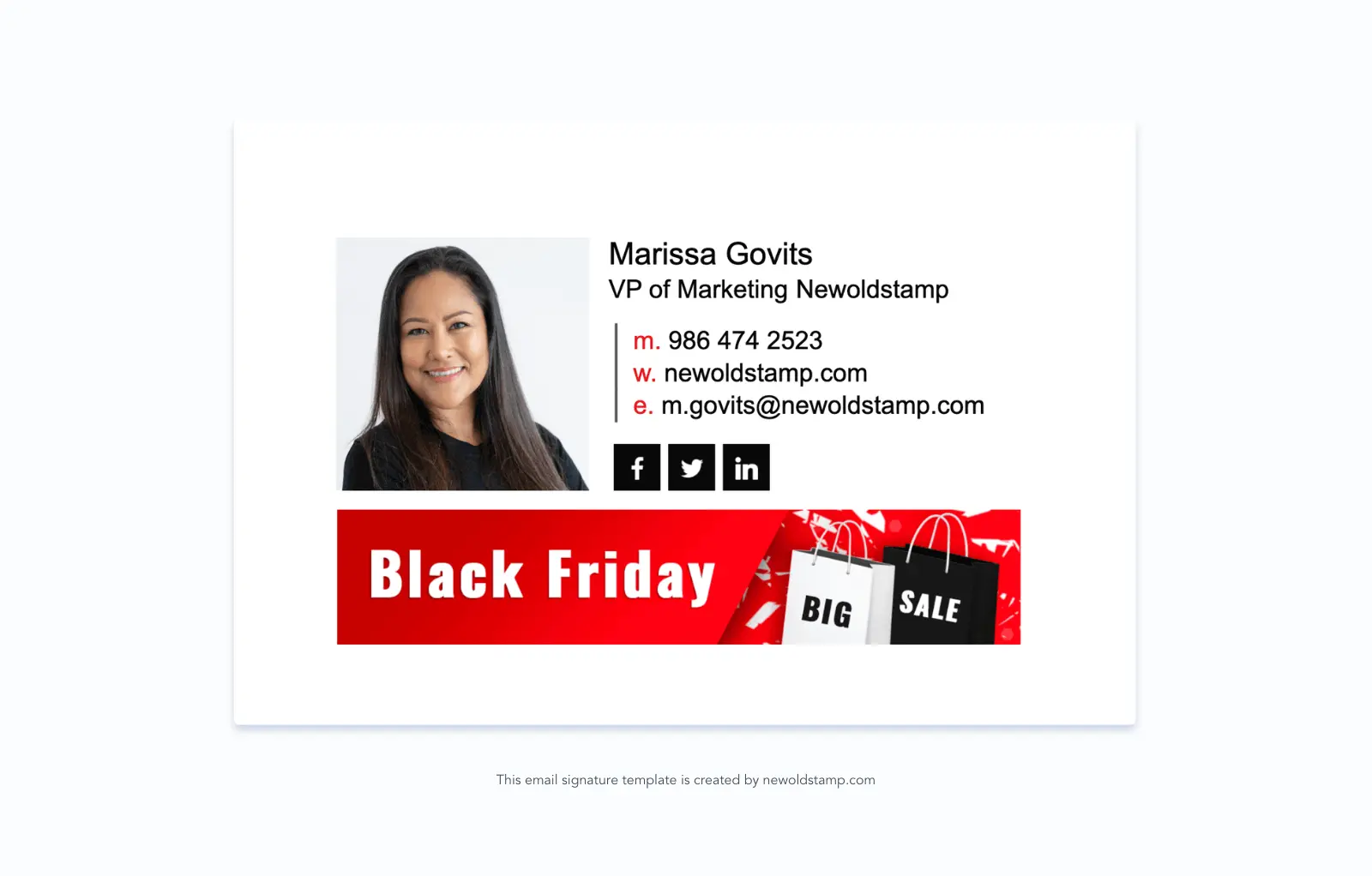 Creative Black Friday and Cyber Monday email signatures
Sometimes we need to get a bit crazy and creative to get noticed. Startups always experiment with positioning, test different audiences, and think over the box to increase their growth rate. Why should the signature be different? Play around with your headshots. Don't be afraid to add color to your signature. All you need to keep in mind is that it's always best to stick to two or three colors in your signature.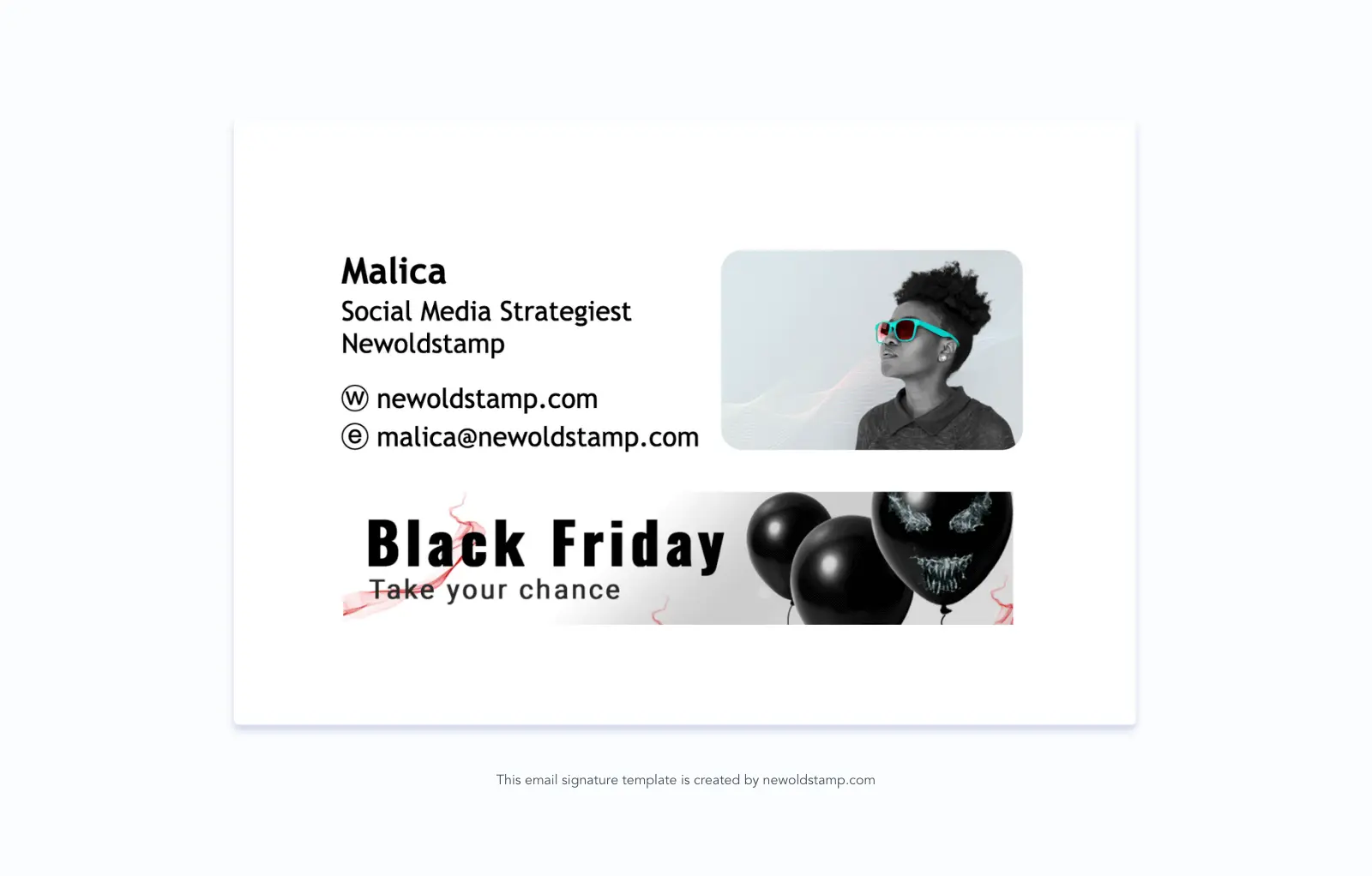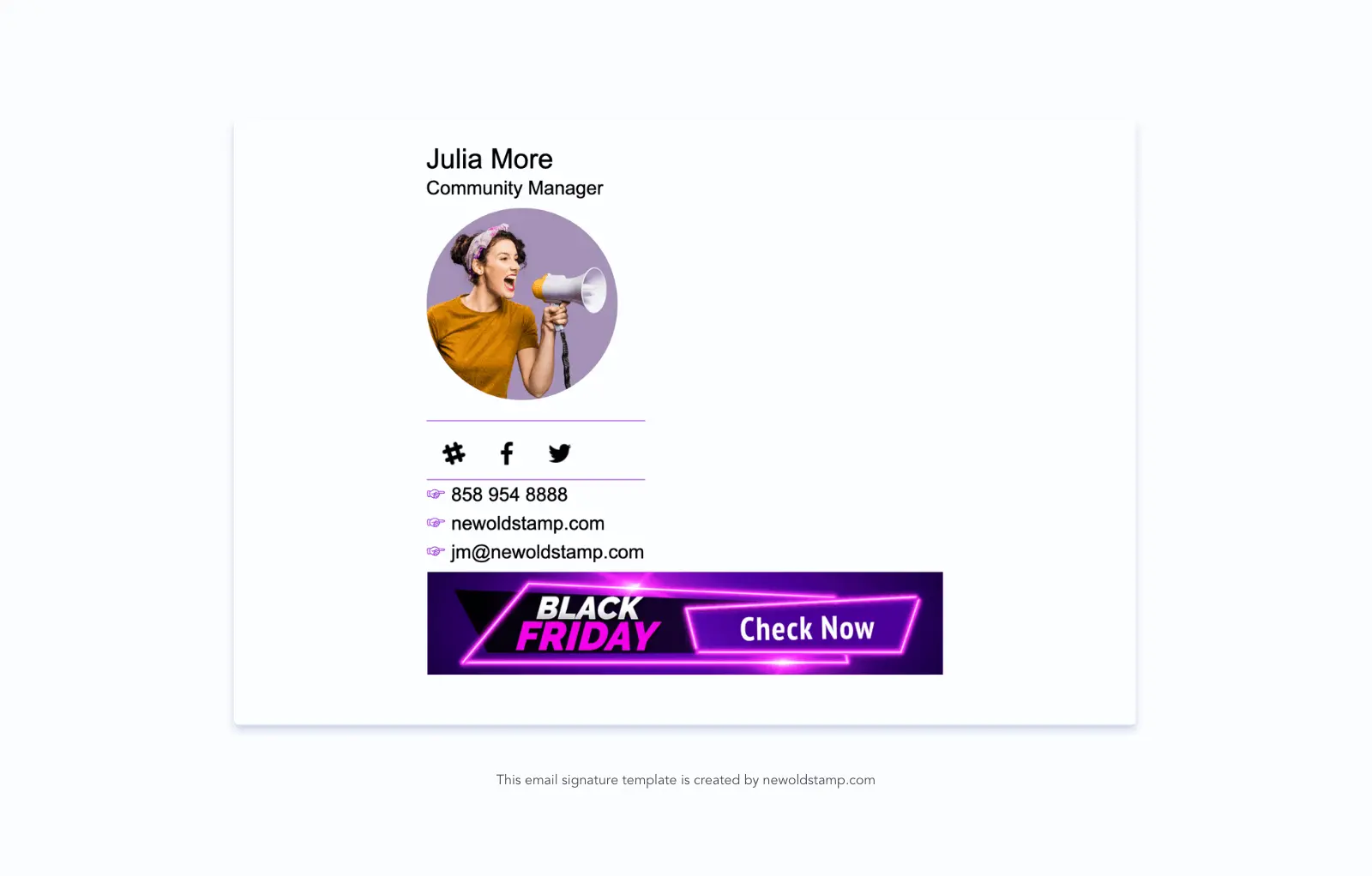 Email signatures with logo and banner
A logo is the most commonly used element in an email signature. Usually, your logo sets the signature layout and color scheme. You can make all elements fit the shape, color, and size of your logo. Make sure that your promotional banner supports the overall style.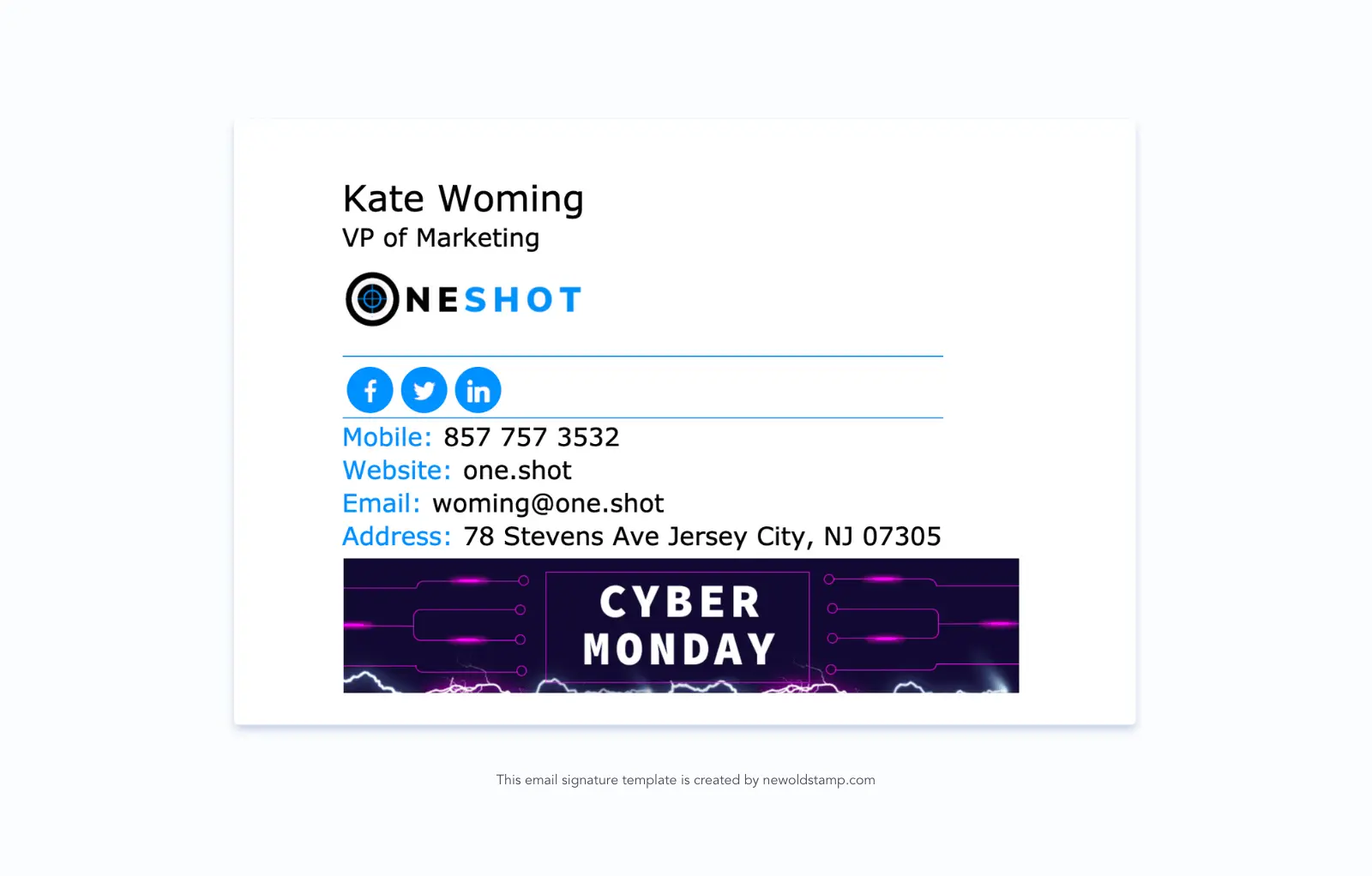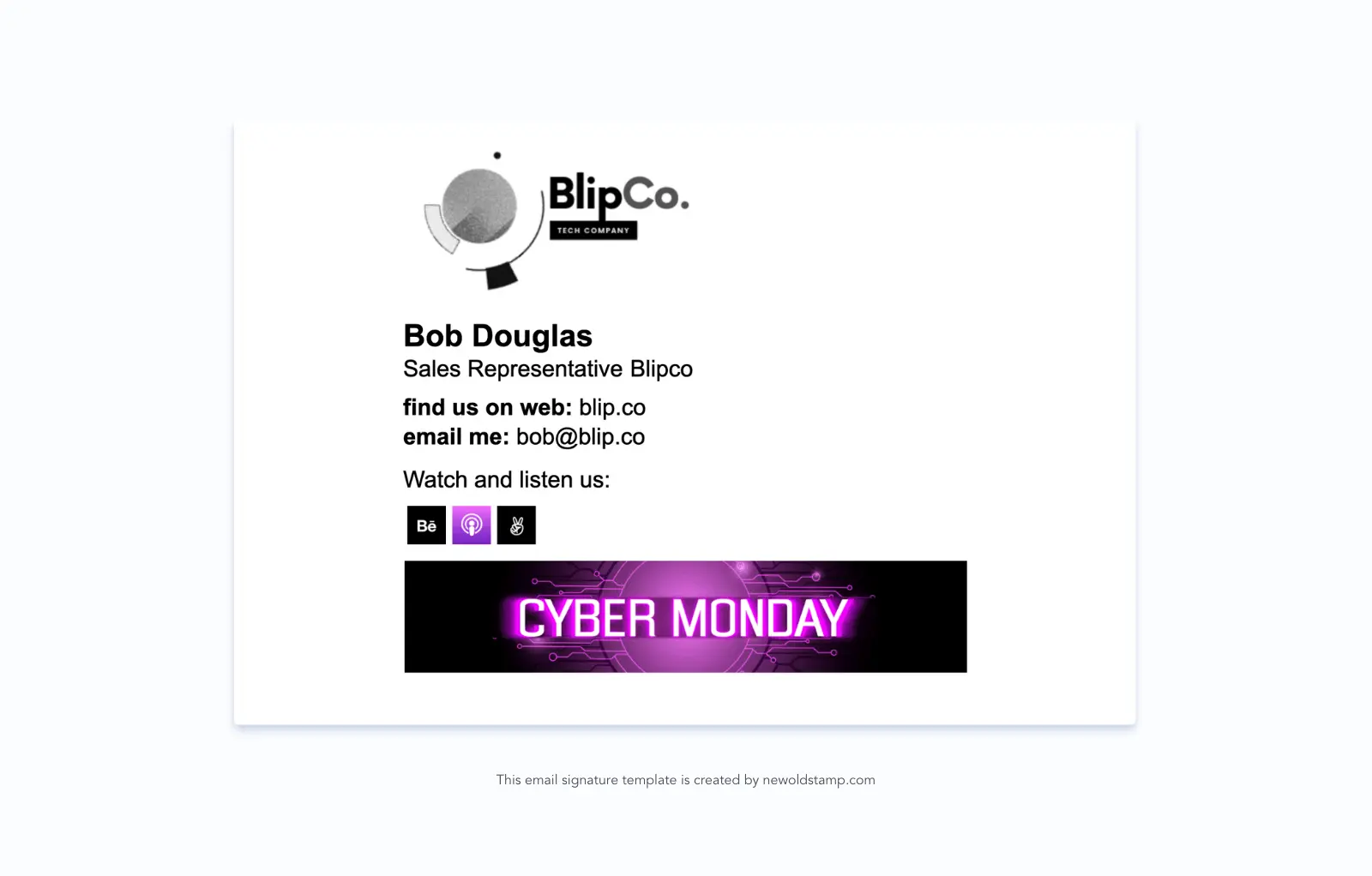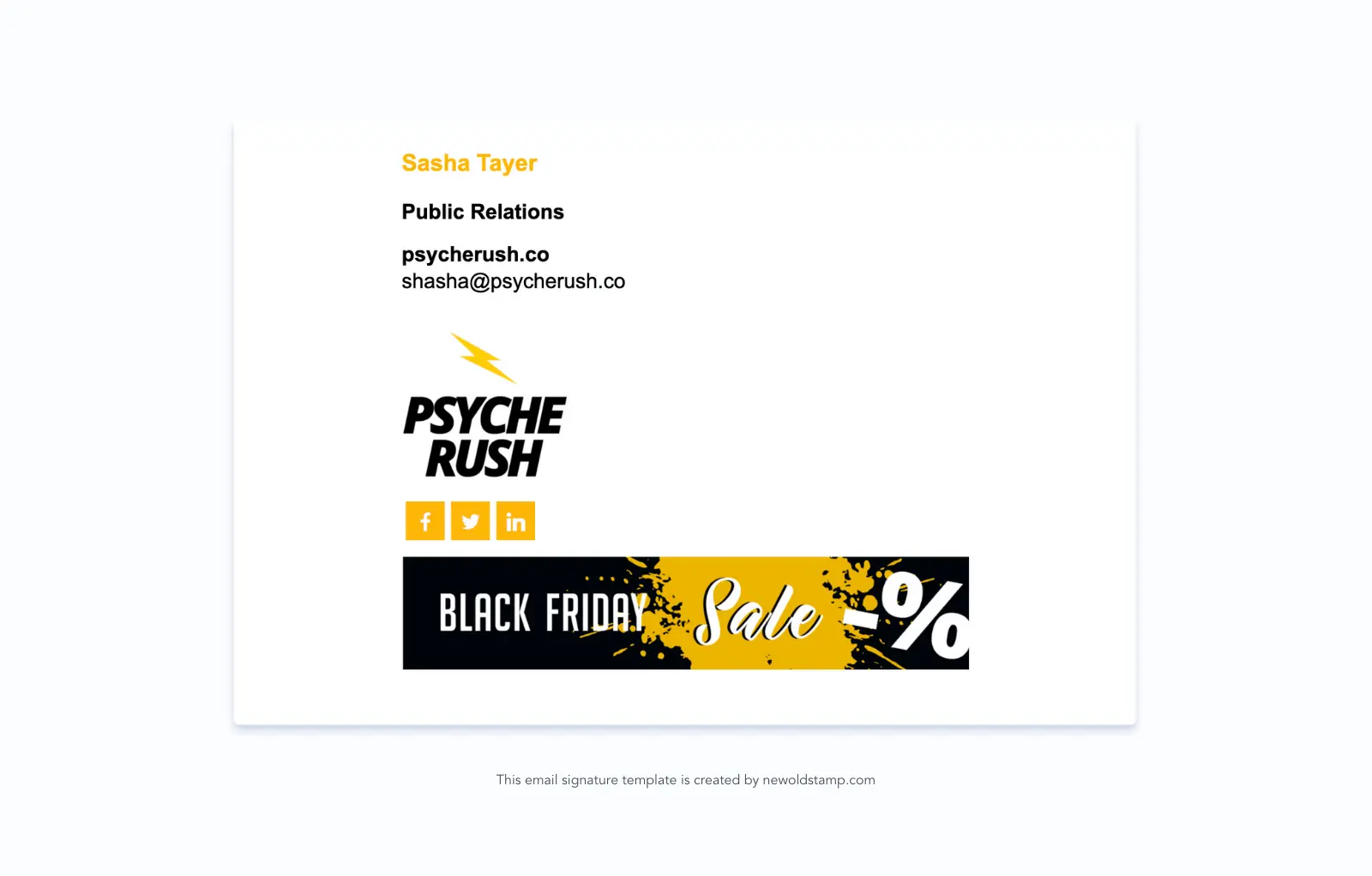 Mistakes to avoid in your Black Friday campaigns
If you want to be sure you don't leave any loose ends, pay attention to some key things and make your campaigns this Black Friday flawless.
Mistake #1: Forgetting to create urgency
What if we told you that your favorite brand was 50% off, but only for the next few hours? You would likely stop doing whatever you did and place your order as soon as possible.
When you show customers that a product is only available in a limited quantity or for a limited time, you increase your chances of making a sale.
Mistake #2: Waiting too late to launch
Every year, marketers are starting to promote their Black Friday deals earlier. As a result, it is quite common to see promotions like "Black Friday Sneak Peek" or "Black Friday Preview" going live even more than a week before Black Friday.
Mistake #3: Offering only discounts
Large discounts are great for customers, but you should also consider other sales techniques, such as buy two get three or receive a free gift with orders over $xxx.
Mistake #4: Stopping your efforts already after the Black Friday weekend
Black Friday just opens the festive season. People will still want to buy things after the Black Friday event up to Christmas and beyond. So, don't stop after the first sale. Instead, try launching retargeting campaigns to reach those who have previously purchased from you.
Final words
Tthere is enough time to prepare for the largest discount season of the year. If you are looking to achieve even more this Black Friday, consider implementing email signature marketing before the major sales events start and be creative with your Black Friday email templates and Black Friday email subject lines.