24 Perfect Moments to Use Email Signature Banner to Boost Your Business
1. What exactly is an email signature banner?
2. How a signature banner can boost your marketing activities?
3. How do email signature banners work?
4. How to add a banner to your email signature?
5. Why is the email signature effective?
6. Perfect moments to use email signature banner
When you start using banner advertising in your email marketing, you will eventually mark that a banner can lift your business to new heights. Banners will help you show stories, moments and events, and actually, bring out a reaction.
The main purpose of a company or a new startup is to communicate broadly to its customers and potential leads. And while email is a prime force for communication, the email signature block can be the key platform for displaying advertisement content.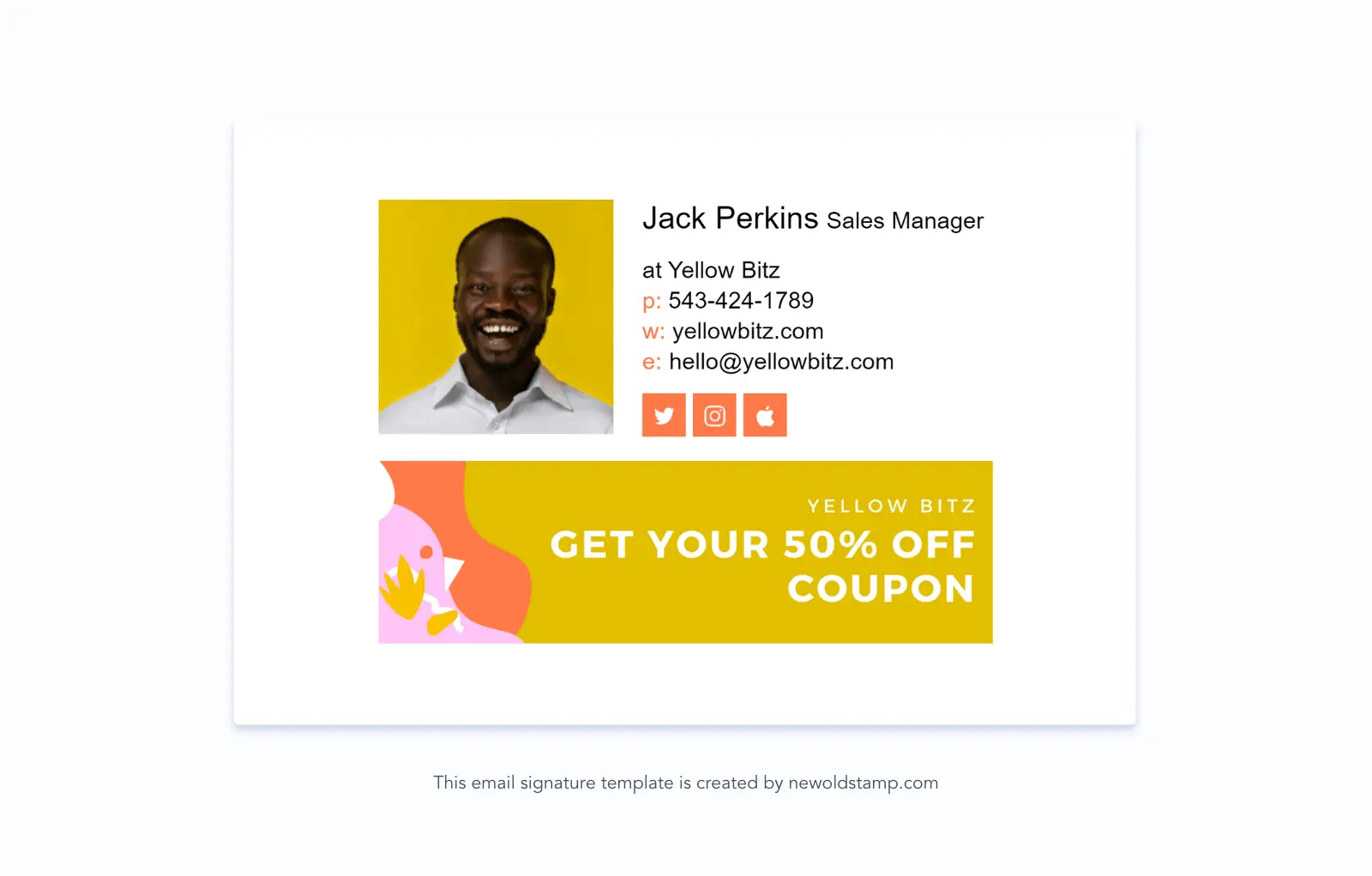 What exactly is an email signature banner?
An email signature banner is an advertisement stripe in a form of a graphical image that is usually placed under the user's contact details. The signature banners can show contextual and relevant display advertising, providing visual-oriented nature and a prime opportunity for getting traffic. As with any marketing campaign, great signature banners are what matters and what we share. They are more meaningful when tailored to specific users' interests.
Thousands of companies already use email signature banners with events, offers, and more to advertise their businesses. Once you include promotional banners, the email signature will help to generate more leads. By using special services, like the Newoldstamp signature generator, you can easily incorporate a promotional banner into your email signature block.
How a signature banner can boost your marketing activities?
An average office employee sends over 10k emails every year and will send and receive up to 140 emails per day by 2023. You may consider these 10k as your extra opportunities to increase brand awareness and annual profit. Simply, a signature banner can be a killing distribution channel for the promotion of the most significant initiatives, including conferences, case studies, company features, service demos, and more.
Using a simple promotional banner as a part of
an email signature marketing campaign
with branding imagery can be a crucial part of the strategy going forward.
How do email signature banners work?
Any Newoldstamp user can begin a signature banner campaign and display their products and services to new prospects and potential leads.
An email signature can include a banner advertisement that in its turn consists of an image with a JPG or PNG format. The signature banners usually promote the business with a static advertisement. You can click on the banners and go to a company's product description, website or blog, landing page, social account, video, etc.
If you don't have a website yet and think that building a website will take a lot of time and money, go to website builders like Weblium and create a website in no more than an hour. It's easy, check out yourself.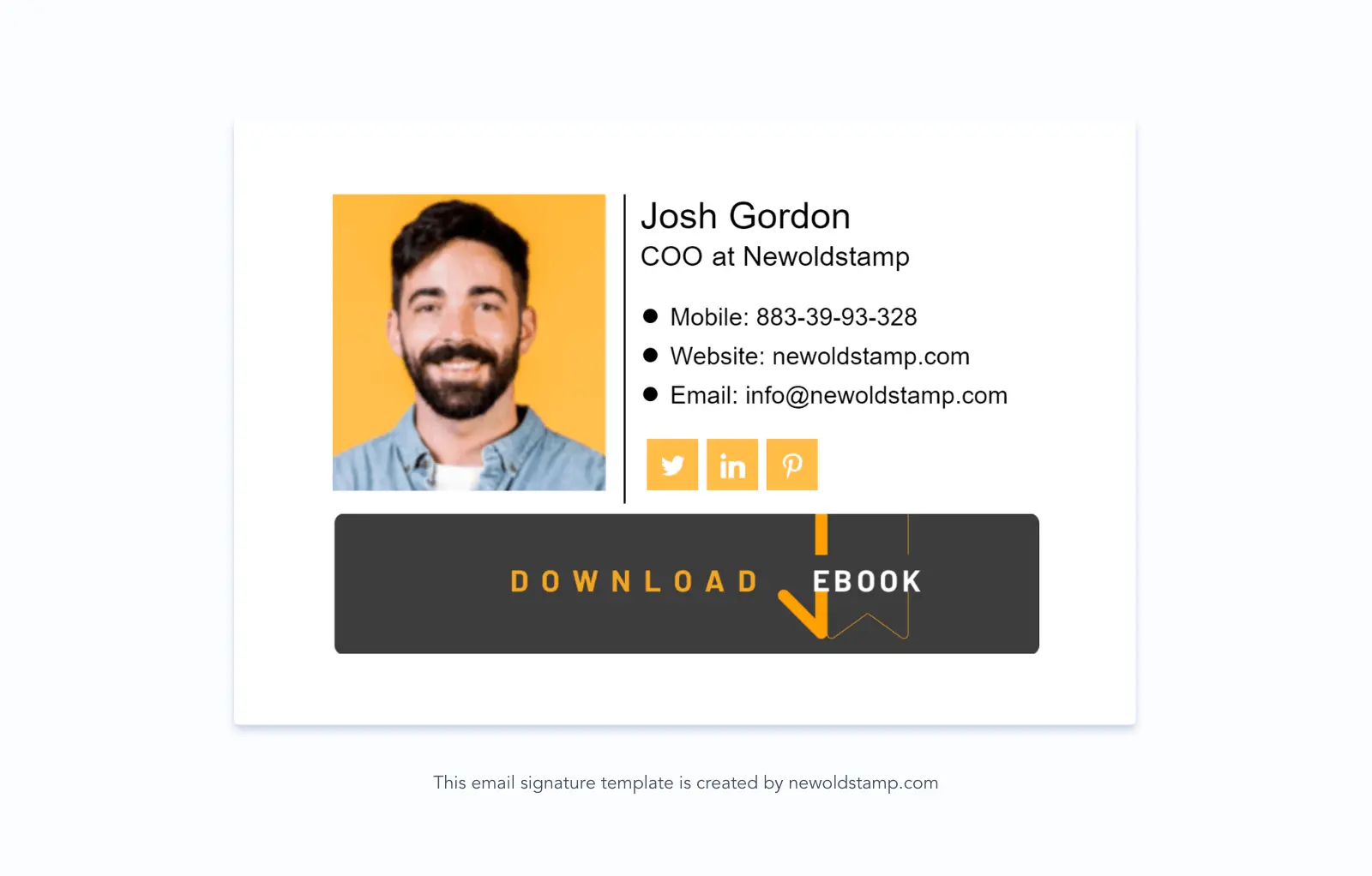 There should be key principles that guide project teams when creating email signature banners:
The banner has to be creative and compelling in order to catch the audience's attention. Only then your message will have an opportunity to get that meaningful connection. To make banners appealing, marketing experts often use animated images, logos, brand fonts, and fresh content to stand out.

As an email signature banner tends to be placed in a comparatively small block, it's better to communicate clearly what you offer. Send your message about a service right, increase brand awareness and add call-to-actions.

It is always recommended when promoting the banner ads to consider your target audience's needs. The idea is to solve their issues and satisfy their wants. In addition, it is amazing how natural marketing feels if you start promoting a product you really believe in. Simply, you should become a key person of influence in your niche.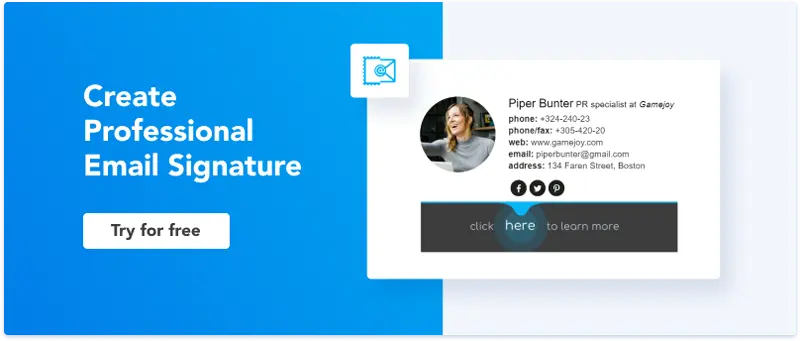 How to add a banner to your email signature?
You can easily add a banner to your email signature with Newoldstamp. Here's how it's done.
Step 1. Go to the Signature Manager and create (or edit) a signature.
Step 2. After creating your signature, choose a banner from the Newoldstamp gallery or upload your own.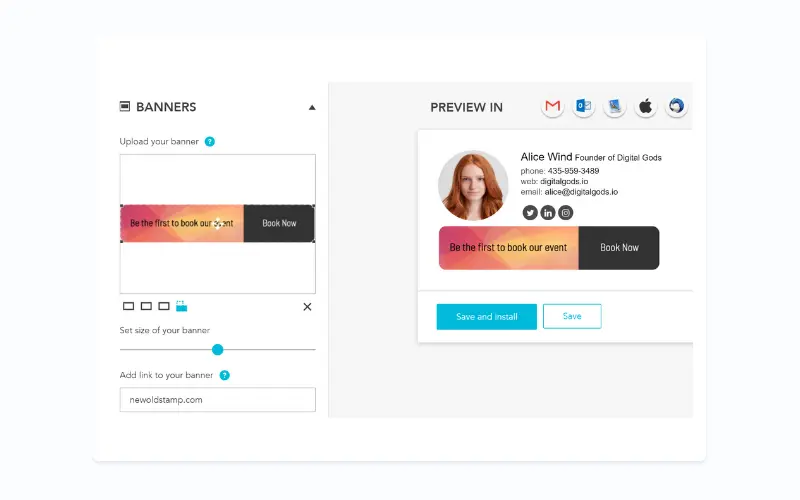 Step 3. Choose the size of your banner and add a link to it.
Step 4. Save and install your signature.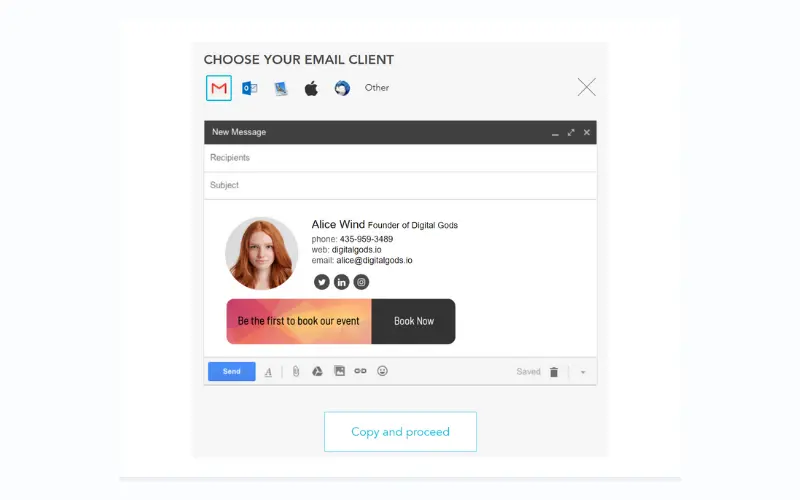 Why is the email signature effective?
One of the advantages when advertising your product through email signatures is that you can measure the campaign's effectiveness through the click-through rate. CTR is a major ranking factor that is calculated as unique clicks. Simply, the higher the click-through rate is, the more effective the banner ad is. You can set up an integrated ads platform, track links and check the results.
Across the board, email signature marketing can help advertisers teams to deliver their message in a way that feels natural to the user experience. The companies can use a signature platform to weave their storytelling into the different routines or activities their clients participate in. By using signatures, startups can generate leads and improve further web presence.
Moreover, here is what you can promote through the signature banners.
24 Perfect moments to use email signature banner:
1. Website or mobile app promotional banner
A banner ad with a link to a website's landing page is something that every email should include. Strictly speaking, it gives an ability to catch the client's attention and proceed further and move the relationship to the next level.
2. Use banners to tell about your new product launch or service announcement
You can use signature banner ads to announce the launch of a new product and make product demonstrations. With a professional email signature, you can apply your unbeatable tactics to efficiently engage recipients and get them excited about your newest products. If you worry about your product advertising, you can try the email signature generator to easily set up your banner and display it in your email footer.
The email signature banner will allow your recipients to:
View a demo or a product video

Check pricing and product features

Go to a website and see more offers
With each click on the banner, you recipients will understand your product offerings better – all with minimal effort on your side. The signature example that is shown below uses a banner to advertise a product launch: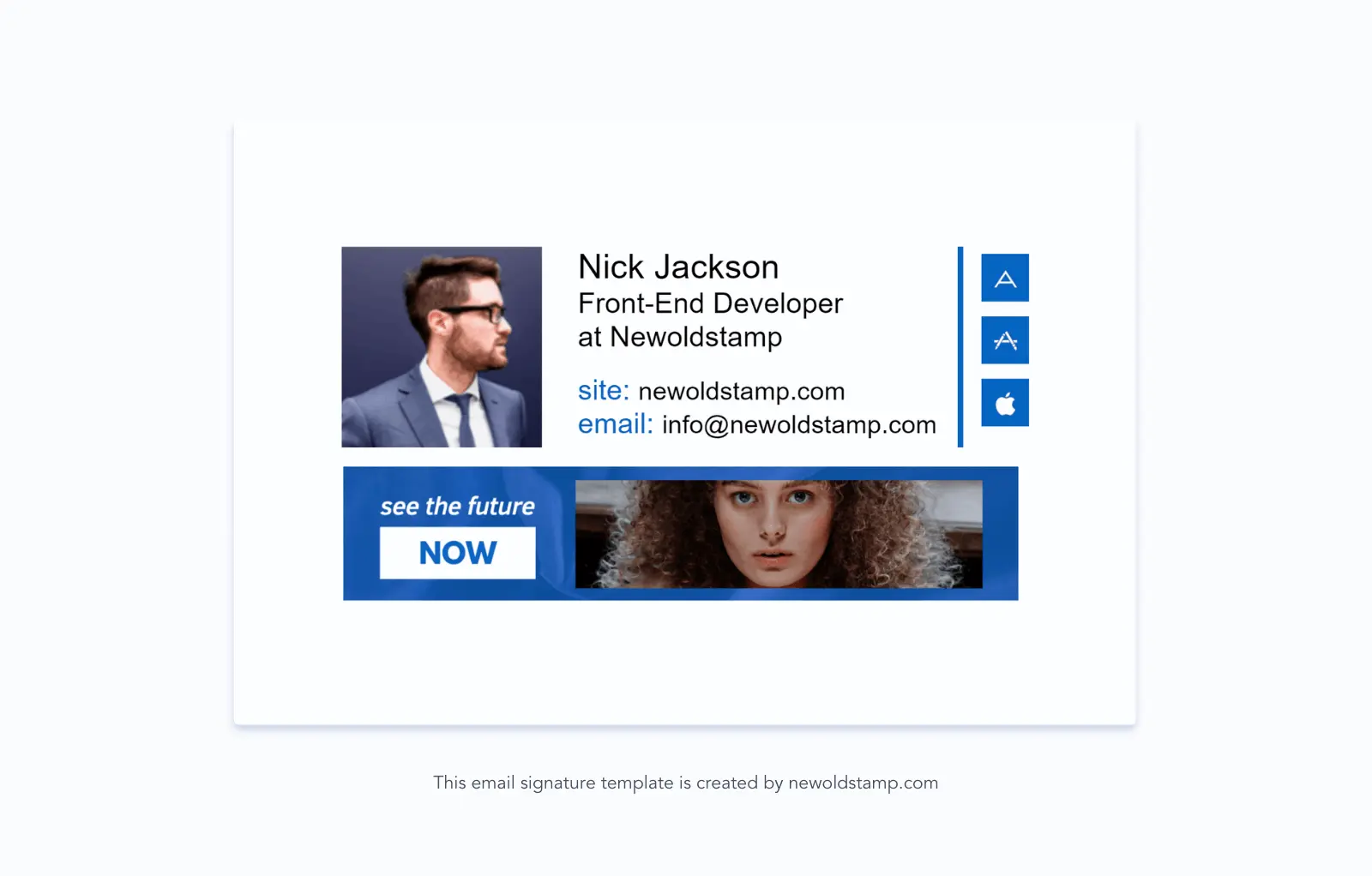 3. Generate blog traffic
It's good to take into consideration making a signature banner if you own a blog with consistently fresh content. Just take The Ciampa Team. They have linked their banner to the website where a person can click the play button and enjoy local realtors talk about real estate on AMP Radio.
Decided to run traffic to your website in the same manner? Do not forget to add a simple call-to-action and eye-catching email banner design to encourage people to take the next step to become a follower.
4. Use banners to share your new content
If you posted a new article on your blog, released an eBook or created a report, an email signature is a perfect spot to advertise your content. Create a cohesive email signature with a visual campaign and share a link to the e-book. That will help you build business identity and credibility.
You can share links to the relevant and trending content in your personal email signature and build credibility among your potential clients. It's a way to connect and communicate with your partners and prospects. No matter what you are introducing, highlight a few details involved in content's conception and purpose.
Sure, you can promote new content through the plain text links, but a gorgeous design of an email signature promotional banners will turn your email marketing campaign into a valuable lead generation instrument.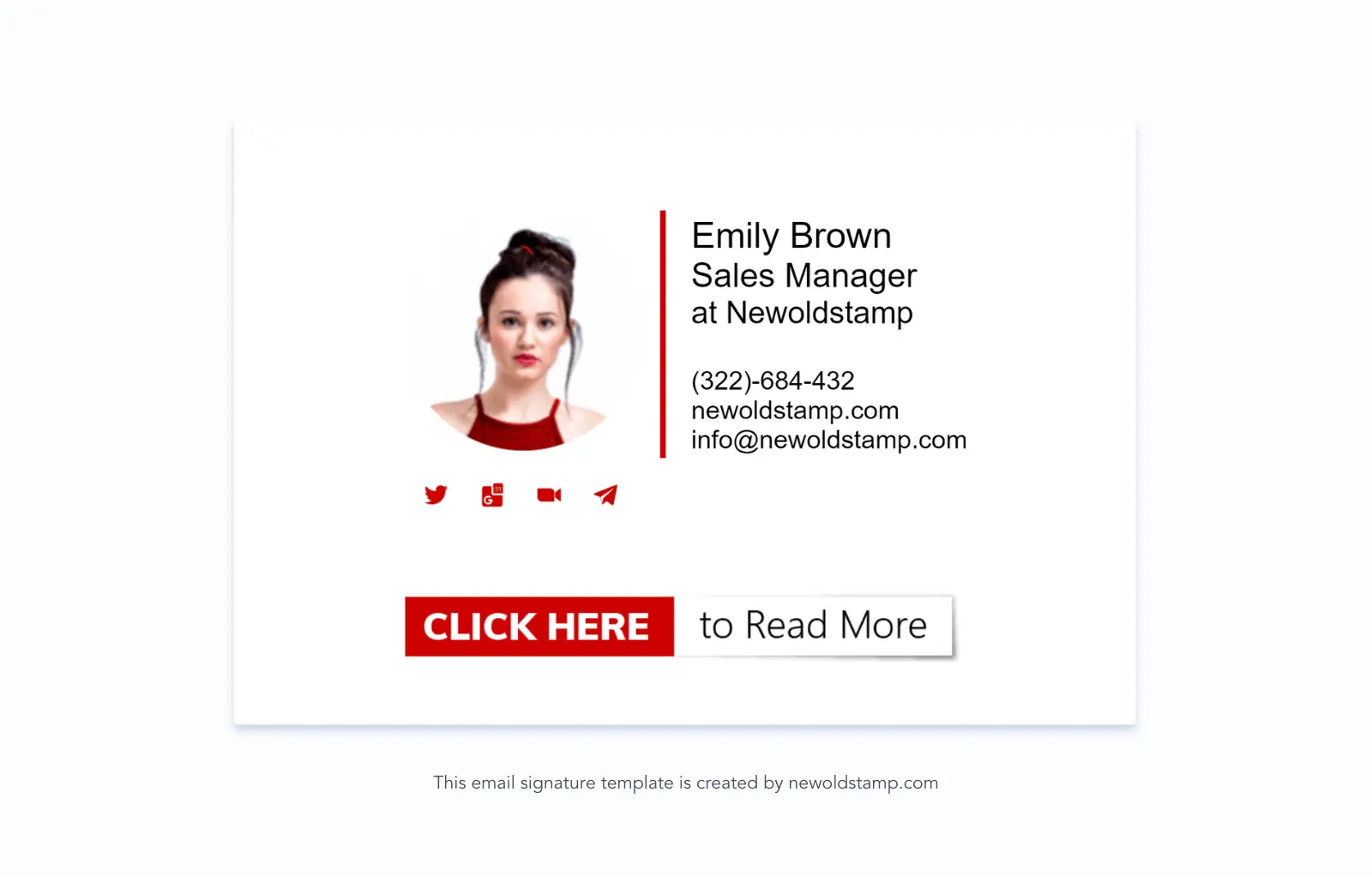 5. Use banners to tell you are visiting an event
By highlighting social events in your email signature promotional banner, alongside conferences, meetings, tradeshows, and other special occasions you're going to be at, you will ensure that your startup is one of the most significant contacts to stay in the know.
By spreading the word about the events through the email signature, you will gain more awareness among your target audience. If you make the signature, you will see that it is a right place to providing information. Here is an event promotional HTML signature example: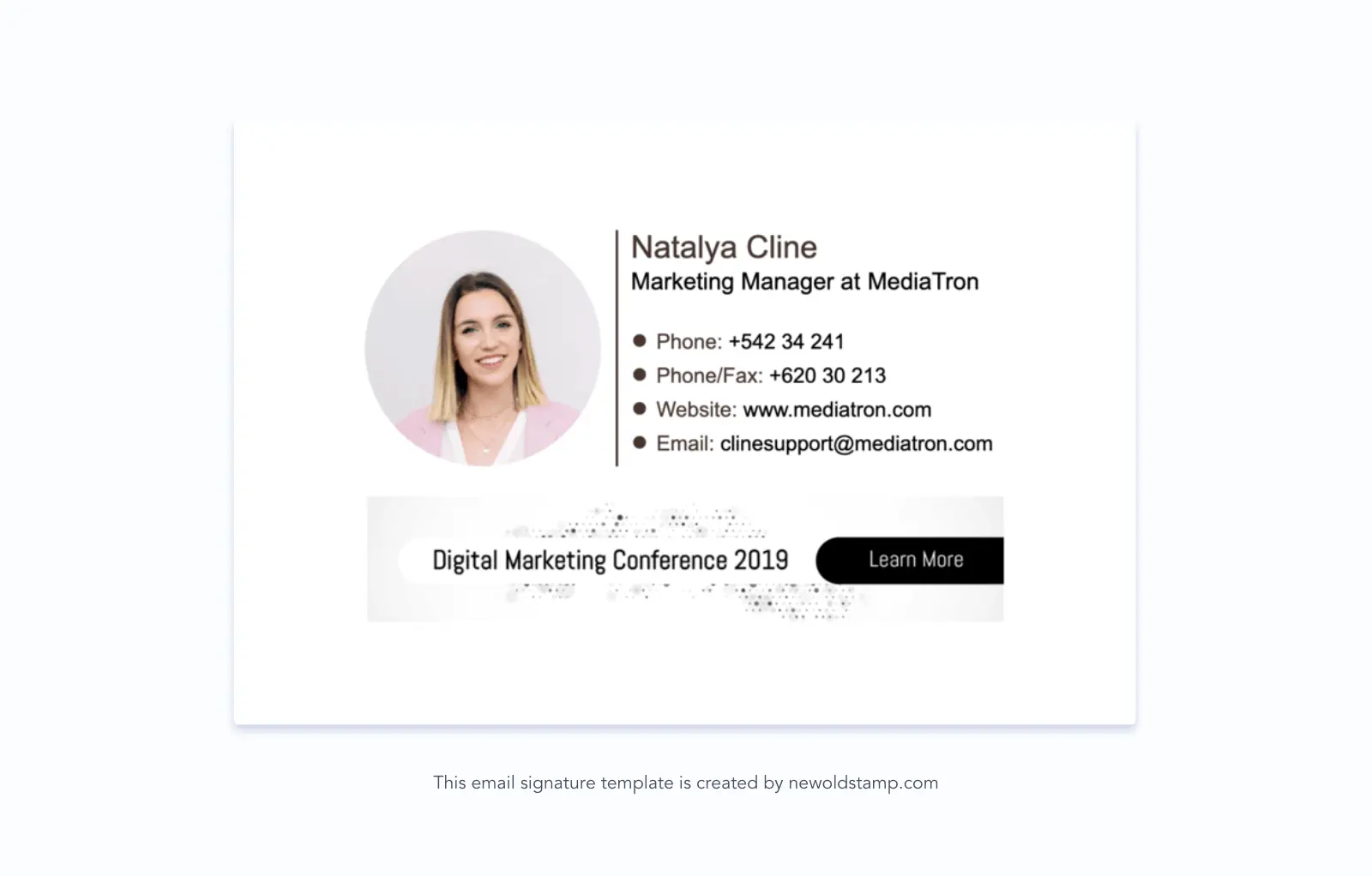 6. Polls and forums
Use a banner to highlight diverse polls or forums. Add just a simple banner below a signature with some details of the event providing a link to a page with the full information.
7. Use banners for holidays greetings
Have you ever posted a promotional holiday banner? You can include a link to your company's greeting video, so customers would be involved in a celebration. That should help to build trusted relationships and learn more about your company.
Happy holiday banner that sends custom greetings is a must-have addition to any marketing calendar. You can design a signature holiday banner for your business and announce big sales and other specials.
For example, the Christmas and New Year's ads are used to wish clients Happy Holidays and to advertise holiday sales. It's a nice idea and great way to display upcoming plans and connect with users on the emotional level.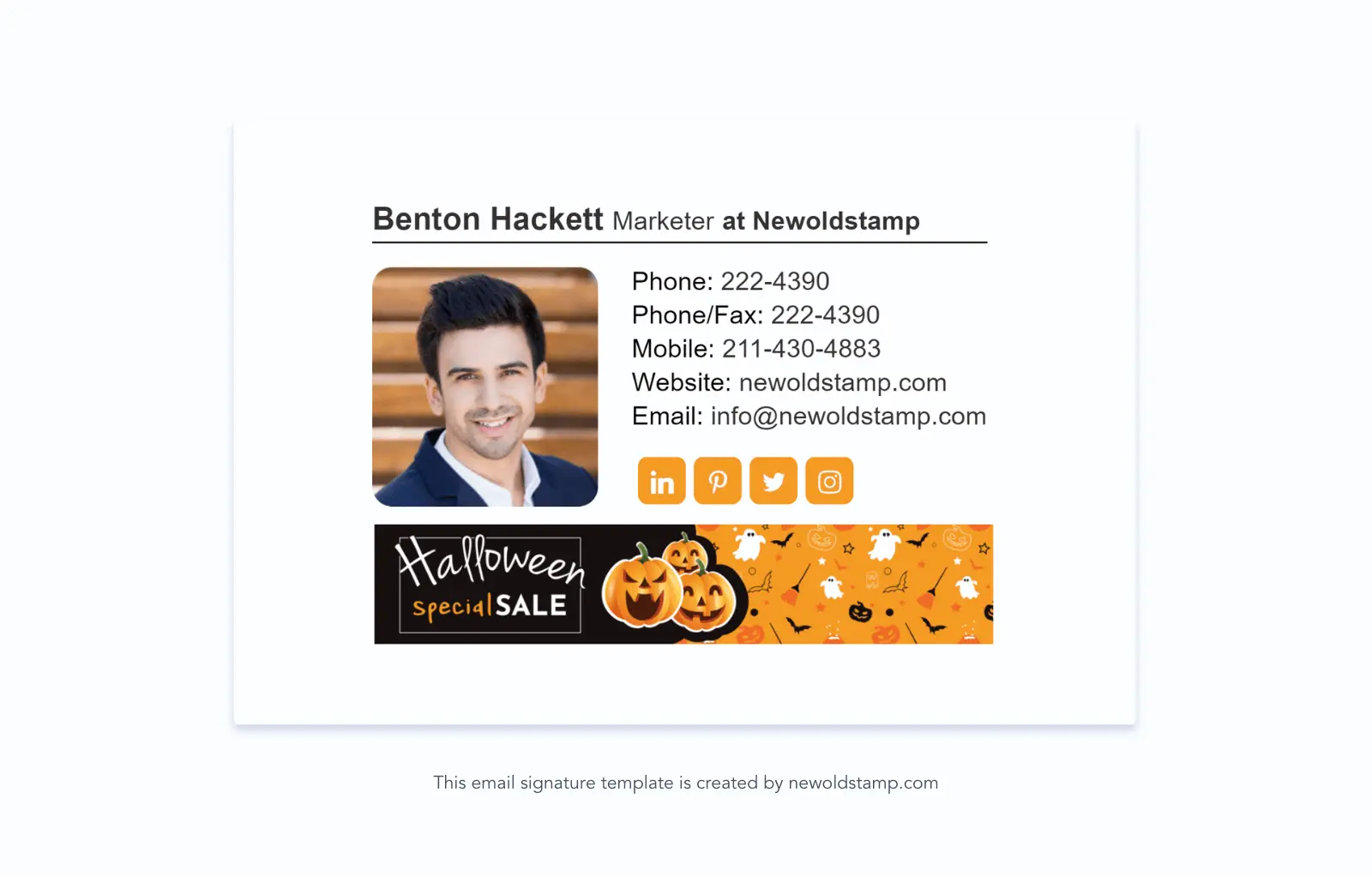 Here are more examples of relevant email signature banners:
8. Use banners to tell about your webinar or free consultation
When displaying free consultations or webinars, consider applying an email signature banner that can help to promote and demonstrate your services. That will help to grow sales and increase leads, and show your recipients that you are offering any opportunity to enjoy all the benefits.
You can have a number of campaigns running at any given time, with various marketing messages being delivered to different segments of your email connections. And highlighting the webinars or consultations in your HTML email signature will absolutely drive more traffic to your website and social accounts. However, do not forget to delete or update ads that are not needed anymore or out of date.
9. Use banners to promote your new marketing offer
By displaying new marketing offers in your professional or personal email signature, you will do a nice job of converting traffic into leads. In addition, you can find out your best performing offers and then promote them to even more traffic.
When using the best email signature banner with marketing offer links, you can refer to trending ebooks or webinars. When companies invest in the email marketing, publish content on different channels and use a promotional banner in email signatures, they build a media asset that will be worth money down the road. Here's an example of the email signature banner promoting the offer: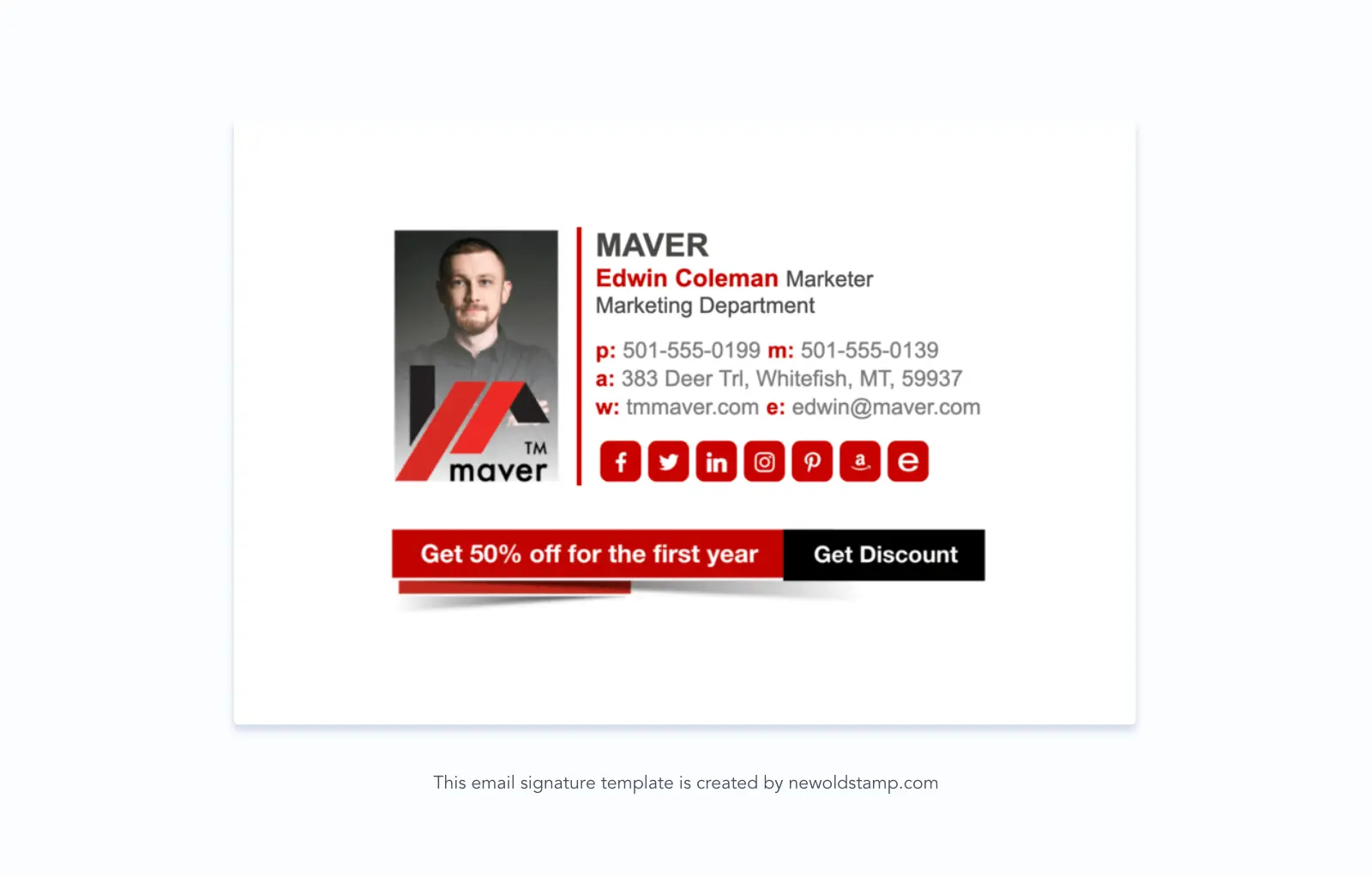 10. Use banners to share testimonials from clients
If the recipients see testimonials and personal accounts with comments about any of products or services, both are good options that guarantee further productive cooperation with potential clients.
Within the signature banner, you have a couple of options for implementation. First, you can learn how to make an email signature. Then you can include a banner with the words to the area on the side, or you can write the testimonial directly on the image that you can make by using the Canva tool.
11. Promote free trial
Remind people about the free trial with new banners being installed into your email signature. Creating banners for email signatures is a standout amongst the best approaches to stream large download numbers.
12. Share your free tool
Free online tools provide additional value and showcase that you are never missing an opportunity to help your future and existing clients. Include the link to your free ROI calculator, e-learning or assessment tool, photo editor or gamified infographic maker. These freebies will drive further interest in your products or services.
13. Promote case studies
Promote detailed case studies to boost your brand. Potential clients and business people adore this one, and they will notice your success when comparing you to competitors. As well, you could mention the ROI that a client reached with your product.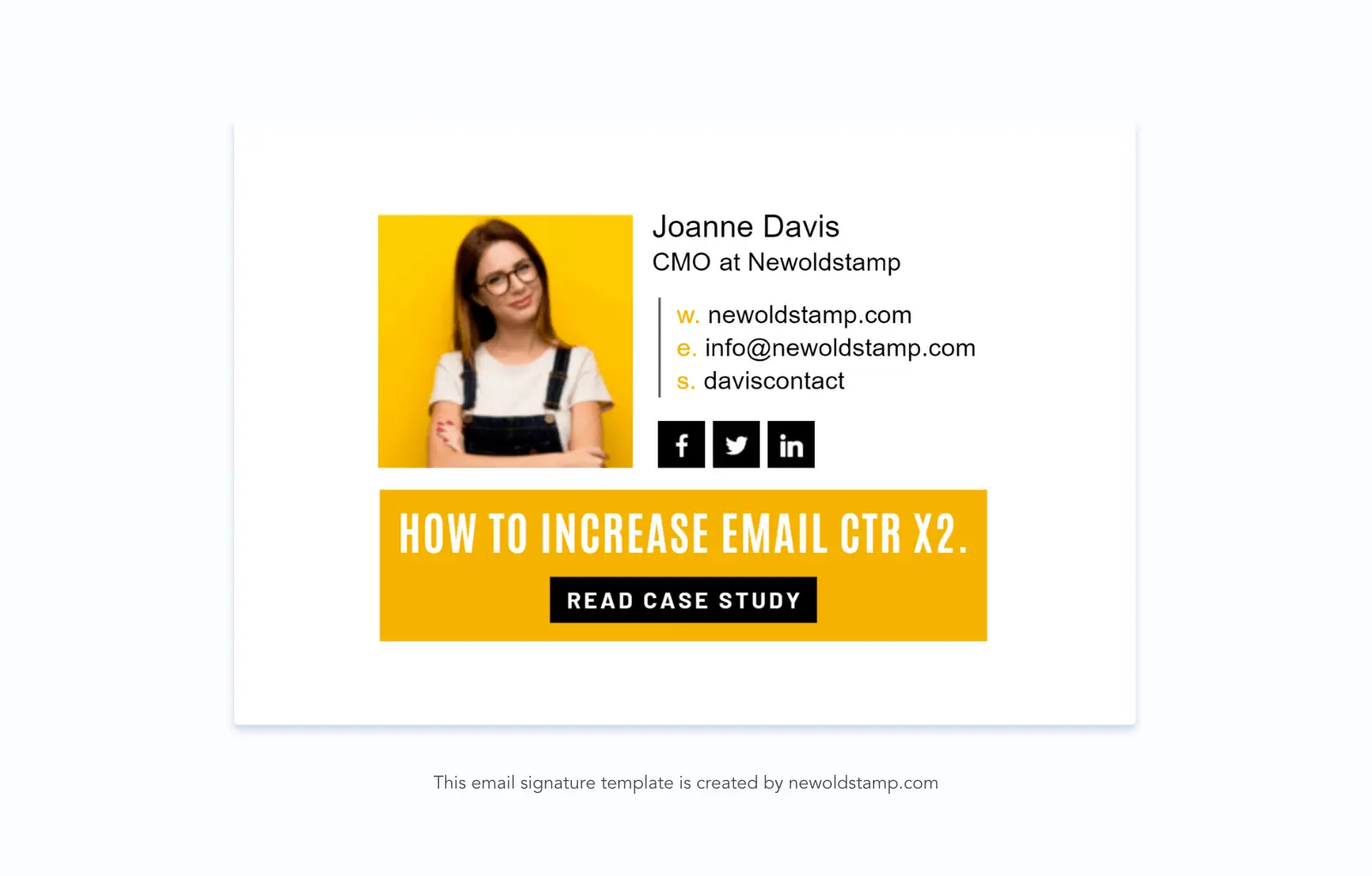 14. Share industry research
Never underestimate the impact oа data and facts on your prospects. Nurture them with professional reports or industry research that will help them gain business insights, leverage industry trends, and adjust corporate strategy.
15. Advertise your book
If you have recently written a book, article, or whitepaper, don't be shy to highlight it in the banner for email signatures. Share a link so your recipients can click on the publication straight from the email.

16. Invite to participate in giveaways
The principle objective of email signature banner is to make leads for your business, giving away something free is the ideal way to ask for someone's contact, for example. How many times have you been tempted to get something for free?
17. Try linking to company promotional videos
Link your channel or video with your email signature banner to increase views; you can even use the embed code and play video from your website. Although generating a dynamic QR code on a banner ad is about as useful as putting one in your mobile email signature.
18. Share affiliate link
Inquire the best offers and open them to more traffic. Use your best email signature to share an affiliate link or banner.
19. Add a link to your calendar
Allow clients to easily book meetings with you by including a banner with your calendar. Easy, ha?
21. Share company news
You can highlight the news article or releases in your email signature banner and deliver essential Human Resources announcements. You can keep employees involved, engaged and up to date.
22. Highlight awards and accolades
If you have recently won a famous award, received recognition for exceptional work, or was mentioned as a highly-qualified professional in any third-party source, then you definitely have to highlight this in your email banner.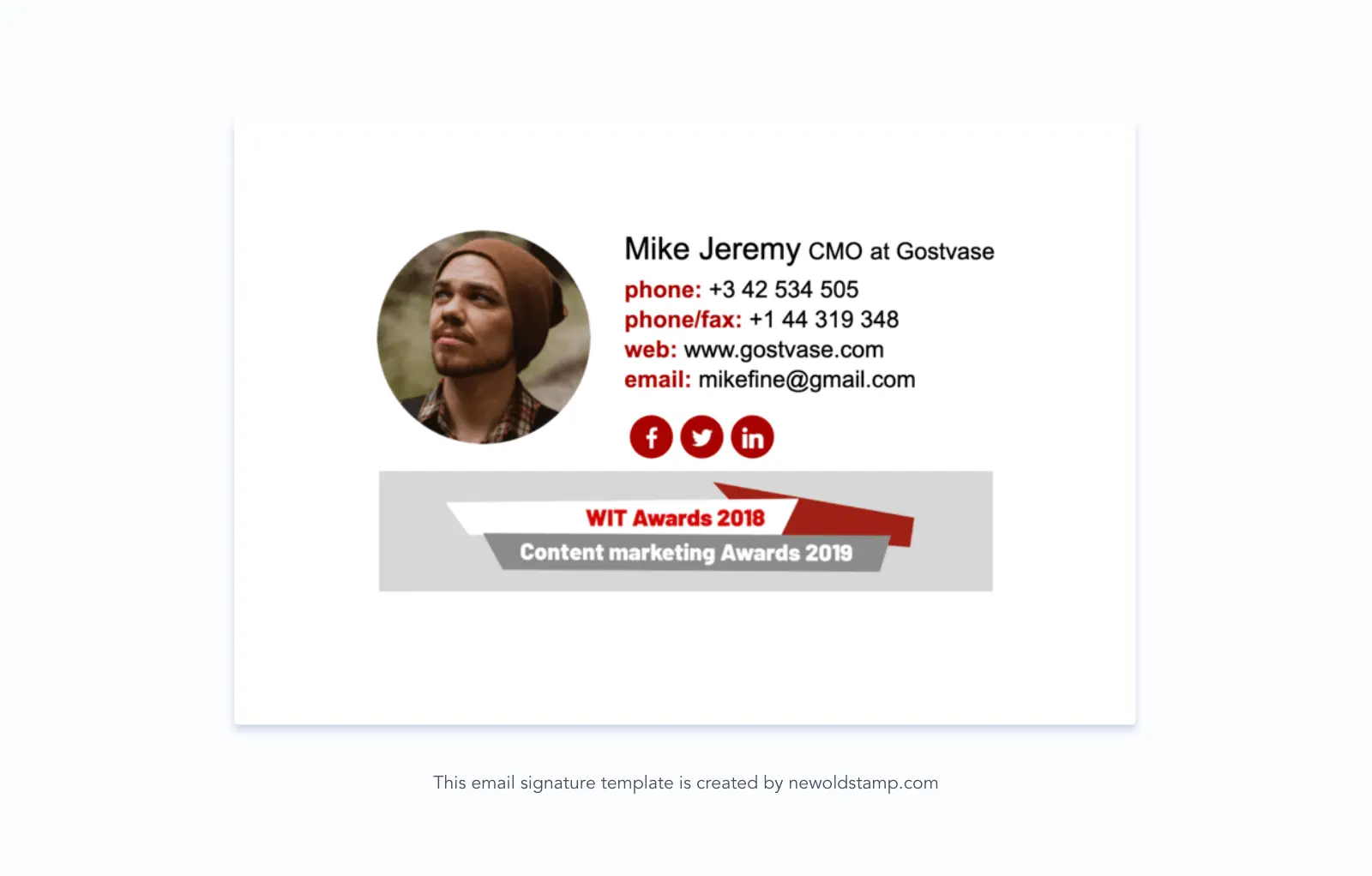 23. Real-time Twitter feed
Change your simple promotional banner to show your latest tweets in order to gain more followers. This easy-to-implement branding opportunity will give your clients an option to re-engage and stay connected with you.
24. Promote Behance portfolio
Use the banner to provide a link to your design portfolio and share your latest artworks. Use email banner design to highlight your talents, designing skills, and attentiveness to details.