7 Perfect Moments to Use Email Signature Banner to Boost Your Business
1. What Exactly is Email Signature Banner?
2. How Do Email Signature Banners Work?
3. Why is Email Signature Effective?
The digital advertisement has evolved since the first banner ad in 1994. Today banner ads are on blogs, mobile, smart watches, social media, and email. How far we've come since the internet's first banner ad!
If you start using banner advertising in your email marketing, you will eventually mark that a banner can lift your business to new heights. Banners will help you show stories, moments and events, and actually, bring out a reaction.
The banners can give impressive results if you set the clear objective and use the format that looks right. On the other hand, banners are surprisingly cost-effective and highly targetable.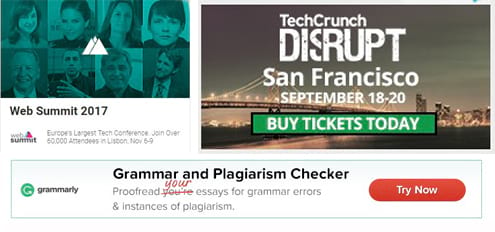 Most internet users don't go online with the express purpose of watching promotional banners, they go online to connect with followers, view the timeline, send emails, watch videos, etc. So to get attention, project teams need to make the best banners that are creative, personalized and stylish.
Moreover, the customers hate interruptive banners, especially when a hover ad renders on its own layer to interrupt an already-interruptive modal ad. Thereby, marketing experts need to find better and more creative solutions for rich media. And more than that, they need to find new digital channels to promote the campaign.
The main purpose of a company or a new startup is to communicate broadly to their customers and potential leads. And while email is a prime force for communication, the email signature block can be the key platform for displaying advertisement content.
What Exactly is Email Signature Banner?
An email signature banner is an advertisement stripe in a form of graphical image that is usually placed under the user's contact details. The signature banners can show contextual and relevant display advertising, providing visual-oriented nature and a prime opportunity for getting traffic. As with any marketing campaign, great signature banners are what matters and what we share. They are more meaningful when tailored to specific users' interests.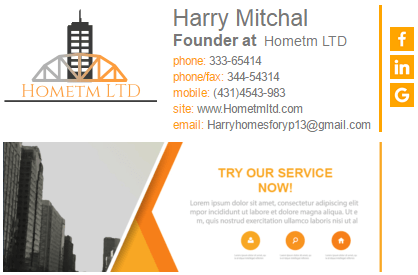 Thousands of companies already use the email signature banners with events, offers and more to advertise their businesses. Once you include promotional banners, the email signature will help to generate more leads. By using special services, like the NEWOLDSTAMP editor, you can easily incorporate a promotional banner into your email signature block.
In this article, we will show you how banner advertising works in an email signature. Here, we will highlight the key principles of successful displaying campaigns and the benefits of banners in email signatures. Let's begin with the basics!
How Do Email Signature Banners Work?
Any user of the NEWOLDSTAMP tool can begin a signature banner campaign and display their products and services to new prospects and potential leads.
An email signature can include a banner advertisement that in its turn consists of an image with a JPG or PNG format. The signature banners usually promote the business with a static advertisement. You can click on the banners and go to a company's product description, website or blog, landing page, social account, video, etc.
If you don't have a website yet and think that building a website will take a lot of time and money, go to website builders like Weblium and create a website in no more than an hour. It's easy, check out yourself.

There should be key principles that guide project teams when creating email signature banners:
The banner has to be creative and compelling in order to catch the audience attention. Only then your message will have an opportunity to get that meaningful connection. To make banners appealing, marketing experts often use animated images, logos, brand fonts, and fresh content to stand out.

As an email signature banner tends to be placed in a comparatively small block, it's better to communicate clearly what you offer. Send your message about a service right, increase brand awareness and add call-2-actions.

It is always recommended when promoting the banner ads to consider your target audience needs. The idea is to solve their issues and satisfy their wants. In addition, it is amazing how natural marketing feels if you start promoting a product you really believe in. Simply, you should become a key person of influence in your niche.

Why is Email Signature Effective?
One of the advantages when advertising your product through email signatures is that you can measure campaign's effectiveness through the click-through rate. CTR is a major ranking factor that is calculated as unique clicks. Simply, the higher the click-through rate is, the more effective the banner ad is. You can set up an integrated ads platform, track links and check the results.
Across the board, email signature marketing can help advertiser teams to deliver their message in a way that feels natural to the user experience. The companies can use a signature platform to weave their storytelling into the different routines or activities their clients participate in. By using signatures, startups can generate leads and improve further web presence.
Moreover, here are some marketing materials you can promote through the signature banners:
1. Use Banners to Tell About Your New Product Launch
You can use signature banner ads to announce the launch of a new product and make product demonstrations. With a professional email signature, you can apply your unbeatable tactics to efficiently engage recipients and get them excited about your newest products. If you worry about your product advertising, you can try the email signature generator to easily set up your banner and display it in your email footer.
The email signature banner will allow your recipients to:
View a demo or a product video

Check pricing and product features

Go to a website and see more offers
With each click on the banner, you recipients will understand your product offerings better – all with minimal effort on your side. The signature example that is shown below uses a banner to advertise a product launch: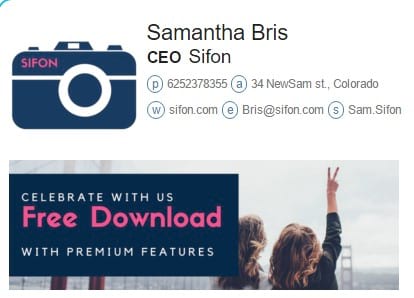 2. Use Banners to Share Your New Content
If you posted a new article on your blog, released an eBook or created a report, an email signature is a perfect spot to advertise your content.
You can share links to the relevant and trending content in your personal email signature and build credibility among your potential clients. It's a way to connect and communicate with your partners and prospects. No matter what you are introducing, highlight a few details involved in content's conception and purpose.
Sure, you can promote new content through the plain text links, but a gorgeous email signature design with promotional banners will turn your email marketing campaign into a valuable lead generation instrument. That will mean your content is reviewed by more users.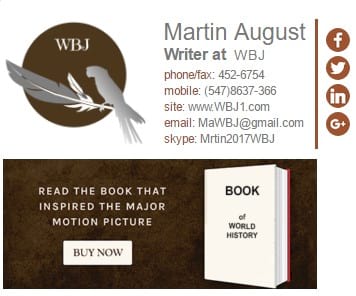 3. Use Banners to Tell You Are Visiting an Event
By highlighting social events in your signature banner, alongside conferences, webinars, meetings, tradeshows, and other special occasions you're going to be at, you will ensure that your startup is one of the most significant contacts to stay in the know.
By spreading the word about the events through the email signature, you will gain more awareness among your target audience. If you make the signature, you will see that it is a right place to providing information. Here is an event promotional HTML signature example: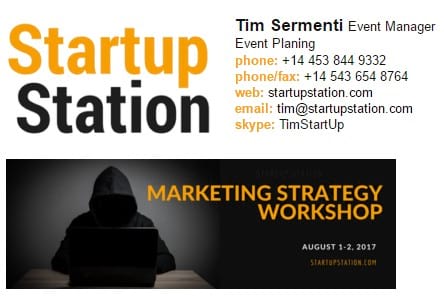 4. Use Banners for Holidays Greetings
Have you ever posted a promotional holiday banner? You can include a link to your company's greeting video, so customers would be involved in a celebration. That should help to build trusted relationships and learn more about your company.
Happy holiday banner that sends custom greetings is a must-have addition to any marketing calendar. You can to design a signature holiday banner for your business and announce big sales and other specials.
For example, the Christmas and New Year's ads are used to wish clients Happy Holidays and to advertise holiday sales. It's a nice idea and great way to display upcoming plans and connect with users on the emotional level. Even if you are not a startup owner, you can use signature holiday banners to beautify your messages and simply send the best wishes to friends. Here are email signature examples with incorporated holiday banner: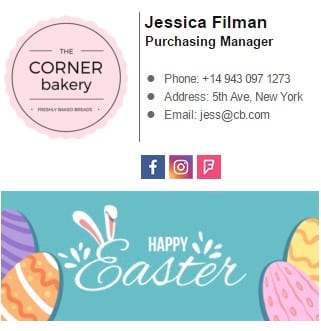 5. Use Banners to Tell About Your Webinar or Free Consultation
When displaying free consultations or webinars, consider applying an email signature banner that can help to promote and demonstrate your services. That will help to grow sales and increase leads, and show your recipients that you are offering any opportunity to enjoy all the benefits.
You can have a number of campaigns running at any given time, with various marketing messages being delivered to different segments of your email connections. And highlighting the webinars or consultations in your HTML email signature will absolutely drive more traffic to your website and social accounts. However, do not forget to delete or update ads that are not needed anymore or out of date. Here are examples of the best business email signatures from NEWOLDSTAMP:

6. Use Banners to Promote Your New Marketing Offer
By displaying new marketing offers in your professional or personal email signature, you will do a nice job of converting traffic into leads. In addition, you can find out your best performing offers and then promote them to even more traffic.
When using the email signature banner with marketing offer links, you can refer to a trending ebooks or webinars. When companies invest in the email marketing, publish content on different channels and use a promotional banner in email signatures, they build a media asset that will be worth money down the road. Here's an example of the email signature banner promoting the offer: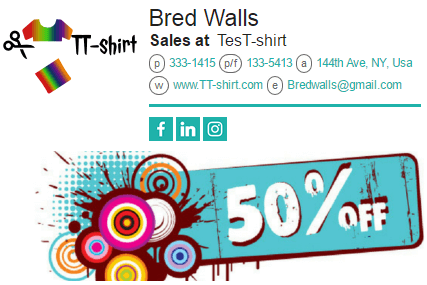 7. Use Banners to Share Testimonials from Clients
If the recipients see testimonials and personal accounts with comments about any of products or services, both are good options that guarantee a further productive cooperation with the potential clients.
By using the NEWOLDSTAMP email signature template, you can include a slide with a testimonial on your banner and let recipients know how amazing your reputation is. It's easy and fast to implement and a great way to show testimonials.
Within the signature banner, you have a couple of options for implementation. First, you can learn how to make an email signature. Then you can include a banner with the words to the area on the side, or you can write the testimonial directly on the image that you can make by using the Canva tool.
Make sure that the graphic you are using is the right size, so the words do not get cut off. Check out how NEWOLDSTAMP promotes testimonials in the following example:

Signature banner ads can add a real value to your startup or an established firm. If you do not know how to implement them and get the best out, you can check our guide and find more examples for inspiration here. Plus, you can always visit the popular websites and check trends like Nike, New York Times, National Geographic who use banner advertising and email marketing to increase leads in their business.
Now back to you guys, please, share in our social media accounts below what are your biggest struggles when it comes to displaying your banners!