Email Signature Best Practices 2019: Creative Ideas, Beautiful Examples, Design Hints, and Free Tools to Use Now [Updated 2020]
1. What is an email signature or email footer?
2. Should you care and treat your email signature as a business card?
3. Email signature design best practices
4. How to create an email signature that supports your marketing campaigns
5. How to make corporate email signatures
6. Technical aspects you should pay attention to
7. Best free email signature generators
8. Email signature examples and editable templates
What is an email signature or email footer?
An email signature, often called an email footer, is a part of a brand image which is more than just your company name and title. Not only does it provide a recipient with information about your business but also helps recognize it among others.
Should you care and treat your email signature as a business card?
We usually exchange business cards while networking at offline events. The cards help us create a more personal and memorable impression and build a foundation for future relationships. So why not do the same when we interact with people online? Moreover, email signature, which we add at the bottom of every email message we send, belongs to the most affordable marketing tactics that can raise awareness, increase reach, and build trust.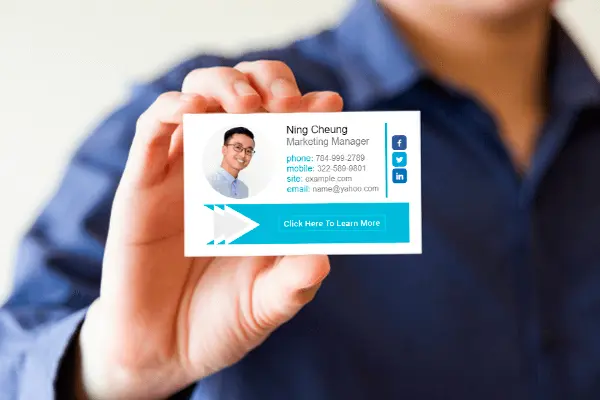 Email signature design best practices
Before you create the best email footer and make your emails stand out, think what it conveys to people about your company? Does it look good enough to represent your awesome brand? Did you polish its design so carefully that recipients can say they deal with a pro? Whether you're a large or small business, be sure to treat your email signature with as much care as you would for any other email marketing strategy. With that in mind, we want to share some email signature best practices for 2019.
Keep your email signature design minimalistic
When it comes to email signature design, remember that less is more. Keep your sig clean, neat, and simple. Take into account your corporate colors and fonts while making an email footer.
Stick to two or three colors in your signature palette
If you use more than that, you risk distracting the reader.
Choose one email signature font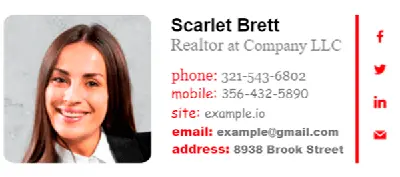 Don't use too many fancy fonts. Instead, go for something clean, elegant, and simple. If your organization has a particular font style for marketing materials, consider using it in your email footer to keep everything consistent. Or read our article about the best signature fonts to make your email look professional.
Use visual gradation to highlight important information
To highlight the important parts of your email footer, make sure you do the following:
Prioritize your information
Do you know what a visual hierarchy pyramid is? Creating a visual hierarchy is important for directing readers' attention. This is the process of organizing and prioritizing content or images in such a way that it gradually draws attention to the most important part of the piece of content and makes it easy to read information. The visual hierarchy is like a pyramid — with the most important elements at the top (conveyed in larger fonts), then the information is gradually aligned in accordance with its importance as you go down. For example, you can use the following formula for email signatures: name > title > address > phone number > email > website > social media accounts. By presenting your contact details this way, you ensure that the recipient naturally processes the most important information first.
Use bold letters on the most important things wisely as they draw the reader's eyes quickly.
If you need to draw attention to a specific aspect of your email footer, like your name or awards/certificates, play around with font size. However, bear in mind that the font size should be anywhere in between 10 and 12 to ensure the best readability.
Use space dividers if necessary to separate different elements of your sig and direct the recipient's eye.
Use high-quality images and graphic elements
When using visuals in your email footer, it is always a wise idea to follow these simple rules:
Use photos with a neutral background;

Choose a headshot instead of a full body photo;

Use graphics with proper resolution and clean & simple design.

Add only relevant and professional social icons
Our recent study showed that 80% of those who use professional email signatures in their business communications include social links in their sign-offs. Tailor your email footer according to your target audience and the brand. Use a maximum of four social media icons to keep the space uncluttered. Also, be sure to choose a set of professional-looking social media buttons that matches the rest of your email signature.
Things to avoid in your email signature design
When it comes to working on email signature design, you must be mindful of what not to do. Here is a checklist of the five most common email signature mistakes that you should avoid.
Overloading your signature with text information
Too much text can ruin a nice appearance of your email signature. It is best not to make each line of the sig more than 72 characters.
Just like images, colors are great for drawing recipients' attention and conveying emotions. However, if you use too much of them, you risk looking childish and unprofessional.
Using too many and not web safe fonts
Playing with many different fonts in your email signature is a big no-no. This is just distracting, hard to read, and makes you look unprofessional. Speaking about web safe fonts, if you use some typeface that most people don't have installed on their computers or smartphones, then for most of them your signature will look pretty messed up.
Adding too many social icons
Your email footer will look cluttered if you add icons for all of your social media channels. As we already mentioned, it is recommended to use no more than four social media buttons.
Not uploading images for Retina screens
A lot of your recipients might read their emails on Retina displays. To avoid them seeing blurry images on your email sig, be sure to upload high-quality pictures for Retina screens.
How to create an email signature that supports your marketing campaigns
As we have clarified already, we can use an email signature to provide recipients with information about who we are and what we do. But we can also take this practice to the next level by making the signature reflect the marketing campaigns we run. So, what shall we begin with?
Add calls to action to your email signature
When you check out good business email signature examples, you will notice that most of them, as a rule, have clear, simple, not too pushy calls to action (CTAs). You can experiment with adding various types of CTAs to your email footer. The calls to action range from offers to subscribe to your YouTube channel to links that send recipients to your recent blog post. To find out more about CTAs and how to use them in your email signature efficiently, check this guide.
Add a link to your calendar
By doing so, you will help your co-workers, partners, and customers grab time on your calendar without the need to set up a meeting by email or phone.
Add links to your review sites, and your customers will see them every time they talk to you via email.
Add a link to download reports/case studies
When you talk to potential clients, it's always a wise idea to share reports, case studies, and stories of success.
Links to your marketplace
An email signature can also serve as an excellent way to market your business through email. And if you sell something on Amazon/eBay/Etsy/etc., why not mention this in your sig?
Subscribe to your channel
Encourage your email recipients to subscribe to your channel on social media by adding a CTA right in your email signature.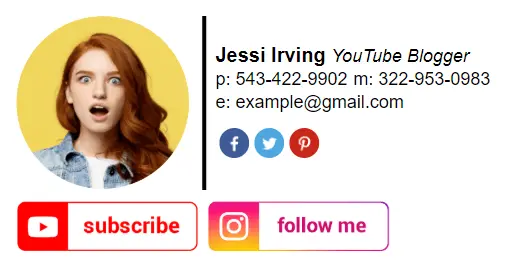 Email signature as a tool to increase your brand awareness
If you are looking for ways to promote greater brand awareness for your organization, consider adding some info about awards, certificates, positive customer feedback, etc. in your email signature.
If your company has ever received any certificates or awards, a perfect place to show them off is the bottom of every email message you send to partners, clients, and prospects.
Your email footer is also a great place for making time-sensitive announcements like trade show appearances, special holiday hours, the launch of new products or services, etc.
Would you like to display customer satisfaction ratings and reviews in your emails too? Put links to customer reviews into your email signature and get them noticed.
Run email signature banner campaigns to increase conversions
Banner ads are intended to generate traffic to your site by linking to it. You can see them on blogs, mobile, smart watches, social media, and even email. Promotional banners can help you show stories, moments, upcoming events, special offers, and actually, bring out a reaction.
Below are some occasions and marketing materials you can promote through the email signature banners:
Recent blog post

Upcoming webinar

Special offers

Free access to your tools

Invite people to meet at the conference

Discounts

Listen to your podcast

Read more about the use of email signature banners to boost your business.
Things to avoid
Be sure not to overwhelm users with too many calls to action. If you offer people too many choices, they may not choose anything at all.
How to make corporate email signatures
As we have already established, an email signature is your digital business card. And it is a way to connect with your existing and potential customers. Despite that, many businesses fail to make email footers a natural part of the company's branding strategy and ensure all signatures are consistent and updated across the entire organization. So, don't miss the opportunity to turn your employees into your brand ambassadors, and create company email signatures following these simple rules:
Create a standardized email signature template
When it comes to creating employees email signatures, it's important to keep them uniform and consistent.
An email footer with a company's logo will increase your brand awareness. Every time the reader sees your employee's email signature, they will associate it with your brand, thus strengthening your brand recognition.
Stick to your brand colors
It is recommended to use the color palette that is consistent with your brand colors. But let us remind you once again: it isn't a good idea to use more than two colors.
Standardized contact information
A standard corporate email signature should contain the name and title of the employee sending the email, as well as their contact data. But bear in mind that you may need to personalize company signatures according to the employees' position, department, and scope of their email recipients. For example, sales team email footers should include extended company details when compared to signatures of IT staff members.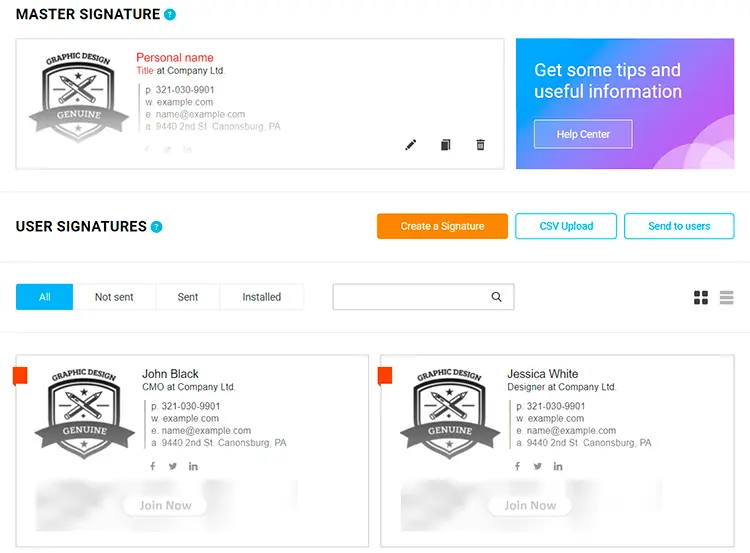 Use simplified signatures for internal communication
When sending emails to your co-workers, you don't necessarily need as much information in your footer as you would for external contacts. It should be a more compact version as you don't need to include details such as a legal disclaimer, marketing banners, or social media buttons. Including a logo, name, job title, telephone extension or direct dial would be enough.
Use simplified signatures for replies and forwards
Consider simplifying your email footer for replies and forwards. This will help you avoid overloading your conversation threads.
Add different CTAs and banners for different departments
Make specific email footers for different departments within your company. For instance, signatures for your salespeople can contain a banner with a "Schedule a demo" button. And signatures for your marketing department can promote recent content and increase sign-ups.
Share a link to the predefined signature template in your email signature generator
Find a service that will allow you to centrally manage and deploy corporate signatures for any scope of mailboxes in your organization.
Technical aspects you should pay attention to
There are many technical aspects to pay attention to when making your email footer not only beautiful but responsive.
Make your signature mobile-friendly
We all use smartphones these days, and the number of people checking emails on their phones is ever-increasing. Did you know that 55% of the total electronic messages delivered every day are opened on mobile devices? That's something to take note of. When working on your sig, think about what recipients will see on their phones. Pay attention that the screen of a smartphone is much smaller than a PC's screen. It means that the objects you use in your email signature must be larger, while the number of them smaller. Also, bear in mind that the speed of the mobile Internet can be limited.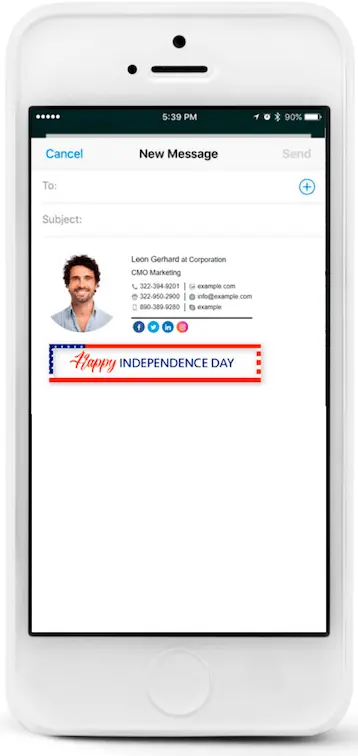 Run a compatibility test
There is a common misconception that your email footer will be displayed correctly across all email clients. The sad truth is…it won't. Just because your signature looks perfect in Gmail, doesn't mean it will look the same in Outlook. To ensure it looks good in different email clients, you need to run a compatibility test between all of the most popular email clients.
Here is an example of how this test should be performed:
Sending from Outlook 2016 to Gmail

Sending from Outlook 2019 to Gmail

Sending from Gmail to Outlook 2016

Sending from Gmail to Outlook 2019

and so on.
Hopefully, there is a variety of tools that make it convenient and easy to ensure your email signature is displayed correctly across all the platforms. Our next chapter is focused on that topic. Keep reading.
Remember about email signature size
With email footers, there are two sizes to check. The size in pixels, and the size in kilobytes. For desktops, the recommended maximum email signature size is 700px (width) x 300px (height). For mobile devices that have smaller screens and use scaling, it is best to keep your sig 320px (width) x 600px (height). Also, try to keep your email footer under 50KB.
Image hosting
If you host images on an untrusted domain, your emails might not be delivered to the recipient's inbox. That is why it is essential to use a reputable commercial host for any images you include. Some of them are your server, Google Photos, Amazon S3.
Make sure not to use double tracking in signatures
If you choose to track impressions and clicks on the links in your signature, be sure not to use other email tracking services/extensions (e.g., Mailtrack). Otherwise, you risk being caught by spam filters.
Best free email signature generators
Your next step is to create an attractive professional email footer that is uniquely yours. Here is a list of some reliable signature creators to start with:
NEWOLDSTAMP is a popular signature generator which has both free and premium versions with an annual subscription. It allows choosing and customizing a template to fit your needs and requirements. If you want to add promotional banners with calls to action which lead to a landing page, you can do that with NEWOLDSTAMP too. Moreover, this email signature generator is a perfect tool for your entire organization because it has central management that allows you to control and update all the signatures across your company. Remember we were talking about making sure your sig looks good in different email clients? NEWOLDSTAMP's signatures are compatible with most main email clients.

This service is suitable for both small businesses and large organizations because it offers individual and business plans. It is easy-to-use, mobile optimized, and provides a wide range of professionally designed templates.
Signature maker from Hubspot is known for its user-friendliness. Simply put in your personal information, add links to your social media accounts, play with theme, fonts, and colors. And then just embed your new signature into your email account.
Although the HoneyBook tool offers only nine templates, it is a perfect fit for those who love simplicity and minimalism. Do you want to get a beautiful signature in just 30 seconds? Use HoneyBook.
Email signature examples and editable templates
So what does a professional email signature look like? Here we have some fantastic examples made with our email signature generator NEWOLDSTAMP.
#1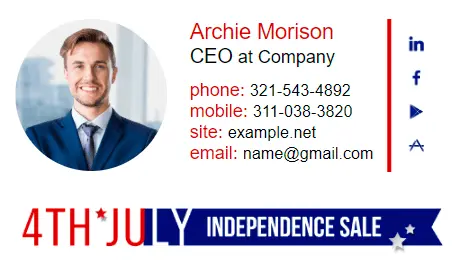 #2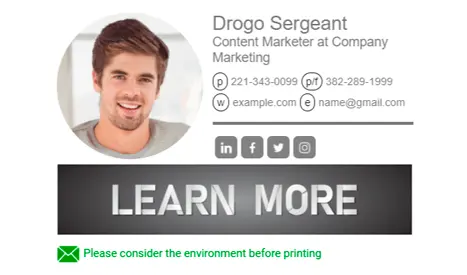 #3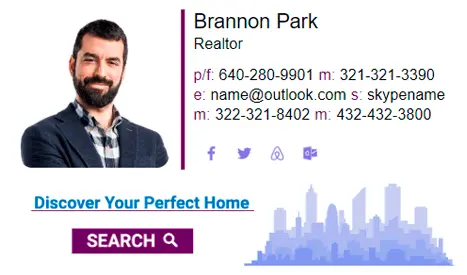 #4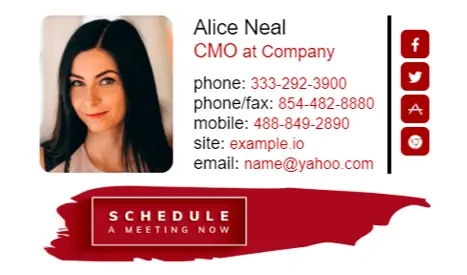 #5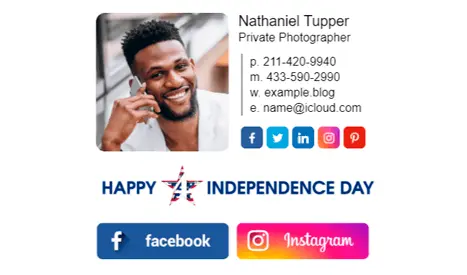 #6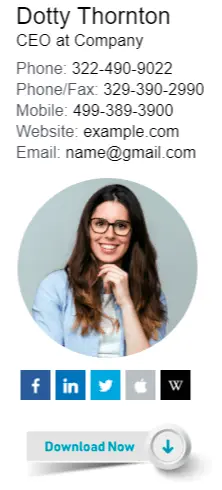 #7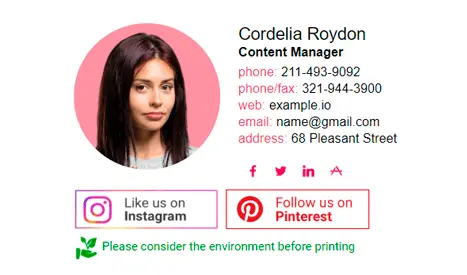 Conclusion
When designing your professional email signature, remember to think about:
Simple and neat design;

Using only high-quality images and graphic elements;

Adding a straightforward call to action;

Using ad banners to promote stuff like recent blog posts, upcoming events, etc.;

Making your signature mobile-friendly;

Keeping corporate and legal standards;

Creating corporate signatures;

Taking advantage of email signature builders.
Ready to get started? Let's create a professional email signature for you!