Best Email Signature Generators: How to Choose What Fits You the Most?
1. How to choose the best email signature editor
2. List of the best email signature generators
You know how email signature is one of the most powerful marketing channels in 2020. Or do you? No matter how much knowledge you have regarding email signature marketing, I'm here to help. This Why should you use an email signature?
An email signature is a truly unique yet simple addition to your corrlist contains all the best email signature generators that will fit any business or personal account.
espondence. Nobody really cares about the 'best regards' part of an email anymore. So, showing something new and useful can be a game-changer.
A professional email signature goes beyond displaying contact information. It represents your style and vision, promotes your services, and advertises your content.
If you want to look professional in every email sent, make sure your signature has:
Your photo (alternatively, a company logo)

Name, position, and the company you work for

Phone number(s), email address, physical address

Social media icons (up to 5)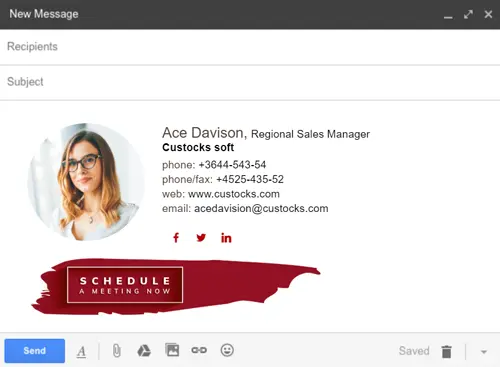 In addition to these necessities, use a call-to-action button in your signature. Some generators even allow you to add a banner with custom content.
How to choose the best email signature editor?
Before we begin exploring what the market has to offer, here's what you should pay attention to when choosing an email signature generator:
Your goal. Whether you need a single email signature for personal purposes or a powerful tool with multiple signatures management and lots of features.

Offered features. For some, a simple signature with a photo and basic contact information is enough. Others might need analytics and integrations. Decide what you expect from an email signature tool exactly.

Pricing. Nothing goes without a price. However, make sure to check out the business model your probable email signature generator offers. Whether it is a subscription or a one-time payment may mean a lot.

Supported email clients. It's really simple here: the more the better. As more people will be able to see your signature as it was meant to.
List of the best email signature generators
To be completely clear, I've conducted a small research on each tool listed. The score I gave is based on lots of variables, which I described for each email signature generator.
#1 Newoldstamp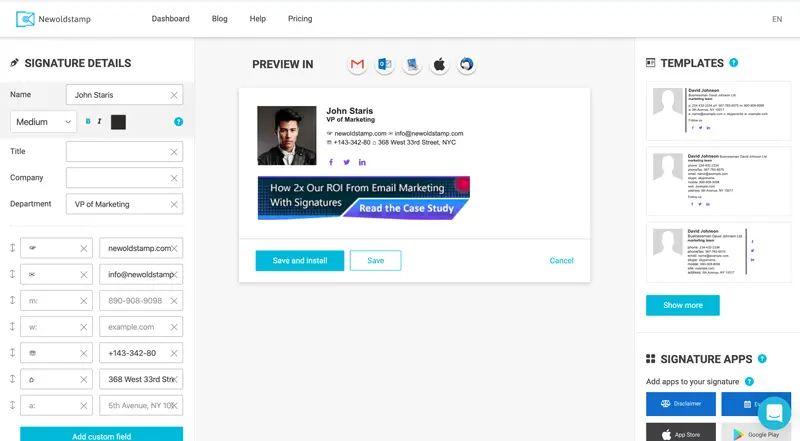 Simplicity: 5/5
Basic features: 5/5
Additional features: 5/5
Newoldstamp fits both corporate and solo clients. It has a fairly convenient email signature editor that is easy to learn. All the necessary elements can be added in a few clicks, including a promo banner and customizable CTA buttons. Moreover, Newoldstamp has a gallery of frequently updated templates and email signature banners.
For business users, there is an email signature master feature. It allows you to create as many similar signatures as you want. Edit master once, and the signatures will be automatically updated accordingly.
If you have lots of employees, you can even upload a CSV file with all their contact data, and the signatures will be created automatically according to the master.
In case you need some changes, you'll only have to change the master. All signatures will be changed as well. Here's some time for a coffee-break.
Apart from that, there is featured analytics in the Newoldstamp dashboard that tracks your signature's impressions and clicks. And a banner manager allows setting banners to specific departments without having to edit signatures themselves.
As for supported software, Newoldstamp works in most email clients, CRMs, and email service providers.
#2 MySignature.io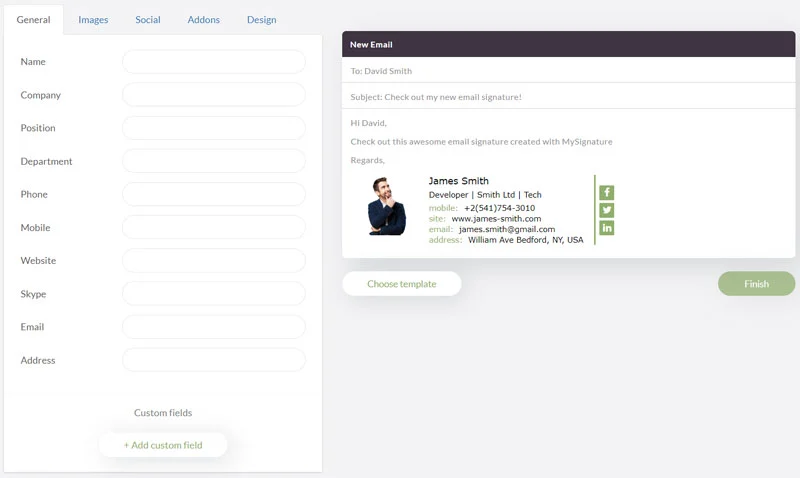 Simplicity: 5/5
Basic features: 5/5
Additional features: 4/5
MySignature is a nice, more simple alternative to Newoldstamp. It doesn't have a lot of features for large companies, and the templates gallery is a lot smaller. However, it is easy to create a signature in MySignature editor, and it does support lots of email clients.
So, if you're looking for a personal email signature editor, MySignature would be enough. But if you want to use email signature marketing, Newoldstamp is still a better solution.
#3 Sigstr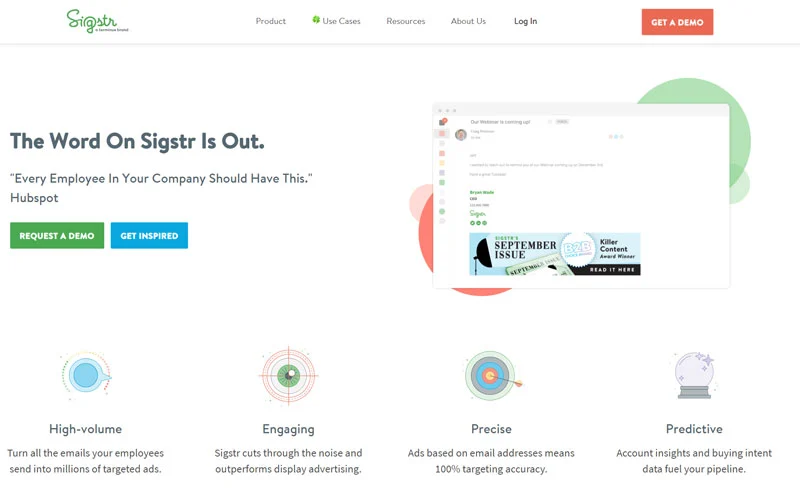 Simplicity: 3/5
Basic features: 4/5
Additional features: 4/5
Just like Newoldstamp, Sigstr is a powerful business tool for email signature marketing. A lot of integrations and personal approach is what you get using Sigstr. However, the price might be a little too big, especially for SMB.
Sigstr offers email signatures as a part of account-based marketing. So, some businesses might find it useful.
Also, you won't be able to start right away with Sigstr, which means spending some time contacting sales for demo requests. Thus, consider using Sigstr if you have enough time and money.
#4 Wisestamp

Simplicity: 4/5
Basic features: 4/5
Additional features: 4/5
The nice thing about Wisestamp is that you can choose between an individual and a company plan. However, switching from one to another might be a somewhat difficult case.
Wisestamp has a lot of apps to add to an email footer, like GIFs, recent tweets, etc. However, these are not particularly useful for business accounts. Also, all these features are cluttered in one tab, which makes Wisestamp's editor a bit complicated.
The powerful editor Wisestamp has is more than enough for individual users. But if you want something more professional, you will have to get used to it.
#5 Designhill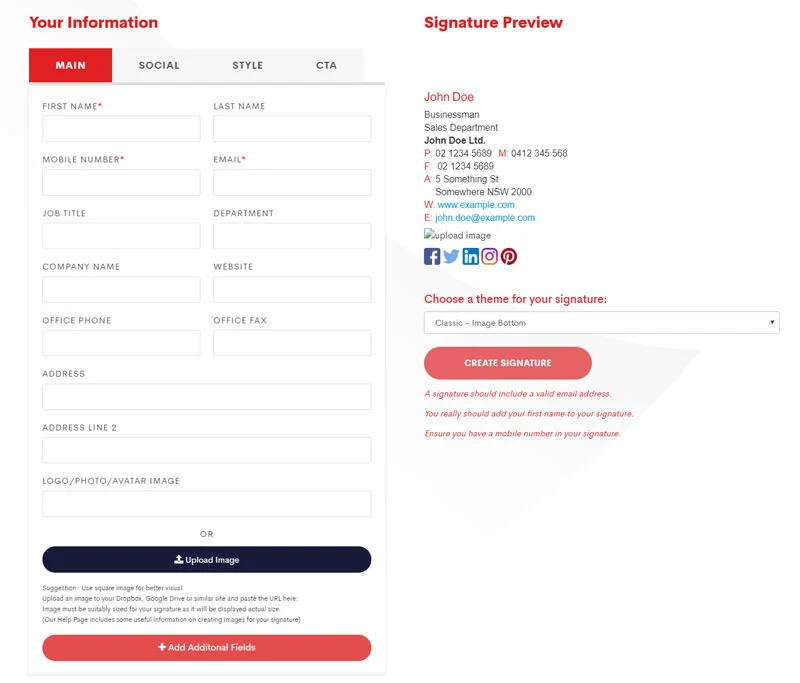 Simplicity: 4/5
Basic features: 4/5
Additional features: 3/5
Designhill has different services, and the email signature creating tool is only a part of them. Still, their editor is pretty convenient and easy to use. There are all the basic features you need, including social media icons and CTA buttons.
Although it is quite simple, Designhill is not really suitable for large companies who intend to use email signatures as a whole marketing channel.
Designhill does not have analytics or departments feature that would allow conveniently storing all the corporate email signatures in one place. Nevertheless, it is useful for solo users.
#6 Rocketseed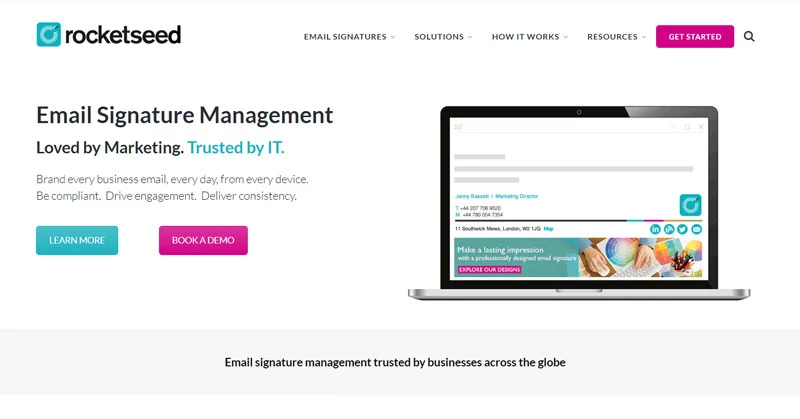 Simplicity: 3/5
Basic features: 4/5
Additional features: 4/5
Rocketseed is a nice solution for corporate email signatures management. It has integrations with most software and lets you create a custom design for all the signatures. Also, Rocketseed provides data insights on signatures usage.
The tool has a banner campaign feature as well, but it is not much intuitive. Also, there's no option for individual or small team users. So, consider Rocketseed only if you need an email signature editor for a large number of accounts.
#7 Mail-Signatures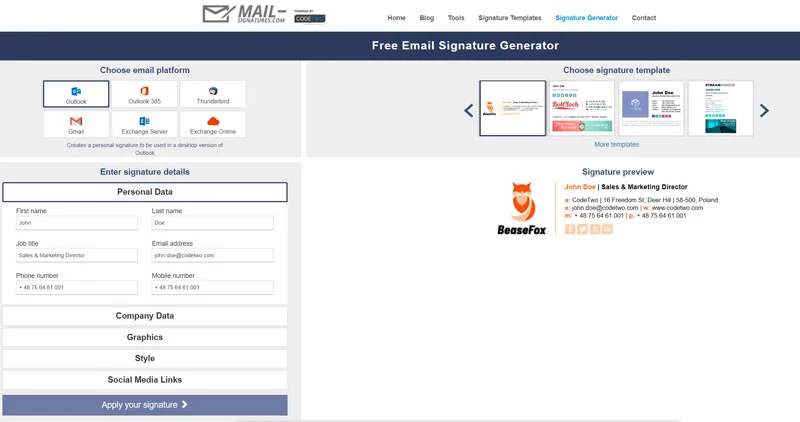 Simplicity: 4/5
Basic features: 3/5
Additional features: 3/5
Mail-Signatures is another simple editor that allows creating a decently professional email signature. It supports many email service software. So, you can use Mail-Signatures for yourself if you need a simple tool to create an outstanding signature.
On the other hand, this service lacks some customization. You can choose a signature template, but there is no banner gallery or CTA buttons to use. You can only upload a logo and a banner yourself.
#8 HTMLSig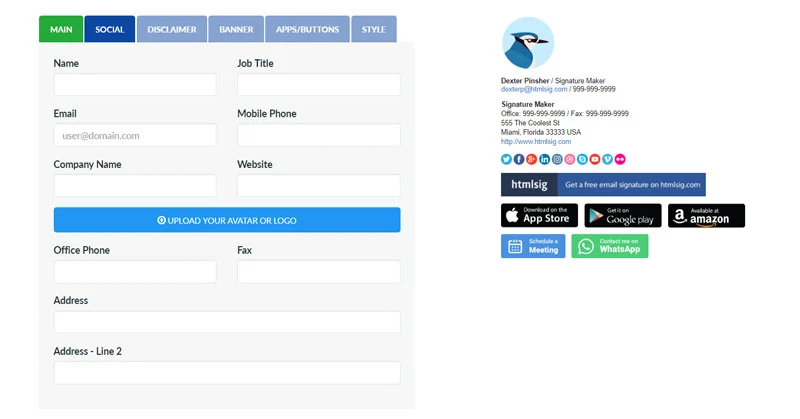 Simplicity: 3/5
Basic features: 3/5
Additional features: 3/5
HTMLSig is a relatively simple email signature editor. It contains basics, but basics only. So, you won't be able to choose a ready-to-use banner, and there are only few designs for a CTA button.
Still, easy creating and installing a signature is beneficial for single users who don't take their signature as a marketing channel. There is an option to copy signatures and some basic analytics as well. So, HTMLSig is worth a try.
#9 Email Signature Rescue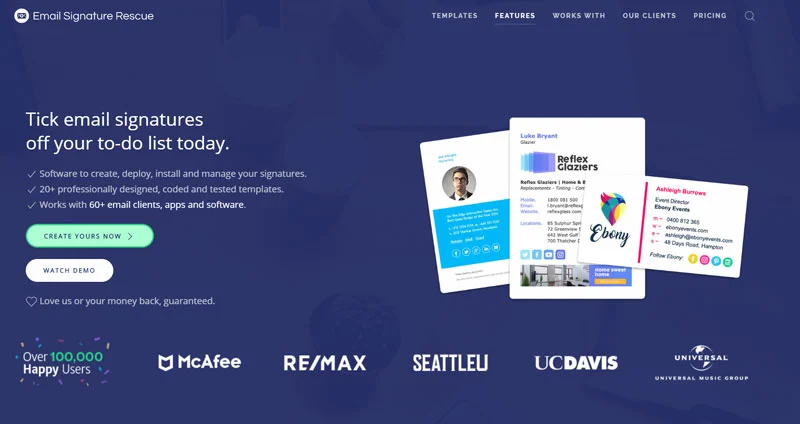 Simplicity: 2/5
Basic features: 3/5
Additional features: 4/5
Email Signature Rescue has something to offer both for single and team users. Compatible with lots of email clients and CRMs, it can be a nice addition to a small company's marketing efforts. There are a pretty sufficient dashboard and some extra features like unsubscribe links.
Email Signature Rescue is not as easy to get used to as previous variants. Also, there are only plans for 3+ email signatures. So, you'll have to pay more if you need the service for one user only.
The service has installer apps for PC and Mac, and this feature is somewhat questionable. Some users will find it convenient and useful, while others won't feel comfortable installing yet another app. It's up to you though and depends on your personal preferences or company security policy.
#10 Bybrand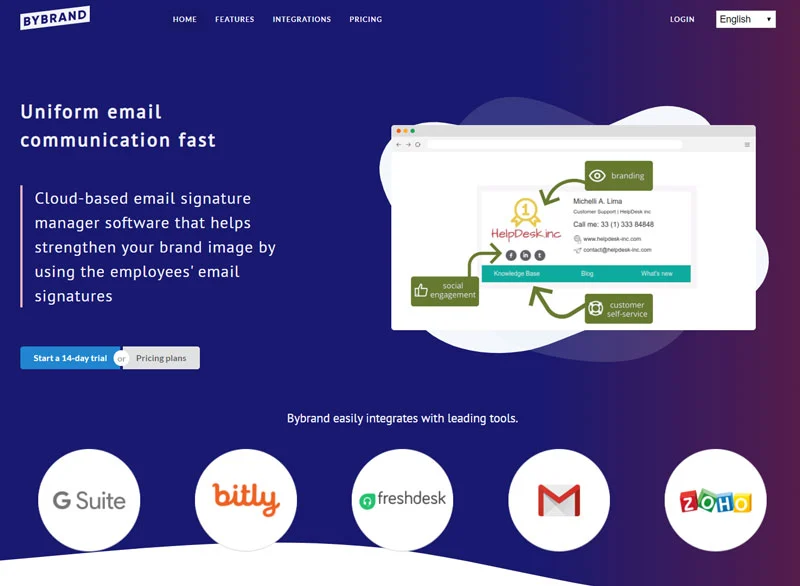 Simplicity: 2/5
Basic features: 3/5
Additional features: 3/5
Bybrand email signature generator does have most email services compatibility and the pricing is adequate. However, you will find packages of "up to 10" signatures only, which means those who need only 3 will have to pay the full price.
Also, Bybrand's editor is complicated and not intuitive. It surely does its job, but you will have to spend some time learning the interface and adjusting it for yourself.
Good thing is, you can set up departments for groups of email signatures, which is useful for corporate clients.
#11 HubSpot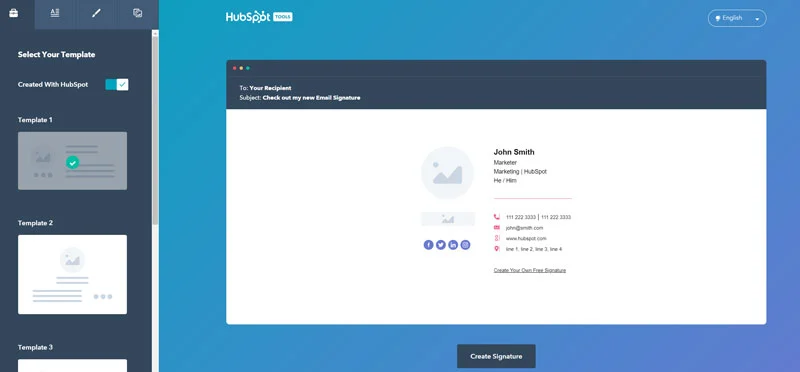 Simplicity: 5/5
Basic features: 3/5
Additional features: 2/5
With all due respect to HubSpot, its email signature generator does not give you much. Of course, it is free. But the functionality is way too simple. There are no banners feature at all, and the number of templates is not quite satisfying.
As for somebody who needs an email signature for personal use, HubSpot's solution is more than enough. However, pay attention that your signature won't look much different from other HubSpot users'. It might be a big deal for professionals who care about brand awareness.
A free email signature created with a simple editor is what you get using HubSpot but that's all they have to offer.
#12 Exclaimer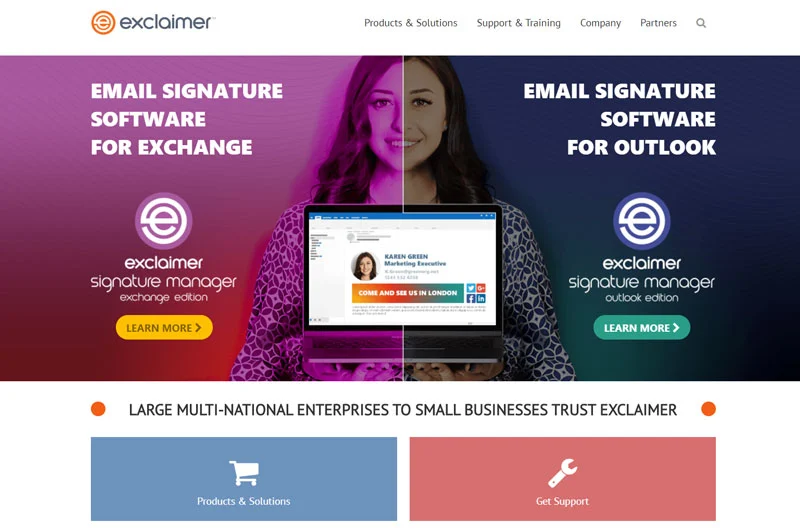 Simplicity: 2/5
Basic features: 3/5
Additional features: 3/5
In contrary to HubSpot's email signatures, Exclaimer offers nice packages with integrations for business clientele. And again, on the contrary, the usability could be better.
Exclaimer does not provide an up-to-date convenient editor. Getting used to their tool is difficult, and you surely won't be able to create a branded email signature in a few minutes. There is a table-like field where you can place all the elements of your email footer, and it looks really frustrating at first glance.
On the other hand, with some time and patience, you will get what you need from Exclaimer, just like with any other tool mentioned.
#13 Gimm.io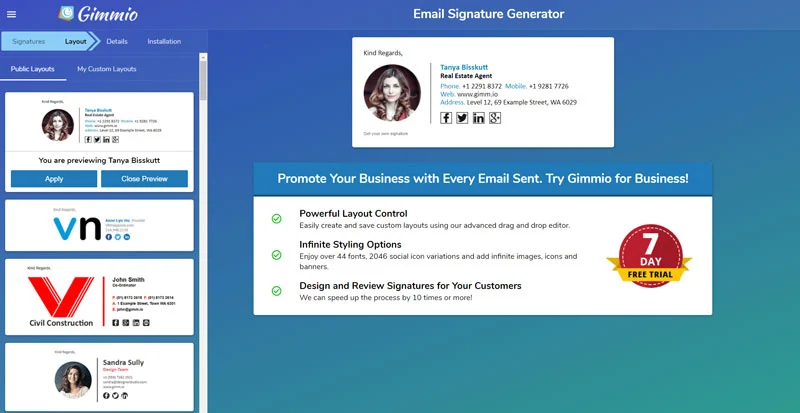 Simplicity: 2/5
Basic features: 3/5
Additional features: 2/5
Gimm.io's most noticeable feature is the ability to set custom spacings between email signature elements. Also, they have some common elements every signature should contain.
But Gimm.io does not have a convenient email signature management functionality. All the presented features are put in one place, which makes the onboarding process kind of daunting. Certainly, you can achieve great results with Gimm.io email signature editor. But you'll have to try hard to do so.
#14 Xink

Simplicity: 2/5
Basic features: 3/5
Additional features: 2/5
Xink provides a transparent and clear pricing distribution system. Also, it works with common business email service providers.
Like it or not, Xink's editor is not something you are used to seeing in online tools. It takes some vision and creativity to create the design you need, as there are no convenient tabs or ready-to-use banners.
Developers might like Xink, as it lets you edit HTML code of your signature directly from the editor. But if you're not familiar with it, the functionality might astound you.
#15 AirSign.io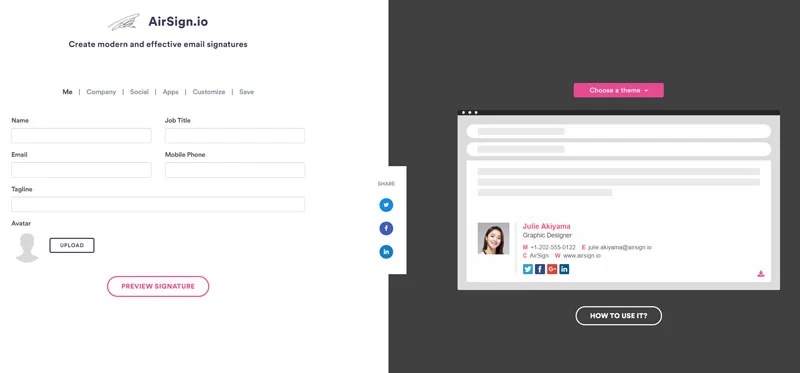 Simplicity: 4/5
Basic features: 1/5
Additional features: 3/5
AirSign is the simplest tool from the list. The website is basically just an email signature editor. It is free, and has basic contact information fields, social media icons, and even CTA buttons customization.
However, that's pretty much it for AirSign. No information on compatibility and installation process makes this tool the last in this list. It does let you create an arguably professional email signature, but you will need to do the whole installation process by yourself without much help from their side.
Conclusion
What's next? If you've reached the end of this blogpost, you are most certainly in desperate need of the best email signature generator. So, take 4-5 tools that you think may fit your needs, and go ahead testing them by yourself.

Please notice that the opinions given in this article are subject and can be argued. I do not take full responsibility for the clearest evaluation of any feature. It is just a friendly guide based on my own thoughts.