The 9 Best Email Signature Generators in 2023
1. List of the best email signature generators 2023
2. How to choose the best email signature generator?
Do you know that email signatures can be a powerful marketing channel in 2023? No matter how much knowledge you have regarding email signature marketing, we're here to help you discover its benefits for your business.
A professional email signature goes beyond displaying contact information. It represents your style and vision, promotes your services, and advertises your content.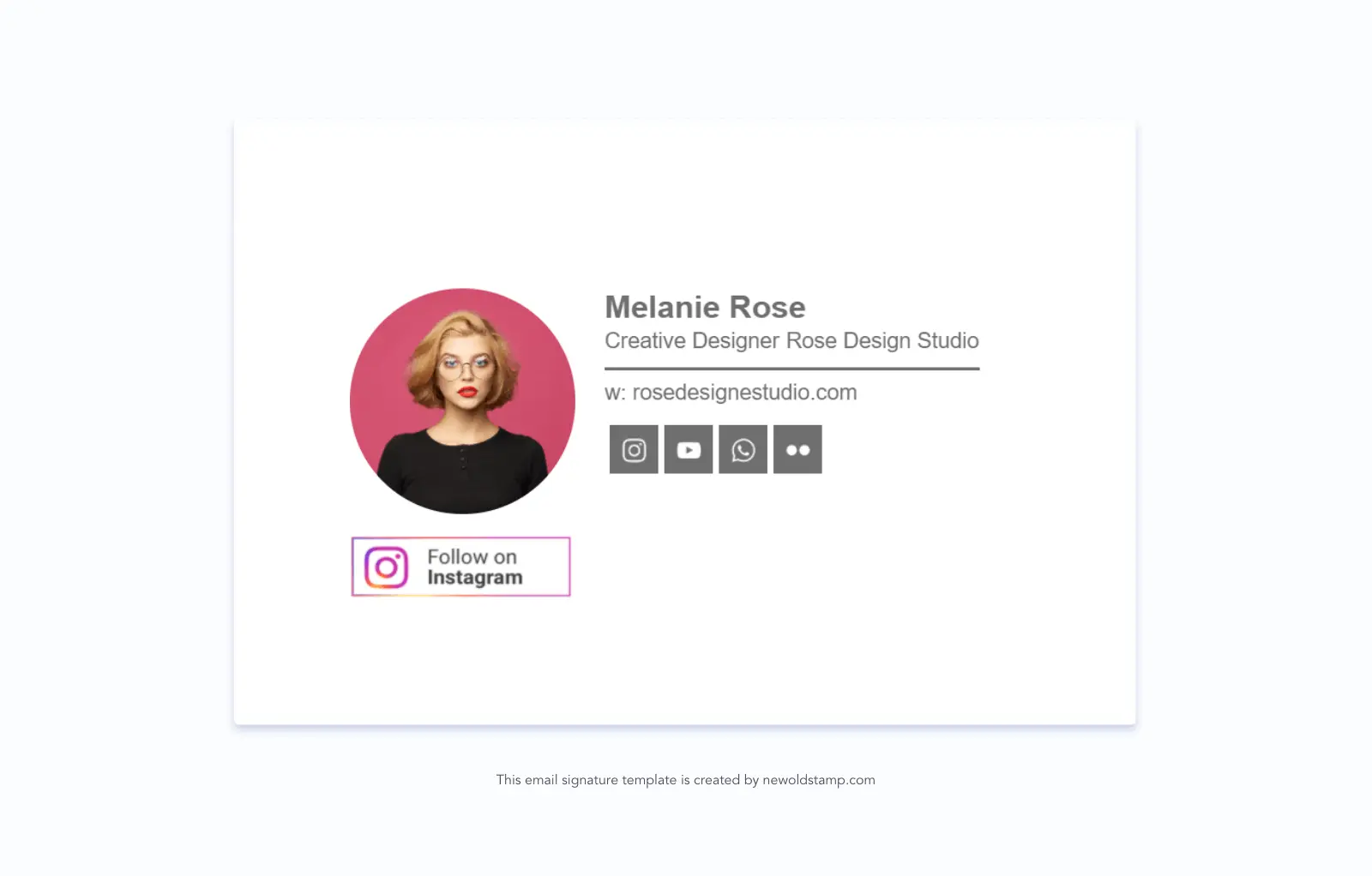 If you want to look professional in every email sent, make sure your signature has:
Your headshot or a company logo

Name, position, and the company you work for

Phone number(s), email address, physical address

Social media icons
In addition to these essential elements, professional HTML signatures can contain interactive banners, call-to-action-buttons, or clickable links. We gathered all of the email signature best practices in this definitive guide.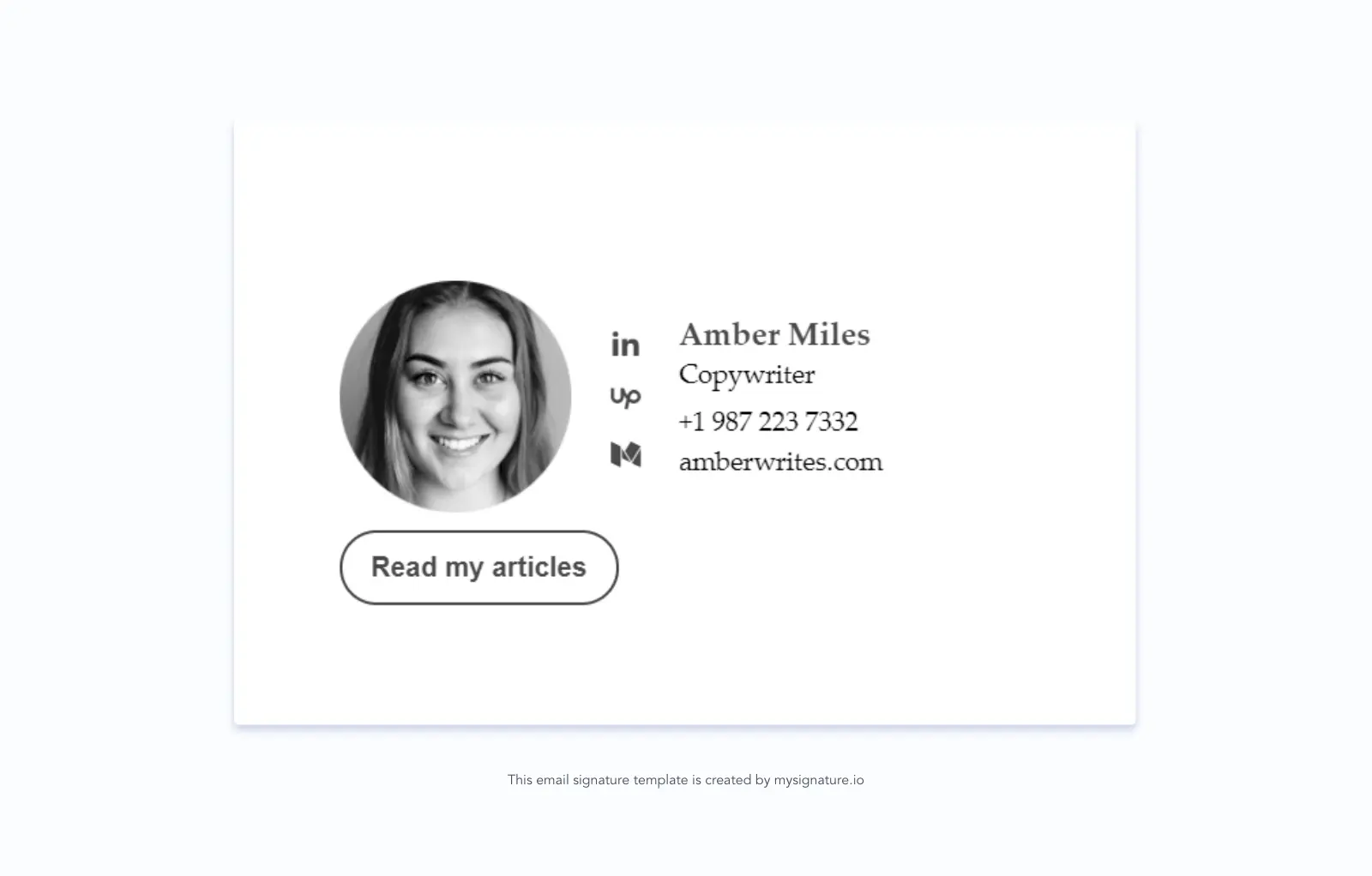 For those who want to have best email signatures but don't have time to go through all of the best practices and incorporate them manually into the design and coding processes, exist email signature management software that helps automate email sign-off creation and distribution.
List of the best email signature generators 2023
Below you will find a list of the best email signature generators on the market.
Name
Best for
Pricing model
Newoldstamp
SMBs and enterprise
Monthly, quarterly, or yearly subscription
Free
MySignature
Single users and small businesses
One-time payment
Quarterly or yearly subscription
Free
WiseStamp
Single users and small businesses
Monthly or yearly subscription
Free
HTMLSig
Single users
Monthly or yearly subscription
Free
HubSpot
Single users
Free
Rocketseed
Enterprise
Monthly, quarterly, or yearly subscription
Exclaimer
Enterprise
Monthly or yearly subscription
Xink
Enterprise
Yearly subscription
Free trial
Gimm.io
Small businesses
Monthly or yearly subscription
One-time payment
Free trial

Note that some online editors are more suitable for individual use, while others will be a great choice for small or medium businesses or big enterprises. And here are brief descriptions of each of the email signature software listed.
1. Newoldstamp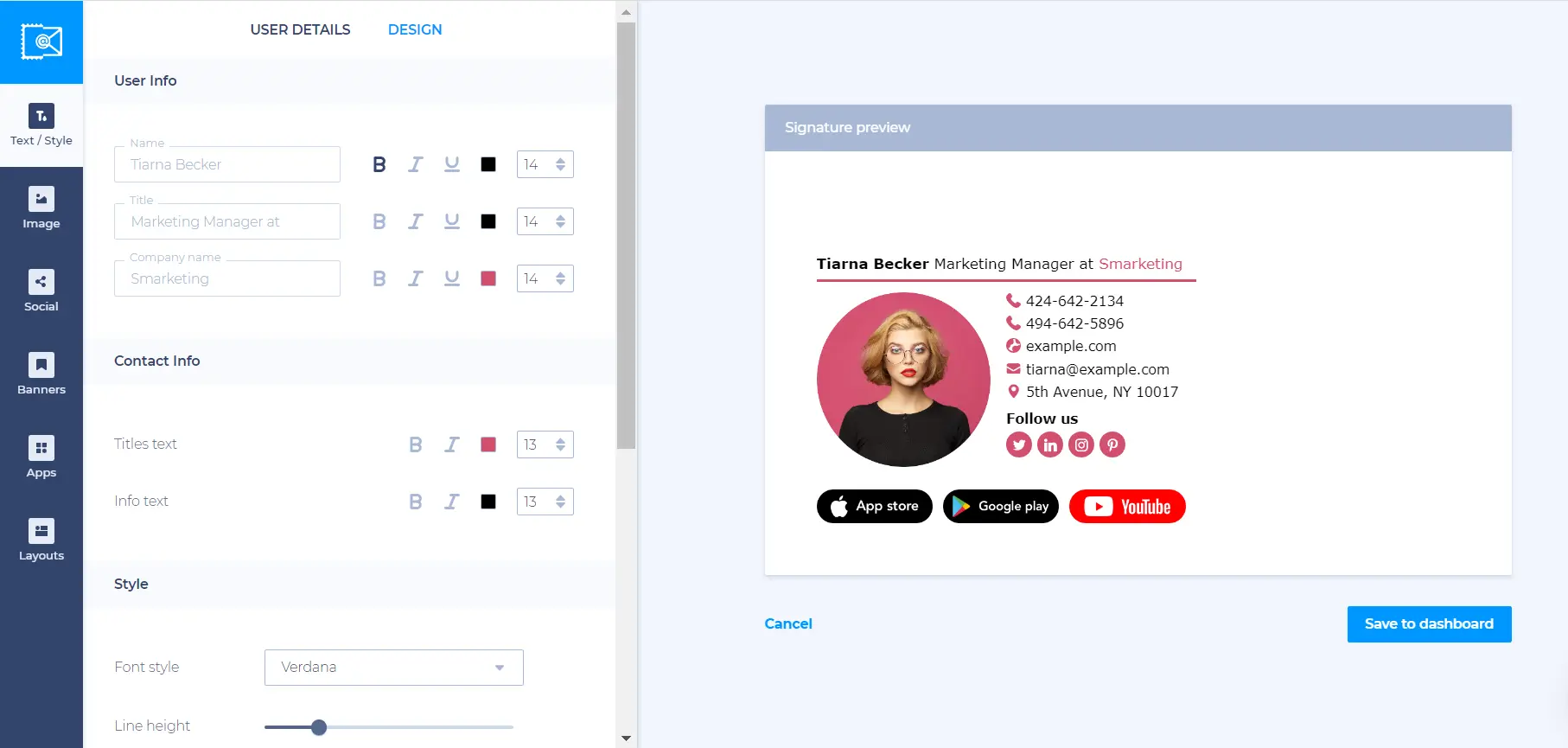 Newoldstamp is an excellent solution for small and medium businesses and enterprises. All the necessary elements can be added in a few clicks, including a promo banner and customizable CTA buttons. The central management tool allows you to create multiple sign-offs and distribute them to team members easily.
To facilitate the duplication process in bigger companies, Newoldstamp has a master signature feature. Edit master once, and the signatures will be automatically updated accordingly. If you have lots of employees, you can upload a CSV file with all their contact data, and the signatures will be created automatically according to the master.
Apart from that, there is featured analytics in the Newoldstamp dashboard that tracks your signature's impressions and clicks. A banner manager allows setting banners to specific departments, launch and track banner campaigns.
Enjoy easy-to-navigate online email signature generator and test its advanced features.
As for supported software, Newoldstamp works with most email clients, CRMs, and email service providers. The service offers seamless integration with Office 365, Exchange, and Google Workspace (G Suite).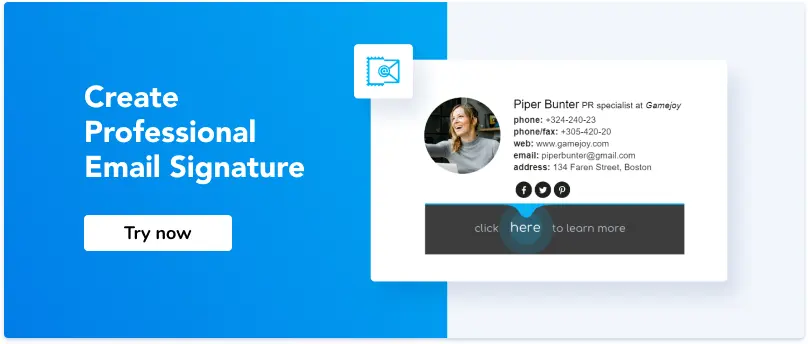 2. MySignature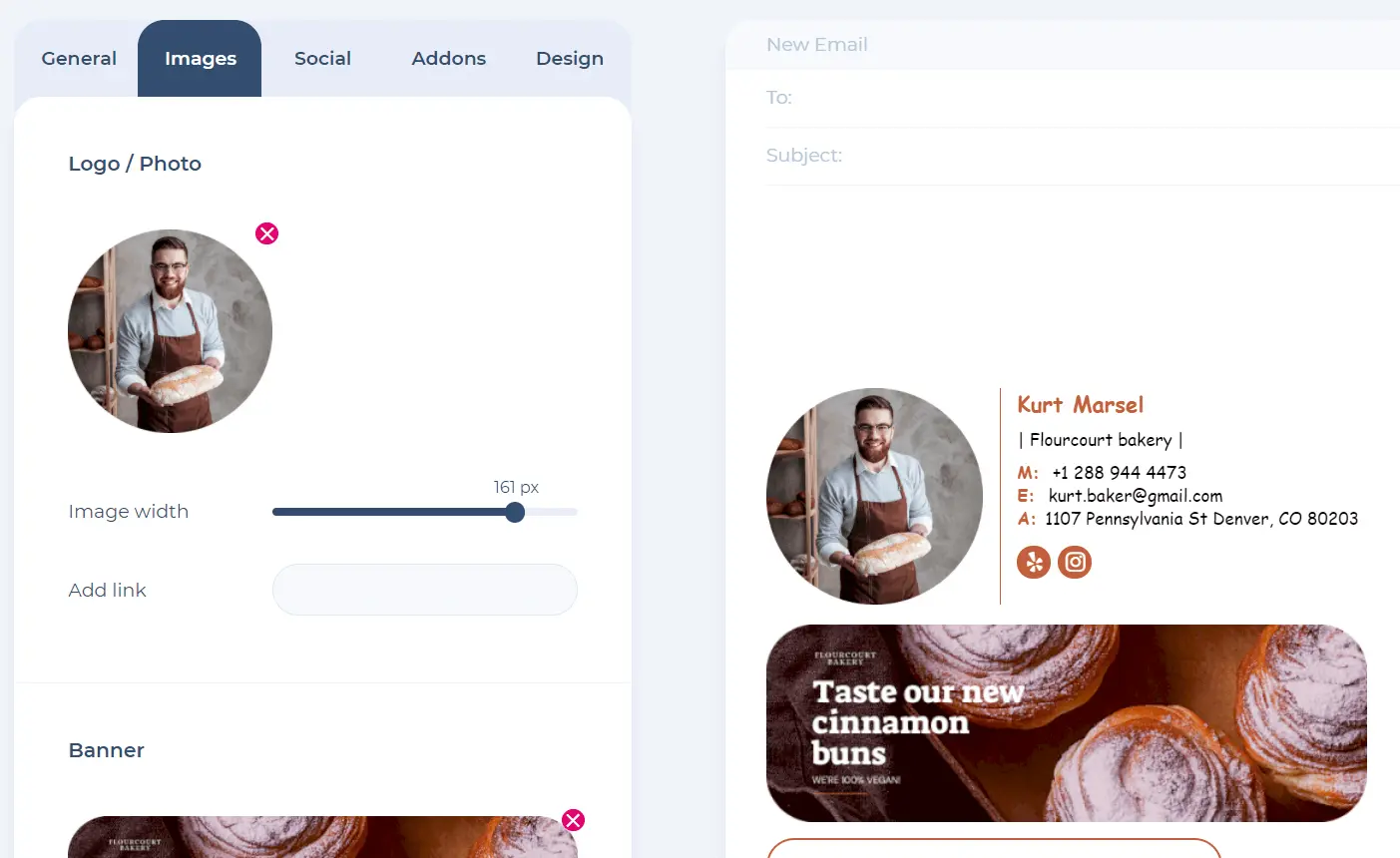 MySignature is a simpler alternative to Newoldstamp, so it's a perfect choice for solo users, freelancers, and small businesses. This editor allows you to create a branded sig-off choosing email signature design from various pre-designed templates that are split according to the brand voice: professional, friendly, modern, elegant, and creative.
This simple email signature generator doesn't have advanced management or marketing features such as banner campaigns, central management, or advanced analytics. However, it is easy to make creative email signatures in MySignature editor, that follow email signature design 2023 trends, and it does support lots of email clients.

To make a creative email signature, pick the design you like and personalize it by adding your headshot, brand colors, and personal information.
So, if you're looking for an email signature editor for personal use or a small team, MySignature would be enough. But if you need advanced email signature marketing features, Newoldstamp is still a better solution.
Click here to create an email footer according to the best email signature design practice.
3. Wisestamp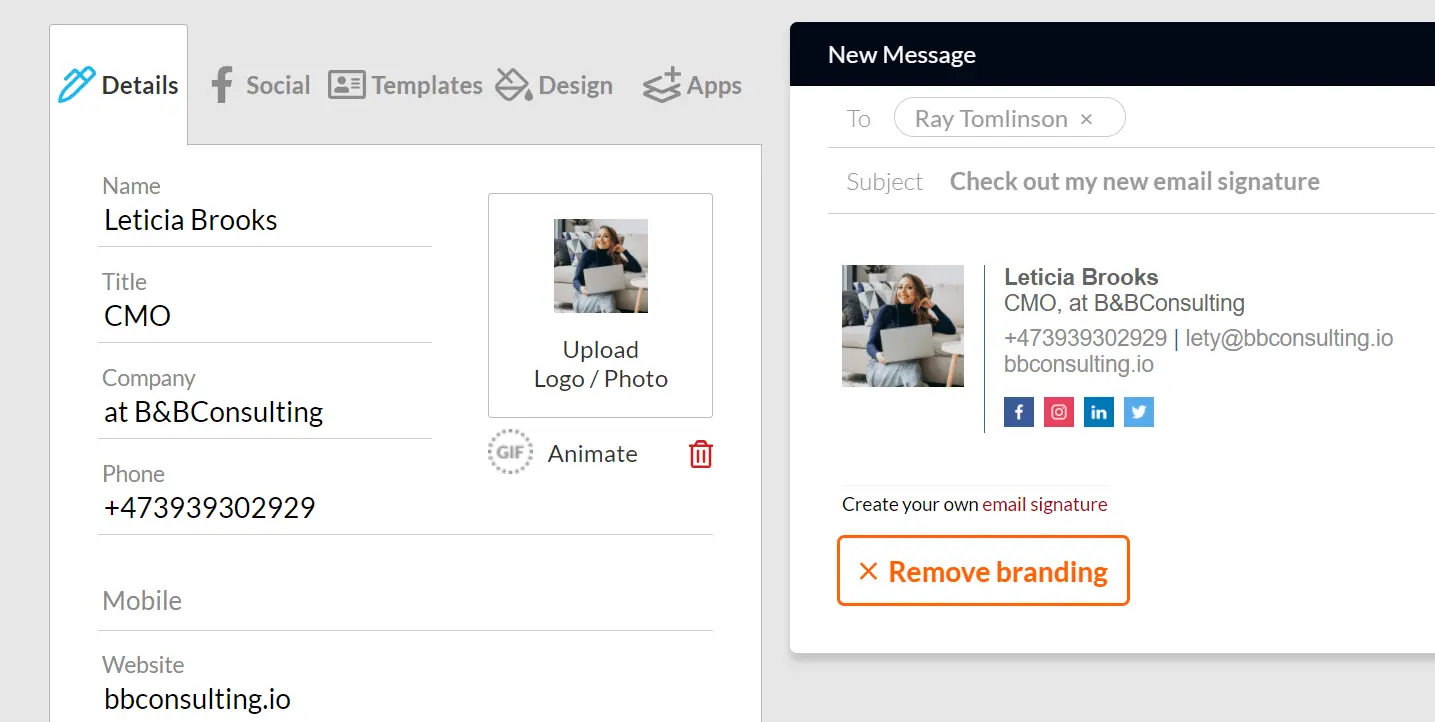 The nice thing about Wisestamp is that you can choose between an individual and a company plan. However, switching from one to another might be a somewhat difficult case.
Wisestamp has many apps to add to an email footer, like GIFs, recent tweets, etc. However, these are not particularly useful for business accounts. All these features are cluttered in one tab, which makes Wisestamp's editor a bit complicated.
The powerful digital signature generator Wisestamp has is more than enough for individual users. But if you want something more professional, you will have to get used to it.
4. HTMLSig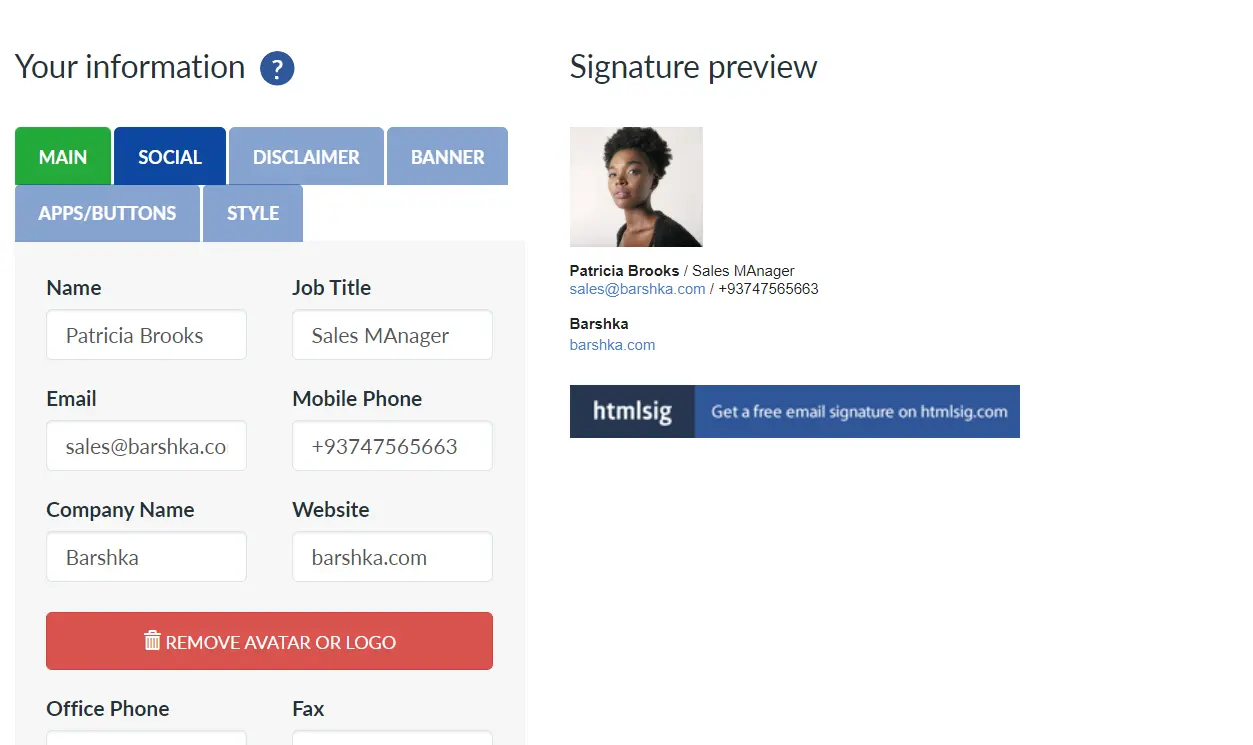 HTMLSig is a relatively simple email signature editor. It contains basics, but basics only. So, you won't be able to choose a ready-to-use banner, and there are only a few designs for a CTA button.
Still, easy creating and installing a signature is beneficial for single users who don't take their signature as a marketing channel. There is an option to copy signatures and some basic analytics as well. So, HTMLSig is worth a try.
5. HubSpot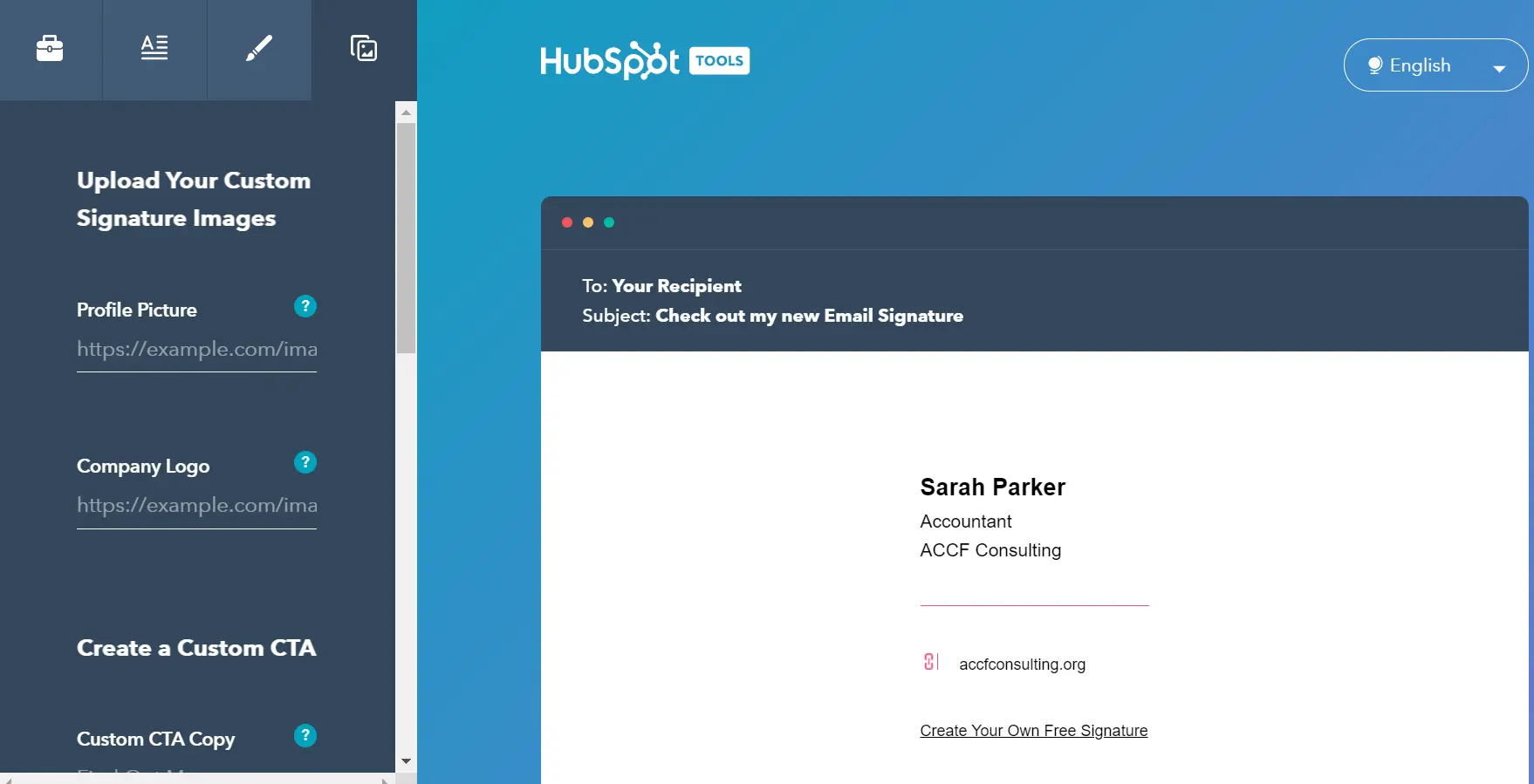 With all due respect to HubSpot, its email signature generator does not give you much. Of course, it is free. But the functionality is way too simple. There are no banners feature at all, and the number of templates is not quite satisfying.
HubSpot's solution is more than enough for somebody who needs an email signature for personal use. However, pay attention that your signature won't look much different from other HubSpot users. It might be a big deal for professionals who care about brand awareness.
A free email signature created with a simple editor is what you get using HubSpot, but that's all they have to offer.
6. Rocketseed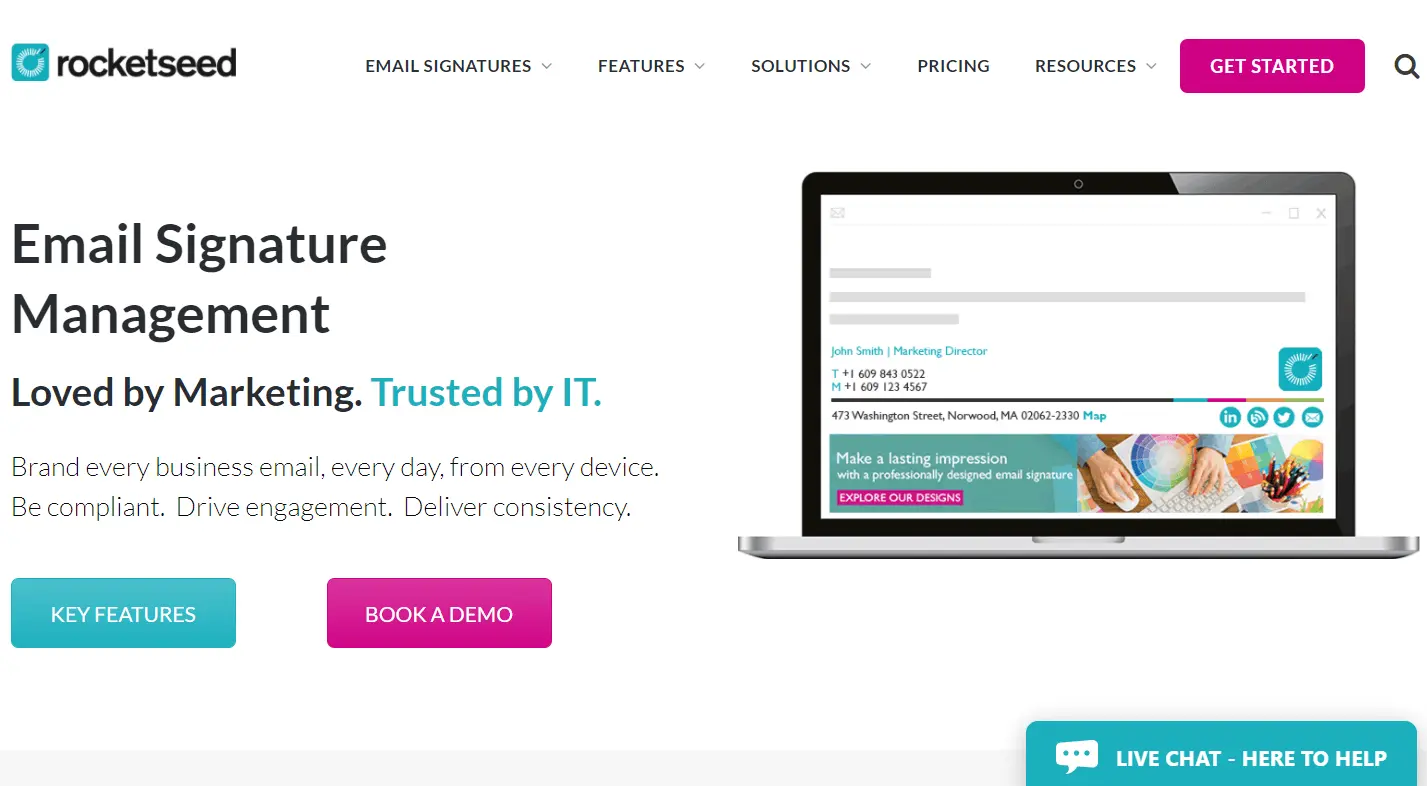 Rocketseed is a nice solution for corporate email signatures management. It has integrations with most software and lets you create a custom design for all the signatures. Also, Rocketseed provides data insights on signatures usage.
The tool has a banner campaign feature as well, but it is not much intuitive. Also, there's no option for individual or small team users. So, consider Rocketseed only if you need an email signature editor for a large number of accounts.
7. Exclaimer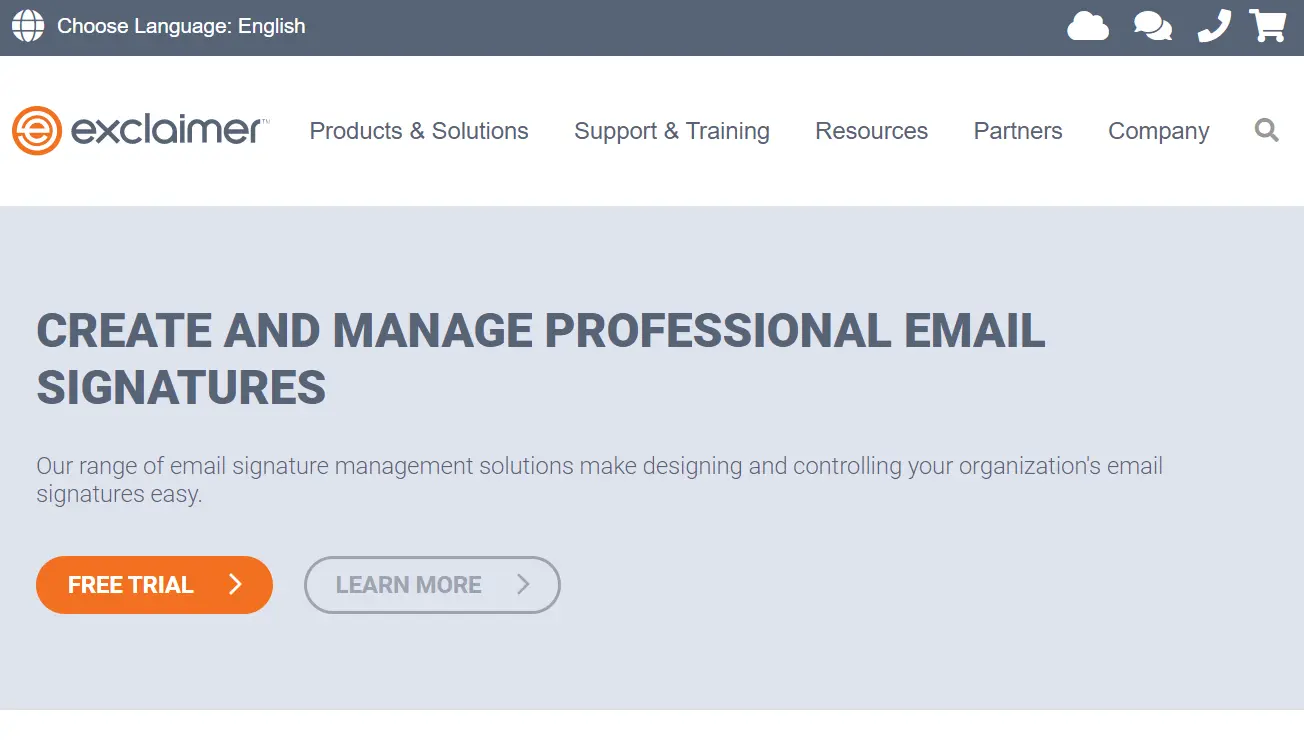 In contrary to HubSpot's email signatures, Exclaimer offers nice packages with integrations for business clientele. And again, on the contrary, the usability could be better.
Exclaimer does not provide a convenient up-to-date editor. Getting used to their tool is difficult, and you surely won't be able to create a branded email signature in a few minutes. There is a table-like field where you can place all the elements of your email footer, and it looks frustrating at first glance.
On the other hand, you will get what you need from Exclaimer with some time and patience, just like with any other tool mentioned. To use Exclaimer free email signature generator sign up for a trial.
8. Xink
Xink provides a transparent and clear pricing distribution system. Also, it works with common business email service providers.
Like it or not, Xink's editor is not something you are used to seeing in online tools. Xink email signature require some vision and efforts to create the design you need, as there are no convenient tabs or ready-to-use banners.
Developers might like Xink, as it lets you edit the HTML code of your signature directly from the editor. But if you're not familiar with it, the functionality might astound you.
9. Gimm.io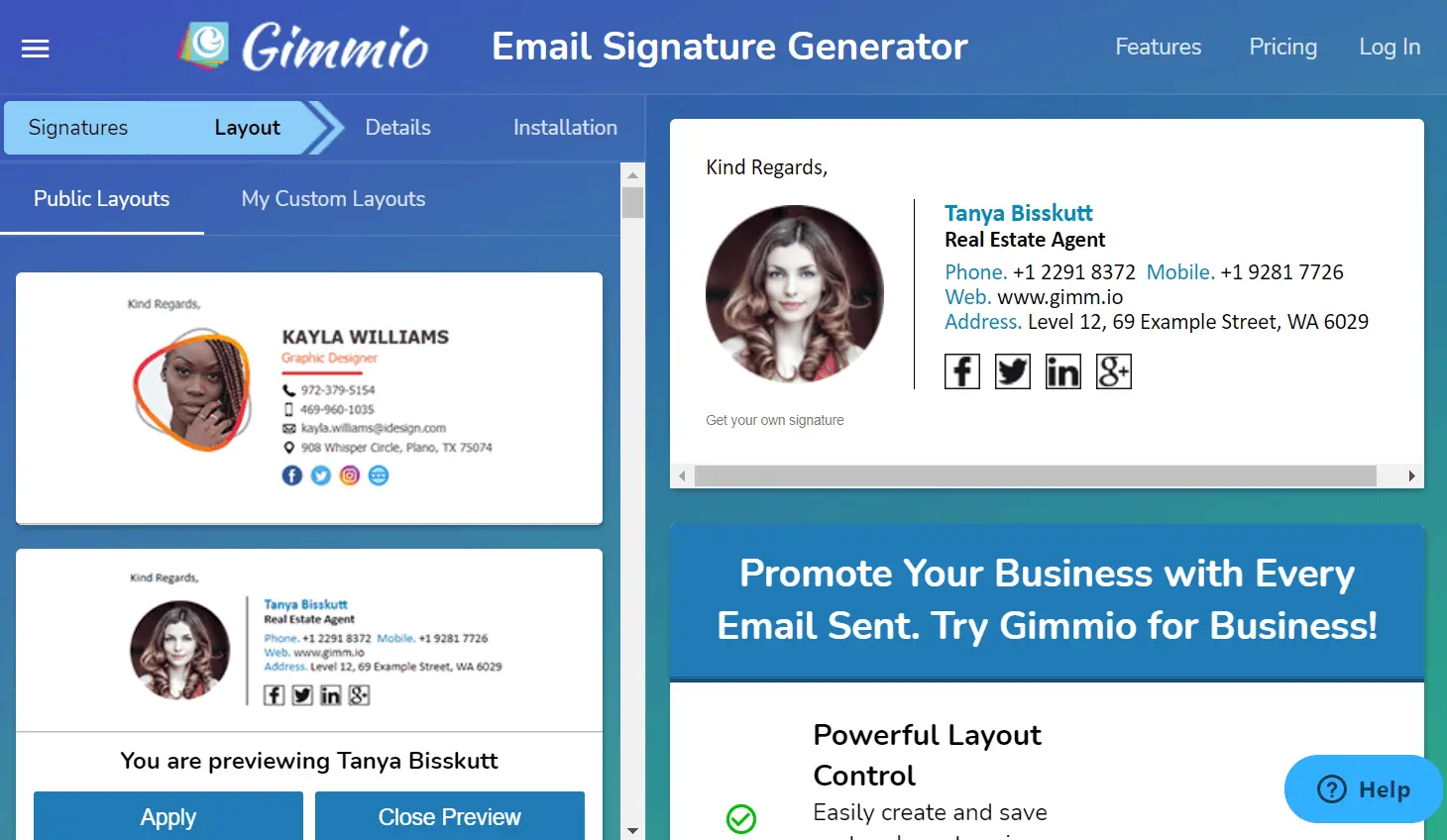 Gimm.io's most noticeable feature is the ability to set custom spacings between email signature elements. Also, they have some common elements every signature should contain.
But Gimm.io does not have a convenient email signature management functionality. All the presented features are put in one place, which makes the onboarding process kind of daunting. Certainly, you can achieve great Gimm.io email signature. But you'll have to try hard to do so.
How to choose the best email signature generator?
After seeing all the variety on the market, let's dive into what you should pay attention to when choosing an email signature generator.
Define the goal you need to fulfill with an HTML email signature generator
Ask yourself a simple question:
Do you need a single email signature for personal purposes?
When creating an email signature for yourself, you should look for a solution that doesn't require your tech or graphic design skills. Instead, you should be able to input your details and upload images to the website. And voila, your beautiful, mobile-friendly, and interactive elegant email signatures is ready.
Do you need to create corporate email signatures for all employees?
To avoid inconsistency across the company, you can choose an email signature generator with central management and automation to control and update your and your team's signatures.
Are you looking for new marketing opportunities?
Running email signature marketing campaigns can be tricky. To make it simple, use an email signature solution with scheduling and segmentation options and analytics.
Make sure the email signature generator is flexible

Gallery of different email signature templates
A decent email signature generator will let you choose from a wide range of well-thought-out templates so that you only need to customize the style according to your taste and requirements.
When it comes to email signature design, it is essential to pay attention that not all fonts are universal or "web-safe." In pursuit of creative email signature remember that some of fonts may not be compatible with some devices and operating systems. To find out more, read our detailed article about email signature fonts.
You probably are active on different social media like Twitter, Facebook, YouTube, or LinkedIn. And if you want to drive your audience to your social content regularly, you need to have interactive email signature. So. you need to create an email signature design with social media icons people can click on.
Call to action buttons in your, and all employee email footers can result in additional views, clicks, and registrations. You can use them:
For calendar links and booking demos
Sharing your marketplaces
Inviting your recipients to read your reviews.
Moreover, adding stylish and elegant buttons let you get a creative email signature design.
Signature works on different devices and supports most email clients


No need to say that smartphones change our communication. That is why it is critical your email signature maker supports all sorts of phones, tablets, and other devices.
If you want to create an email signature for business, it is crucial to pick the tool that supports the most popular email clients like Gmail, Outlook, Office 365, Apple Mail and iOS, and others, not just yours. Thanks to that, you will not have to worry that your email footer looks terrible in someone's email client.
Use an email signature generator with powerful management functions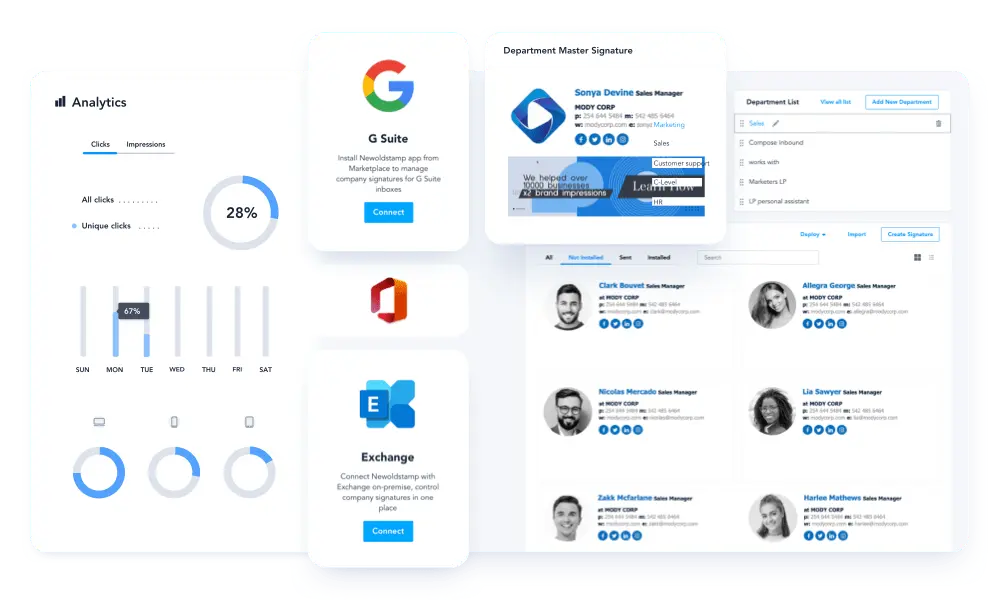 Departments settings and segmentation
If you need to brand emails of the entire company but have different offices, departments or units, choose the tool to create unique signatures for each of them.
Ability to install and updates signatures automatically
Usually, you can't rely on your employees to update signatures on your demand. Especially when you have more than ten people on board. That's why it's important to find a solution that can be connected to your Google Workspace, Microsoft 365, or Exchange to install and update signatures automatically.
Easy dashboard signatures management
Let's imagine that you have 100 employees who are waiting for their fantastic signature. Do you feel how a simple task becomes a nightmare? To avoid manual work and save time, you should consider a solution that allows you to design one template and then automatically create signatures for everyone based on this template. You can do it by uploading a CSV file with contact details or connecting to Google Workspace, Microsoft 365, or Exchange.
Running email signature banner campaigns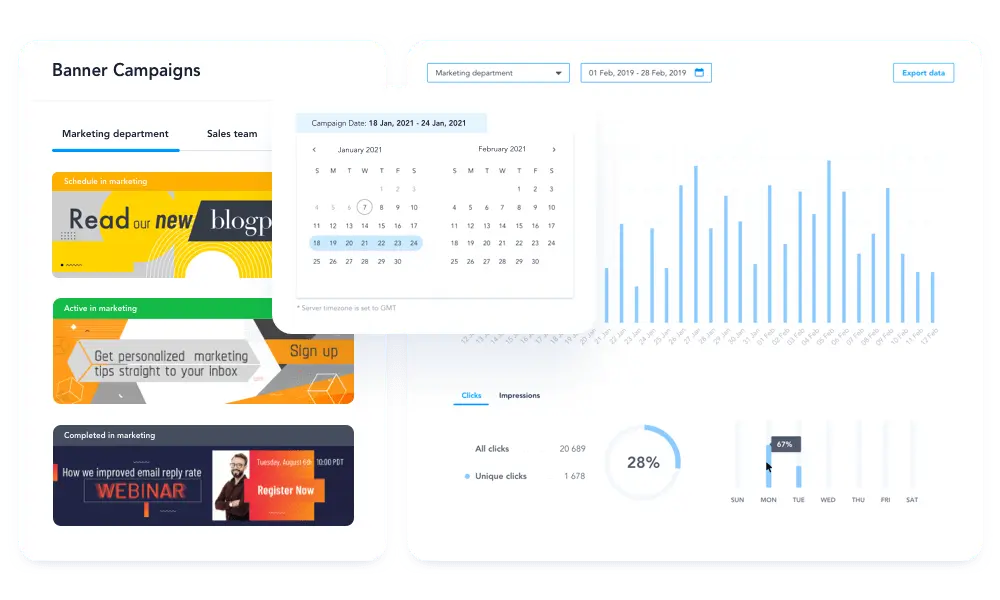 If you're on this part, you definitely have read our guide about launching email signature marketing campaigns and know how to boost email click-through rate (ctr) up to 10%.
You don't want to set reminders to update the Christmas banner earlier than in July. That's why your email signature software should have banner scheduling. You should be able to set up date when the new banner launches. One of the convenient features is to choose what should happen after the campaign is over. For example, you can decide to have no banner, or your signature should contain your default banner.
We've talked about the possibility of segmenting signatures for different company units a bit earlier. But now we are talking about marketing opportunities and targeting. For example, your customers won't be interested in seeing internal events that your HR Department promotes. Therefore, it would be more logical and efficient to run different campaigns for marketing, sales, customer support, and other departments. Moreover, your marketing and sales department may consider having different banners based on the funnel.
There is no sense in running any marketing campaigns if you can't track performance. Therefore, it would be best to consider an email signature generator with at least these key metrics:
Impressions
Clicks (on banners, logos, CTA buttons)
Click-through rate (CTR)
However, it's also great to see locations, most active days, and most performing banners.
Conclusion
What's next? If you've reached the end of this blog post, you are most certainly in desperate need of the best email signature generator 2023. Take 2-3 e signature generator tools that you think may fit your needs, and go ahead testing them by yourself.