Why Email Signatures for Nonprofits Are the Vital Part of the Marketing Strategy
1. What are the advantages of using email signatures for nonprofit organizations
2. What you miss if not using email signatures for your NPO
3. How to create and manage email signatures for all your nonprofit organization
4. How to structure a nonprofit email signature template
5. Email signature ideas and examples for nonprofit organizations

Nonprofit organizations often look for affordable marketing tactics that can raise awareness, increase reach, and build trust. Email signature, which email users add at the bottom of every email message they send, is a powerful, low-cost email signature marketing tool every nonprofit should try implementing.

The advantages of using email signatures for nonprofit organizations
When we meet people at offline events, we usually exchange business cards to create a more personal and memorable impression and build relationships in the future. And what do we do when we meet potential customers online? In the digital age of our time, we just can't afford not to give virtual business cards to people we'd like to partner up with, and here is why.
Email signatures increase trust in your email
Earning customer trust as a nonprofit organization (NPO) can be a challenge. Because you share the human side of your business in your email signature, it may contribute to winning customer trust and loyalty.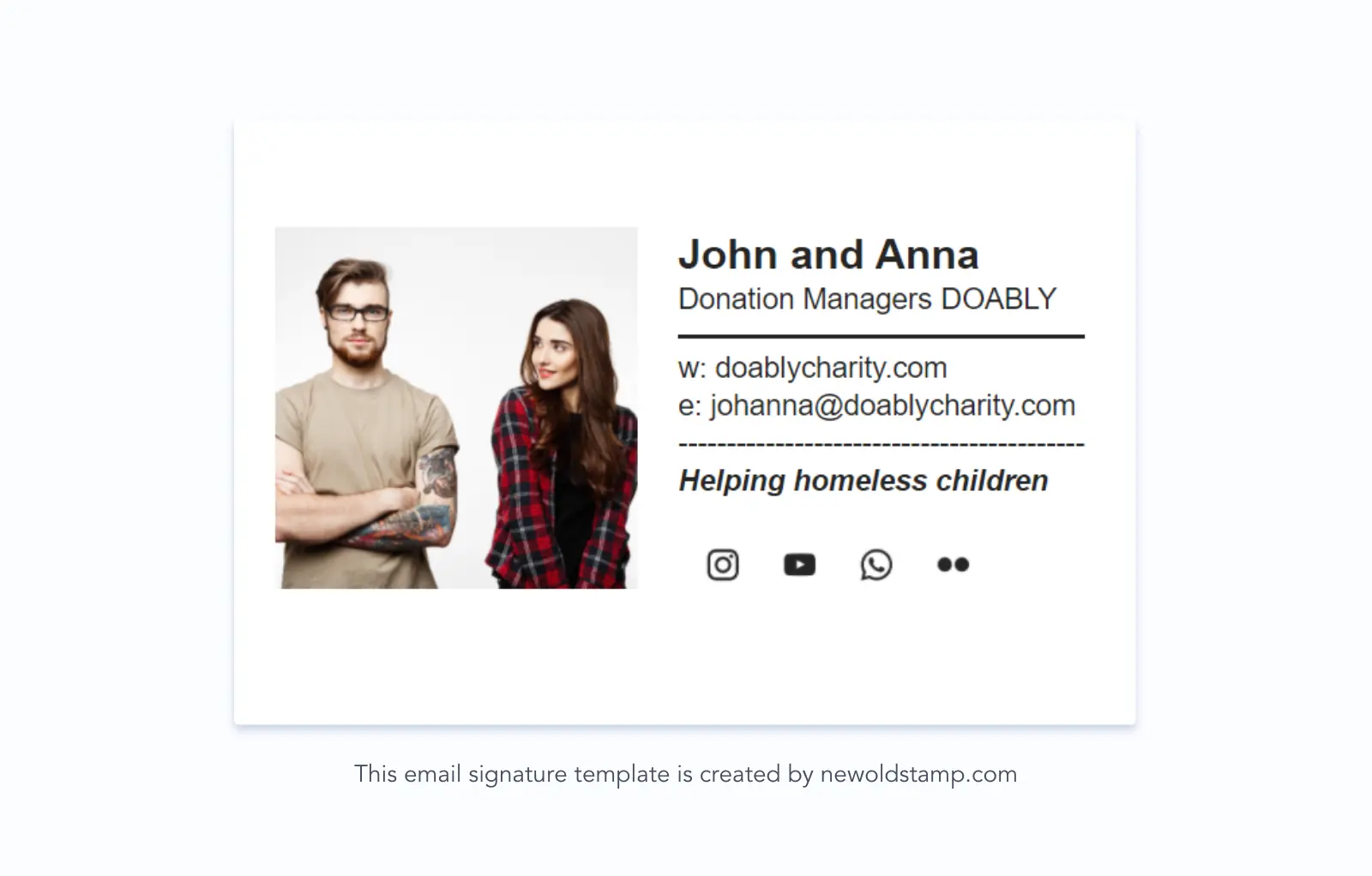 Signatures make your email more professional
A well-thought-of and well-designed email signature line will tell your potential supporters who you are and what you do. It makes a statement about you and your organization; it makes you look professional.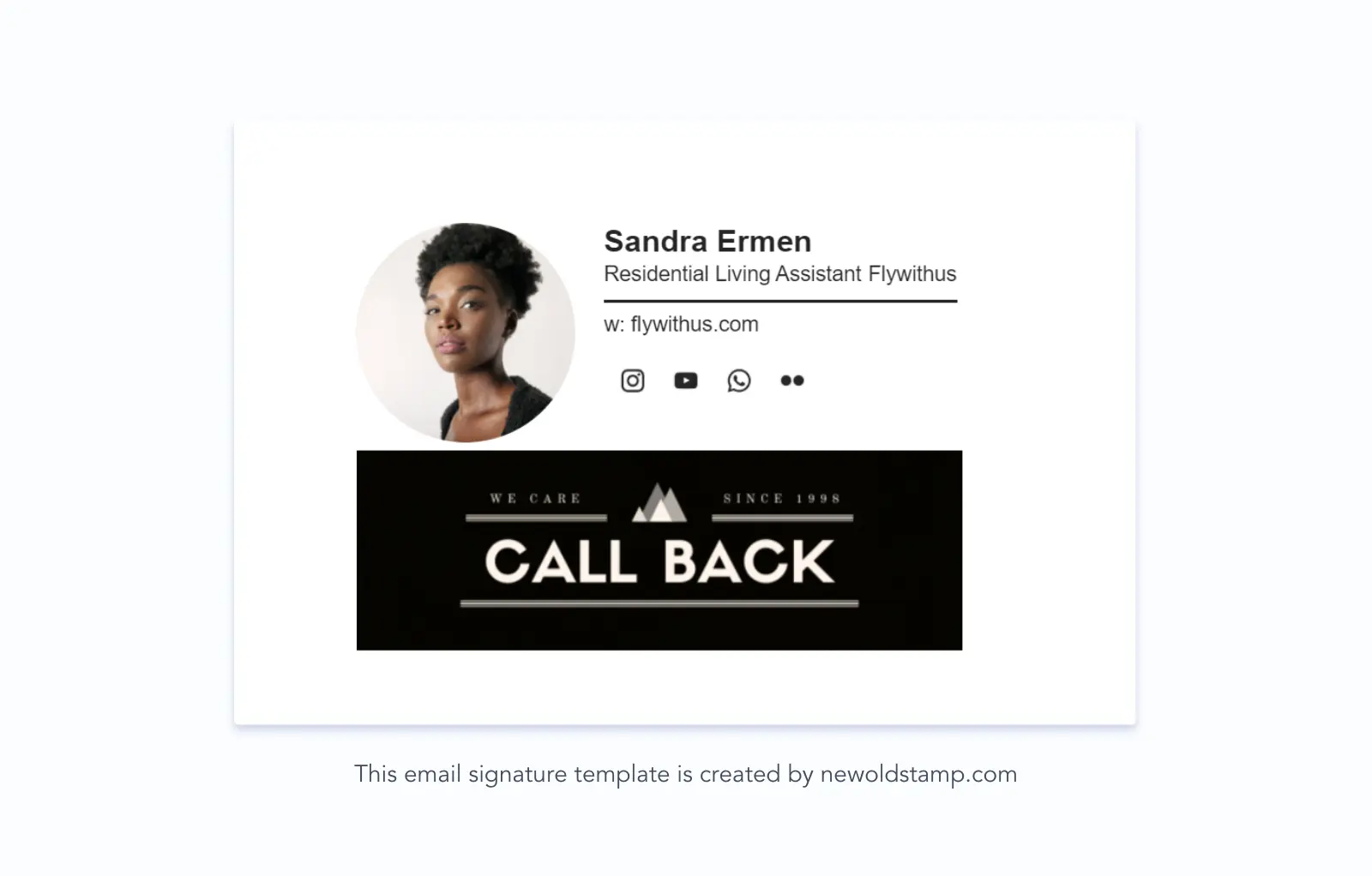 Email signatures help to reach you easier via additional contacts
By providing your potential supporters with different contact information like the cell phone number, the website URL, social media links, etc. in your email footer, you give them a choice to contact you whatever is most convenient for them.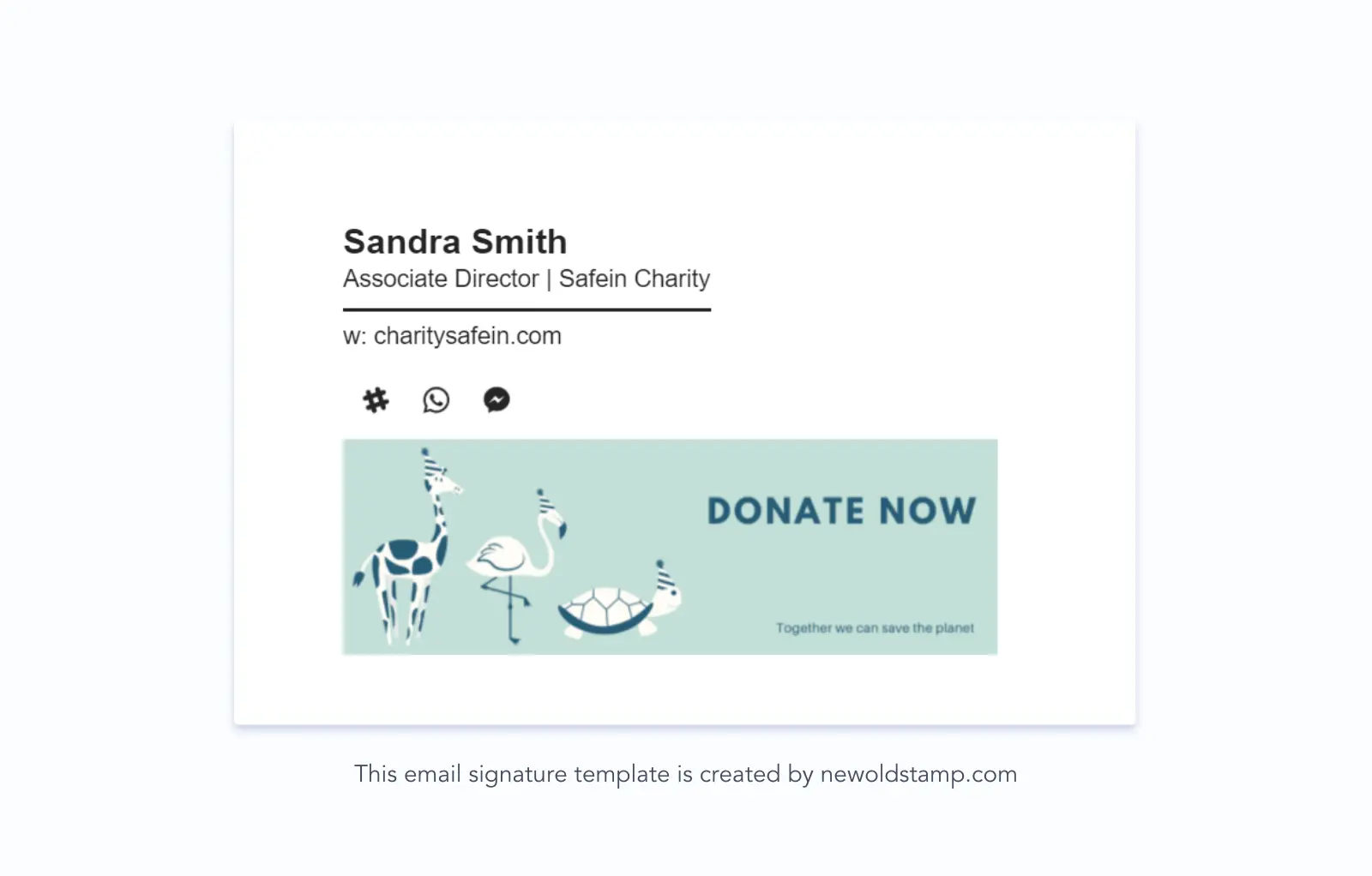 What you miss if not using email signatures for your NPO
If your email or emails of other team members simply contain the name, position, and phone number, you are missing out on an excellent opportunity to promote your organization.
Branding opportunities. Branding is not just a great font and logo. A virtual business card is an excellent channel to spread information about your brand, promote new events, and build on branding strategies & brand value.
Marketing opportunities. Let's say your NPO has 10 employees, each of whom sends approximately 10 emails per day outside the organization. Multiply this number by 21 business days in a month. That's 2,100 virtual business cards distributed over your target audience monthly. If you have 100 employees, that's 21,000 cards monthly!
How to create and manage email signatures for all your nonprofit organization
As we mentioned, inconsistent corporate signatures can have a negative impact on an NPO's reputation as it can come across as messy and unprofessional. Because every employee should have the same design and layout, you can't let them create signatures on their own.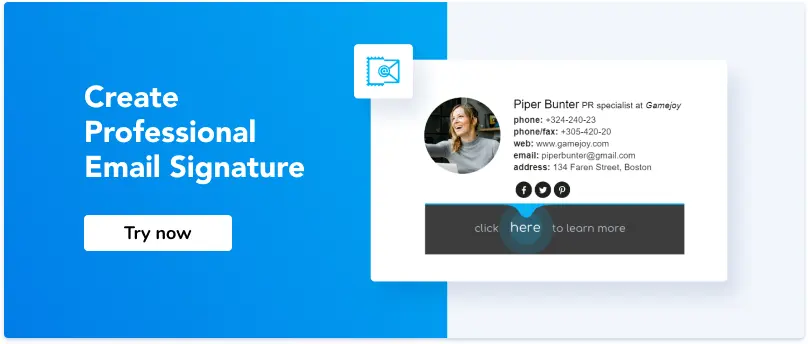 Use email signature management software
To eliminate inconsistencies in your branding, create corporate e-signatures for your organization using email signature management software. This will allow you to create multiple signatures based on your design quickly and control all of them in one place.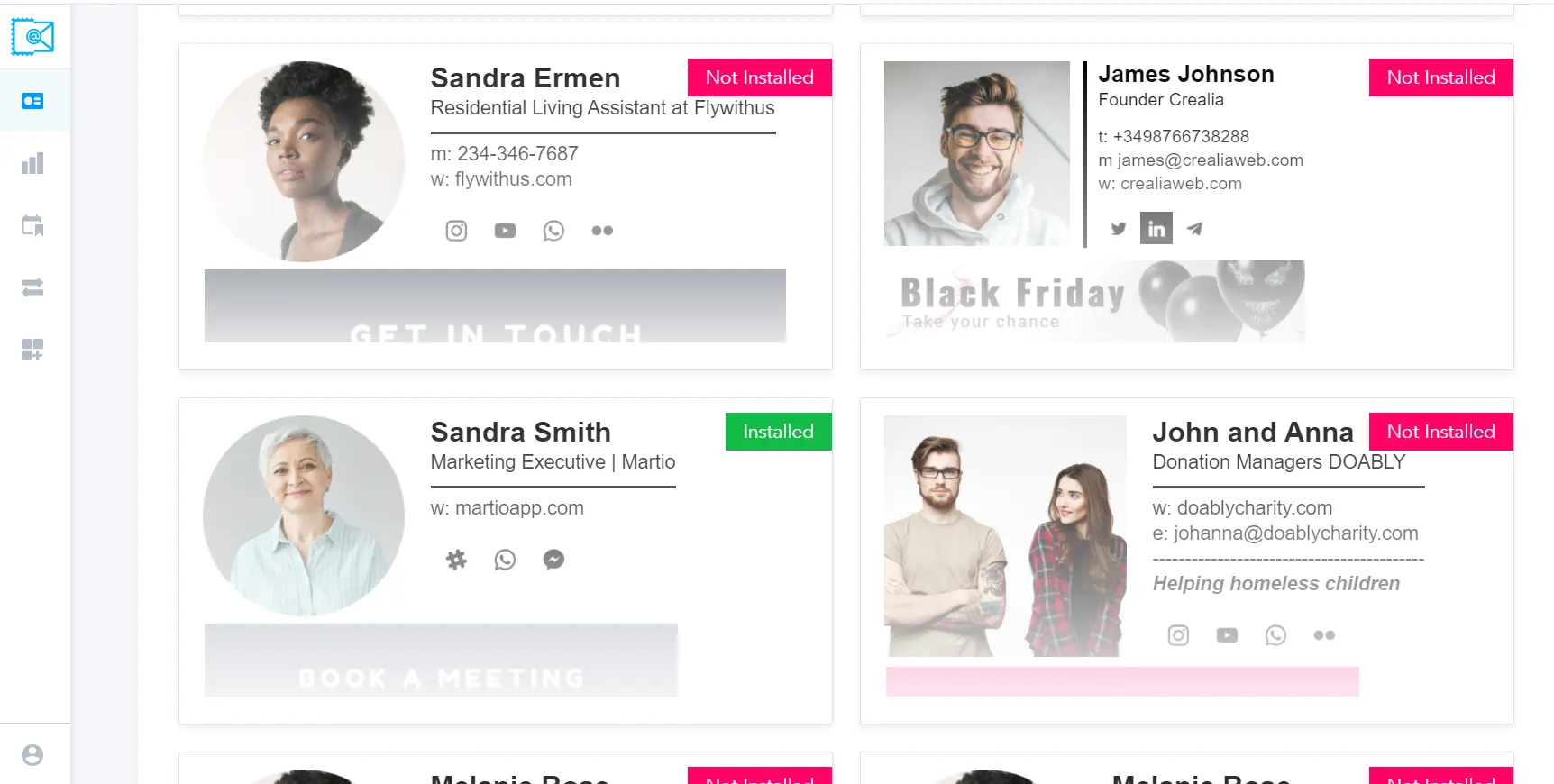 Moreover, you don't need to create each signature from scratch. Simply create one master signature and then upload a file with contact details, and the system will create signatures by itself.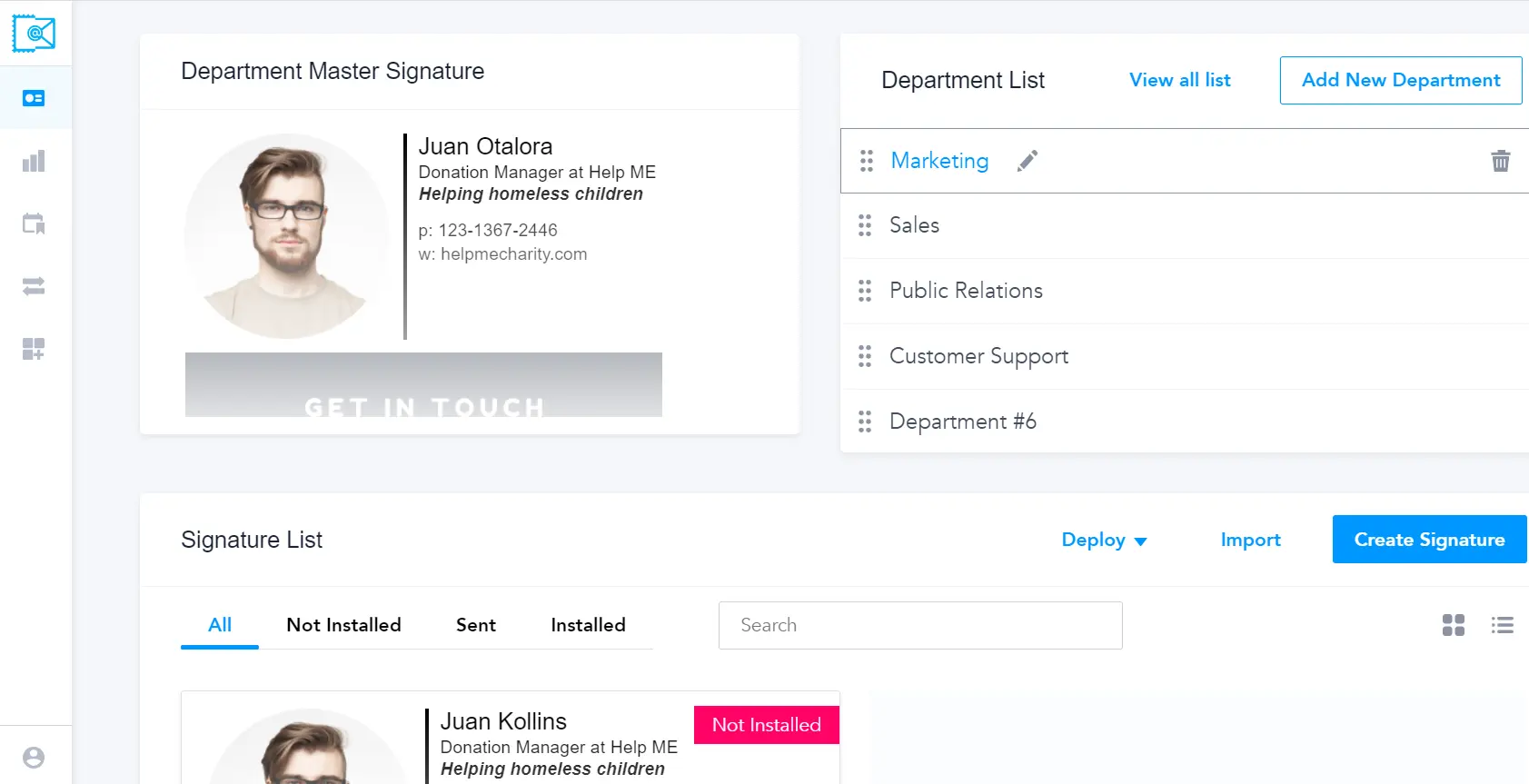 Or you can share the link with the pre-set layout with the team, and they will do everything for you. Easy as pie.
Run email signature banner campaigns
Another advantage of such software in the option to promote videos, landing pages, social media accounts, events, accomplishments, etc. in every email you and your colleagues send. Besides, if you want to change your banners from time to time, you can do this quickly without having to make changes to every single signature.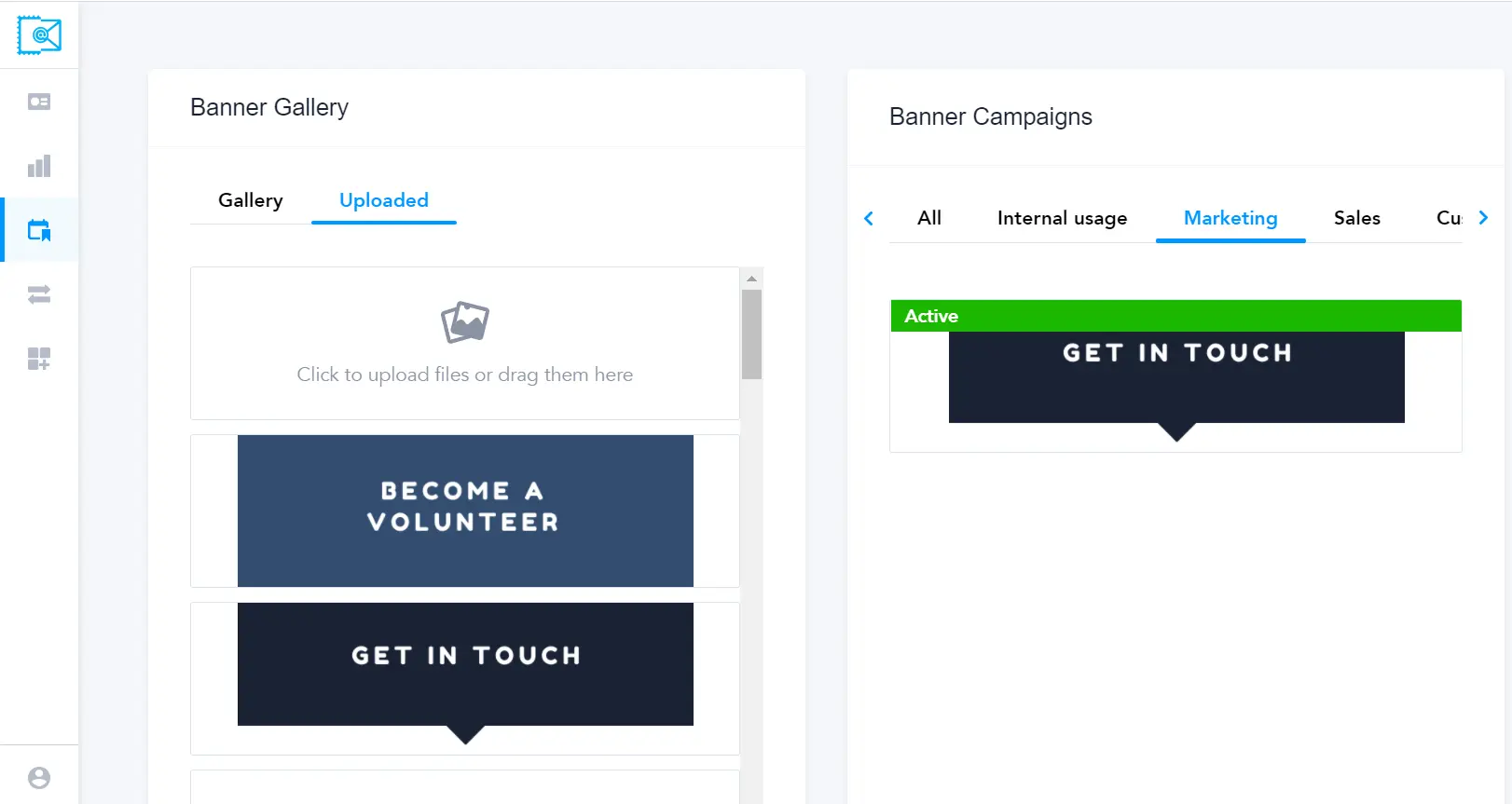 How to structure a nonprofit email signature template
Well, if you managed to have read up to this spot, you probably are ready to create a new email signature for nonprofit. Before we get started, remember that the signature is about branding, and when it comes to branding, consistency is vital.
To make your email signature look professional, include the following elements in your sig.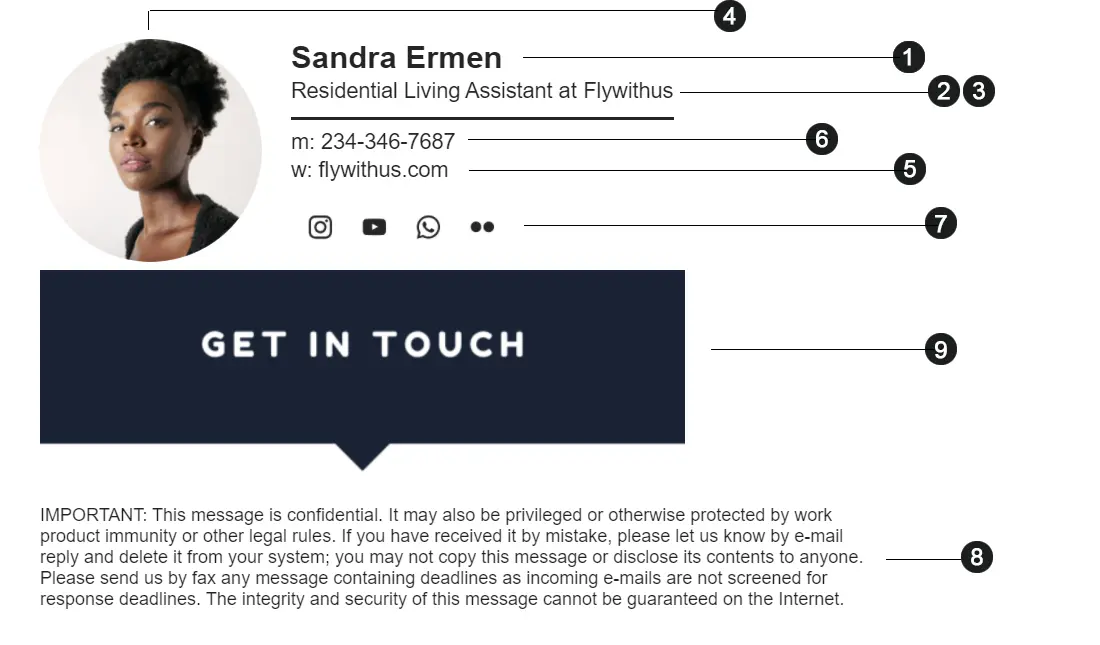 Full name.

Begin with your/employee's first and last name. This way you will allow recipients to remember not only your organization but also people behind it. Ideally, the name in your mail signature should match your name on your site and LinkedIn profile.

Your position.

This element is important because when a potential donor is seeking a specific service or a person to get in touch with, they can easily gravitate towards you.

Organization name

should come next.

Email signature logo

of your NPO or your headshot to

contribute to brand recognition.

Nonprofit websites.

If your nonprofit has a website or a blog, add these. If you own a few sites of importance, you may rotate them monthly.

Contact details.

Add a telephone number, fax number, cell phone number, an alternative email of the business or organization you work for.

Social icons linked to the official pages of your organization.

To increase engagement and information sharing, include links to the organization's social media networks.

Email signature disclaimer.

If your emails contain sensitive information, it's a good practice to add a disclaimer and/or confidentiality statement.

Email signature banner.

Don't miss the opportunity to promote your relevant news with the help of your email signature. Let people know about an upcoming charity event, your recent accomplishment, and much more.
Email signature ideas and examples for nonprofit organizations
What do the best email footers look like? Email signature creators like Newoldstamp help you design an impressive one for free.
Here are some examples of how nonprofit companies can use sig lines for campaigns. To make your email signature campaign truly successful follow the email signature marketing guide.
1. Use email signatures for fundraising
Finding new and re-engaging lapsed supporters is crucial for NPOs. Embed fundraise drives into email signatures of the entire team and let more people see that you need their help.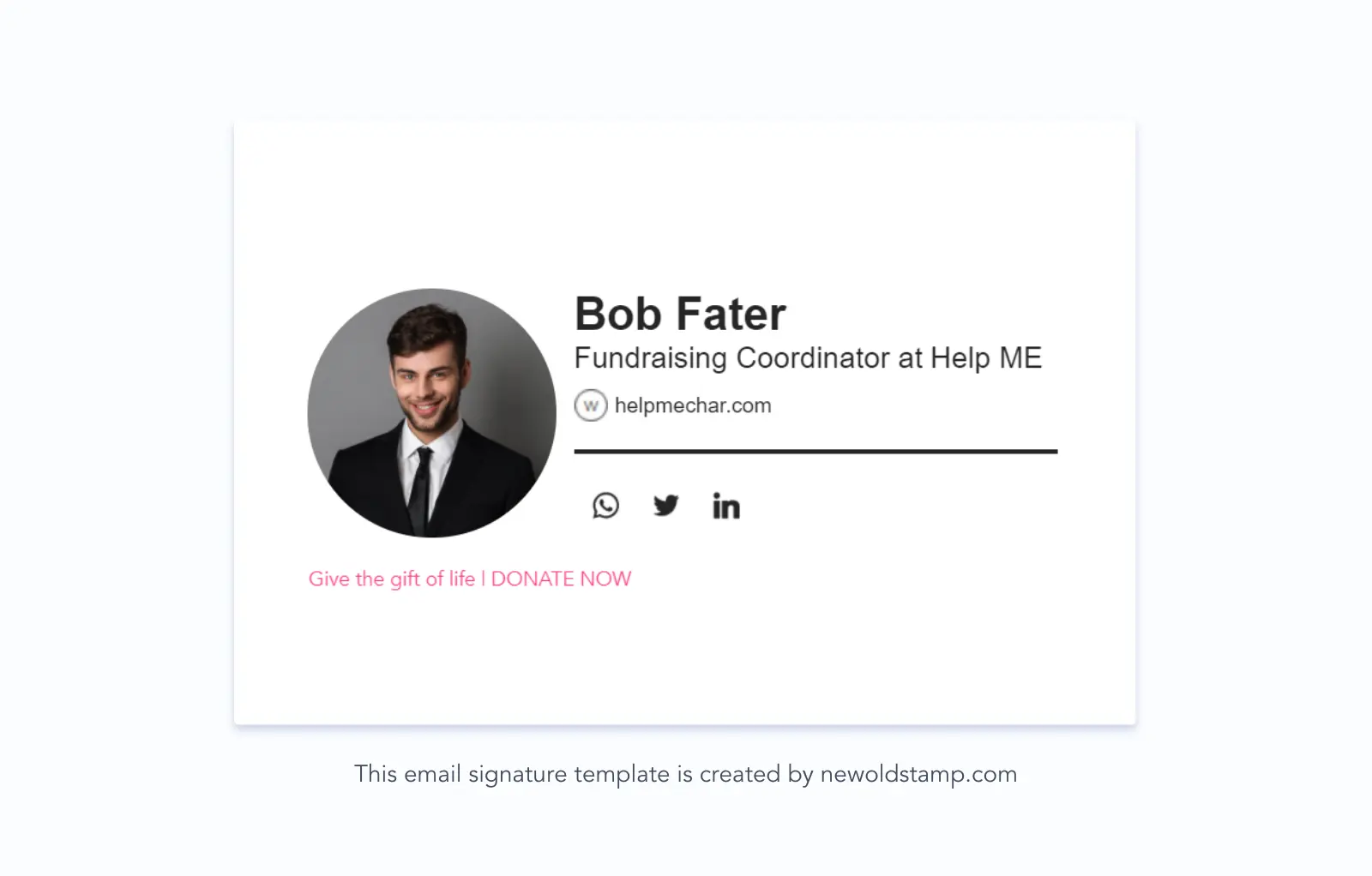 2. Use email signatures to find nonprofit volunteer
Include links to your recruiting campaigns to increase the reach of your recruiting efforts.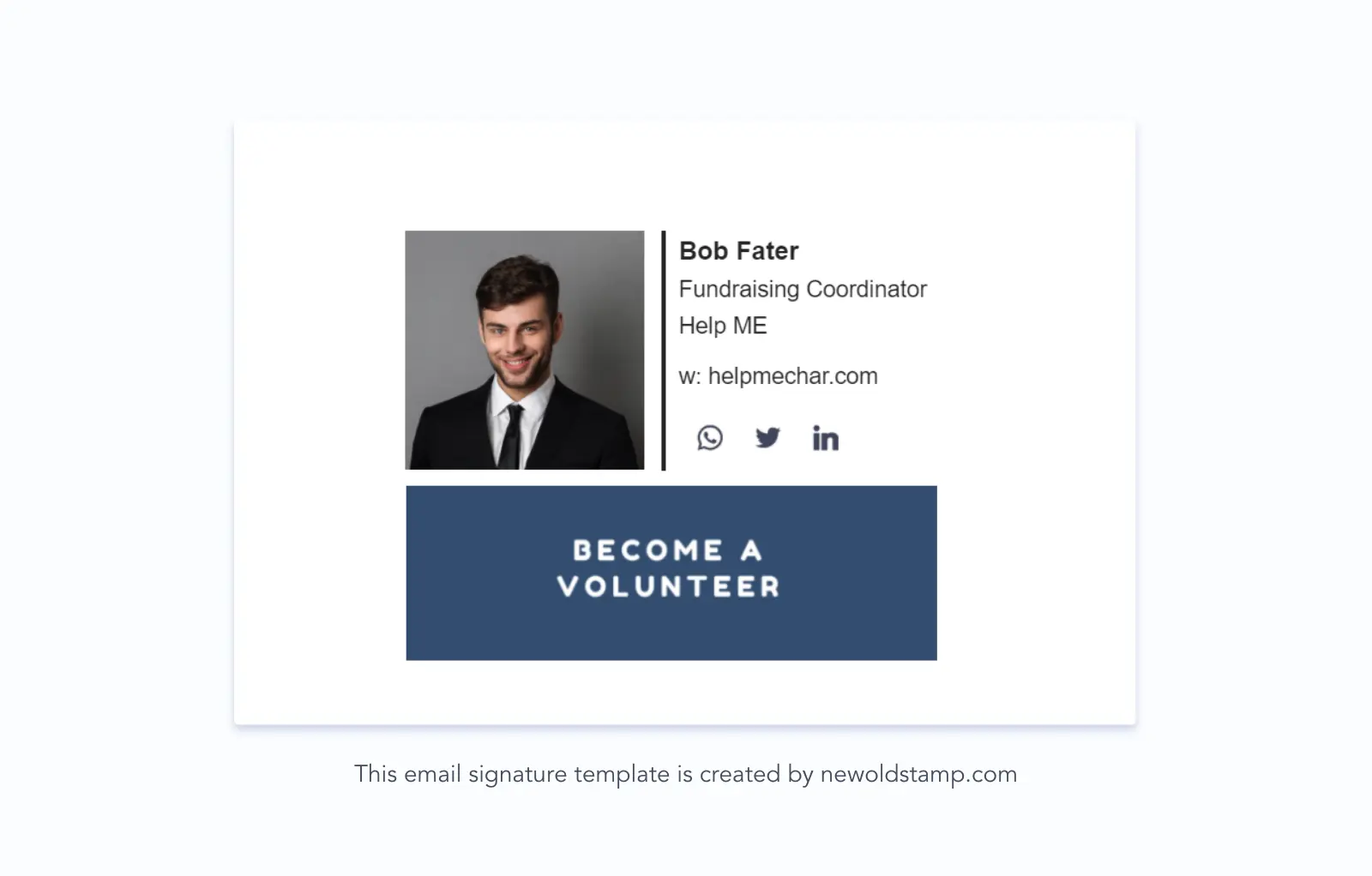 3. Use email signatures to promote charity events
Organizing or visiting a charity event? Spread the word about it and gain some awareness among your core audience.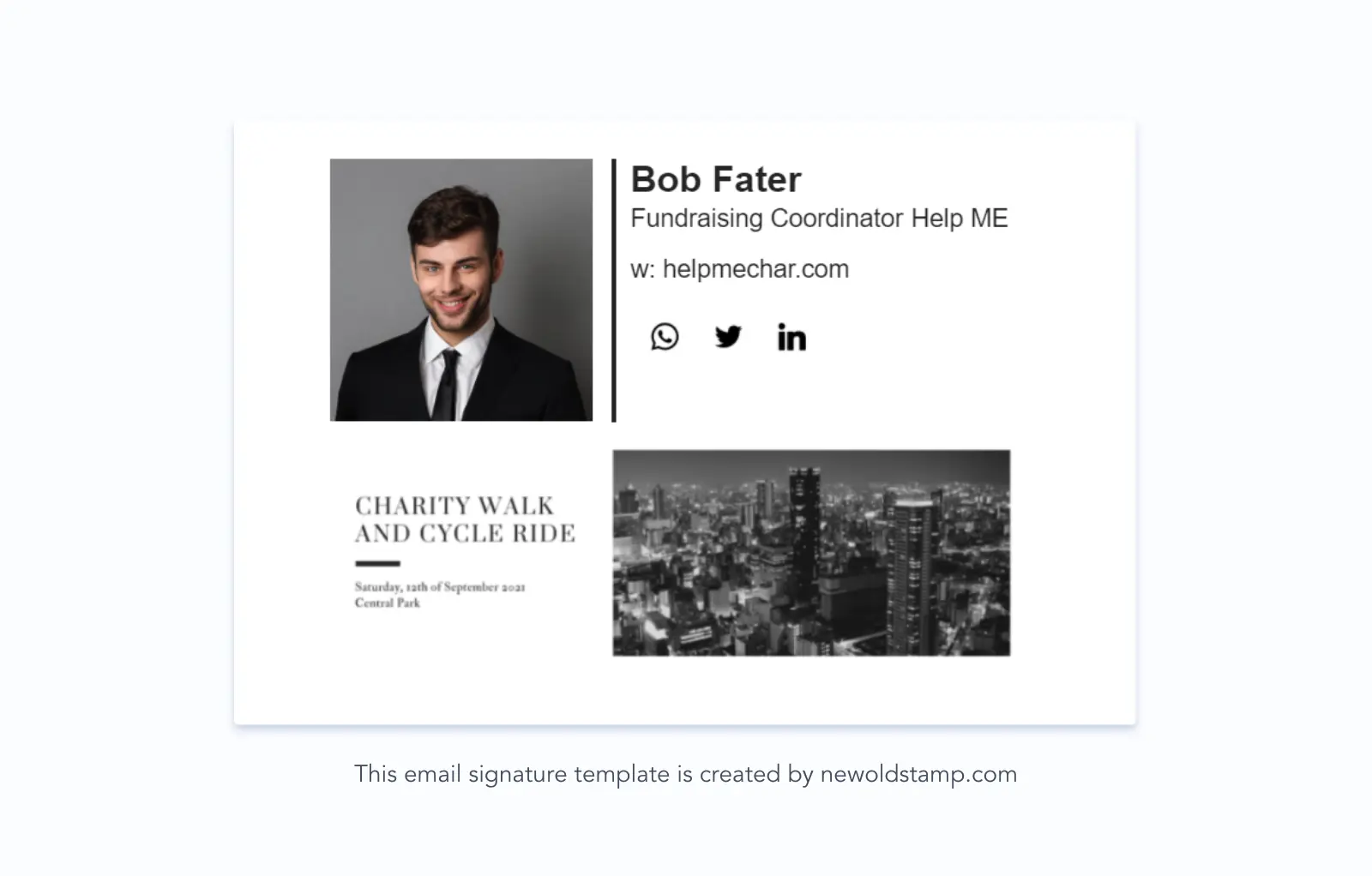 4. Use an email signature to share your best stories
Demonstrate the results of your work to motivate people to support your organization.
Check out our best email marketing tips for nonprofits.
Conclusion
If you work or volunteer for a nonprofit business or organization and would like to look more professional when emailing your current and prospective supporters, you need a well-thought-of email signature to look the part.
The e-signature is like a digital business card that you include at the bottom of your messages to let your recipients know who you are, what you do, and how they can get in touch with you.
Also, the email footer may contain your photo, social media icons, website URL, and a banner to promote your events, news, etc. Modern email signature generators will let you create, customize, and manage email signatures for all members of your organization.