What Makes Your Email Signature to Be a Good One?
1. Design Hierarchy in Email Signature
2. Color Scheme for Your Email Signature
3. Social Media Links in Email Signature
4. Call-to-Action in Email Signature Banner
5. Clicks Analysis
6. Optimizing Sig for Devices
Many businesses have difficulties trying to get their name to bigger audiences. This often leads to large financial expenses on different types of advertisement, which may or may not help them get a bigger clientele. The most reoccurring problem with using advertising platforms like television is the inability to engage with customers on a personal level and this is the field where email signatures excel.
Using email signatures in business and new startups have revolutionized how companies can attract bigger audiences to their products or services by only using email. They are included at the bottom of every message and contain information that easily directs customers straight to their websites, offers or blogs.
Here is some of the information and content that can be included in an email signature to help maintain the web presence and connection with customers:
Names (employee and company)

Any job titles and descriptions

Links to sites, social accounts or offers

Your business email address

One or two phone numbers

Professional personal photo

Promotional materials and offers

Your brand logo and ad banners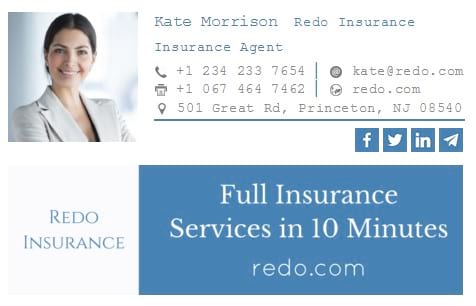 So what makes your email signature to be a great one? Main things are clarity and design. By clarity, your business has to show clear information and simple content, so recipients can easily and quickly understand what your company represents. Making a great design is a way to attract attention and make a good first impression that is really important. It will help to rise above all the other messages, so it should not look boring.
Besides, there are various rules that need to be followed in order to make your own professional email signature as great as ever (these are explained below):
#1. Design Hierarchy in Email Signature
The email signature design format is a very simple one. It is basically made up of about three lines of text that show the following information:
Adding your name to the email signature helps the customer know that they are dealing with a real person. Adding it to your email signature also promotes the development of a stronger relationship between you and the client.
Job title and the company's name
The second line contains information about your occupation and the name of the company you are working for. Adding your occupation shows the reader of your emails that you have a particular qualification and the ability to offer the services you are trying to provide. Your job title and the company's name are usually separated by a comma, for example, Graphic Designer, JohnStudio plc.
Your phone number will allow your customers to directly contact you and make inquiries about any kind of information about the services you are providing to them. You may include one phone number but do not write more than two numbers in your signatures.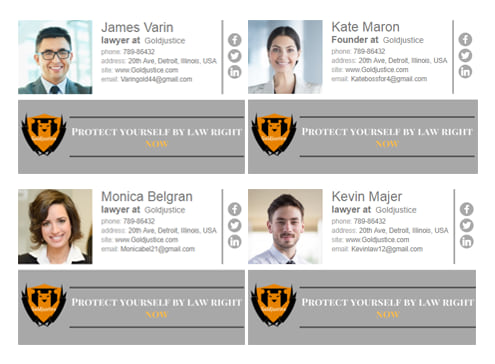 If you give your professional email address, your recipients will add it to their mailing lists or to favorites, so they do not miss anything. The easiest way to make a great email address is to add your first and last name, for example, JohnTompson@emailclient.com or your company name JohnStudio@emailclient.com. Additionally, it will help your recipients and customers to find your email messages by sorting the name.
Professional photo or logo
A quality image of your logo or personal photo (it's optional) will make a good first impression. So if you want to be considered as a professional entrepreneur, do not include animation or images with favorite pets. You can learn more about email signatures here.
By promoting your company brand or website in your email signature, you will definitely connect with more people. So it is a great idea to put links to your sites, blogs or social networks. Additionally, you can apply icons to show your social accounts, but make sure that your signature is not overwhelmed with too many social links.
Well-designed email signatures from NEWOLDSTAMP have the above format, which not only keeps everything simple but it also works effectively in helping the customers get in touch with you.
#2. Color Scheme for Your Email Signature
A good email signature must be visually appealing to draw many customers to it. The following tips may be helpful in finding the right color scheme for your email signature:
Do not add many colors to your email signature
It is important to remember that the best email signatures are only made up of a few colors, some even stick to one. Adding too many colors to your email signature will increase the chances of a color contrast, which will quite frankly leave your email signature looking like a visual mess.
Your company logo can be your focal point
Using your company logo as a reference point can make the process of looking for the right color easier. For example, you can use a red color scheme for your email signature if red is the main color of your logo. However, this system may not apply to company logos that are black. For such logos, using neon colors to highlight the text will make the email signature stand out.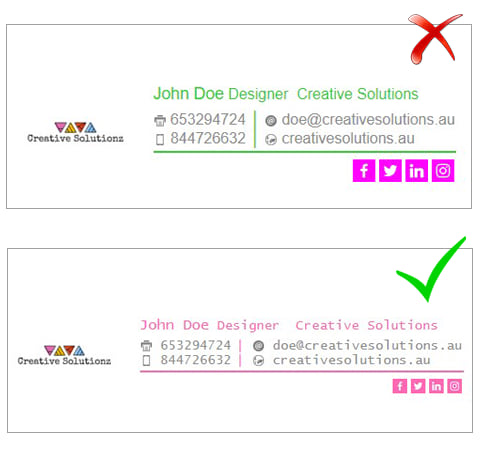 #3. Social Media Links in Email Signature
At this point in the technology age, you are probably exposed to social media and understand its benefits on marketing. This is what creating an HTML email signature social media icons can do for your business:
Adding social media icons to your email signature increases the traffic to your online content. There is a higher probability for customers to forward and share your content as well, which in turn, rapidly increases your popularity on the online market.
Alternative contact option
Your social media accounts, such as LinkedIn, Facebook, Twitter, etc., can be used by your customers to establish communication with you.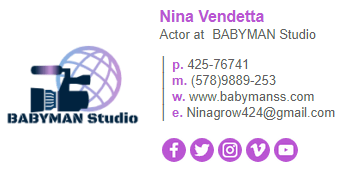 Remember, when adding social links to your email signatures, check that the accounts do not include any ambiguous and irrelevant to your business posts or images. When your target audience is using a specific social media channel, that is where your business account needs to be too. Of course, the tactics for each social account rely on your aims and mission.
if your aim is to generate leads and your social media is Twitter, some efficient methods are investing in Twitter ads. As well, you can apply promotion campaigns and use email signatures to get more attention to your products and services.
Adding social media icons to your email signature is considered more effective than adding a link. This is because people are naturally more responsive to images than to text. It is a very important point to remember if you decide on the best way to get to your online material. A good HTML email signature editor like NEWOLDSTAMP provides the tools that help to add easily social media icons.
#4. Call-to-Action in Email Signature Banner
Good email signatures make very good use of call-to-action or CTA. This is simply adding a particular button that will attract any reader of your email to take the particular action you are encouraging them to take, such as:
Signing up for a particular service

Buying a product from your website.
The best CTAs have the following features:
They are clear and simple - your CTA must be very short and state the action you would like the email reader to take. It is encouraged to use not more than 7 words in your CTA.

Easy to identify - a good CTA must be visible to anyone who sees your email signature. However, making your button too big will disturb the overall appearance of your signature. It is also advisable to use a contrasting color for your CTA button to make it easily distinguishable from the rest of your email.

Create a sense of urgency - a good CTA makes the reader feel like they really need to have what you are offering. Many companies create a sense of urgency by adding in ads a time limit to the availability of the goods or services.
Another important feature of a good email signature is the email signature banner which is usually added to the email footer. The promotional banner in the email signature can also play a key role in convincing many readers to respond to your requests.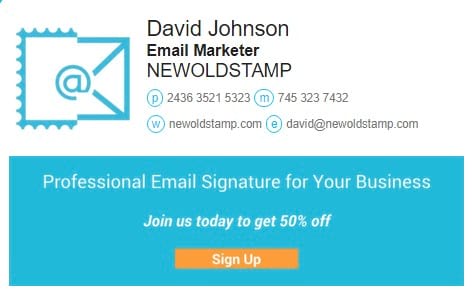 #5. Clicks Analysis
You must be able to track the clicks made on the various links you add to your email signature. This is very important because it enables you to identify which platforms are working well and which ones aren't. You will further use this information to take more action to optimize all your links so that they can be equally effective.
There are various companies that offer services that can enable you to find out which links in your email signature are receiving the most attention. This is usually accomplished by the addition of a shortcode to your link which can be used to notify you when the link is clicked.
For example, your content on Facebook can be accessed by clicking a particular link in your HTML email signature. If this link has a traceable code, every time someone uses this link to look at your content on Facebook, you get notified.
It is advised to analyze data from all of the links included in your email signature to make more effective business decisions in the future, such as paying attention to a particular responsive audience.
Here how it looks if you use Google Link Shortener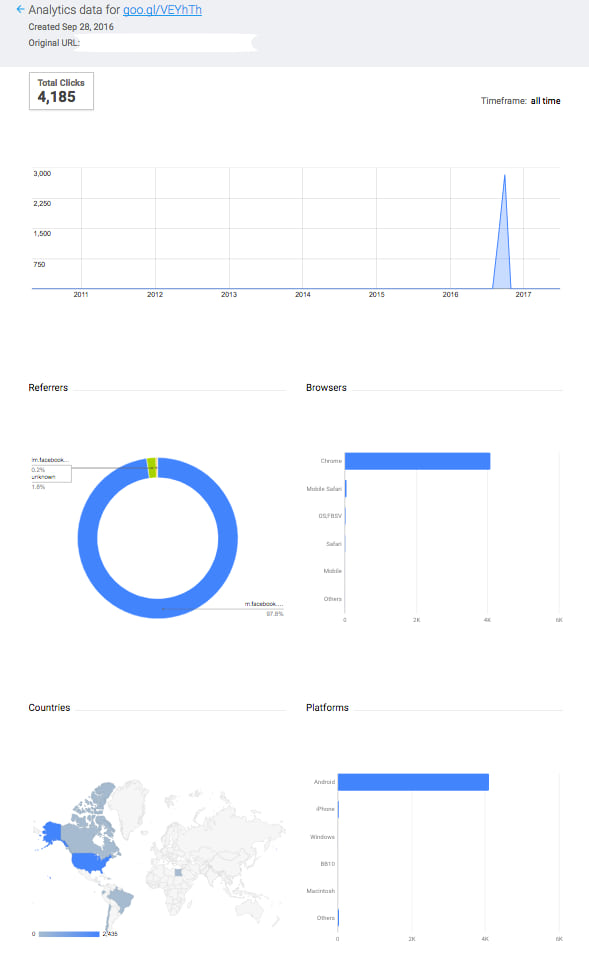 #6. Optimizing Sig for Devices
A good email signature should be able to help you get the attention you are looking for on the online mobile market. However, this is hardly possible if it cannot be seen on particular devices.
It is very important to make sure your email signature is accessible on any device because you do not know what kind of devices your audience is using. Additionally, you need to make it mobile-friendly.
So, here are the best points to consider when trying to optimize your email signature for all devices:
Develop an adaptable design - a simple

HTML email signature design

should be able to adapt to any device's screen it is viewed on.

Make it mobile-friendly - this includes paying a lot of attention to the pixel sizes of the images you use in your email signature, making sure the spacing between the texts is just right, and also spacing out the CTAs that are part of your email signature.
Any professional email signature can be viewed on several devices. This ability will play a very big role in increasing the response to a particular online campaign by increasing the access routes.
A Great Email Signature Must Inspire People to Click
At this juncture, you are familiar with all the points of a good email signature. You understand that design features will attract a bigger audience and you know how to make your businesses grow by collecting data about the type of reactions you're receiving. These tips will help you connect with more customers in a professional way and, eventually, generate more leads.
There are various email signature generators out there that can also help you make a good email signature. However, you can test your business by using the NEWOLDSTAMP signature generator first. You can create a free template that has all the qualities described above. With all the capabilities, your email signature will become one of the most effective tools for promoting your online business.
Besides, why do you need to design, code and deploy HTML email signatures in your email clients when engineers created computers and robots to make mechanical work? You can use your spare time more effectively!
NEWOLDSTAMP email signature creator has the same aim — to make your email marketing campaign and business easier.