The Comprehensive Guide To Promote Video Content For Your Business
1. Why do you need to create and promote your video?
2. Create high-quality videos
3. Best tips to promote your business with video
4. Top places to promote a video
Useful tools:
1. Newoldstamp - Email signature marketing
2. Mailchimp - Email builder and sender
3. VidIQ - Marketing tool for YouTube
4. MailerLite - Landing page builder
5. Canva - Online tool for making designs
Everyone knows that video remains one of the hottest marketing trends over the past few years. But only a few realize that there are so many things to do after the video has been shot. You can't just create great content and leave it to chance. If you don't invest in promotion, nobody will see the video, and production budgets will be wasted. Today, we will discuss the most efficient, proven ways to promote your business with video and achieve outstanding results.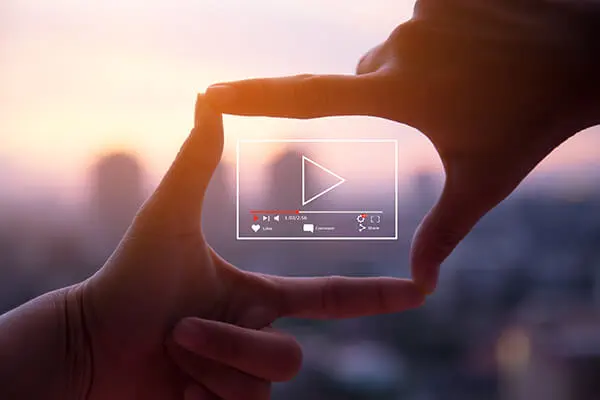 Why do you need to create and promote your video?
If you are still not using video to promote your brand, look at the list of benefits below.
Quality video content leads to better customer engagement, which means there is a higher chance of conversion and sales.
source: hubspot
Video builds trust and credibility
Research shows that audiences are more likely to build relationships with a brand after viewing videos.
Video content is an important marketing channel
You can use video materials to market your business and easily connect with your potential customers. Do both by demonstrating the benefits of your product or service, introducing your staff, showing customer testimonials, and much more.
Video engages with all types of customers
Some customers are oversaturated with text content. Also, people want to consume content without effort. That is why they love pictures and infographics. Videos are just as powerful, if not more.
Video has a high retention value
Users can be retained easier if they find some degree of value in your video content (HOW-TOs, tutorials, Q&A videos).
Video increases engagement with social media
Video marketing belongs to one of the best ways to create engagement on social media platforms. When you make short, entertaining videos worthy of sharing, using youtube tools, you can get more views and engagement.
Have a look at these video stats:
Every day YouTube users consume one billion hours of video content and generate billions of views.
The average Internet user spends 88% more time on a website that has some videos.

People retain 95% of a message when they watch it in a video. And they retain only 10% of the information from a text.

52% of users who buy stuff online say that watching product videos makes them more confident in online purchase decisions.
Create high-quality videos
The best marketing videos don't just happen – they are often a result of preparation and persistent work. On the technical side, you need to invest in the basic equipment and editing software.
Although your smartphone can shoot beautiful videos, it is not the best option for creating promotional marketing videos. To achieve success, you need to buy a good video recording equipment such as a DSLR, quality optics, and manual controls.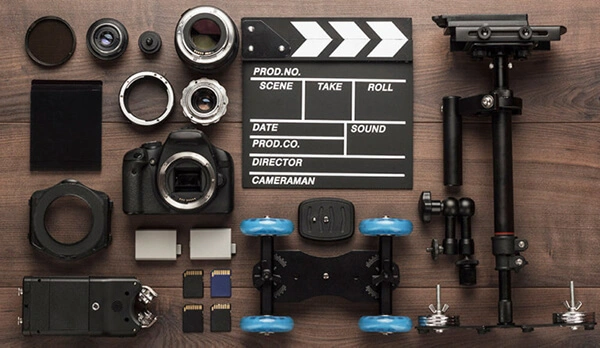 source: uscreen
Edit your video after recording
Use video editing software to make your video more professional (add effects, play with audio, and more).
Double-check it before you send it across different channels
Always get your video content tested before promoting it. Show it to your colleagues, ask them for suggestions and ideas, improve the video, and make it live only then.
10 best tips to promote your business with video
Not sure how to promote videos online? These top ten tips will help you get a better idea of where to start.
Optimize your video content
It is smart to think beforehand about the social platforms and devices that will be used to watch your video. Be sure to optimize your content.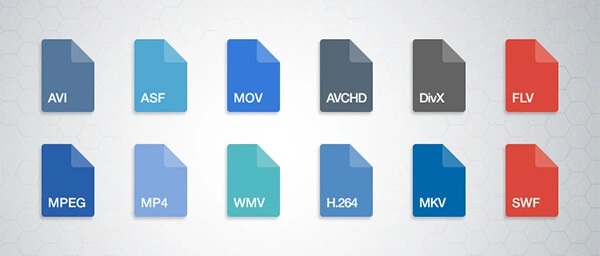 source: elmedia
For social platforms
Instagram video promotion differs from YouTube video promotion. For example, it is best to keep videos under 1 minute on Instagram. And YouTube viewers are used to longer videos (2 and more minutes). That's why, for efficient video content marketing, it's important to learn the best practices for optimizing your video content for various social media.
For devices
If you know that the video will be seen on a mobile device, keep it vertical since this is how most viewers look at their phones.
For your video content to go viral over social media channels, you need to create a more interactive and intuitive content that your audience will be happy to share. Discover tools like Renderforest, GoAnimate, Common Craft, Wistia, and many more.
Read our blog post "52 Tools That Every Small Business Should Use in Their Daily Marketing Activities [Updated]"
Create SEO-friendly titles, tags, and meta-descriptions.
Ask people to share your video
Another efficient way to promote video for free is making it easy for your audience to share it. Put social buttons on websites, newsletters, in your email signature, etc. and don't hesitate to ask subscribers to share your content if they liked it.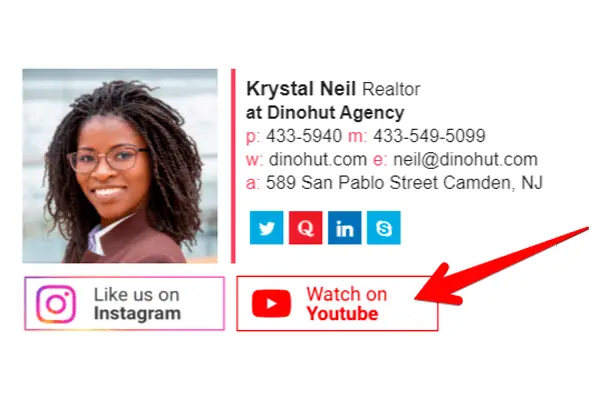 Integrate your video content with other marketing channels
For example, you can create a giveaway on social media to get people interested in winning something if they watch a video.
Outreach influencers to mention your video/channel
Influencers can help you get your video in front of their huge audience. But it is essential to find content on their blog that is relevant to your audience.
Promote your video if you have a little extra budget. For example, you can set up paid ads to promote your videos to your existing audience via retargeting.
Top places to promote a video
Looking for video promotion ideas? The following tips will help you get more views and shares for your great videos.
Host your video on popular video platforms
source: wersm
YouTube
With more than a billion users, YouTube can confidently be called the best video content promotion platform in the industry. Also, YouTube is the second-largest search engine globally, behind its parent company Google. You can upload your content with just a few clicks and easily embed it on any external website using automatically generated HTML codes. So, be sure to promote videos on YouTube.
Vimeo
If you are looking for an even better search ranking and maximum brand awareness, promote video on Vimeo. While YouTube has a large mix of viewers who don't always provide constructive feedback, Vimeo is known as a mostly mature community of users who can offer constructive comments. Note that any Vimeo user can upload for free no more than 500MB per week. However, a premium plan allows you to expand this volume and gain access to additional features.
Dailymotion
With 3.5 billion videos played each month, Dailymotion holds the second position right behind YouTube in many European countries. This platform is free.
Twitch
The site is especially attractive for fans of games as it focuses on video games and eSports. However, recently, Twitch started expanding its content base, which made it interesting for businesses. The main difference between YouTube and Twitch is that the first one is primarily recorded video, whereas the latter focuses on live video. Experts say that this platform is a great place to learn marketing to your audience in a more natural way.
Share your video content in small communities
Participate in Twitter chats, LinkedIn groups, Facebook communities created in your industry. These channels can also be helpful for advertising of your video.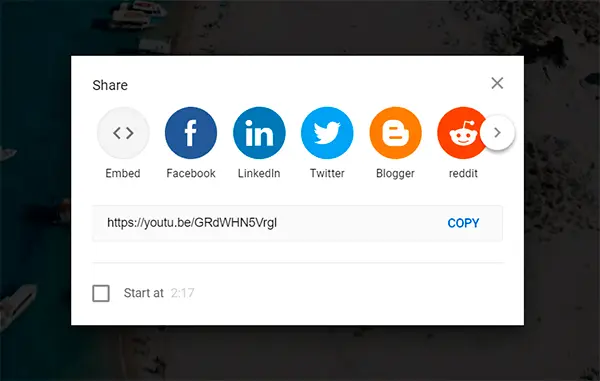 Run a video campaign on social network
Do you know how to promote video on social media to get high visibility? Today, new algorithms of most social platforms made it quite hard for brands to get their content in front of their target audiences for free. The good news is that you can advertise on these platforms with controlled budgets and targeted audiences. So, even with a very small budget, achieving a significant increase in video views is possible if you set up your campaigns properly. In any case, it would be a wise idea to leverage social media for promoting your video content even if you don't plan on spending money on advertising. Here is the least you can do:
Facebook. To promote video on Facebook for free, simply share it on your page.

Twitter. Pin your post with video to the top of your Twitter feed.

LinkedIn. To promote video on LinkedIn for free, share it on your page.

Instagram. Don't forget to tease the video on Instagram.

Promote your video via email
A lot of people prefer watching an engaging and entertaining video to reading a text. No wonder that including a video in an email can result in an open rate increase of 6%. To help more subscribers see your video, consider following these simple steps:
Add video to your email
Embed videos with your email marketing tools such as MailChimp, Constant Contact, AWeber, etc. You can make it fun and informative at a time.
Add the word "Video" in the subject line
It could make your email more attractive. However, you need to test it with your recipients.
Add a link with video to your email signatures
Use videos in your email signature at the end of every email to unlock more opens and clicks. Pay attention that a well-thought-out, clear call-to-action is the best way to encourage your subscribers to act. So, be sure to use the right CTA in your email signature to promote your video content.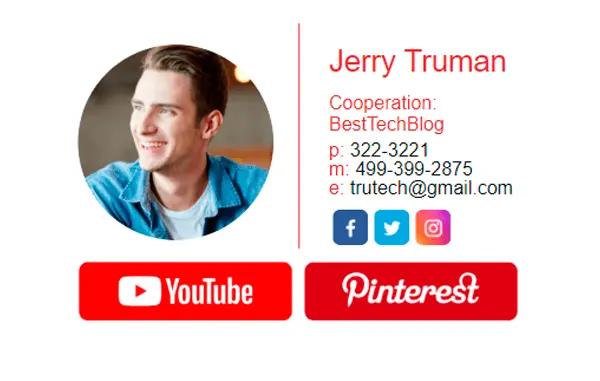 You might also like "The 10 Step Checklist for Creating Effective Promo Emails."
Incorporate your video content into your blog or website
It's no secret that putting the relevant video content on your blog is a great way to attract readership and conversion. Consider embedding videos on your landing and home pages, etc.
Play your video content on live events
If you attend relevant events, you can easily share your content with a live audience.
Conclusion
In today's digital world, people want to see more and more video content. Brands should start creating more high-quality videos in response. We believe you are also ready to produce video content as part of your marketing strategy. So, we want to give you some valuable tips for success.
You can't afford to post low-quality videos as the competition is high;

Optimize videos for social platforms and the devices your audience might use;

Use modern tools to create a more interactive and intuitive content and make it go viral (if you are lucky enough);

Create SEO-friendly titles, tags, and meta-descriptions;

Cooperate with influencers to promote your videos better;

Don't be shy and ask subscribers to share your content if they like it;

Use paid ads on video content platforms;

Host your video on popular video platforms like YouTube, Dailymotion, Vimeo, etc.;

Share it on Facebook, Twitter, Instagram, and other social media;

Use video content in your blog posts, on websites, landing pages;

Embed video on your email;

Incorporate video into your email signature to share it with as many people as possible;

Be passionate about the work you do! Good luck!
You might also like this article "How to Build Content Marketing Strategy From Scratch."