10 Reasons to Consider Email Signature as Additional Marketing Channel
1. Use an Email Signature to Brand Your Emails
2. Increase Social Media Engagement Through Email Signature
3. Share New Promotional Videos in Email Signature Banner
4. Share Company News in Your Email Signature
5. Tell About Your New Features and Services
6. Demo Your Product or Offer Free Consultation
7. Promote Content on Your Corporate Blog in Your Email Signature
8. Offer a Free Trial
9. Use an Email Signature as an Additional Traffic Channel to Promote Your Website or App
10. Share Your Special Promotions
You have developed your app and got your mobile application launch planned. Now you are probably thinking, what else can you do to advertise your campaign?
It is not rare for businesses and startups to pay above $20k and entirely forget to consider a marketing strategy when launching a mobile app into the market and app stores.
Sure marketing your new app to outreach and generate leads makes the already complex and often challenging tasks. Fortunately, there are hundreds of channels that can become large promotional engines for your startup. Either because you never heard of them or you never thought to try them in a promotional way, it doesn't mean that they are not important digital marketing tools.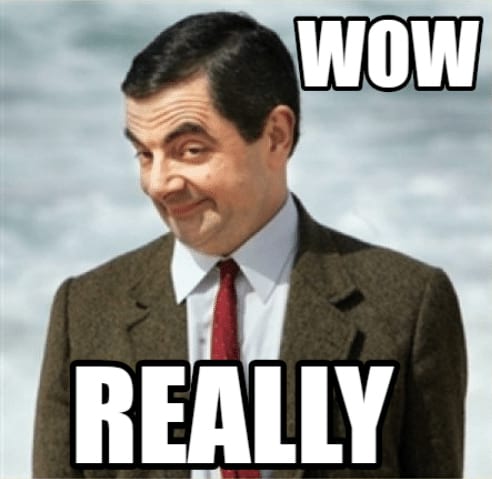 For example, you know about direct, personal emails. You can contact your potential users and spread the word about your campaign by using this channel. However, to make a good first impression and to encourage your recipients and potential customers to connect, your company can start using one small but effective email tool and marketing vehicle – email signatures.
If your email message is the channel – each employee's email signature can be the instrument that helps to brand and connect.
When it comes to email marketing, you should keep a few significant things in mind: you have to speak to your audience with distinction and entertain your future leads. By highlighting your messages with an email signature block, you will succeed in both of these activities, and get a great distribution vehicle to promote your brand.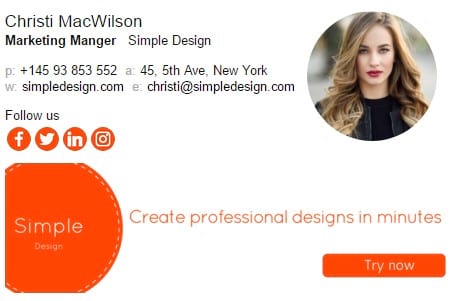 You can save some cash, time and efforts, investing in growing your web presence through the email signature campaign. With the signature, you can improve engagement and relationship with your recipients before you launch your mobile app. Moreover, you will not need to forward every time additional contact details and promotional offers. You just can add all necessary information to your signature and enjoy your saved cash, time and efforts.

Before you begin planning your efficient email signature campaign, you should understand and identify what content and advertisement you need to deliver to your recipients through the signature. You need to indicate what works best for your startup and what will help you propel your business forward. So what do all of those employees' professional email signatures include and how you can apply them?
Use an Email Signature to Brand Your Emails
As each employee sends upwards of 10k emails per year, it is no wonder why a business email signature has been a mainstream tool in the marketing strategy. The email signatures remain one of the best instruments that work in a promotional way.
The signature campaign is great for startups and established companies to advertise their business. If you use Gmail or Yahoo! for sending your business's email messages, you can include an email signature block as an additional tool to display and market your developed mobile app, product, and services to a target audience.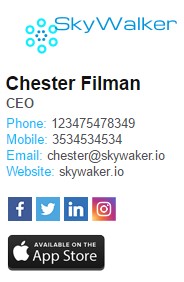 When your email combines a cohesive signature with attractive offers, banners, and call-to-actions, which can be easily managed by the NEWOLDSTAMP editor, you can gain new users and improve relationships with existing clients.
To ensure your email messages are noticed, you can use personalized, employee-specific names and titles. You can use an email signature format to provide proper text structure and usage of colors or fonts. You can add your startup's branding data, content, and show your contact details. Moreover, if you keep sending emails with signatures, it may help to authorize your identity and your recipients will not mark your emails as spam
Increase Social Media Engagement Through Email Signature
When you create HTML email signature, you can include social media accounts like LinkedIn, Pinterest, Facebook, Instagram, and more, to promote your business and entertain your recipients. Additionally, you can add links to the Twitter media and other different social account forums or content communities like Flickr and Vimeo, and all other podcasts of all various forms of social networks.
All of these created HTML email signature social media icons will involve the building of your business's network accounts and communities by allowing your customers to easily view and connect with you.
You can set up social media icons to your signature by using the Newoldstamp HTML email signatures generator and encourage recipients to share their opinions, testimonials or promote meetups and other discussions via social media links.

Such approach in email marketing can be the best way to promote your brand or company and connect with your potential leads. On the other hand, try to identify your startup's goals and your target audience first before you start sending the email messages with signature.
Share New Promotional Videos in Email Signature Banner
The email signature is likely the most important thing your recipients will see wherever they check an email message. With the informative title and attention-grabbing content, you can share new promotional videos to help draw in viewers and subscribers.
You can add your YouTube profile page, the link to the Vimeo website or ensure that your included banner to promote videos shows your brand elements like colors, logo, icons, and other layouts. Do not forget to optimize your video channel descriptions before forwarding your recipients and visitors to the page.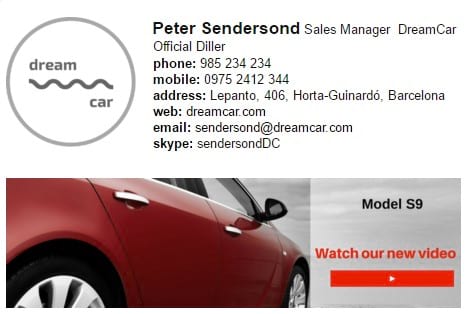 Share Company News in Your Email Signature
By directing your recipients and visitors to the company's news page, you can give them a clear focus how to act. You can add a promotional banner to your email signature and promote the latest corporate news.
Moreover, when adding a signature and link to your company's news into your email footer, you do not need to hire designers and developers. You can design a professional email signature by using the NEWOLDSTAMP editor and HTML email signature templates. You can build your signature in a minute and stay in total control of your campaign and corporate news.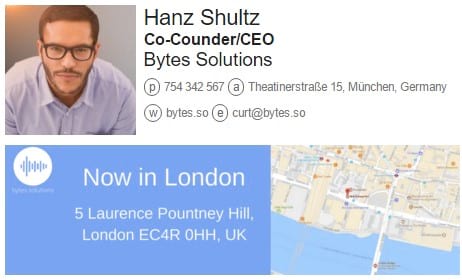 Tell About Your New Features and Services
Your business email signature is a performance-based tool that can promote all the features and services that your websites or apps provide to the users and customers.
The signature can include advertisements of the latest features and services to market the business owner's goods, products, website or app. To consider an email signature marketing campaign for your startup can be obviously a great choice. You get mass coverage almost for free. It will help to make a profit, especially, if you have a small budget.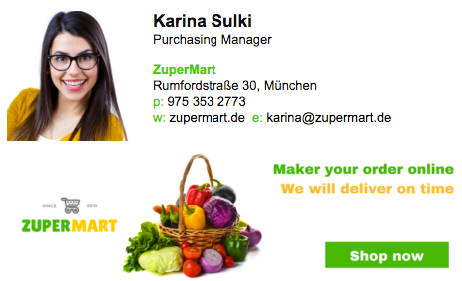 It makes sense for companies to promote their newest tools and features by using email signatures alongside it will help to build the web presence. It is not always easy to generate leads on the ads that you put so much time and resources into. However, with a custom email signature, you can promote your website's features and increase your views, improve the ROI of your strategy in minutes.
Demo Your Product or Offer Free Consultation
Your company, startup or marketing team can make money in a simple way – promoting a product or offering free consultation via email signature. This means that you can demo your products and advertise them for free by only incorporating a company email signature into your employees' email messages.
Moreover, users and potential leads can purchase a product or service or register on your site or app after you highlight links to them in your corporate signatures.
Promote Content on Your Corporate Blog in Your Email Signature
Besides your direct email, you can add an email signature to your corporate blog. Every entrepreneur aims to increase their target audience, which is a main determining factor in their success. And when designing a good email signature for the blog, you have to keep in mind a few significant things:
If you leave some information about your blog every time you make a comment or leave reviews or testimonials on other posts, it will help to increase your brand awareness.

To create a simple but effective signature in your blog, you have to avoid unnecessary information

Your blog already shows any of its visitors enough information so try to add only important details to your signature.

Great connection with users is necessary, and you should ensure that you are aware of all the negative testimonials that recipients and users may say if you send inappropriate content.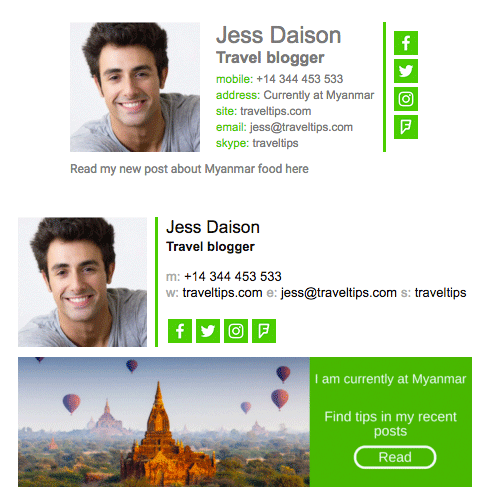 When adding a new email signature, always think and review more than twice all mistakes that you can simply miss, but they are not easily forgiven. You are a blogger who writes and facilitates talks, so try to keep your copy clear and error free. Be confident and don't be deceptive.
Offer a Free Trial
Further, you can add to your well-designed email signatures a link or promotional banner to offer a free trial or subscriptions. You can calculate and analyze with special trackable links the success of a display advertising campaign in your signature.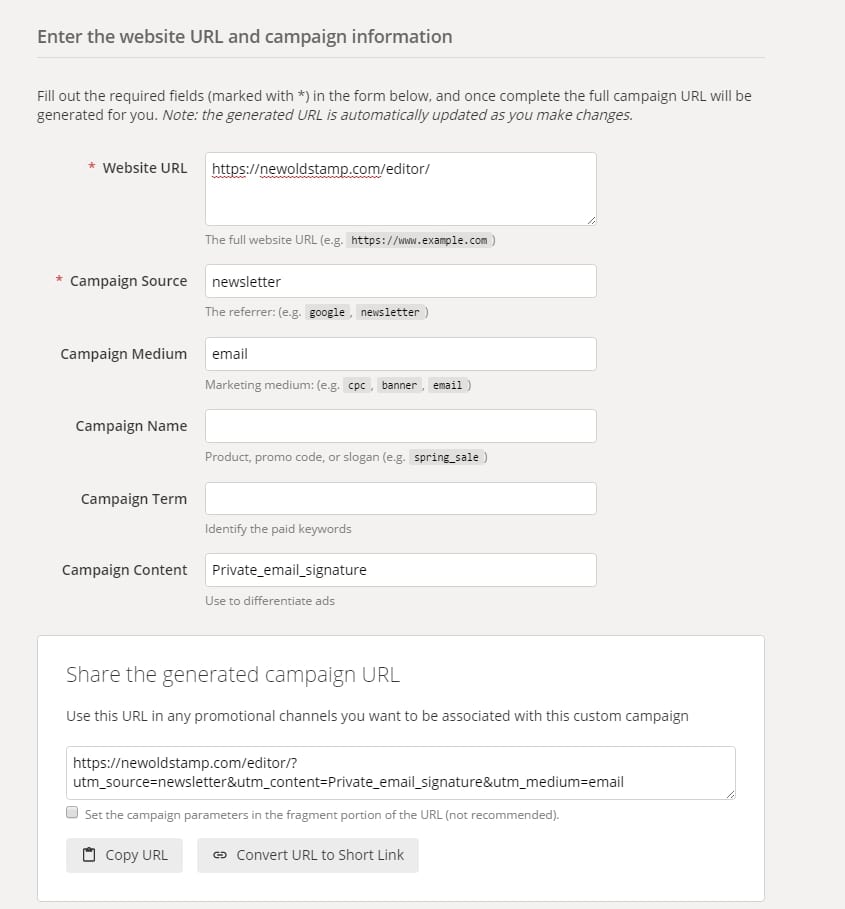 It can be determined if you calculate the number of clicks your signature banner receives given the number of times the ad was displayed to the recipients.
Displaying website advertising with a free trial in your signature will not only help to promote your services and products, but it will also help to increase your web presence, reach out to more leads, and grow your brand awareness too.
Use an Email Signature as an Additional Traffic Channel to Promote Your Website or App
According to the State of Business Email Marketing report, branding and driving traffic to the website are two main objectives of those who use email signatures for marketing. With a standard email signature format, you can add promotional links to your website, apps and landing pages. You can design an email signature block and include graphical advertisement email signature banners next to other content. The advertisements of your website can be text, images, links to audio or YouTube and Vimeo videos, links to the pages with animation, or other interactive content that you have on your website or app.
With email signatures, your startup or big company can be presented with advertisements of all sorts. That's exactly what email signatures may display, but it's important to remember that your marketing offers have to be relevant to what your customers are looking for. Moreover, you have to update your marketing ads, information and promotional banners in email signature according to the appropriate time offers and up-to-date trends.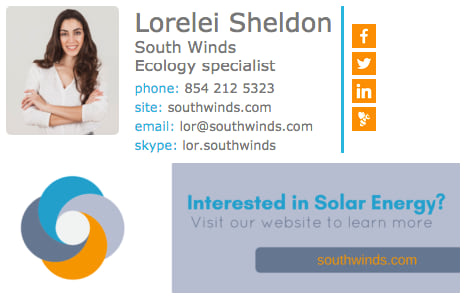 Share Your Special Promotions
If your marketing team have an advertisement to promote, they can use an email signature call-to-action banner that will help to generate more leads and show target audience special promotions. You can add a link to the special promotions that can also lead to:
Landing pages

Subscription forms

Websites or apps

Blogs or video, etc.
The best business email signatures are the ones that leave a lasting impression. It's an easy task especially if you use the right email signature editor.
An email signature is a great way to not only show your contact details and tell about yourself but leave a lasting impression and brand your website or mobile app. And with the NEWOLDSTAMP free email signature generator, you can make your email signature in a few easy steps and get more attention for any online content and product promotion.
If you need to promote any of the above points or if your startups or services are growing, then probably it is time to begin leveraging your team's email signatures as a new online marketing tool. Check out what works for your business or marketing strategy. And if you want to get more information, you can check more articles and contact the NEWOLDSTAMP team of experts.