Google Workspace vs. Microsoft 365: Which Has The Best Email Signature Functionality?
1. Packages And Pricing
2. Google Workspace Email Signatures
3. How to Set Up Google Workspace's Email Signature
4. What Else Is Included With Google Workspace?
5. Microsoft 365 Email Signatures
6. Other Functionalities of Microsoft 365
7. Comparing Email Signature Features
8. How Google Workspace and Microsoft 365 Compare Overall
9. Email Signatures
Microsoft 365 and Google Workspace have some of the best email signature functionalities for businesses and individuals. These platforms are ideal for:
File sharing

Collaboration

Productivity
You can also use them when you need reliable business email addresses, online storage, and task lists.
Microsoft 365 and Google Workspace have evolved to address emerging demands. This is reflected in the name change, with Microsoft 365 changing its name from Office 365 and Google Workspace discarding the G Suite name.
Both of these email signature tools are powered by apps. Google Workspace relies on several applications to provide better functionality.
These apps include:
Google Drive

Google Sites

Google Vault

Google Forms
Similarly, Microsoft has introduced many applications into the Microsoft 365 suite of tools. They include:
Email signatures are prevalent in the business world and come with lots of benefits.
People use them to indicate professionalism and create a visual appearance that improves their reputation with their company branding and a unique color palette.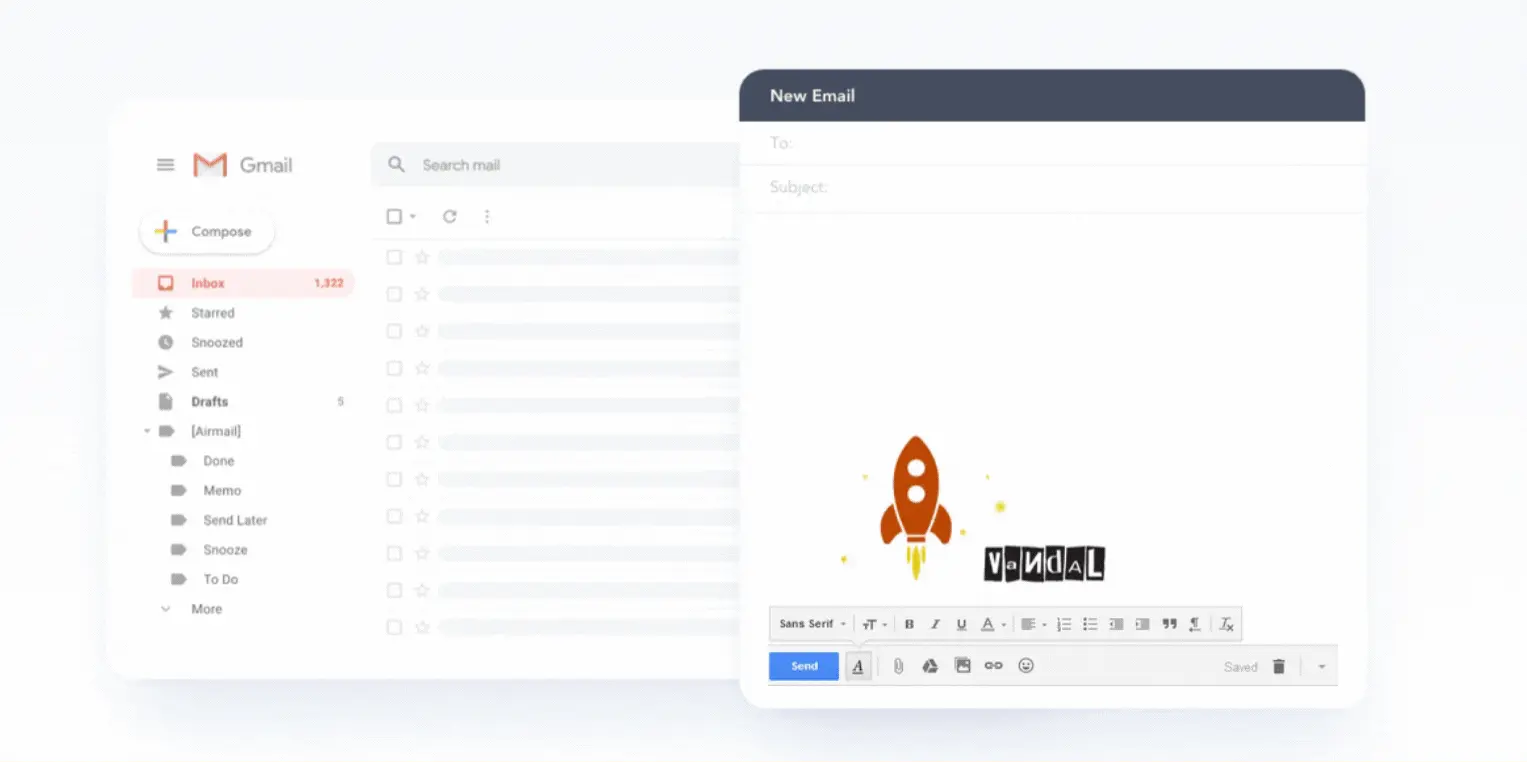 source: Giphy
Your email signature can have your contact information, name, and business title. Emails with a well-curated email signature have a better open rate and improve the brand value.
You can use them as email disclaimers and for email marketing campaigns. They are also handy when you are creating promotional banners. Similarly, there are many ways to get email signatures.
The most common option is to go online and find pre-made templates. There are even custom email signature generators with hundreds of email signatures.
Packages And Pricing
You probably want to know how each of these packages compares in terms of price before anything else. So, here are the main prices for Microsoft 365 and Google Workspace.
Microsoft 365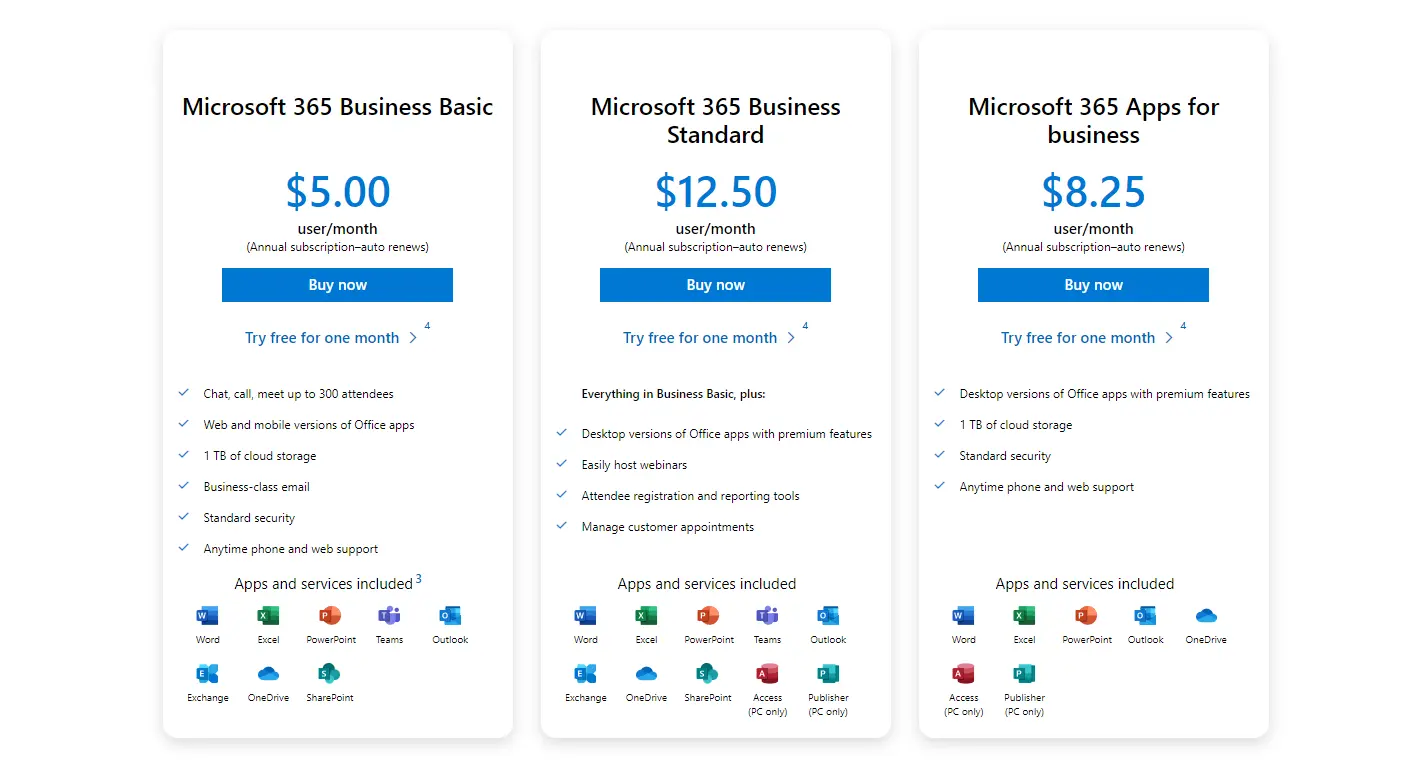 souce: Microsoft
Google Workspace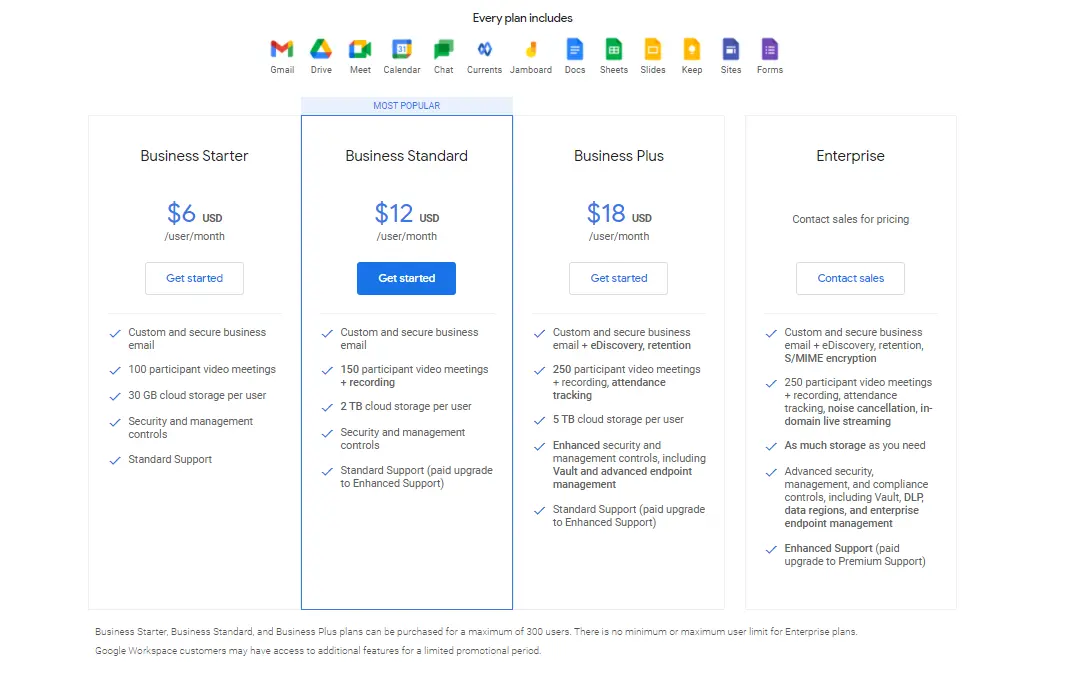 source: Workspace Google
Business Microsoft 365 packages start from $5 for every new user per month and can go as high as $20 for every user per month.

Google Workspace has a free edition, and each of their paid plans comes with a 14-day free trial. The lowest tier is the business starter which retails at $6 for one user per month.

There's also the $12 business-standard model. You can also contact Google and get customized pricing if you have more than 250 employees.
Google Workspace Email Signatures
It is possible to get a custom email for business operations from Google Workspace.
This email integrates with various Google services such as Sites, Forms, Slides, Sheets, Docs, Drive, Chat, Meet, and more. When Google first launched the office, they referred to it as Google G Suite.
Today, users can automatically add their email signatures within the Google Workspace platform. This feature is available on all plans except the free edition.
How to Set Up Google Workspace's Email Signature
The process of creating your email signature is fairly straightforward. You will just have to do a few clicks, and the email signature will be set.
To do this, go to settings in your Gmail window, then click

"All Settings"

and scroll down to the

Signature section.


Notice the window where you can craft your new signature.

This is a very simple editor which resembles the one that you use to compose emails. Click

"Create new signature"

and give it a name.



Google workspace allows you to

include images

, hyperlinks, and text in your email signature or import a signature.

You can also decide whether the email signature will only appear on external emails or if internal emails to your employees and colleagues will also feature the signature.

Once you have done all that, you can click

"Save Changes'

to complete the email signature setting.
What Else Is Included With Google Workspace?
Google Workspace has many other things that you can benefit from as you prepare your email signature.
Google Docs:

This is a word processor for writing documents. It provides businesses and individuals with free writing tools. Users can also edit their documents and store them on the Google Docs platform.

Google Drive:

You can store your pictures, videos, documents, and other types of files on Google drive. The platform went live in 2012 and, since then, Google has increased the number of free plans on Google Drive. Currently, people have access to 15 GB of free storage.

Google Sheets:

This is a program that is free for individuals. It is compatible with Microsoft Excel and is usually used to track data.

Google Slides:

This is a presentation program that is compatible with Microsoft PowerPoint. You can create files online and collaborate with other users in real-time.

Google Meet.

This is another program that allows users to conduct video meetings for free. These meetings happen online and are integrated with other Google products.

Gmail:

This is one of the most popular Google products on the internet. It allows users to send an unlimited number of emails for free.

Google Calendar:

You can use Google Calendar to make appointments and be better organized.
Microsoft 365 Email Signatures
Not every activity in our lives is important. Microsoft 365 identifies the essential activities and helps us to improve productivity. As a result, we can achieve work-life balance when we use Microsoft 365 products. To do this, Microsoft 365 uses advanced security, cloud services, and office apps.
When Microsoft first created this functionality, the company named it Office 365. However, Microsoft added more tools and functionalities and the company decided to rename it to Office 365.
The Microsoft Office 365 email signature allows users to manage their email signatures from a central location. You can use multiple combinations, including:
Client-side email signature

Server-side email signature

A blend of both
It is also possible to set server-side signature rules and controls on how you will use the signature.
For instance, you can dictate that the signature will only be applicable on some emails and not others. These rules can also extend to external and internal organizational messages. It's also possible to create specific keywords that will trigger the addition of the email signature.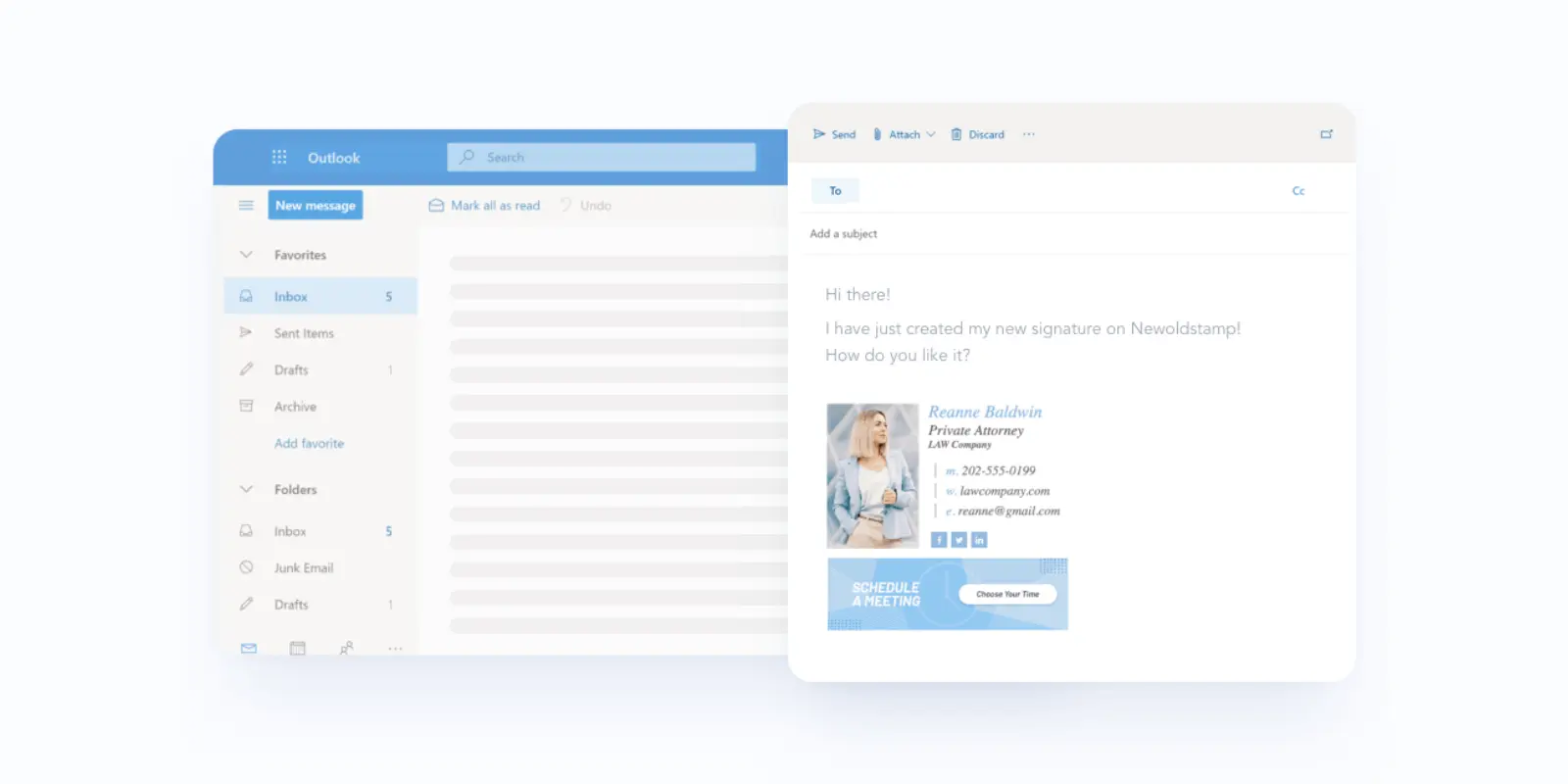 Microsoft 365 allows users to select from multiple signatures. This means that you can send signatures based on the content and recipient. As a result, you can easily send highly customized emails.
To create an email signature, follow the following steps.
You will need to sign in to your Outlook account on the web.

You will then go to the settings and then go to Outlook settings. Here you'll see the

"Compose and the Reply"

button.

Look for the email signature button and add your new signature. There will be many formatting options on how you can modify your email signature.

You will then click

"Save"

. This email signature will now be available for all your email messages.
Other Functionalities of Microsoft 365
Microsoft 365 offers other benefits to users. The other capabilities include:
Microsoft Teams:

this is a collaboration tool that improves the productivity of a team. Your team members can engage by using instant messaging, online meetings, and voice and video calling.

Word:

Microsoft 365 also includes Microsoft's most popular application: Word. This is a word processor that you can use to process and create documents. It also has editing and collaboration tools to improve productivity.

Excel:

Microsoft 365 Excel is a software program that individuals and businesses can utilize to organize data and numbers. It has functions and formulas embedded within it.

PowerPoint:

This is a presentation tool that has slideshow presentations and pitch decks. You can use it to make realistic and powerful presentations.

Outlook:

This is Microsoft's email system. You can use it for emailing and calendar appointments. It also has meeting invite features, and it's where the email signature settings are located.

OneNote:

Microsoft OneNote is an organizational program that people use to divide sections and features. It makes it easier for a person to gather and record their thoughts. Generally, you will use it for note-taking and task lists.

OneDrive:

You can save your photos and files on one drive. Access to Onedrive is available at any time and from anywhere. If you use the free plan, you will get 5 GB of free cloud storage.
Comparing Email Signature Features
Microsoft 365 and Google workspace have advanced email signature features. However, they do have some key differences. For example, Microsoft Outlook enables email users to choose from several signatures.
This means that you can customize your signature based on the content of the message.
Similarly, people consider Google workspace to be easier to use. It is easier to design a signature in the Google Workspace because there are fewer settings involved. Microsoft 365 has a long process of setting up the signature, but its interface is generally better looking.
How Google Workspace and Microsoft 365 Compare Overall
Google workspace offers some critical services that you can't find on Microsoft 365. In particular, Google services have Google forms that don't have an equal within the Microsoft 365 suite of applications.
On the other hand, Microsoft 365 has One Note that eases note-taking. One Note doesn't have an equivalent in Google Workspace.
There are also other key differences and similarities between Google Workplace and Microsoft 365. Generally, it is easier to store, share, and collaborate on both email signature functionalities.
However, Microsoft 365 places greater emphasis on desktop applications while you can only access Google apps online. Google also prioritizes syncing and working across multiple devices.
The Microsoft 365 software works best when you install it on your local device. Unfortunately, this means that you will end up spending more to install and run Microsoft 365. On the other hand, all you need is an internet connection to access Google Workspace.
Google Workspace is not very developed, and the software can only do basic functions. At the same time, Microsoft has invested heavily in Microsoft 365 to increase capabilities and efficiency.
As a result, finance companies and entities that have many financial activities will prefer Microsoft 365. On the other hand, design teams and technology companies will go for Google Workspace because it offers flexibility and easy access.
Email Signatures
Although many signature generators exist, Microsoft 365 and Google Workspace have been at the center of professional email signatures for many years. You can use this signature within the Gmail platform or Microsoft Outlook section.
A professional email signature will include critical information about yourself and your business and could tie into the bigger picture of your business development.
For example, you may decide to put your website link job title, business name, and phone address. Other people use the addresses and names.
You can also add a call to action, social media icons, and company logos. If clients receive it well, your reputation, trust, and ability to convert clients will increase.
It will take some time before clients begin to notice your email signature and include it in their contact lists. That is why you must avoid changing your emails on a regular basis.
Conclusion
There are many more things that go into the creation of the ultimate email signature. If you want to learn more about the Microsoft email signature, you should check out this website: Create and add an email signature in Outlook.com.
Information about Google Workspace email signature is available at: How to change your Gmail signature. You can also contact us for more information.