Can You Have More Than One Signature in Gmail? [Updated 2023]
An email signature is a digital business card adapted for the needs and demands of the modern world. You might have several jobs, or wish to separate your personal and business correspondence, that's when you realize you need more than one email signature. While there's no function of multiple signatures in Gmail, there's always a way around. As the most popular among all email clients, its functionality is pretty extensive. Templates feature allows you to save each email signature as a template. You can absolutely rock your correspondence with this convenient option. Note, you can build it using Gmail for web browsers only.
First of all, enable a feature of Templates in Gmail account.
1. Open Gmail in any web browser. Click on a little 'gear' icon at the upper right corner and select 'Settings' from the drop-down menu.
2. In the opened window, go to the 'Advanced' tab in the top line. This is relevant for the updated version of the Gmail interface only, which has been released in 2018. If you are still using an old version, select the 'Labs' tab instead.
3. Enable the 'Templates'. For old interface users – canned responses lab usually sits under the 'Available Labs' section. The search line at the top of the tab can help you find it quicker.

Hit 'Save changes' at the bottom of the window.
Now you are ready to set up an email signature as a 'Template'. Following these simple steps, you can save as many signatures as you need.
4. Click 'Compose' to start creating a new message. Leave 'to' and 'subject' fields blank.
5. Design an email signature for your most frequent occasions.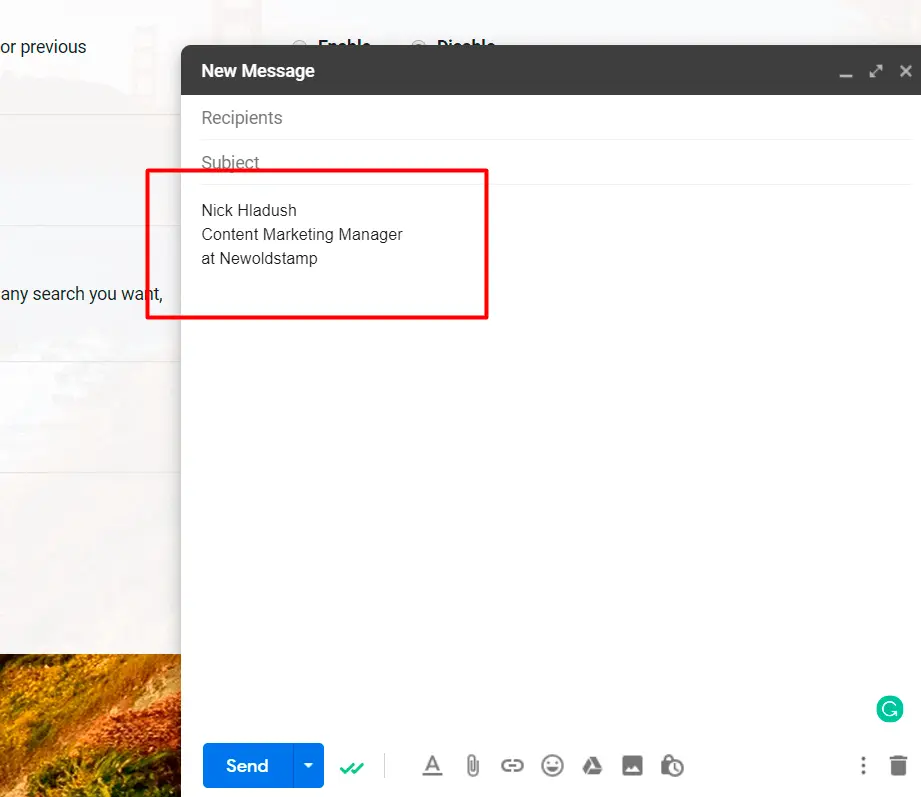 6. At the bottom of the window, tap three tiny dots. Select 'Templates' -> 'Save draft as template' -> 'Save as new template'.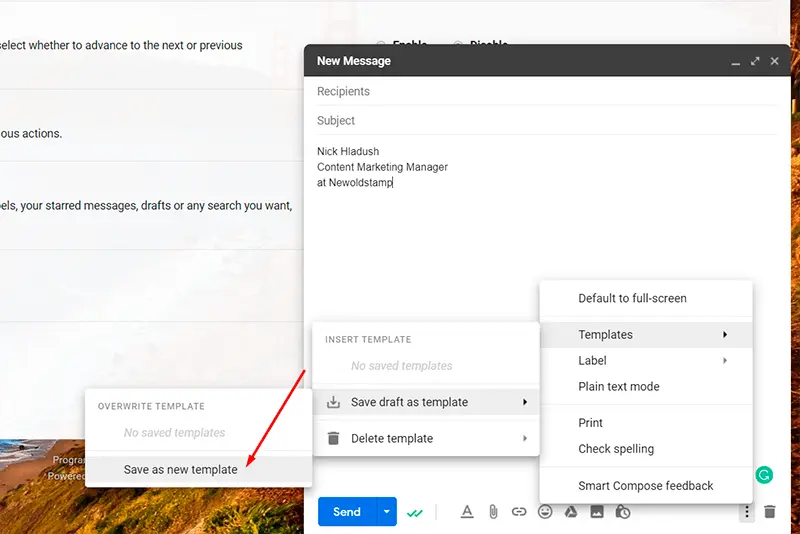 7. In the pop-up window, choose a relevant name for your signature. Hit 'Save'.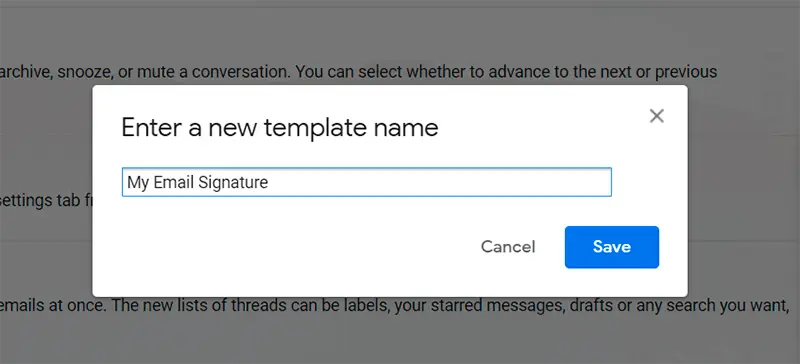 That's it, you've made it. So easy, right? You can design multiple signatures in Gmail the same way. To use any of your fancy new mail signatures, click on the three tiny dots in the bottom right corner of your new message window, go to 'Templates' and select a signature that suits your composed email the most.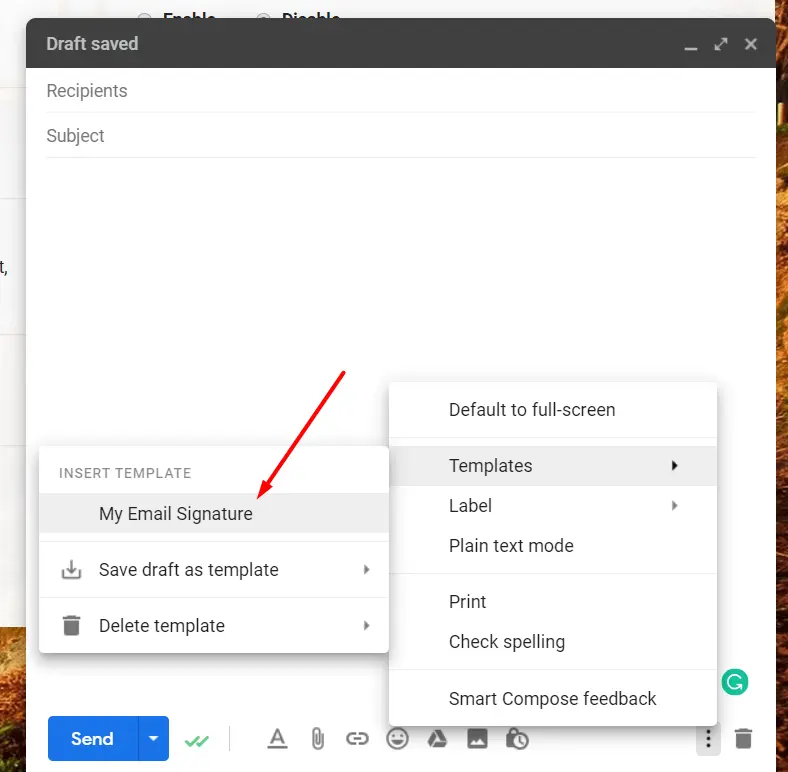 Setting several templates in Gmail is very convenient if you often switch between multiple signatures. Otherwise one is enough in addition to your permanent mail signature in Gmail.
There are some advantages, such as clickable social icons, promotional banners, creative design, and much more that can make your signature standing out. NEWOLDSTAMP editor suggests a variety of options to pick the best style for your mail signature. But the fun part is, you can copy a generated signature from the editor and paste it right into your template.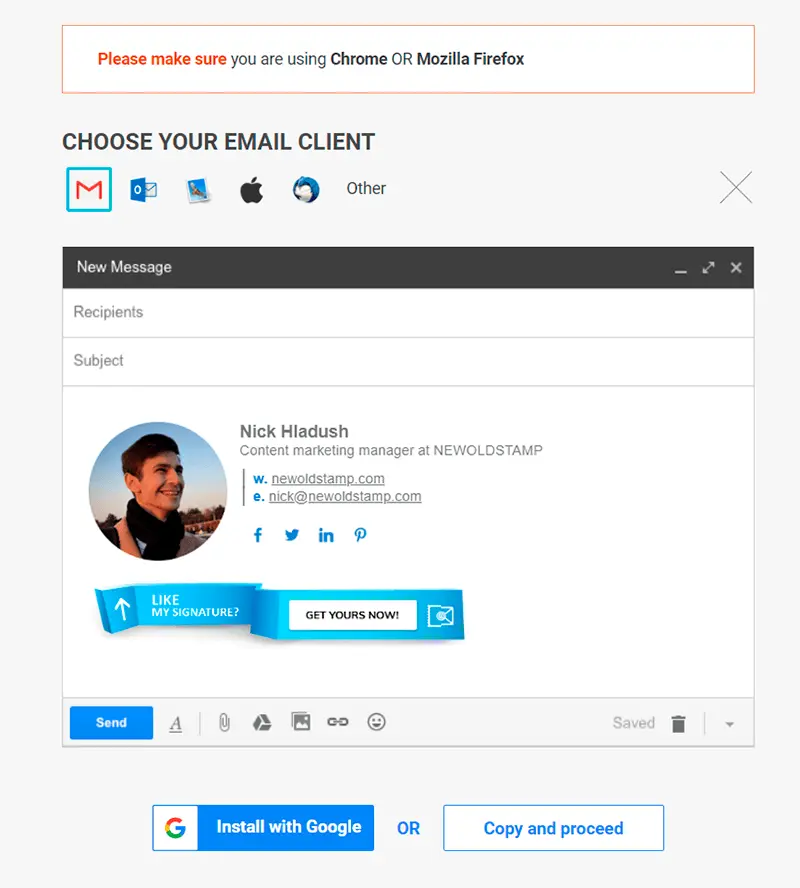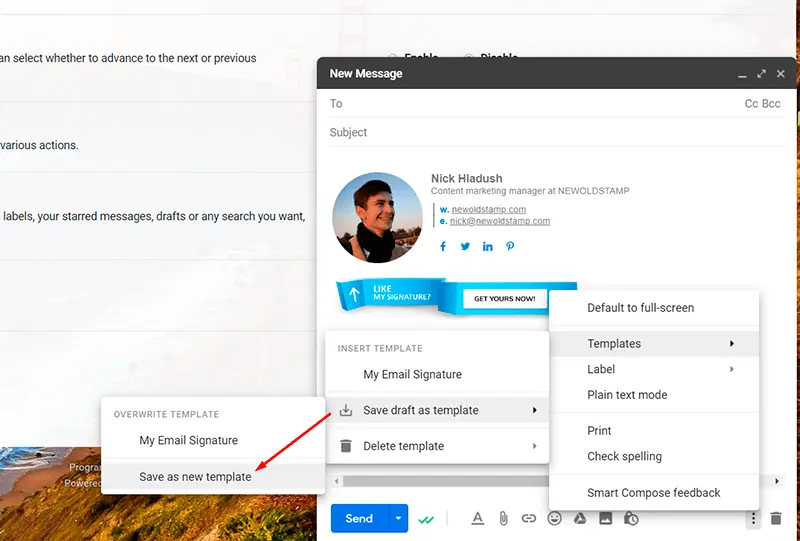 The template feature could also be used to create templates of the entire messages. I guess it was its original adaption. Although, you've just got yourself another tip on how to improve your email correspondence with some simple tweaks of the Gmail functionality. Get the extra advantage by putting less effort!