How to Create Email Signature in Gmail
1. Find the signature settings
2. Enter your personal information
3. Format the signature
4. Add links
5. Add logo or photo
6. Remove two dashes
7. Save your email signature
Have you ever found yourself banging your head against the keyboard when you realized how many emails you had to respond to? Calm down! Apparently, you're not the only one. It turns out that an average office worker receives 121 and sends 40 business emails every day. If you're anything like most of us, humans, you won't open all of them. Provided you do open them, you will probably just skim over most of the emails.
So, when you're writing an email, the odds of another person reading it through and acting on it are pretty slim. But an email signature can help you grab people's attention. It is the last thing the recipient reads, so it can be, so to speak, the "cherry on top" of your well-written email.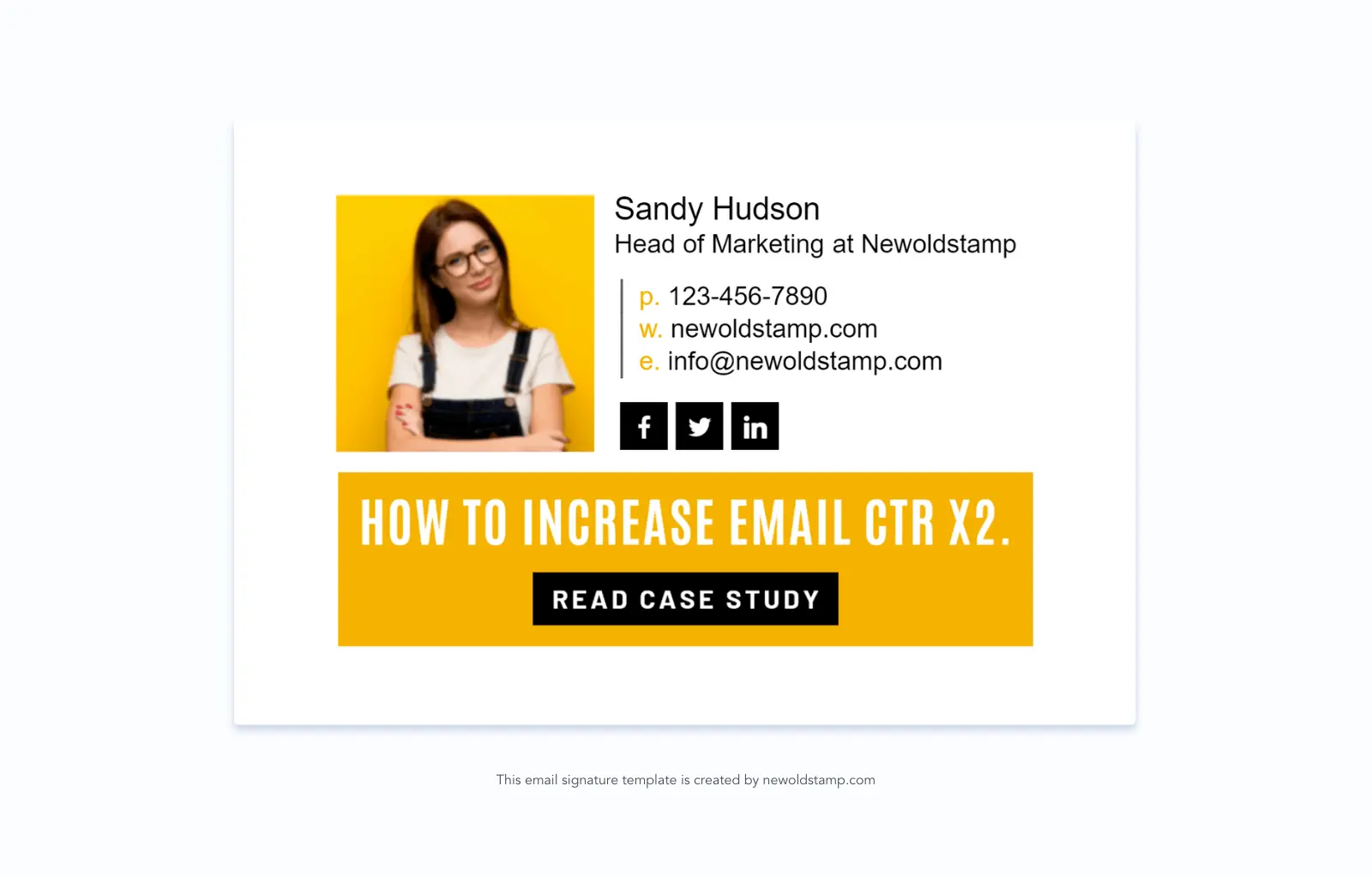 Not only do email signatures make you look professional but also raise brand awareness, as well as the number of views and clicks. You may be wondering how to create a top-notch it without much headache. There are five ways to create an email signature in Gmail:
create an email footer with the help of a signature generator and install it into your chosen email client

use the option of creating a Gmail signature provided by your email client

code HTML signature on your own or hire a software engineer to do the job

design your Gmail signature in Photoshop or other image editors

produce a signature using Microsoft Word or Google Docs template
You can find out more about the pros and cons of each option in this article.
How do you create an email signature for Gmail?
One of the easiest and most common ways is using a dedicated tool. However, if you want to do it all yourself, I will walk you through all the steps necessary to create a cool email signature in Gmail in no time, and I'll show you a shortcut at the end.
Step 1. Make yourself a nice cup of coffee. Kidding! Sign in to your Gmail account.
Step 2. Find the signature settings
1. Find the Gmail settings gear icon, which is in the top right corner of your Gmail Inbox.

2. Click the "Sea all settings" button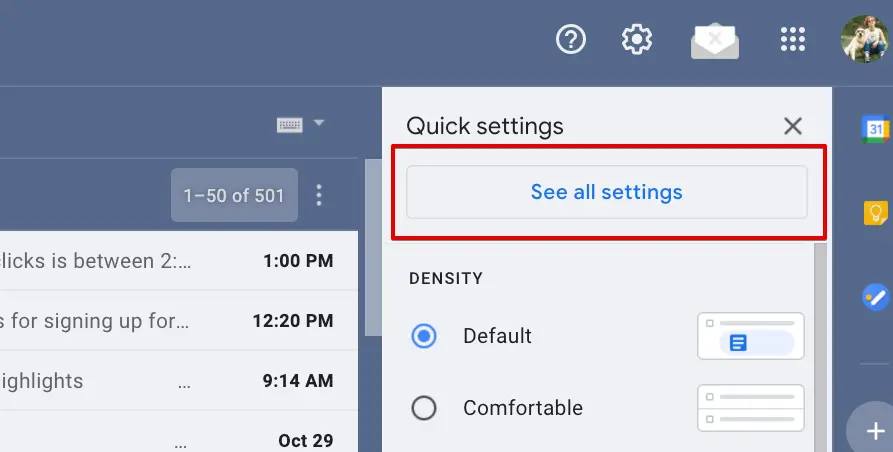 3. Scroll down and you'll find the "signature" field. Click "Create new". In the pop up give your signature a name and click "Create".
Step 3. Enter your personal information
Remember not to turn it into a laundry list. Giving too many details is a common rookie mistake. Writing your name, position, company website, and phone number will be enough.

Step 4. Format the signature
Format your contact information to make it stand out. Choose the brand consistent font, color and size.

Step 5. Add links
You want to drive people to your website by adding a link.
1. Select the text to be linked, in our case it's company's website
2. Click on the "link" icon
3. Add the URL of the website


Step 6. Add logo or photo (or both)
Adding a logo will raise your brand awareness, as every time the recipient opens your email they will see your logo. Another nice trick of getting under your subscriber's skin is by adding your photo. It will prove that there's a real person behind the email and will maybe make it a bit harder for them to say no to your requests.
1. In order to add an image, upload it to the hosting service or copy the URL from your company's site
2. Click on the "Insert image" icon
3. Insert the link to the image
4. Adjust the image

Step 7. Remove two dashes (if you want to)
When you create a Gmail signature, it automatically adds two dashes (--) above your signature, but you can choose to leave out the dashes. In order to do that, select 'Insert this signature before quoted text in replies and remove the '--' line that precedes it' checkbox.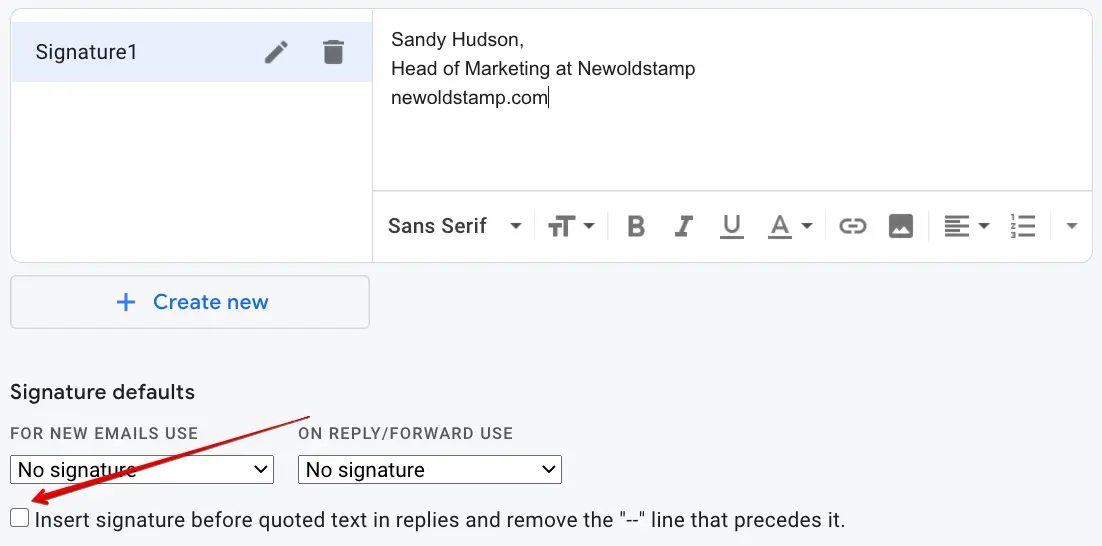 Step 8. Save your email signature
Don't forget to save changes. Scroll down to the bottom of the page and click save. Voila! You're good to go.
So creating an email footer in Gmail is certainly good enough. BUT if you want to get your email signature on a completely new level, you should try using Newoldstamp email signature generator.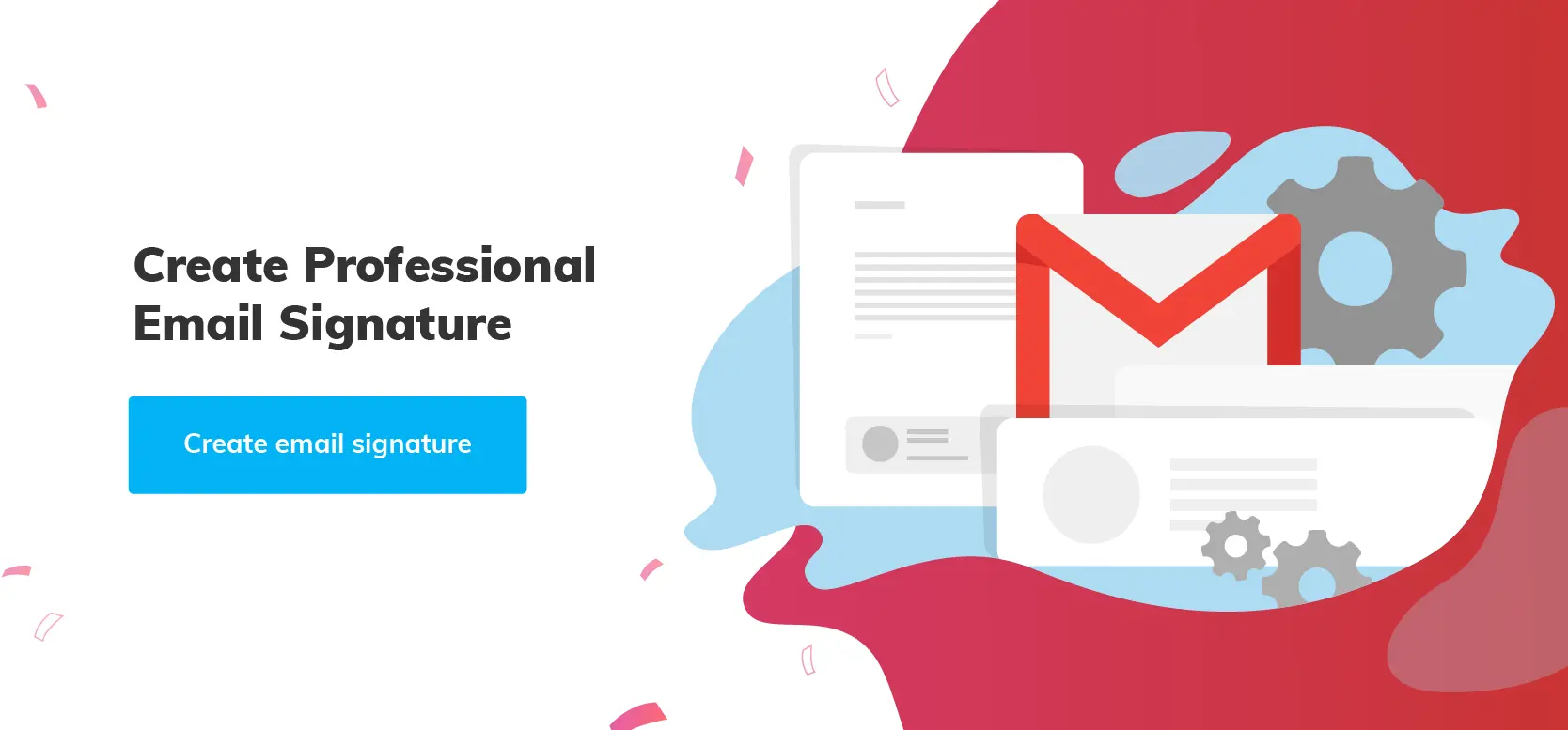 Advantages of using Newoldstamp to create Gmail signature:
Customizable, beautifully designed signature templates
You don't need to be a graphic designer to have a stylish signature. Just choose from a number of templates and adapt them easily for your company. For instance, you may use exactly your brand color by pasting the HEX code of your custom color into the palette. You may select your company font, although we advise using Web Safe Fonts for the sake of compatibility across all email clients.
Simple and quick way to insert images
You don't need to upload your images to some sites. Just upload your image (either it's a company logo or your photo) into your email signature, and that's it. No hassle. Your image will be stored on our server and it will not take extra time to upload. This will also ensure that your message doesn't end up in spam or as an attached file.
Creating multiple signatures with the help of one master signature template
There is no need to create a new signature for every employee. Imagine you have a big company. Why should you waste time creating hundreds of signatures? We have the option of uploading a CSV file with all the necessary data. Besides, by updating the master signature, all your employee signatures are also automatically updated, which saves tons of your time.
Adding banners, social icons, and CTA buttons
By adding banners, social icons, and CTA buttons you're transforming your email signature into a powerful marketing tool. You can educate and warm up your leads by providing links to your latest blog posts in the banners. Use email footer to connect with your subscribers through social media, and convert them by compelling to take action with CTA buttons.
Tracking views, clicks, and CTR
As a feature of NEWOLDSTAMP, we have added analytics to banners. It tracks how many views, clicks and CTR you get with the help of our email signatures. This way you can see in hard numbers that email signature is a measurable conversion tool.
Installation process
After you have created and saved a stunning email signature with Newoldstamp you can easily insert your signature in any email client, including Gmail. Just click on the "Install with Google" button. That's all you have to do to create an email signature in Gmail! Easy-peasy!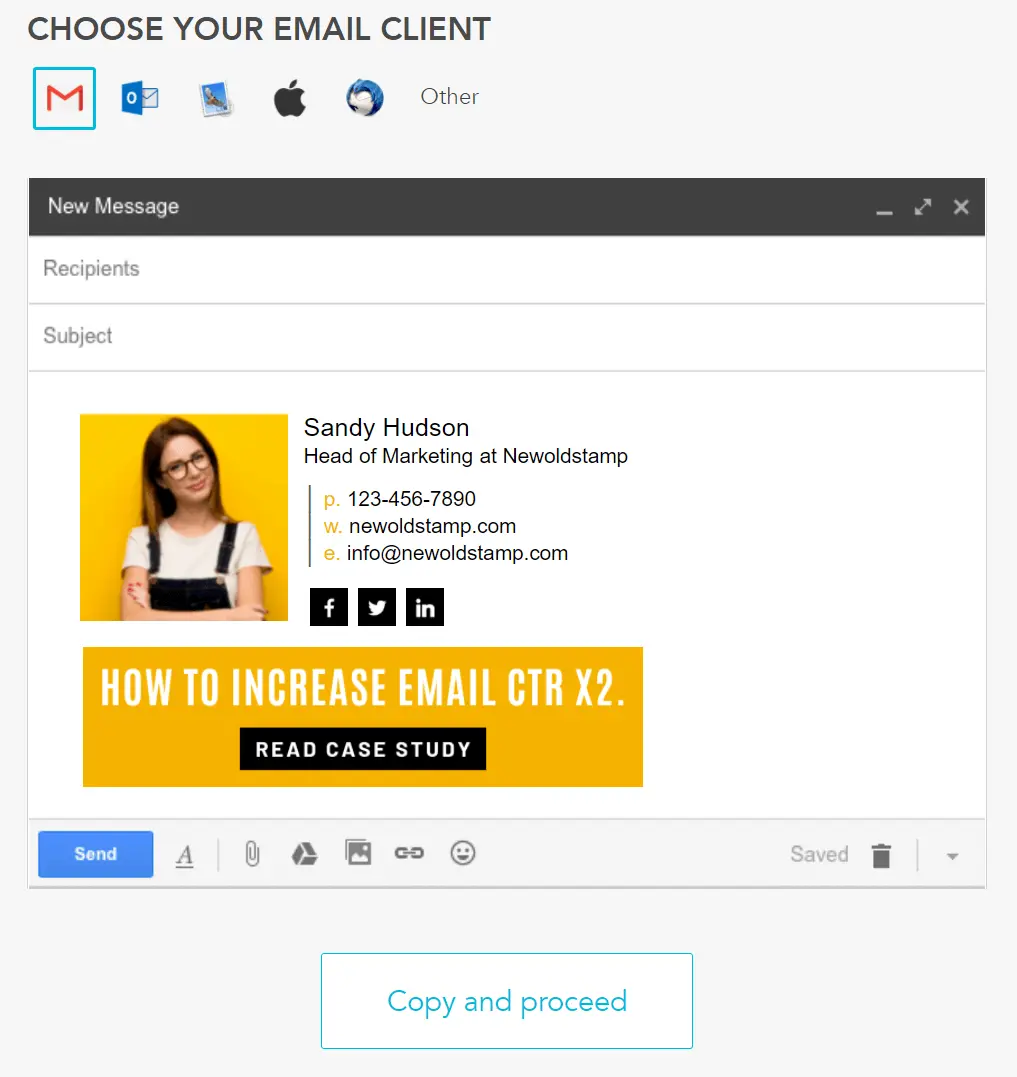 Conclusion
Gmail signature is the final positive impression you can create in your email. It can be the spark that will reinforce the professionalism of your message and serve as a gentle push to get the recipient to act in your favor. Don't waste this opportunity and create a fabulous Gmail signature that will make your email stand out from the clutter of inboxes.