How to Create HTML Email Signature on Your iPhone and iPad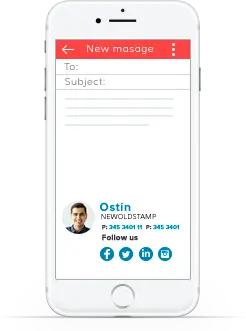 While using the Mail application on your Apple device, you must have been wondering how you could connect it to other social network accounts. Adding an HTML link to a certain website or your contact information, numerous links to network accounts gives great opportunities to conditioning your professional contacts, or even providing your partners with some useful information without even asking. If you connected your email account with iOS Mail, let's take a look at a few steps to creating an HTML email signature on iPhone or iPad.
First, you need to create your HTML email signatures. It is quite simple and you can visit editor and create your own email signature in seconds. If you already have one, you just need to send it to the iPhone email app.
Open the email with the signature and copy the text to the clipboard by clicking on it and choosing the "Copy" function in the appeared select box.

After doing so, go to Settings find the "Mail". Click on it, then scroll down to the Mail section and find the "Signature" point. Paste your links there.
Your email signature looks different after pasting? No worries! Before saving new settings, shake your iPhone or iPad to use the popup menu "Undo Change Attributes". When it appears, click "Undo" to remove any formatting that your iOS made. Voila! Your HTML email signature looks just as you wanted and can link the addresses to any place you have chosen!
After all is set, go to your Mail and try to create a new message to double-check new signature. You should see your signature in email message right away.
Here you will find more detailed instructions with images on how to add email signatures to new email.