How Do You Add a Signature in Thunderbird?
Email signature could be cold one of the digital trends in email marketing and online business. Having one in place is an opportunity to boost your website traffic, improve brand recognition, and most importantly, promote your products and services.
Mozilla Thunderbird email client is one of those tricky apps that makes you think you need to put a lot of effort to get it to work. It is fairly simple, once you understand Thunderbird features. We are ready to share with you the most efficient way to utilize your email signature in the Thunderbird mail client.
There are four different methods to add a signature in Thunderbird, choose one that is most convenient for you.
Import a File With a Designed Email Signature
Before uploading an email signature to Thunderbird client, you need to prepare the HTML file that contains a signature. This can be quickly done in any text editor except Microsoft Word, so your code doesn't get messed up. The email signature may contain any details you wish, such as contacts, your company name, and position, website address, etc.
You can also use an image as a signature.
1. Open 'Account Settings' in your Thunderbird application. There are two options to do it:
Choose an email account from the menu in the left column and click on it. From the 'Accounts' section, select 'View settings for this account'.
From the drop-down list in Thunderbird menu, select 'Options' -> 'Account Settings'.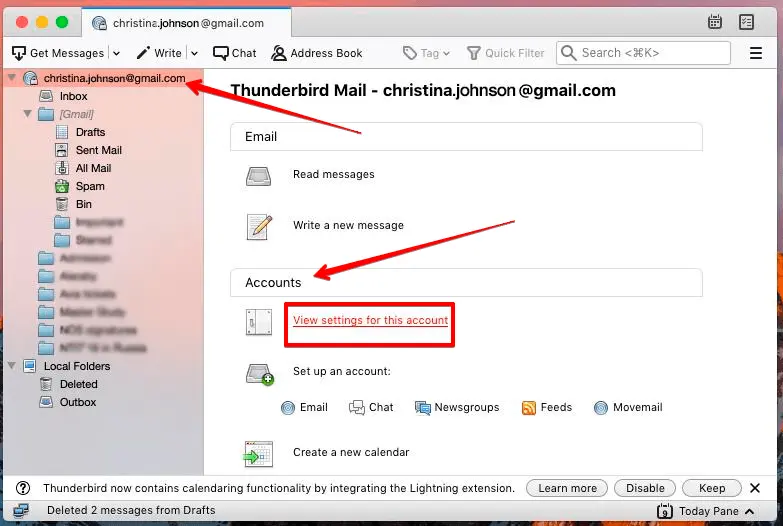 2. In the opened window tick the 'Attach the signature from a file instead (text, HTML, or image)' option and upload the relevant file from your computer. Click 'OK' when the file is attached.
3. Now the signature will automatically appear in every message you send. To check this, click on the 'Write' button and start creating a new email.
Add a Signature Directly to the Email Body
1. Start creating a new message by clicking on 'Write' in the top menu line.
2. Type in all the necessary details, add a banner and a logo of your company or your photo. Use tools presented under the subject line to modify the signature text and fonts. Click on the small document icon to attach an image or a link.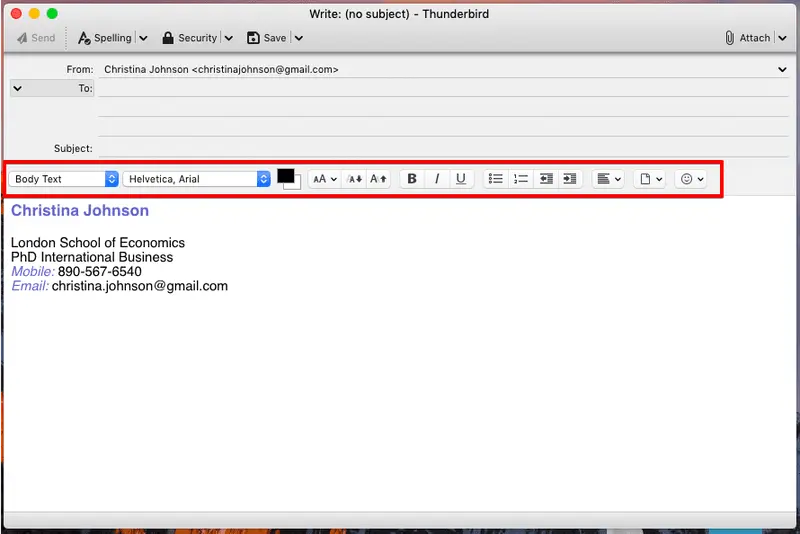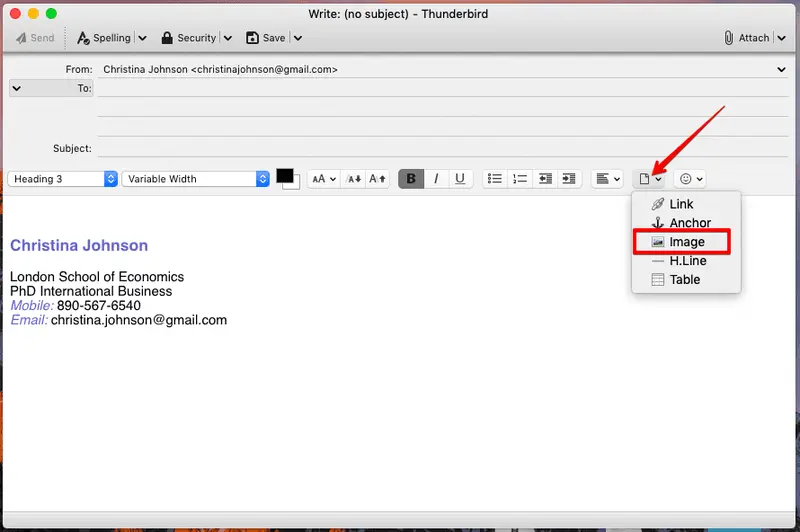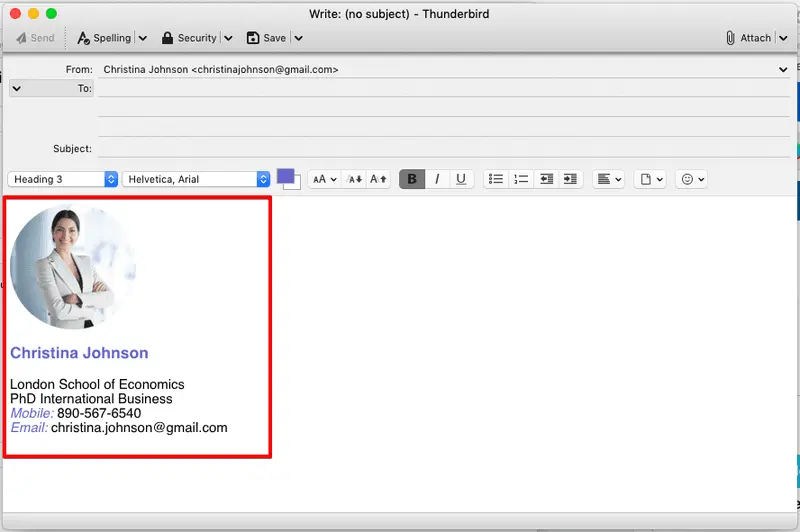 3. Only two easy steps and you're good to go! However, the downside of this method is that the mail signature will not be applied to every email you send. So, you either need to create a new one or copy it from the previous emails each time you are sending a message.
Tip: Did you know you can access the HTML of the created signature? Select the full signature (Ctrl+A), go to 'Insert' in the top menu and select 'HTML'. In the opened window you will see your email signature HTML code, which you can easily copy and paste (Ctrl+C and Ctrl+V) in the Thunderbird mail editor, as it is described in the next step.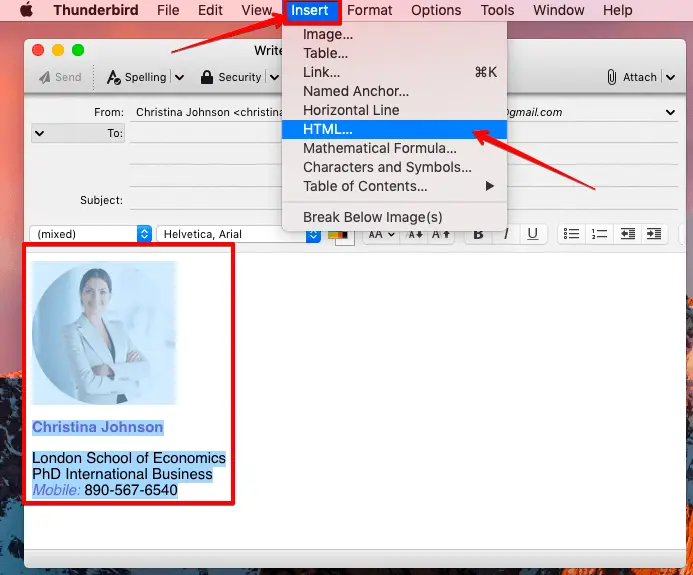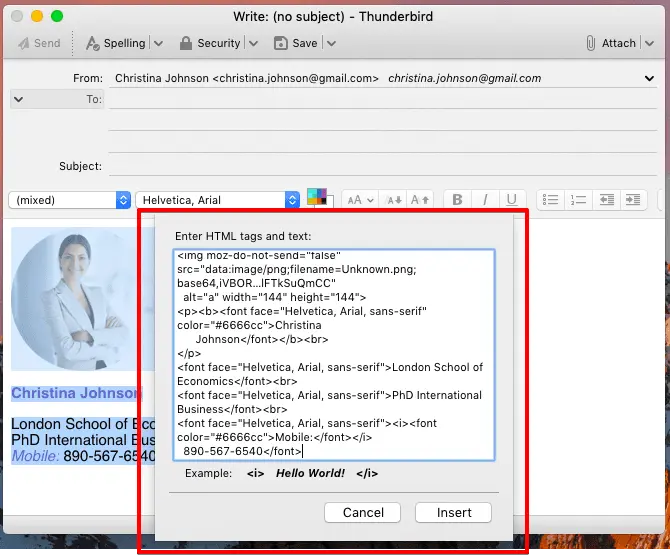 Create a Signature in the Thunderbird HTML Editor
1. Open the 'Account Settings' in one of your accounts in Thunderbird email client. This has been described above, in the first paragraph.
2. At the account settings window, already familiar for you, find a 'Signature text' box and enter the information you want to include in the signature.
3. Click 'OK' to save changes.
4. Create a new email to see the signature you have just created.
Insert an Email Signature Generated in the External Service
Email signature generators are on point with customer preferences as well as market trends and innovations. You might consider Thunderbird mail client a bit too complicated, so a signature generator could save you some time and build up creativity.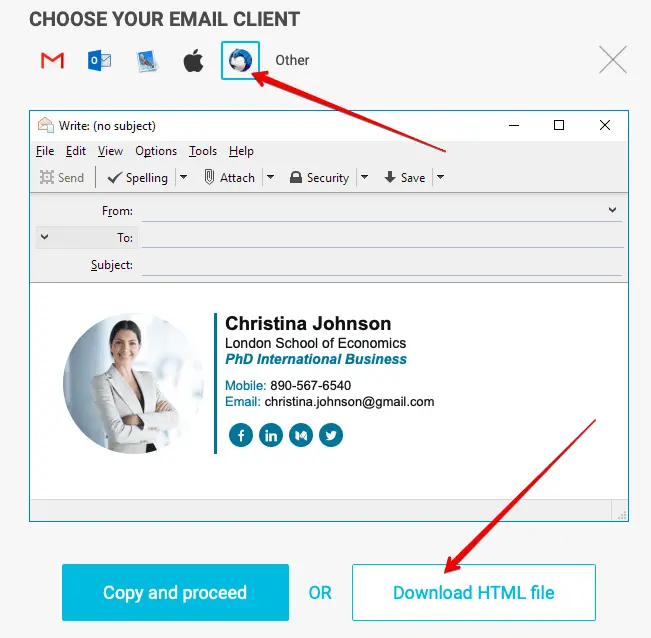 We recommend using Newoldstamp as your primary choice when it comes to creating the email signature for Thunderbird. Select the Thunderbird icon in the installation window and proceed with adding your signature to the email client. NEWOLDSTAMP allows you to download the HTML file of your beautiful email signature and easily insert it in the Thunderbird application. Follow the guide to make the best out of the email signature created in NEWOLDSTAMP.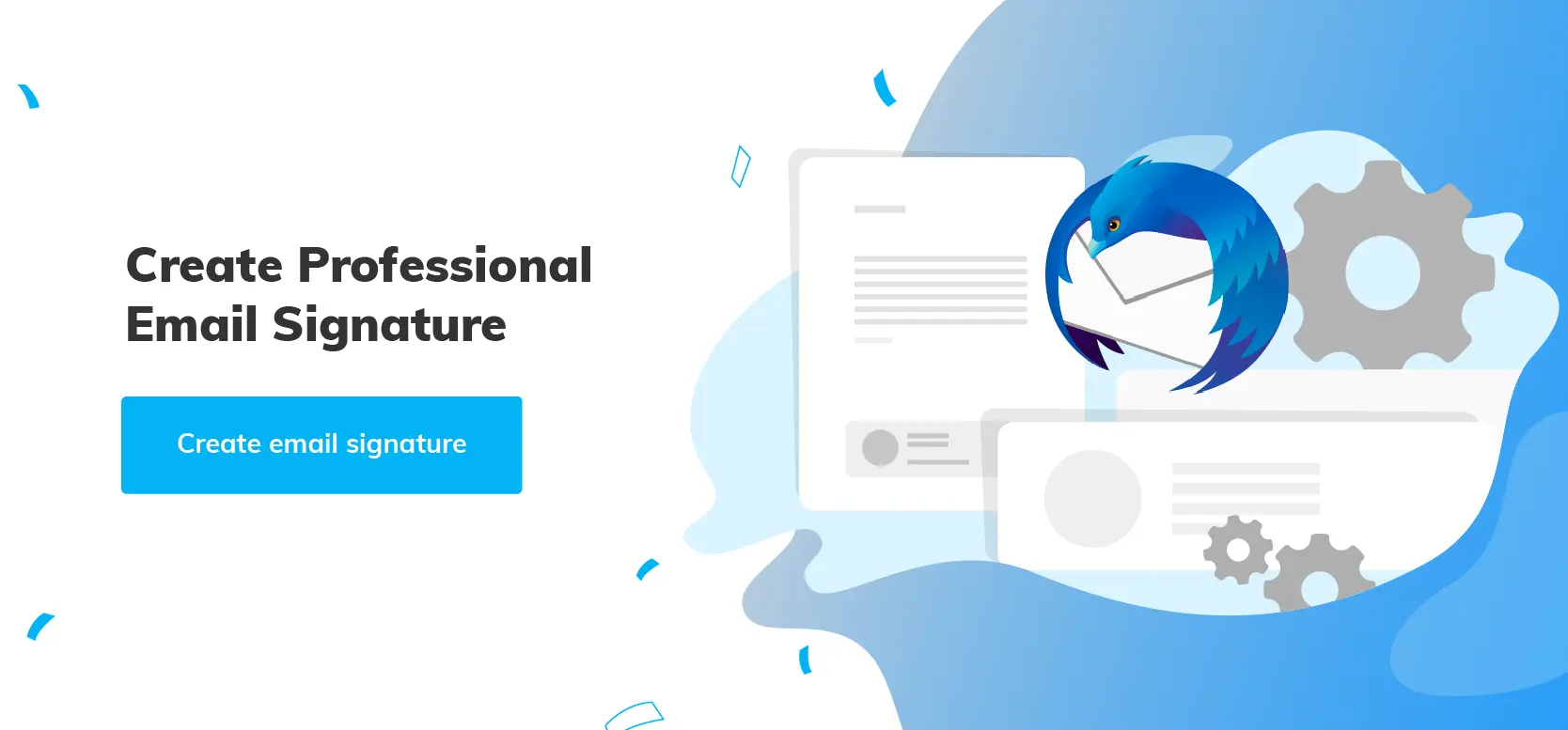 Summary
Mozilla Thunderbird mail client supports mostly HTML-based signatures; therefore, a complex signature with multiple assets, like links and images, requires additional code configurations. Essentially, even a plain-text signature can be visually appealing and bring you some benefits, so it all really depends on you.