20 Tips to Help You Create the Best Meeting Invitation Subject Line
1. Should you pay much attention to a subject line in your emails? Why?
2. How to create the most efficient meeting invitation subject line
3. Common mistakes you should avoid when writing a meeting invite subject line
Today, small and medium businesses are having a hard time standing out from the competition. Back in the day, prospective customers used to find a couple of emails in their inbox. Nowadays, they are bombarded with dozens of various offers. And you should keep this in mind when creating marketing campaigns. Well-thought-out, interesting, and informative emails can help you gain the trust of the audience.
No doubt, you know how to write a perfect email to your customers, but there is a generally accepted fact: if the email is not opened, it will remain unread. And if you want to invite somebody to a meeting, you can't allow your invitation to get missed. Mail subject line can be compared to the headline for the story in the magazine article. Whether people read the entire article or ignore it usually depends on how enticing the headline is. Same applies to email subjects. So, today we will be talking about invitation email subject lines.
Should you pay much attention to a subject line in your emails? Why?
YES! Because 35% of email users open or don't open email messages based on the subject line.
How to create the most efficient meeting invitation subject line
So, if you want your invitation opened, read, and clicked, you need to leverage subject line best practices. Read on for 20 proven tips to help spice up your subject lines and increase your emails' engagement.
Tip #1: Don't forget to write a subject line for an invitation email
There's always that moment when you have written your email, reread it, confirmed the recipient's email address, and hit "Send." Wait! You forgot to add a subject line. Don't do that. It is essential that a subject has a couple of relevant words. It helps the recipient recognize the message when it arrives, prioritize it, and find it quickly when necessary.
Tip #2: Learn what your audience likes and wants to see in a meeting invite subject
Make sure your invitation email subject line is benefit-oriented and can convince your audience that the thing you are offering will be worth their time. For example, if you are reaching out to those who start building their own businesses, they'll most likely be attracted by subject lines with names like Bill Gates, Elon Musk, Mark Zuckerberg, Larry Page, etc.
"This webinar will help you turn your goals into achievements"
"Find out all of Elon Musk's secrets!"
Tip #3: Make sure your grammar is perfect
Always reread invitation email subject lines before you click "Send." This will allow correcting grammar errors or typos and prevent from ending up with the wrong name or title in the subject line (it is a typical scenario when people send a similar email to multiple recipients.)

image source: Grammarly
Tip #4: Keep your subject line for a meeting email short
More and more people check their inbox from mobile devices, which means that long subject lines are a thing of the past. Small screens require small texts, so when you come up with the subject for your next email, make sure that it fits in 30-40 characters.
"Akhanda yoga meeting is on May 6"
Tip # 5: Put the most valuable and important words first
As already mentioned, a significant portion of emails is read on mobile devices. If you can't make a subject of email short, put the most important information at the beginning.
"IT meeting is on Friday. Get your tickets before they sell out."
Tip #6: Avoid using unnecessary words like "hello"
Include greetings in the email body, but not in the subject line. Why not give a hint into the content of your message instead?
Don't: "Hello Robert! Wanted to remind you about our lunch with Mr. Jobs."
Do: "Don't miss tomorrow's lunch with Mr. Jobs"
Tip #7: Personalize the meeting invitation with your recipient's name
Personalize your meeting request email subject with the recipient's name or company name.
"John, see you at the ABC conference on Friday"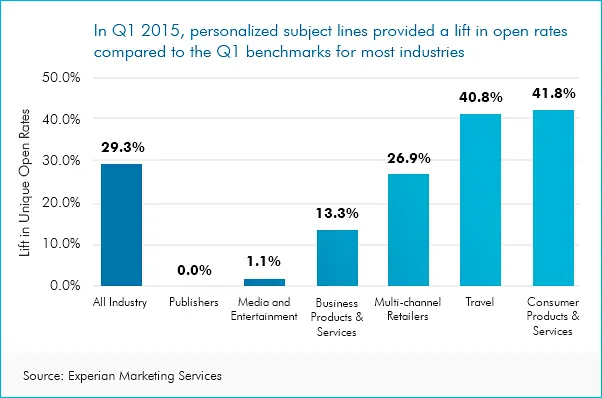 image source: marketingsherpa
Tip #8: Try to use fewer pronouns like "we" in subject lines
Pronouns can serve as a shortcut to personalization. Choose your pronouns carefully and focus on the recipient, not you.
Don't: "We invite you to join us at the ABC conference"
Do: "You are invited to the ABC conference" or "You're invited to join us at the ABC conference"
Tip #9: Implement logical keywords to help people find your mails
A lot of professionals have filters and folders set up to manage their email correspondence. Most likely, they won't focus on your email when they first see it. That's why it is important to use logical keywords for search and filtering.
"Instagram webinar - register today"
Tip #10: Emphasize the value of a future meeting
When sending an email to someone you don't know, come up with a subject line that indicates value and communicates what a recipient is going to get from attending the meeting.
"Business Meeting 2019: Learn how to reach more people"
Tip #11: Make the meeting invitation email subject line look urgent
Often people wait until the very last minute to sign up for an event. When sending out last-minute reminders, consider creating a sense of urgency and fear of missing out to boost your email open rates.
"Last chance to see Michelle Obama live at Inbound Conference"
Tip #12: Use calls to action in subject lines to make people react faster
If no one responds to your meeting invites, make your email subject line for meeting request clearer using calls to action.
"Food styling workshop will commence May 5. Save your seat today!"
Tip #13: Add some numbers to highlight the significance of an invitation email
A fundamental human characteristic is that we look at the behavior of others when making decisions. You can leverage this in your subjects for invitation emails by mentioning stories of success, names of famous people, statistics, etc.
"Register for an Open House. 25k students, #2 Top Schools for Entrepreneurs."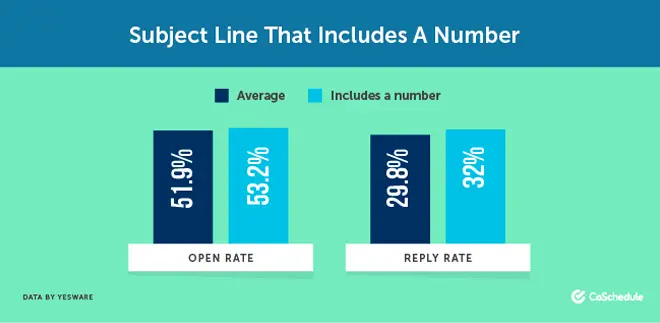 image source: CampaignMonitor
Tip #14: Make your meeting invitation subject line as specific as you can
Ideally, your subject line should communicate what the invitation email is about so that the invitee can prioritize its importance without having to open it. Avoid writing something like "Do you have a sec?". It's not specific and makes the recipient open the email or reply to figure out what the sender wants. But the chances are that it won't happen at all because the email will be sent to the "Spam" folder.
"Friday: English Speaking Club 6 PM at the IQ Office Center"
Tip #15: Add positive words that encourage people
Power words can help you load your invitation email subject line with curiosity/trust/excitement/authority/etc.
Curiosity: be the first, secret, unique, exclusive, unlock, forbidden, unconventional;
Trust: approved, best, certified, case study, worldwide, official, no risk, professional, tested, safety, results;
Excitement: tempting, thrilling, transform, bold;
Authority: complete, absolute, powerful.
"Free webinar: Top 5 unconventional methods to delight your customers"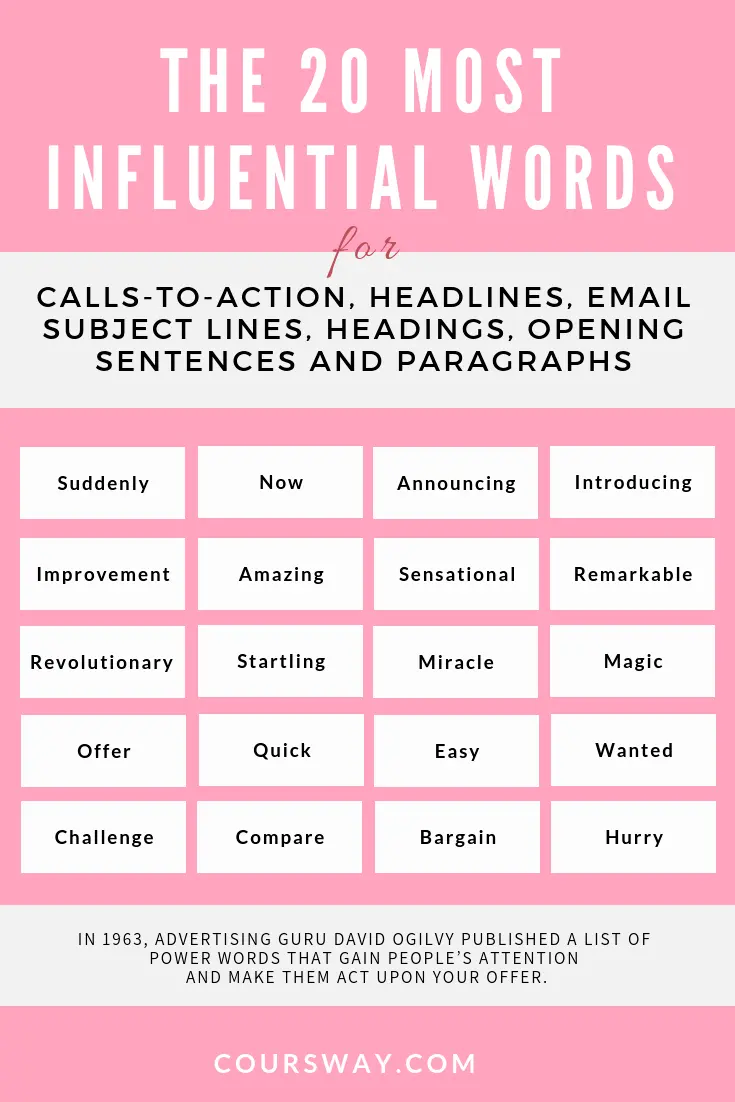 image source: Coursway
Tip #16: Implement a thought-provoking style to your email subject line
You can also use email subject lines to provoke thought.
"Missing this meeting is like missing $1000"
"Having a hard time growing your Instagram audience?"
Tip #17: Put date or time of the future meeting in the subject line
Consider including the date and time of the meeting in the subject of your invitation email.
"Join us at Web Summit 2019 on November 4-7"
Tip #18: Make sure your addressees understand the language that you use
Knowing how to create compelling, well-thought-out emails is essential for successful email marketing campaigns. But what happens when the recipient can't understand what you are trying to say? Taking the time to write emails in your subscribers' native language shows that you value them.
"In 24 Std. findet Ihr marketing Webinar statt – haben Sie sich den Termin notiert?"
Translation: "Your marketing webinar will start in 24 hours. Have you took the note of the date already?"
Tip #19: Consider adding a useful emoji to your meeting invitation mail subject
According to statistics, subject lines with colorful and emotive emojis bring 56% higher open rate, when compared to text-based subjects.
"

You're invited to a party! | RHOA Sisterhood"
Tip #20: Use online tools to determine how appealing your meeting request email subject is
There are plenty of user-friendly, affordable tools to improve your subject line for better open rates. For example, you can use a free subject line rating tool called "SubjectLine." The score ranges from 0 to 100. The tool also provides context on why your email subject line is under 100 points.
You can also check how your subject looks on desktop or mobile with the help of "Send Check It." In addition, it scans the subject for potentially spammy words, analyses punctuation, emojis, capitalization, and other word choices.
Other great tools worth checking out are "Headline Analyzer," "ISnotSPAM," "TestSubject," and "Email Subject Line Grader."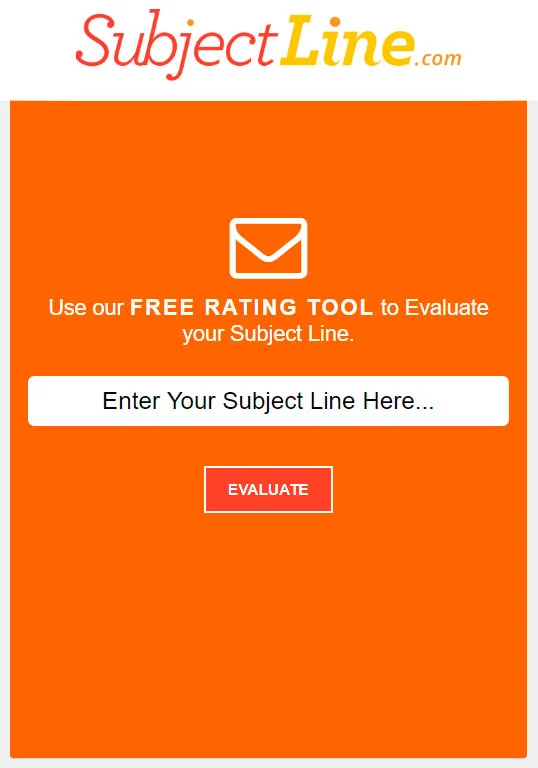 image source: SubjectLine
Related: Check out the best examples of event invitation emails.
Common mistakes you should avoid when writing a meeting invite subject line
When it comes to making invitation via email, there are plenty of mistakes you can make already at the beginning of your email - in a subject line. Remember to be respectful of your recipients' time. Some people get hundreds of messages every day. So, here are eight common mistakes you should never be making in a subject line for meeting request:
Never paying attention to grammar in a meeting subject line
When people read emails riddled with typos, they probably think one of two things: 1) the sender doesn't know basic grammar/spelling rules; 2) the sender didn't care enough about this email to review it before sending. Would you take such people seriously?
Tip: You can use tools like Grammarly to scan everything you write for grammar and spelling mistakes.
Using CAPS for the whole subject line
Keep calm and avoid using ALL CAPS in mail subjects. This is just rude because it looks like you are yelling at the recipient. If you want to convey a sense of urgency, choose active verbs or add a date/deadline.

Making your meeting invite subject too long
Ideally, you should keep your invitation subject line not longer than 50 characters. Long subjects could be a spam trigger for some email service providers.
Not deleting "REs" and "FWs" from subject lines
The RE: prefix usually catches the eye in the inbox because it often accompanies emails from people that the recipient already talked with. However, it looks terrible when you "reply" or "forward" an email multiple times.
Giving your recipients false promises
Some marketers recommend using fake statements in a subject line to make recipients open an email by all possible means. But let's be honest. No one likes liars.
Starting a sentence in a subject line and finishing it in a message
Another common mistake that some of us make is starting a sentence in the subject line and finishing it in the body of the email. While this may arouse the recipient's curiosity, people often get annoyed by this after they open the email because they felt forced or tricked. So, make sure you communicate the value and the main purpose of your email in the subject line so that recipients can prioritize its importance without having to open it.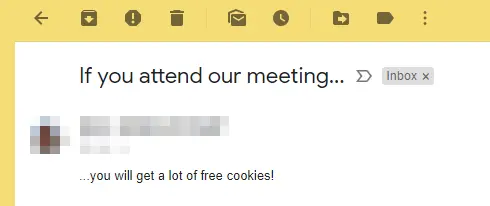 Asking if your addressees are willing to talk in a subject line for meeting request
The thing with "Can we talk?" emails is that they may never get opened. First, such email subjects look like spam. Second, you make the recipient suspicious of whatever will come next. And yes, it sounds like you are writing to someone you are going to break up with.
Using too many inappropriate emojis to brighten the meeting subject
There is nothing wrong about adding a smiley face to your meeting invitation, but if you overuse emojis, they can make you look less competent in the eyes of recipients.
Conclusion
When making invitations via email, make sure you pay sufficient attention to subject lines because they are the first thing people see when they receive a message. By following several rules for subject lines, you can improve your email open rates. Let's sum them up:
Be specific and avoid using unnecessary words like "hey" or "hello";

offer value;

add a sense of urgency;

use numbers, dates, deadlines;

try personalization;

always finish your sentence and don't lie to your recipients;

mind your grammar;

try to keep your subject lines short;

add power words;

add calls to action;

use helpful tools to polish your email subject.
Also, check out our latest posts on "How to Write a Successful Invitation Email to Burst Out a Great Event" and "Examples of a Good Invitation Letter for an Important Business Meeting."