How to Write Best Sales Emails Ever: Email Sales Pitch Templates
1. What is email sales pitch?
2. Email pitch structure
3. 7 Approaches you can use to write the best sales email
4. Tips how to write a sales pitch
5. Mistakes to avoid in your sales pitch
6. Sales pitch email templates
Useful tools:
1. Newoldstamp - Email signature marketing
2. Mailchimp - Email builder and sender
3. Hubspot Email Marketing - Marketing automation platform
4. MailerLite - Landing page builder
5. Canva - Online tool for making designs
What is email sales pitch?
A sales pitch is a technique that salespeople use to persuade someone to buy something from them. However, rather than speaking in abstracts, let's demonstrate this with a specific example.
Meet Steve, a 30 y.o. sales representative who sells pink pencils. Now he is working hard on a sales pitch which he is going to send by cold email:
"Dear Mr. Prospect,
Steve from "Pink Pencils" here. We design and develop the most vivid pink pencils in the world. With our award-winning pencils, you can draw any picture in lovely pink colors. Note that we offer attractive discounts for wholesale purchases.
If this sounds interesting to you, please do not hesitate to contact me.
Best regards,
Steve Sanders
Pink Pencils Corp.
Can you guess how Mr. Prospect will answer?
Mr. Prospect: "No, we don't really need pink pencils, because we use black ones. I don't think this is really for us."
Do you know why Steve's sales pitch sucks? Sure you do! That's because it pitches prematurely. Steve assumes that what he likes about the pencils is what his buyer likes about them. He just shows up and throws up all over the prospect, rather than gathering information about them, engaging them, and presenting the solution that meets their needs.
Now when you know how a terrible sales pitch looks like, let's see how to write a cold email that your prospect opens and acts on.
Email pitch structure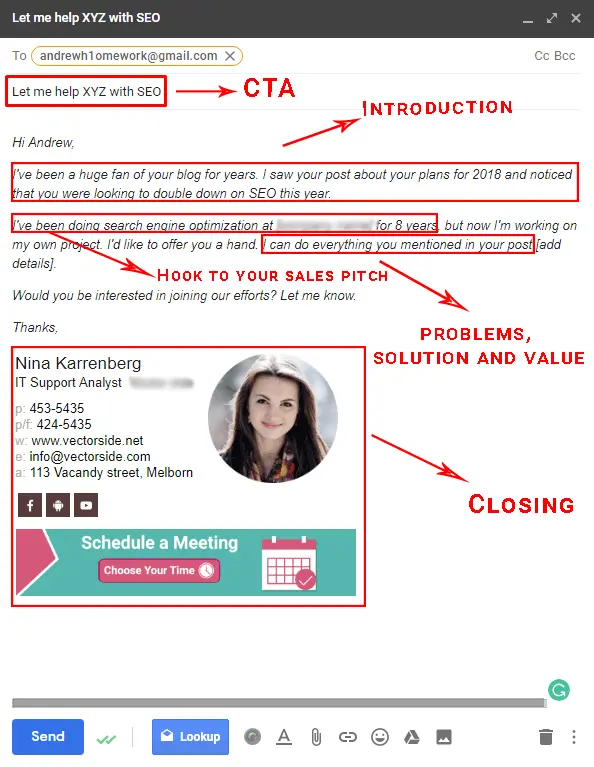 #1 Sales pitch email subject line
According to statistics from "Convince & Convert," the analysis and advisory firm, 35% of cold email recipients open or don't open sales pitch emails based on the email subject line. Well, subject lines like "Urgent! Please read!", "Heard these rumors about you?" can make the recipient open your cold email, but it isn't your actual goal. Can you remember how frustrating it is to receive an email that has nothing in common with the subject line? So keep in mind to match it with the email body.
Here are a few good subject lines for higher response and open rates:
If you have a mutual acquaintance with your prospect, put that person's first name in a subject lines of your email. The more your recipient trusts your referrer, the more compelling your email will be.

"Chris Brown recommended I get in touch," "I found you through Kate Bradshaw."
Some recipients will be more motivated by benefits. For instance,

"A new SEO strategy for [company name]," "Savings of $10k for ABC company."
Numbered lists. Find out some specific pain points of your prospect and put a number into your subject lines. For example,

"10 tips/hacks/ideas for your HR strategy."
#2 Short introduction
When writing your introduction, keep in mind that you shouldn't necessarily explain in details that you are "John Doe from [company name], which is the leading manufacturer of lighting equipment for TV and movie industries in Canada." Sad but true, nobody cares about your company. If they want, they can check out your website or social media profiles. Instead, you can say, "My name is John, and I am a [insert your position] at ACB company [insert a link to your website.] I have performed comprehensive research on your company and noticed [add the prospect's problem(s).]"
#3 State the problem in your sales pitch and give your solution
Show the recipient you are familiar with their problem and know how to resolve it. "I noticed that you are experiencing [add the prospect's problem(s) here]. And I have an idea that I can propose to help get [add their desired result."]
#4 Clarify your value
In your email, make some value proposition to the prospect. The first thing you need to do is to understand the precise difference between features and benefits. It's simple: a feature is what something is. Let's look at a five peace digital surround sound system. It is a feature. A benefit is why someone cares, such as enjoying movies in the premium room shaking sound. In general, the best email pitches examples emphasize benefits over features, because that's what customers care about.
#5 Add a hook to your sales pitch
If you want to make your cold email pitch personal, outstanding, and engaging, you have to pick a hook for each lead. For example, mention how you connected on LinkedIn, or that you have been a huge fan of their company for a long time. This will create common ground between the two of you and make your prospect read further.
#6 Closing
Your next step is to ask the recipient to respond with a firm, crystal clear call-to-action. You probably don't think much about your email signature, but I highly recommend ending your pitch with a professional signature. With its help, you can not only provide information about who you are and where you work but also add a clickable call to action.
7 approaches you can use to write the best sales email
As a marketer or startup owner, you probably create a lot of content. However, it can be not easy to know what to say, and how to say it, to appeal to your recipients and get them to click-through. Below are seven powerful techniques you can use to write better cold emails and improve your email click-through rate.
#1 Before – After – Bridge (BAB)

email templates
"Before" stands for a problem;
"After" stands for a perfect world where that problem doesn't exist;
"Bridge" – here you have to explain how to get there.
For example:
"Maintaining your monitor's conformance to medical imaging standards takes time. Imagine you can do it in just a few clicks. Here is how: [present your solution]"
#2 Features – Advantages – Benefits (FAB)

email templates
Features – What you or your product or service can do;
Advantages – Is this product or service helpful?;
Benefits – Why someone should value the advantage.
For example:
"This car is equipped with ultrasonic sensors which can help you park in tight spaces without risk of damage."
#3 Attention – Interest – Desire – Action (AIDA)

email templates
Attention – Attract the reader's attention
Interest – Once you have their attention, try to keep it. Present interesting and fresh information, use catchy subheads and illustrations;
Desire – Convince them that they need your product. To create desire, you have to demonstrate that your product/service/idea can do what you say and make prospects' lives more comfortable;
Action – Ask for to respond, visit your website, etc.
For instance:
"Earn with Instagram. Ten lessons from the experts. A free new guide featuring 20 pages of tips and other actionable advice to help you succeed in 2023. Download now."
#4 Problem – Agitate – Solve

email templates
The concept is pretty simple:
Problem – Identify your reader's pain point;
Agitate – Add salt to the wound. Explain what may happen if the problem remains unsolved?;
Solve – Deliver a solution.
For example:
"Losing visitors? You are not alone, because every website loses visitors. But with every customer who left, you lose money. If you want to track customer activity on your website and be able to optimize it for better user experiences, [present your product]"
#5 The five basic objections

email templates
People can quickly come up with reasons not to read your cold email. The most common of them are:
They don't have enough time;

They don't have money;

Your offer won't work for them;

They don't believe you;

They don't need it.
If you can overcome all of these objections, wonderful. If you can solve at least one, great.
Here is a good example:
"The best way to spend next five minutes: easy grammar fixes for your blog."
#6 Star – Chain – Hook

email templates
Star – Introduce your product/service/idea;
Chain – Provide a series of facts, benefits, testimonials, and reasons;
Hook – hook them with a strong call to action.
For instance:
"Create your website with Wordpress. Choose the software powering 27% of the Internet."
#7 Awareness – Comprehension – Conviction – Action (ACCA)

email templates
Awareness – Present the situation or problem to your readers;
Comprehension – Help them understand how it affects them. Explain that you know how to resolve the issue;
Conviction – Create a desire in your readers to use your product or service;
Action – Ask your readers to take a specific action.
For example:
"Weird but often follow-ups don't happen, because you forget. By not following up, you lose 80% of sales. You have to stop it. [Introduce your solution and ask for action]"
Tips how to write a sales pitch email
#1 Be fconcise when writing a sales pitch
Think about what is your actual goal in sending this cold email? It should really be to elicit a response from the prospect. This means that you aren't there to educate the prospect and you are not even there to make a sale. You just need a response. So don't make it boring, but short and to the point.
#2 Research your client to provide value
Before crafting a sales pitch, make sure you know as much as possible about the organization and the person which you will be contacting. Check your prospect's profile on LinkedIn and the company's site. Write down their business needs, and see how they relate to the product or service you are offering. How will the client benefit from working with you? Also, try to find out who makes decisions about buying inventory or using services in your targeted organization. You are wasting your time, if you are pitching to the wrong person.
#3 Personalize
There is nothing more frustrating than receiving a cold email from someone who made you feel like you were just one of many people receiving that email. Try to make your prospect feel as special as possible.
Mention recent changes that occurred in the recipient's life or business (e.g., mention their professional achievements) or common ground (e.g., similar hobbies, shared interested in sports, same hometown, etc.)
#4 Be confident
Do you know your product or service well? You should! Before you even start drafting your pitch, make sure you learn all the aspects of your product or service and how it can be useful to a range of clients.
#5 Try to warm up by references
If you share a common connection with your prospect, you are not a stranger to them. Mentioning this common acquaintance is a good way to warm up your prospect.
#6 Share your success
Tell your potential buyers what others are saying about you, in the form of testimonials. Ideally, you need to find a few examples that will make sense to your audience. You need to be able to say something like: "This customer experienced the same problem as you and we did this and that to resolve it." Also, you can add your awards or testimonials in your email signature.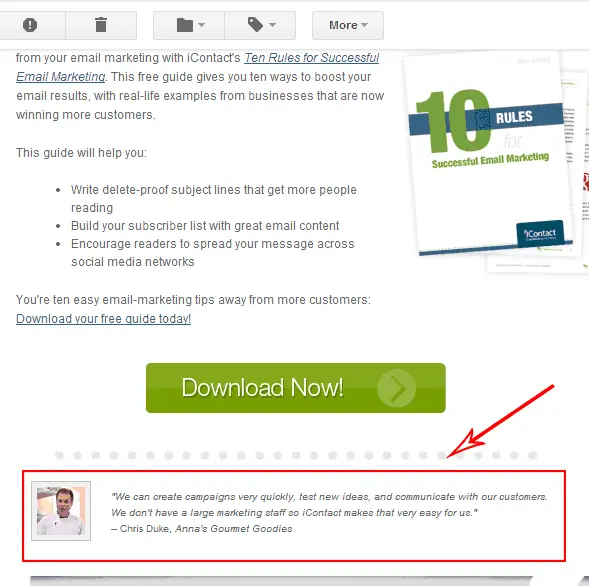 image courtesy of customertestimonials
#7 Add statistics and data to your email pitch
Use relevant statistics in your sales pitch email to show your potential buyers they are not alone.
#8 Build relations
Because every business transaction has a human being at both ends, communication and real relationships are crucial for success. What can you do for building better relations with your prospects via email?
Look for the reasons to congratulate them. For example,

"Congratulations on your new role as a Director of Sales!"
Offer help (even if it is not related to your product or service).

"I saw that you were looking for a maternity photographer on Facebook. This isn't my area of expertise, but I have a friend who can make absolutely amazing images for you. Would you like an intro?"
Compliment them.

"I looked through your new website and must say it is brilliant!"
Mention common personal interests.

"I was browsing through LinkedIn. It looks like you and I are both in the medical imaging industry, and we are both basketball fans. Did you enjoy the last night's Knicks game?"
#9 Speak about them
"I hope all is well," "I would like to schedule a phone call ," "Our company is the best in this field," "Make a phone call at xxx-xx-xx." This is all about YOU, YOUR company, and what YOU want, but not about the reader. Never talk about yourself too much. Your introduction should be a couple of brief sentences. Then move on to THEIR problems and offer solutions.
#10 Accept "NO"
If the prospect declines your offer, and you see that they are not likely to change their mind even after you negotiate with them, then respect their decision. Accept the rejection gracefully and say thanks for their time.
Mistakes to avoid in your sales pitch
You already know how to write a good sales pitch email, but if you are making these common mistakes, you are going to ruin any chance you have at success.
#1 Making your email sales pitch generic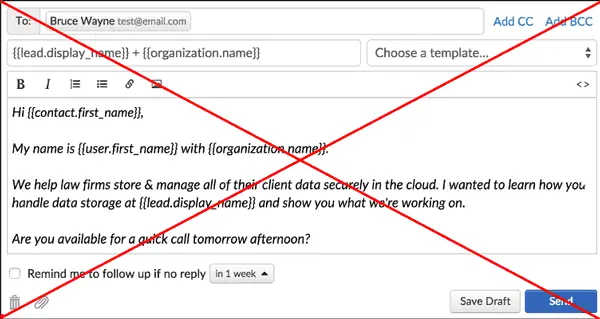 image courtesy of blog.close.io
You may already have your generic sales pitch email templates, but does it suit each of your prospects? A personalized sales pitch message that addresses a person's specific pain points will be far more successful than a generic one.
#2 Being too official
Try to avoid formal language where possible. You are not writing an essay for college, you are just trying to convey that you are an ordinary human being with something very real to offer. Write as you normally speak. Ok?
#3 Starting selling from the first email
Too often, businesses focus on selling through email instead of working to build a relationship of trust and value. If all you do is pitching your products or services to your audience, they eventually begin to ignore you, which leads to lower click-through and open rates, as well as reduced revenue. Email is undoubtedly an incredible tool to communicate about a sale or promote a product, but remember that it is also helpful for building relationships and create trust and authority for your brand.
#4 Using Dear Mr/Mrs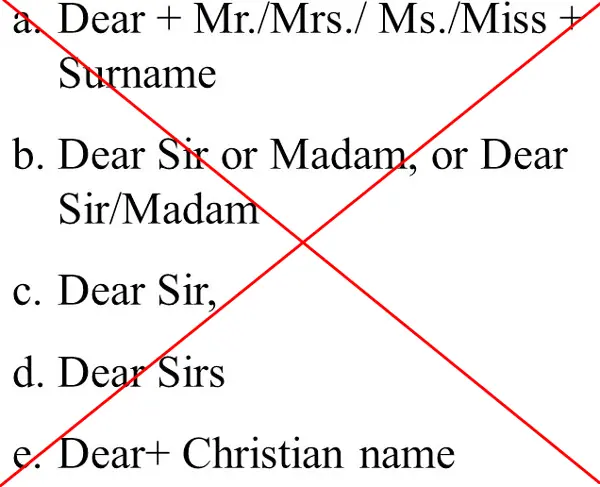 This is just too formal. If you want to sound relaxed and welcoming, to get people interested enough in your pitch to respond to it, you need to use the informal "Hi" salutation.
#5 Using your personal email
A personal email address often looks unprofessional in appearance. Do you want to do business with people who write from email addresses such as rudy1980@personalemail.com or iamthatguy@personalemail.com?
#6 Using too long and complicated sentences
In your pitch email, you should strive to be clear and easy to understand. Use simple language and avoid too long sentences and complicated constructions.
#7 Using industry slang and acronyms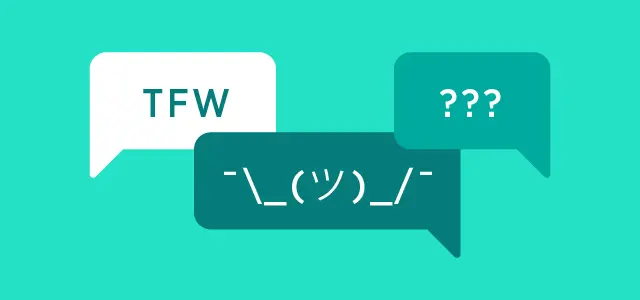 image courtesy of sproutsocial
Using slang with potential buyers makes you appear smart, right? Wrong! It can make them feel dumb. If you want to be understood, keep in mind that simplicity is the key.
Sales pitch email templates
In this paragraph, we are molding the information above into a couple of practical sales pitch templates.
#1 The one with congratulations
Subject line: Chris Brown recommended I get in touch
Hi Daniel,
[Your first name] from ABC company here. Congratulations on your new role as a marketing manager! We help businesses like Chris Brown Corp. and XYZ to grow their email lists and traffic.
I am curious who might be best to speak with about email marketing at your company?
Thank you for your help,
[Your first name and last name]
[Your business email signature]
#2 The one where you compliment the recipient
Subject line: Your recent blog post
Hi Kevin,
I loved your post about [add details].
I wrote a post about [compelling teaser]. I know that you are an expert on this and I would appreciate your feedback.
Do you mind if I send you a link?
Thanks,
[Your first name and last name]
[Your business email signature]
#3 The one where you provide the value
Subject line: Let me help XYZ with SEO
Hi [recipient's first name],
I've been a huge fan of your blog for years. I saw your post about your plans for 2023 and noticed that you were looking to double down on SEO this year.
I've been doing search engine optimization at [company name] for 8 years, but now I'm working on my own project. I'd like to offer you a hand. I can do everything you mentioned in your post [add details].
Would you be interested in joining our efforts? Let me know.
Thanks,
[Your first name and last name]
[Your business email signature]
Conclusion
If your goal is to write a winning sales pitch, you should neglect the traditional meaning of the word. Remember that a sales pitch is no longer a "pitch," and you shouldn't throw information at your customers as a baseball player. Your customer is rarely interested in how many awards your product or service has won, or how many people throughout the world are already using it. They prefer to know how your product will improve their businesses and make their lives more comfortable.