Examples of a Good Invitation Letter for an Important Business Meeting
Writing a good invitation letter can take up more time if you don't know where to start. We put together some tips and examples of invitation letters to help you along.
1. Invitation letter structure
2. Valuable tips
3. Examples of invitation letter for a business meeting
4. Templates of invitation letter for a business meeting
Useful tools:
1. Newoldstamp - Email signature marketing
2. Sender - Email marketing platform (features: automation, newsletter design-builder, and sending to subscribers)
3. Reply.io - Personal email outreach, calls, and tasks
4. Postcards by DesignModo - Drag & drop email template builder
5. GlockApps - To improve your email inbox placement
6. InVideo - For Making Video Invitations
Key Details

To get started, determine the following things:
Who? Who will be attending the meeting or event? Can participants invite others?
What & Why? What's the purpose or reason for your meeting? There are different reasons for sending out meeting invitation emails: a weekly staff meeting, a performance interview between a boss and employee, or a sales pitch with a prospect.
Where? What's an appropriate location? Do you need to book a specific place?
When? This can be a set time or something to be discussed further on.
After deciding on these details, you can start with the format of the invitation letter.
How to write your invitation letter: a perfect structure
A good subject line
This is a very important factor to consider when writing a business invitation email for meeting. It will decide whether the recipient actually opens your email. Including the person's first name in the subject is a very simple way to make your business invitation letters more likely to be opened.
Opening
Your opening lines are the first thing that person will see in the email. That's why these lines should grab attention and lead the reader to the next paragraph.
Email opening sets the tone of voice and style of the whole invitation letter. You should consider your earlier relationships with the person. This will help you to understand if you should keep it strick and formal or you can be a bit more casual.
Reason for your business meeting
You want your business meeting partner to be prepared. Mention the reason or subject for your meeting. If you have an agenda, include it or send it as an attachment, but don't overwhelm them with a detailed description. Instead, mention your discussion topics or program in bullet points.
Specify the time, date, location, and duration
To make sure your meeting partner will be in the right place at the right time, including the details of the meeting setting. If you don't have a set plan, give your invitee options to choose from instead of asking "what works best" for them. This makes it easier for them to decide and will get you a faster response. If you are meeting your boss or someone else with a busy schedule, you can add a calendar option to let them pick a date. In this case, since you want to respect the person's time, also consider to include an end time.
Request an RSVP
Have you ever sent out a meeting invitation message in the letter, expecting your meeting partner to show up, only to find out that person didn't plan to attend? You can avoid this situation by adding an RSVP option to your email. To make it even easier for the recipient to reply, add confirmation buttons at the bottom of your email and collect your replies like in this meeting invite template.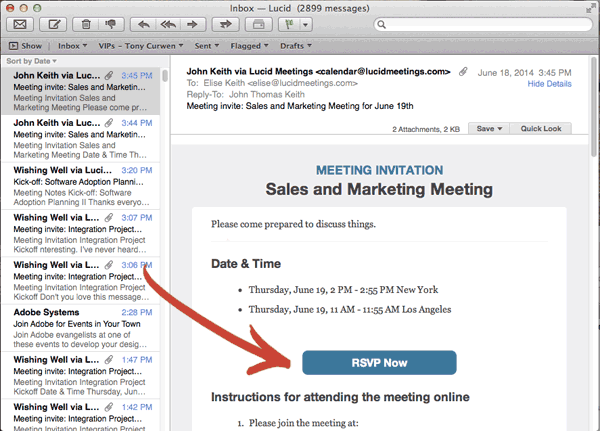 Closing
Try replacing "Have a nice day"- type closing with a friendly request to encourage your reader to reply to your business invitation letters. Try adding a line like "looking forward to your reply" will get people to answer your meeting invitation letter even more likely.
If you have an email signature you probably have most of the work already done for your closing. But, consider using an email signature in a bit more profound way.
Yes, it can be a bit more than just simple text. Or a stylish CTA button with online meeting invitation message.
Click here to design an email signature to make your meeting invitation email more efficient.

You can create an interactive email signature with a call-to-action button or banner with a request to accept your invitation. Moreover using well-designed email signatures can make your invitation letter more professional and personal. In rare cases, it is OK to complement a letter with a photo. You may improve an image with Lightroom presets for a specific mood if it will make the perception of the info delivered easier.
The best email signatures will have the following structure:
full name;

position;

company;

contact details;

banner or call-to-action.
Valuable Tips for writing a Business Invitation Letter
Make it personal
Personalized messages have a higher opening and click rate. One very simple way to make your mass emails a little bit more personal is to use the addressee's name in the subject line and opening. Keep the tone of the message friendly, yet professional.
Keep it short
Stick to the essentials in the introduction above and don't include too much information. Shorter messages are easier to reply to and will get you an answer faster. Everything else can be discussed during the meeting.
Set reminders
Your meeting partner probably gets tons of invitations for business events. Set a friendly follow-up to remind them of the meeting. If you're writing an invitation letter for an event, you can set a banner in your email signature to link to the details.
Proofread
Finally, make sure you included the right details, check the email addresses, and (for Pete's sake)spellcheck your message.
Now, when you know how to write an invitation letter, check simple meeting invitation email sample.
Three Examples of an Invitation Letter for an Important Business Meeting
These are a couple of real examples of invitation letters. Depending on the meeting or event, you can adjust the tone and details.
1. An example of an invitation letter for a startup event. Since this email is sent out to startups, the tone is more informal. As you can see in official meeting invitation email sample below.


2. An invite for a job interview. Take a look at this meeting invitation email sample.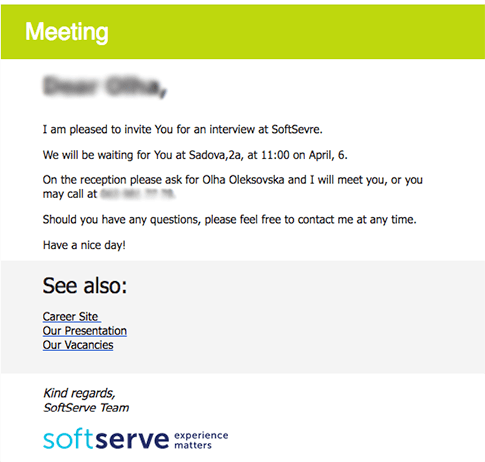 3. An example invite meeting email of a non-routine staff meeting. Here is an example a sample meeting invitation with agenda.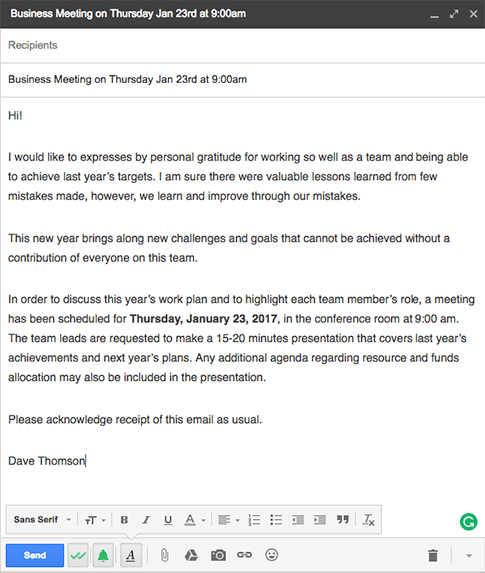 Invitation Letter for an Important Business Meeting Templates

How to write invitation letter in practice? You can check and choose one of these invitation letter sample from Template.net
1. Here's a

letter

of invitation template

for a monthly staff meeting. An email like this is usually informal, yet professional if you work in a big company.
Dear [employee's name],
Hereby, I would like to inform you that our monthly staff meeting will be held on [date] in [place].
I have attached the agenda, but please feel free to add any items by replying to this email at least a day before our meeting.
Make sure to be prepared and updated on your departments' subjects. Should you not be able to join this meeting, please let us know and be sure to delegate important updates on your department to your colleague.
Best regards,
2. An example of invitation letter for meeting a potential client or sales pitch.
Dear [name of potential client]
My name is […] and I am the [position] at [company name], which is [describe company activities].
I believe we can help you with [specific problem] and would appreciate the opportunity to meet at your office to talk about [what you're selling]. For your convenience, I added a few suggestions for a date and time.
Looking forward to discussing what we can do for each other in more detail.
Kind regards,
[Your name]
3. A sample of an invitation letter for a request for a performance interview.
Dear [your boss' name],
For the past [time], I have found great pleasure working at [company name].
To be able to perform better and to better reach my personal career goals, I would like to request an [annual/bi-annual] performance interview.
Also, I would appreciate if you could rate and report on my performance for the past [time] and to discuss this with me in a personal meeting. I would like to suggest [options for time and place].
Please let me know if this works for you and I will book [meeting room/place].