7 Real Examples of Event Invitation Emails
1. What are the Key Parts of an Event Invitation Email?
2. Tips on How to Create an Excellent Event Email Invitation
3. Best Event Email Invitation Examples
An event invitation email is an integral part of event marketing. Even though we have all kinds of social media platforms to create events and send invites, sending personalized emails to each of the attendees and requesting their RSVPs or registrations is still one of the best ways to increase your event's attendance.
Making an excellent email invitation for an event is now just an article away. Prepare your cup of coffee (of course! only if you like) and sit tight while we take you through a short journey of tips for writing a perfect event invitation email along with some real-life examples.
What are the Key Parts of an Event Invitation Email?
While you are writing an event email invitation, some points must be kept in mind. So, get ready and jot down the following key parts of an email:
Professional email address
Buying your own domain and having your professional email address helps to build trust in your audience. It makes your attendees believe that your organization is a respected one and that this event should not be missed.
A catchy subject line is what your audience is looking for. A relevant subject line which appeals to the audience will increase your RSVPs when you are sending email invitations with RSVP.
Personally addressing the attendee
Make sure your participants will open an email and see that you are addressing to them personally in the email like "Will you accept this invitation, Rosa?". This is a good way to establish a connection between the host and the email recipient.
Pictures and other visuals
Adding some pictures, quality content and video or a link to the social media is really a great idea if you want to interact with customers visually. Make sure to add relevant images which are of high-quality.
Having a banner and important details of the responsible person or hosts like phone numbers, email addresses, and social media links is crucial for a meaningful ending to an email.
Tips on How to Create an Excellent Event Email Invitation
Once you have your key parts in the email ready, now it's time to add some spices to it and make your email the best which will make your audience want to come to the event. Follow the keynotes given below and increase your registrations and go full house:
As already stated before, an email signature must be added at the end of the email with all contact information of the host or the responsible person from an organization. This makes it easy for the attendees to find the contact details of the person.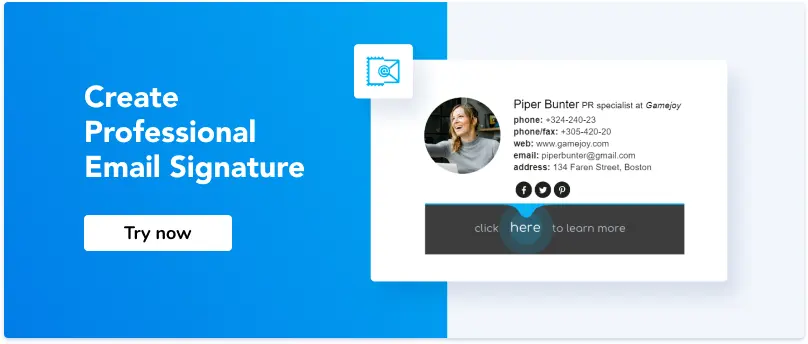 Banner ads with a professional look of the email will help in enhancing the authenticity of the event. You can have your email banner made online and after, you can include it into your email signature.
When you are trying to persuade someone to register for the email, make sure you add CTA (Call-to-Action) button but not too many, only the one required.
Addressing your target audience in a personal style is always better. Also, before sending emails, it's good to segregate your audience according to the location and send them messages directly.
Appropriate design and content are other important things in the email. It lays the foundation of the email and will help to decide whether the email will be opened or sent to a spam folder.
What can better generate the buzz about the event than do social media marketing? There are millions of people on Facebook, Instagram, and Twitter who will get to know the instant you write about the event.
Additionally, putting hashtags, tagging other people, and being active on these channels is the key to manage social media pages.
Best Event Email Invitation Examples
The following examples will provide a glimpse into the world of email marketing. Here are some extraordinary event invitation email examples to help you make your layout:
Sprout Social: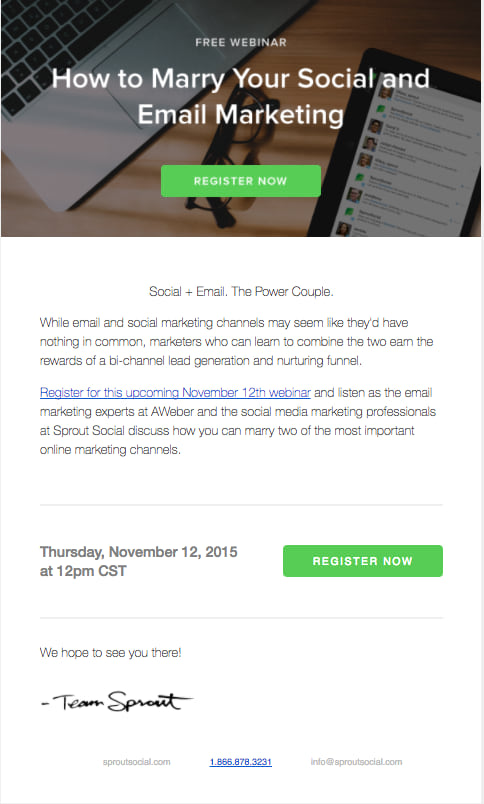 GroupHigh:
Neil Patel: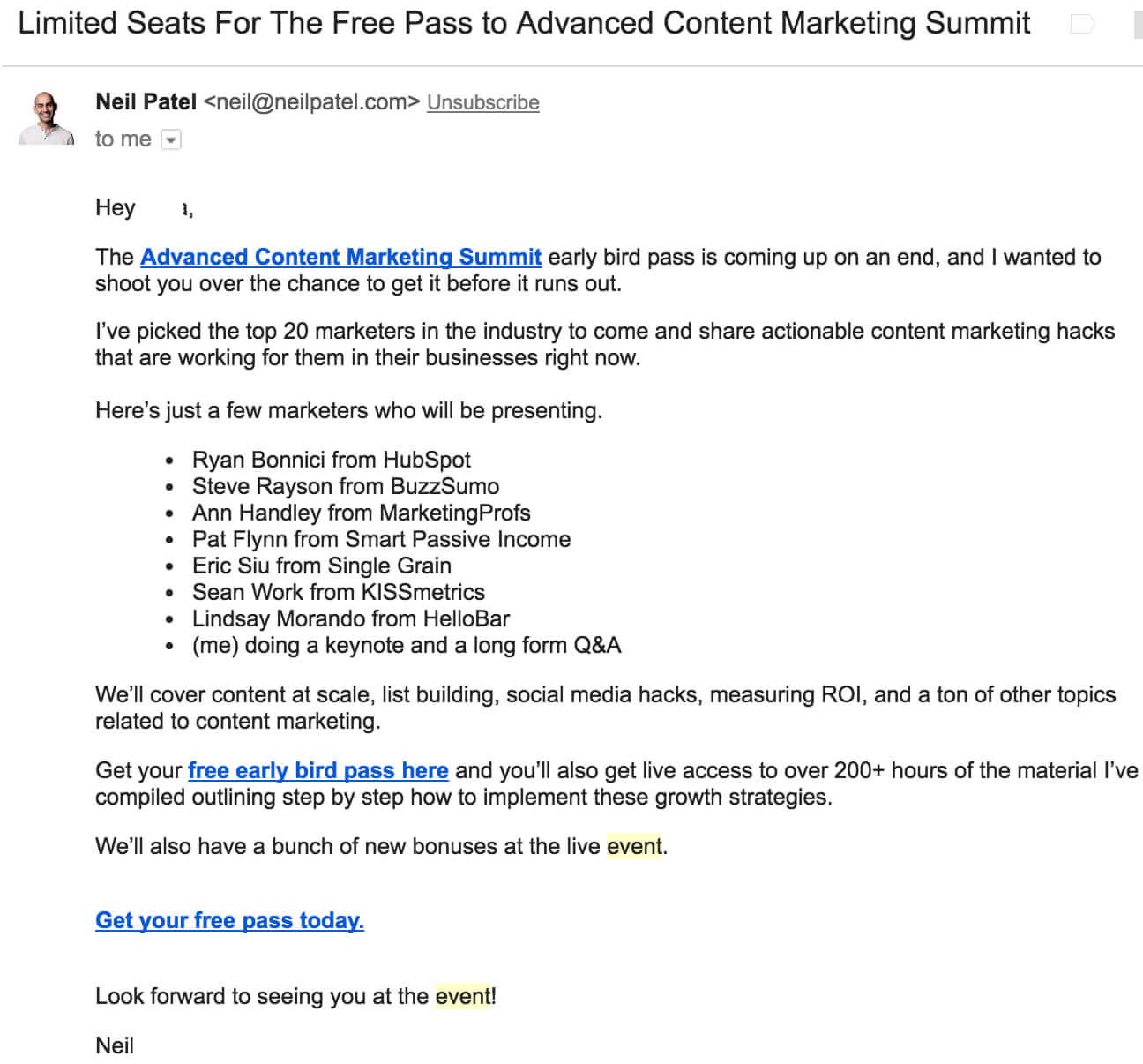 HubSpot: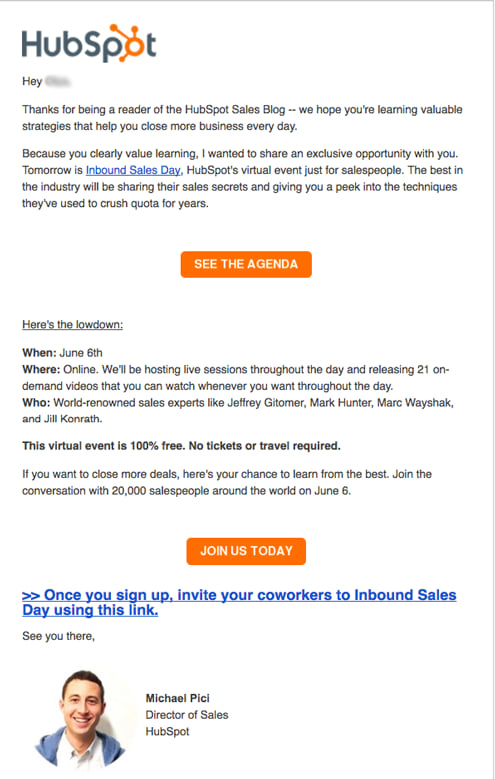 Campaign Monitor: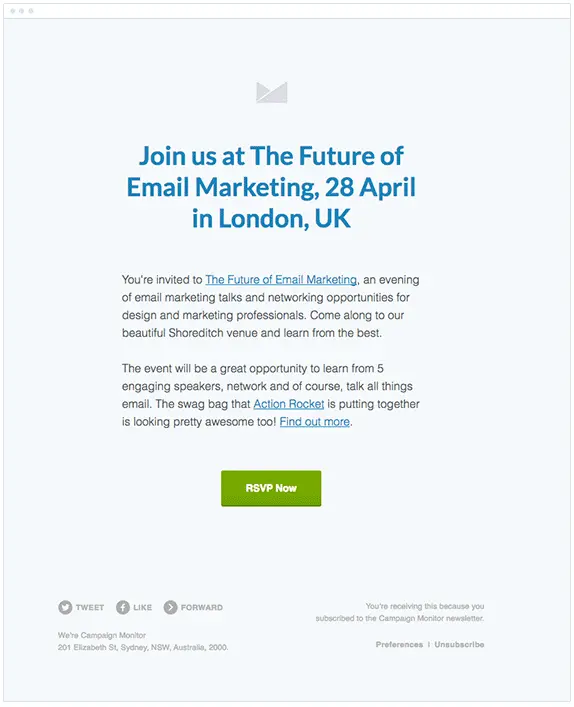 Litmus: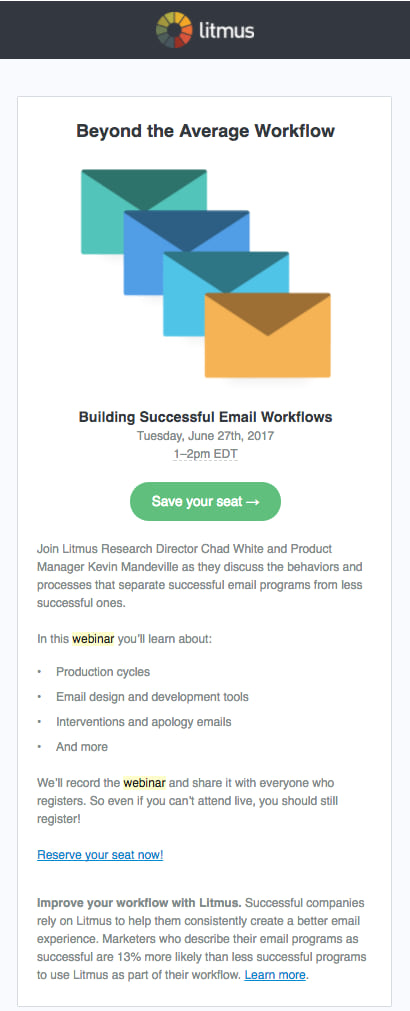 Sumo: