9 Tips to Build Performing Internal Emails
1. Make emails subject lines descriptive
2. Write a short yet concise copy
3. Make sure that the message is relevant
4. Personalize emails
5. Pay attention to design
6. Add visual elements, videos and photos of people
7. Use the "Add to Calendar" option
8. Add signature
9. Choose the optimal frequency
We're going to dedicate this post to the special kind of email campaigns, internal messages for company employees. The first thing to mention is that in this case, we actually don't need to use any typical e-commerce tricks to motivate customers, urge them to open emails, and make some actions we want them to. Employees will obviously open and read them, as this is their duty, right?
On the other hand, here are some specific requirements too. If your company is not a kind of "totalitarian dystopia" where CEO's or top manager's wish is a law (we hope not!) but each employee is a member of the team, you need to treat subordinates the best way and care about their needs, comfort, and motivation.
How to do that? Let's get started.
Emails or meetings?
The very first question here is why companies need internal emails at all? Really, there are other ways to discuss the actual issues: personal meetings, Slack, Skype, etc. Nevertheless, the BBC's researches statistics proved that 67% of employees prefer an email channel. It means that internal newsletters are crucial for business.
Why people prefer emails? First of all, with emails, you can choose the most convenient time to read them instead of breaking up your work to participate in the meeting (which may cause the loss of inspiration when returning to process). Secondly, descriptive subject line of the email shows what it is all about. Moreover, your colleagues have an option to save important messages in their inboxes and reach it easily when needed.
Other pros of emails are options to track who has opened them and to communicate personally with those who answered your message. The last but not least is that email is more convenient than chat - no need to scroll when someone left a comment, for example.
Sounds convincing? If so, let's proceed with practical tips.
1. Make emails subject lines descriptive
As we said above, your employees will open your message anyway to stay updated and to know all the internal news. But if you want them to read this as soon as possible, specify clearly what this email is about.
The subject line should be descriptive enough to evaluate the urgency level. In other words, recipients should understand if the message is important enough to take a break and read immediately, or it can wait a bit.

2. Write a short yet concise copy
Internal emails are not about long-read content. The cause is simple again - the more time is needed to read a message, the less your colleagues will be working. Stick to the rule of short yet concise text with 2 minutes limit to read email down to the end. Your employees are engaged with their duties, don't make them spend much time to read over-detailed reports.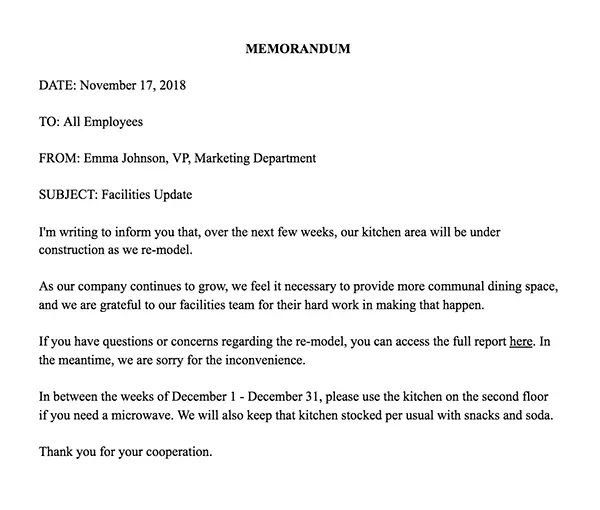 3. Make sure that the message is relevant
There's actually no need for financial department managers to know about some smaller problems the technical department faced, and how they were solved. Or what does such a special email have to do with the rest of employees who didn't succeed to participate in the internal program?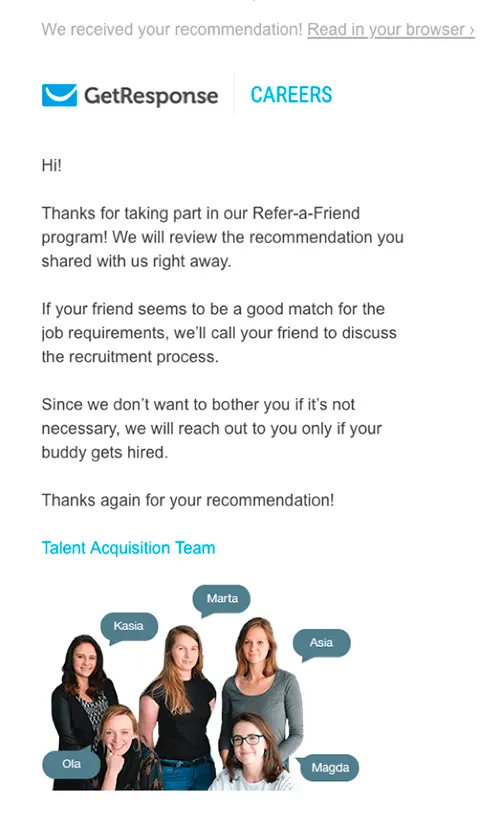 image source: getresponse
When it comes to local issues, apply segmentation. It's easy to do with modern ESPs - segment your corporate contact database into needed categories like departments, projects, etc. And send the relevant messages only to those who deal with local issues; or to everyone when information is general.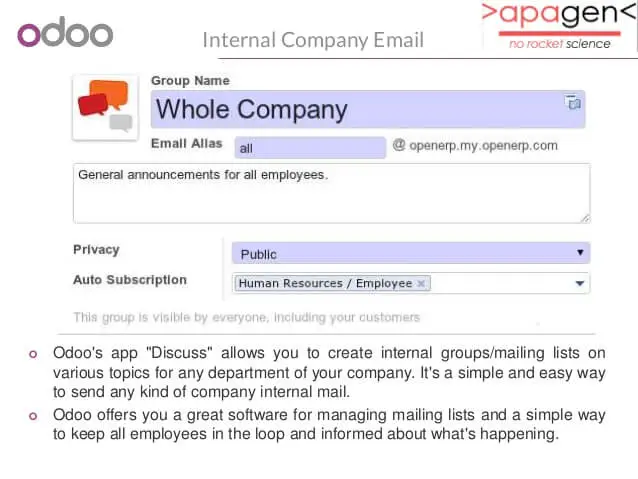 image source: odoo
4. Personalize emails
We all know how it works — use merge tags, and recipients will see their names. A simple trick, but it adds politeness to internal communications.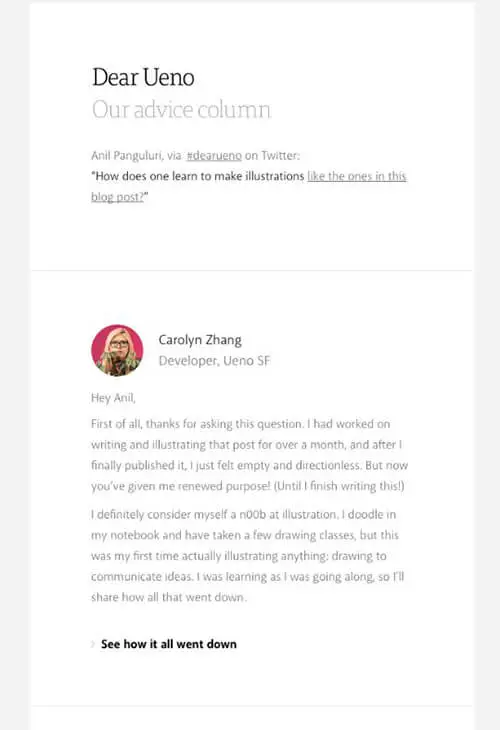 image source: ueno
5. Pay attention to design
Again, with this point everything is simple. You don't need to bother with sophisticated elements - just stick to your brand book, fonts, color schemes, etc. It will look more stylish when internal newsletters are designed in a corporate way, just like your B2C or B2B campaigns.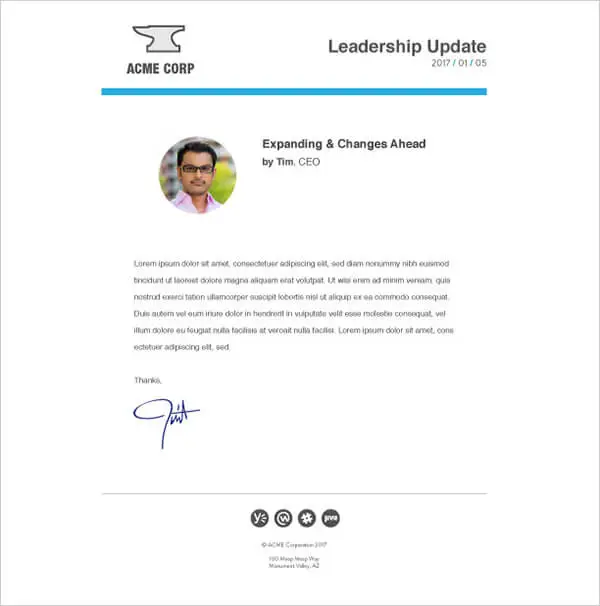 6. Add visual elements, videos and photos of people
Images, videos, and GIFs are used for many purposes. For example, visualization is a good way to describe the details of new projects and tasks, arrange manuals on how to use new tools and features you implement in your company, etc. Other crucial elements are graphics, charts, and diagrams to visualize results updates. Look at this screenshot of chart created with the help of special predesigned template from Stripo email editor collection.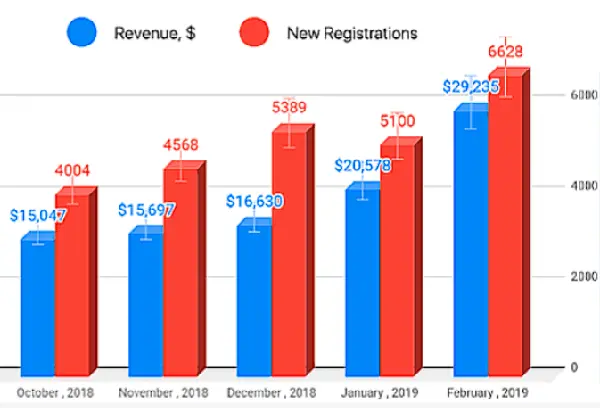 image source: stripo
You can also greet employees with special video or images, or just add something funny; a minute of relaxing and humor won't hurt.
If you write an employee newsletter, it's reasonable to add photos of events and people. When the number of personnel exceeds 20 or some of them are working remotely, images will help to introduce people or praise the best workers. It's good for HRs to send an internal mailing about a new team member with their photos attached.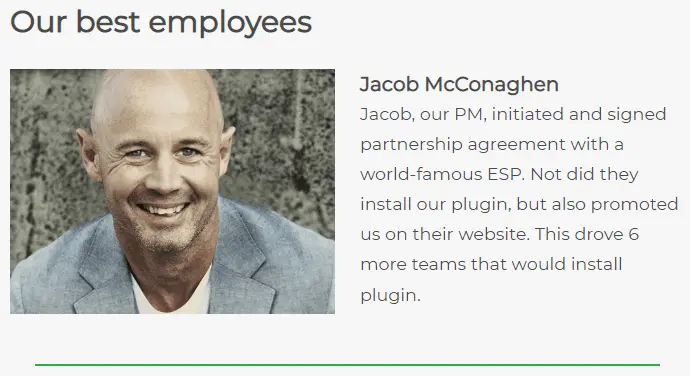 7. Use the "Add to Calendar" option
People are often busy with their duties and daily routine, so they tend to forget about the events you announced. That's why it's a flawless solution to include "Add to calendar" button. By the way, it may be used not for meetings and events only, but for some project plans stages too. When something is scheduled this way, it won't be skipped!
Make the "Add to calendar" button noticeable. A proven fact: the shape of the button does not matter but the color does!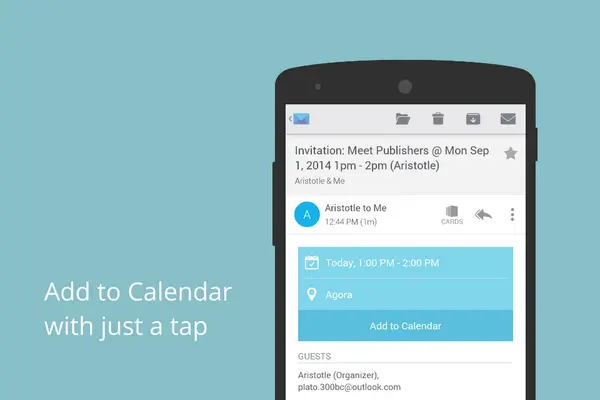 image source: newton
8. Add signature
Add the signature of the person who is in charge of the current email. First of all, this is polite. Secondly, colleagues will know who they can send their feedback, questions, etc.
Surely if you are a CEO or HR manager, employees have your cell phone number. Yet, some newcomers might be somewhat shy to ask this information.
By the way, a perfect solution is to use Newoldstamp signature generator, a tool with a set of options that helps with email signatures that look professional!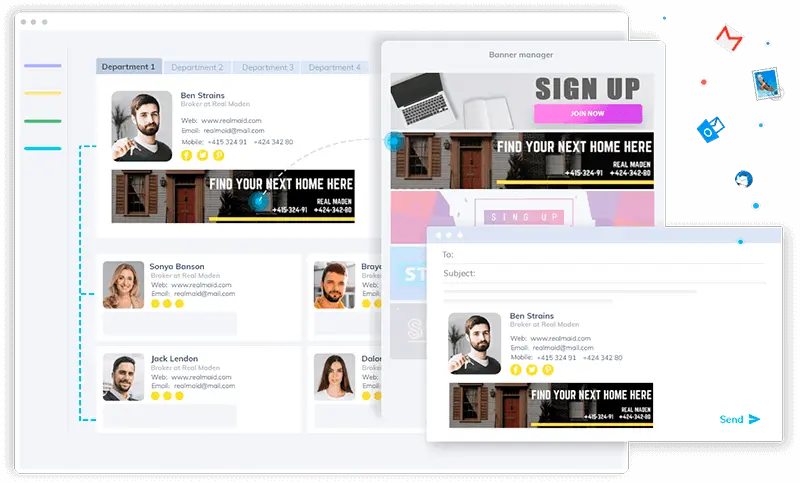 9. Choose the optimal frequency
Internal company emails are not a kind of email marketing, so there is no need to send messages on a regular basis. The only exceptions are monthly reports — they should be sent on the same day of a month.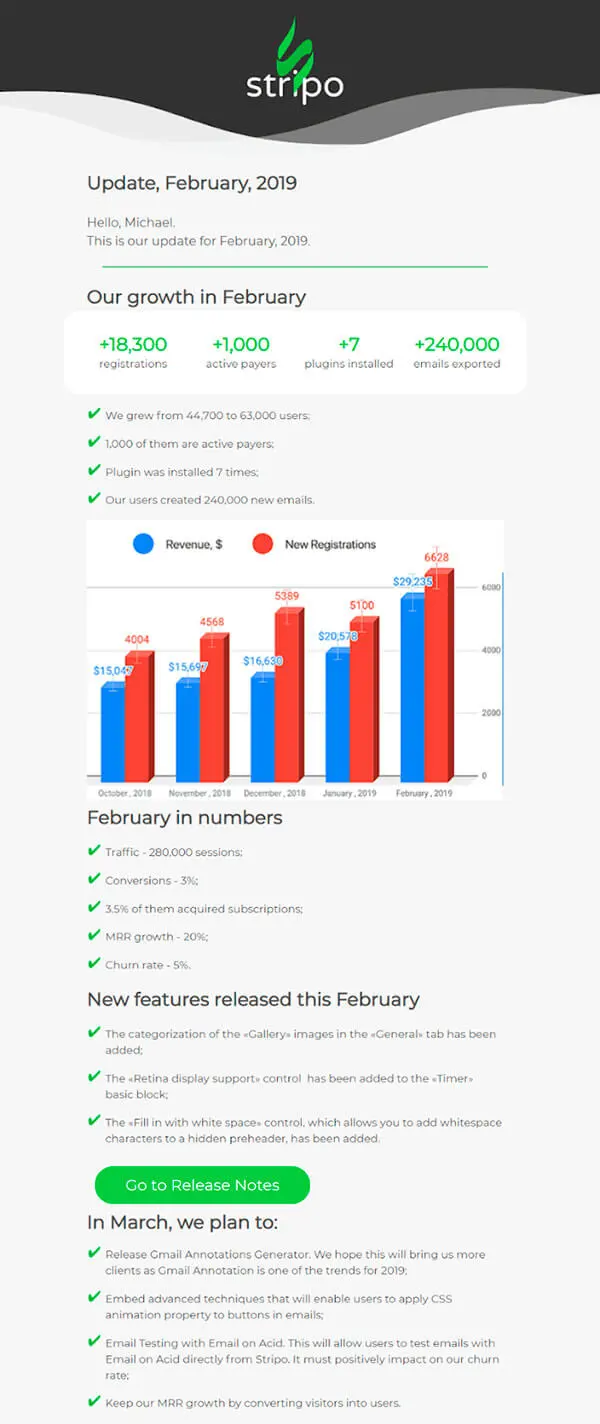 image source: stripo
The rest purely depends on current needs and news to share.
Summing up: still need ideas?
This is how our compilation of tips on making internal emails looks like. Maybe you still don't know how to reach out to your employees? Well, in this blog post published by ContactMonkey you will find 32 employee newsletter content ideas to boost employee engagement. Combine them with our tips and make your internal communications performing yet pleasant and friendly!
We sincerely wish you the best of luck!