How to Write a Persuasive Email
1. Segment and personalize your recipient list
2. Use persuasive email subject lines
3. Increase your email authority by adding preview text
4. How to Write a Persuasive Email Message
5. Use visually appealing design to increase your authority
6. Add Call-to-action
7. Add Email Signatures
Useful tools:
1. Newoldstamp - Email signature marketing
2. Mailchimp - Email builder and sender
3. Reply.io - Personal email outreach, calls, and tasks
4. RocketLink - Your branded short linker
5. Canva - Online tool for making designs
We often hear that emails and email marketing are dead. But it seems to be more than alive. 73% of millennials prefer businesses to email to any other communication channels (HubSpot). According to Statista, there are 3.9 billion active daily email users in 2020. And it's projected to increase up to 4.3 billion by 2023.
Segment and personalize your recipient list
Sending promotional messages to your entire list might be doing more harm than good. Imagine that you just signed up for a new service and have not even tested it. The next day you receive an offer for a frequent user instead of onboarding help. You probably would be irritated. Sure thing that no one wants to receive irrelevant information. So do your recipients. Making sure that you deliver your message to the right person saves you valuable time and reputation. First of all, consider segmenting based on such differentiating factors as demographics, customer activity, and engagement level.
After you've finished segmenting your list, there is still something left to do to make your subscribers feel unique. Create messages based on your segmentation. Most email marketing platforms support personalization (dynamic) tags at multiple points of the campaign creation process. For instance, when a subscriber named Lucy receives your email, she would see her name in place of the personalization tag. Possibilities with dynamic tags are endless. You can use tags to change recipients' names and company but offers links to the content and anything you think to be relevant.
Use persuasive email subject lines
Remember, you need to reach humans, not just inboxes. To get your email opened, take the time to work on subject lines that grab your reader's attention. So here are several recommendations to create compelling email subject lines.
1. Stay brief and use customer-specific words
Finding your "power words" might be not easy but be patient and spare the time to analyze at least 15-20 campaigns to compare the open rates between them. Keep in mind that usually, people prefer conciseness and accuracy over lengthiness and cheating.
2. Use sentences but remember about the length
We rarely talk in short phrases to express our thoughts. So if you want a recipient to understand what you are going to share with him, use clear but concise sentences. Aim for 28-50 characters to ensure your subject line will always appear in full on different devices.
3. Use brackets and CAPS
To make your email stand out, you can try including your company or product name in brackets. Capitalization is also an excellent way to emphasize something important. But note that typing messages in all CAPS may be considered rude. Since no one likes to be yelled at, use capitalization only to the point.
Good example: [URGENT]: I need your help
Bad example: [URGENT]: I NEED YOUR HELP!!!

4. Personalize and localize
Did you know that personalized subject lines are about 20% more likely to be opened? Try including a customer's name or location in the subject line to make him feel special by tailoring your message uniquely.
Saying something like "Great news for our the U.S. fans" will add a personal touch to your email message. Furthermore, you can use "you" and "your" so that your recipient feels like you're talking to them directly. Now compare two subject lines below.
"5 tips for marketers" vs. "Mike, here are five marketing tips just for you." Which of these two subjects above, in your opinion, is more likely to be opened by Mike if?
5. Add urgency
The fewer time subscribers have to act, the more compelled they will feel to do so. Here are several words that can increase urgency: "last chance," "almost gone," "order now," "available for a limited time."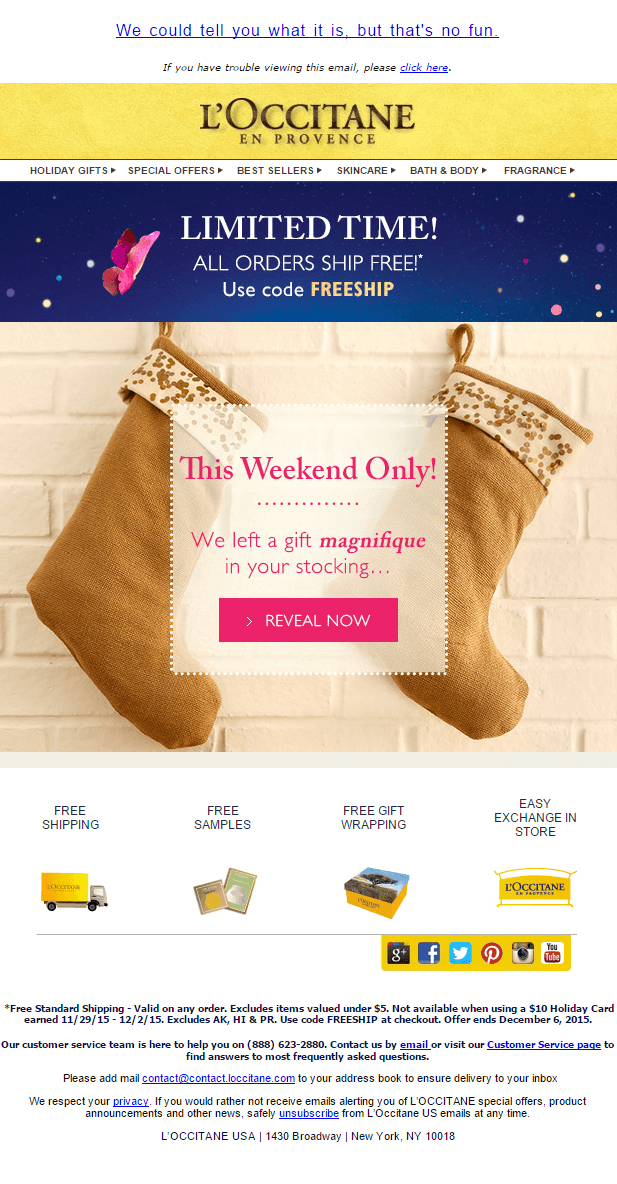 6. Share an offer
Why not give them a reason to read your email right away? Think about starting with benefits right in the subject line.
7. Add social proof
Show people the numbers. If you have 300,000 subscribers, why not mention it? If 70% of your first-time buyers become repeat customers, include it in your subject line.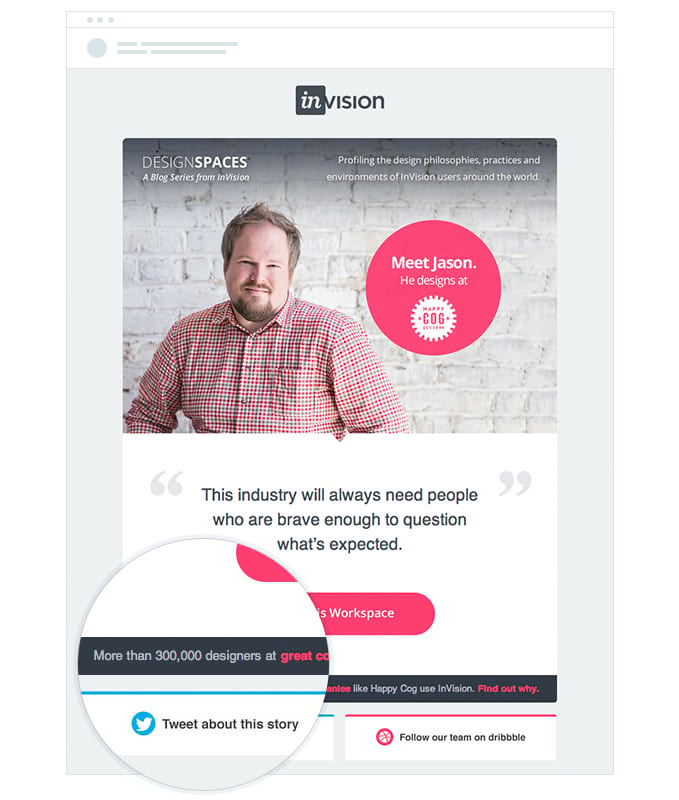 Image courtesy of Campaignmonitor
8. Arouse curiosity
Making people open and read your emails may be hard enough. Share a piece of information, then highlight something your audience doesn't know yet, so they itch to click and read further. You can also create curiosity by asking questions or using words such as "confession," "undiscovered," "unusual," "limited," "secret," or "rare."
9. Self-interest
Make your list feel like you know how to make things better for them. Offer your assistance. They will need to read your message to see what you can do for them.
10. Use retargeting subject lines
Retargeting subject lines are effective when prospects fail to complete an action you wanted them to take (like an abandoned shopping cart). Not to lose customers, gently remind them about the unfinished purchase using such subject lines: "The price dropped for the product in your cart," "Get 20% off when you finish your order!", "Was there a problem checking out?".
11. Subject lines for sloth
Laziness can also contribute to crafting a great subject line. For instance, you can encourage people to open your emails by highlighting resources they can find in them. How about these? "Create a cold email that works in 5 easy steps", "Learn how to write emails + 20 best persuasive email examples", "100 persuasive email subject lines for you".
Increase your email authority by adding preview text
To let customers know what the message is about, create a brief preheader that will appear after the subject line. Use it to add a benefit that can trigger them to open and read more. Keep it short and concise as most email clients display between 35-90 characters of the preheader.

How to Write a Persuasive Email Message
How to write a convincing email to a client? It's art you can master by following these eight significant steps:
1. Work out your tone of voice
Without developing your distinct tone, you run the risk of turning into a faceless company. Your brand voice should be distinctive, recognizable, and unique. It should build trust and make people remember how you made them feel. However, don't lose the balance between familiarity and trust. Keep in mind that the formal language runs the risk of lacking in personality. In contrast, the informal language sounds more personal and warm yet may be interpreted as lacking professionalism.
2. Make it personal
Your subscribers are humans, not robots, so even an automated email should be personal. To personalize emails, collect such necessary information as your subscribers' names, demographics, gender, date of joining, industry, website. The list can be endless. It all depends on the goals of your email. For example, Amazon Always calls you by the first name, and this is nice. They often use phrases like "you might be interested," focusing on your interests instead of theirs. Furthermore, based on your recent visits, they list recommended items for you (e.g., a list of 10 books you might like).
3. Add a reason
Adding a reason, no matter how simple it is, can help customers come to a decision. So providing people a solution, try to explain why you believe that it will work.
4. Showcase your knowledge
If you're writing to persuade, prove your valuable knowledge and experience in the recipient's area.
5. Add magnet words to your copy
To increase your open read and response rates, focus on the usage of "you," not "we." Also consider using the following eye magnet words: "easy," "secret," "guarantee," "new," "free," "because," "amazing," "offer," "best-selling," "improve," "increase," and others.
6. Use a fear of missing it out
The fear of missing out (also known as FOMO) is an everyday driver of action. Try using these phrases that imply scarcity in headings and copies: "limited offer," "sale ends soon," "for a limited time," "buy while stocks last!".
7. Length
To make your message more effective, be clear and concise. You can tell the audience what you are offering straight in your headline. Your email body should contain the information on how you or your product may help the reader. Finally, let people know what they should do next to find out more or get the product. The ideal length of email marketing is 25-125 words.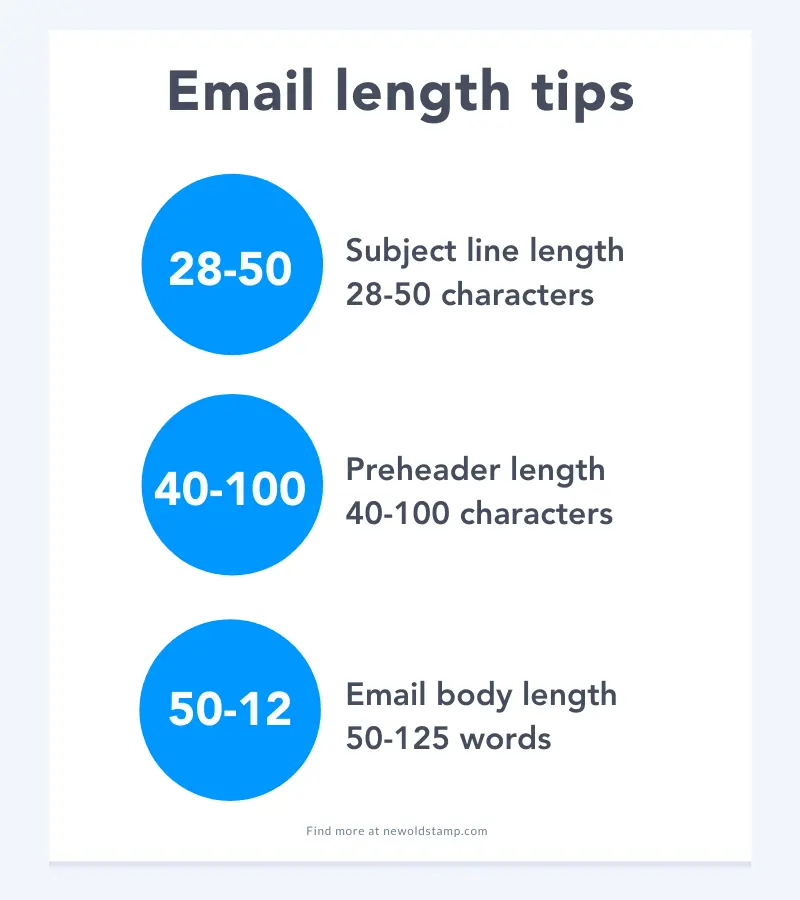 8. Emojis - be careful
Emojis in emails are becoming more and more popular. But is there a place for these smiley faces in business writing? We say yes, mostly if your company prefers an informal tone, but use them at the right time with the right people. If you sell software to medical facilities or research centers, inserting Emojis isn't the best option.
Read more about other things to avoid when composing and sending out an email.
Use visually appealing design to increase your authority
About 65% of us are visual learners, and 90% of the information that comes to the brain is also visual. That is why it is logical to use visual content to gain the reader's attention.
1. Use F-pattern when choosing or creating a template
The "F-pattern" is the typical way our eyes move when we read web content. According to eye-tracking studies, users scan online information in the shape of the letter "F."
The top of this "F" is formed when they start reading a headline at the top of your page. Then readers go back to the left side of the screen and move their eyes down the page until they see numerals, bullet points, or another heading that catches their eye. Once they start reading, they move to the right side of the email to finish the line.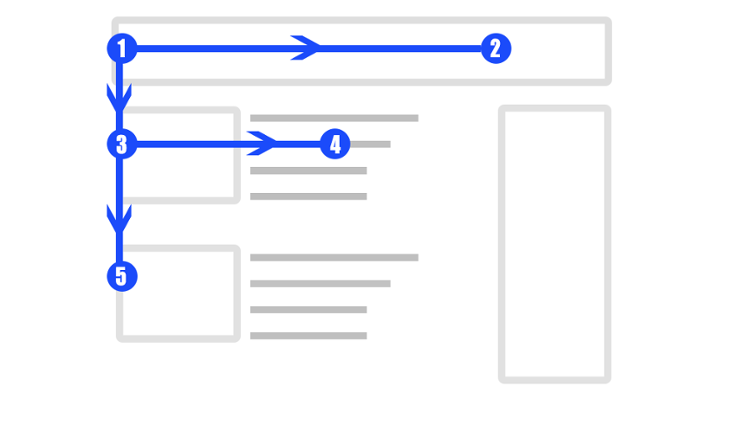 Then, as a rule, people continue scanning the email until they see anything else that draws attention, switch to another, or leave your site.
If your content does not match the "F-pattern," users may feel like they have wasted too much time.
2. Use pictures that fit contextuall

y
While your images should be high quality and attractive, they also need to be contextually relevant.
3. Remove distractions from your email
Reducing content isn't easy, as you're proud of your product and can write a full academic essay on its benefits, but remember that you can't include everything!
So let's stick to the rule "One email = One goal."
Identify the goal of your email. Review the entire message to find the distracting elements that can stop people from reaching that goal (fonts and colors, multiple calls-to-action, irrelevant images, too much information). Now cut them off!
4 Be sure it works on all devices
Don't hit send until you check if your email looks good on both desktop computers and mobile devices.
Test it on your iPhone, Android, and whatever you think your readers might use to consume your messages.
5. Add text version to your HTML design
When creating a beautifully designed email, keep in mind that some browsers, email clients, and mobile devices block HTML. And if you fail to optimize your copy for both versions, some of your subscribers will not be able to see a readable email, but just a broken design. So don't forget to include a plain text alternative.
Add Call-to-action
An effective Call-to-Action (CTA) is eye-catching, simple, direct, and compelling. More tips on how to write Calls-to-Action here.
Add Email Signatures
The last impression is as important as the first impression. To look professional, inspire trust, and promote your brand with every email, consider creating your email signature.
Use it to introduce a bonus or another benefit you didn't mention in the email, suggest a deadline, ask for immediate action.
Here are tops to create a good signature: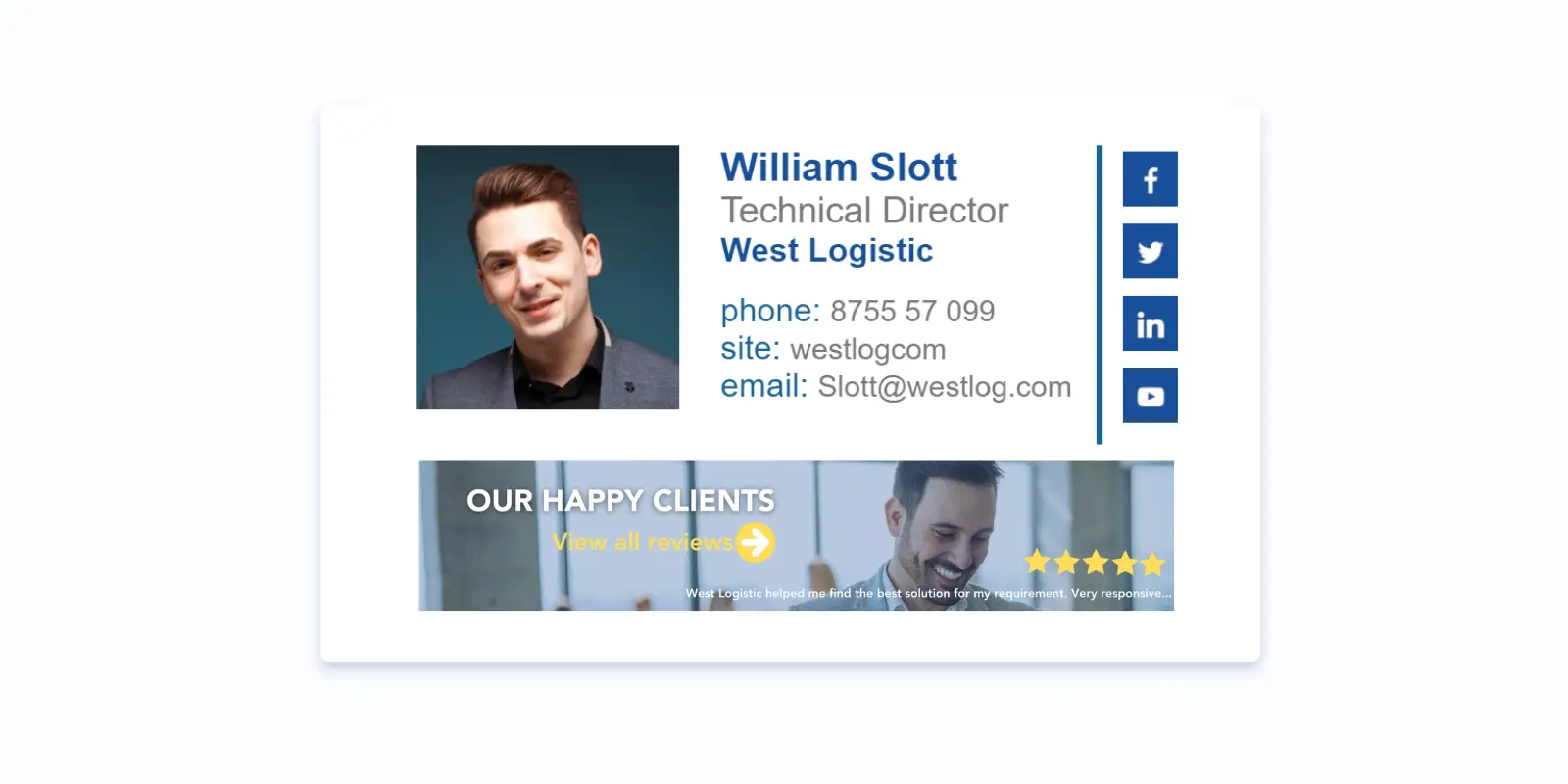 1. Use a headshot
A headshot is a great way to personalize your signature as it helps build a relationship with your recipient.
2. Use a template that fit your corporate style
Use brand colors and fonts. Also, it would be great to have uniform organizational email signatures for all employees in your company.
3. Add contacts to reach you
Your contact information should include your business website and email. You can also consider adding a phone number or any other way you can be reached.
4. Add social icons
Adding social media icons to your email signature is an excellent way to get new followers and make people read your social content regularly.
5. Add email signature banner
An email signature banner can be a powerful marketing tool and an obvious opportunity to inform your audience about events, special offers, new releases, and other significant things happening in your company. Besides, you can promote your company motto, show your awards and certificates.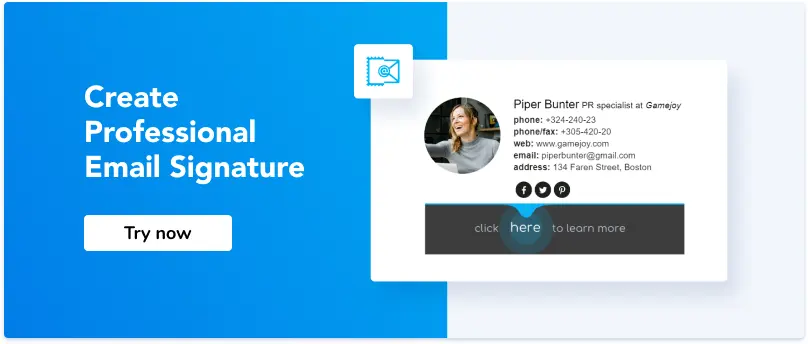 Remember About Spam Folders
Now when you know how to write convincing emails, discover a few simple tips to help you stay out of junk folders:
avoid purchased lists

remove inactive contacts from your lists

avoid deceptive subject lines

send only relevant content

don't be annoying

reexamine your send frequency

don't use link shortening services like bit.ly

make it easy to unsubscribe