Basic Rules For Writing Effective Business Emails
1. Make use of a subject line
2. Start your email with a greeting
3. Writing email, be short
4. Be engaging
5. Be polite
6. Be proactive
7. Talk about your recipient
8. Pay attention to words
9. Proofread your letter
10. Finish with the call-to-action
11. End your email with a signature block
Useful tools:
1. Newoldstamp - Email signature marketing
2. Mailchimp - Email builder and sender
3. Reply.io - Personal email outreach, calls, and tasks
4. Mailtrack - Email link opens tracking
5. Canva - Online tool for making designs
How many letters do you send every week? Dozens? Hundreds? We do. And get feedback. The core of proper business email writing is to apply some rules to your letters, to engage the reader and encourage them to perform some action - sign a contract, buy a product, start a trial, or simply message you back. To achieve these goals you need to stick to certain rules. An email is an efficient tool for business communication, but without using it properly, you won't be able to get the maximum of it. Here are a few basic rules for writing effective business letters.
Make use of a subject line
An email without a subject is just like a newspaper article without a headline. You will hardly pay attention to such an article. So, if you want to draw attention to your email, do not leave the subject line blank, as such a letter may be simply neglected or rejected as spam. The subject should be brief but informative enough to give the reader an idea of what might be said in the letter.

Start your email with a greeting
Greeting in business letters should be formal and concise. Business emails do not always require addressing a person by name. Thus, you may begin a letter with a traditional "Good afternoon" or "Greetings". If you choose to address a person by name, you may start with "Dear Dr. X," or "Mrs. X," etc.
Writing email, be short
Just imagine: you get to your office dreaming about 1,000 of tasks on your to-do list, open your mailbox, see up to 20 letters, click on one of them and open a long novel up to 2 pages in length. Great piece of business email writing, yes?
As for me, I just skip or hold over such emails.
An average person reads a letter for 4 seconds, just glancing at words and trying to decide if to read more. Therefore, do not steal the reader's time. Just be clear, up to the point, and brief writing professional emails.
Be engaging
However, what to do if your letter contains more information, than seven lines? Writing an email, be engaging. What does it mean?
Famous copywriter Joe Vitale claims: more expensive your product is the longer a copy should be. Sounds good also for business letters. You just need to apply to a client's needs and write about interesting things. Try to figure out what your addressee needs and respond to that writing a business email.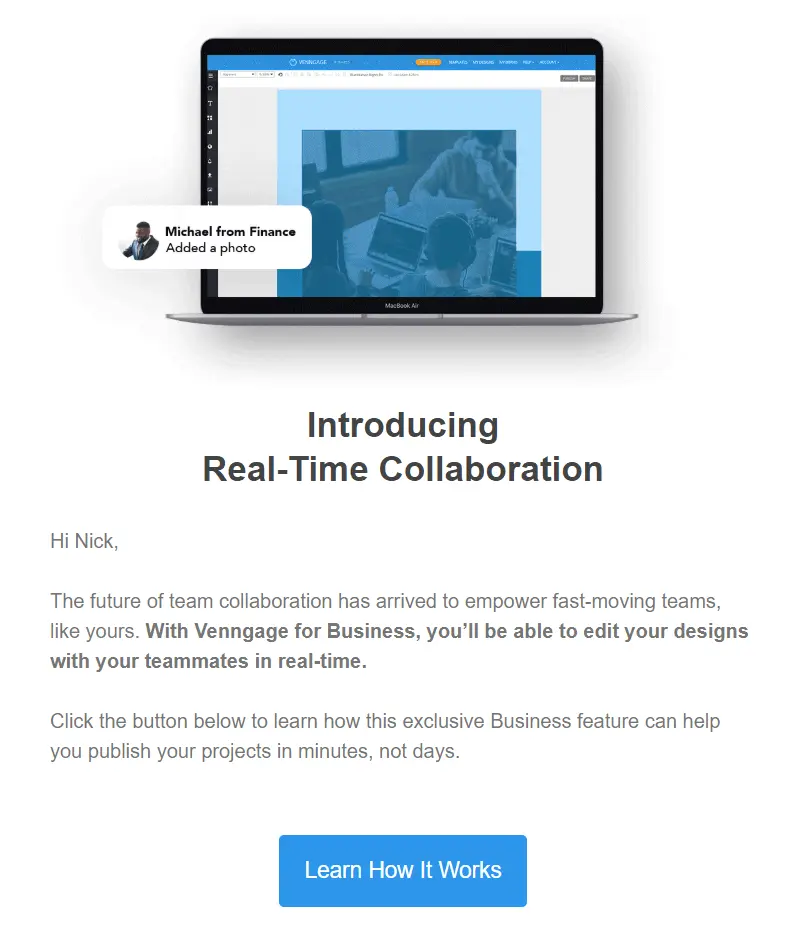 Be polite
Since your recipients are not able to see your face and emotions, they will judge you by your writing manner. Make sure your letter is written in a polite manner and never push on your recipients. Use a positive tone and do not forget writing "thank you", "please," thank you for understanding," and other polite phrases.
Be proactive
Writing a professional email, try to predict what a person behind a screen thinks. You should build your letter step by step, leading a person to the desired action. Insert questions and answers, discuss some points, agree with a reader. And never try to hide if there are some problems; be sincere writing an email.
Talk about your recipient
The popular mistake of many authors is to be so selfish that they do not take care of a reader. People love to talk about themselves, and they love reading about themselves even more. How to write emails that work? Just speak about your addressee, their benefits or interests, or simply describe a problem and then solve it.
Pay attention to words
Business email writing requires some style and approach, definitely. But are you thinking about words that you use? Try to avoid anything that underlines your uncertainty (like probably, maybe, I guess). Do not overdo with "I" and "me", use positive words, be simple, polite, and welcoming.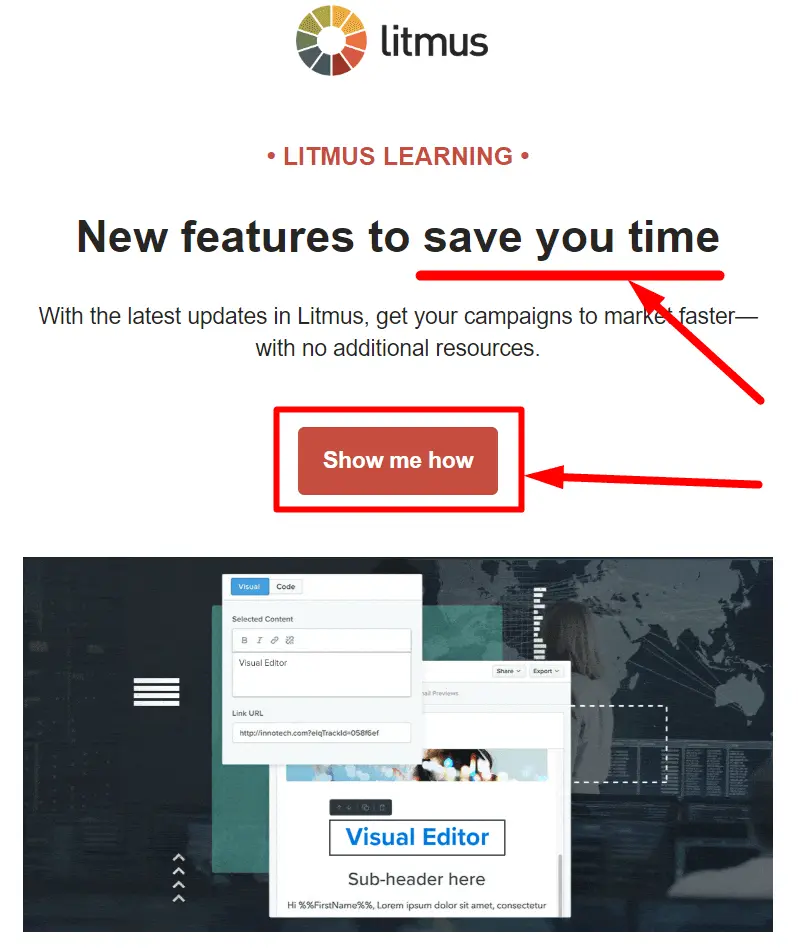 Proofread your letter
Before clicking the "Send" button, do not forget to proofread and edit the email. A letter with spelling mistakes and misprints will unlikely make a good impression on your business partners or customers. So, no matter how busy you are, double-check your letter and make sure it contains no grammar, spelling, and punctuation mistakes.
Finish with the call-to-action
You probably have some aim when you write an email. What is it? If you understand the goal clearly, you should finish your letter with an appeal to it. Writing a professional email, ask a reader to perform some action, and a probability of getting feedback will grow. Your call-to-action should be your last sentence, foolproof, and without options to choose between. Just "call me", "reply by tomorrow", "go to a website". Whatever you need.
End your email with a signature block
Signature is a logical ending of any letter and also your last chance to make your email exceptional. An email signature should contain your personal and contact information. It can also include information about your business or products you offer. By creating an email signature once, you can use it for as long as it suits your needs.
With Newoldstamp you can create your personal email signature with a call-to-action button or banner. Our easy-to-use email signature editor allows generating professionally-looking email signatures for personal and corporate needs.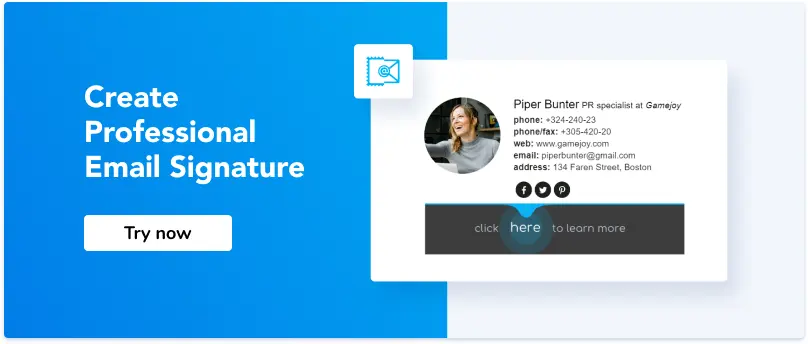 Conclusion
Business emails are a little different from face-to-face communication. Respecting the interlocutor's time, talking straight-to-the-point, and getting as much value from it as possible. These basic rules are true both for online and offline communication. If you want to be the best though, just follow our simple advice above.