Basic Rules For Writing Effective Business Emails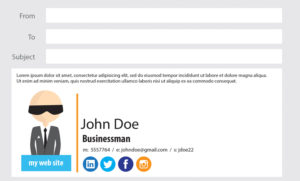 When writing business letters we usually want to achieve two goals: make people understand the message and force them to certain actions. To achieve these goals you need to stick to certain rules.
An email is an efficient tool for business communication, however, without using it properly, you won't be able to get the maximum of it. Here are a few basic rules for writing effective business letters.
Make use of a subject line. An email without a subject is just like a newspaper article without a headline. You will hardly pay attention to such an article. So, if you want to draw attention to your email, do not leave the subject line blank, as such letter may be simply neglected or rejected as spam. The subject should be brief but informative enough to give the reader an idea of what might be said in the letter.
Start your email with a greeting. Greeting in business letters should be formal and concise. Business emails do not always require addressing a person by name. Thus, you may begin a letter with traditional "Good afternoon," or "Greetings,". If you choose to address a person by name, you may start with "Dear Dr. X," or "Mrs X," etc.
Keep message informative and brief. Business letters should be informative and brief. Try to explicate the main message of the email using short sentences. Write interesting sentences and always stick to the point.
Be polite. Since your recipients are not able to see your face and emotions, they will judge you by your writing manner. Make sure your letter is written in a polite manner and never push on your recipients. Use positive tone and do not forget writing "thank you", "please," thank you for understanding" and other polite phrases.
Proofread your letter. Before clicking the "send" button, do not forget to proofread and edit the email. A letter with spelling mistakes and misprints will unlikely make a good impression on your business partners or customers. So, no matter how busy you are, double-check your letter and make sure it contains no grammar, spelling and punctuation mistakes.
End your letter with a signature block. Signature is a logical ending of any letter and also your last chance to make your email exceptional. An email signature should contain your personal and contact information. It can also include information about your business or products you offer. By creating an email signature once, you can use it for as long as it suits your needs.
With NEWOLDSTAMP you can create your personal email signature. Our easy-to-use email signature editor allows generating professionally-looking email signatures for personal and corporate needs.