How to Write an Email Signature, Email Footer Templates
How to Make a Footer for Your Email
Your business communication with partners, investors, and clients, as well as your colleagues, defines the success of your business, its brand, and its popularity. Emails play an essential part in this communication. It often takes years to master the art of writing business emails, but it's vital that you make a good start by paying attention to the structure of your email and its key elements.
While a subject line is crucial in getting recipients' attention to your message, the message itself and a business email footer are no less important here. All in all, no matter how flawless your subject line is, all it does is getting the letter opened. The desired outcome often depends on the signature footer that works as a business card.
What is an email footer and why it's so important
So what is an email footer? We are talking here about the part of your email which comes after a closure part ("Best regards" and the like).
Basically, it is your email signature. Sometimes, a mail footer consists of a signature and a disclaimer and/or confidentiality statement, in case the latter is required. What you have in your email signature footer depends on what you plan to accomplish with it.
In this regard, there are three central purposes of an email footer.
First of all, it informs your addressee about you and the brand you represent.

Secondly, as an email footer is the last thing your recipient sees when reading your message, it can leave an impression. It makes your footer a branding tool.

Thirdly, it facilitates interaction with your brand. By including contact information, CTAs, or links, you move the conversation to other channels where they engage with your business by following it on social, reading your articles, attending your events, or trying out your products.
To make the email signature work for you in all these ways, you need to make sure you execute it properly. In the current article, we'll view the fundamental elements of a good email footer, provide you with the main tips on creating an email footer that works, and give examples of the best email footers.
Basic elements of the good email footer
So, how to write an email footer and create it using an email signature generator? To answer this question, let's see which elements constitute good email footers.
The first and the most important element of any email signature is your name. Any professional email footer should list both your first and last names. Do not use alternative forms of your name and be consistent across your online profiles: make sure the name in your mail signature matches your name on your website and LinkedIn profile.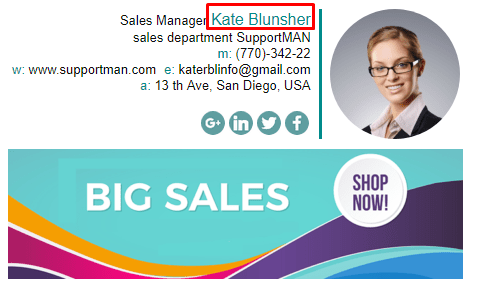 Unless your brand is you, including the name of the company you represent is a must. Always write the company name correctly: pay attention to uppercase and lowercase letters, or use camelcase where necessary. Follow the company name by the company's website URL. It will spare your recipient the need to google it.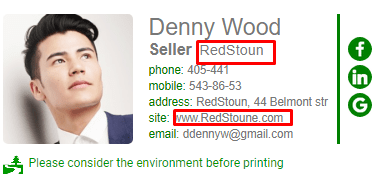 Contact details for your signature footer
List all the contact details you find relevant. Include your phone number, Skype name, email address, or your company's address. Specify an international prefix for the phone number. You might interact with people from all over the world, so make sure no misunderstanding occurs when people try to call you.


Add social icons to your email footer
It is a good practice to link to social accounts in the footer of the email, especially when they are a part of your business brand. Do not showcase social profiles that you don't want to be public. Another thing to keep in mind. Rather than having full URLs, use social icons. They are recognizable and take much less space.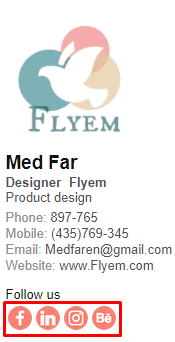 Add your photo or logo to the business email footer
Adding a photo will make you recognizable. Moreover, once your recipients have seen your face, they will picture you as a real person, not just a virtual entity. Pick a small-sized headshot in good quality and make it a part of your business email signature.
An important note: Instead of attaching images, upload them to your server and use HTML to display them in your emails. It will save your recipients from the need to store your imagery on their email servers.

Created by NEWOLDSTAMP free email signature generator
Add a disclaimer (optional)
In some countries, all business communication emails must have a disclaimer in the company email footer. Check with your legal advisor if you need to add it to every email. If a disclaimer is not required, craft a footer without it, as it will only take space. The same applies to a confidentiality statement.

Click here to create an email footer for your business or company
Main tips to create good email footers
How do you create an email footer that is effective? See our several tips which we've collected from our experience. You can find more information on this on our blog.
Be careful with images in your email footer design
It is recommended that you have an image in your email signature. It can be either a photo of you or your company logo, whichever meets your business or marketing needs best. Pay good attention to the quality of your media. Also, do not include images as attachments. It's better to store them on your server and provide them in your signature as HTML. Bear in mind that spacious emails are more likely to end up in a Spam folder.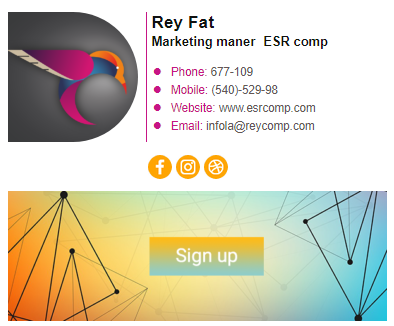 Remember you have limited space
Do not make your footer too large. Allow for as much information as it is necessary, but withhold anything that is excessive. A proper email signature is up to 5 lines. If you have too long a signature consider deleting elements that might be unnecessary, like an additional email address. More than that will probably only distract your recipient. On the other hand, do not make the email footer too condensed — use white space. It will increase the readability of your signature.
Add a CTA to your email footer
To crystallize your email footer message, include a clear call to action. By adding a CTA in your email footer text, you are turning it into a powerful marketing tool. The best email signatures will encourage your addressee to read your latest blog post, attend your event, get a free trial of your product, or download your ebook. You can also choose between a text CTA and a banner.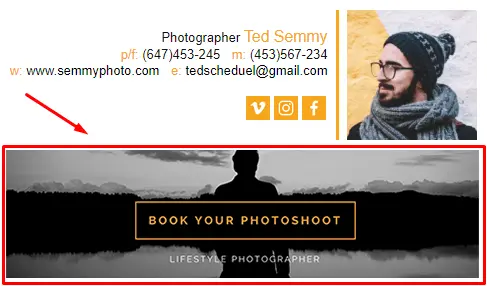 Create a mobile version of your company email footer
According to Litmus, 56% of recipients opened their emails on mobile phones in 2016. This figure grew even more last year. This is precisely why you need to make sure your signature is mobile-compatible. Always imagine how your email footer design will look on a smartphone: Is it compact enough? Is it readable? Can you see all the social icons well? Is it easy to tap on each link?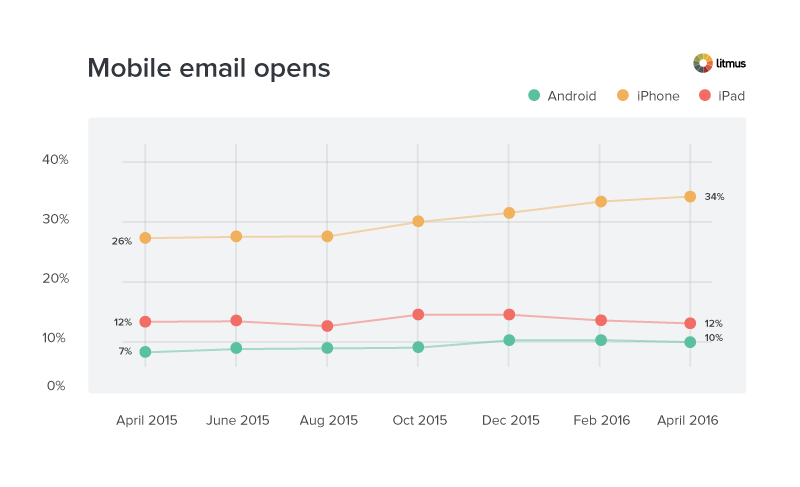 Test how it looks in other mail clients and devices
Speaking of devices, check your footers on all of them. Send a test email and open it on every device you can find laptops, tablets, smartphones. See how they look on Windows, Mac OS, Linux, iOS, Android email clients. Check the signature in both desktop and web email clients, in every major browser. Make sure it looks professional and impeccable.
Best examples of email footers
What do the best email footer examples look like? Before we give you some good samples, let's see the main characteristics of an effective email footer template below.
They are concise and contain all the necessary contact information.

They have enough white space and are never cluttered.

They are visual and often include images.

They show a smart and balanced use of colors. It can encompass brand colors or feature a splash of one color.

Most of them have a flat design. It means that no 3D effects or complex textures are used.

They are written with readable (sans) fonts that are supported across different platforms.
And here are some HTML email footers that look great.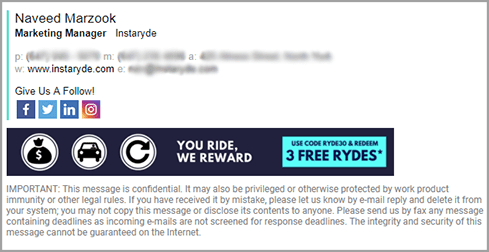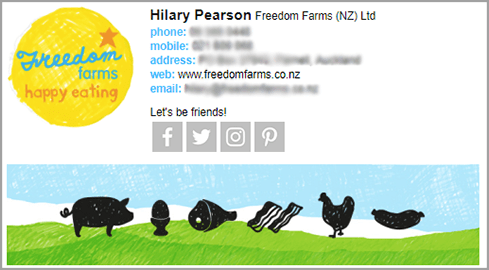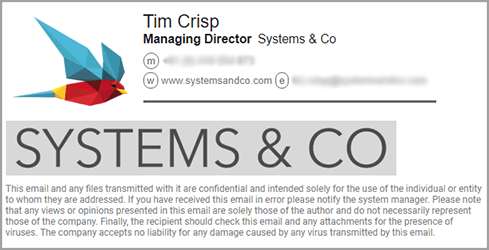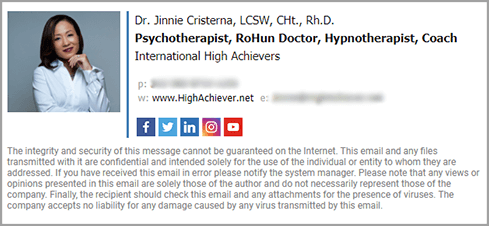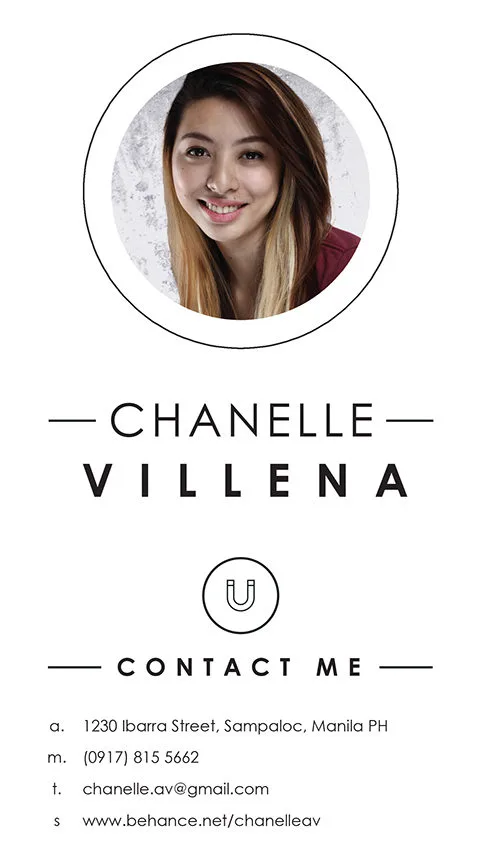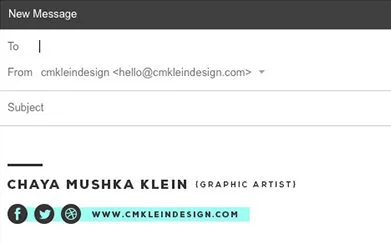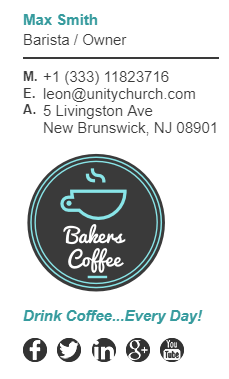 *** *** ***
An adequately crafted email footer can do wonders for your business. Not only does it inform people about your brand and drive attention to it, but it also makes your potential clients and partners engage with your company. You can use an email signature as one of the marketing tools for raising awareness and facilitating communication.
Make sure that your new email footer contains your name, business email address, and all the necessary contact information. Add a photo to make yourself recognizable and links to your social profiles so that people can connect with you on social. Use graphic elements, such as banners or logos, including CTAs to encourage recipients to some action. Most of the signature generators will provide you with all these options
What's even better, there is no need to be well-versed in HTML. You can always use an
email footer generator
to design yourself a great signature.