The Best Confirmation Email Templates
1. What is a confirmation email?
2. When do you need to send a confirmation email?
3. What is double opt-in?
4. Confirmation email format tips
5. Verification and confirmation email examples
Useful tools:
1. Newoldstamp - Email signature marketing
2. Mailchimp - Email builder and sender
3. Reply.io - Personal email outreach, calls, and tasks
4. RocketLink - Your branded short linker
5. Canva - Online tool for making designs
What is the first email a user receives once they decided to subscribe to your updates? Maybe it is a welcome email? Although the welcome email plays an essential role in building relations with your readers, it is not the first line of communication you have with them. Before you begin building your list and using email marketing at the fullest, you should create both your welcome and confirmation emails.
What is a confirmation email?
It is a message sent out to new subscribers in order to confirm that they want to join your email list or that they created an account successfully.
When do you need to send a confirmation email?
The main purpose of confirmation emails is to verify a decision your readers have already made or give introductions to the subscriber. You need to send this type of email when someone creates an account on your website or wants to receive updates from you.
What is double opt-in?
Today, it is important to ask new subscribers to go through a two-step process to sign up for your mailing list. After a person enters their email address in a signup field on your site, they receive a confirmation email that double-checks their desire to subscribe. This process is called a double opt-in. What good would that do? First of all, you will have a quality, cleaner list of subscribers, because only people who genuinely wanted to be on your list are signed up. Also, this will help to prevent confirmation emails from going to spam and result in higher conversions.
Confirmation email format tips
Everything seems simple, but did you know that about 20% of those who showed interest in your updates, won't become your subscribers? They will not complete the final confirmation email step because they either didn't understand how the verification process works or they accidentally deleted your email. Follow these eight steps to make the subscription confirmation email template personal, eye-catching, and easy-to-understand.
Step #1: Write a descriptive subject line
Of course, the subject line has always been an email essential. Unlike any promotional offers, your confirmation email subject line should be simple and to-the-point. Clearly describe what new customers will find inside your email, for example, "Please confirm your subscription."
Step #2: Add an eye-catching CTA button
The button should contain a clear descriptive text and be large enough to catch the reader's attention in the confirmation email. Select the color that matches your logo to make your email more harmonious and pleasing to an eye. A button that says "Confirm" wouldn't necessarily make it immediately clear about what the recipient's action means. Try something like: "Yes, subscribe me to your updates." If you prefer using links or have no option to add a CTA, you can choose to link the entire subscription confirmation sentence like "Click here to confirm your subscription to our list."
Step #3: Try to personalize account confirmation emails
Often, account confirmation email templates are too basic, have no images/logos, and lack personalization. All these elements are saved for the welcome email. In the era of the Internet, you probably receive tons of confirmation emails, and they all look the same. But we found some brands who know that although their primary goal is to make the reader click on the "Confirm" button, there is no second chance to make the first impression. Read further to see these awesome confirmation email examples.
Step #4: Make your confirmation email branded
Imagine the situation when Mark signed up to receive emails from you and then forgot about it. He hasn't been checking inbox for half a day. When Mark returned to the computer, he saw dozens of new messages including your email. If it doesn't remind him of your special company/product/services, he is likely to delete it immediately, because he forgot you. In such situations, your brand may help you out. So, make sure to add a header with your logo. You could also try customizing the HTML background color of your confirmation email to a brand color.
Step #5: Avoid distractions from a CTA
Well, you shouldn't be boring but keep in mind that your goal is to make recipients click a button in order to confirm their email addresses. So, it's better not to draw their attention to things like large images, too much text, too many links, too many colors, too little space between the CTA button and additional content, etc.
Step #6: Provide the user with a short explanation of what will happen after email confirmation
Let people know what will happen after they confirm their account or sign up for your updates. For example: "Once you validate your account, we will send you an email giving you full access to [your website name]."
Step #7: Add an email confirmation link
If you don't have an option to add a call to action button, include a link. Or you can include both a button and a secondary text link in case the CTA didn't work for the recipient.
Step #8: Use HTML and plain text copies of your letter
HTML or old school plain-text emails? Which is better? This topic has been widely debated for years. Some say an HTML confirmation email hurts your deliverability. Others say it doesn't. Long story short, an HTML email does not hurt your deliverability as long as it is properly coded and you have a plain-text version. So, spend a few extra minutes to create and optimize the plain-text version of your confirmation email template.
Step #9: Resend confirmation email in a few days
Sometimes things go wrong, whether you unclearly explained the confirmation process, or the user accidentally deleted your email. To reduce this problem, send an automated follow-up message and ask the user to confirm their subscription again.
Verification and confirmation email examples
As promised, we picked and analyzed a few inspiring confirmation emails from big and small businesses around the world. Enjoy.
Subscription confirmation email example #1: Tedium
This is an excellent confirmation email example from Tedium, a newsletter that covers obscure topics. I like that they used the image of a cute cat hiding behind the logo to make something fun. Humor commands attention. In general, the email is clear and to the point. The CTA button is clearly defined and matches their brand style.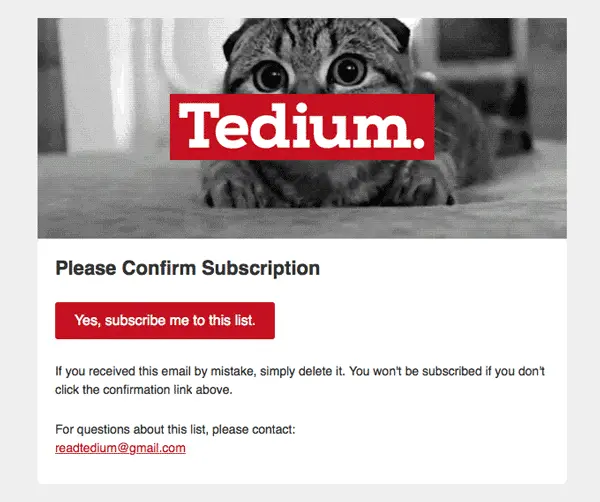 Subscription confirmation email example #2: Hailo
The confirmation email template from Hailo, a taxi management application developer, is quite short and simple. The small image doesn't distract recipients' attention from the CTA button which asks to verify the email address. Like with the example of Tedium, Hailo colored their call to action in orange to make the button match the logo. Also, they use the name of the recipient instead of the dry "dear user." Good jobHailo!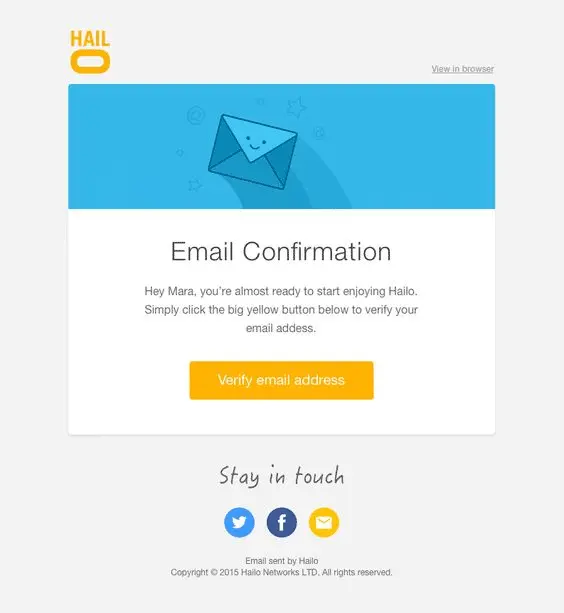 Subscription confirmation email example #3: Parabo
Once you go to Parabo's website, a print service in San Francisco, you'll see their brand color is pitchy pink. They used it as a background, CTA text, and link color in their verification email so that users could recognize them. They included a logo on the top of the message for the same purpose. And look at this funny greeting instead of saying "Please confirm your subscription." Isn't it just different?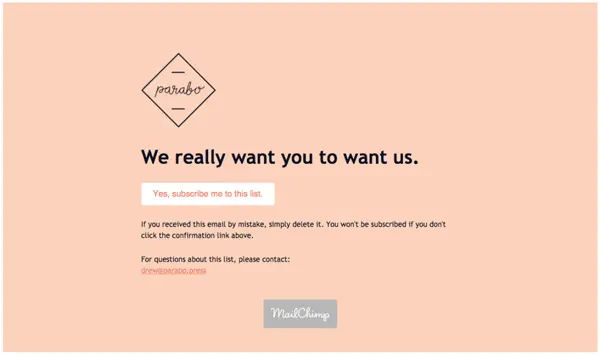 Subscription confirmation email example #4: IKEA
Do you like the IKEA's warm and personal verification email? Perhaps the image with people and a variety of dishes on the table is a little distracting, but the CTA button is bright and big enough to notice it and take action. The email's content explains why you are receiving this message and gives instructions on how not to miss any of IKEA's emails.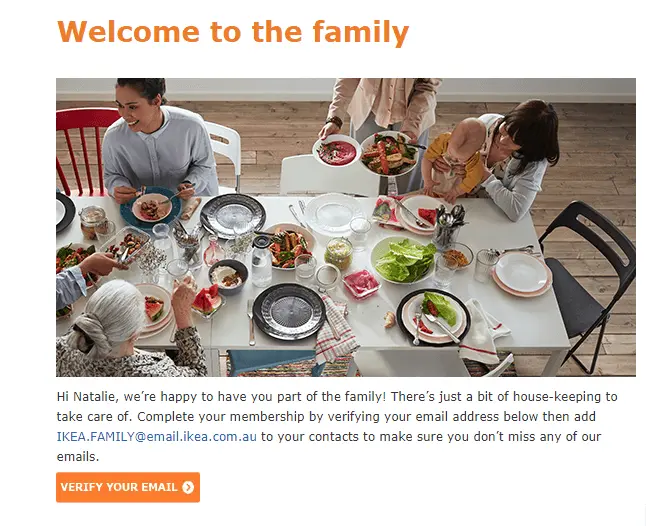 Subscription confirmation email example #5: Upwork
The subscription confirmation email from Upwork, a global platform for freelancers, is another great example we picked for you. Here's what's great about it:
They use the recipients' names;

They customized the link color to make it on-brand;

They included the logo.
Although Upwork has no CTA button in this email, they do have an eye-catching and easy-to-click link to confirm the email address.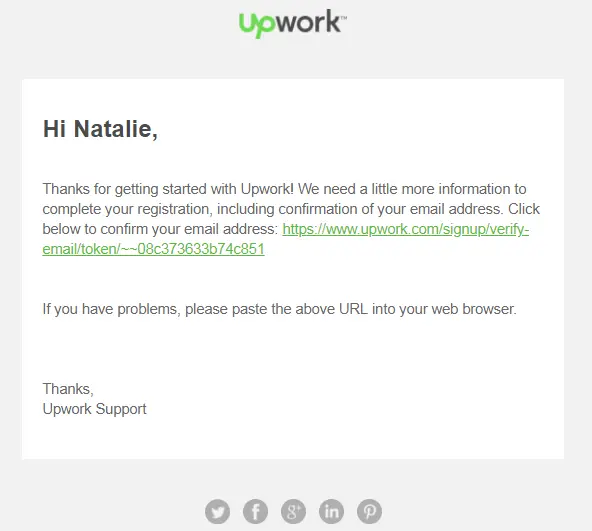 Conclusion
Well-thought subscription confirmation emails are your chance to make a strong first impression on your audience and increase further open rates. Use these simple email marketing tips to make it easy for subscribers to confirm their decision to join your list:
Add big, clearly defined, easy-to-click CTA button to your confirmation email template;

Do not use too many colors, too large images, and other distracting elements. Make the CTA the star of the show;

Personalize your message;

Make the email template branded (use brand colors, add logo);

Provide recipients with a brief explanation of what will happen after verification;

Use HTML and plain text copies;

Follow up.