The Best Digital Marketing Tools [Updated 2023]
#1 Website optimization
#2 Content creation
#3 Social media management
#4 Email marketing
#5 Project management & communication
The realm of digital marketing is changing dynamically, affecting the trends, technology, and techniques used by all marketers out there. In such a fast-paced environment, you simply have to stay thirsty for knowledge, remain up-to-date with the latest trends shared by experts on top marketing blogs, and keep up with the recent developments in the industry.
If you're looking for some inspiration for the new ones - here are the best digital marketing tools for 2023.
The best digital marketing tools for 2023 revealed
Digital marketers live and breathe with the tools of the trade. It's mostly because their day-to-day job revolves around a variety of tasks, and automating at least some of them saves a lot of time and effort in the long run.
Sounds good? Well, no matter if you're just starting your adventure with digital marketing tools, or you're looking for some new ones to make a change in 2023 - you should know that there are plenty of apps that are worth using. When facing such a variety, it might actually be difficult to create your own toolbox. Luckily, we've got your back.
To make it easier for you, we've put together a list of the best digital marketing tools for 2023. Sit back and enjoy the read.
#1 Website optimization
Here's the thing: there's not really a point in engaging in any digital marketing activities if your website is not good enough. Otherwise, you'll just be bringing some traffic and won't see any actual results coming from it.
That's precisely why you have to make sure your site is well-optimized and conversion-friendly. Especially since 90% of the search engine users haven't made their minds up about a brand before starting their research. That is why you might have some convincing to do if you want them to choose your business.
In order to turn your website into a powerful tool, you should definitely consider:
Optimising your website with Senuto.

It will equip you with the right tools to find any issues you might be dealing with in terms of SEO, and get to the bottom of them to rank higher in Google.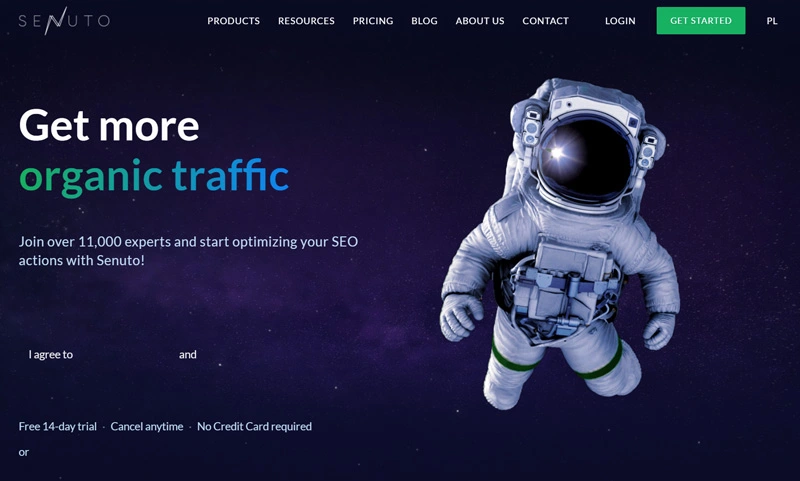 Displaying any kind of social proof on your website with ProveSource. Why would you? Because

90% of people

who recalled reading online reviews claimed that they influenced their buying decisions. Positive reviews definitely increase trust and encourage potential customers to take action.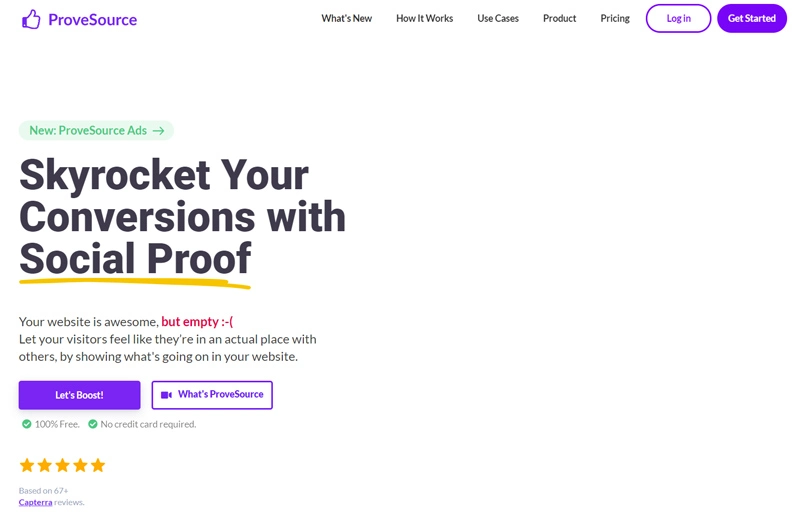 Creating a chatbot to engage your visitors with Chatbotize.

You can use chatboxes to start conversations and guide visitors through your website, as well as resolve all of their doubts once you're at it without much involvement from your sales & marketing teams.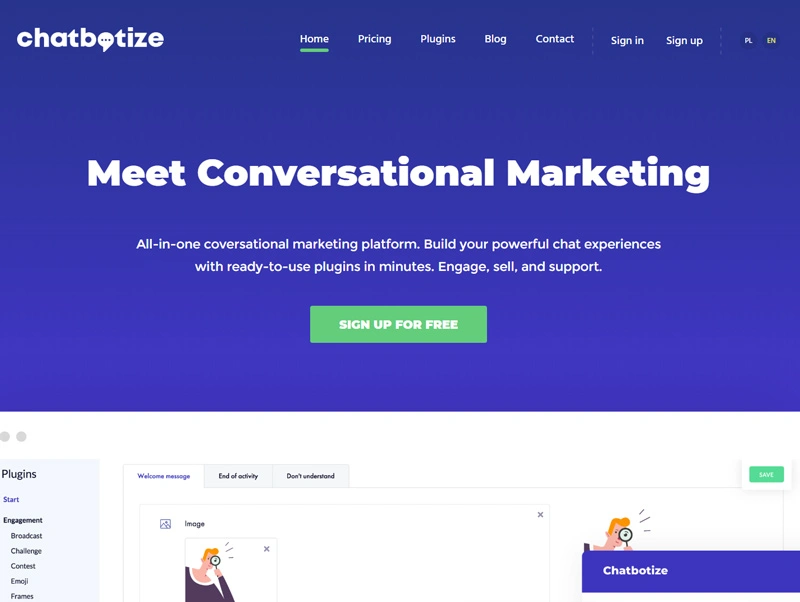 Giving your visitors an opportunity to schedule a meeting with Harmonizely. Calls, product demos, and meetings can work wonders in terms of convincing potential customers to buy from you (if done right, that is). Make it easier for your visitors to schedule one. Embed a dedicated form on your site and let them choose the most suitable time from the options available.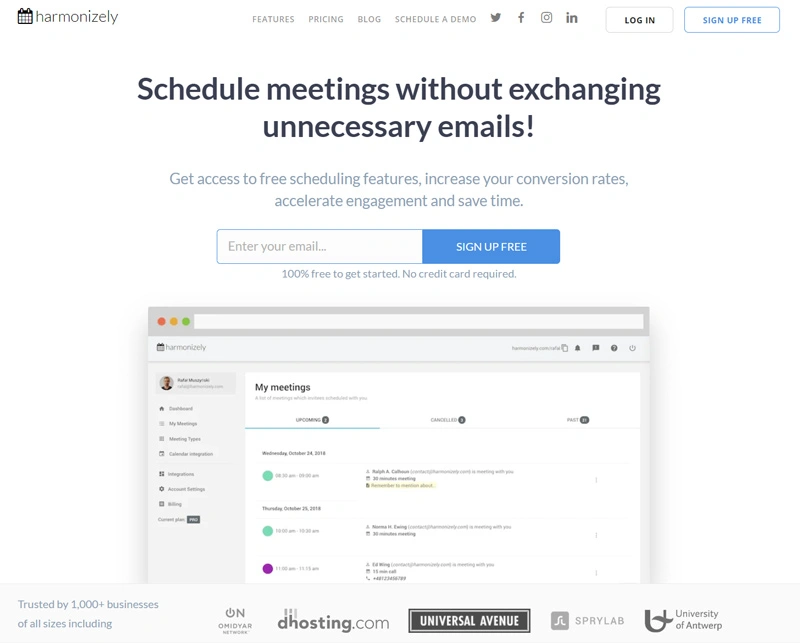 Double-checking the design of your website with LiveSession.

Don't just assume that all your visitors find your website intuitive. To check whether you designed it in a proper manner, you might want to record user sessions and analyze them carefully afterward.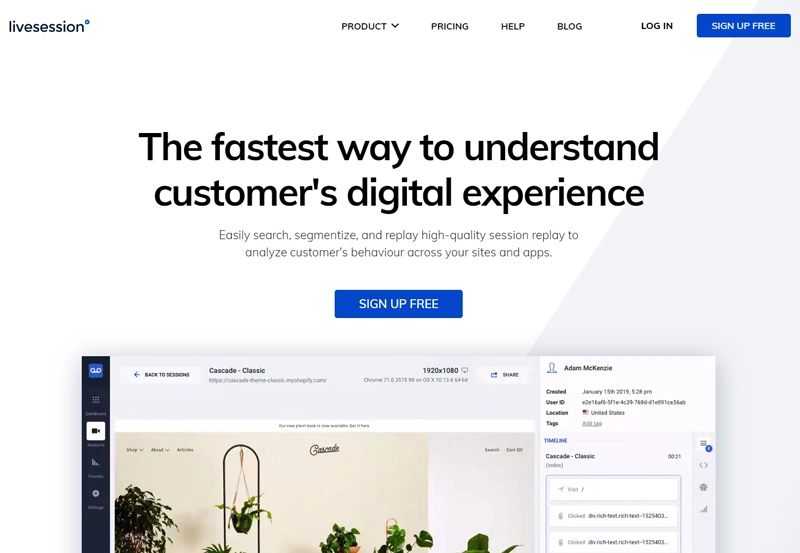 #2 Content creation
Not just the content on your website should be high-quality and well-optimized. In general, content marketing gets three times more leads than outbound marketing and costs 62% less. It should be a good enough reason to give it a try.
Basically, any piece of content you create has to be well-thought-out and then created properly. These tools are likely to help you with that:
Write mistakes-free copy with Grammarly.

This digital writing assistant is definitely a game-changer if you care about writing clear and effective content.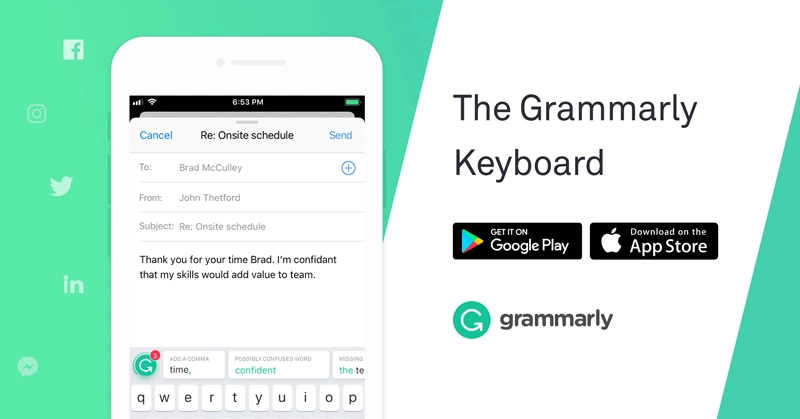 Create beautiful visuals with Crello.

From templates to custom elements - it has everything you need to prepare visuals, no matter their size and purpose. Fotor is another online service that offers lots of graphic design templates ranging from social media covers, posts, cards, banner ads, posters, and more.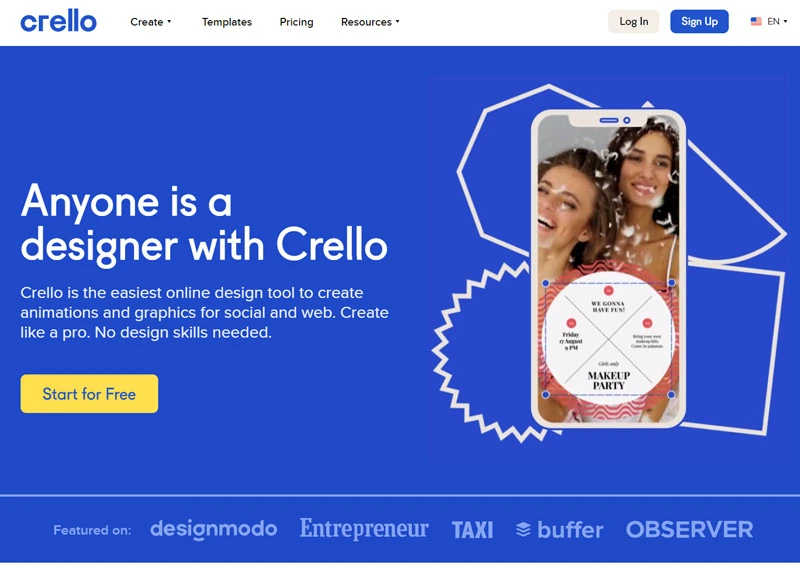 Personalize and create professional designs with Designcap. It is a fast, easy-to-use, and compelling graphic design application available online. Whatever you are a professional designer or amateur, you will be amazed by the exceptional ease of creating a fantastic infographic for a website article, YouTube banner, the menu for your restaurant, and any other photo graphics.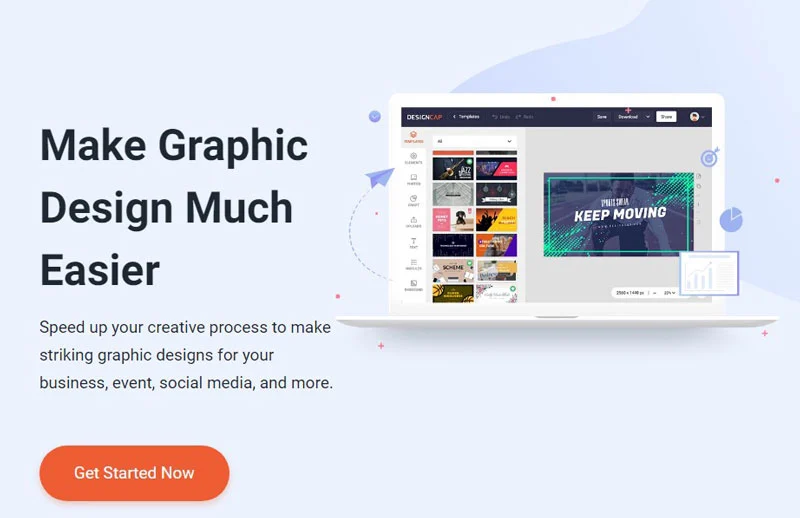 Design infographics with Venngage.

You might not know this yet, but infographics are said to actually allow companies to grow by

12% on average

. Start creating yours to find out for yourself.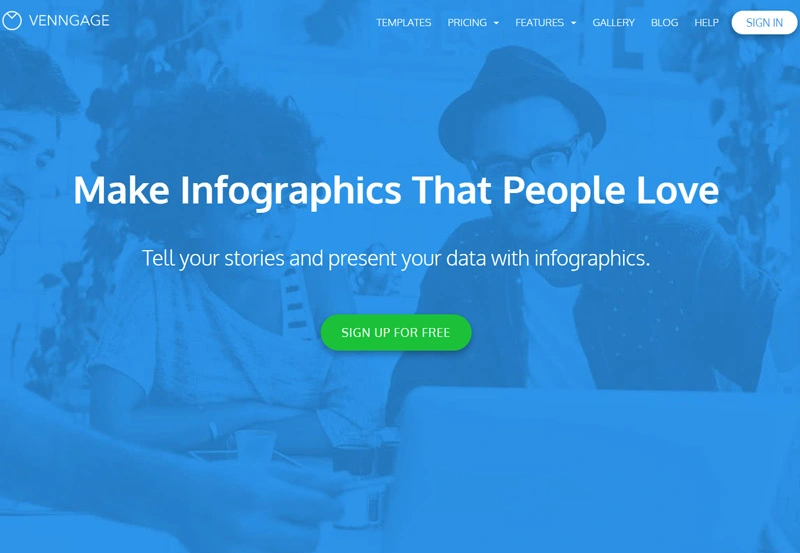 #3 Social media management
Rumour has it that 55% of buyers do research via social media. It might be one of the reasons why most businesses maintain between 4 and 10 social media profiles. The only issue here is that every social media management process is slightly different, plus every marketer is bound to use at least a few different tools at the same time.
This means that you should test out a variety of tools before you choose your own social media toolbox for the upcoming year. There's no single best tool that can fix all your problems, but having dedicated software to each of the main social media marketing tasks can definitely make a difference for all your efforts.
Plan and schedule your posts with Kontentino.

You will have all calendars, content, and visual assets in a dedicated place for each social media profile, perfectly organised.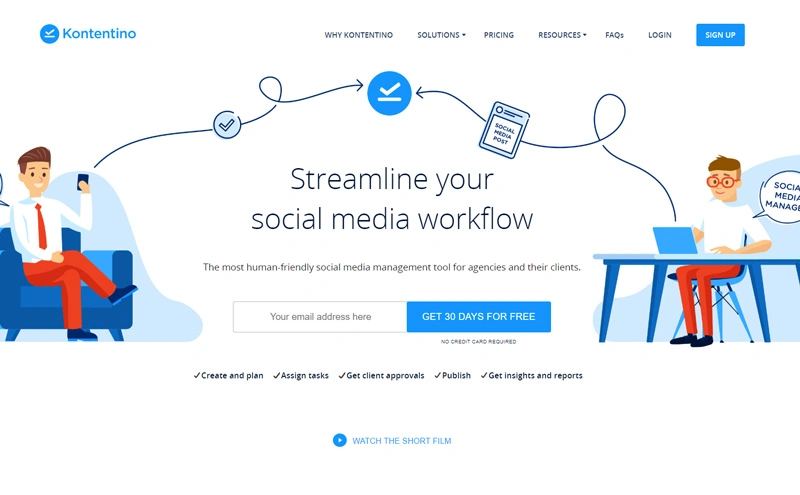 Manage your Facebook ads with Adzooma.

It analyses your accounts 24/7 and uses machine learning to improve the performance of your ads at all times.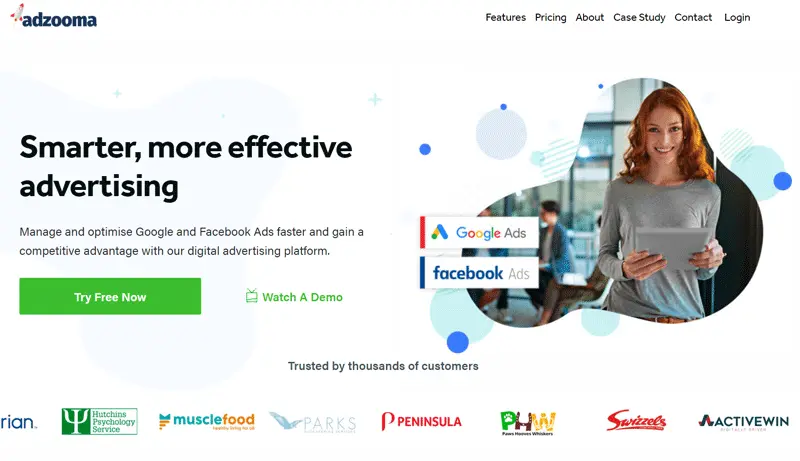 Shorten your links and add custom elements to them with RocketLink.

This tool actually gives you plenty of possibilities, including adding retargeting pixels and your own Call-to-Action to any branded links you share via social networks.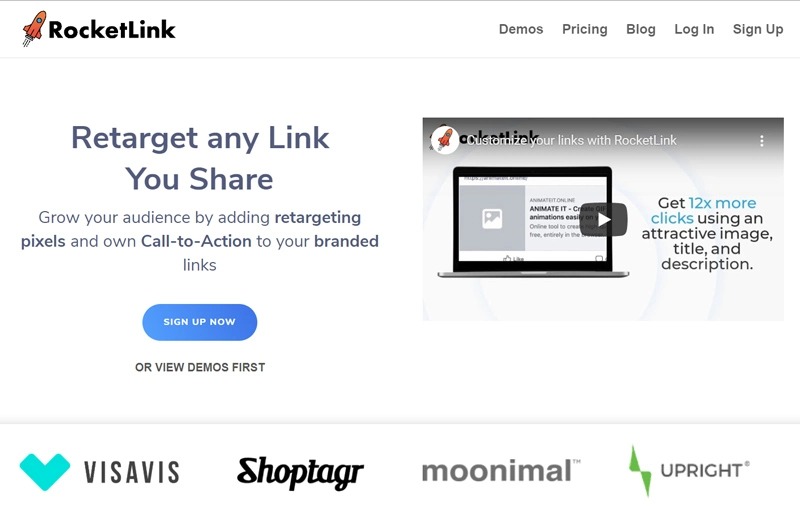 If you're looking for even more tools to test out, we recommend downloading a complete social media toolbox with a lot more examples to choose from.
Manage your content schedule with Postoplan
Creating a content plan is necessary for social media management, but it can take ages until you work it out. Postoplan is the tool that rids you of this turmoil. When you log in, you get access to the content calendar right away, and you can customize it any way you want. Postoplan also allows you to schedule posts and connect unlimited campaigns for free.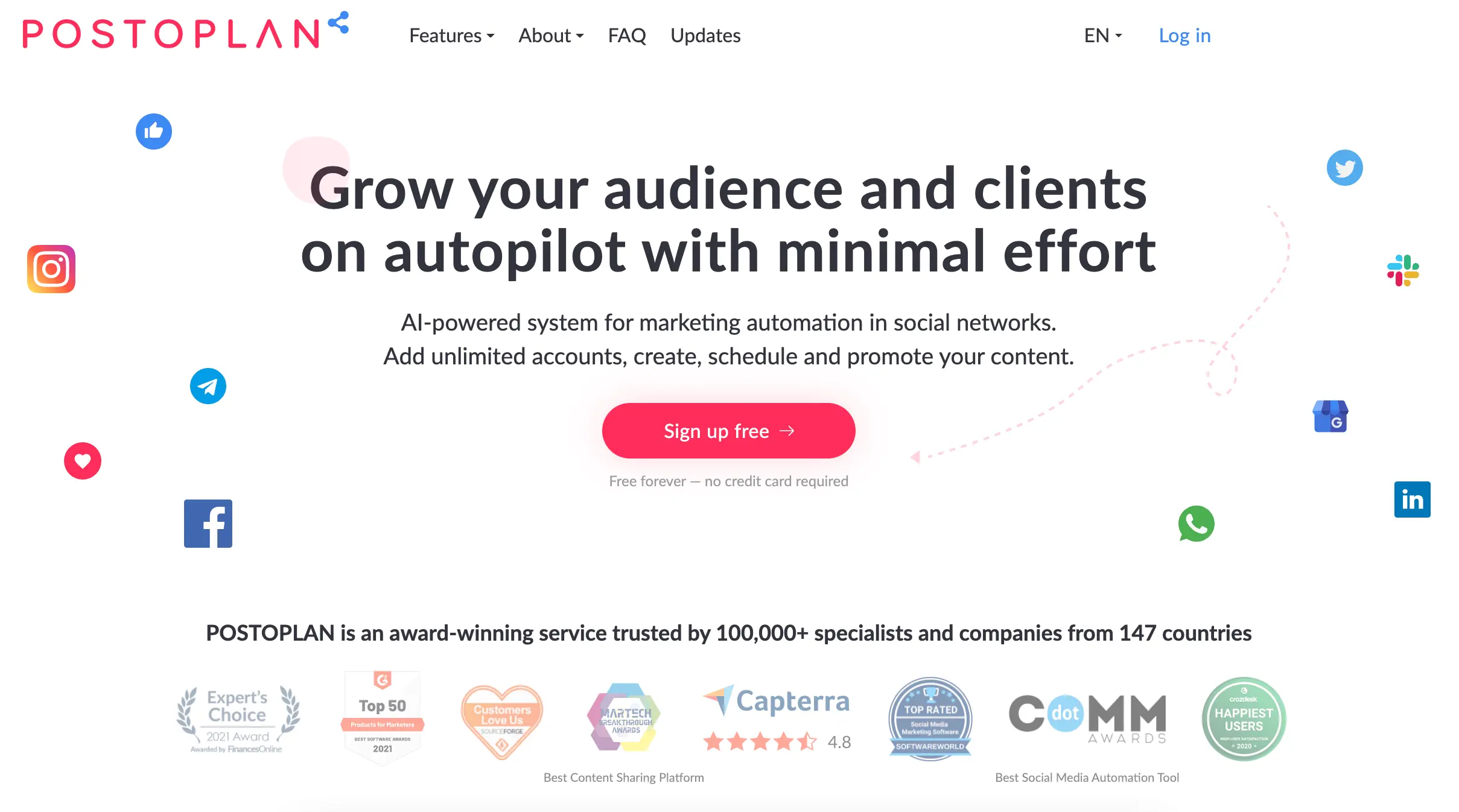 #4 Email marketing
Although email is one of the oldest forms of digital marketing on this list, it's still a powerful one. In fact, 79% of B2B marketers credit email as the most effective distribution channel for demand gen efforts. There are plenty of modern tools worth considering if you want to take advantage of email marketing, including:
Sending your email marketing campaigns in just a few clicks with lemlist. You can easily automate and personalize every email you send out, and then track the performance of your campaigns.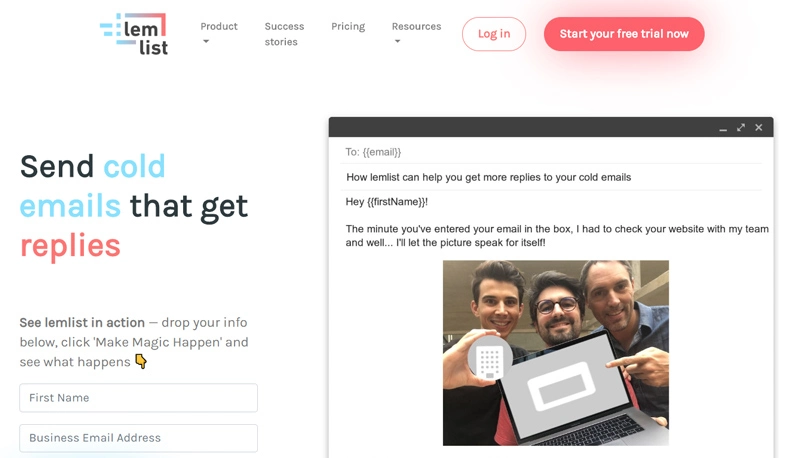 Taking your email signatures to a whole new level with Newoldstamp.

Thanks to this email signature generator, you can add some custom elements to it in order to ensure brand consistency and even boost conversions.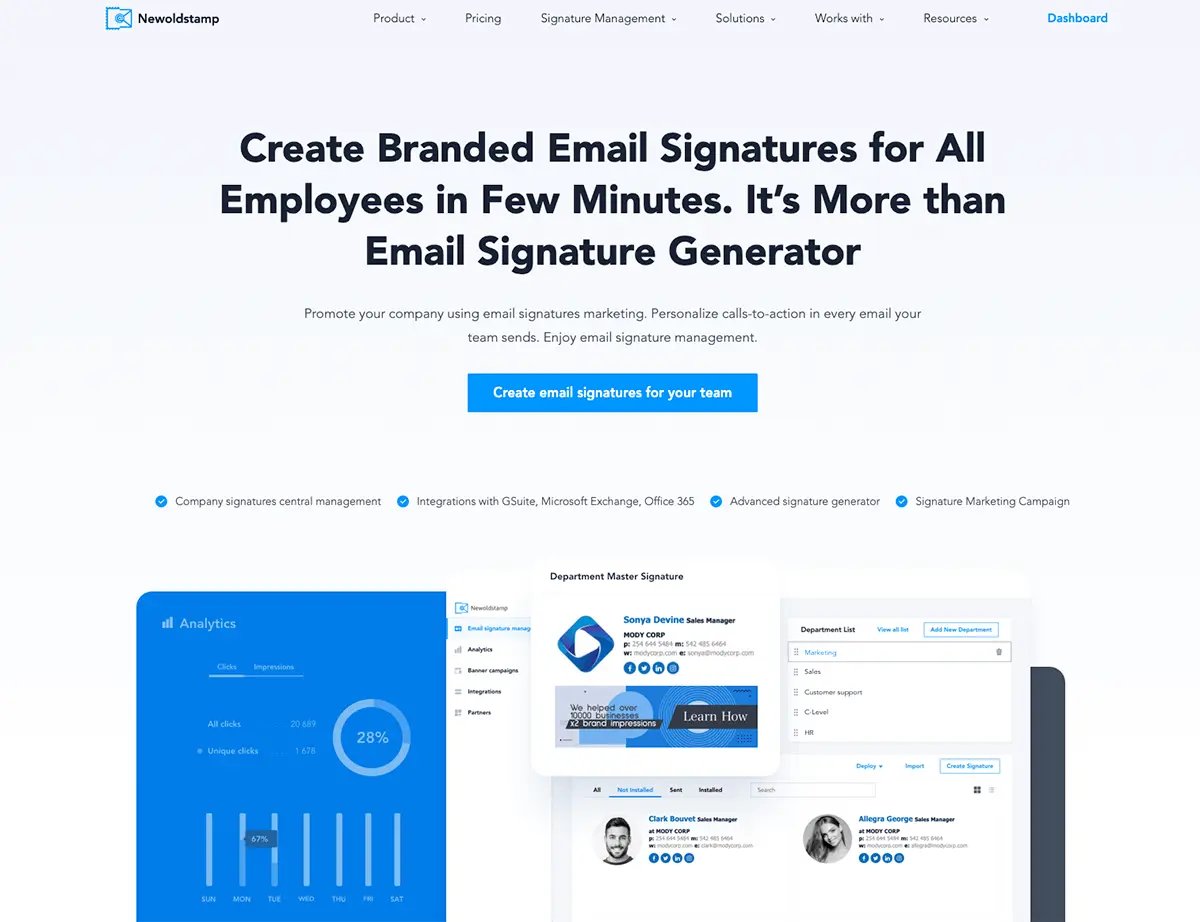 Automate your marketing and support communication tools with Gist. It is easy to use all-in-one software for live chat, email marketing automation, forms, knowledge base, and more for a complete 360° view of your contacts. It's complete lifecycle marketing software for those who sell online.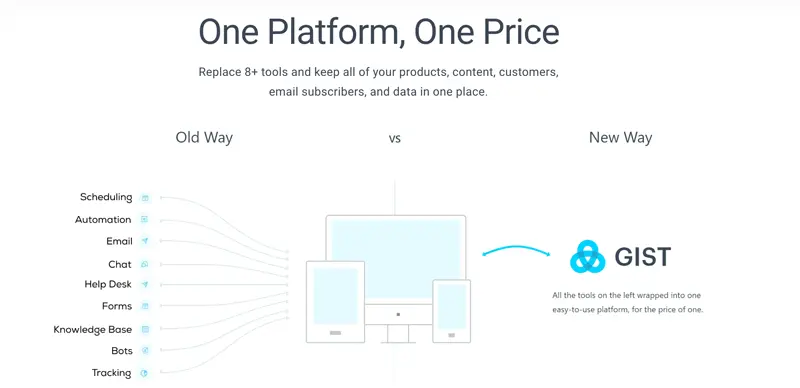 Sharing all your contacts with SCFG.

If you use Gmail to communicate with your team and your customers, this tool will allow you to share your contacts with whoever you want. It also keeps your address books safe by managing all permissions.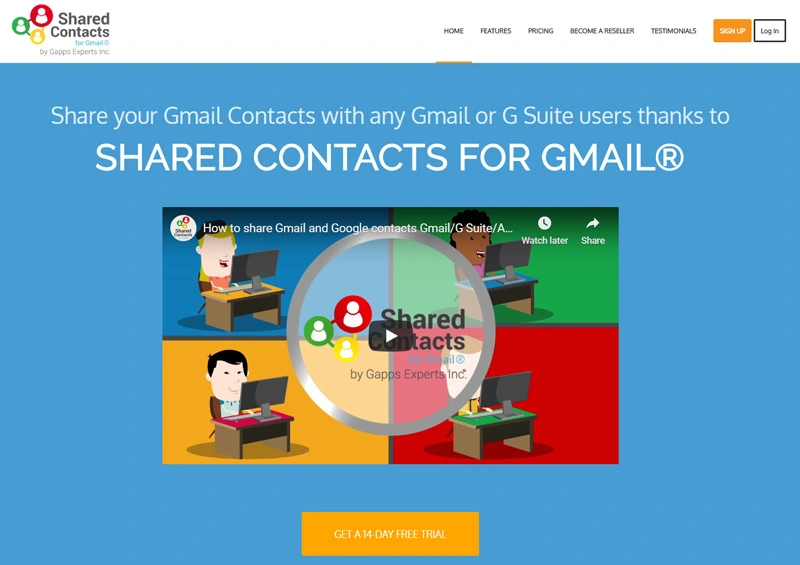 #5 Project management & communication
If you want your marketing team to be productive, you have to take care of internal communication first. A transparent work environment paired with a seamless flow of information are necessary in order for your marketing efforts to bring desired results.
There are a couple of tools that can help you with managing all your projects and staying in touch with your whole team:
Keep track of your projects with Stackfield.

It combines the benefits of Slack and Asana, providing you and your team with a lot of features. To name a few: you can upload and download relevant files and resources, collaborate on important documents with your whole team, and even create meetings which you can invite other team members to.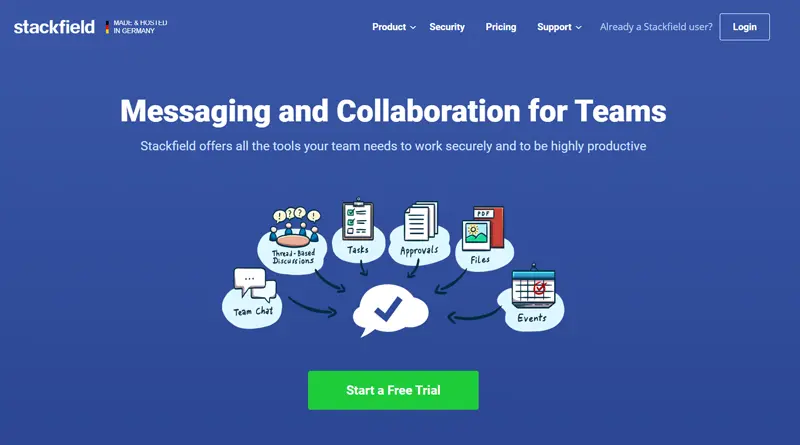 Offer phone-based support with CloudTalk.

If you make and receive a lot of calls, you can make it much easier with a business phone system. This way, you will be able to access caller data right away and analyse your calls to make the most of them.
Even though using such software doesn't ensure the success of every marketing project, it can easily affect the productiveness of your team, which is why you might want to consider implementing it in the first place.
Get ready for 2023 with the best digital marketing tools
There's no single best tool that would suit every digital marketing team but if you give enough of them a try, you're likely to build your own toolbox in no time. The results you can achieve this way are definitely worth the effort. Start testing out the best digital marketing tools now, and get your team ready to rock in 2023.