6 Reasons To Combine Email And SMS Marketing
3. More Personalized Marketing
5. Enhanced Customer Experience
Email and SMS marketing are powerful tools for engaging and nurturing prospects into buying customers. However, while both channels are considered adequate, they are mostly used one at a time.
Around 73% of marketers swear by email campaigns and would choose them over SMS marketing anytime. Additionally, 86% of customers say they would rather get a text from brands than emails or calls.
But here's the thing. Why choose to use just one marketing channel when you can combine both?
Don't let yourself get caught in between the email vs. SMS debate. Below are six compelling reasons to combine email and SMS marketing to turbocharge your business.
1. Increased Reach
Recent usage statistics show that about 59% of consumers have purchased due to a marketing email.
Meanwhile, 77% of consumers are likely to have a positive attitude toward a business that offers SMS marketing.
Bearing in mind that some customers may prefer email over SMS and vice versa, this marketing combo allows you to serve a broader range of customer preferences. As a result, you increase your reach across different demographics.
UberEATS has done well to combine both email marketing and SMS for increased reach.
See how UberEATS ran a promo via email: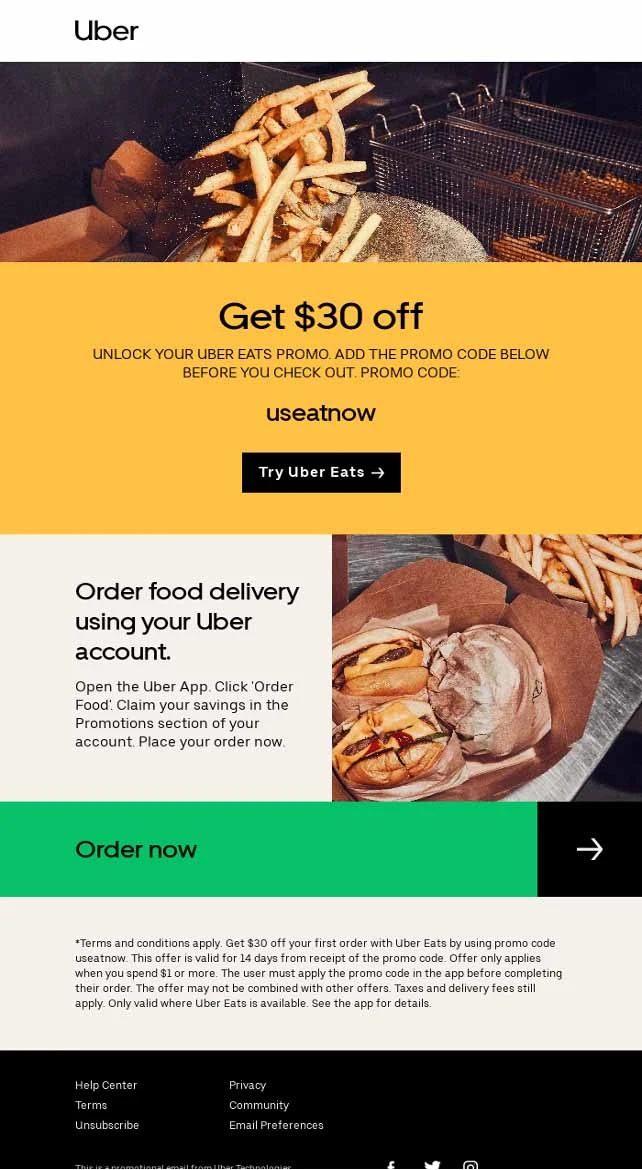 They also used SMS to send exclusive deals on food orders and deliveries.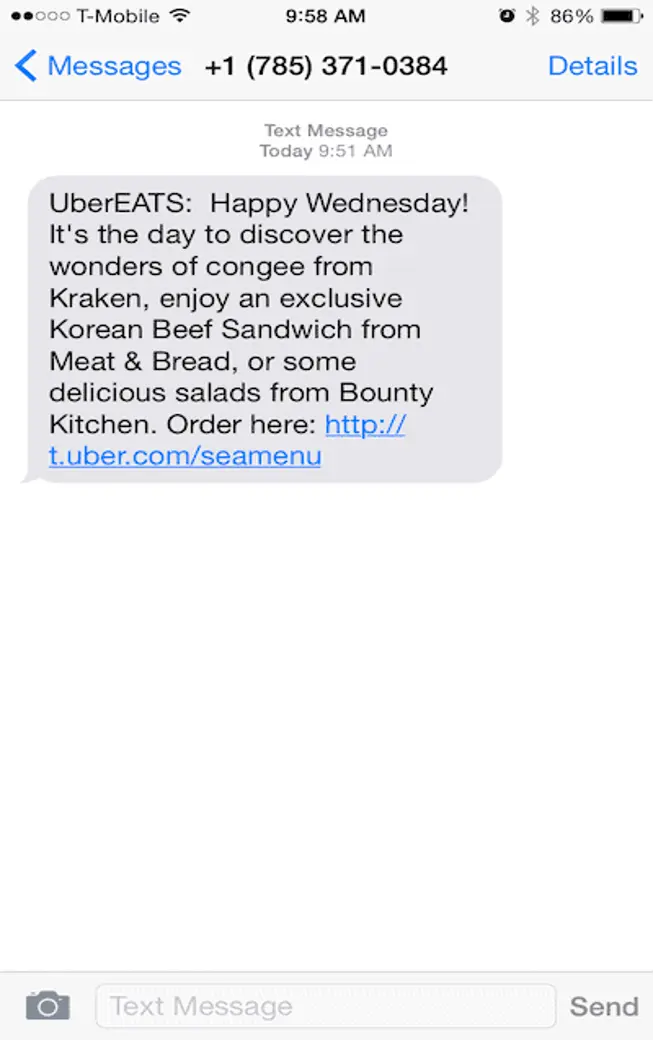 They aimed to reach both potential customers who check emails and those who don't typically check them.
To implement this strategy effectively, you should check your data first. You want to make sure customers use SMS and email for your designated functions in the first place.

2. Improve Engagement
The average email open rate for all industries is 21.33%. On the other hand, SMS has an open rate of 98%, making it a highly effective way to grab your audience's attention. Based on these statistics, you can increase engagement if you combine the two types of marketing.
But you still need to approach this strategically. The key lies in understanding what content resonates best with your target audience. You also need to leverage different strategies for increasing engagement through email and SMS. Here are some tips to get you started:
Optimize your emails and SMS messaging with eye-catching subject lines and clear call-to-actions.
Timing is everything. For example, send an SMS reminder a few hours/days before a discount sale. This will encourage people to take your desired action.
Use dynamic and interactive content such as GIFs, polls, and quizzes in your messaging campaign to increase engagement levels. Doordash shows you how to engage customers with dynamic content in this email: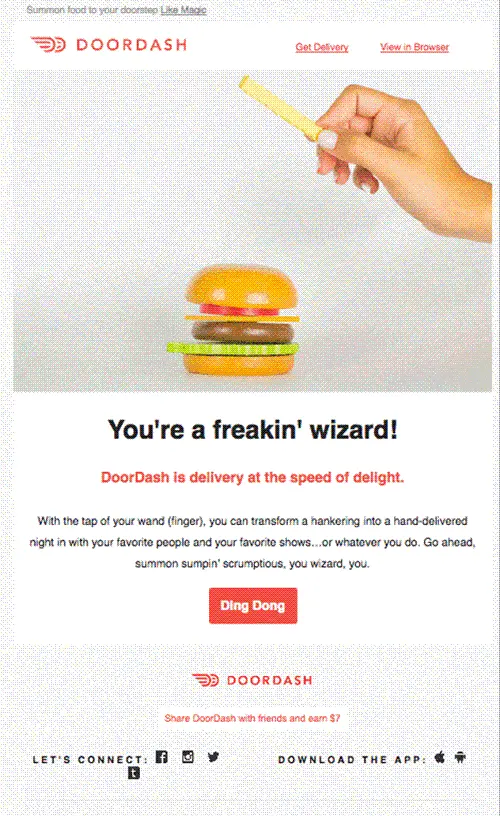 Additionally, you can offer incentives like discounts or freebies when customers take your desired action on any of the platforms.
Don't forget to include your SMS and email signatures. SimpleTexting allows you to create an SMS signature using templates. For email, use Newoldstamp. The tool can help you craft a beautiful signature with different font colors and text structures.
With these signatures, you won't just increase brand awareness and recognition. You'll also make your content visually appealing, which, in turn, will prompt your SMS recipients and email subscribers to engage with it. When you implement strategies to increase your engagement rate for email and SMS separately, you boost your overall engagement rate for email and SMS marketing combined.
Sephora's omnichannel marketing strategy also involves combining email and text messaging in marketing campaigns to improve engagement. But the brand uses each platform in different ways.
Sephora uses email messages to remind the customer about restocking their last order. They also recommend products customers might like: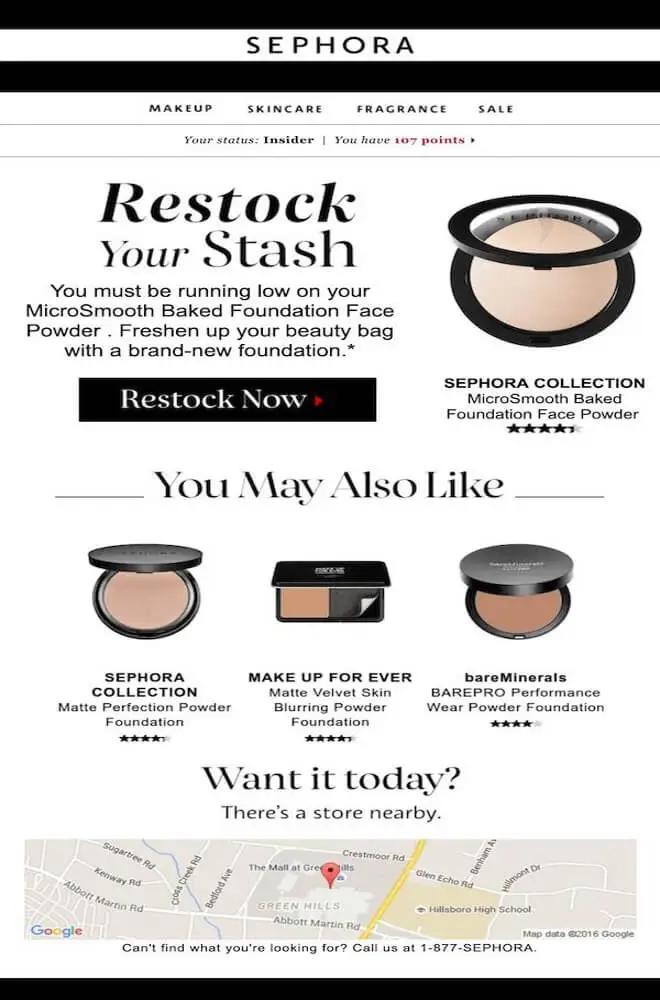 Meanwhile, the brand uses SMS to remind customers about their Sephora appointments. See the image below.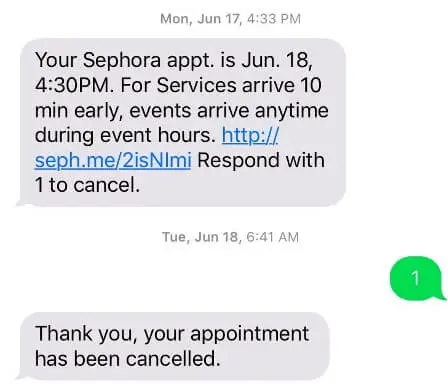 Sephora's strategy is simple: The brand meets customers on the channel that's the most convenient for them. Why? So customers can engage with the content and take the desired action.
If customers decide to buy, they can just click on an email link and go to the online store. The Sephora appointment reminders are sent via SMS messages. So, if customers want to cancel minutes before the appointment, they can easily do so (see our screenshot above).
Just a couple of other things before you implement this strategy for engagement. Right after a customer gives you their email verify it before including it in your email list. Make sure the phone numbers you have in your SMS list are updated, too. You wouldn't want your messages to fall into the wrong hands.

While at it, don't forget to look out for SMS and email marketing mistakes. For instance, don't send a text to your customer who never gave their phone number and opted to receive your messages. Don't forget to optimize emails for mobile phones.

3. More Personalized Marketing
Personalization could be as simple as addressing your customers by their first names in your email or SMS campaigns. Recommending products and services based on customers' previous purchases is also a form of personalization. Personalization is simply crafting targeted messages that resonate with your audience's interests and preferences.
With personalized marketing, you can make your customers feel valued and appreciated. You get your customers' attention.
Several companies already use an email and SMS strategy combined in their campaigns for personalization. Take, for instance, Yelp.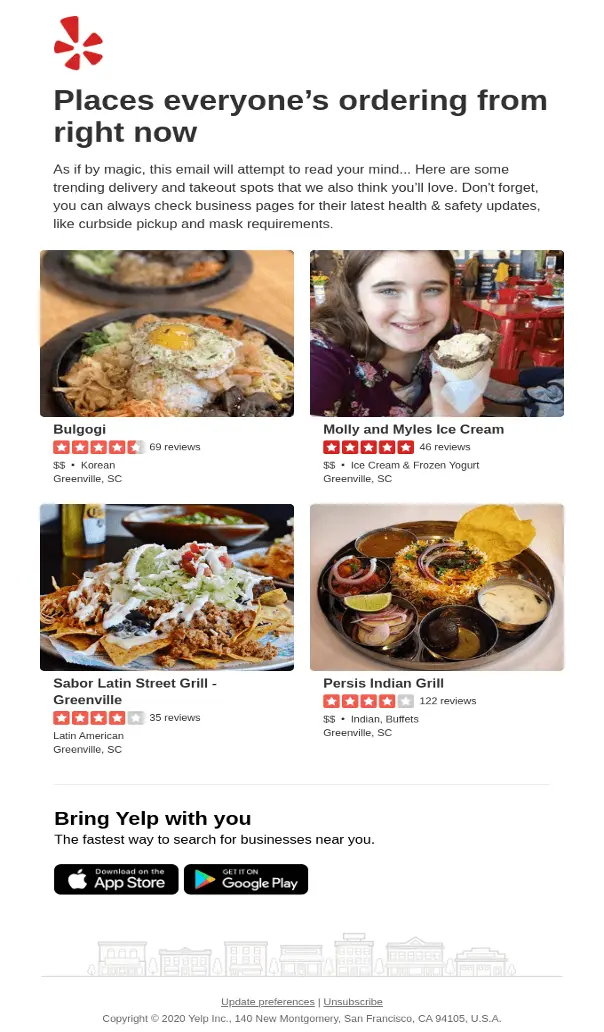 See how Yelp leveraged customer data (location and order history to create personalized restaurant recommendations.
But it didn't stop there. It took this personalization to the next level by sending SMS to specific users who have booked their reservations. The messages are sent at the perfect time, too, minutes before the scheduled meal.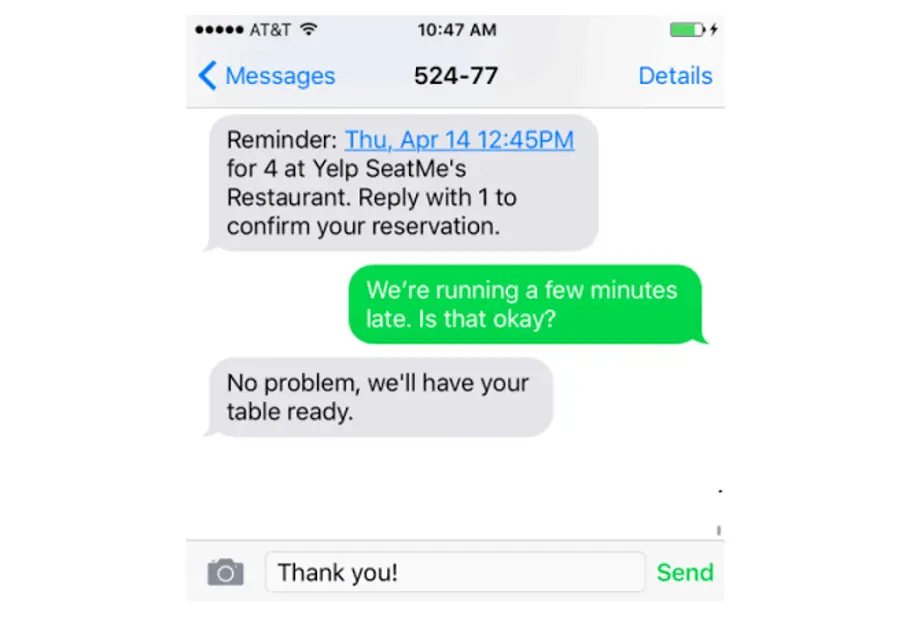 This is a great strategy since the more personalized your messaging is, the more likely your recipients will take action. Around 72% of consumers only engage with brands if the experience is personalized.
4. Better ROI
Email marketing is a powerful tool for nurturing leads, building relationships, and crafting more elaborate messaging. Meanwhile, SMS marketing offers a more immediate and personal touch that can grab customers' attention and increase engagement.
Email offers cheaper messaging with an average ROI of $42 for every dollar spent. On the other hand, SMS is more expensive than email but has a higher ROI, an average of $68 for every dollar spent.
Combining both channels allows you to create a more effective communication strategy. The result is that you can achieve a better ROI in your marketing campaigns.
For instance, you can send your customers personalized discount codes for a flash sale through email, then use SMS to remind them to take action before the end of the sale. This will create a sense of urgency and increase their chances of jumping on the offer. The result is that you boost sales and revenue.
AirBnB is an example of a brand that combines email and SMS marketing to boost its revenues. They use emails to send promotional deals like discounts and special offers to entice users.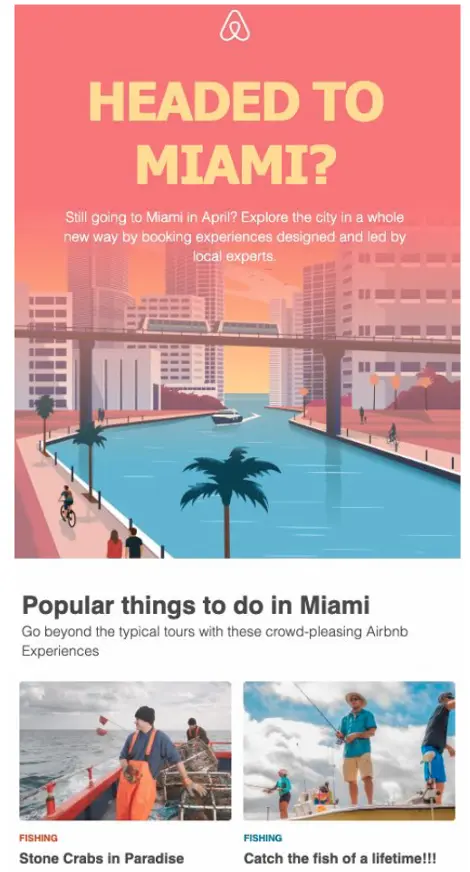 Image Source
After a user has booked a trip, Airbnb allows the host and the guest to communicate via SMS. This allows for a more seamless communication that, in turn, delights the customer. The result is that they push through with the booking, resulting in profit for AirBnB. Because the customer was satisfied with the Airbnb experience, the customer also uses the app for future bookings.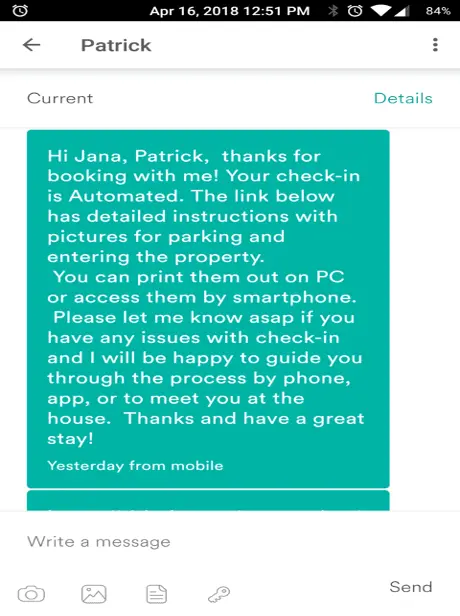 Image Source
Overall, using SMS and emails simultaneously offers cost-effective solutions resulting in higher returns on investment.
5. Enhanced Customer Experience
Using email and SMS marketing combined allows for a more seamless customer experience. Here's a scenario:
A brand allows customers to make purchases via email. Then, the customer can track their orders through SMS links. The brand also leverages the two channels to send order receipts or follow up with customers after they complete a purchase.
See how the brand makes the buying experience hassle-free for the customer.
This is exactly the strategy Instacart implements. It sends customers confirmation emails after a purchase.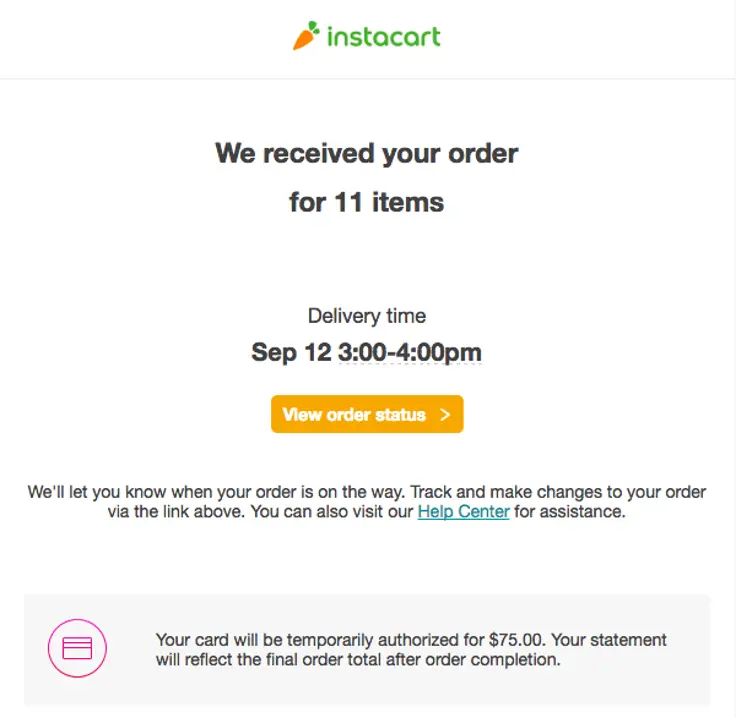 Instacart also uses SMS to update customers on their orders and estimated delivery times.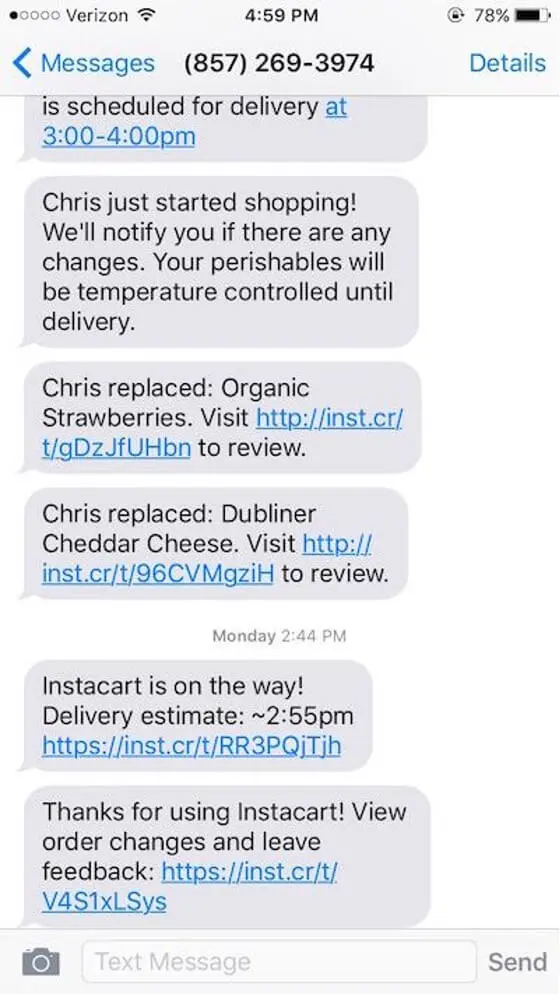 You can develop your own combined SMS and email marketing strategy to enhance the customer experience. The key is to determine your customer touchpoints. You can survey your customers for this or look at your existing data. Which platforms do your customers like to use to perform specific actions?
So, SMS might not be the best vehicle to send product recommendations if you see your customers don't usually make purchases via text. You might be better off sending emails for these instead. Then just use SMS to remind potential customers about the purchases they have yet to complete.
6. Greater Flexibility
SMS allows you to quickly communicate time-sensitive information to your customers, such as promotions, flash sales, or a sudden change in business operations. Similarly, you can use emails for more in-depth or longer content like newsletters, blog posts, or product updates.
But you can mix them up, too, depending on what your data tells you. You can combine email and SMS in many different ways to reach customers in a way that works for them.
Combining both channels allows you more flexibility to make your messaging more efficient and effective.
Conclusion
All things considered, combining email and SMS marketing can do wonders for business owners. You can leverage the combined strategies to reach more customers, increase engagement, and improve your ROI. Using them together can also help you create personalized (even ultra-personalized) experiences for your customers, thereby improving customer satisfaction and loyalty.
Note, though, that using these strategies combined doesn't mean you'll no longer follow the best practices for each platform. It's essential for you to still implement these to get the most out of email and SMS marketing as separate platforms.
So, when you use them together, you reap the best results for your business.