10 Effective Prospecting Email Templates
1. What is a prospecting email?
2. The two essential elements of good cold emails
3. Tips for crafting great cold emails
4. Prospecting email templates you can copy or get inspired by
5. The 5 most common prospecting email mistakes to avoid at all costs
Writing sales prospecting emails may be hard enough, especially for those who expect to sell immediately and focus on a product or service rather than on a prospect.
Without using the proper etiquette and techniques, all efforts will be wasted.
So if you want to write the best prospecting emails, we've got you back. In this article, we will share 10 prospecting email examples along with the best practices that help you write a perfect cold email. Keep reading.
What is a prospecting email?
A prospecting email (also called a cold email) is a type of outreach that an individual sends to a potential client to introduce themselves and the pros of doing business with them.
Such an email aims not to sell immediately but rather secure a meeting with the recipient to discuss their needs.
The two essential elements of good cold emails
Any good sales prospecting email template needs to include the following:
1. A reason for reaching out
You might think: "Of course, I have a reason to reach out. I want to sell a product or service/schedule a meeting/etc."
However, before you even start writing, you should always stop and ask yourself another question.
Like most of us, you probably have a few emails in your inbox that are completely irrelevant to you.
So before you get in touch with a prospect, make sure that there is a clear purpose in your messaging.
Can you provide true value to this recipient? Does this person even fit any of your buyer personas?
2. A CTA (call to action)
The second essential element that you need to include in all prospecting emails is a CTA.
Studies have shown that CTAs trigger a visceral reaction, enticing the recipient to take action. This action doesn't necessarily have to be all about buying a product or service; Ideally, you should start with something as simple as trying to get a person to discuss their problems. Check this email's conversion rate by CTA types stats.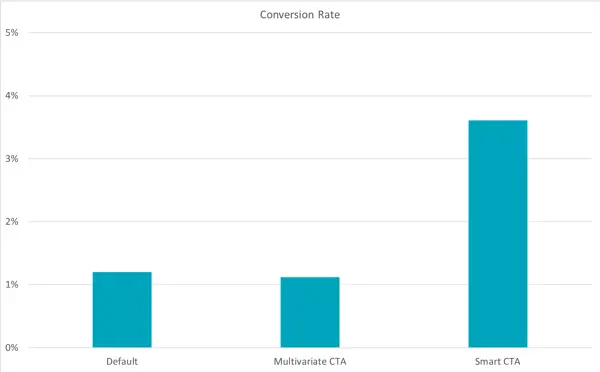 source: Esputnik
Tips for crafting great cold emails
Wondering what are some other important things about email prospecting to keep in mind? Below are nine tips to remember:
1. Be prospect-centric
Before starting to compose the email, focus on helping your prospect, not on pushing your product or offer. Take your time to visit their LinkedIn, Facebook, and Twitter accounts to find out about the hobbies, background, something you may have in common. Then, visit their website to learn about the possible headaches they may face.
2. Keep it short and simple
People's attention span is not more than 8 seconds, so limit yourself to 10 lines maximum.
3. Craft a personalized message
Start your email with the recipient's name (don't forget to double-check the spelling). Personalized emails have a much higher response rate than ones sent with a spray-and-pray approach.
You might also like: "How to Write Eye-Catching Email Newsletter Subject Lines."
4. Warm a cold email with a compliment
Share your excitement about the prospect's recent blog post, conference speech, or article.
5. Capture recipient's attention
Provide a reason for reaching out. Present a set of ideas that can help the prospect enhance their business, boost productivity, or solve specific problems. Address real pain points their business may face.
6. Call to action
Engage the prospect into conversation with only one question that doesn't take much time to reply. The more specific and straightforward the question is, the better. E.g., the challenges your prospect is facing every day or what they need to optimize their productivity.
7. Add value
Include a piece of relevant content: a great article, e-book, webinar, or video.
8. Corporate signature
Add a professional HTML signature to every email you send in order to promote your company and brand, list necessary contact details in a convenient way, and make a lasting professional impression on your prospect.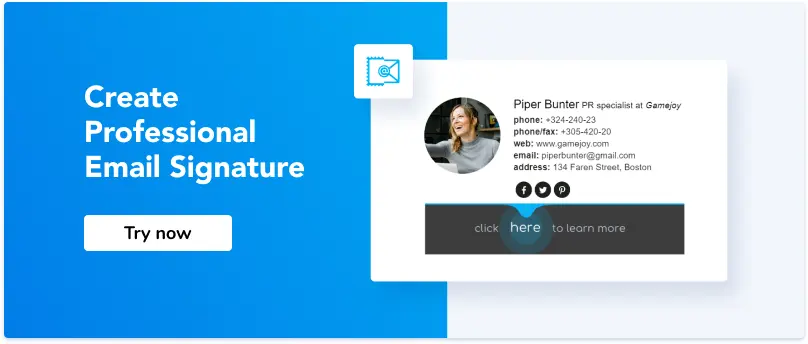 9. Earn a reply
If you carefully follow the above-listed guidelines, you'll definitely increase the chances to get your prospect's reply. After engaging them in conversation, you'll be able to offer your services or products, and successfully convert the prospect into an established client.
Prospecting email templates you can copy or get inspired by
We have prepared some templates for you. Update them to match your personality and voice. You probably will be working pretty closely with some of these prospects, so make sure that your emails sound like you.
Template 1: cold outreach sales email*
* you know that the recipient is already a qualified prospect.
Hello [first name],
My name is [insert your name], and I am a [insert a position] at [your company name]. We work with companies like [insert the recipient's company name] to [continue with one sentence pitch].
[Briefly describe your value proposition/unique benefit].
Do you have 5-10 minutes available on [day of the week] to discuss if this would be something valuable for your business?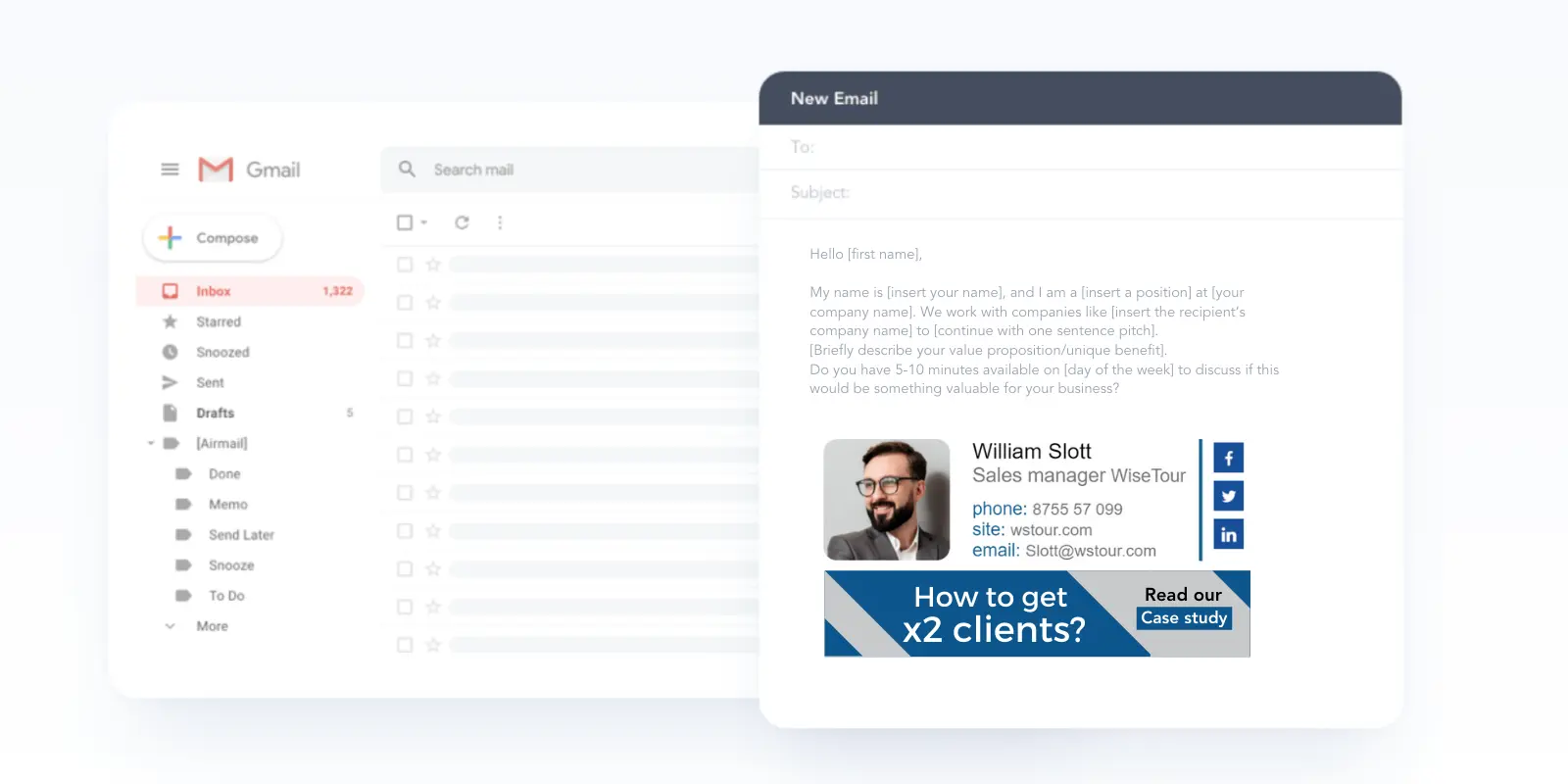 Pro-tip: Use your email signature to share a link to a relevant case study that would get the recipients more interested in your sales email.
Template 2: pitch email with a more personalized approach
Hi [first name],
I am reaching out because [explain how you got their contact details and how you relate to them: know your colleague, read your blog, follow you on social media etc.].
[Insert a name of your company] has a new tool that could help [insert the recipient's company name] to more effectively [continue with a one-sentence pitch listing benefits].
I know that [your product/service] will be able to help you due to/with [insert high-level benefit here] in less than two months as we have already seen with [add a relevant customer] and [add a relevant customer 2].
Are you available for a quick call at [add time and date]?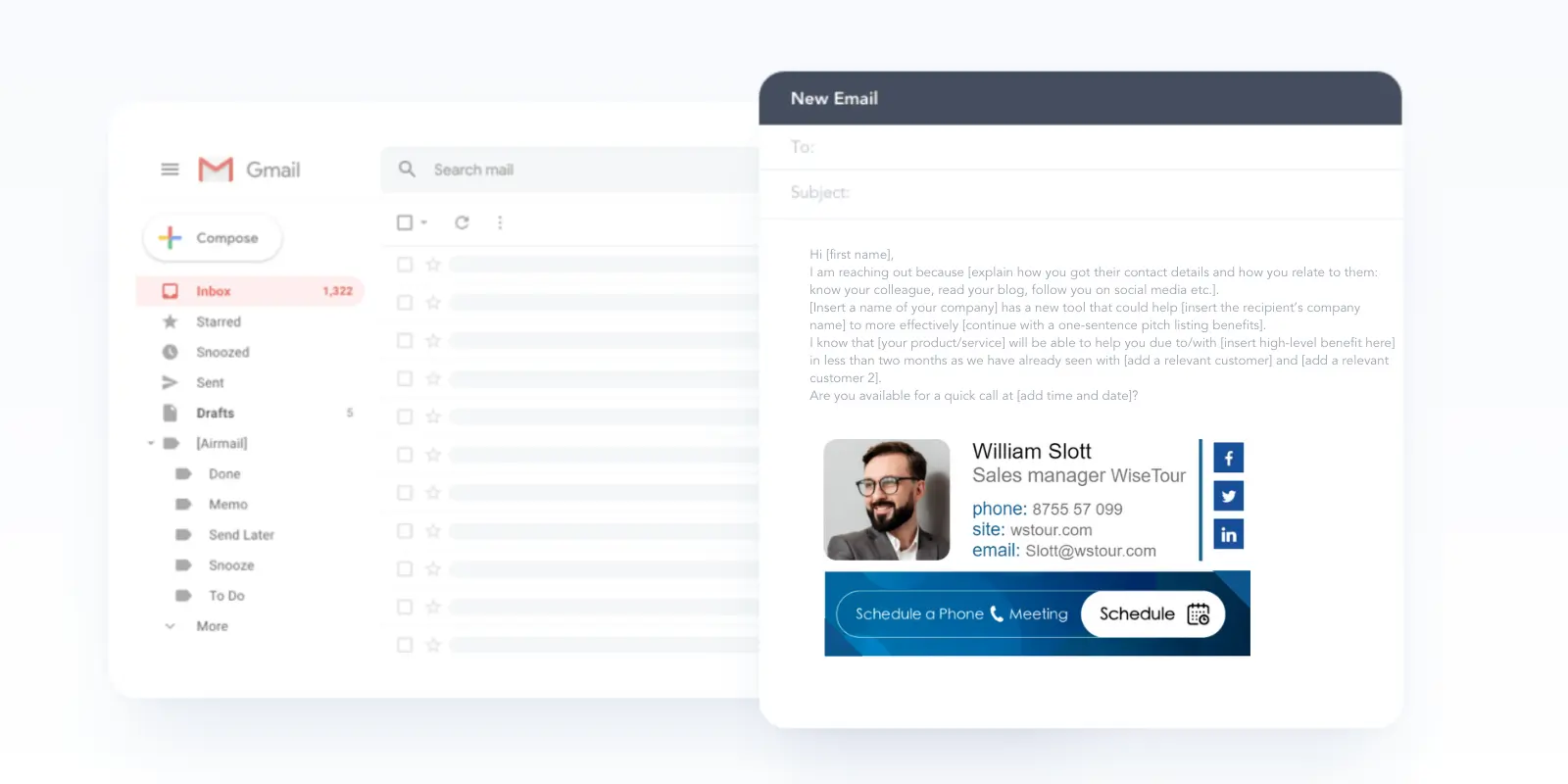 Template 3: introduction (referral) cold email when you are not sure who the right decision-maker is
Hello [first name],
My name is [insert your name]. I am [insert your position] at [insert company name]. We work with businesses like [add their company name] to [explain what you do in a short sentence].
Can you please direct me to the right person to talk to about this at [add their company name] so we can explore if this would be something valuable to your sales and marketing teams?
Thank you.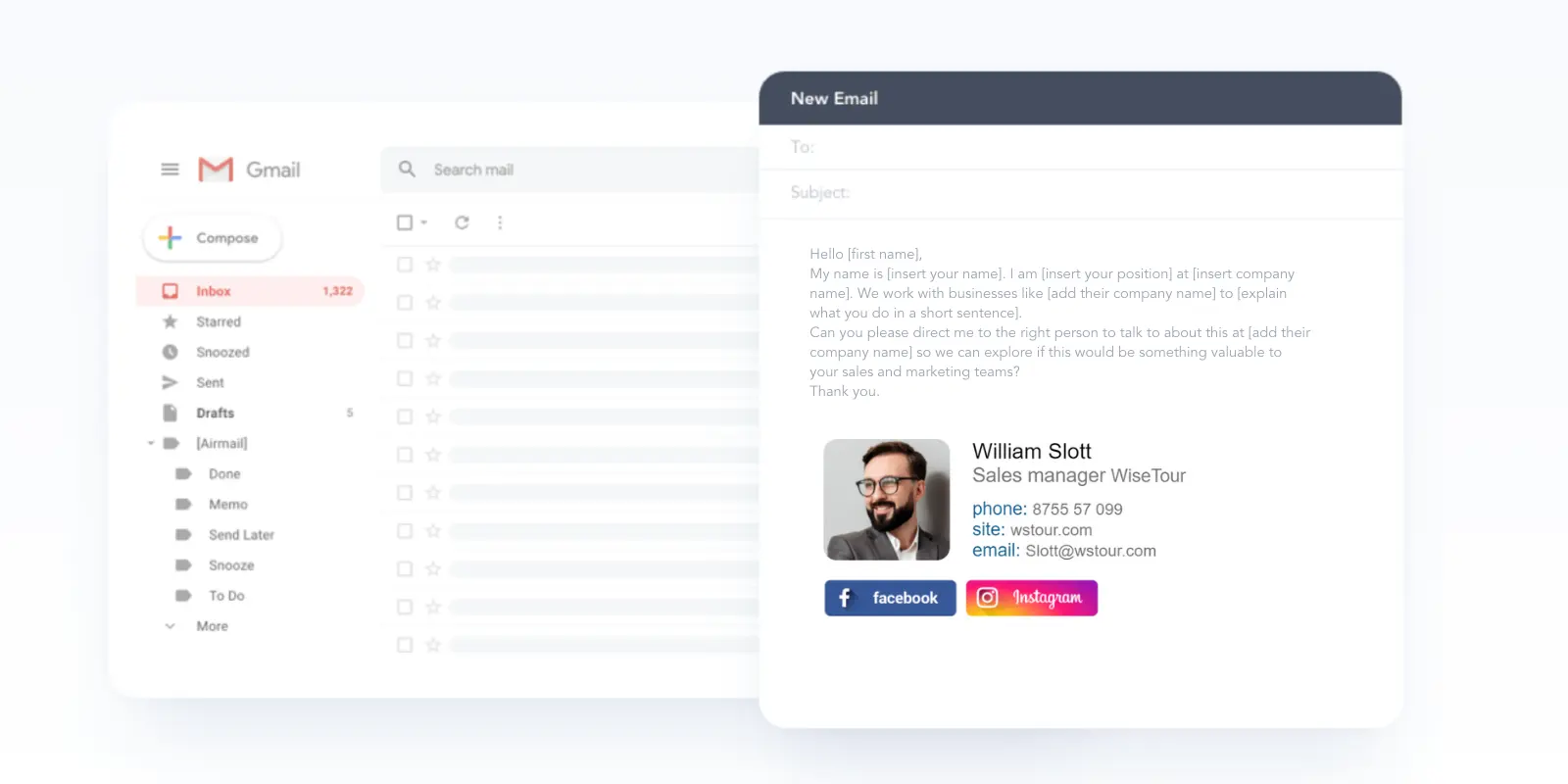 Template 4: email providing useful advice
Hello [first name],
I am working with other [insert job titles]. One of the key issues they are facing is [insert the issue].
This past year we helped numerous businesses to [explain what you did], resulting in [show how much money you saved, earned, etc.].
A strategy our customers have seen such growth is [key strategy]. Based on what I know about your company, here are several ideas on how you could put that strategy into action:
[Idea 1]
[Idea 2]
[Idea 3]
If that sounds similar to past challenges you have faced, I would love to talk about the solution on [day of the week].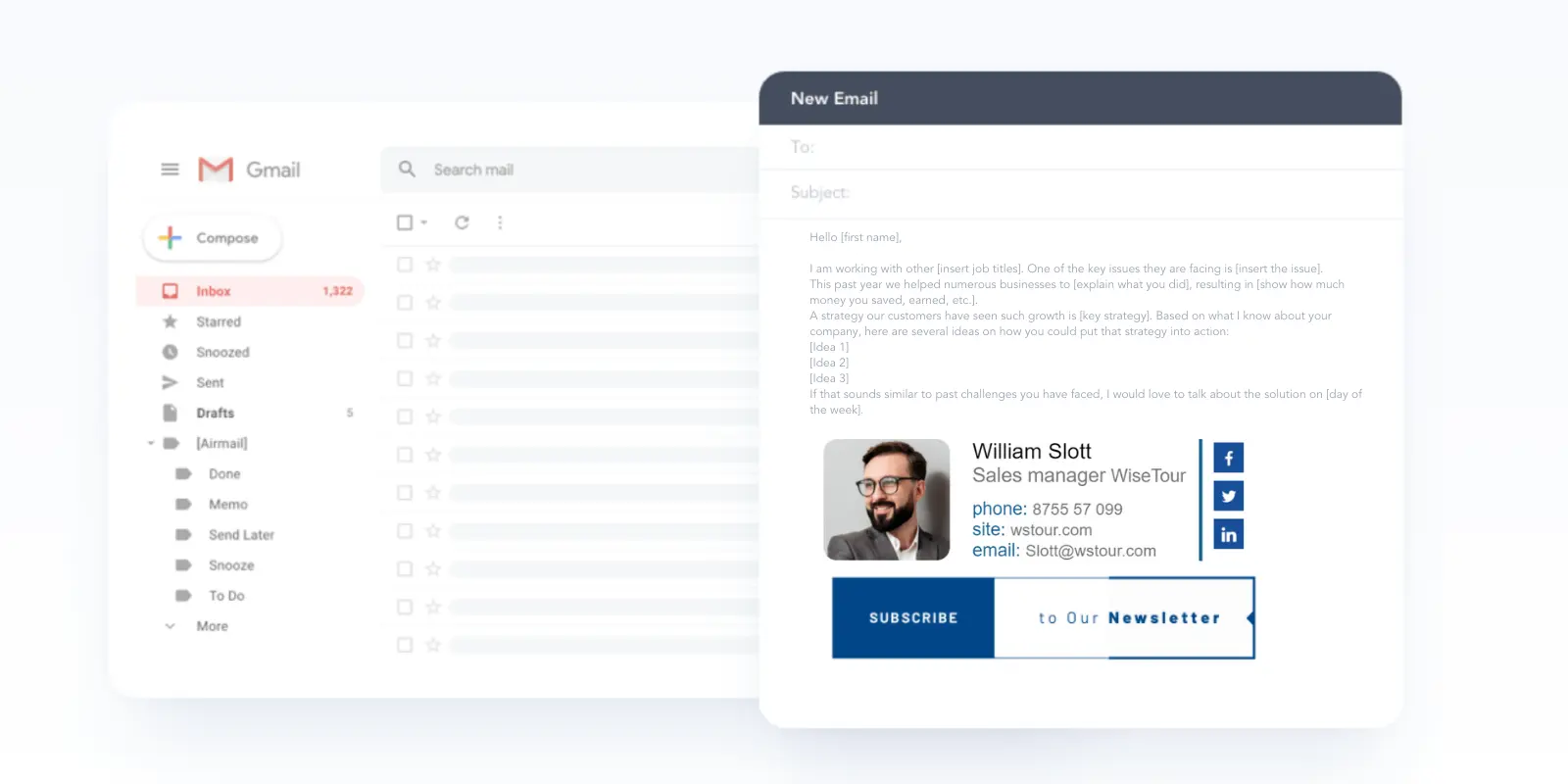 Template 5: email providing useful advice referencing a new role
Hello [first name],
I saw on LinkedIn that you took on a new role at [insert the recipient's company name] last week. Congratulations!
I bet you are looking for ways to make an impressive mark during your first weeks in this new role. And I have something to share with you.
I have helped organizations like yours before, and they were impressed with their results:
[Mention impressive statistics]
[Mention impressive statistics]
[Mention impressive statistics]
Would you be interested in discussing this in more detail? Please feel free to book some time on my calendar: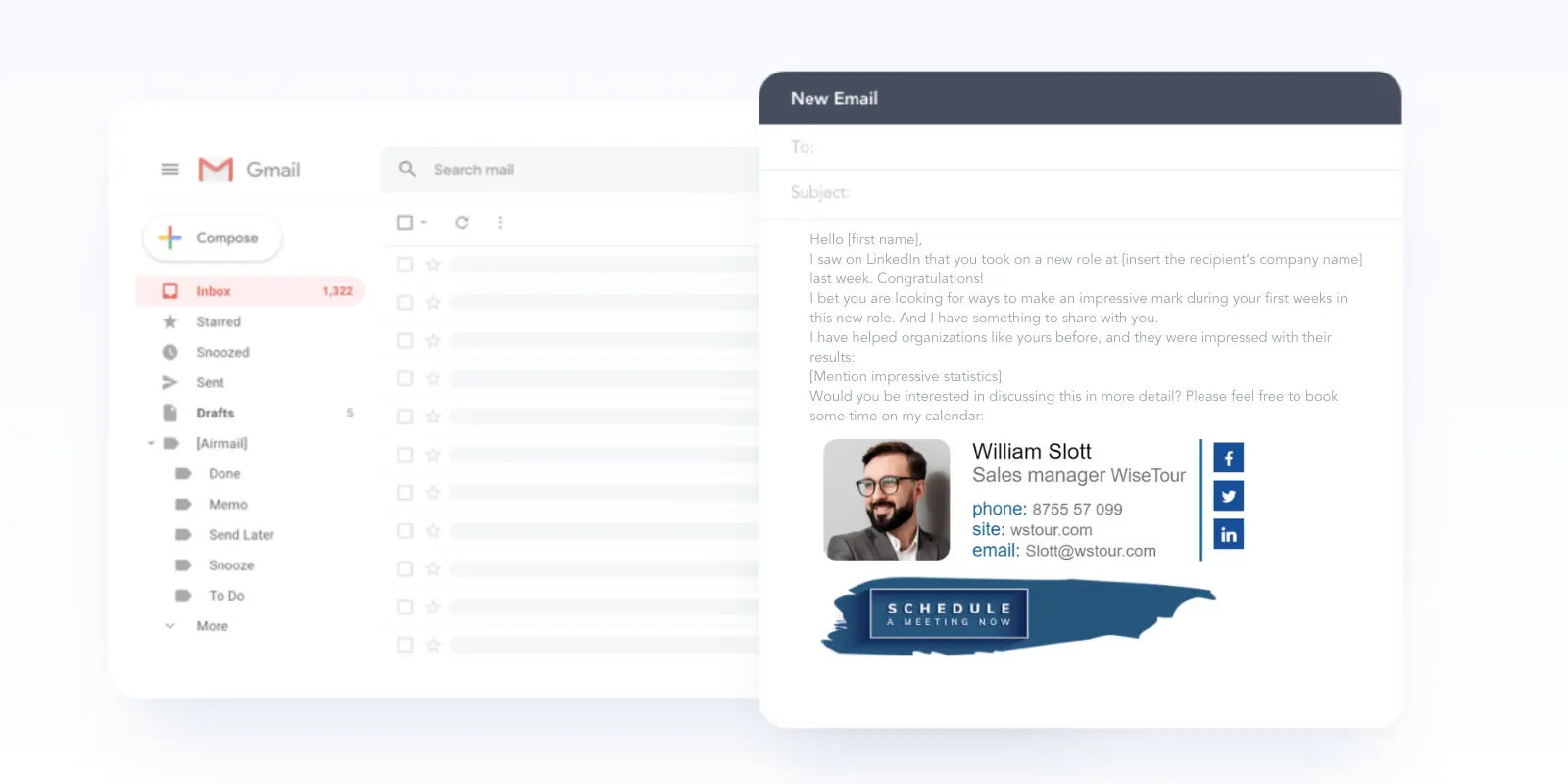 Template 6: indirect prospecting email
Hello [first name],
I saw your recent announcement on Facebook, and it got me thinking.
I have an article on [related topic] you may find useful as your business progresses.
Here is the link [insert the article link].
Are you currently looking for more ways to improve [related business value]? I have some more insight to share with you. Let me know.
I hope you find this article helpful.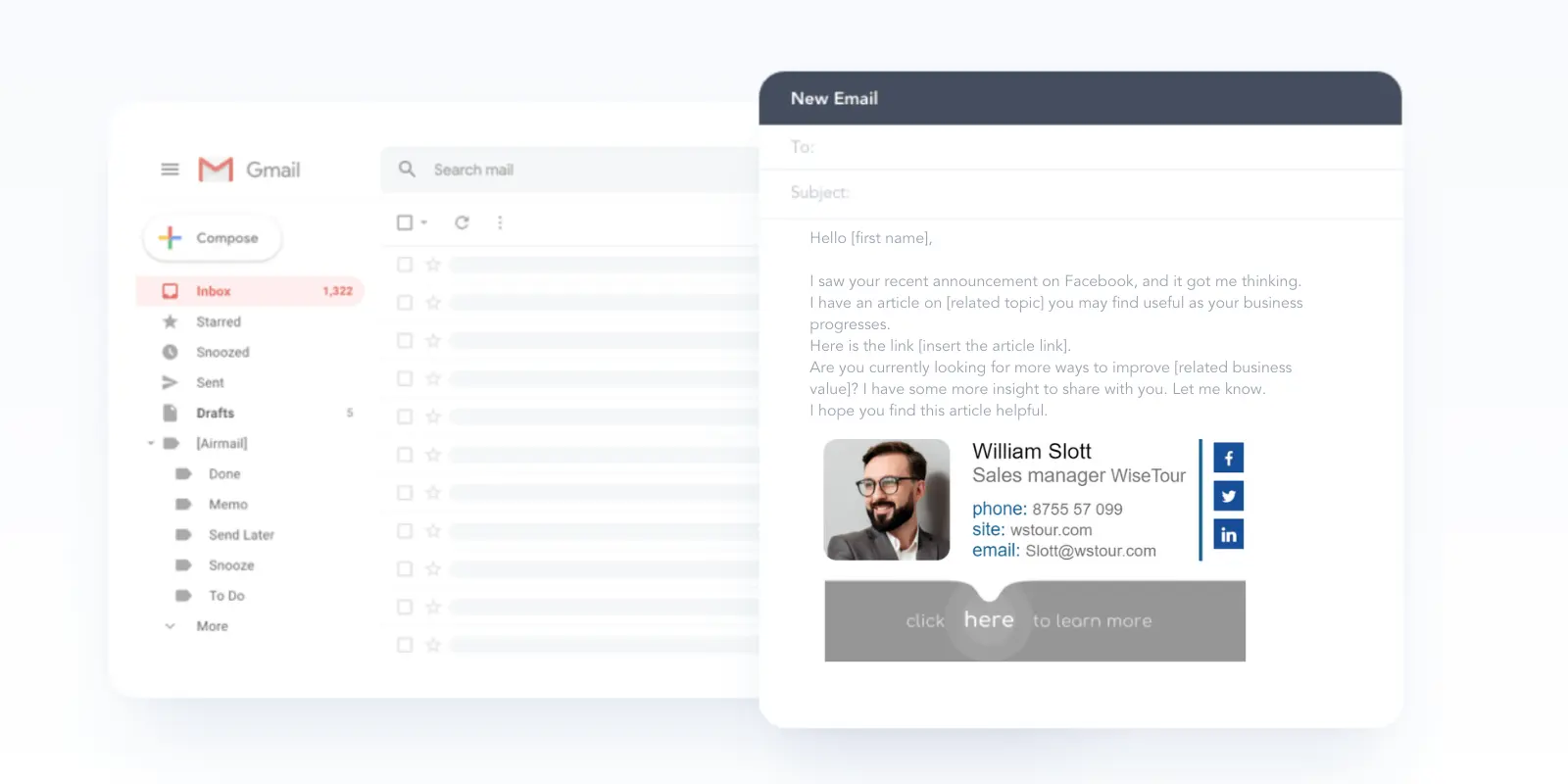 Template 7: follow up sales email
Hi [first name],
I wanted to show you how [insert your company name] can help you to better [mention the thing your product or service can help people to do].
We have helped businesses like [relevant customer 1] and [relevant customer 2] to achieve fantastic results already this year.
Do you have ten minutes for a quick call this week?
Does next Monday at 10 am or Thursday at 4 pm work for you? Or you can book some time on my calendar: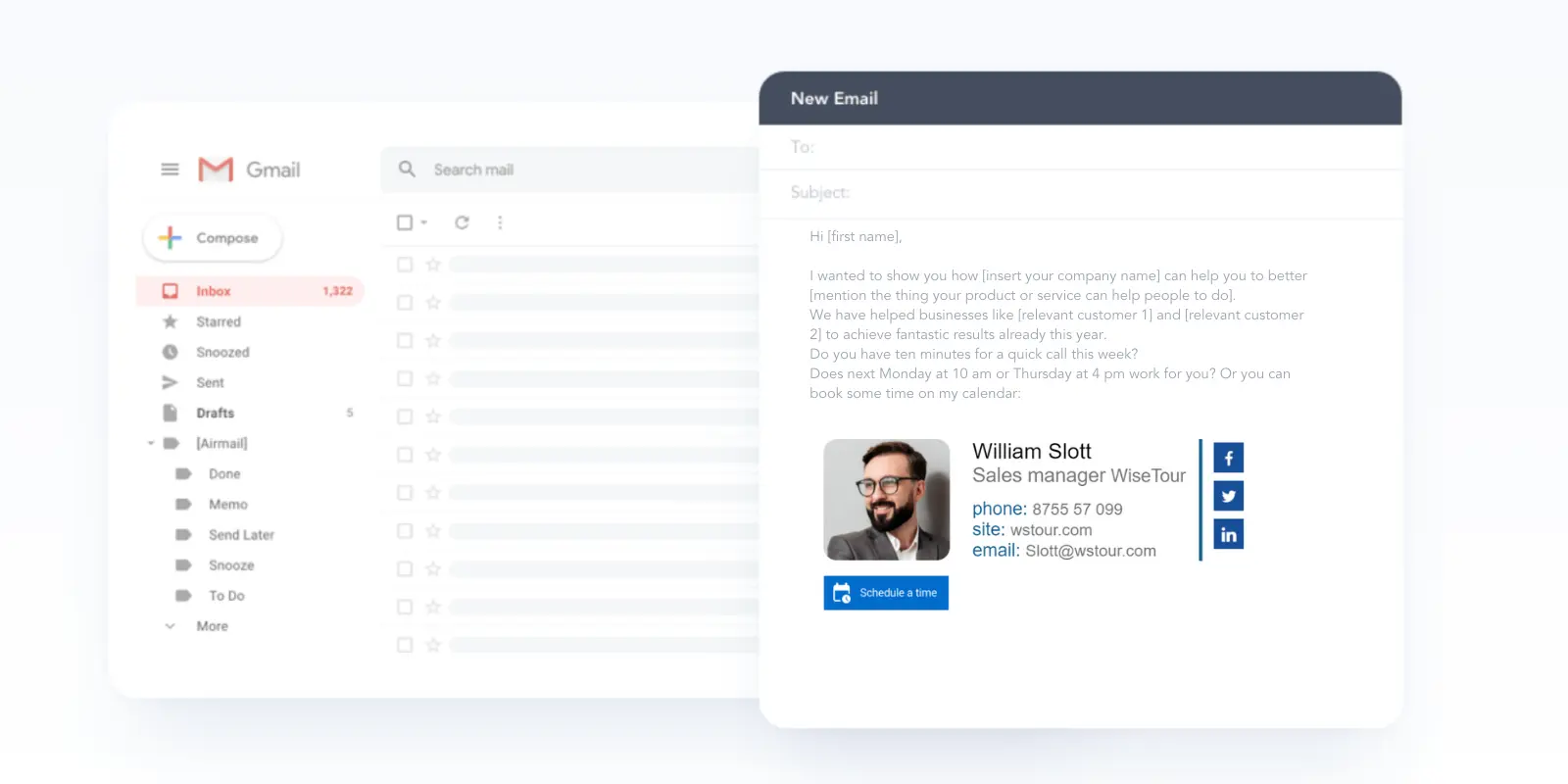 Template 8: follow up sales email 2
Hi,
Just following up on this. Could you forward my letter to the person on your team who handles [content marketing/sales/etc.]?
Thank you!
Template 9: reminder sales email
Hello [first name],
When we talked yesterday, you said that you would be ready to get started with using [insert your product or service name] by the end of this week.
I am sending you the link to where you can create an account, enter your billing info and start inviting your team to join the profile.
We are so excited to get you on board! Please feel free to contact me if you need anything else to get set up this week.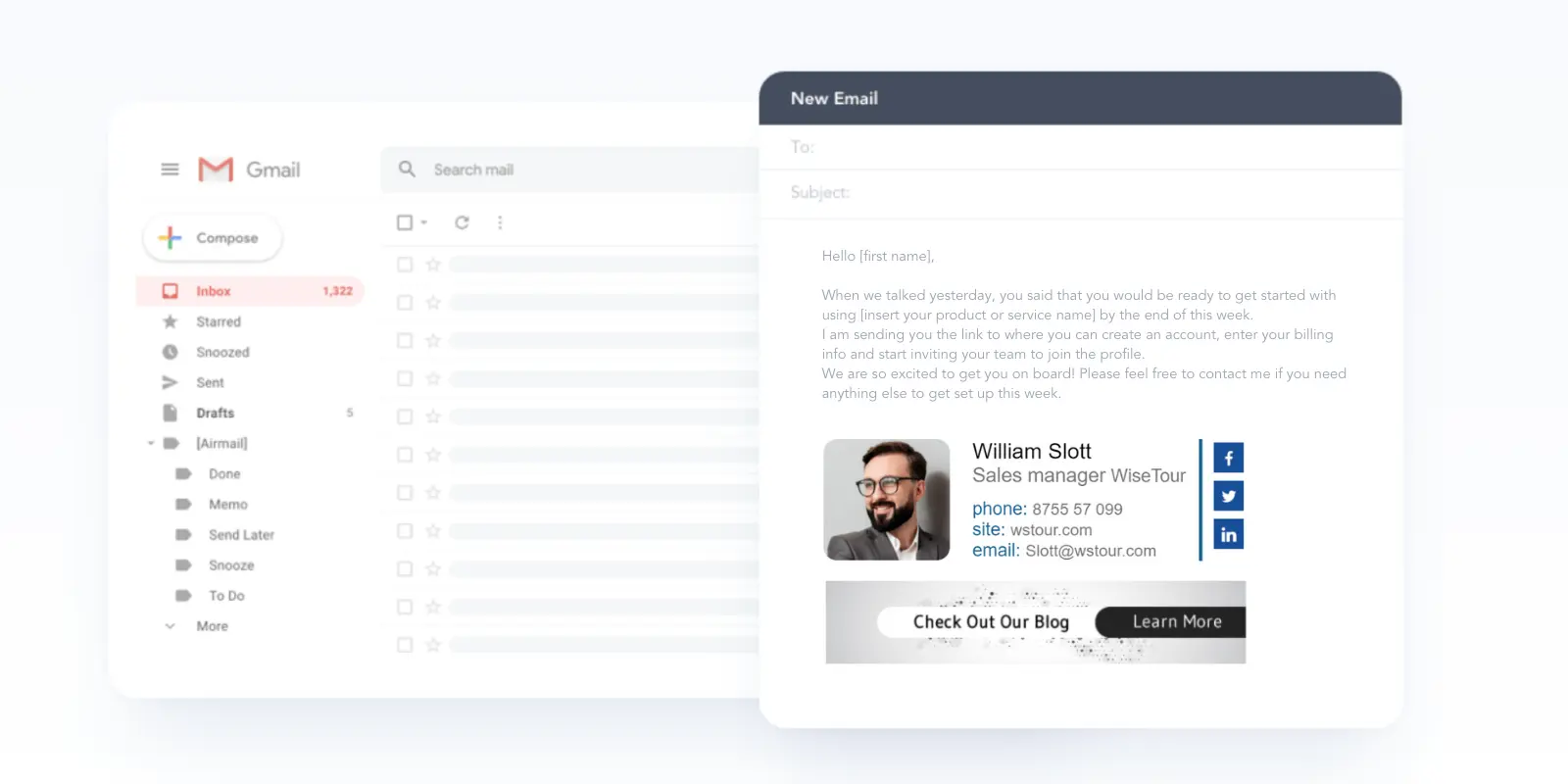 Template 10: thank you sales email
Hello [first name],
Thank you for taking the time to connect yesterday. I think you would be a perfect fit for [service or option], and I am excited to get you on board.
Here is what I will need from you to continue our work:
Onboarding item 1

Onboarding item 2

Onboarding item 3
What time on Friday works best for you to set up a quick call and get the final details locked in? Or you can book some time on my calendar: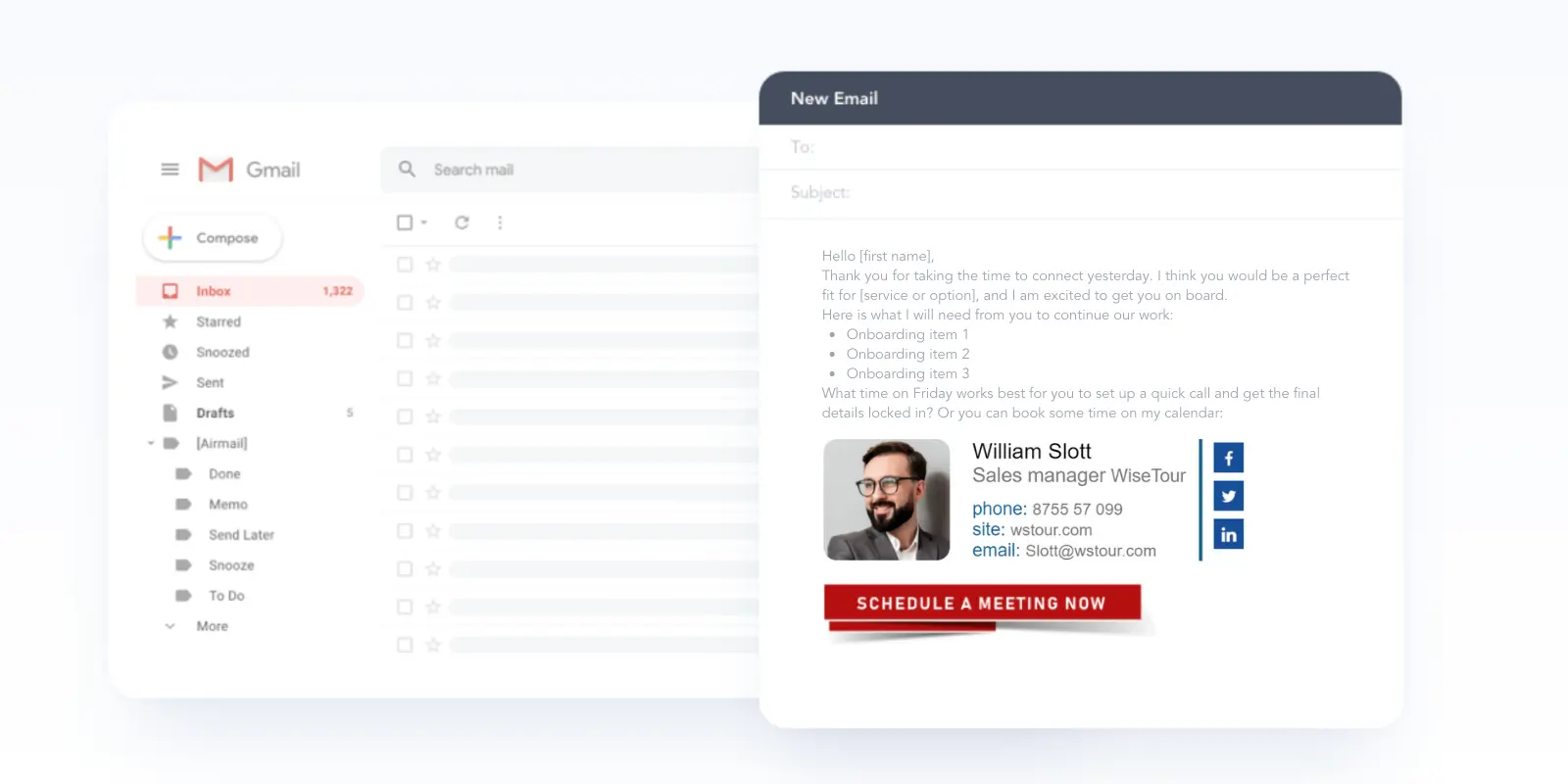 The 5 most common prospecting email mistakes to avoid at all costs
Now, to the mistakes.
Mistake 1: Weak subject line
One of the first elements of your email that recipients see first is the subject line. So you always need to make sure that it stands out from the rest in your prospect's inbox and fits well into the inbox window.
Here are a few basic email subject line tips to follow:

Mistake 2: Not addressing the prospect by name
Please take the time to research a company and find the decision maker's name. Not addressing that person by their actual name ensures that your messages feel impersonal, unconnectable, and generic.
Who would ever want to reply?
Mistake 3: Writing too much
You probably receive tons of emails daily. Now, how many of those letters do you read from start to finish? I bet not so many.
Your prospect is in the same situation. Bear this in mind when writing your cold emails.
Make your prospecting emails short, easily digestible, and concise, allowing the recipient to quickly scan the email, absorbing the info they need before deciding whether to continue reading.
Cut to the chase. Your prospects are busy!
Mistake 4: Unclear or no call to action
Every single sales prospecting email has to include a clear CTA (call to action). Otherwise, your potential customer won't understand what to do next to start their customer journey.
So, if you want a person to do something, don't forget to ask about it.
On the other hand, keep in mind that the more you ask in a sales prospecting email, the less likely they will do anything. So use only one CTA per one email.
Mistake 5: Your email footer is useless
Your email signature (footer) is one of the most valuable, underutilized elements of your sales emails.
As a rule, an email signature has the sender's name, title, contact details, and logo.
Firstly, it's boring. Secondly, your signature isn't doing anything to further your sales conversations.
A good email signature builds credibility, offers your recipients something interesting, sells, or showcases anything relevant to the prospects you are writing to.
At Newoldstamp, we are big fans of treating email signatures as a marketing channel. So we pitch recent news and updates, guides, case studies — whatever we want recipients to see in our signatures and think, "Hm, I like that!"
To wrap up
Have you ever tried to send a sales prospecting email, but people never got back to you? Or maybe you even didn't know what to say?
If so, then you have come to the right place! In this article, we share tips, mistakes, and even templates on how to write an effective sales prospecting email that works.
Here is what you can learn in this blog post:
What is a sales prospecting email?

Why you need it

What to include in a cold email – two essential elements

9 tips for crafting great cold emails

10 sales prospecting email templates to copy

And finally, the 5 most common prospecting email mistakes to avoid at all costs.