How to Choose an Email Signature Generator: The Comprehensive Guide
1. Define the goal you need to fulfill with an email signature generator
2. Make sure the email signature editor you choose is flexible
3. Look for these essential email signature editor features
4. Banner campaigns as an important part of a professional email signature marketing strategy
5. Use an email signature generator with powerful management functions
6. The best HTML email signature generator should have analytics to track your progress
7. Look for the price options that fit your type of business the best
8. Demand a friendly and helping support team from the email signature generator you use
Whether you use email for personal or business purposes, adding a unique signature to every email you send can make your message stand out from the crowd and impress the reader.
Gone are the days when email signatures were mostly plain text or didn't look perfect on different devices and email clients. Today, with a variety of email signature generators available online, your sig can look cool, neat, and functional. However, when there are so many options to choose from, it is quite hard to understand which tool would work best for you. In this blog post, we'll guide you through all the essential features that you need to pay attention to when choosing your best HTML email signature generator.
Define the goal you need to fulfill with an email signature generator
Although some people prefer creating email signatures in Photoshop, Microsoft Word or asking a friend/colleague who has a good command of HTML for help, using a modern email signature creator that can make a great email footer for you, your business, and the entire team has far more advantages than disadvantages. For example:
It saves you from the need to create a signature yourself
You don't need any coding or graphic design skills. You can simply input your personal details and upload images to the website. And voila, your beautiful, mobile-friendly, and interactive email footer is ready.
It lets you create corporate email signatures for all employees

To avoid inconsistency across the company, you can choose an email signature generator that has central management to control and update your and your team's signatures.
It is a powerful online ad tool
Modern email signature makers allow promoting content with the help of call to action buttons or banners that prompt your subscribers to register for your next event, donate, read your recent blog post, download your eBook, and much more.
Read our blog post: "How to Design Outstanding Corporate Email Signature."
Make sure the email signature editor you choose is flexible
Also, pay attention to the following things:
It works on both mobile and desktop platforms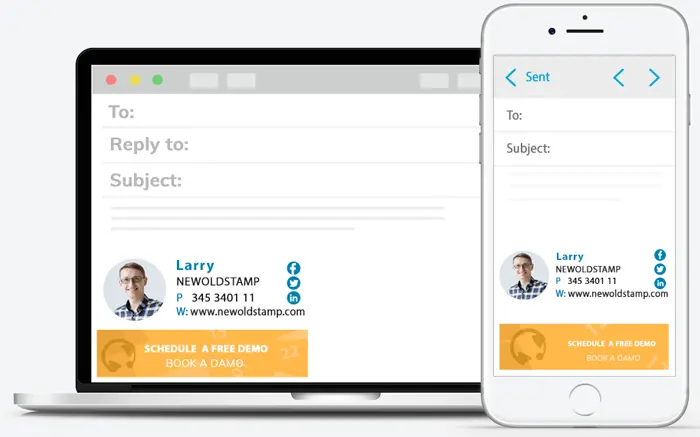 source: Newoldstamp
While some of your readers use computers to write and check their email, others prefer their mobile devices for this same purpose. That is why it is critical your email signature maker supports all sorts of phones, tablets, and other devices.
The signatures are displayed properly in most email clients

If you want to create an email signature for business, it is extremely important to pick the tool that supports the most popular email clients like Gmail, Outlook, Office 365, Apple Mail and iOS, and others, not just yours. Thanks to that, you will not have to worry that your email footer looks bad in someone's email client.
Look for these essential email signature editor features
Gallery of different email signature templates
A decent email signature generator will let you choose from a wide range of well-thought-out templates so that you only need to customize the style according to your taste and requirements.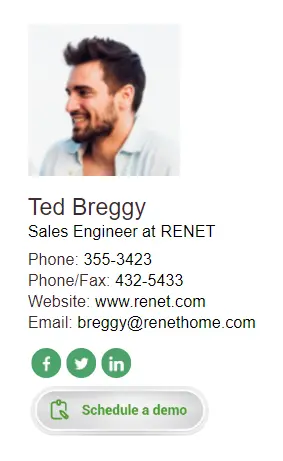 When it comes to email signature design, it is important to pay attention that not all fonts are universal or "web-safe." Some of them may not be compatible with some devices and operating systems. To find out more, read our article: "How to Choose The Best Email Signature Fonts To Make Your Email Look Professional." As a rule, professional email signature generators provide you with "web-safe" fonts that will look smart on the recipient side.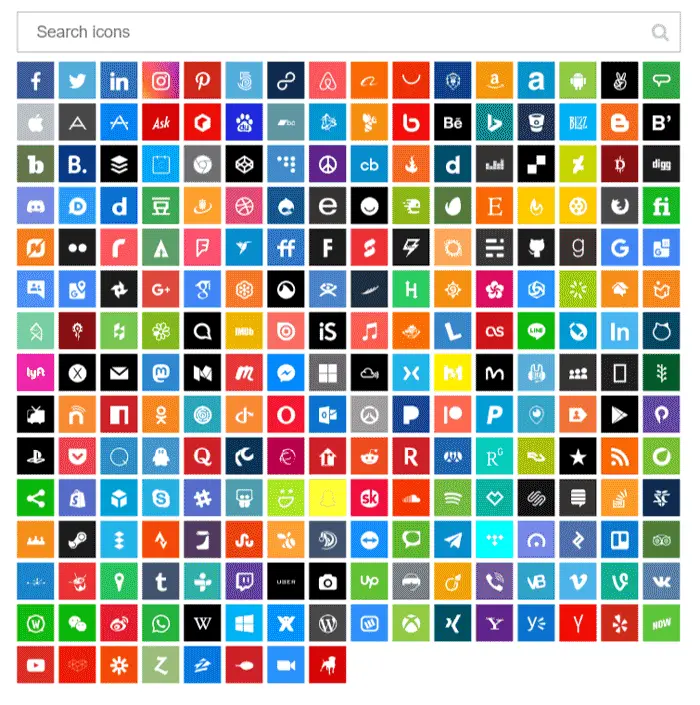 source: Newoldstamp
You probably are active on different social media like Twitter, Facebook, YouTube, etc. And if you want to drive your audience to your social content on a regular basis, you definitely need an email signature with social media icons people can click on.
Editable CTA buttons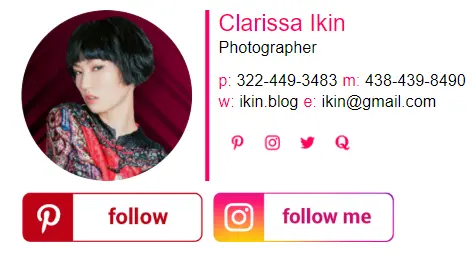 Call to action buttons in your and all employee email footers can result in additional views, clicks, and registrations. You can use them:
For social accounts links

For calendar links

For calls invites

And more.
You might also like: "Email Signature Best Practices 2019: Creative Ideas, Beautiful Examples, Design Hints, and Free Tools to Use Now."
Banner campaigns as an important part of a professional email signature marketing strategy
You have probably already added a professional headshot or your company logo to your email footer. Now, consider adding a banner, because it is another great opportunity to draw attention and provide a visual representation of what you have to offer to the audience.
Why you need a banner campaign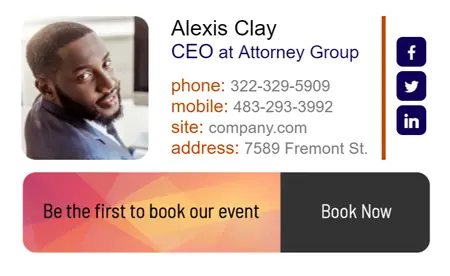 With the help of signature banners, you can do a ton of things. For example, promote special offers, share valuable content, invite people to events, ask for feedback, tell about your recent accomplishments, share eBooks, case study, and more. A quick tip: If you run a business, look for an email signature maker that has a central management feature that allows replacing your banners with the new ones without having to make changes to every single signature of your team members.

Banner gallery in a signature generator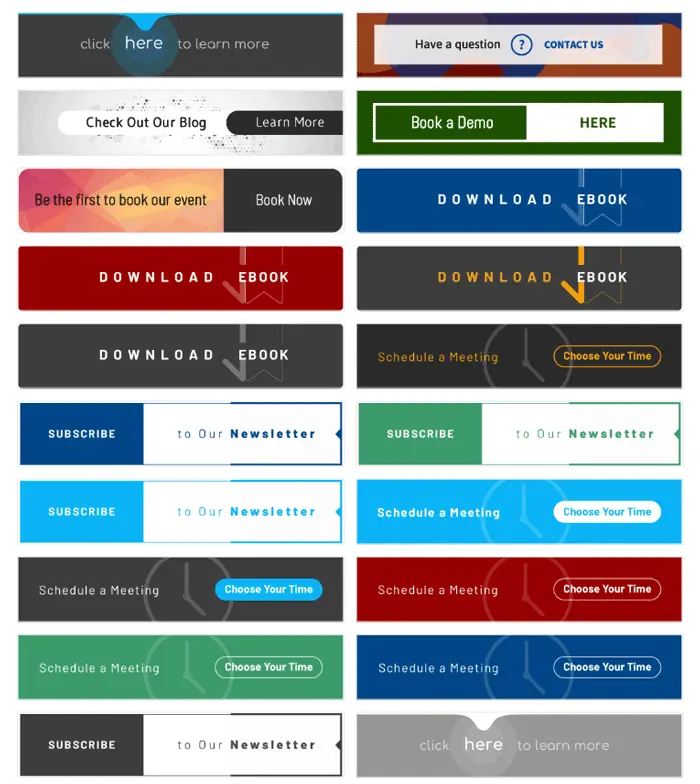 Of course, you can create the banner yourself, but it's much more convenient and time-saving when a signature creator has a banner gallery with a wide range of templates to choose from.
Want to create a unique brand personality in your email campaigns? We have a great article for you!
Use an email signature generator with powerful management functions
If you need to create multiple signatures for the entire company, choose the tool that provides the ability to make unique signatures for departments. Some email signature generators allow making one master signature for the entire department and then automatically adjust them for each team member.
Ability to send signatures to multiple users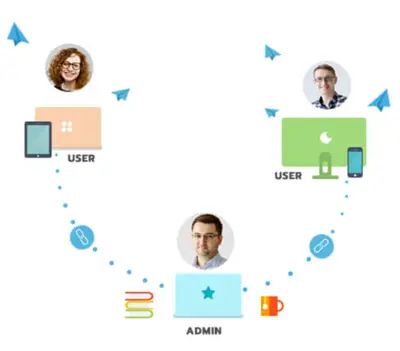 source: Newoldstamp
This feature lets you upload a CSV file or connect GSuite, Exchange, Office 365 with all your contacts and send signatures to all employees in one click.
Easy dashboard signatures management
After each employee receives the signature and the installation guide, it should be possible to check the installation status of all the email footers on the dashboard and even send reminders.
Auto installation buttons
Don't bother your employees with making changes to their signatures but still keep them up to date. Modern signature software allows switching banners, logos, and images automatically by making changes to a default layout.
The best HTML email signature generator should have analytics to track your progress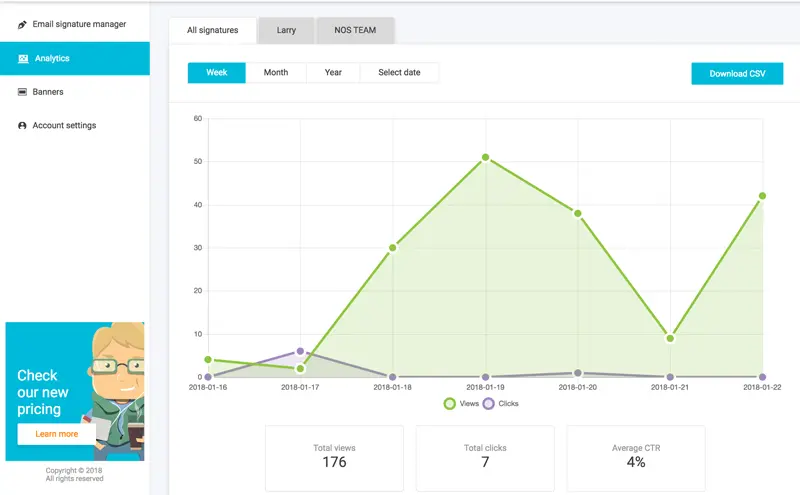 source: Newoldstamp
Why do you need any stats?
Tracking & analytics feature will help you make your campaigns and interactions more effective and worthwhile.
What is the most important data to track?
Impressions

Clicks (on banners, logos, CTA buttons)

Click-through rate (CTR)
Related blog post: "The Best Sales Call to Action Examples to Improve Your Conversion Rates."
Look for the price options that fit your type of business the best
The most popular price options are:
This price option is best for companies that need to make a lot of corporate signatures and update them from time to time.
Single clients typically prefer the one-off cost option.
Large companies with 200+ employees might need to have their personal email signature generator, which will cost significantly more, but save a lot of time they could have been spent on inputting all the data and deciding what features are needed the most.
Demand a friendly and helping support team from the email signature generator you use
Even a free HTML email signature generator should be accompanied by the following things:
How do you install your email signature? How can you cancel your account? Can you use your email signature on iPhone? These and many more questions may arise if you start choosing an email signature generator. So a simple and full FAQ section is a must.
Fast answers from the help center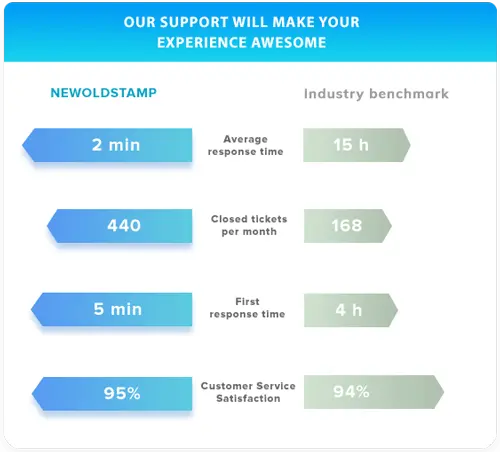 source: Newoldstamp
However, not every issue can be solved with a FAQ section. You should be able to address your more complicated questions to help center and get a prompt response.
Social media groups dedicated to email signature design tools
Ideally, the vendor should also provide support in a dedicated social media community.
Conclusion
Trying to create a neat and responsive email footer on your own usually takes much time and effort. This time could be spent on more important tasks. Modern email signature makers can help you create professional and visually compelling email signatures for Gmail, Outlook, Office 365, Apple Mail, iOS, and other clients. When choosing such email signature generator, be sure to pay attention to these essential features:
email signature templates and customization;

compatibility with email clients;

central management feature;

banner campaigns and analytics;

price options;

friendly and helpful support;