Email Open Rate Benchmarks 2023
1. What is an email open rate
2. Email open rate for email marketing 2023 trends
3. Email open rate in email marketing by industry: Top 5
4. How to increase email open rate in email marketing
Have you been looking for ways to increase the number of views in your email marketing campaign? Are you disappointed with your current results, or perhaps you believe your open rate is relatively high? You might be surprised to change your mind after reading this.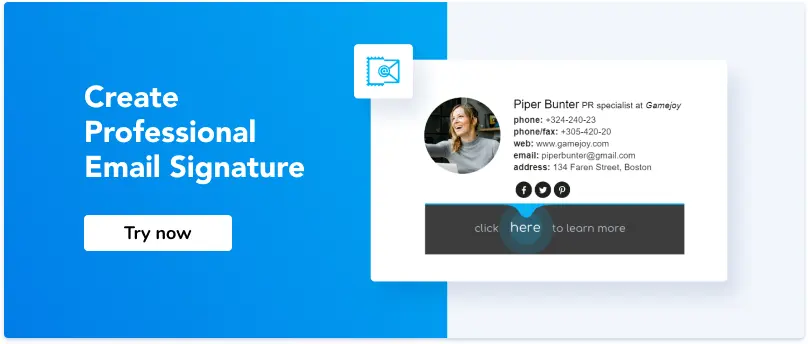 Most email marketers benchmark off an average email open rate in general. But, in reality, there are many factors involved in the rate of people opening your emails. It's not just influenced by the content, but also your industry or branch, your targeted audience, and even the time you send your messages out.
Want to find out how you compare to others and how to increase your open rate? Then keep on reading.
What is an email open rate
Your open rate tells you how many people opened your email. If, for instance, you send out 110 emails, of which 10 bounce (are not delivered), and 25 recipients opened the email, your email open rate is 25%.

You can track the opens by adding a pixel to each email you sent. There are several extensions (Hubspot) that you can install to do this for you for personal use. The receiver needs to be able to display HTML emails with images. Since some people might not have this, there will be a small inaccuracy depending on the number of emails sent out in reality. If you're a marketing professional and send out newsletters or run campaigns, your company is probably already using an email automation tool that shows you the open rate.
Email open rate for email marketing 2023 trends
It may not come as a surprise, but we have opened more emails on mobile devices over the past years. Almost half of all emails received over the past 2 years were viewed on a mobile device.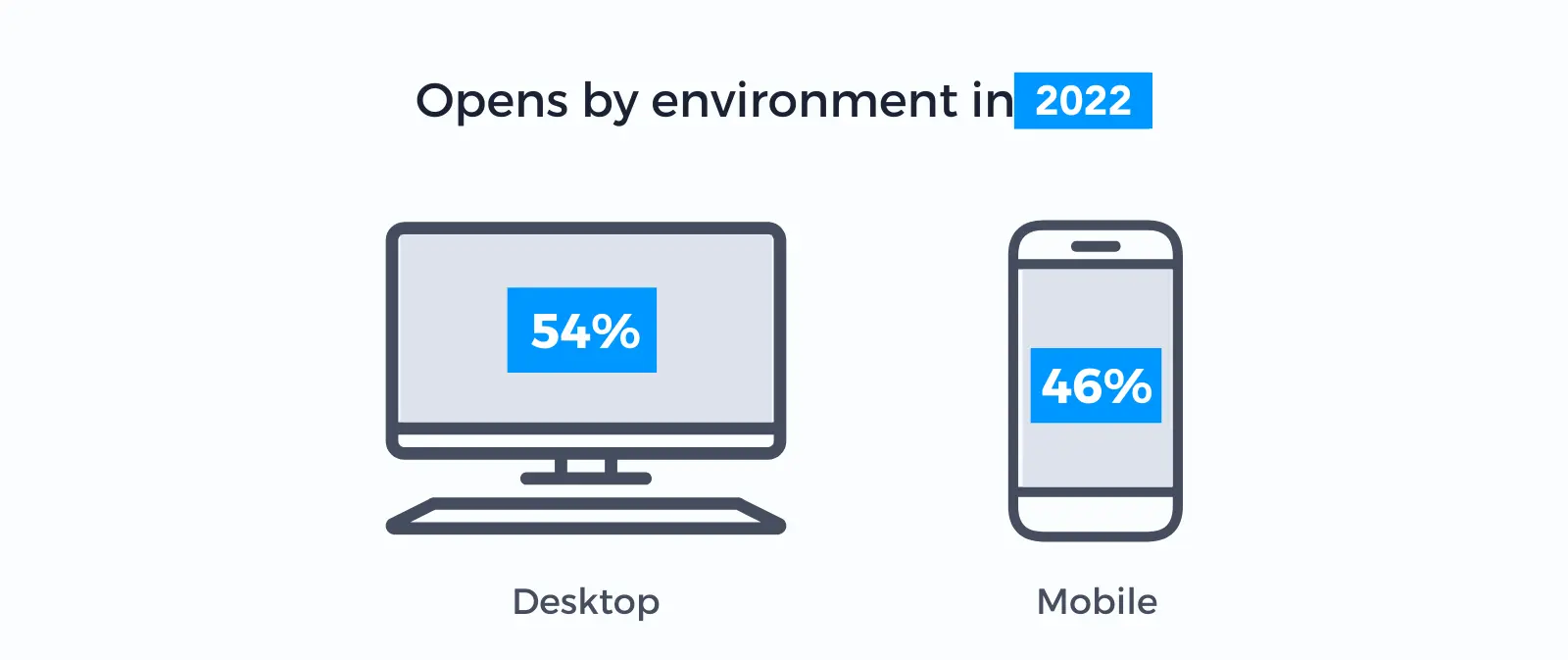 After a short period where social media had a lead, email has become the most popular marketing channel again. Emails are 40 times more likely to see conversion than Facebook or Twitter. Because of more personal and targeted messages we have become to receive. For example, promotional emails containing the recipient's first name in the subject line raised the open rate by 22% on average.
Read on to see how this can help you increase your email open rate.
Email open rate in email marketing by industry: Top 5
Against an average email open rate of 20.94%, a rate of 17% might seem too low. But finding out more about the email open rates in all industries can help you understand how you compare within your industry. For example, if you look at the top 5 industries with the highest average open rate for an email, it's not hard to understand why.
Real Estate and Construction
Education
Manufacturing
Financial Services
Retail
First on the list are Real Estate and Education. People voluntarily sign up for newsletters and updates, but it's also already an industry that you can expect is naturally appealing to most of us. The other 4 industries in the top 5 owe their higher open rates because they provide requested or wanted services. In a lot of cases, a person is already looking for or had contact with legal services. Or they have been surfing for houses and receive a targeted email from a real estate agent.

Knowing this, you can see why Marketing & Advertising doesn't come included in the diagram with an open email rate of 17.38%. Compared to the top 5, emails in this industry are more sales-like and less targeted.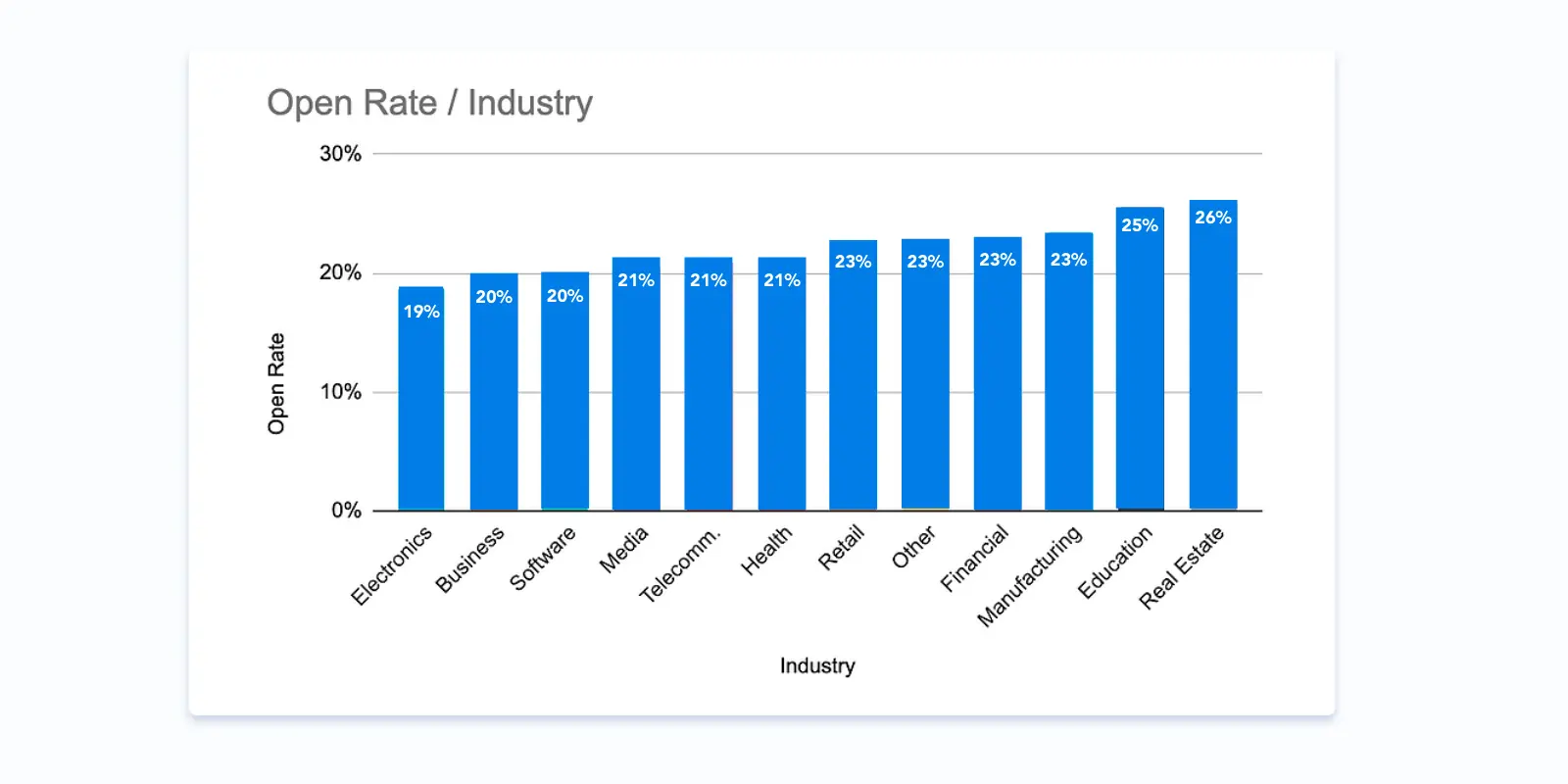 source: Hubspot
Now that you have a better idea of what a good email open rate is for your industry, it's also important to understand the influence of your company size and image.

Luckily, it seems like the size of the company has less influence. There's almost no difference between a one-person company and companies with 50 employees and up.
How to increase email open rate in email marketing
So now that you know the trends and open rate benchmarks by industry, you probably want to increase your own rate. Here are some tips on how to get a reasonable open rate for email.
Keep the subject line short
Your subject line can't be longer than 50 symbols. The fewer, the better.

And it's not just about our attention spans getting shorter, but also the very simple fact that email clients will cut off whatever exceeds this limit. And let's not forget the fact that the majority of recipients (as many as 66%) open emails on their phones or tablets, and these usually display the first 4-7 words. Make them count!
Read more: "How to a/b test your subject lines"
Personalize your emails
Numerous researchers have shown that we are naturally programmed to react more actively when we hear our names.
So "Matthew, increase your email open rates with these 5 simple hacks" is actually about 17% more likely to get opened than "Increase your email open rates with these 5 simple hacks".

source: Optimonster
Additionally, avoid being too formal. Emails from friends and family always catch our eye first, because they're friendly and inviting and never formal, so try to make your subject lines and emails sound just like that. Even if your recipient represents a company, they are a human being just like you, so address them as such. For starters, try using "I" and "me" instead of "we" and "our".
Avoid spam filters
If you're sending out mass emails, there's a good chance some of them might end up in the spam folder. You can prevent this by clearly stating the sender's (your) name and company name.
In addition, pay attention to your subject line and body of the text. There's a number of words that email marketers have heavily overused in subject lines. These include free, deal, sale, percent off, buy, save, etc. By trying to remove these words from your subject line, not only will you avoid triggering spam filters, but you will also find a more creative way to convey your message to the recipients and stand out from the crowd.
Check your message for spam words in this full list.
Choose a proper time
Picking the right day and time to send out your emails depends on several factors. For example, are you selling software or a business solution? Then it's better to send your emails on Tuesday or Thursday during the day.
On the other hand, if you are selling consumer products or promoting events, you have a higher chance of your emails being viewed after work hours or on the weekend. Also, if you are selling both locally and overseas, consider the timezones.

source: GetResponse
So the best day to send emails depends on your company, your customers or audience, and the market. The best way to find out what works for you is to a/b test your sending moments.
Create urgency
Offering limited-time deals is another oldie. And yet something about "only today," "available this week and then never," and "hurry" keeps making us click. Create a clear time frame for your offer and find a way to incorporate it into your subject line without sounding too cheesy.
Use segmentation to improve open rate for email marketing
Segmentation helps you to target your emails better. For example, by sketching a profile or buyer's persona, you can find the right audience and consequently increase your open rate in email marketing. Find out more on how to do this.
Make your emails mobile-friendly
Over 55% of emails are viewed on a mobile device, so what do you do with it? Are your emails already optimized for mobile devices? If not, it will likely send up in your recipient's trash folder.
Almost 70% of emails that were not optimized for mobile are deleted immediately. To increase your email marketing open rates, make sure your design is responsive.
Conclusion
You could write the world's most fantastic messages, and still, no one would care to read them. When it comes to email marketing, you are fighting for precious seconds of your recipients' time, and they would jump at every opportunity not to read what you have to say.
Now you know what is email open rate how to increase it you will achieve fantastic results.