Best Tips and Practices for Abandoned Cart Emails. The Best eCommerce Examples
1. Why don't visitors want to buy and abandon carts?
2. What is an abandoned cart email?
3. Why you need to use these emails in your email marketing campaigns
4. When to send abandoned cart emails
5. How to send abandoned cart emails
6. Types of abandonment
7. Abandoned cart email sequences
8. What to include in your cart abandonment email?
9. Best abandoned cart email examples
Useful tools:
1. Newoldstamp - Email signature marketing
2. Mailchimp - Email builder and sender
3. Reply.io - Personal email outreach, calls, and tasks
4. RocketLink - Your branded short linker
5. Canva - Online tool for making designs
Making a sale is not always easy. Even if you can get consumers to visit your web page, you may still lose sales because of cart abandonment. According to statistics, on average, about 69% of website visitors add products to their cart and choose to leave an online shop without completing a purchase. When it comes to smartphone users, the rate is even higher - 85%. With regard to the distressing cart abandonment statistics, we need to answer the following questions: 1) why customers leave your website with empty hands, and 2) what you can do to win them back.
Why don't visitors want to buy and abandon carts?
Reason 1: They didn't like long order forms and a complicated checkout process.
Nobody likes it when filling in a form takes too long. Make a shopping cart in your store attractive and minimalistic. Ask people for minimum information during a checkout process.
Reason 2: It takes too long for website pages to load.
Make sure that your online store works quickly. Slow web page load increases the number of abandoned carts.
Reason 3: Your online store isn't optimized for mobile.
Many people prefer making purchases using a mobile device. Try to ensure them the best possible shopping experience.
Reason 4: They want to compare prices or check the shipping cost.
Often, a visitor just wants to view some products and to compare the prices. With this goal, an item is added to the shopping cart.
Reason 5: They get distracted.
There can be various reasons for this. Visitors can be distracted by somebody, they need to consult a colleague, have doubts and decide to research more.
Reason 6: They need to postpone a purchase.
A client might be happy with everything. However, they still didn't place an order. Perhaps they just browsed products and added them to a shopping cart instead of a wishlist.
Now that we identified the most common causes of cart abandonment, we need to think about what we can do to address the issues mentioned above.
One of the fastest ways to lose your customer is to bore them with an endless checkout process. For people to know how close to the end they are, you may add a progress indicator to checkout pages. You can also provide guest checkout options.
We all have visited slow websites and remember the feeling when it becomes unbearable to wait. So, we gave up. But by optimizing your page load times, you can significantly reduce the number of visitors who abandon their shopping carts on your website.
Optimize your website for mobile. Make sure the buttons are big enough for people to tap them easily.
Try to convince such users that there is no need to browse anymore and that your product is exactly what they are looking for. Use your abandoned cart email templates to win people back. Also, be crystal-clear about shipping costs and taxes. Finding out about any hidden fees may be very frustrating for the customer, and what's more, this could severely damage your reputation.
Don't hesitate to remind cart abandoners who got distracted that they forgot to complete the purchase and recover their interest in your product or service by sending abandoned shopping cart emails.
Induce a sense of urgency and a fear of missing out in your shopping cart abandonment emails to those postponing a purchase.
What is an abandoned cart email?
This kind of emails is sent to customers who added items to their shopping bag online but failed to check out for some reason. They are also known as recovery emails. These emails can also be called recovery emails.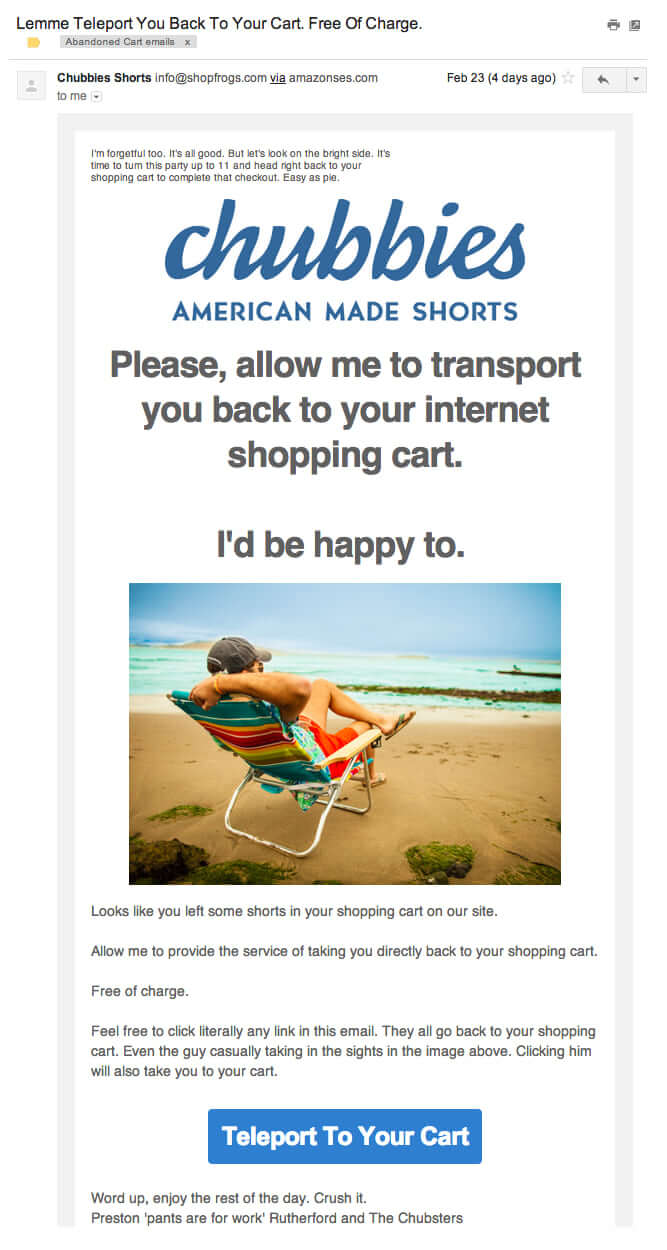 Why you need to use these emails in your email marketing campaigns
Lost profit associated with abandoned carts should in itself be a good reason to try winning your potential customers back. According to statistics from BigCommerce, some brands reported an increase in revenue from 8-20% after including abandoned cart emails in their email marketing strategies.
When to send abandoned cart emails
SaleCycle discovered that the best time for sending cart abandonment emails is one hour after a shopping cart has been abandoned. This results in a much higher conversion rate (6.33%) in comparison to reminders sent earlier (3.14% up to an hour after abandonment) and later (1.74% 24 hours after abandonment). However, you may find your perfect time to reconnect with cart abandoners through trial and error.
How to send abandoned cart emails
Obviously, there is no need to spend time sending these emails manually. It is pretty easy to set them up as a series of customizable emails that go to users who leave during the checkout process, showing them what products they added and reminding them to make the purchase. Today, there is a wide range of amazing solutions to craft and send out recovery emails. These include MailChimp, Rejoiner, Retargeting.biz, Metrilo, just to name a few.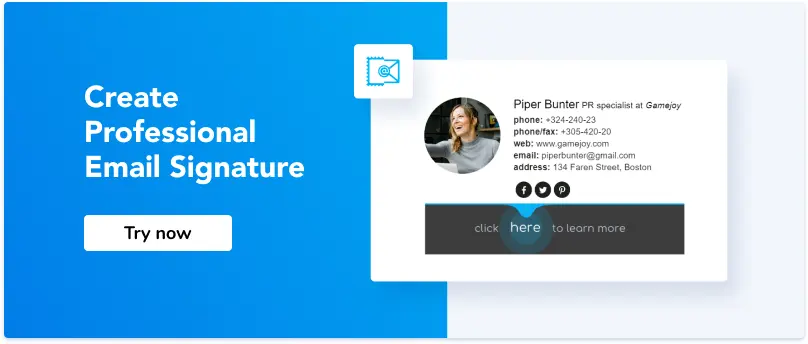 Pro tip: Consider including a closing email signature at the end of your abandoned cart email. By doing so, you will add a more human element to your campaign and make the recipient feel like they are getting extraordinary customer service from a real human being. Experiment with adding a company logo, photographs of your customer service team representatives, links to your social media accounts, etc.
Types of abandonment
Although different industries face different challenges, the problem of cart abandonment is, unfortunately, familiar to most business owners.
For example, the travel industry may face booking abandonment. This type of abandonment occurs when customers fail to book a flight or a hotel. As a rule, they may have selected dates they are interested in, as well as a specific travel product. Having such information, you may send some similar offers, appealing visuals, customer testimonials, or coupon codes to persuade abandoners to jump on the deal.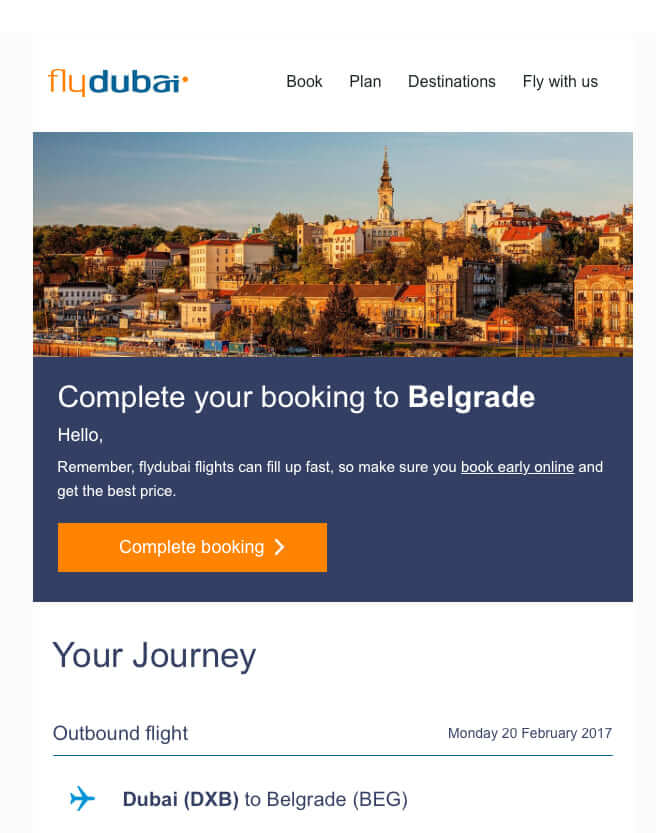 Form abandonment is typical across instances or processes which require filling out forms. The long ones tend to be an issue here. Sometimes even the engaged users leave the site before finishing the form. Well, actually, it's not weird that marketers usually try to get as much data as possible from customers completing forms. However, smart marketers know that this can also increase the chance of visitors abandoning the process. To minimize the problem, keep your forms as short as possible and avoid asking needless questions. To bring potential buyers back, you can follow up with a non-pushy bonus offer.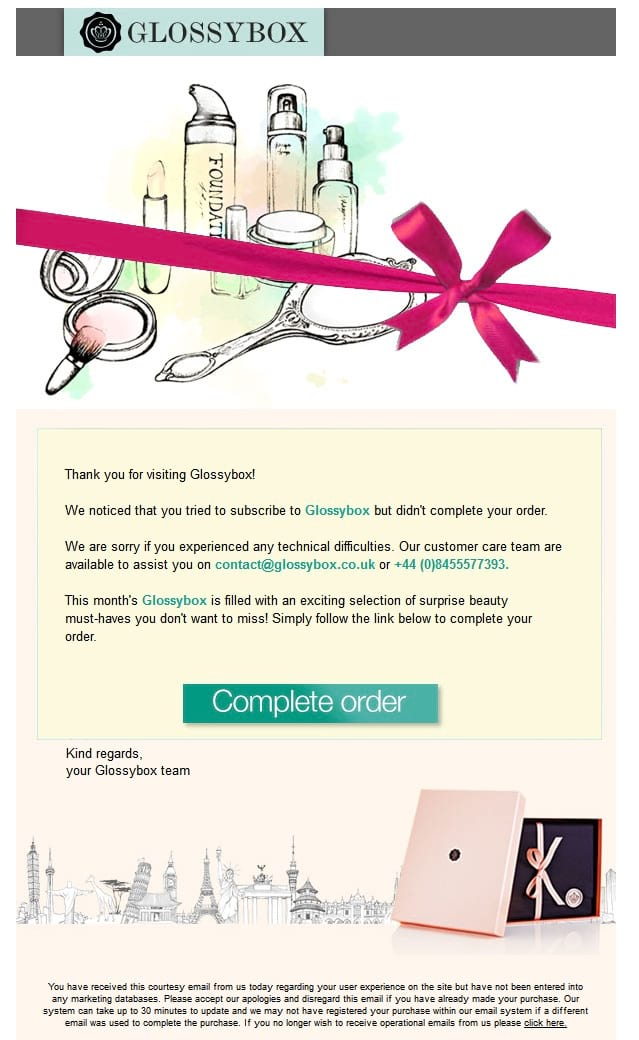 On top of that, you are probably familiar with the situation when dozens of visitors come to your web page every day, but your sales leave much more to be desired. It often happens that people just browse pages and product categories and then go without placing an order. This is what we call browse abandonment. To turn window shoppers into buyers, you should track every page people visit on your site. This will help you understand which categories and products they may be interested in. If you get this information, you will be able to remind users what items they were looking at, suggest to them other top-selling items from the same category, or items that most buyers frequently purchased together.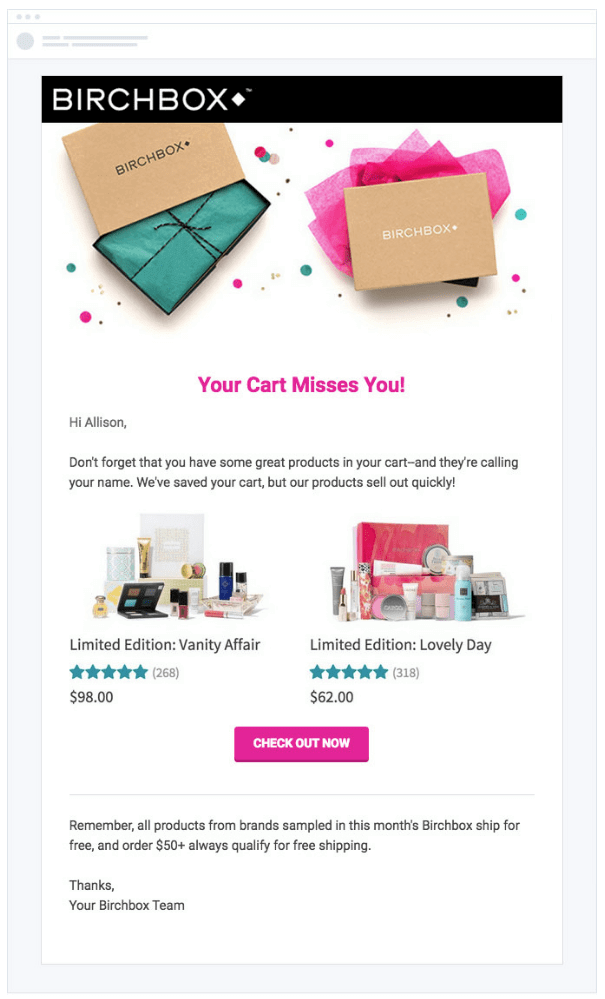 Abandoned cart email sequences
The most typical campaign is a three email sequence delivered 30-60 minutes, 24 hours, and 3-5 days after cart abandonment. Of course, if customers return to convert during the sequence, they are removed from the email queue and don't receive any further messages. Now, let's look at how it works in more detail.
Regardless of the reason the user left the cart, you probably only have about an hour to get them back. Send your first email within this first hour of the cart abandonment. Keep in mind that in your first message, you should show the customer that you are here to help, not to sell (a so-called "helping hand" email). However, providing him with a link back to his cart wouldn't hurt. Ask your client if they have any technical difficulties. Perhaps they couldn't check out due to the lengthy process, or their payment was declined. Any feedback you receive would be helpful for tailoring your purchase process and messaging in the future.
Before sending any additional emails to your prospects, wait at least 24 hours. Your second email should spark a sense of urgency. Let the shopper know that their cart will expire soon, and that you won't be able to guarantee any discounts or availability later.
If you decide to send a third email, don't do it earlier than after three days have passed. Remember that some customers simply won't check out no matter what you offer. So if you send too many emails, they are likely to mark them as spam. Your third email should aim to help the customer decide. Some retailers offer time-limited discounts or free shipping on a regular basis at this stage, but you should be careful with this tactic as savvy customers can quickly discover it and will always wait until you offer a lower price. Moreover, they can share this information with others and make you a well-known Santa Claus.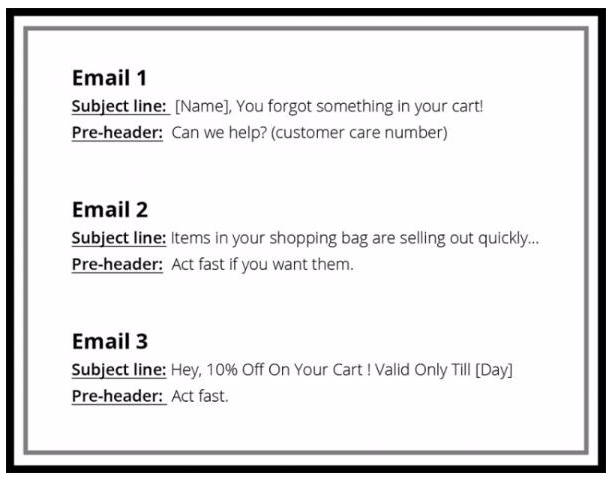 What to include in your cart abandonment email?
A clear and attractive subject line. For example, "You are only a few clicks from making it yours," "You've got great taste, Natalie," "Reminder: There is something in your Shopping Cart."
A creative sentence to remind the recipient of the abandoned product. For example, "Is it me you're looking for?", "Wait, you forgot something!", etc.
An attractive photo of the product.
If you sell clothes or footwear, make sure you include the name of the brand, the size, and the color.
A clear call to action. For instance, "Buy Now," "Continue Shopping," "Restore my cart," and more.
Contact information. Allow customers to get in touch with you if they need help.
Best abandoned cart email examples
Now that you know the theory, it's time to get inspired by the best abandoned cart emails. So, let's take a closer look at what famous online stores are doing to convert shopping cart abandonment into new sales.
#1 Nordstrom
Have a look at this email from Nordstrom — a well-known American shop for clothing, jewelry, makeup, shoes, etc. Rather than just saying "go buy stuff," they offered help to show the customer their friendly side. In addition, they emphasized that the stuff is great. By doing so, Nordstrom has reminded the shopper why they chose the item (because it is great). To achieve an even stronger effect, they included a picture of jeans. "Popular looks go fast," — said Nordstrom. "So do your jeans if you won't take action asap!" — thought the customer. As you can see, there is an option to go straight to your shopping bag and complete the purchase. Perfect job!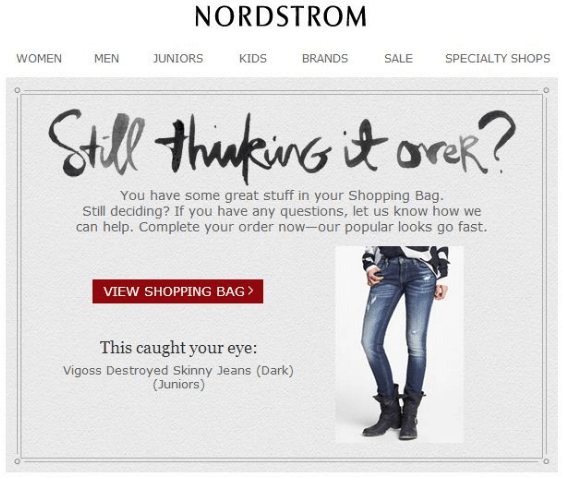 #2 DoggyLoot
Doggyloot, a provider of top-quality dog-related products, is known for its remarkable friendliness and an excellent sense of humor. They also follow the same approach when it comes to abandoned bag emails. A clear call to action and a picture of the item encourage the prospect to come back and buy the stuff. Cuz every dog lover knows, the dog shouldn't be disappointed.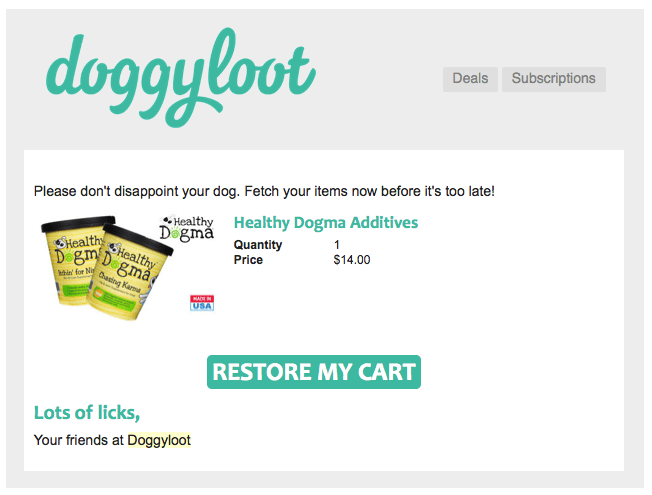 #3 Kate Spade
You have sent a couple of re-engagement emails and still no purchase? Well, some customers may be price-sensitive but would gladly decide to purchase at a lower price. With that said, you might want to make a sale. Below is an email Kate Spade sends to cart abandoners. 15% off! Doesn't it look like a great deal? In addition, they suggest to the customer a few items they might also like.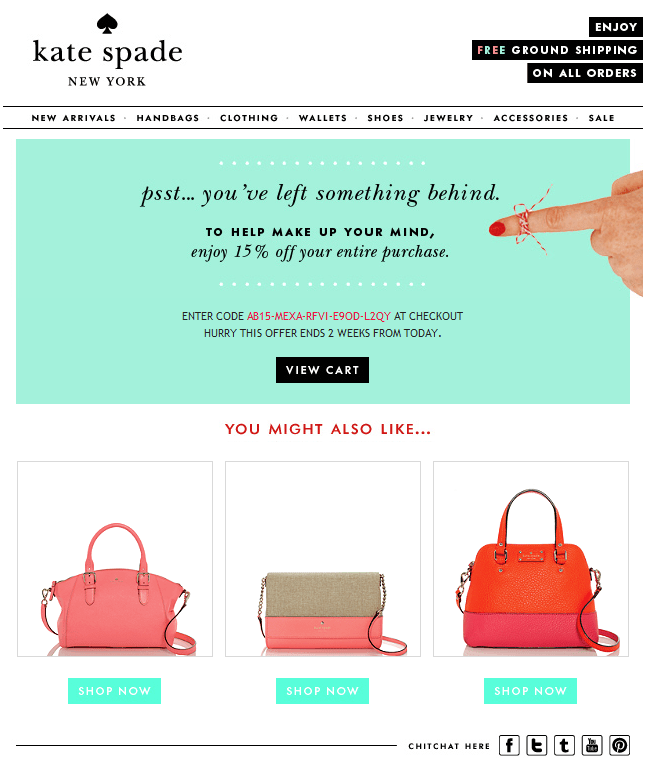 #4 Birchbox
"Your cart misses you" — reminds Birchbox, an online monthly subscription service that sends women all over the world boxes of personalized makeup, skincare, and haircare samples. As you know, visuals can play a significant role in making a decision. Birchbox folks know this too. They include images along with customer feedback to persuade the shopper to jump on a deal.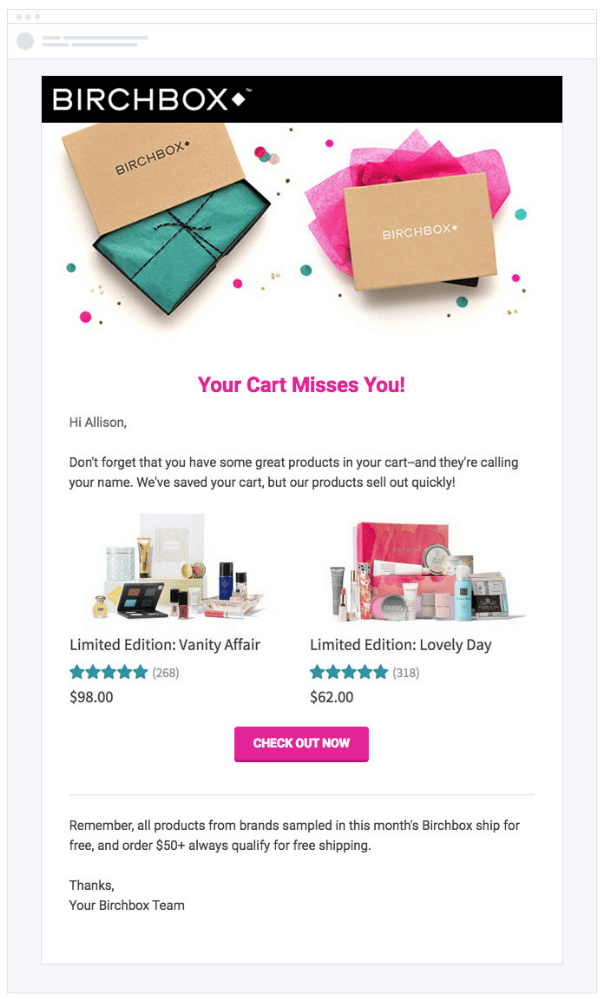 #5 Adidas
Another great example of an abandoned cart email belongs to Adidas. A pinch of humor, an attractive image of the product, clear calls to action ("Shop Now," "Customize"), and customer testimonials. This combo can easily persuade the recipient to complete the purchase.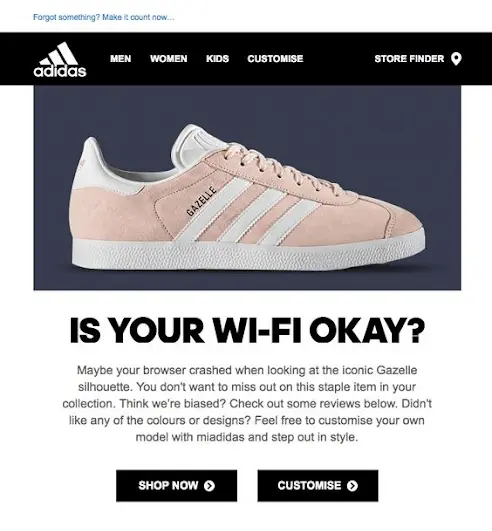 #6 Whiskey Loot
It might look like a very long abandoned cart email. But since it is aimed at addressing potential objections of a customer, it's ok. On top of addressing so many objections, they also tried to answer the most common questions customers might have. Is it even possible not to buy the Whiskey Loot set?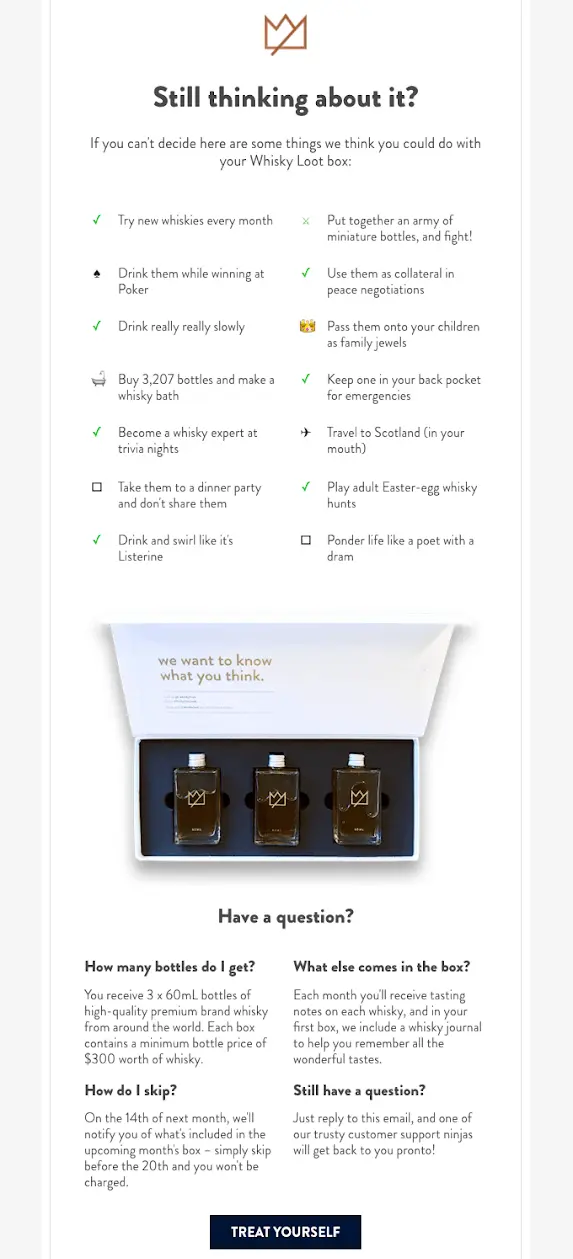 #7 Vans
Offering more options to choose from is also among abandoned cart email best practices. From this email, a recipient can clearly see a price, item, more similar shoes, and a guarantee of free shipping & returns on ALL orders. However, they could have made a call to action button more contrasting.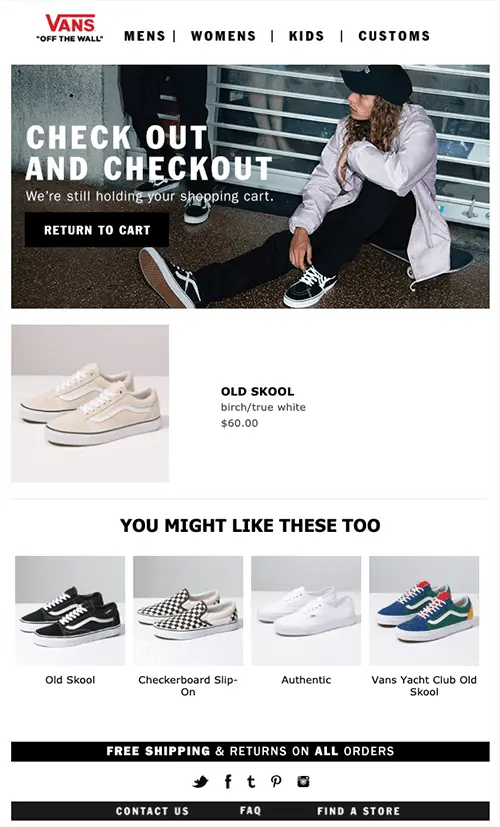 #8 Brooklinen
When you open an email from Brooklinen, you immediately notice a nice combo consisting of free shipping and a pleasant discount on a bright background. We also like that they included positive customer feedback to decrease any hesitations. Of course, there is a bold call to action at the end of the email. That would be enough for a good abandoned cart email example. But Brooklinen didn't stop there and boldly highlighted the ways to reach customer support.
What didn't we like about this email? Probably, there are too many options in one email. We'd suggest splitting this content between two emails. The first one should present positive customer reviews and a clear call to action (Go to cart). The second one may offer a discount and free shipping.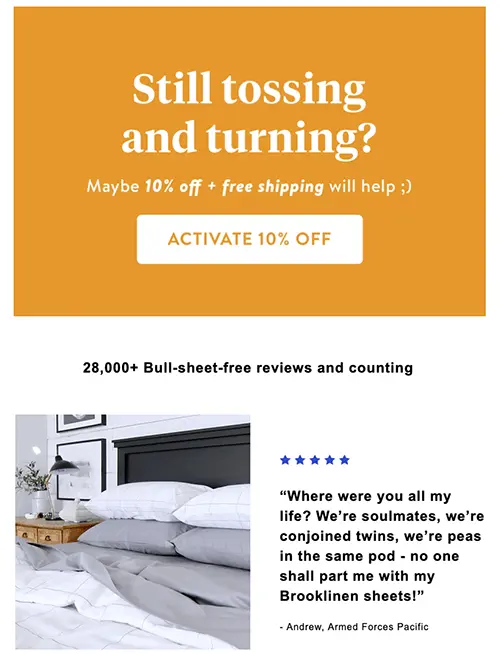 #9 Quip
This is a king of minimalistic abandoned cart emails. You can see little text, a pinch of humor, only a few colors, and a simple call to action at the end of the email. Pay attention to how succinctly Quip points out that most of the customers rate them five stars.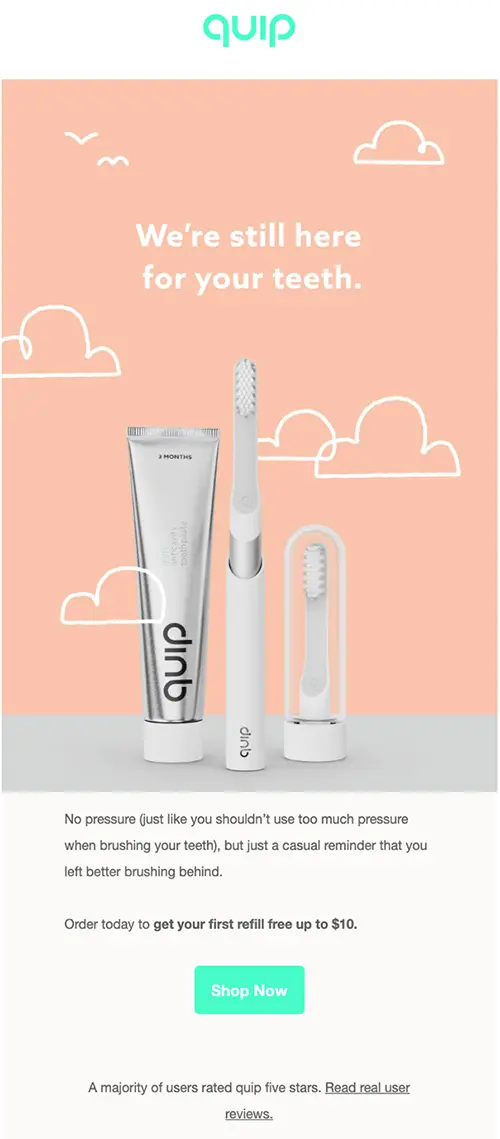 #10 Bloomingdale's
Bloomingdale's plays on customer's emotions using the "Make it yours" phrase. The word "yours" gives a personal touch to the entire email. Without even using the name of the recipient, Bloomingdale's manages to make the message feel unique to the individual.
The email also provides a clear call to action and the option to get help in one click.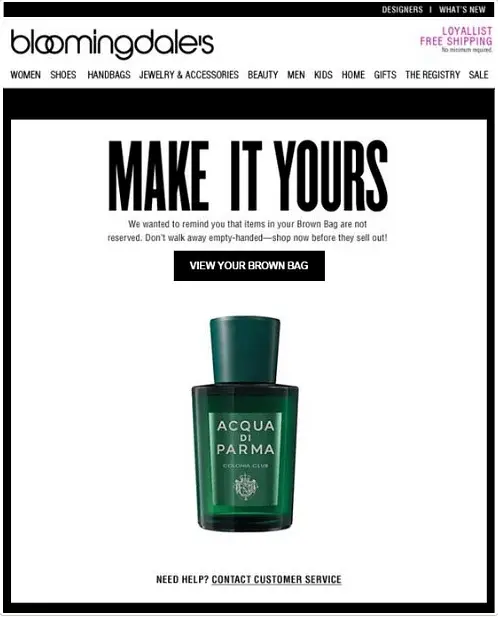 Conclusion
There are numerous statistics that show how abandoned cart emails help businesses recover potential lost sales and earn more money. Hopefully, after reading this article, you will take advantage of the abandoned shopping cart email best practices we discussed.
We also included ten best abandoned cart email examples to win back customers. So you can get inspired and create your own email sequences for cart abandoners. Enjoy.