Behavioral Email Marketing And GDPR. 5 Vital Points to Update Immediately
Part I
1.1 Behavioral Email Marketing
1.2 What is behavioral email marketing?
1.3 How behavioral targeting can benefit your business
1.4 What emails can be triggered by behavioral automation
1.5 Behavioral email marketing software
Part II
2.1 GDPR
2.2 What is GDPR?
2.3 What should you implement today?
Behavioral Email Marketing
Can you imagine a world where a seller knows exactly what product a consumer wants to buy? If such a world existed, marketers would never need to spend money on costly advertising campaigns but simply meet people who need their product or service and sell to them. While all this is pretty far from reality, there is a real marketing technique that allows for creating better personalized, and more effective, campaigns based on consumers' behavior online. This technique is called behavioral marketing.
What is behavioral email marketing?
Behavioral marketing, also known as behavioral targeting, is all about tracking customers' behavior on websites on in applications and using the received data to be able to create smarter, more targeted marketing campaigns. For example, if you log in to your Amazon account, you will see a list of recommended products personally picked for you. How does it all work? The recommended items are a mixture of things you viewed before, and those that customers with similar viewing histories have purchased on Amazon. It's obvious that people are more likely to buy when the products they see are relevant to them.
You can also use a customer's purchase history and browsing behavior to make your emails more effective. For instance, if a user browses items on a web store without purchasing, you can send them an email showing those items and other items in which the customer is likely to be interested.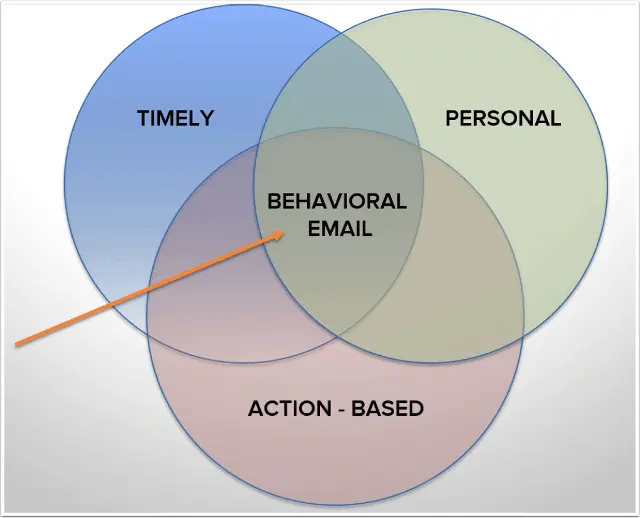 How behavioral targeting can benefit your business
Behavior-based marketing is the thing that really works because rather than receiving the same messages as everyone else, customers only receive so-called behavioral emails that are specific and tailored to them. Behavioral marketing can help your business multiply revenues, get more satisfied customers, revive your dormant customers. It also can help you cross-sell and up-sell.
What emails can be triggered by behavioral automation
You are leaving money on the table if you're not sending personalized messages based on the behavior of customers. So now I'm going to show you six behavior-based email automation drips your business can use to make money from every email you send.
#1 Welcome emails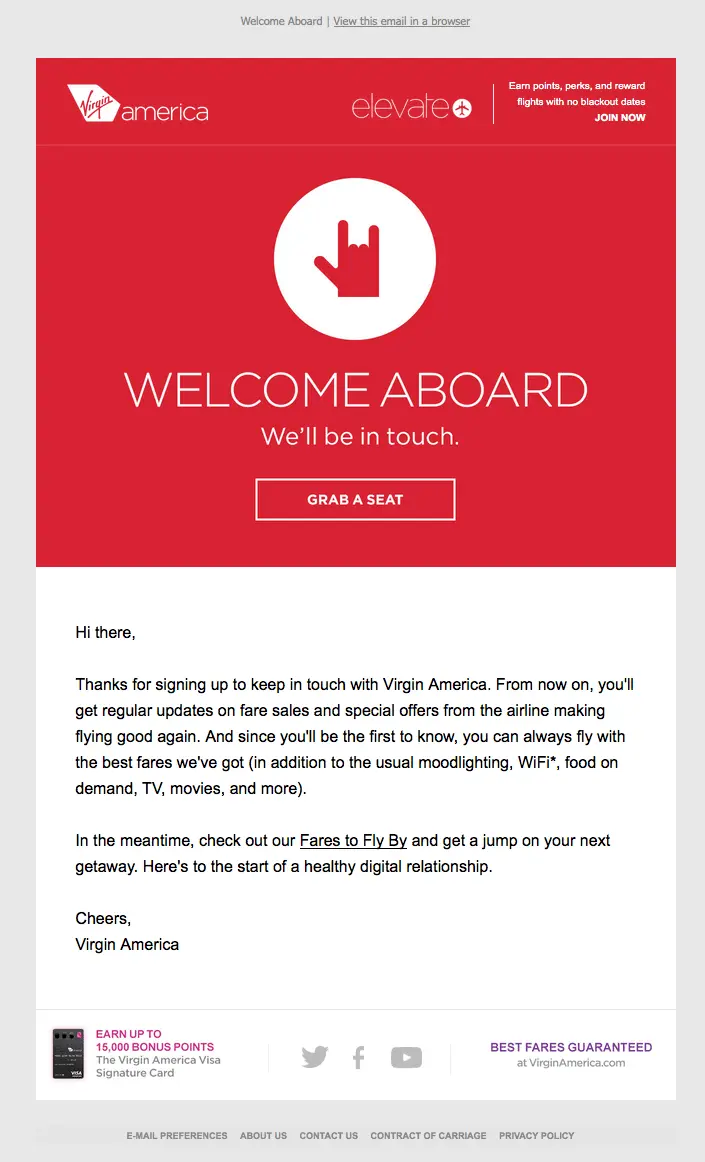 A so-called "getting started" email is sent after a user creates an account or register for a service. If you don't know what to send to your subscribers after getting their email address, remember that you should help people understand the value of your product and build instant engagement that leads to their first purchase from you. So what do you include in the welcome email?
Say "thank you" for joining your family and offer an exclusive welcome discount. Let's say it is valid for the next 48 hours. The less time a potential buyer has to act, the more compelled they will feel to do so;

If you have data on your customers' site behavior, send them some recommended items and also provide an exclusive coupon code;

Provide them with useful video tutorials, FAQ, etc.;

If the customer provided you their email address to be notified once the product is back in stock, you might want to encourage them to buy now. In your first email, say thank you and recommend alternatives or related products. In this case, you can also offer a time-sensitive discount to urge people to buy faste

r.
#2 Abandoned cart emails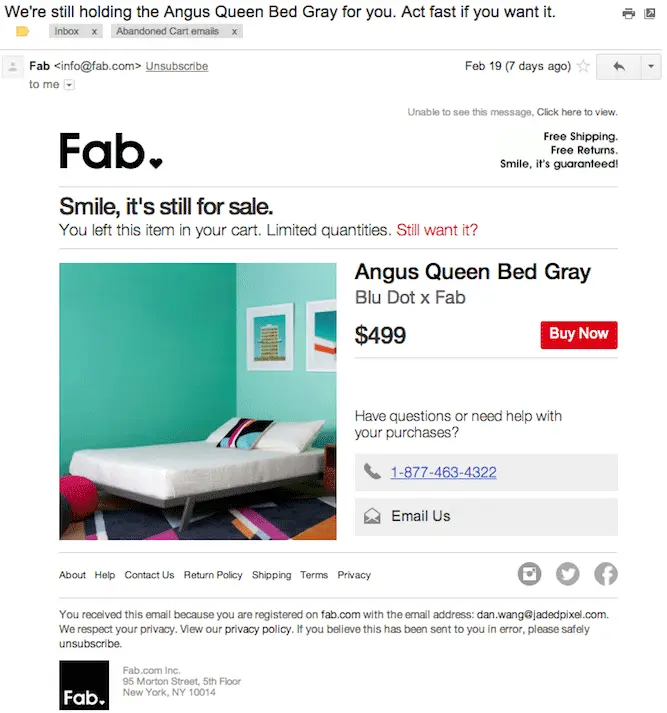 Not every online store visitor becomes your client. Sometimes people just add some items to their carts and then leave your website, but you can try to win them back. For this purpose, send a compelling abandoned cart email. When writing such an email, highlight the value of the product, add a sense of urgency, offer a time-sensitive discount, include images of the item. Read about our best tips and practices for abandoned cart emails (with examples from well-known brands).
#3 Location targeted email


Image courtesy of delivra
Knowing where your subscribers are located provides you with a variety of options to make your email marketing campaign better targeted and more effective. How? For example, imagine that Adrian, a marketing assistant at ABC company that is located in Romania is going to send a promotion about low-cost international shipping to a whole list of subscribers. Does it make any sense? Of course this information is useless to a Romanian audience but very useful to customers abroad.
#4 Transactional emails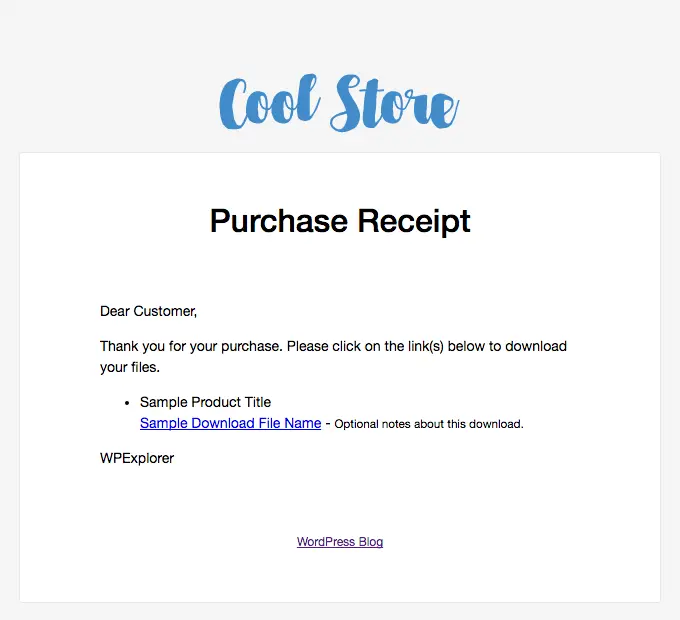 Image courtesy of dreamfoxmedia
These are purchase receipts, order confirmations, shipping notifications, password reminders, etc. When sending your next transactional email, keep in mind that according to Experian, this type of emails is opened up at 8x the rate of regular emails. And indeed, if you've just made a purchase, there is a good chance that you open a follow-up email that contains shipping information or any educational content that will help you improve your experience with the product you just purchased. It's a golden opportunity to insert a promotional message along with a receipt or a tracking number. For example, you can add some products that might interest the recipient (either because they relate to what they just purchased or because they checked for them in the past).
#5 Emails based on actions taken on your website
Different users' behaviors on your website can help you make assumptions about:
What your potential buyers are interested in.
For instance, the links a user chooses to click can tell you what they are looking for and what content on your website is most interesting to them.
The amount of interest they have.
Repeat page views and visits indicate increased interest in the particular product or content. The user who has viewed a product page six times during two visits to your website is probably more interested than the user who has viewed it only once.
What to send?
a discount code for a user who has viewed a product page two or more times;

new similar content a user may like;

valuable product information;
"Do you have any questions / How can I help you?" message if a user repeatedly visits your FAQ page after a purchase.
#6 Completed form submission emails
After a contact submitted a form, you can send them an automated email response.
What type of emails can be triggered at form submission?
Copy to the sender;

confirmation message;

notification emails based on answers.
Read more about other most popular email triggers for eCommerce.
Behavioral email marketing software
To turn your leads into customers, you will need a reliable behavior-based email automation software, as you can't control everything without it. This software is helpful if you want to say hello to new users when they sign up, greet your customers on birthdays, send emails tailored to the product purchases from your online shop, etc.
Here are the list of most popular software: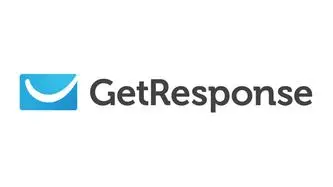 GDPR
If you have anything to do with marketing and your business involves sending emails, you probably already heard of GDPR.
Recently, the HubSpot team conducted a study and received the following results: only 36% of marketers know about GDPR, while 15% of companies are at the risk of non-compliance because they have done nothing. Taking into account this data, we can conclude that most organizations are not ready for GDPR compliance.
What is GDPR?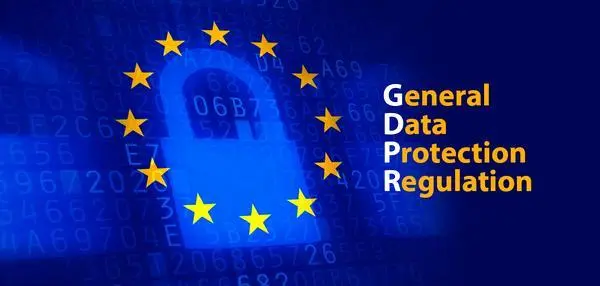 The General Data Protection or GDPR is a new regulation that aims to improve and unify data protection for individuals within the European Union. GDPR impacts all organizations around the world who collect or process personal data of EU residents. To personal data belongs any data which relates to a living person which can identify them directly and indirectly. Starting from May 25th, 2018 businesses will have to follow strict rules about how they handle this information. All organizations must report any data breaches to the affected individual and local data protection authority within 72 hours. Non-compliance can result in fines up to twenty million euros or 4% of their global revenues.
What should you implement today?
Below are top four things to consider for your DGPR preparation.
#1 Add double opt-in to your emails
Double opt-in is a way potential subscribers verify that they want to hear from you. This process includes two steps. In step one, an individual enters personal data to sign up. In step two, the individual receives an email with a verification link. By clicking the link, a person confirms that is was them who entered their email address to the signup field.
#2 Update your terms of use and policy
Keep in mind that you need to educate your subscribers about what you are going to do with their personal data. If you are you going to add them to an email campaign which tracks which links they click on, you have to inform them. If you are planning on offering certain products based on your subscribers' behavior, you also need to tell them. And once they agree, only then you can email them. So be sure to review your terms and conditions before the new data protection law is taking effect.
#3 Clear and double check your users' data
Sort out your existing mailing list and remove your inactive subscribers. If your database contains contacts who have not explicitly opted in, delete them. Remember that you can't email them and demand their consent. They explicitly have to give it in the first place.
#4 Find a method of storing consent forms
You must be able to prove you actually know that the subscriber made an affirmative decision. So be prepared to show consent forms to the authorities or the person concerned. Although GDPR is not saying how exactly these forms should be achieved, this must be done.
#5 Use geo-based behavioral market segmentation
Organisations are allowed to use targeting segments that group people in ways that don't identify a specific person and therefore doesn't fall under the GDPR scope. For example, they can create a targeted group of users whose site visits and other data indicate they live in Silver Spring, are dog owners, go to rugby games, because many users can match that description. However, be careful with how many criteria to select, because once the information can be used to identify a user, it becomes personal data under the GDPR.
Conclusion
Today, electronic messages cover a lot of ground. It could be traditional email marketing campaigns, transactional messages such as receipts, or shipping notifications and other emails that support user interactions and engagement. All of these are helpful tools for driving engagement and growth among potential and current customers.
If you are using email regularly for business and have anything to do with marketing, you probably already know that you will be affected by GDPR, which is coming into force on May 25, 2018. This new regulation forbids storing and using individual's data without their permission. I believe that sending your marketing campaigns to people who have given their consent is the best practice and is one of the foundations of successful email marketing. If you have been creating your list of subscribers by getting user consent first, then the General Data Protection law will not change your life much. For those who have old mailing lists or send emails to people who have not given consent, it is time to change your practices. Probably, you might not grow as fast as you want, but you will be able to improve the quality of contacts in your database and boost email engagement such as open and click-through rates. And remember that only when you are transparent and treat every subscriber like they are part of your big family, your email marketing can succeed.