All the Best Email Marketing Tools You Will Ever Need
1. Why email marketing automation rocks
2. Checklist for choosing email marketing tools
3. Email marketing services
4. Customer relationship management tools (CRMs)
5. Email tracking tools
6. Email testing and deliverability checking
7. Tools to check your subject line
8. Email template builders
9. Email signature marketing tools
10. Creating visuals for emails
11. Other useful necessities for email marketing
Email marketing tools are a cost-effective way to maintain contact with your customer base. Using email, businesses can provide customers with valuable content, promote their products or services, announce new offers, and much more. The whole process of managing email marketing campaigns can be time-consuming and tedious, but good email marketing tools can address this pain point. In this most comprehensive guide to email marketing software, we will review the top solutions to help you pick the best ones for your business.
Why email marketing automation rocks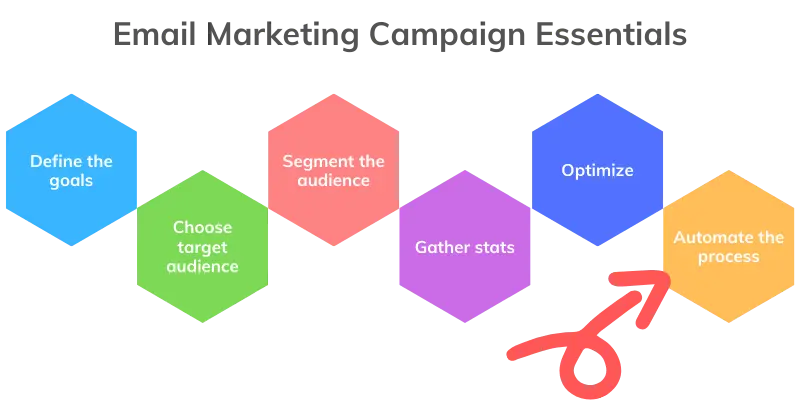 Imagine sending hundreds of emails in one sitting. You will spend multiple hours sorting the addresses, pasting the text with images, and sending emails manually. But if you choose the right email marketing software, it can automate the entire campaign process easily. With a few clicks, you can sort recipients into groups, schedule emails to be sent in the future, generate feedback reports, and much more.
Checklist for choosing email marketing tools
What should you consider when choosing between hundreds of top email marketing tools available on the market? We recommend you to pay attention to features, price, usability, industry, and support.
Decide what features to look for to create the experiences you want to create. You might need to be able to send bulk emails, personalize emails, segment users into groups, track the performance of your email marketing campaigns, etc.
Some email marketing software may seem affordable when your list contains just a few thousand emails. You can even find free options. But things can get worse as your list grows. When you choose inexpensive software, be sure to check and compare other price options for a larger amount of contacts. You never know how big your database can become in years.
Email marketing tools should be intuitive, easy to use, and easy to set-up.
Find out if the tool is aimed at B2C or B2B companies.
While there are very simple email marketing tools, some solutions are complex systems. The last would require continuous support from the vendor. Before you purchase the software, ensure that you would be able to get quality support via chat, email, or phone.
We divided email marketing tools into the following categories: email marketing services, CRMs, email tracking tools, email testing & deliverability checking, tools to check your subject line, email template builders, email signature marketing tools, software for creating visuals for emails, and others. Some of them combine a lot of email marketing necessities, though.
Email marketing services
This category of tools is aimed to help businesses grow their customer lists and market their products/services. With these solutions, it is easy to create professional-looking emails, make workflows seamless, keep contact lists up-to-date, etc. Get new clients with automated cold emails and timely follow-ups.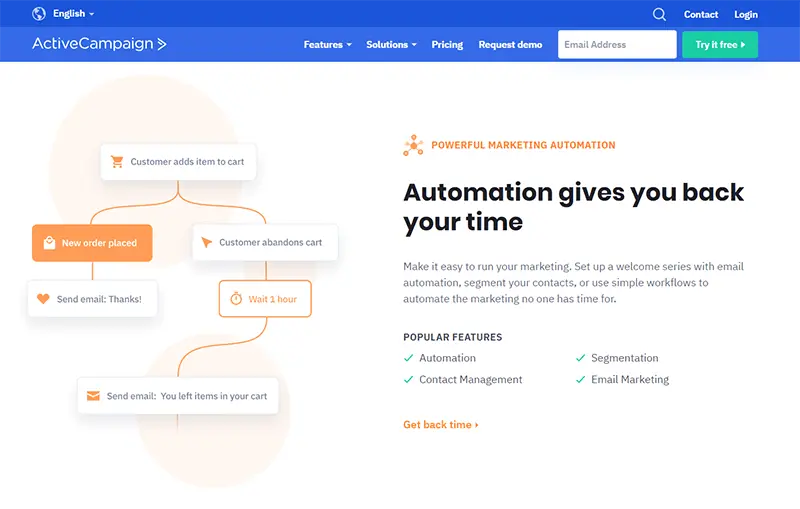 ActiveCampaign gives users an opportunity to customize their automated email campaigns by using conditional content. It is possible to target specific groups of people from the email list by segmenting them based on location, behavior, tags, custom fields, and other parameters. The basic payment plan starts at $9/month and goes up to $229/month for enterprise users. You can also request a demo or try it for free. The software offers useful features for both B2B and B2C marketers. However, it is more complicated than average email marketing solutions. Probably it is not the best option for novice users.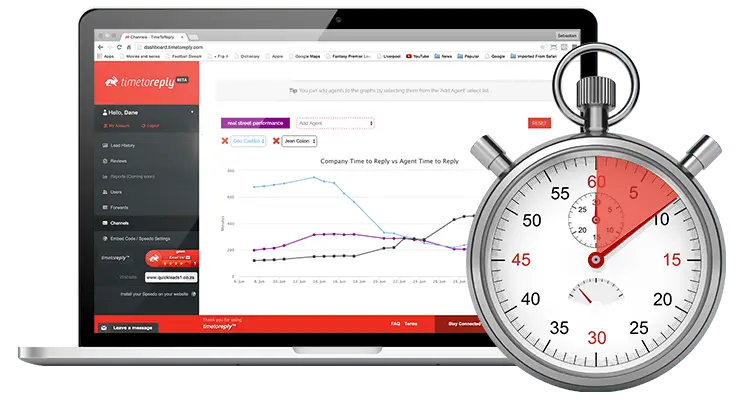 Timetoreply is an email reply time and analytics solution that enables companies to support their remote or fixed Sales, Key Account Management, & Customer Services teams to respond to online leads more effectively anywhere and keep key customers happy. Set reply time goals, set SLA alerts and close off conversations. time to reply works across all email clients. No change to workflow required. Track shared and individual mailboxes. Timetotireply offers a 7-day full-feature free trial (no credit card required). Price is $5 a month per mailbox for our Remote product (launching next week), and $15 a month per mailbox for our Ignite (our current) product.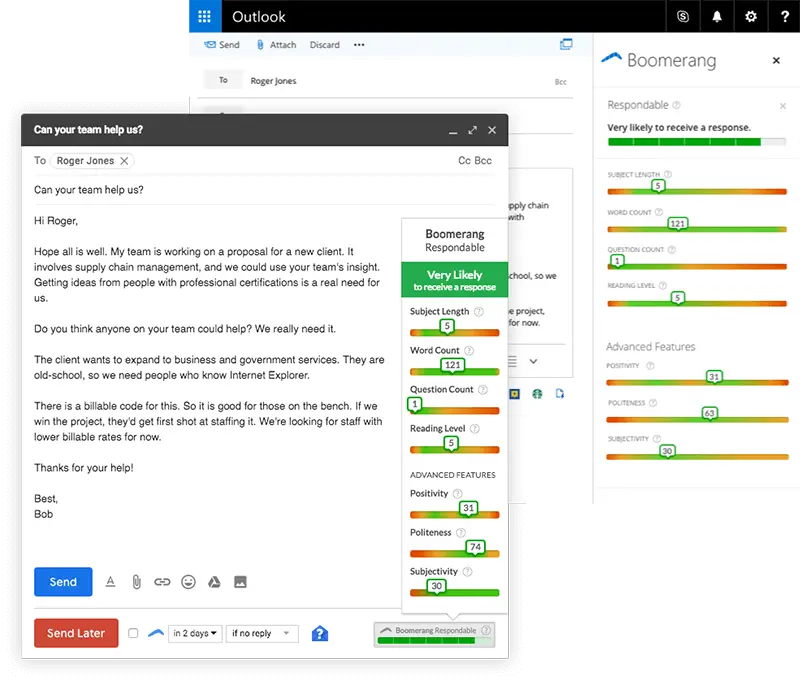 The tool not only allows users to schedule email messages to be sent at optimal times but also tracks opens and sends follow up reminders if a recipient doesn't respond to your email. Another great feature of Boomerang is a smart assistant that helps users write better, more actionable emails. There is a free limited version. Prices for a fully functional version start at $4.99 per month.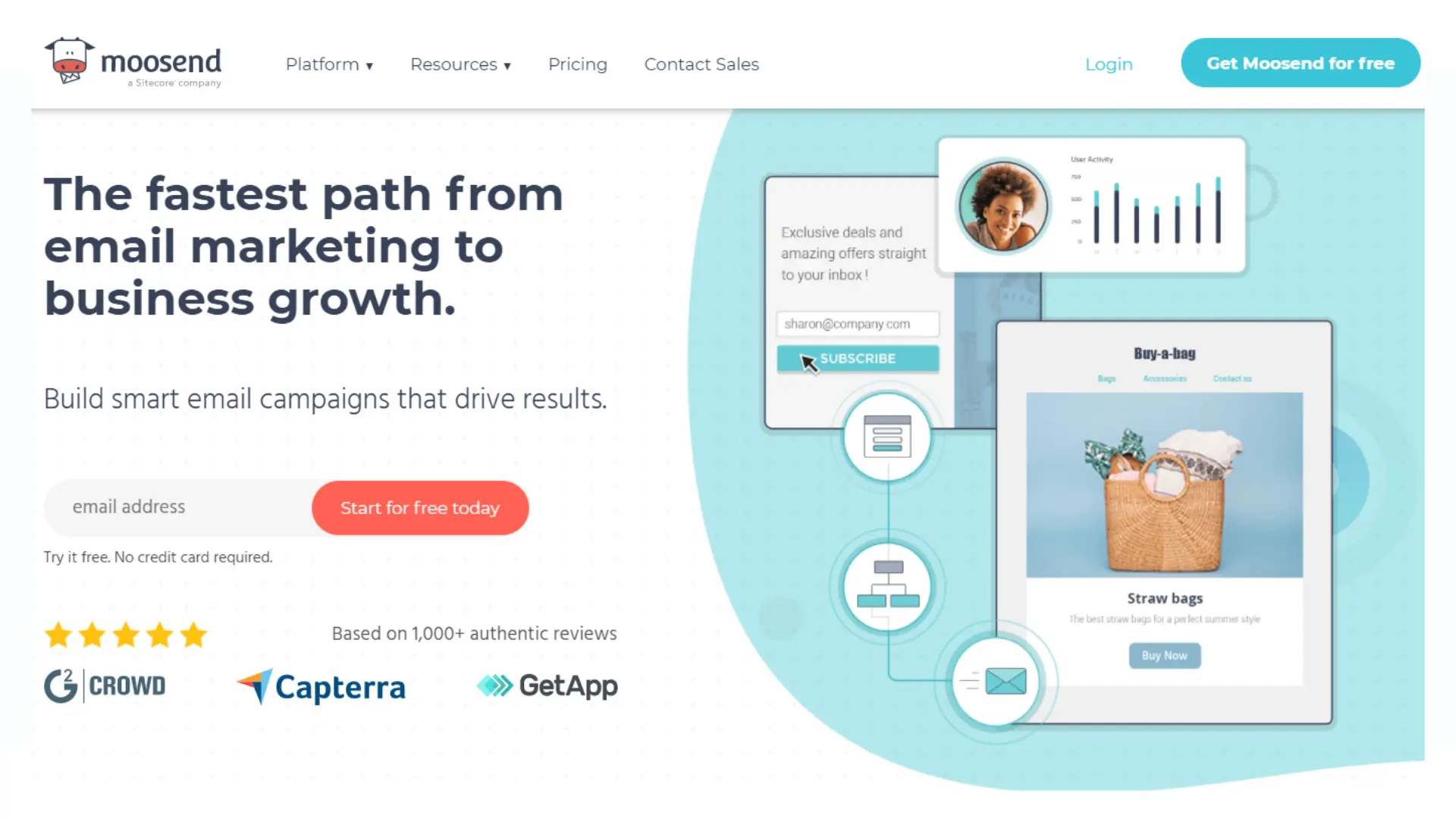 Moosend is an email marketing and marketing automation platform that allows both SMBs and Fortune-500 companies to create and scale their email marketing plan effectively and with little to no friction.
Its Drag-and-Drop email editor allows marketers to create email newsletters with zero knowledge of HTML, while its extensive template library with fully customizable email templates can help brands get their marketing message across and reach all of their marketing goals.
Moosend's platform also sports automation tools and ready-made automation recipes to automate and scale your marketing efforts. Its reporting and analytics options will help you make data-driven decisions.
Moosend offers three pricing tiers, ranging from the Free Forever plan that covers up to 1,000 subscribers and more than most features, to the Pro Plan that starts at $8/month, billed annually, and the Enterprise Plan that is custom made to meet your business needs.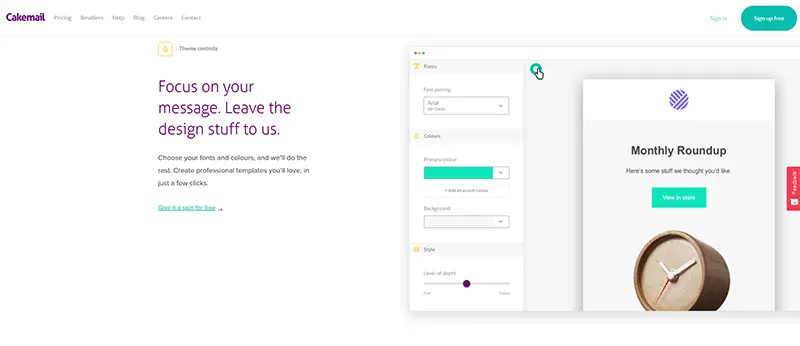 Cakemail's features include unlimited emails, email templates, anti-spam tools, and more. Prices start at $8/month.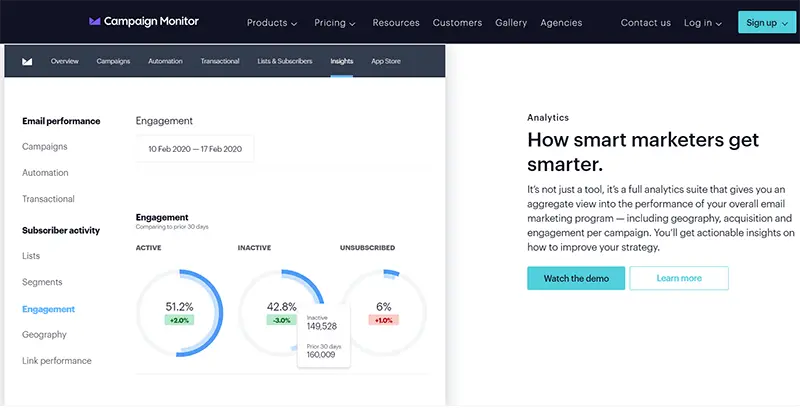 This vendor offers a solid range of features such as list segmentation, email personalization, mobile-ready templates, autoresponders, interactive analytics, and more. The tool fits both beginners and experienced marketers. When it comes to pricing, it's not the cheapest software on the market. For example, a basic plan that includes 20,000 contacts and 125,000 emails will cost you $199/month. Still, if you have a compact list of subscribers, you can choose a basic plan for $9/month. You can get customer support via email if you pay for basic plans. The Premier plan includes premier phone and email support.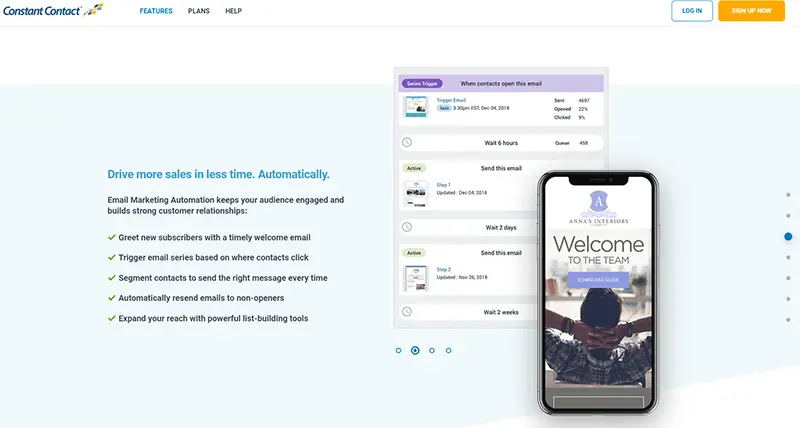 This tool enables you to build stronger connections with your subscribers by offering features such as autoresponders, email personalization, and automation. Constant Contact will let you send more targeted emails by segmenting subscribers based on the content they click. The software is easy to set up and suitable for users of all experience levels. The vendor also provides users with support options. However, the help team is available at certain times of the day only. Prices start at $20/month.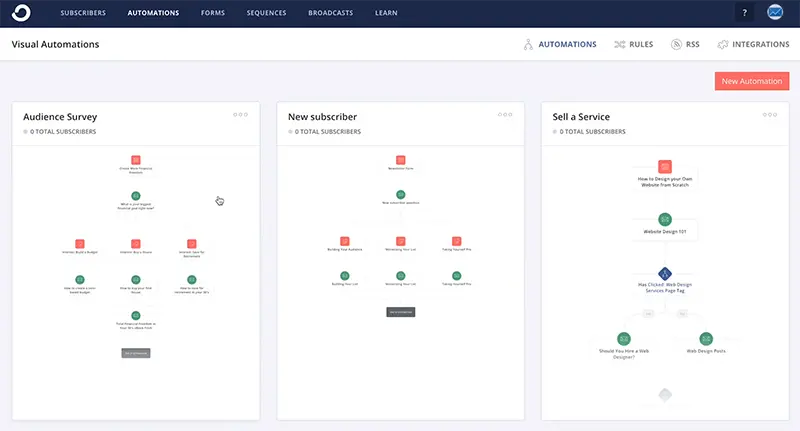 This solution is aimed at bloggers and e-commerce marketers. Users choose ConvertKit for its excellent subscriber management, segmentation, and form building capability. However, many are not satisfied with its very basic email editor. Live chat support available from 8 AM to 8 PM every day except weekends. If the amount of subscribers in your list doesn't exceed 1k, you can choose the cheapest plan for $29/month. For larger lists, for example, 10k subscribers, you will have to pay $119/month.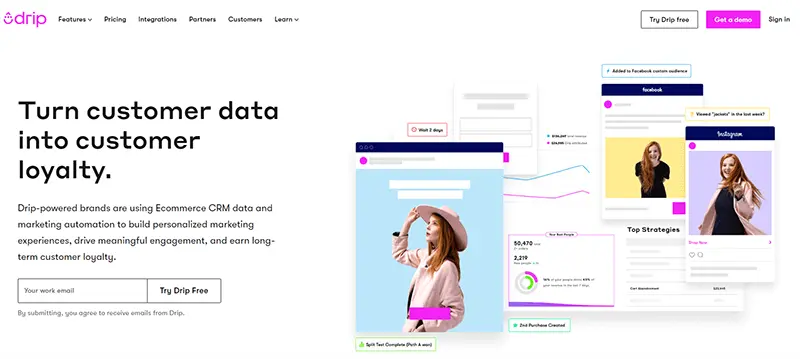 Robust email marketing automation, integration with many 3rd-party tools, convenient list segmentation, comprehensive tracking, split testing, detailed reports, 24/7 chat & email support: you will get all these and even more, once you choose Drip for your email marketing needs. Prices start at $49/month. It is possible to start by signing up for a free trial for 14 days.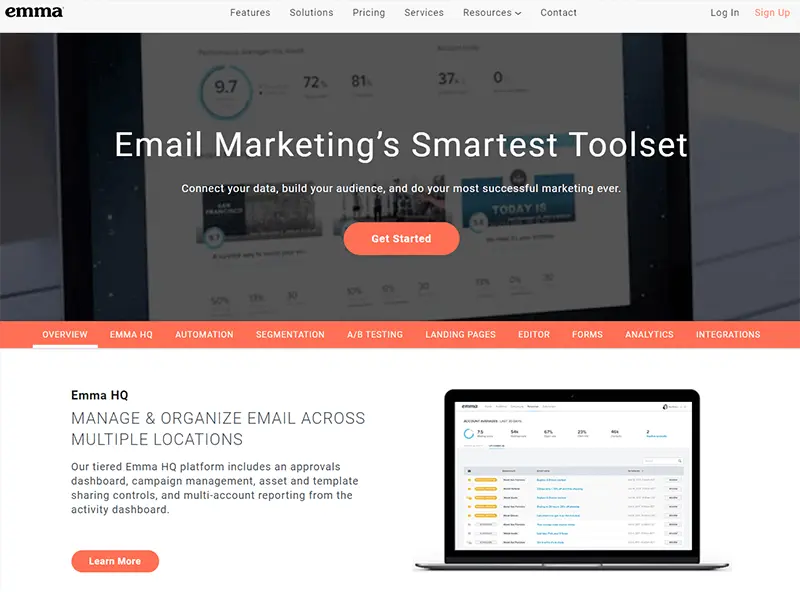 Using Emma, you will get relevant and timely emails, follow-ups, list segmentation, personalized emails, A/B content testing, beautiful landing pages, easy to use email editor, HTML template builder, robust email analytics, and even more. According to user reviews, the platform is not really user-friendly, but you can still pay for training. Prices start at $89 per month for 10,000 contacts. Emma does not have a free or cheaper version for individuals who want to use it for small volumes. A support team and learning center are at your disposal.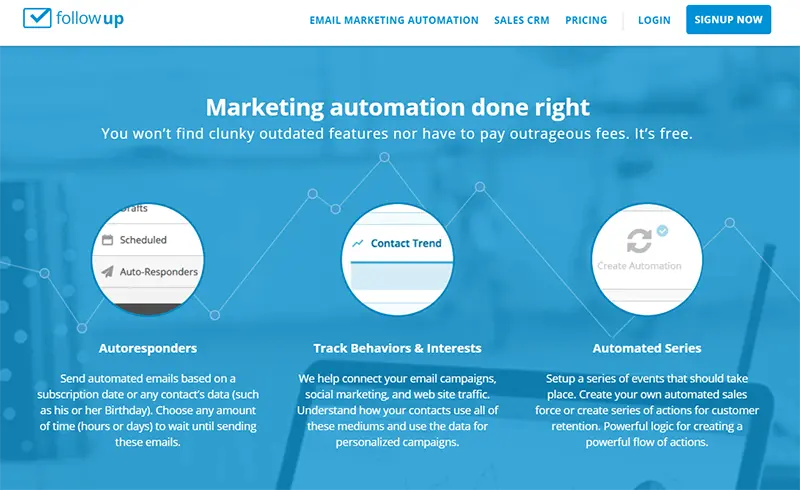 Followup is a relatively new SaaS marketing automation platform that provides email marketing, sales CRM, and behavioral analysis: all in one solution. By paying $9 per month, you can benefit from using autoresponders, behaviors & interests tracking, automated series of emails, a drag & drop email designer, premium email templates, and more. Other pricing options are $19, $30, $50, and $75/per month.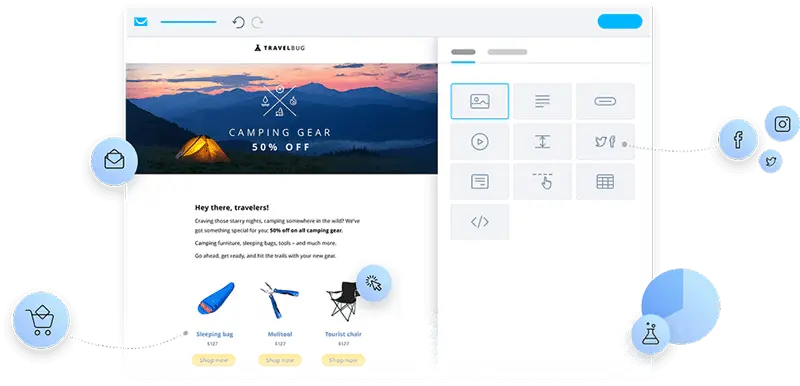 GetResponse is a modern email marketing service with multiple third-party integrations, solid support, and a wide range of advanced features that users can try for free. GetResponse offers a free, full-featured 30-day trial. The features include a list segmentation option, easy to use drag & drop editor, email templates, analytics, autoresponder, etc. It is a good fit for most small and midsized businesses. Prices start at $15 per month.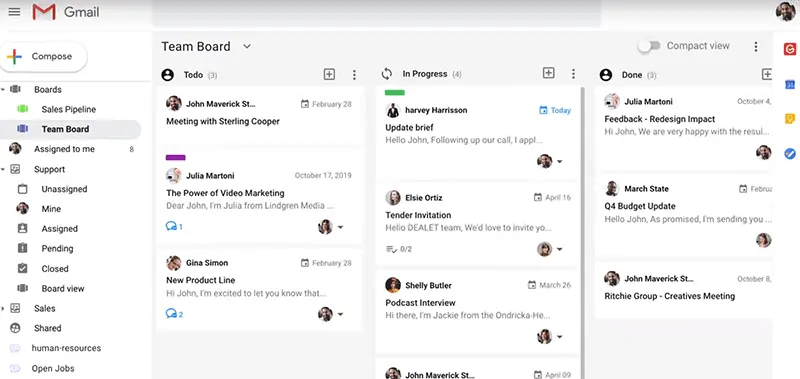 With this simple and user-friendly tool, you get everything you need to manage your email inbox better. Take benefit from ready-to-use email templates, email sequences & campaigns, email tracking, inbox sharing, and more. Gmelius is ideal for freelancers, solopreneurs, small- and mid-sized teams. There is a forever free limited version. Prices start at $9 per month.
The platform includes everything B2B companies need to start tracking and identifying their leads and customers. There are two paid plans to choose from: Platform ($195 per month) and Platform & Services ($495 per month).
It is a suite of tools for email designing and marketing. Litmus is compatible with Gmail, Outlook, Yahoo, Apple Mail, and many other email clients. It tests your emails for critical elements like missing links, broken links & images, spam, load speed, etc. The tool is pretty expensive - a basic plan will cost you $99 per month.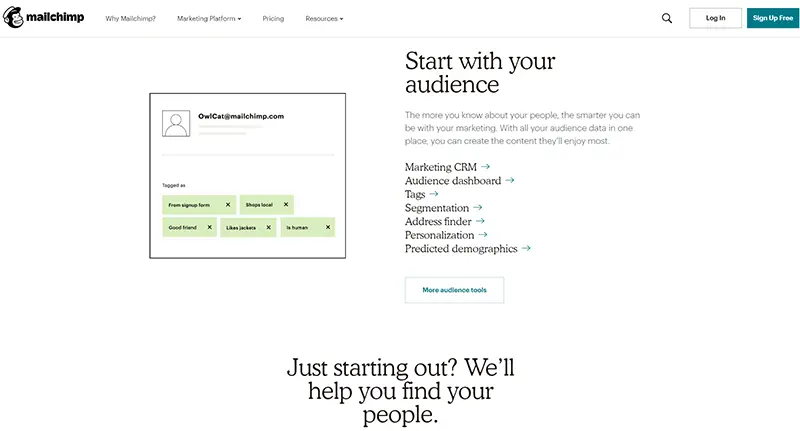 Users love MailChimp for its intuitive user interface, flexible email builder, simple tracking & analytics features, and, of course, integrations with WordPress, WooCommerce, Google, Shopify, and many more apps and web services. They also noted MailChimp's excellent 24/7 email support. The great thing about MailChimp is that you can use it for free until you reach 2,000+ subscribers. Their paid plans start at $9.99 per month.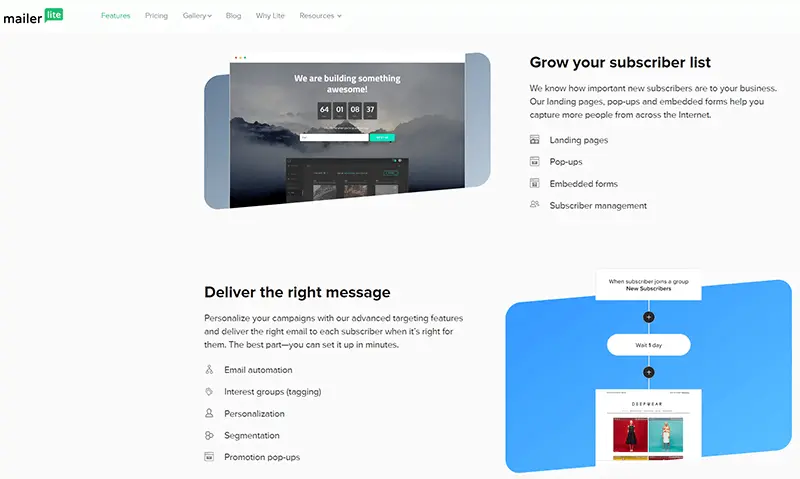 Because MailerLite is modern, clean, and really simple, it is a great solution for beginners. They provide such features as list management, basic email marketing automation, some templates (which aren't included in the free plan), basic reports. If you are a blogger, creative, solopreneur, or freelancer, this tool will work great for you. But if you need complex automations and comprehensive reporting (most businesses do), then we would not recommend MailerLite to you. The vendor offers a Free Forever plan that works perfectly for those who have no more than 1000 subscribers. Prices for paid plans start at $10 per month for 2,500 subscribers and include unlimited emails and user accounts.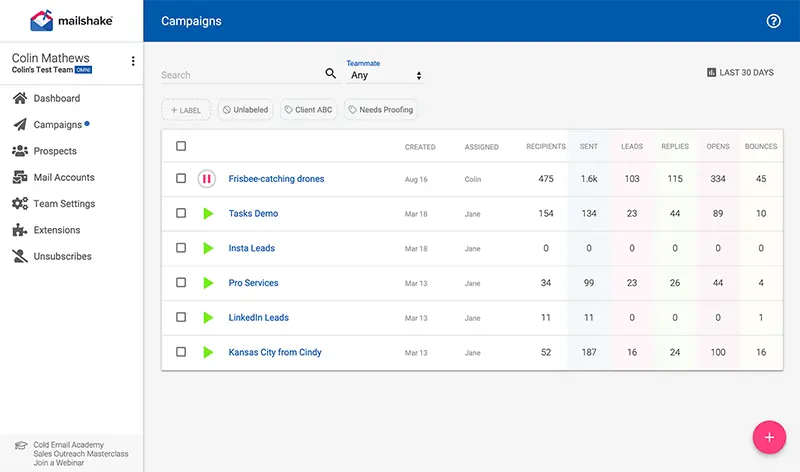 If you need a simple yet powerful tool to send automatic and personalized follow-ups, consider choosing Mailshake. It has a great user interface, beautiful templates, tracking of clicks & responses, and more. You can connect Mailshake to Zoho CRM, Hubspot, Calendly, Facebook, and many other apps and services to save time and work more efficiently. Although Mailshake has no free trial available, they offer users a 30-day guarantee for a full refund if they don't like the product. Prices start at $39 per month. If you face any problems with the tool, Mailshake will offer you online assistance during business hours. They also hold weekly training sessions to help users get the most out of Mailshake.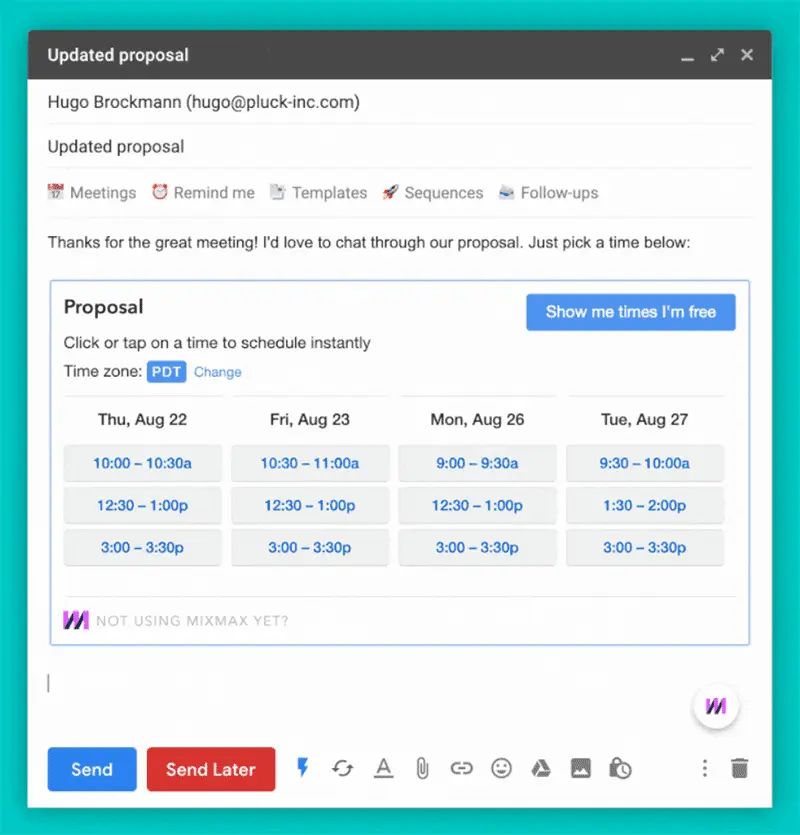 MixMax is good for tracking emails accurately, setting up meetings in a flash, and scheduling messages to be sent in the future. There is a free limited version. Prices start at $9 per month.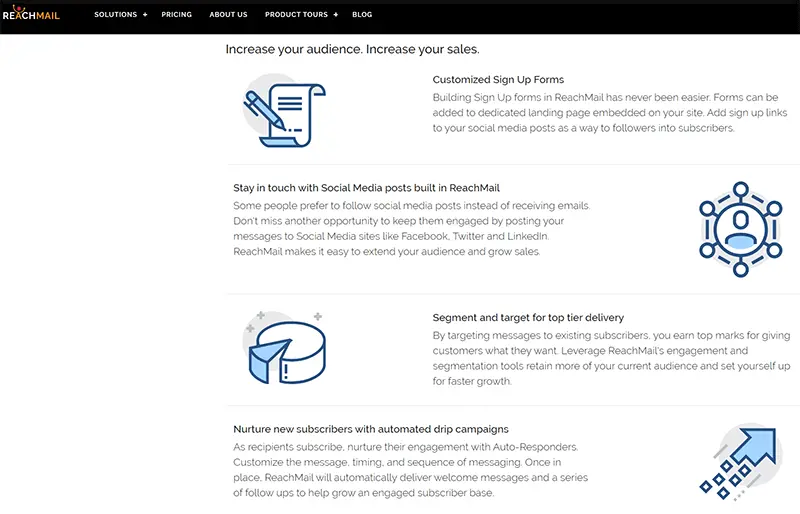 This platform can help you get the email marketing results you have always wanted. The list of useful features includes, however, is not limited to, email templates, email deliverability, subscriber list segmentation, spam checker, engagement scanner, open & link tracking, unlimited phone/email support, and many more. ReachEmail works well for both small, medium, and large companies. There is a free limited version. Prices start at $10 per month.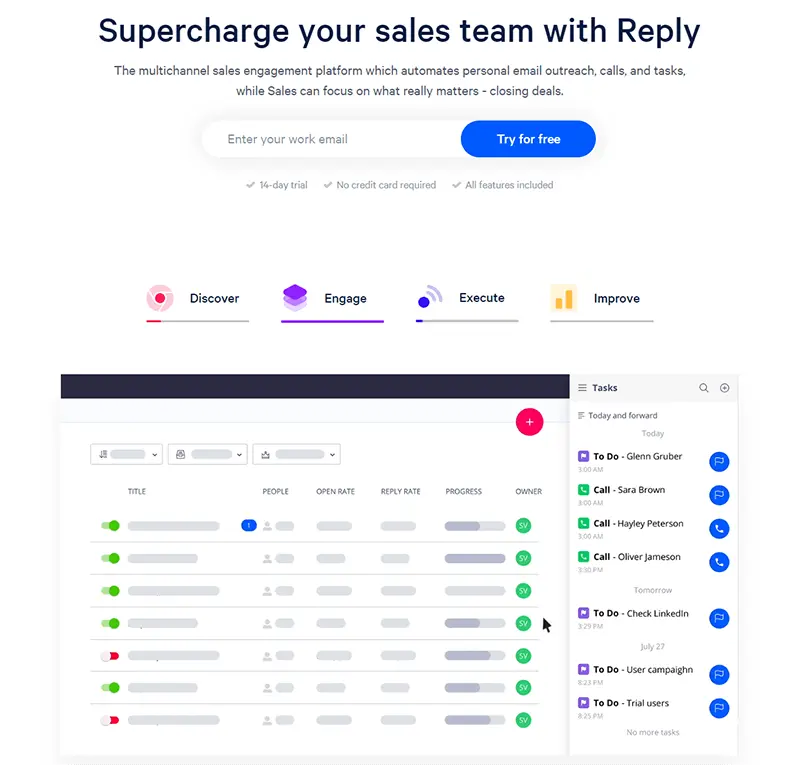 It is a service that automates personal email outreach, calls, and tasks. You can choose from individual, business, and enterprise plans. Prices for individual plans start at $70/user/month. If you want to connect more users, you will have to opt for business plans. The cheapest plan will cost you $200/3 users/month. 14-day free trial available.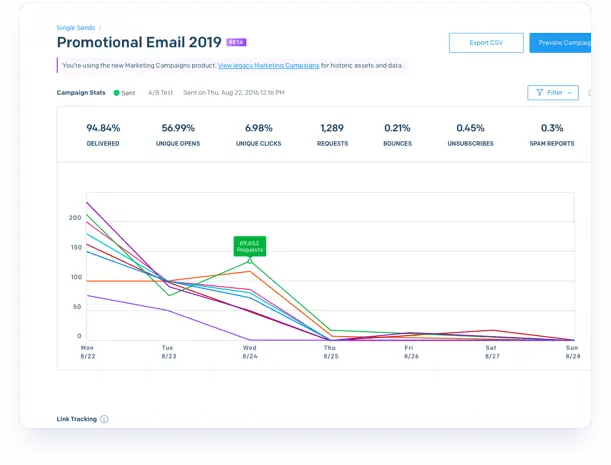 The tool has an easy to use email editor, strong personalization & analytics features. According to user reviews, email templates in the gallery are a bit basic when compared to other email marketing solutions. With Sendgrid, you can send 40,000 emails during the first 30 days. Then you will get 100 free emails per day forever. Prices for paid plans start at $14.95/month. All paid price plans include live chat and phone support.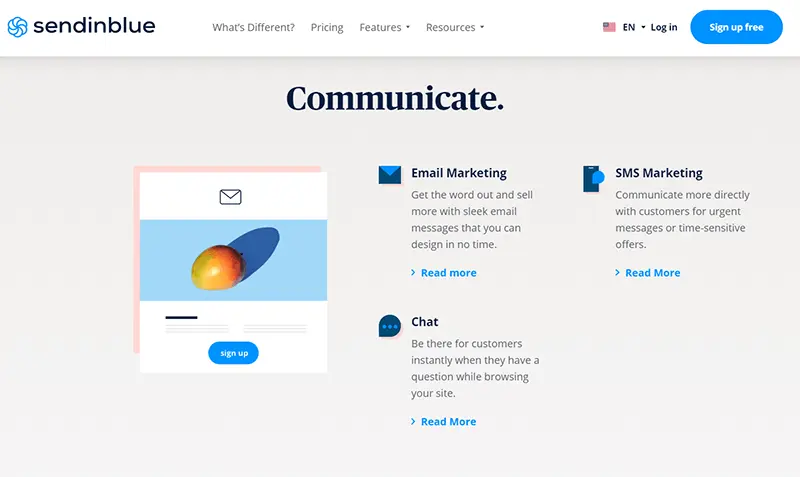 SendinBlue is known as an affordable email & SMS marketing solution with advanced features, a user-friendly interface, and fantastic results. It is ideal for both beginners and experts, large and small businesses. The list of useful features includes (however, is not limited to) marketing automation, SMS campaigns, spam check, trigger marketing, newsletter builder, integration with Google Analytics. Customers also mentioned that customer support was prompt and helpful. The good thing about this tool is that you can use it for free if you send no more than 300 emails per day. The cheapest plan will cost you $25/month for 40,000 contacts. Also, pay attention that unlike their competitors, they charge based on the number of emails users send rather than how many contacts they have.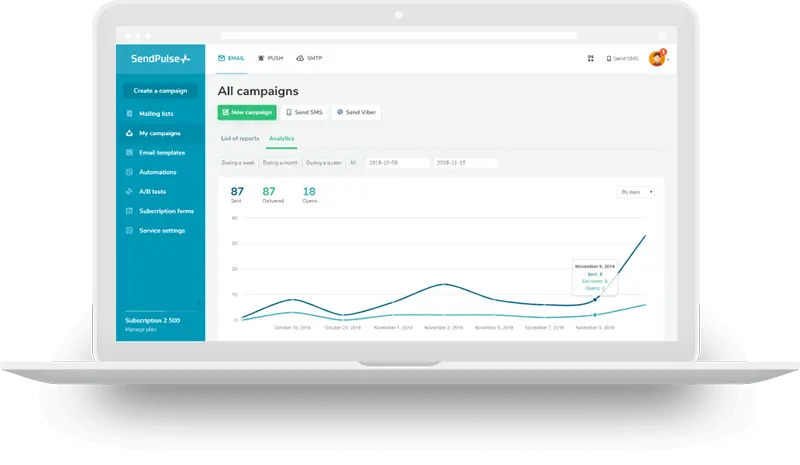 This tool offers an easy-to-use drag & drop builder to make responsive email templates. SendPulse lets its users choose from over 130 pre-made templates and enables them to add and save elements they want to use in their future templates. There is a free limited version. Prices start at $6.4 per month.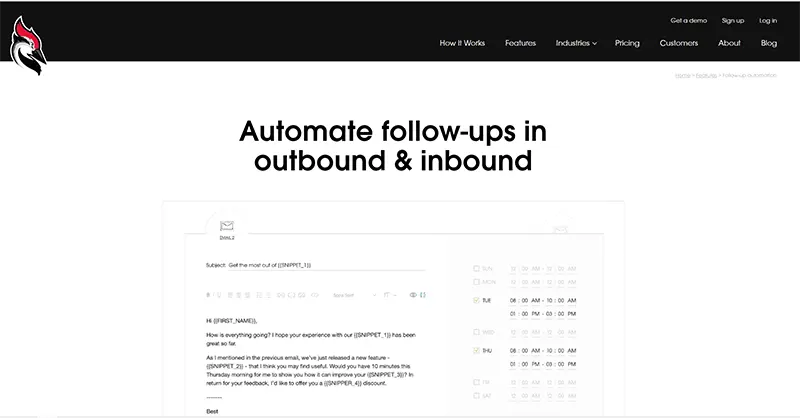 Woodpecker is great for human-like email sending, automated follow-ups, and campaign scheduling. It works for both B2B and B2C users. You can start a 14-day free trial or request a demo. Prices start at $40 per seat/month.
You might also like: "The Best Digital Marketing Tools for 2023."
Customer relationship management tools (CRMs)
CRMs help businesses keep track of conversations, reach out to potential customers at the right time, and automate manual tasks. With CRMs, it is also possible to make email outreach easier and more effective. You can personalize your marketing campaigns with CRM data and drive better engagement. Also, if a marketing team has access to sales data in a CRM, it allows them to craft targeted campaigns.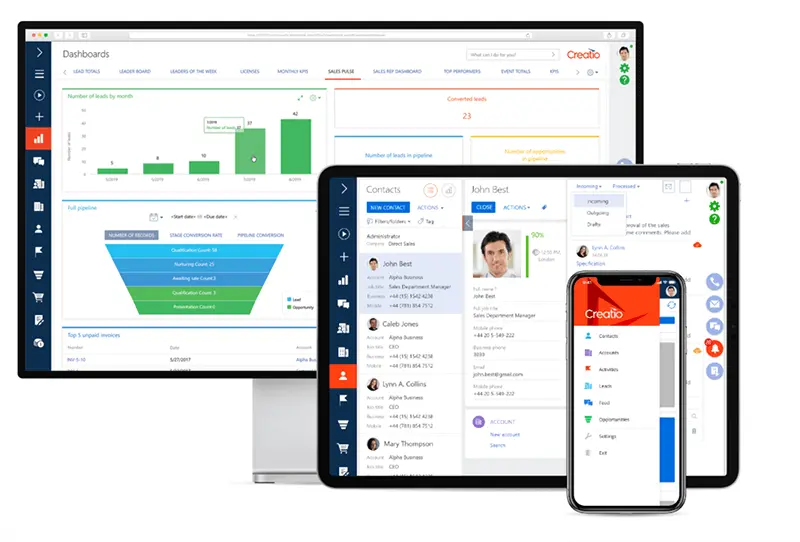 It is a SaaS solution developed by Terrasoft, which combines the capabilities of a customer relationship management system (CRM) and a business process management system (BPM). The vendor says that their software can automate any business idea in minutes. It is highly customizable and user-friendly. With Marketing Creatio, you can segment the audience with a few clicks of a mouse, create personalized bulk emails, schedule them, and track responses. It is also possible to create efficient multichannel campaigns. The tool is perfect for midsize and large organizations. Calculate prices for CRM Creatio here.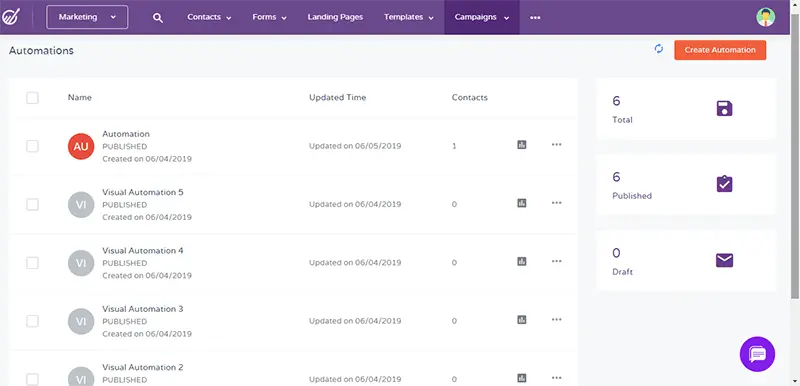 EngageBay is an all-in-one marketing and sales CRM. It provides users with email marketing, autoresponders, sequences, SMS marketing, email templates, email template builder, A/B testing, detailed reports, and many more features. There is a free basic and a few paid versions. You can also choose to pay for all-in-one, marketing, CRM & sales tools separately. Prices for all-in-one start at $8.99/month.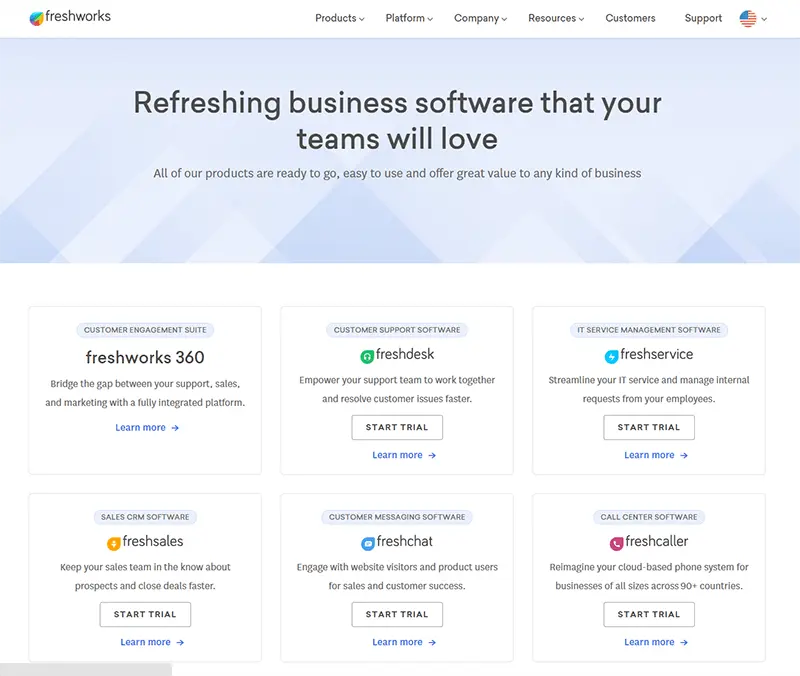 It is a full-fledged CRM for sales professionals. The software provides features such as personalized emails, email scheduling, email tracking, calendar sync, and more. Email, chat, and phone support included with all plans. The cheapest plan will cost you $12/month.
Hubspot is a well-known CRM that is very easy to set up and get started with. The platform offers free tools for lead generation and email marketing, so users are not just able to organize their database, but also grow and nurture it. Hubspot CRM is free but there are many popular HubSpot alternatives with similar or better features for no additional cost. Make sure you review the tools and use the one that suits you the best.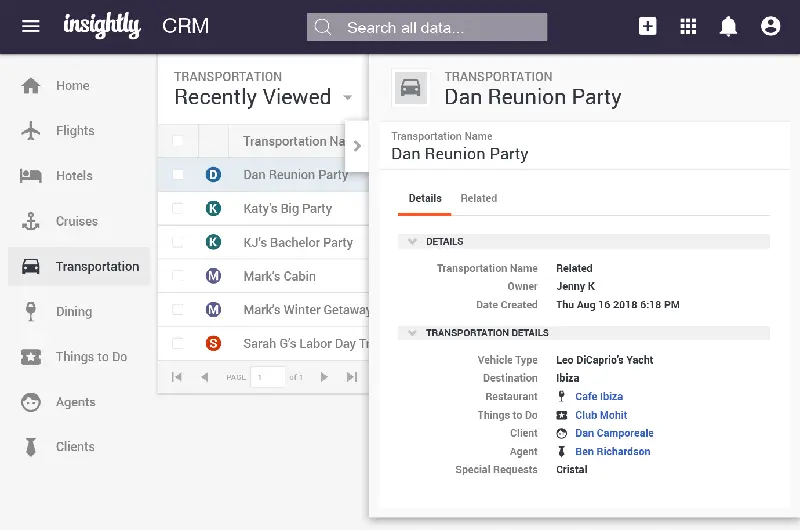 Another popular solution designed to improve the flow and organization of businesses is Insightly. It provides users with an outstanding collection of marketing tools. It works well for both small businesses and large enterprises. Prices start at $29 per month, per user. But there is also a "Forever Free" plan for up to two users.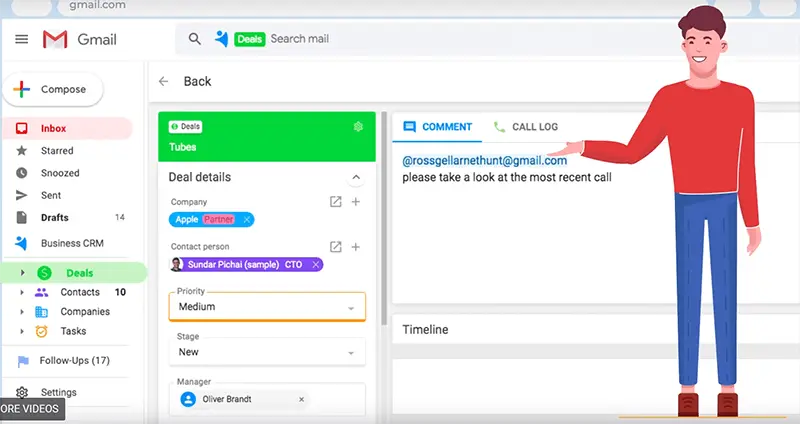 NetHunt is a smart CRM for those who prefer Gmail and Google Apps in their work. It allows users to perform sales & customer management tasks inside their Gmail accounts. NetHunt CRM fits start-ups, small, and medium businesses. Most users commended features such as a native G Suite integration, mass email schedule, bulk emailing, email personalization, email tracking, and more. The cheapest plan will cost you $24 per month.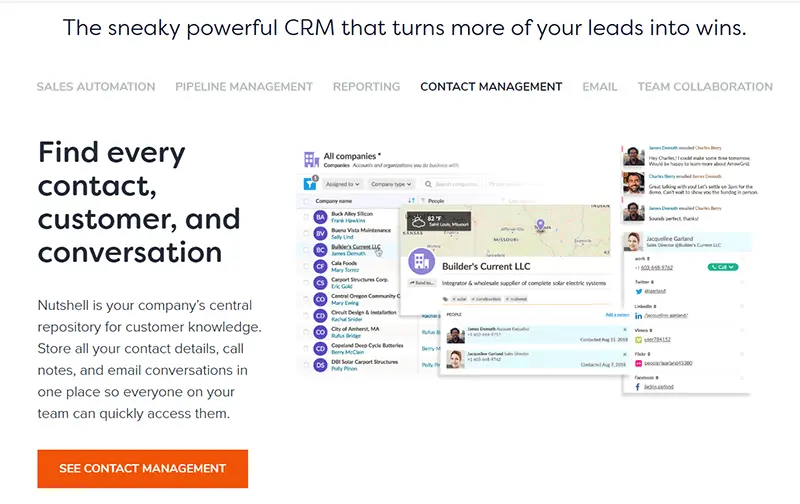 It is a powerful, user-friendly, and affordable CRM. Nutshell's common features include subscriber list management, built-in email templates, social media integration, A/B testing, success rate reports, autoresponders, and many more. Furthermore, Nutshell integrates with dozens of apps and services that small businesses already use. Those include Gmail, MailChimp, Outlook, Hubspot, Constant Contact, and others. The team boasts fast and friendly technical support. Prices start at $19 per month.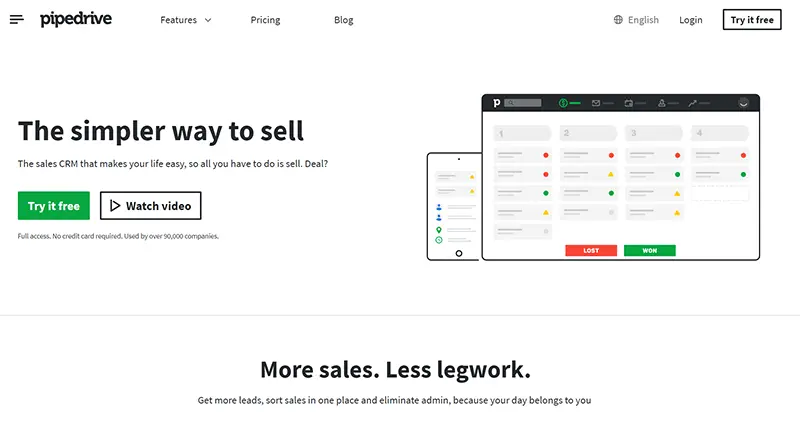 Piperdrive provides smart marketing tools to help businesses actively sell their products and services. Useful features for email marketers include ready-made email templates, the option to send emails to groups, personalized emails, ability to add fully customizable email signatures. According to user reviews, Pipedrive fits small companies and might not be the best choice for big companies with many projects and relations. 24/7 support (chat & email) for all plans provided. Prices start at $15 per month.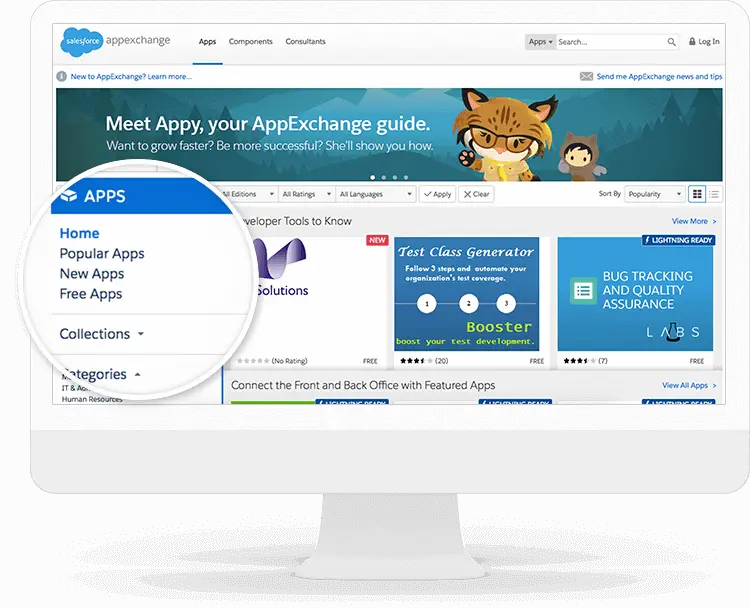 Salesforce is one of the most popular CRM platforms on the market. It offers its users a wide range of features and tons of convenient integrations essential to their businesses. It is ideal for both B2C and B2B businesses. On the other hand, users noted that Salesforce was challenging to learn. Also, it is a bit pricey if you want a lot of features. Prices start at $25 per month.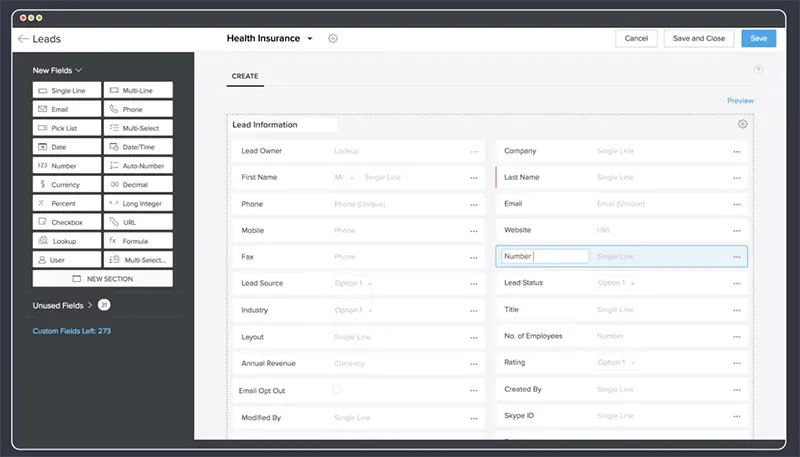 This popular platform works well regardless if a user is an entrepreneur, small business, or large enterprise. People who used Zoho CRM say it is feature-rich, customizable, and easy to use. Prices for Zoho start at $12 per month per user. There is a forever free edition for up to three users.
Email tracking tools
Let's take a look at some tools to track opens and clicks in your emails.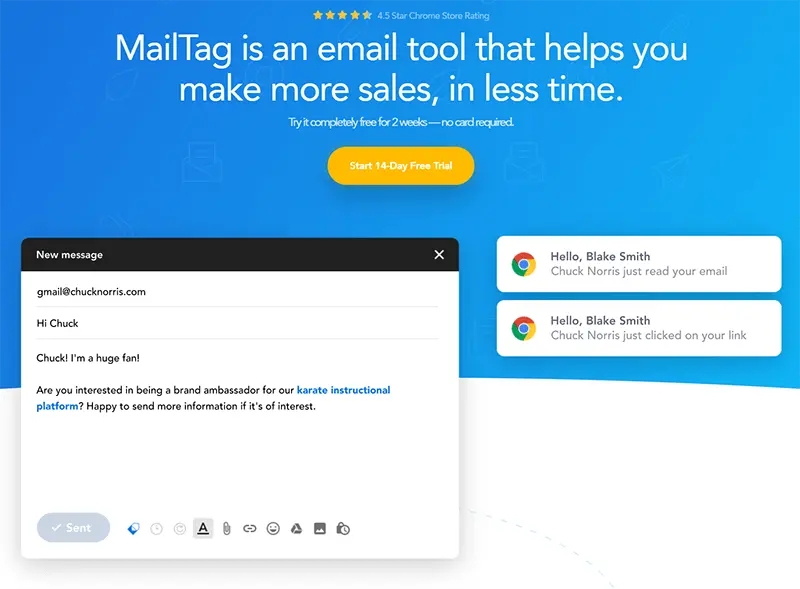 The tool will help you know what happens with your emails after you click send. It tracks opens & clicks, schedules emails to be sent later, automates your email follow-up process, and so much more. MailTag pricing starts at $9.99 per month, per user.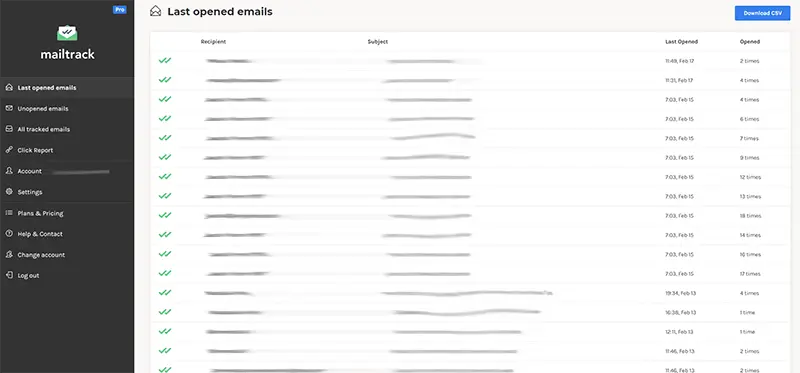 Another simple app for Gmail that lets you see when your emails are opened is MailTrack. There is a free limited version. The cheapest plan will cost you $9.99 per month.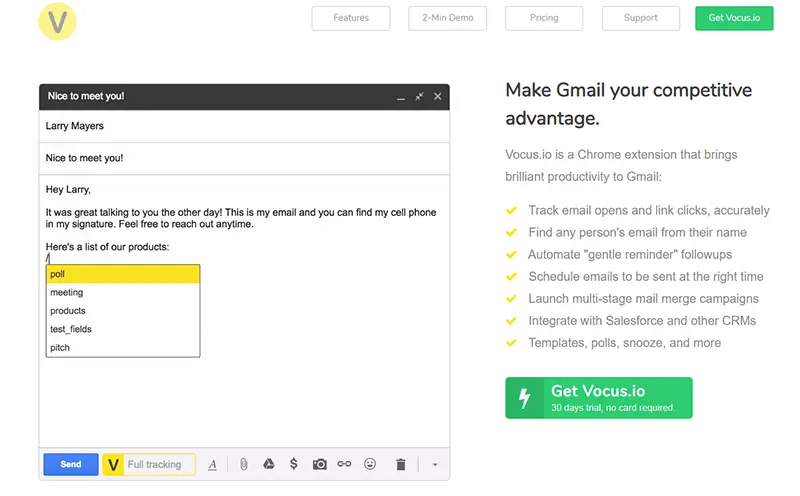 Vocus.io is a Chrome extension designed for Gmail users. It can track email opens & link clicks, automate follow-ups, schedule messages to be sent at the right time, and more. It also has a variety of templates and polls. A basic plan will cost you $5 per month.
You might also like: Track Clicks From Your Email Signature with Google Analytics
Email testing and deliverability checking
Check if your email looks good on all devices and if it is not spammy.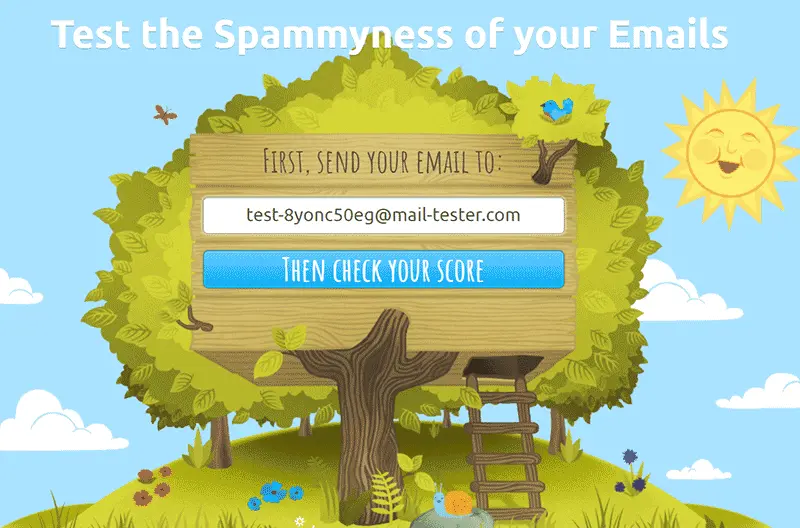 Test the spamminess of your emails in just a few clicks. Simply send your email to the provided email address and wait for the results.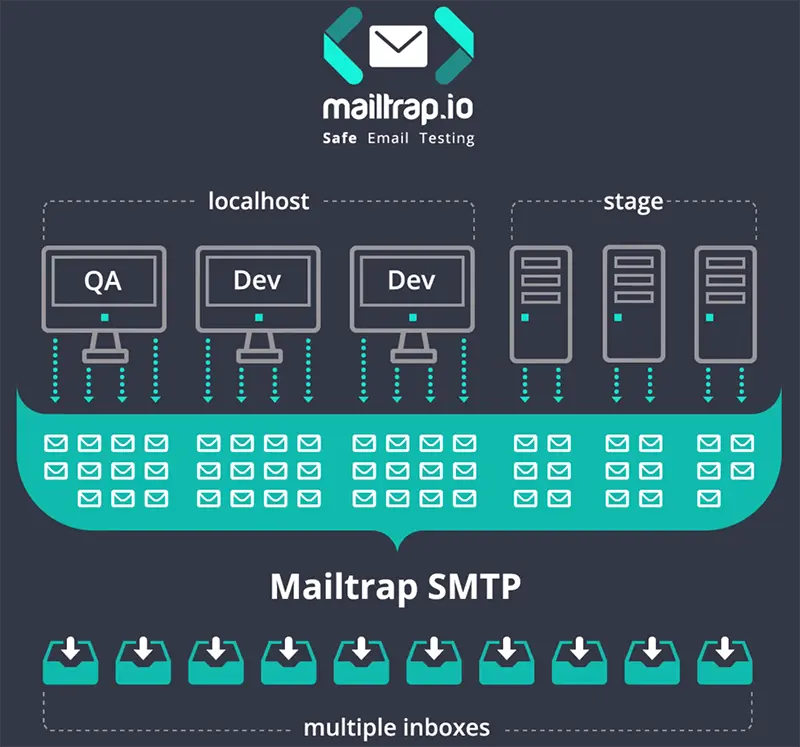 Another simple tool that allows sending test emails without spamming real customers is Mailtrap. There is a free limited version. Prices start at $9.99 per month.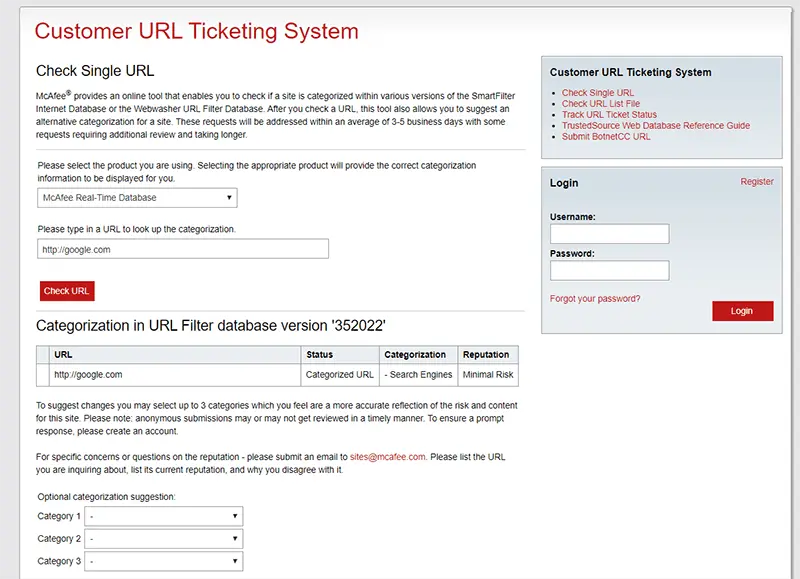 The site provides information on both the user domain's email and web reputations as well as affiliations, domain name system (DNS), and mail server information.
Tools to check your subject line
Now, let's talk about subject line email marketing. Emails with good subject lines are more likely to be opened. The tools we describe below will work on the optimization of your subject line.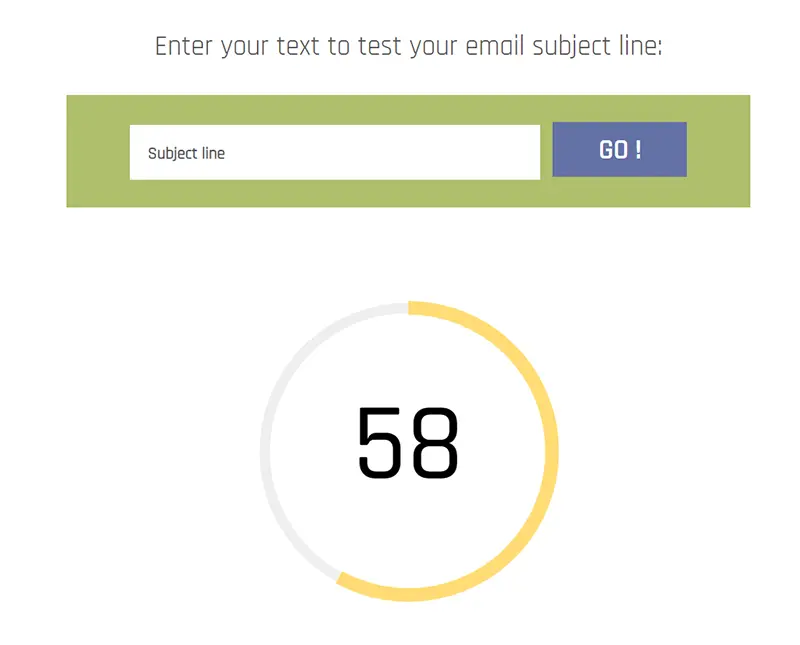 It is a very simple yet useful tool by Net Atlantic. All you need to do is to enter your subject line in the corresponding field on the Email Subject Line Grader website and wait for results. You will be provided with a general score, suggestions to improve the subject line, character & word count, word mixture & balance. The tool is free.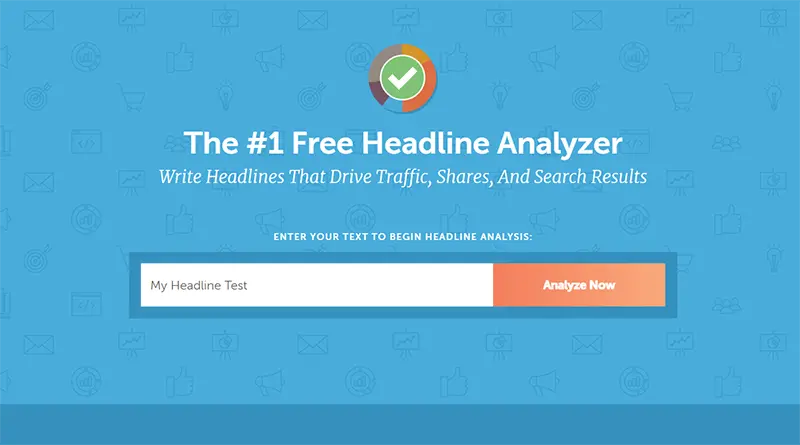 This tool by Coschedule is designed to analyze blog/article headlines. However, it also works for subject lines. Headline Analyzer provides the user with an overall subject line score and provides tips on structure, grammar, and word placement. The only thing we don't like about this tool is that you need to enter your email address to get the results. Headline Analyzer is free.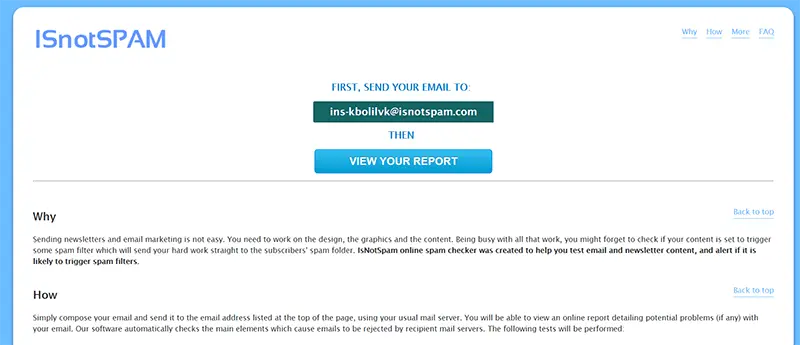 Send your email to the address provided on the ISnotSPAM report and get a report. It will also let you know if your subject line passes spam filters or not. The tool is free.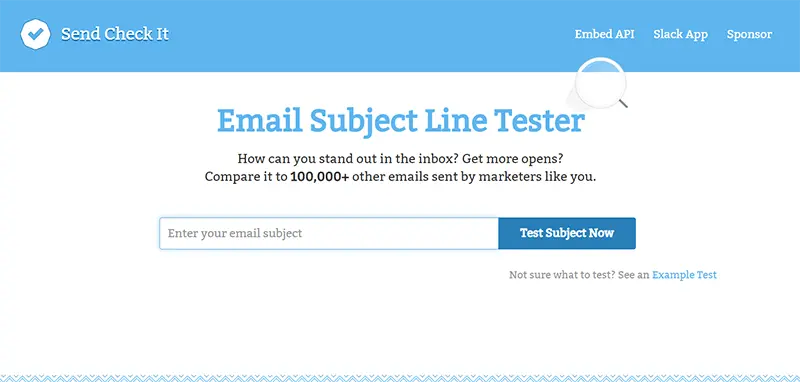 Just like with Headline Analyzer, you can check if your subject line is good or not, but you need to provide your email address to get the results in return.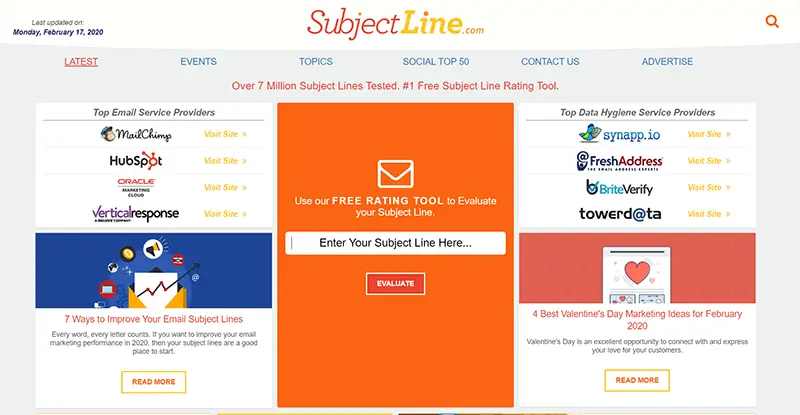 Check if your email will go to the trash or have high chances to be opened. The tool is free, but you can test only one subject line without signing up.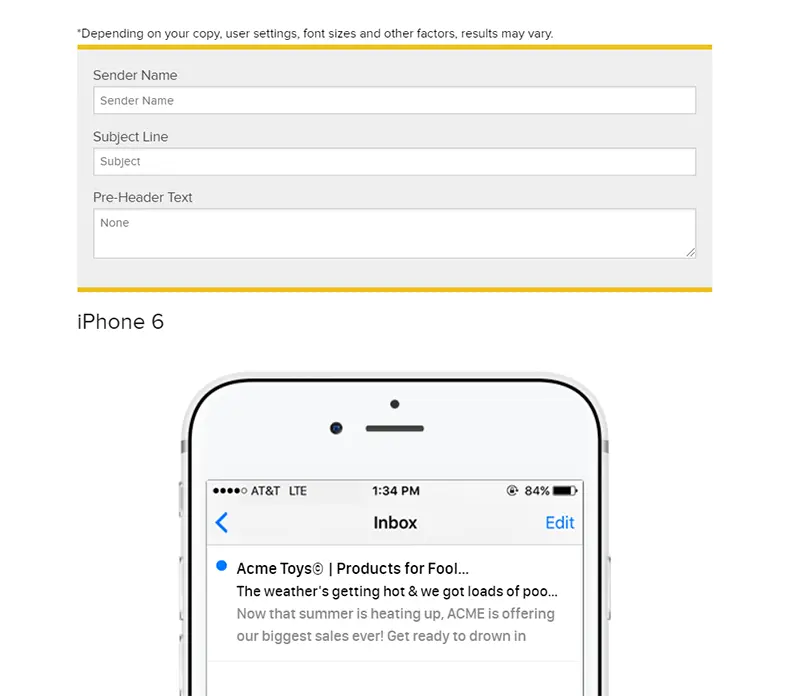 See how your sender name, subject line, and pre-header text will appear to the audience on the most popular mobile devices.
Read our blog post: "10 Tips For Writing An Excellent Email Subject Line."
Email template builders
Save time while creating effective and selling email campaigns by using modern email template builders. Let's see what tools are the best for email marketing design in 2023.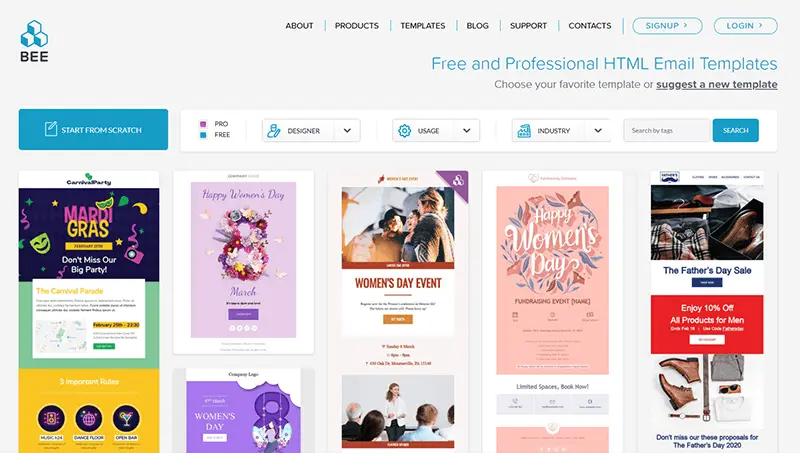 It is an online drag & drop editor that allows users to create responsive templates for their email campaigns. BEE Free has around two hundred of pre-designed templates available. The greatest thing about BEE Free is that anytime you come back to this tool, it lets you start from the point where you stopped. That is very convenient, isn't it? BEE Free is available in three editions. Those are Freelancer, Team, and Agency. The cheapest plan (Freelancer) will cost you $15 per month. There is a free limited version.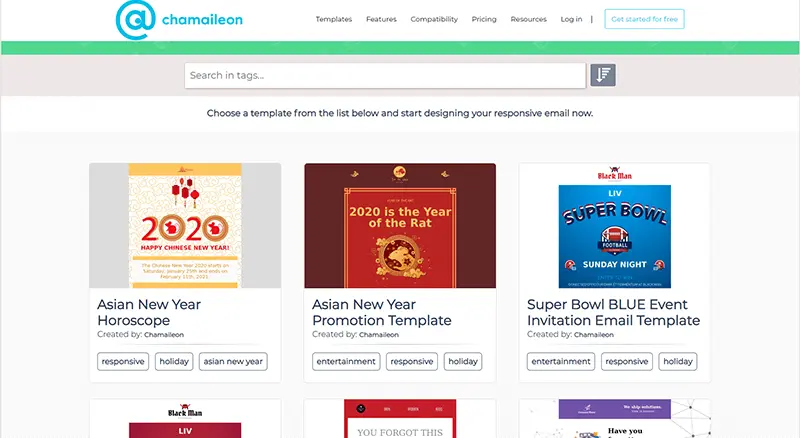 Using this builder, you can choose from over a hundred beautiful email templates. You can also save email template blocks to your library and reuse them in your new campaigns. According to user reviews, one of the most convenient features of Chamaileon is the ability to add & save email addresses of your colleagues and send them test emails without entering their email addresses again when testing a new template. There are both free and paid versions. Prices for premium plans start at $20 per month.
When working with Email Monster, you will be offered to choose from 100+ free responsive email templates and all the necessary settings to make your own templates from scratch. It is also possible to install the Email Monster extension to Chrome and use it with Gmail. The platform is free.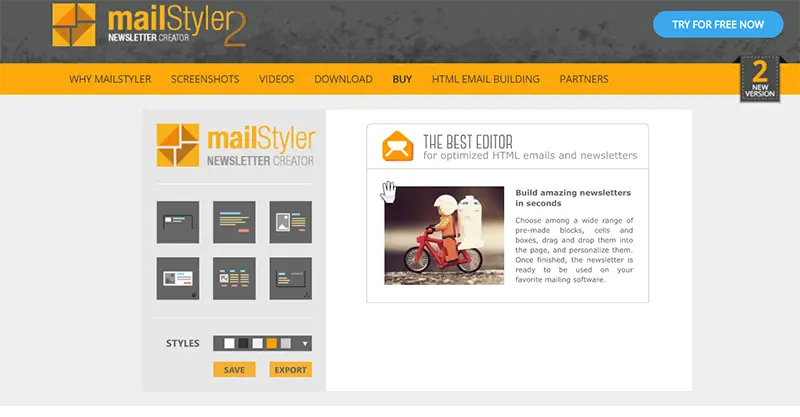 To start working with MailStyler2, you need to download it. The tool offers only eight pre-designed templates, and most of the features are available only after purchasing a full version. But there are several unique features that you'll love. First, you can weight the HTML of your email. It is very convenient because usually, email clients have their limits to HTML size. Also, MailStyler2 will let you write texts over banners. The price of the MailStyler2 Basic license is $99 per one installation. MailStyler2 Pro license is $199, but it is valid for five seats.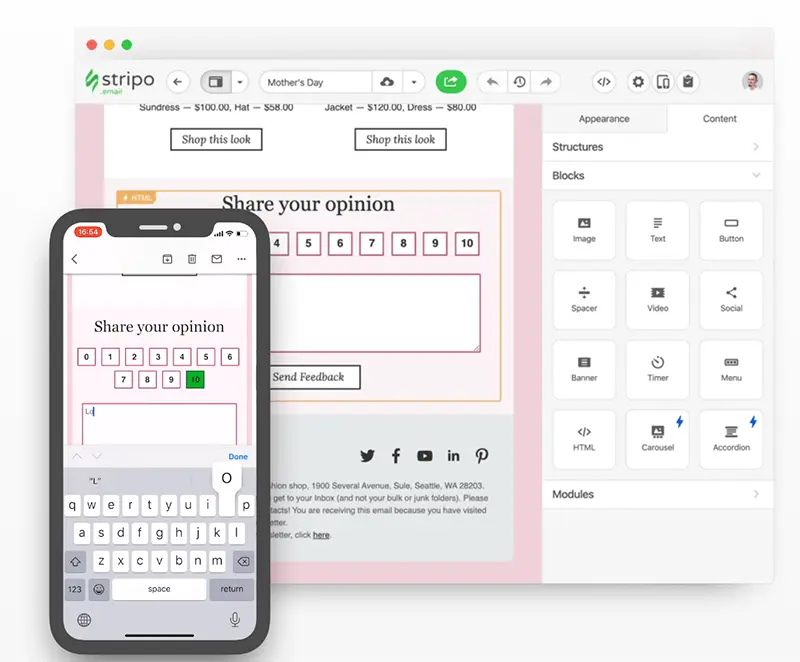 It is a drag & drop/HTML email template builder that provides you with 300+ pre-designed templates and 10,000+ images. With Stripo, you can use mobile-responsive templates, benefit from ESP Integrations, save separate blocks to be re-used in the future, and much more. The cheapest plan will cost you $10.50 per month. There is a free limited version.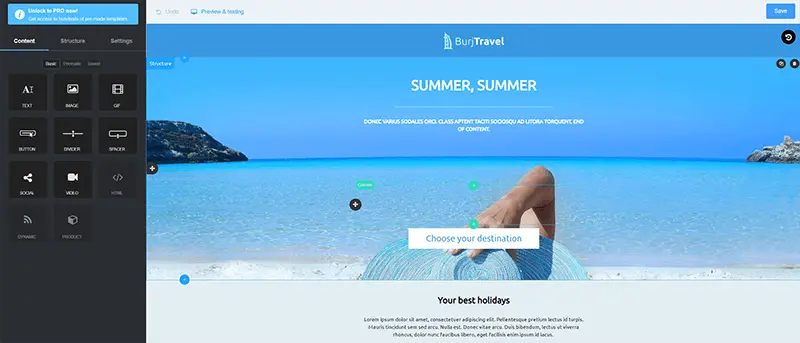 Another good drag & drop editor with a basic HTML block is Topol.io. It is quick and user-friendly. Also, there is a wide range of templates and elements to choose from. Just like BEE Free, Topol.io offers users to start from the point where they stopped previous time. Prices start at $7 per month. There is a free limited version.
You might also like: "How to Write Email Sales Scripts That Work Using the Best Templates."
Email signature marketing tools
Did you know that each email sent by employees is a great marketing opportunity? Everybody in your company can use the empty space below their contact details for professional email signatures to inspire more trust, showcase special offers, share company news, offer recipients to schedule a free demo, and much more. You can also include calls to action in your email signature to help the recipient take the action you want (for example, download an eBook, donate, etc.)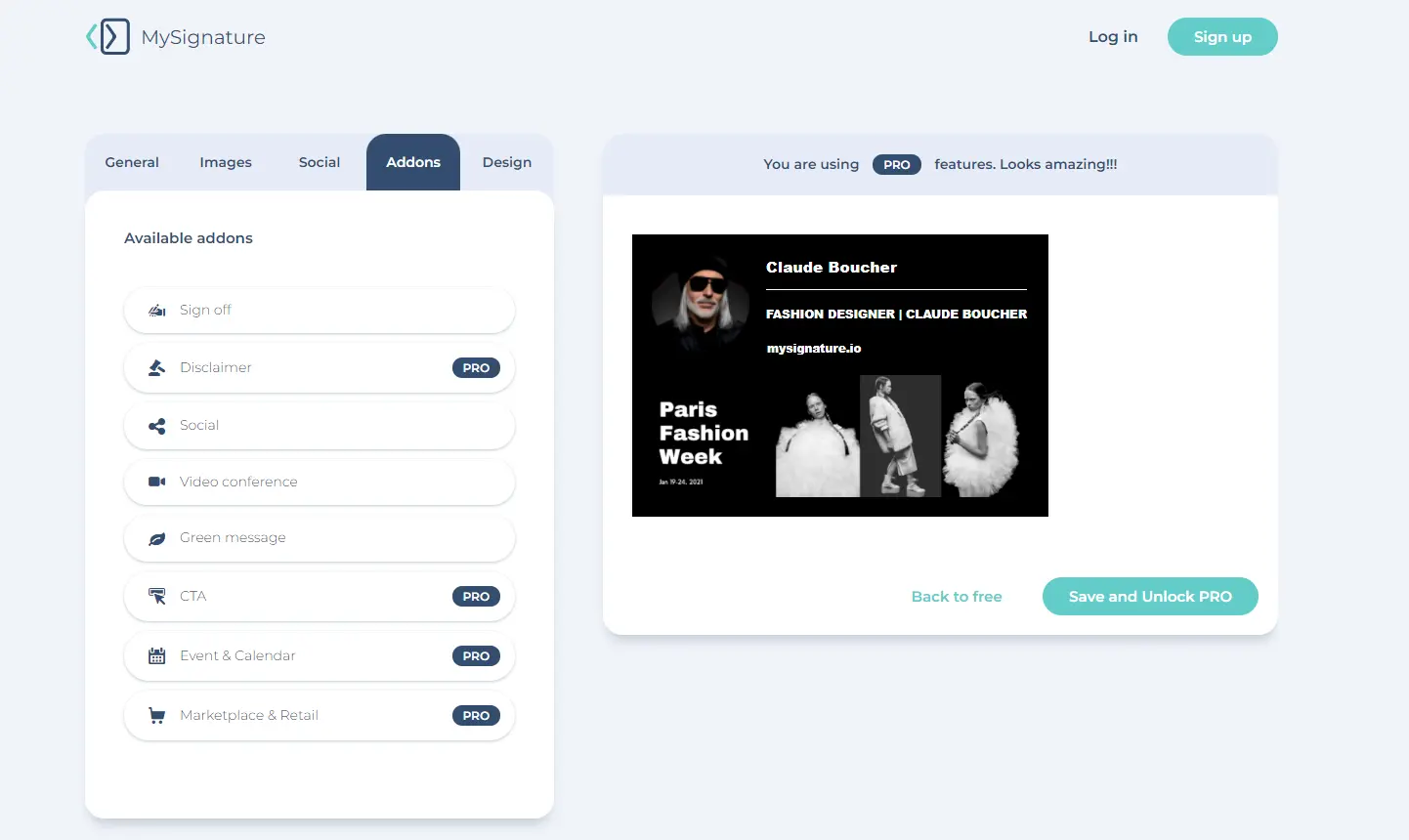 MySignature.io has all major features such as signature templates, social media icons, and interactive banners. You can adjust the formatting, elements organization, and colors to make the email signature that will best suit your business needs. If you need more than one signature, you will definitely like the duplicate option that allows creating multiple signatures. The price for one signature package is $4 per month. You can also create a simple online email signature for free.
Newoldstamp is a flexible email signature generator with a huge gallery of professionally designed signature templates. With the help of their advanced editor, you can easily create your own email signature design. You can also choose from a wide range of banners, social media icons, and CTA buttons. If you need multiple signatures for your entire company with the option to control them in the future, you have no other way than choosing Newoldstamp. With this tool, it's easy to create, control, and manage email signatures of your team in one place. Signatures are free, or you can use their advanced version for a small fee (from $4.50 per month) to get access to more features.
Find out more about email signatures: "Email Signature Best Practices 2023: Creative Ideas, Beautiful Examples, Design Hints, and Free Tools to Use Now."
Creating visuals for emails
You don't necessarily need to hire a designer if you need to create some pics for your emails.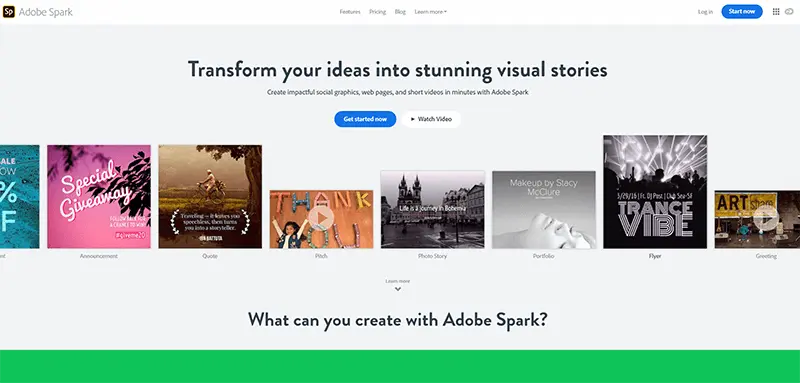 The software provides non-designers with all the necessary features for creating professional-looking web content. It has a very intuitive user interface and is easy for beginners. With Adobe Spark, you can create brochures, flyers, presentations, images for posts, social media banners, portfolios, how-to videos, and many more. Prices start at $9.99 per month. There is a free version of Adobe Spark.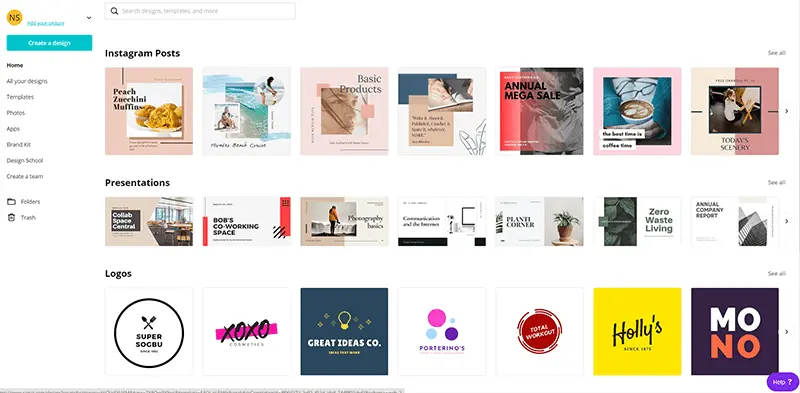 Canva is an online tool for graphics designers. It's very user-friendly and well-supported with a variety of tutorials so that even complete beginners could make a great intermediate step before trying to learn more complicated software such as Photoshop or Illustrator. Canva offers a wide range of templates to create the graphics you want: posters, flyers, business cards, logos, presentations, portfolios, brochures, invitations, etc. Canva has both a free and a pro version ($9.95 per month.)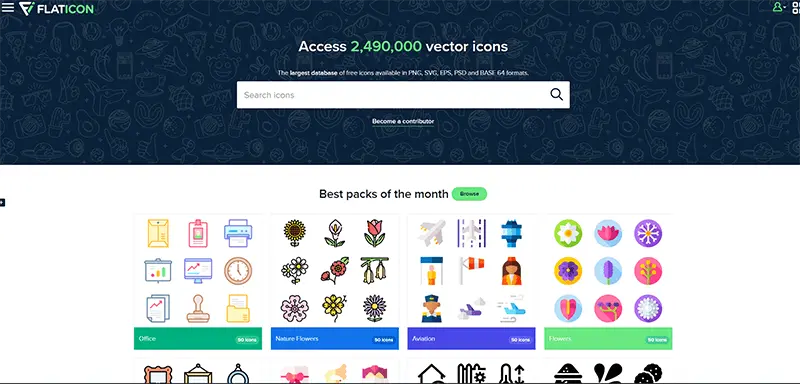 Flaticon is a huge database of free icons you can use in an application (for developers), on a website, on social media (e.g., icons for Instagram story highlights), newsletters, and any other design purposes you can think of. You can also get access to premium packs of icons for a small fee.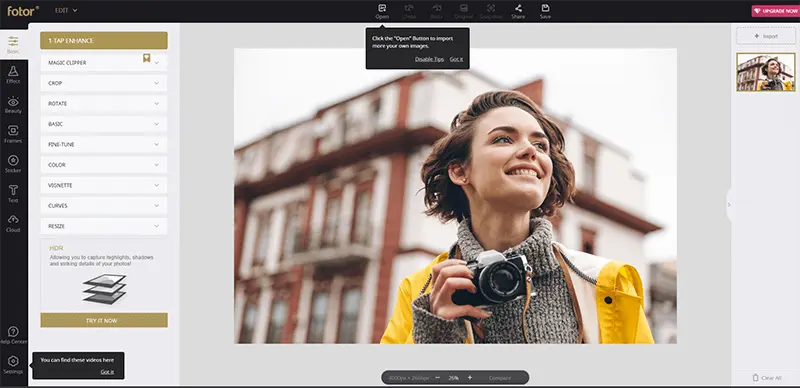 Edit photos, create collages, make various designs with just a few clicks. The tool is good for beginners. Fotor pricing starts at $8.99 per month.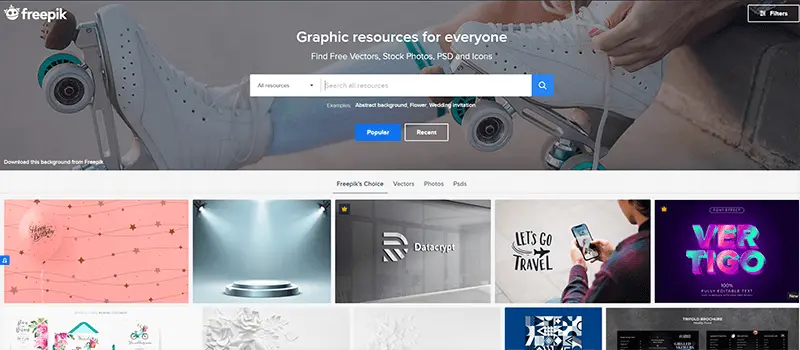 It is a perfect place to get free vectors, stock photos, PSD, and icons. There is a premium plan that allows users searching among even more resources. Prices start at $11.99/month.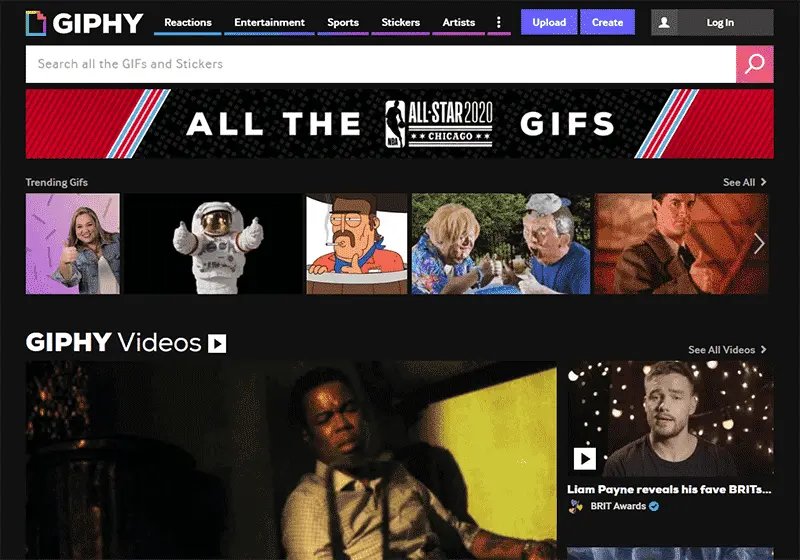 Make your content more attractive and fun using animated GIFs from Giphy. The service is free.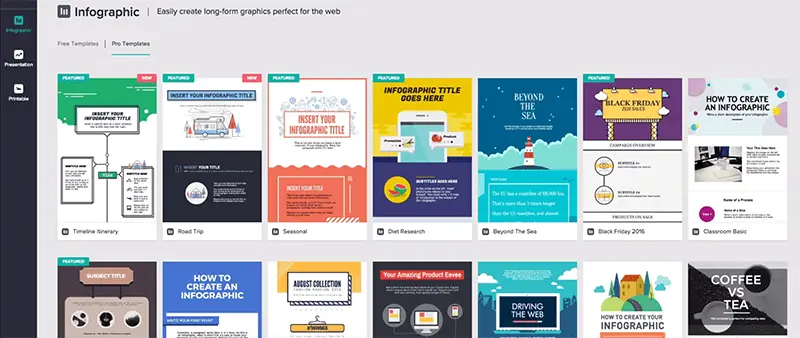 Piktochart is an intuitive, powerful tool for creating spectacular infographics that will turn your presentation into a fascinating story. Prices start at $24/month.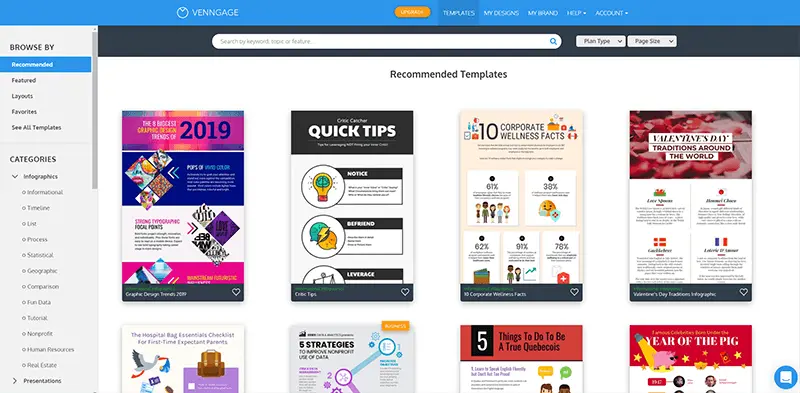 Venngage is an online infographic creator and design platform used to create flyers, posters, reports, and social media graphics. An easy to use and intuitive system, Venngage can be used by everyone from design novices to experts to create stylish professional content for websites, presentations, ads, and social media. There are hundreds of customizable templates you can choose. They aim at helping visualize your content in a number of unique and attractive ways to improve views and traffic.
There is a free plan. Business plans are at $49/month and premium plans at $19/ month.
Other useful necessities for email marketing
Here are a few more cool things that simply make email marketing easier.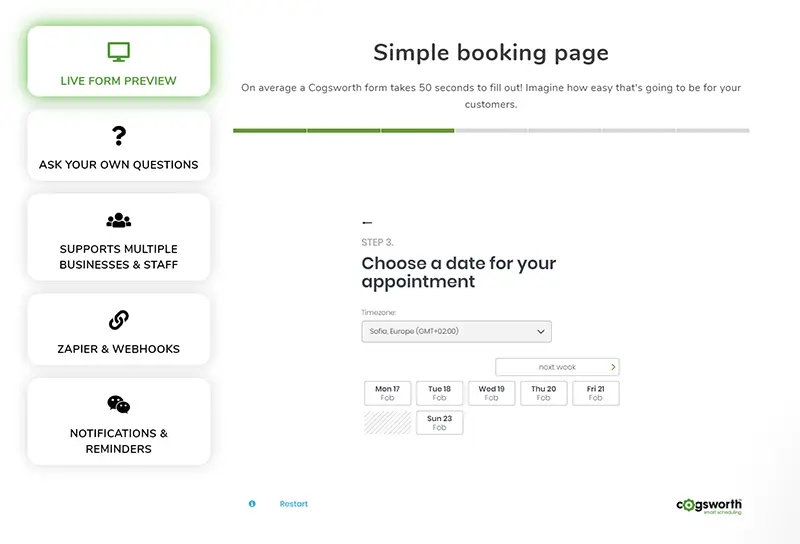 Let people book appointments with you easily and conveniently and turn them into your customers. Cogsworth is compatible with Google and Outlook Calendars. It sets buffers between appointments, translates into your language, accepts payments, and send reminders to your customers. Prices for Cogsworth start at $9/month.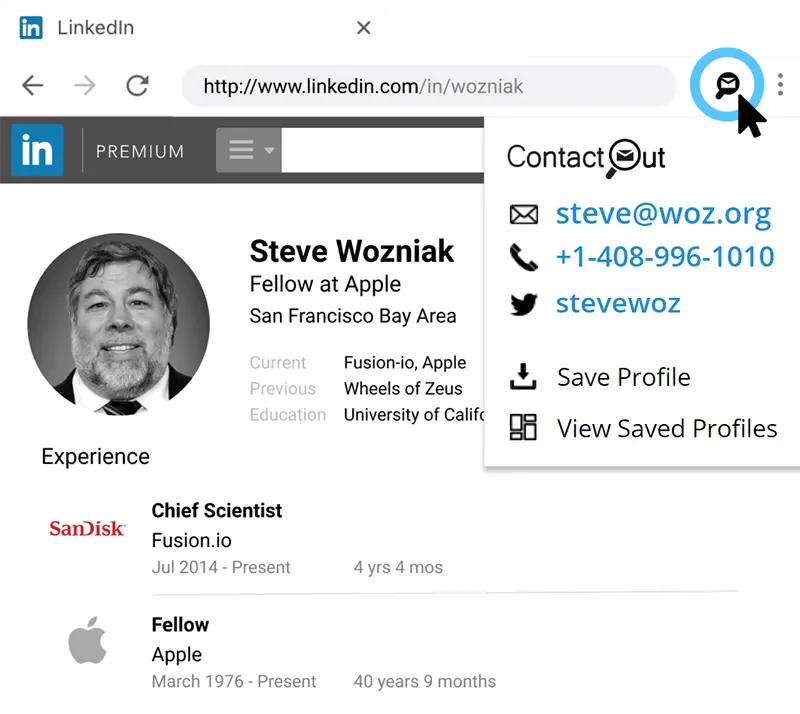 This tool helps you find the email addresses of anyone on LinkedIn. It primarily features a light and easy-to-use Chrome extension that reveals your prospect's email address in a single click — just visit their LinkedIn profile, click on the extension, and the tool will fetch you not just their email addresses, but also their phone numbers and social media profiles. You can try ContactOut for free upon request, and its price starts at $19 per month.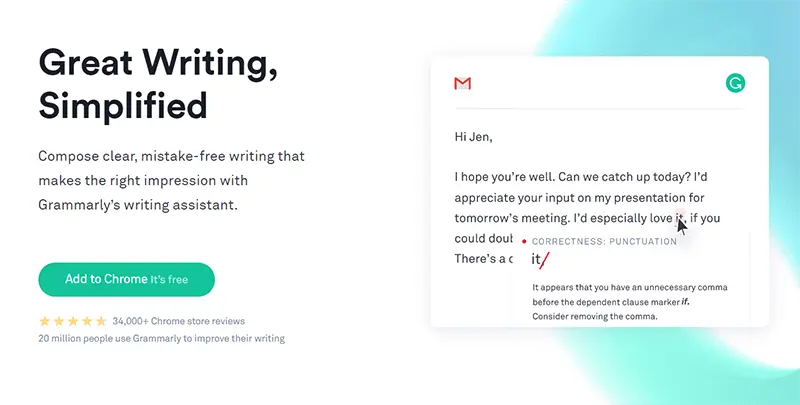 Grammarly is an in-depth grammar checker and writing coach. It works perfectly for both native English speakers and English language learners. The tool offers settings specific to Canadian English, American English, British English, Australian English, and more. Not only does Grammarly provide you with helpful suggestions, but it also detects plagiarism (this is especially useful if you want to rank higher in Google). You can also install free Grammarly plugins for Chrome, MS Office, etc. There is a free version of Grammarly. Their premium version with advanced features will cost you around $30 per month or $140 per year.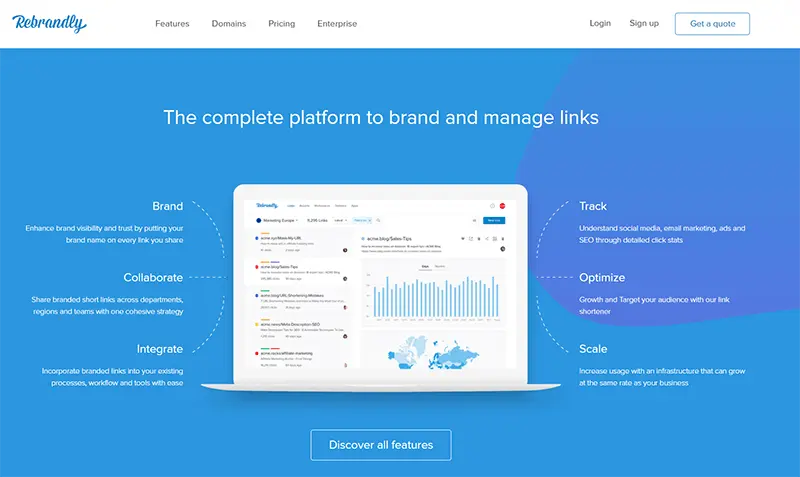 Rebrandly makes your URLs shorter and keeps them handy in your account in case you need to reuse them again. When you create a short link using URL shorteners like Bitly, it automatically generates a number and letter combination that you can customize just a little bit. With Rebrandly, you can connect your own domain and create a branded short URLs. There are both free and paid versions. Prices start at $29 per month.