15 Effective Ways to Use Promo Banner in Corporate Email Signature
If you are a true marketer, you'll never miss an opportunity to reach your target audience, raise brand awareness, and generate leads. Likely, you are already leveraging one of the most effective digital marketing tools – email signature, to provide information about your company and your contact details. But you can take this practice to the next level by adding an email banner to your signature.
Check out our list of awesome promotional banner suggestions:
1. Your website. Simple promotional banner linked to your homepage will help you drive traffic, spread brand awareness, and generate leads.
2. Your blog. If you regularly update your blog with helpful industry-related articles, it becomes even more engaging than the homepage, as it provides value to your prospective customers.
3. Company news and announcements. Adding a link to your latest press release on your new products, launch of innovative services, or strategic partnership with renowned company will help you build authority and gain credibility among your clients.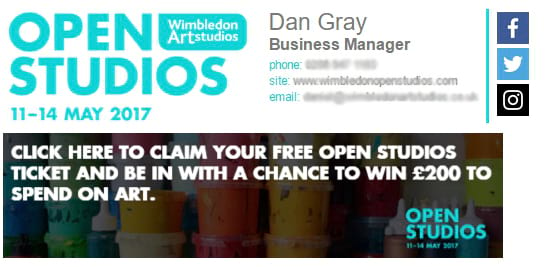 4. New products and services. Let your clients know about your new launches, new marketing offers, or great discounts. Use banner campaign to engage the future customers from within your email.
5. Conference or upcoming event. Include a registration link to a conference or a tradeshow your company is holding or participating in. Or, highlight a business event you are invited to speak at. This will spread a word about you and gain awareness among your target audience.
6. Awards and accolades. If you have recently won a famous award, received a recognition for exceptional work, or was mentioned as a highly-qualified professional in any third-party source, then you definitely have to highlight this in your email banner.

7. Real-time twitter feed. Change your simple promotional banner to show your latest tweets in order to gain more followers. This easy-to-implement branding opportunity will give your clients an option to re-engage and stay connected with you.
8. Free tool. Free online tools provide additional value and showcase that you are never missing an opportunity to help your future and existing clients. Include the link to your free ROI calculator, e-learning or assessment tool, photo editor or gamified infographic maker. These freebies will drive further interest in your products or services.
9. Industry research. Never underestimate the impact oа data and facts on your prospects. Nurture them with professional report or industry research that will help them gain business insights, leverage industry trends, and adjust corporate strategy.
10. Book. If you have recently written a book, article, or whitepaper, don't be shy to highlight it in the banner for email signatures. Share a link so your recipients can click on the publication straight from the email.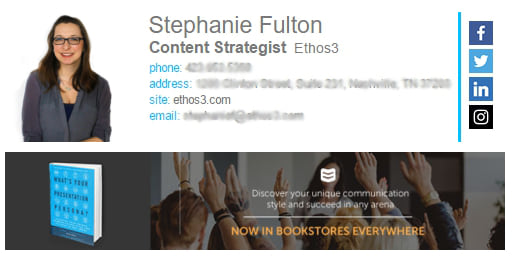 11. Webinar. If you educate your clients about the latest technology solutions, business strategies, or innovative services, be sure to promote the online event by adding linked banner to your email signature.
12. Case study. Share your stories of success, showing your ability to solve complex challenges and dedication to your clients. Include customer's quote, mention how your services increased ROI, improved productivity, and optimized business processes.
13. Free consultation. Banner with "Get a free consultation" button in your email signature will provide your prospect a possibility to speak directly with your company's experts.
14. Corporate video. Videos are more memorable and attention-grabbing than any other visual element. Create awareness of your company's initiatives by including a link to your corporate video presentation into an email banner.
15. Behance portfolio. Use the banner to provide a link to your design portfolio and share your latest artworks. Use email banner design to highlight your talents, designing skills, and attentiveness to details.

Email signature is an incredibly powerful and high-return marketing tool. This is relatively easy and low-cost way to promote your corporate or personal brand, and seriously enhance your daily marketing activities. Use our ideas to make an email signature banner your business and marketing partner. Visit NEWOLDSTAMP for email banner design inspiration.