13 Smart Ways to Use Promotional Banner In Email Signature
1. Website or Mobile App Promotional Banner
2. Blog Traffic
3. Social Media Connections and Followers
4. Produce Content
5. Polls, Forums, and Events
6. Free Trial
7. Promote Case Studies
8. Giveaways
9. Demonstration of a Product and Announcing New Services
10. Try Linking to Company Promotional Videos
11. Affiliate Link
12. Link to Your Calendar
13. Company News
If you send daily emails that include signature banners with clear copy and call-to-action, you can consider yourself a marketing guru. Yes, a personal well-crafted email signature is a key to furthering your brand and providing significant marketing opportunities.
An email signature can send a strong advertising message. Beyond your contact information and Gandhi quotations, you can put some marketing material and develop a banner campaign. In addition, an email signature banner is a smart and low-cost way to promote your business or event.
How Signature Banner Can Boost Your Marketing Activities
According to the survey, email accounts continue to grow in the business sector. An average office worker sends over 10k emails every year and will send and receive to 140 emails per day by 2018. You may consider these 10k as your extra opportunities to increase brand awareness and annual profit. Simply, a signature banner can be a killing distribution channel for the promotion of the most significant initiatives, including conferences, case studies, company features, service demos, and more.
Using a simple promotional banner with branding imagery can be the crucial part of the strategy going forward. Wondering how precisely you can use promotional banners? In this post, we'll review 13 ways of how to get the most from an email banner and be more conversion-efficient.
1. Website or Mobile App Promotional Banner
Banner ad with a link to a website's landing page is something that every email should include. Strictly speaking, it gives an ability to catch client's attention and proceed further and move the relationship to the next level.
2. Blog Traffic
It's good to take into consideration making a signature banner if you own a blog with consistent fresh content. Just take The Ciampa Team. They have linked their banner to the website where a person can click the play button and enjoy local realtors talk about real estate on AMP Radio.
Decided to run traffic to your website in the same manner? Do not forget to add a simple call-to-action and eye-catching email banner design to encourage people to take the next step to become a follower.
3. Social Media Connections and Followers
The email signature banner is the connecting link between your company and social media. Include a banner link to your individual social networks such as Twitter, LinkedIn, Facebook, Google+, etc.
4. Produce Content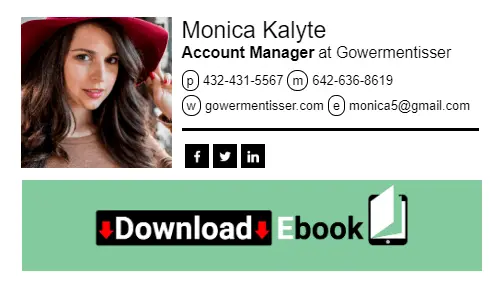 Your published e-books or articles can also be transformed into promotion and become a part of banner advertising in your email signature. Create a cohesive email signature with a visual campaign and share a link to the e-book. That will help you build business identity and credibility.
5. Polls, Forums, and Events
Use a banner to highlight diverse polls, forums or upcoming conference. Add just a simple banner below a signature with some details of the event providing a link to a page with the full information.
6. Free Trial
Remind people about the free trial with new banners being installed into your email signature. Creating banners for email signatures is a standout amongst the best approaches to stream large download numbers.
7. Promote Case Studies
Promote detailed case studies to boost your brand. Potential clients and business people adore this one, and they will notice your success when comparing you to competitors. As well, you could mention the ROI that a client reached with your product.
8. Giveaways
The principle objective of email signature banner is to make leads for your business, giving away something free is the ideal way to ask for someone's contact, for example. How many times have you been tempted to get something for free?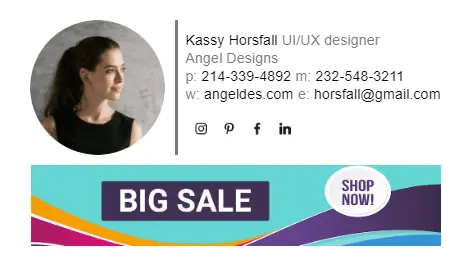 9. Demonstration of a Product and Announcing New Services
Offer a product demo or support. Also, regard using an email signature when you want to show new services.
10. Try Linking to Company Promotional Videos
Link your channel or video with your email signature banner to increase views; you can even use the embed code and play video from your website. Although putting a QR code on a banner ad is about as useful as putting one in your mobile email signature.
11. Affiliate Link
Inquire the best offers and open them to more traffic. Use your email signature to share an affiliate link or banner.
12. Link to Your Calendar
Allow clients to easily book meetings with you by including a banner with your calendar. Easy, ha?
13. Company

News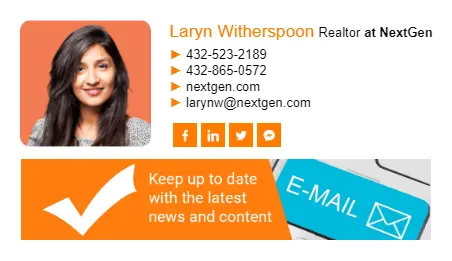 You can highlight the news article or releases in your email signature banner and deliver essential Human Resources announcements. You can keep employees involved, engaged and up to date.
Whatever info you add, put in extra effort with your email signature banner. Always be open to creative ideas and keep your customers happy. And if you are hunting for email banner design inspiration, NEWOLDSTAMP can help you to create a great design to promote familiarity with your brand.

And please share your suggestions about signature banners!