Email Spam Trigger Words to Avoid in Your Letter
Useful tools:
1. Newoldstamp - Email signature marketing
2. Mailchimp - Email builder and sender
3. Hubspot Email Marketing - Marketing automation platform
4. MailerLite - Landing page builder
5. Canva - Online tool for making designs
1. Nothing should be for "free"
2. Income-related spam words group
3. "Dear" also belongs to spam words
4. Forcing a person to perform an action
5. Asking to perform an action
6. Claiming they sell nothing
7. Never try to surprise or amaze
8. Applying to the basic needs
9. Internet marketing offers
10. Old-fashion congratulations on a big success
11. If you're telling you're not spamming, you probably are
Email marketing is not simply spreading your newsletters into thousands of folders. It's a real art. To manage it properly, you should have both inspirations for engaging content, and knowledge of techniques in order not to be banned by the mail client. This process consists of many details. Let's take a look at simple and obvious. Email spam words are a signal to throw you away from an inbox.
Luckily, there are pretty much straightforward rules that can help you avoid spam filters and get emails delivered safely.
Nothing should be for "free"
The majority of marketing emails we receive are aimed at forcing us to buy something. That's why they are competing in order to show us an offer so attractive that we cannot refuse and not click. The magic trigger is big value without payment.
Therefore, many of us have been attacked by a group of "free" offers which are now a feature of spammy letters. Here are a few examples: free consultation, free leads, free DVD, free offer, free money, free quote, free sample, free trial, no cost.
Instead of saying you offer something for free, make a unique offer. For instance, a product only available in your store or a trial of a premium feature.
Income-related spam words group
The second spam words batch is related to money. It's quite popular to hack the accounts of famous people or your friends and send you disgusting letters about investments or making millions from one dollar.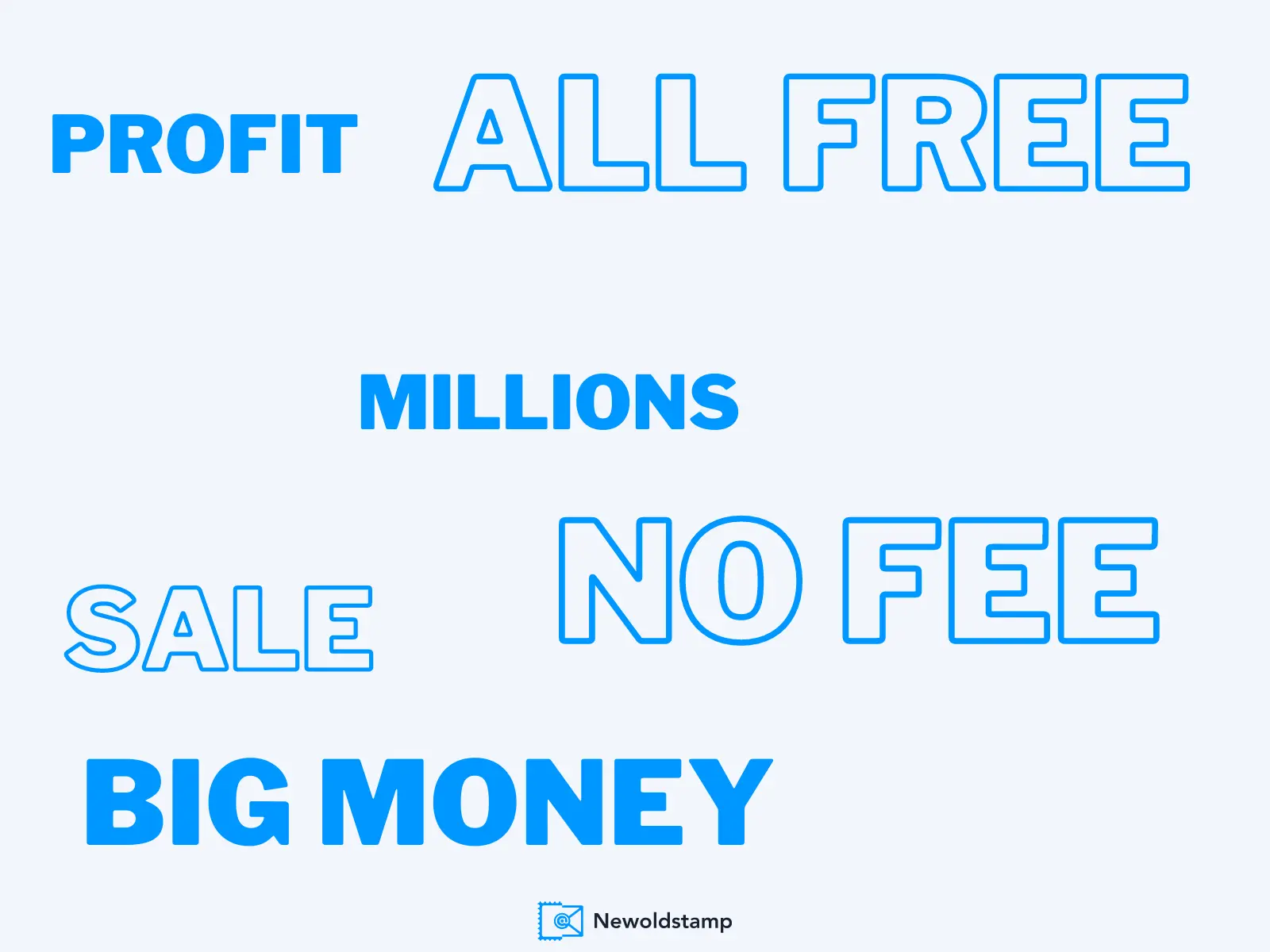 Let's keep in mind to avoid these spam words: additional income, avoid bankruptcy, be your own boss, big bucks, billion dollars, cents on the dollar, no fees, financial freedom, your income offer of partnership, and so on.
It shouldn't be that hard not to use these words though. They subconsciously sound unrealistic and fraud-like.
"Dear" also belongs to spam words
We should regret all royal English lovers: traditional polite greeting also is on the list. As far as many spammers start their messages in this way, Google and other mail clients see it as an additional signal. Surely, you will not fall out of the inbox just because of "dear" in the beginning, but if you have a poor online reputation, it will contribute to it.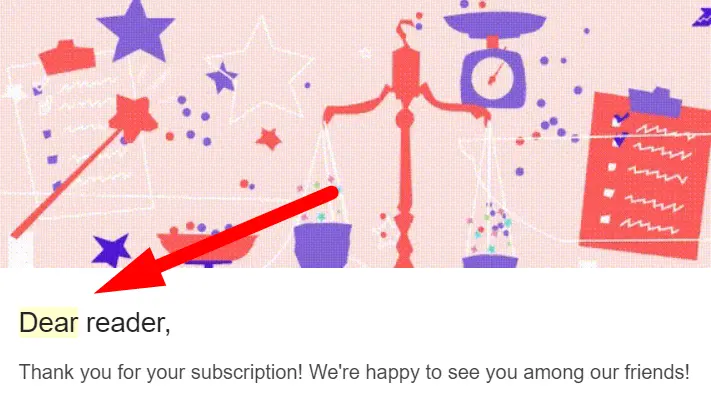 You can always use the recipient's name instead of "dear". It is much more personalized (obviously) and indicated that you do know the person. So, any email client will assume you've got their email "legally".
Forcing a person to perform an action
All marketers know: if you want a person to buy, you should give a tempting offer and limit its duration. Thus, if the product or service impressed the reader, they are not thinking about its necessity or relevance, being driven by emotion. This is a moment of glory for a seller. The more time passes, the fewer chances to sell are.

source: vtldesign
Therefore, spammers keep a person in a hurry and use such spam words: act now, urgent, do it today, don't hesitate, not to sell anything, lowest price.
Use smart calls-to-action instead. A button or link that reads "Try new product's features" is much more appealing than "go buy now".
Asking to perform an action
Very close to the previous group, phrases that force to perform an action might be treated as spam by many email clients. It's OK to use them, but with caution only.
The words we're talking about are click now, order now, buy direct, call now, and so on.
Try to support these bland CTAs with actual value. For instance, go like "call now to learn about our demo mode".
Claiming they sell nothing
If you are going to tell your reader that you do not sell something, stop now. Many real sellers follow this technique. But email providers are clever enough to check it as email spam words.
Therefore, never write any selling. Never offer to cancel at any time. These words are your ticket to a spam filter.
Think of a more clever way to drive customers' attention. After all, if your product is so awesome, why would they think of cnacelling anytime?
Never try to surprise or amaze
Well, try and do this with quality products and services. But just listing that your offer is amazing will not add value to inspiring people to buy. It will only trigger a filter to become more attentive to your content.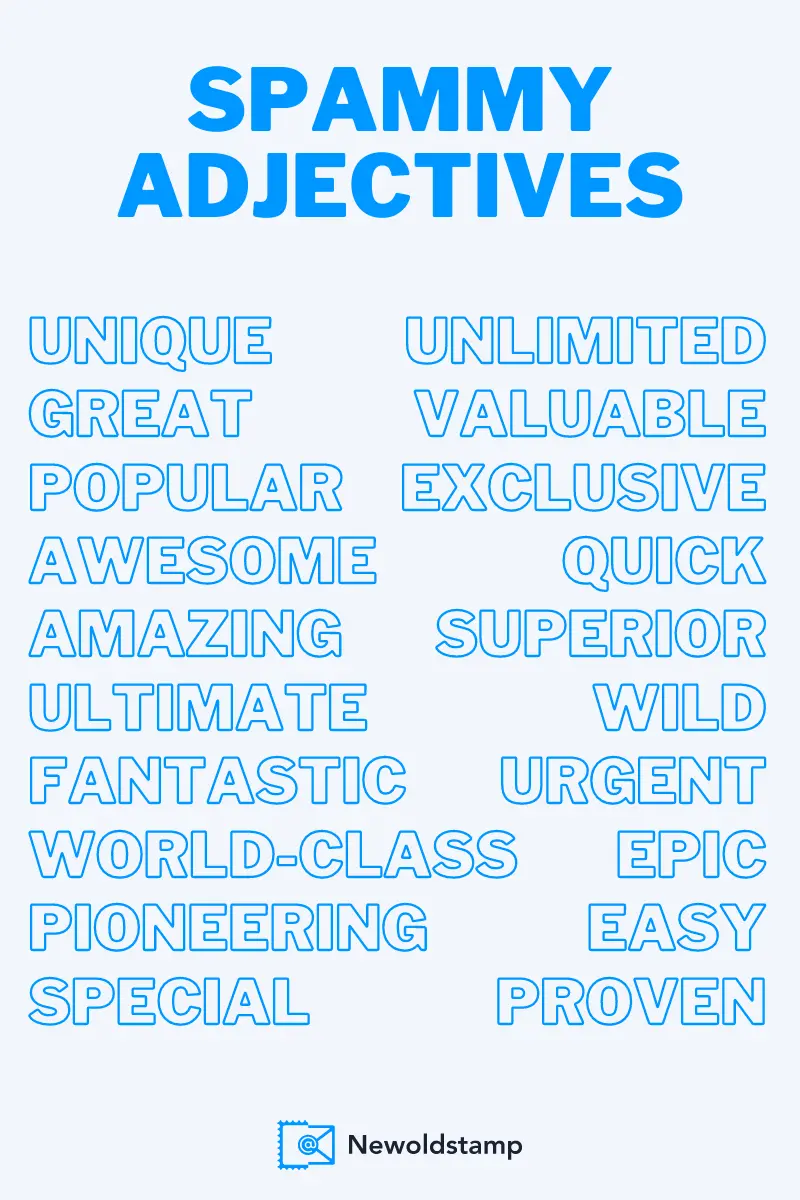 List of spam words includes: amazing, be amazed, easy terms, it's effective.
Don't say it will be effective, say why. Instead of using sophisticated adjectives provide some case studies.
Applying to the basic needs
Offering to solve people's basic problems is the worst way of advertising. Things like "we will help you pay your debts" are almost always caught by spam filters. So, avoid such words in your emails.
Internet marketing offers
Sounds strange, but many people who offer marketing services do not know marketing well (or they are just cheaters).
If you get or make a promise of more internet traffic, multi-level marketing, direct marketing, direct email, increase sales, increase traffic, be sure these are spam words.
Don't try to deceive anyone. It's always easy to tell if a person has little to no expertise in the field.
Old-fashion congratulations on a big success
I remember the time some years ago when almost every month or even week I won something. It was a big lottery, a million dollars, a luxury car, my old granny in London who left me a legacy. Actually having all those benefits I should live at luxury resorts till the end of my life.
It's actually kind of meme nowadays, all these million-dollar emails. Don't be a subject for memes. Not in this way at least.
If you're telling you're not spamming, you probably are
It may be a gentle action, but do not let people know that you support an anti-spam law or "we hate spam". That is what many spammers do.
Anyone who sends emails supports no spam filters. So, why mention it? It's not like you say you support democracy when meeting someone in person for the first time, is it?
Conclusion
Hope you're now equipped with what may help you run successful email marketing campaigns. There are many words that may be treated as spam. But you don't have to memorize them all. Simply write emails in common sense.
Most importantly, avoid spam trigger words in your subject lines and calls-to-action. These are the most thoroughly reviewed email parts.