11 Writing Tips on How to Format Your Email to Customers
Useful tools:
1. Newoldstamp - Email signature marketing
2. Mailchimp - Email builder and sender
3. Hubspot Email Marketing - Marketing automation platform
4. MailerLite - Landing page builder
5. Canva - Online tool for making designs
If you're reading this, chances are your email marketing copy doesn't give you the engagement you need to grow your business. Indeed, coming up with a copy that drives engagement, supports your business, and doesn't turn your subscribers off is a daunting task.
To convince prospective customers to convert with being too pushy, your email needs to have a relevant and useful content for them. There was a specific reason why they subscribed and getting boring and irrelevant content surely wasn't one of them.
However, the quality of content isn't the only piece of the puzzle. The way you format and write your emails is also a critical consideration, according to email marketing studies. In fact, there's a special branch of copywriting – email copywriting – that teaches how to write subject lines, CTAs, and copies.
Treat this article as your personal guide to email copywriting because I'm going to walk you through the creation of emails that can give your business the engagement it requires. We'll start with writing enticing subject lines and work our way down.
Let's go!
How to Write an Engaging Subject Line
A sure-fire way to get your emails in the spam folder is to write uninteresting or mediocre subject lines. They remind people of good old in-your-face advertising, which they are so fed up with, they don't want to see another business sending them "used car salesman" kind of messages.
Instead of that, try the following:
1. Create a Sense of Urgency
Many email copywriters working for e-commerce business use this classic marketing technique to increase the open rate of emails. By appealing to fear of missing out, you can increase the motivation to see what you have to offer and take action.
For example, here's how an online fashion store Rue La La induces the sense of urgency in marketing emails.

By including the number of hours, a hint about prices and a call-to-action in the subject line, the brand creates a sense of urgency to take action to "steal" products for a good price.
2. Describe Benefits to Recipients
One of the major reasons why people subscribed to your emails is to get some tips and interesting information, so you've got to give it to them. A good way to entice them to open emails to describe these tips and benefits right away in the subject line.
See how a popular online job board Glassdoor does this.

Given that the sender is a job board, chances are people who receive these messages are job seekers looking for tips to improve their results. So this subject line works well in this case.
Bonus Tip: Apart from the subject line, try to describe benefits in the first sentence of the body text so some part of it shows in the inbox (that's often called the preview text). For example, take a look at this email from a UK health retailer Holland & Barrett.

In addition to writing an enticing subject line, they also included some benefits in the first sentence of the body so the recipient can see some of it even without opening the email ("Savings up to 50% off & free next day de[livery]"). This way, the recipient has the idea of what's waiting inside the email before they even opened it.
3. Include the Name of the Recipient
This is a personalization technique that works well for businesses regardless of the size. According to Super Office, seeing their name in the subject line delivers some additional motivation because personalized lines perform better than non-personalized ones.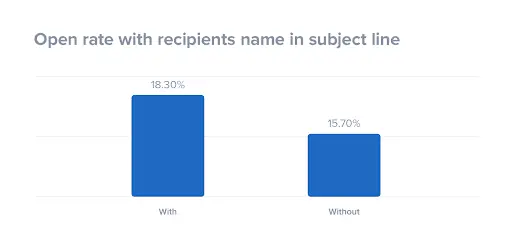 Image Source: Super Office
4. Spark Curiosity by Asking an Interesting Question
People love reading about controversial topics and things like that, so many of them will click on such subject lines (keep in mind they prefer to read such content if it was produced by a source they trust).
For example, here's how a well-known website in the fitness and healthy nutrition niche Live Strong did that. They managed to turn a simple newsletter email's subject line into an intriguing one. Indeed, can a pet break a relationship?

Now that we know how to craft engaging subject lines, let's see what you can do to write an equally effective copy.
How to Write a Compelling Email Copy
Once we managed to persuade our readers to open our emails, it's really important not to disappoint them because if they discover something like another hard sell copy, they won't open your next emails.
5. Address the Recipient by Name
Please, no more "Dear customer." Your subscribers have names, and you should use them. "When we personalized the greeting with Hello [name of the recipient], the open rate increased by 6 percent," says Matthew Nice, a digital marketer at ResumesCentre.
6. Be Relatable
Your copy is relatable if it's written in a natural, conversational language without any "corporate talk." One good way to show how to write relatable texts is to demonstrate empathy for your recipient and hit a pain point they have. This way, you're demonstrating your understanding of their problems and emphasizing with their dilemma.
For example, take a look at how a British PPC agency Clicteq does this.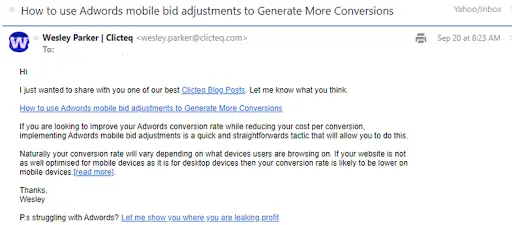 The copy is written in a natural language, plus the sender tries to help the recipient with a specific digital marketing problem.
Since writing in a style that makes you relatable and lovable in the eyes of your subscribers could be a daunting task, feel free to use online tools such as OnlineWritersRating.
Bonus Tip: write in the second person (the email above is an excellent example of how to do this). Using pronouns like "you," "your," and "yours" and minimizing "I" and "we" keeps the focus of the message on the recipient, not the business.
7. Emphasize the Benefits of Your Product/Content
Be careful here. Many copywriters and marketers make a mistake by listing the features of a product instead of the benefits to customers. Features are boring. Reading them makes readers feel like they're reading a user's manual.
On the other hand, describing the benefits of a product/service or content in the email is much more interesting because it focuses on the recipient.
This email from Starbucks is an excellent example of how to keep the focus on the benefits to the recipient.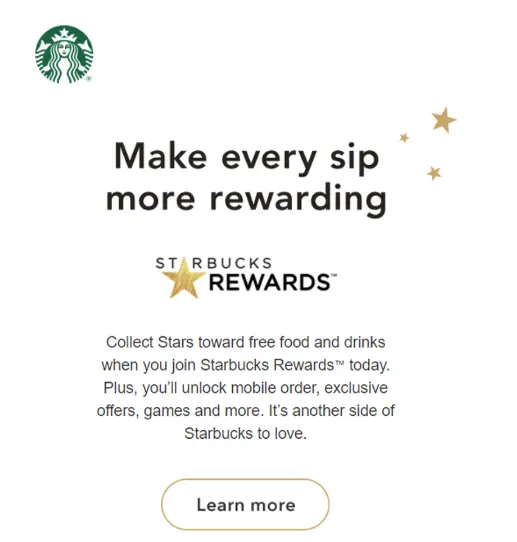 This email is great because it helps the subscriber understand how they feel after they join the Starbucks Rewards and describes how to participate.
8. Be as Brief as Possible
"A long text in an email, especially without a clear description of the benefits for the recipient, is an excellent way to get your emails deleted right away," explains Mark Olsen, an email copywriter at Citatior.
In fact, according to Litmus, 44.4 percent of email recipients read them for about 20 seconds, so that's the average time you have to capture the attention of your subscribers and persuade them to take action.
Make sure that your text could be read fully within 20 seconds. If you feel like you can use the assistance of professional email copywriters, online tools such as FlashEssay could be helpful.
9. Create a Sense of Urgency
Since you've got about 20 seconds to convince your subscribers to take action, creating a sense of urgency is a good idea. Take a look at how a well-known Italian coffee company Illy does that in the following email.
To entice the viewer to take action, the writer provided a specific deadline as well as the use code to make them feel special.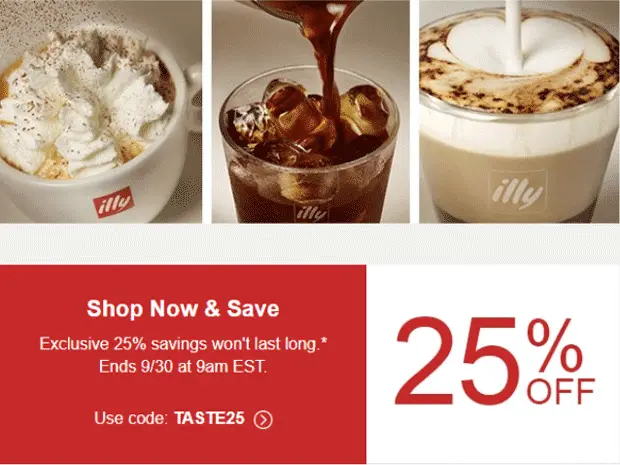 10. Use Only One Idea per Paragraph
Failing to do this may overwhelm the reader and make them uninterested in further reading. Take a look at the examples above to see what it meant here.
11. Write Effective CTAs
The CTA is often the last element in an email text that describes the action that you need the subscriber to take. This is a critical element, obviously, and it needs to be perfect.
To achieve this goal, follow these tips:
Create a sense of urgency by using words like "Now"

Let them know that there's no obligation with words like "For Free" and "Try"

Be brief and write no more than five words

Avoid hard-sell phrases like "Buy Now."
Conclusion
Email is one of the most powerful tools in a marketer's arsenal, so using it to achieve your business goals is a must. If you feel that your email copywriting needs a bit of improvement, feel free to follow these tips and don't forget to share your experiences!