Who Needs Professional Email Introductions and How to Make Them the Best
1. When do you need to make email introductions?
2. Essential elements of a successful introduction email template
3. Tips vs. mistakes: how to make the best email introductions
4. Useful advice to create awesome introductions via email
5. Our favorite email introductions examples
Useful tools:
1. Newoldstamp - Email signature marketing
2. Mailchimp - Email builder and sender
3. Reply.io - Personal email outreach, calls, and tasks
4. Mailtrack - Email link opens tracking
5. Canva - Online tool for making designs
Email is still one of the most common ways to communicate in the digital world. And a proper email introduction plays an equally important role as the introduction in real life.
When do you need to make email introductions?
There are various situations when you might need to nail an introduction email. Here are just a few examples.
Networking email introduction
An introductory email is a good way to establish a new network connection that might help you somehow in the future.
If you are sending your CV or want to know more about the company/position, also start with the introduction.
You might also like: "How to get noticed by employers and land your dream job?"
Introducing yourself as a new employee
This way, you can also present yourself as a qualified professional and friendly colleague at your new place of employment.
Contacting a possible job candidate
This type of email could be the first thing you send as a company representative to a possible job candidate.
Reaching out to a potential client
Let your potential client know you better. Introduce your service and offers to them.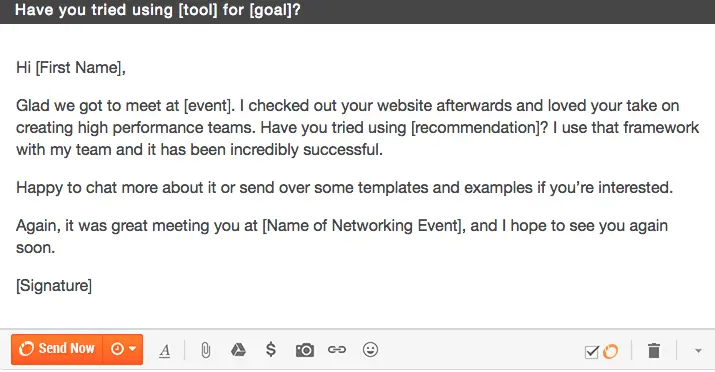 source: Medium
Explain your potential business partner who you are and how you both can benefit from your collaboration.
Essential elements of a successful introduction email template
Here are eleven steps you need to follow if you want to master writing effective professional email introductions.
#1 Make sure you write to an actual person
Avoid sending your introduction to generic email addresses like info@something.com. Chances that nobody will get back to you are pretty high. Plus, knowing the specific person you are writing to will help you craft a more authentic and interesting letter than if you write to a general audience.
#2 Use a clear subject line
Make it clear in a subject what the email is about. It is crucial to keep it short and to the point since a lot of people read emails on their mobile devices. For example:
"Copywriter position — Natalie Polly."
"Can I buy you dinner?"
"Sandra Bullock suggested I get in touch."
#3 Add a proper greeting
If you are writing on a casual basis, you can choose between greetings like "Hi," "Hello." It is better to avoid generic greetings such as "Dear Sir or Madam" or "To whom it may concern" because they will make your email non-personalized. We recommend you to use a simple salutation such as "Dear + name" in any situation.

Read more about proper greetings in business emails.
#4 Start an email body with something about the recipient
In this paragraph, you can mention any similarities you have (e.g., you went to the same college, share the same hometown, etc.) It is also appropriate to compliment the recipient's best-performing articles, blogs, projects.
#5 Mention any mutual connections
A mutual connection increases your chances of getting a response, advice, or assistance. Consider mentioning the referral in a subject line or the first paragraph, so the recipient sees it right away. Even if you are sure that you don't have any mutual connections, we highly suggest you check once again anyways. The results might surprise you. The best places to search for mutual acquaintances are LinkedIn, Facebook, Twitter, recipient's blog posts, and acknowledgment pages (if a person wrote a book).
source: Thebalancecareers.com
#6 Clearly describe the reason you are contacting them
Today, people are busier than ever, and very few have time to read long letters. So, don't be vague and get to the point as soon as possible. Also, keep in mind that the introduction email is not your short bio.
#7 Avoid making demands
Form your sentences so that they sound like you make a suggestion or ask for advice. Avoid dictating someone what to do. For instance, "Would you be willing to sign the paper?" sounds more polite than "Sign the paper and send it back to me."
#8 Give some value to the recipient
Explain how you can help them. It's easy to do when you are writing to apply for a job or want to introduce your product or service. But what if it is a networking email? In such situations, compliments can also be considered as a value because you make people feel great when you say something nice about them. In addition, you can recommend them an article they might like, write a review on Facebook about their business and share the link, or offer to introduce them to someone who they would take advantage of knowing.
#9 Consider using a call to action
It is a good idea to include a direct call to action (CTA), which will make it easier for the reader to respond to your email. This CTA can range from adding a link for them to leave a review of your business to a more personal invitation to meet for lunch.
#10 Make a conclusion
Often, a show of appreciation like "Thank you" or "I appreciate your help" is enough.
#11 Use a professional email signature
Make it easy for the recipient to get back in touch with you by including a professional email signature with your name, job title, and phone number. It is also an excellent idea to include URLs to your social media accounts. Here is how to set up your email signature.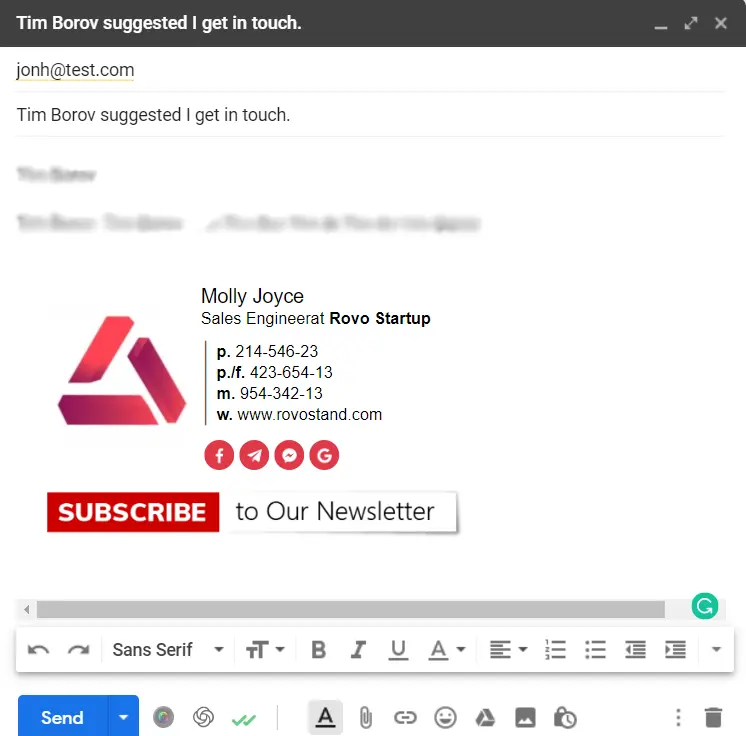 You might also like: "The Ultimate Guide: How to Make the Most of Your Business Email Signatures."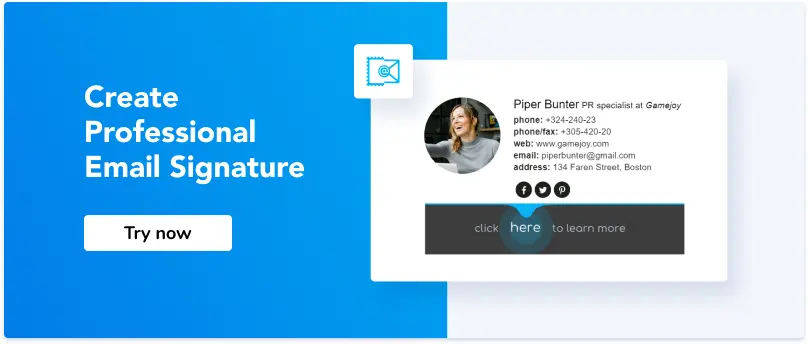 Tips vs. mistakes: how to make the best email introductions
DON'T

contact total strangers
They might question where you got their email address.
DO

find some common acquaintances
You will be surprised by how many people you have common acquaintances with. Just search well.
DON'T

talk about yourself only
Try to focus on the person you are getting in touch with. For instance, instead of writing, "I am a QA engineer at ABC company with 5+ years of experience," first mention something like "I enjoyed reading your blog and listening to your podcast."
DO

point out your similarities
As we already mentioned, it can be even the same college, hometown, state, country. The possibilities are endless here.
Keep in mind that too long introduction emails have high chances of getting right into a trash bin.
DO

write short and concise emails
Learn to introduce yourself briefly. Delete unnecessary adjectives and no-sense sentences.
DON'T

ask for favors right away
It's not the best idea to ask the recipient to do something for you right in the first email. Even if you do this, try to make a suggestion and don't be too persistent. Learn the subtle difference between "Would you be open to…?" and "Please give me feedback on...".
Don't only ask, but also give something valuable. You can share a useful app, article, etc. or simply offer your help with anything.
Read our blog post: "The Best Tips for Cold Outreach Before Conference: Increase Your Network and Get More Leads."
Useful advice to create awesome introductions via email
What else can you do to achieve the best possible results when writing your email introduction yourself? Here are a few more tips you might consider optimizing your introductory message.
Check the grammar of your emails
Before you send your email, make sure to check if all the names are spelled correctly, and there are no typos or mistakes. Recipients might perceive your poor grammar as a lack of effort or attention to detail. This is especially important for new job email introductions.
source: Grammarly
Avoid complicated designs and visuals
Try to keep your introduction emails as simple and easy-to-read as possible. Avoid using too many different colors, fonts, and large pictures. However, some situations allow adding a GIF.
Consider sending test emails to yourself
We recommend you send an email to yourself first to ensure that everything looks great before sending it to someone else. It might be useful to ask a friend or family member to check the email as well.
Don't be upset if you haven't received a response immediately. Sometimes, you need to send a second or even third message to be noticed by the recipient.
Our favorite email introductions examples
Introduction email example - Applying for a job
Subject line: Daniel Osborn suggested I contact you about the personal assistant position
Dear Andrew,
I am writing at the suggestion of our mutual acquaintance, Daniel Osborn. He and I are both huge fans of your video blogs on YouTube. When we discussed your tutorial on time management, he mentioned that you were looking for a new assistant.
I have been working as a personal assistant to Sam Chapman, founder of Real Techniques, for the past three years. During my time with Ms. Chapman, I reduced the length of her working hours by one hour per day by reorganizing her schedule. Recently I moved to Brighton and am searching for a similar position in which I can apply my organizational skills.
If the position is still available, I would be happy to send you my resume and contact information of Ms. Chapman so she can provide a reference.
Thank you for your time.
Sincerely,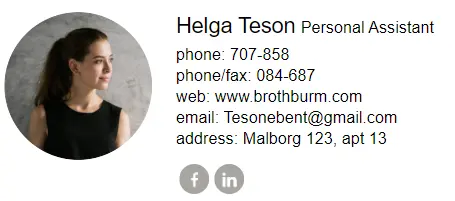 Introduction email example - Networking email
Subject line: Can I buy you lunch?
Hello Sara,
My name is Nathalie, and I am a nutrition consultant and yoga instructor with a private practice. I've been following your Instagram since 2017 (I love your passion for a healthy lifestyle and protecting animals). I was excited to see you started your website this year - it is amazing!
Our mutual friend Mark Ronson told me you were going to grow your business and expand your services. If you are interested, I could offer my help as a nutritionist and yoga instructor. If you don't plan to move in this direction, I'd still love to have a cup of tea with you someday.
Would it be possible for us to meet?
Thank you and best regards,
Introduction Email Example - Informal Email To a New Team Member
Subject line: Welcome on board
Hey Mike,
I just wanted to send you a quick message to say that I am looking forward to working together!
How would you feel about grabbing lunch or dinner to chat and get to know each other a little better?
Does next Friday work for you? It's my treat!
Sincerely,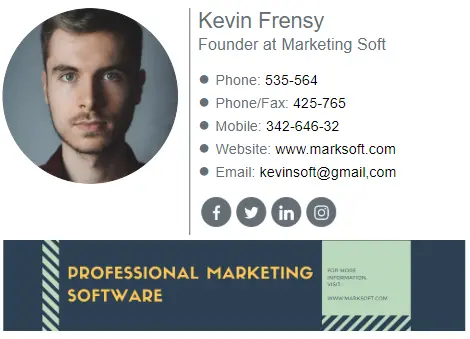 Introduction email example - Follow-up email
Subject line: Creative copywriter role at ABC Inc. – Resume attached
Dear Jane,
I applied for the creative copywriter position at ABC Inc. last week. I'm impressed by ABC 's incredibly fast growth in the marketing and advertising field, and I'm thrilled by the opportunity to be part of an amazing team of bright and creative people.
I'm confident that I would be a perfect fit for this role not just because of my five years of copywriting experience you are looking for, but also stellar research skills and a deep understanding of user experience.
In 2019, I won a D&AD Award for Writing for Press Advertising.
I have attached my resume, so you don't have to look through all my files sent to ABC earlier. If I can provide you with any additional information to illustrate my fit for this position, please feel free to reach out.
Best regards,