The Best Tips for Cold Outreach Before Conference: Increase Your Network and Get More Leads
1. Conduct a full conference and attendees research
2. Decide who you want to meet with
3. Add a conference meeting invitation landing page to your website
4. Build a cold outreach email campaign
5. Mistakes you should avoid in a cold email meeting request
6. Cold outreach email templates for conferences
7. Consider cold calls
8. Issue a press release about the meeting conference
9. Be active on social media
10. Use Google Ads
11. Useful tools for empowering your conference cold outreach campaign
Why do people go to conferences? Really, why? Indeed, at most events, advertising reports and boring lecturers consume most of your time. Moreover, in the era of social media, you can connect with people far easier and for less expense than physically traveling to a real-world event. That's probably true, but we have a good counter-argument. Vivid memories often become vivid just because of the unusual context. Of course, there are plenty of good ideas around, but in everyday life, we ​​are forced to filter the lion's share of information in order not to lose our minds. As a result, a great idea seen by someone on a blog may remain unappreciated simply because the context is casual. But if you, surrounded by hundreds of influencers, listen to a successful professional who enthusiastically talks about some idea that worked, you will definitely remember this idea. Also, chances are you will get a huge energy boost and motivation necessary to implement this idea in your business.
Okay, let's suppose you agree that attending conferences or networking events is the thing that really counts. But don't you make the mistake that most people do when they go to such events? Don't you belong to those who believe that they can just show up and hope for the best, and no preparation is necessary? In today's article, we're going to share the best tips that will allow you to maximize the results you get from your next meeting conference.
Conduct a full conference and attendees research
To make the most of an event, you need to do a lot of hard work before, during, and after the meeting. Here is a quick list that may help you conduct the research and accomplish your goals.
What the conference is about
Start by checking the schedule for the conference — mark off everything you want to see. Once you understand what is going to happen there, you can plan the time for networking.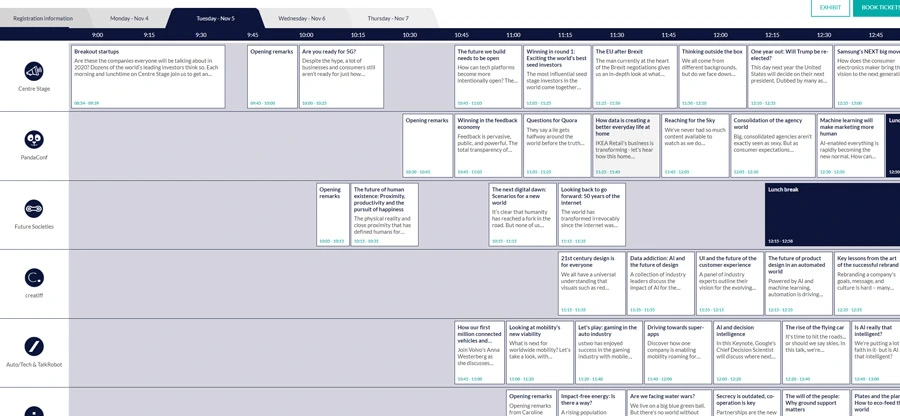 source: Websummit
Look through the list of conference speakers. Perhaps, you will want to meet with them. Also, this will give you an idea about the contingent of attendees.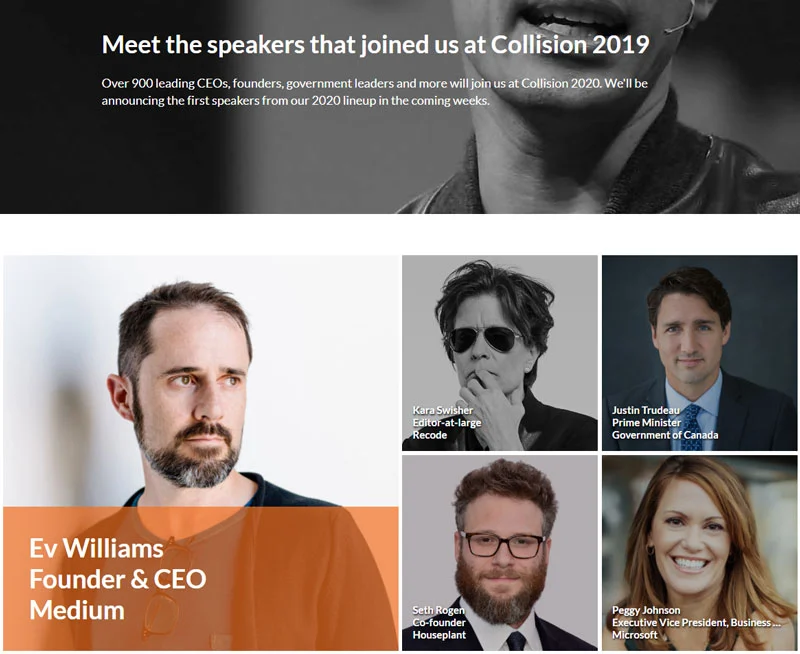 source: Collisionconf
What companies will attend as visitors, sponsors, or partners
This information will help you understand if your product or service is relevant to them. So, be sure to check out the conference website or app (if it exists) before you go.
What departments your target audience is from
Are they your potential clients? Can you see some business value in meeting any of them? Attending a conference full of people who won't be much interested in your business proposals makes little sense.
Read our blog post "Successful Event Email Marketing: Do's and Don'ts for Your Excellently Crafted Campaign."
Decide who you want to meet with
The social side of such event meetings is just as important as the scientific content. Ideally, you should know who you would like to speak with before the conference. You can contact these people and ask them to meet with you for a coffee/lunch/dinner. But first, be sure to follow these five important steps:
Remove competitors from the list
Clean up your list from competitors, as you don't want to show them all your pre-event outreach strategies.
Focus on probable decision-maker roles
These can be business developers, CMOs, CEOs, etc. But be careful with such big companies like Google or Amazon where you can find hundreds of people with the same titles. It's not easy to predict who will attend the conference. And if you are using programmatic ads, remarketing, social, or PPC, you might end up wasting your effort, time, and money.
Find companies with large infrastructures
Even if such companies use something similar to your software/service, they might want to use something else in their foreign offices/other departments.
Learn some personal information about your target attendees
If you want to network successfully, you should have something to small-talk about. You can also check Twitter or Facebook search for users talking about the event you are going to attend. This way, you will determine if you want to follow these people and even start conversations ahead of the conference. This works perfectly for those who might be a bit shy. Visit their blogs. This way, you will be able to get a better idea of how things are going in their lives or businesses.
Look for recent pictures of visitors you hope to meet at the conference. We recommend creating a document where you will include names, titles, photos, and a few facts about the person you want to meet (for example, their recent projects, latest awards or personal achievements, interesting publications, etc.)
Add a conference meeting invitation landing page to your website
Make a splash page with the main highlights around the conference. Mention that your company is attending and what you will be talking about at your presentation (if you have one).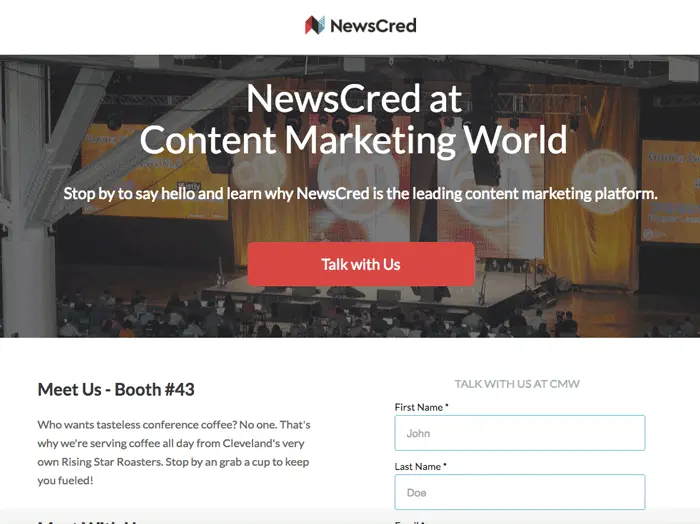 source: Newscred
If people are interested in meeting with you, make it easier for both of you to learn more about each other. Let them fill in their names, positions, companies, and why they want to talk with you.
Automate meeting scheduling with calendar
Add a calendar to allow people to quickly book appointments at your booth, attend your speaking event, meet for a coffee/lunch/afterparty, etc. This way, you won't have to worry about wasting your time or not being able to speak with everyone.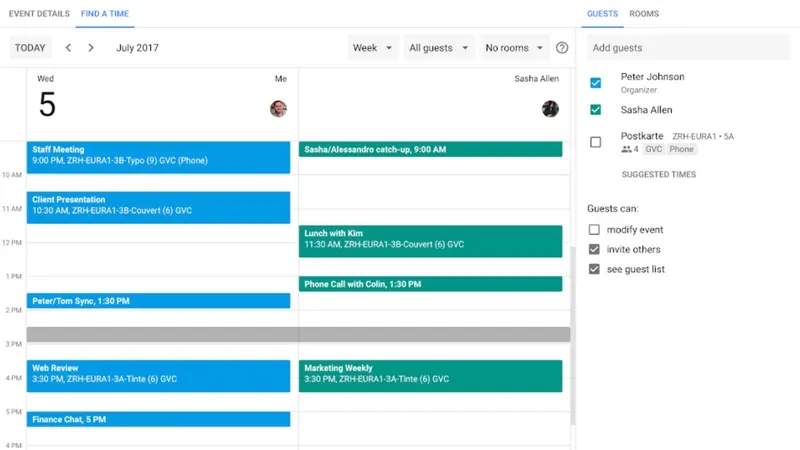 source: googleusercontent
Track landing page visitors
Check if your landing page has visitors and analyze them as deeply as possible.
Build a cold outreach email campaign
It is also a wise idea to make it easy for your landing page visitors to access your white papers, eBooks, case studies, and other related content. This is an excellent way to get their email addresses.
With the name, email address, and the right information you collected, you can start creating a perfect cold email for meeting.
Make emails simple and short
We all know that business people are busy. So, don't overload your email with a lot of information. Keep it simple and to-the-point. It is always an excellent idea to mention something personal. For example, "I liked your last presentation at…"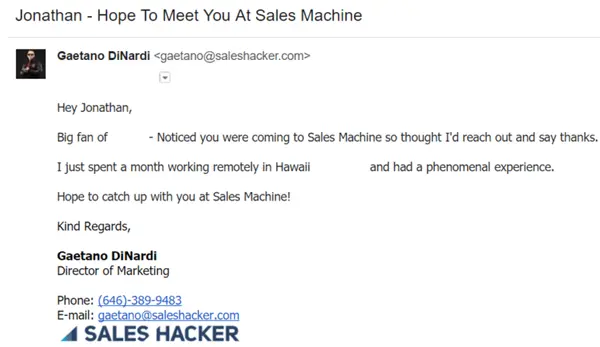 source: Saleshacker
Add a personalized and descriptive subject line
Keep in mind that many people check their mail from smartphones, which means that too long subject lines are a thing of the past. However, a good subject line should still be personalized and descriptive.
Make sure the name of the conference and its date are added. Subject: Meeting up at [conference name and date].
Add a banner to your email signature
Banners in email footers play an important marketing role. They help us promote any piece of information and increase the signature attractiveness. It is an excellent idea to include information about the conference you are attending and link it to a calendar for scheduling appointments in your email signature banner.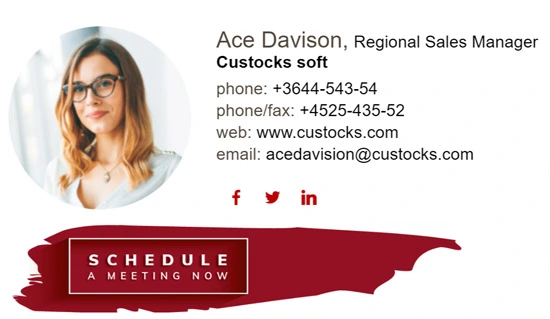 After the event, don't forget to reconnect with the people you have met. Write a few kind words, send some photos of you two, and briefly describe what you talked about. Also, you can add them on social media to consolidate your relationship.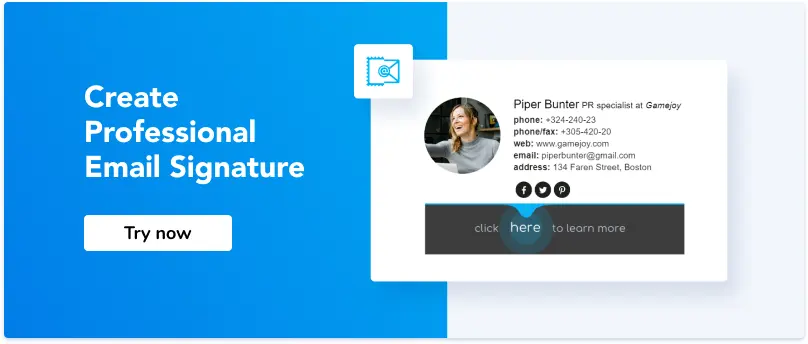 Mistakes you should avoid in a cold email meeting request
If you want people to reply to your emails, avoid the following things:
Sending non-personalized emails
Personalization will help you create a human connection with the reader. Go beyond adding the first and last names. For example, you can mention that you liked the recipient's recent blog post (say it only in case you did read it!)
Using sophisticated email templates
Templated emails are often popping up in our inboxes. And we bet you are sick of them too. Your recipients see so many similar, non-personalized emails today that they often ignore them completely. Remember: people are sick of the mass emails! Of course, you can use templates to reduce the amount of work, but keep in mind that you still need to remain sincere.
Writing huge texts in emails
Never write a huge cold mail piece. Your task is not to provide a ton of information about yourself right away, but merely to get the reader's attention and spark some interest. You will have an opportunity to tell your story once the recipient writes back to you.
Don't make your email look like an ad. It should be human and engaging, so that your recipients want to meet with you in person.
Related: "Avoiding 7 Common Email Marketing Campaign Mistakes - Some Key Tips."
Cold outreach email templates for conferences
Cold email template for meeting
Hi Mr. Hilton,
Congrats on coming into a new role! I discovered you were going to be attending the X conference and wanted to reach out. Based on what I saw about you on your LinkedIn profile, you have a good knowledge of AI technologies. I also read a lot about the innovations you have brought to the market and the excellent results your company has experienced.
My colleagues and I would like to learn more about how you accomplish all these.
Please let me know if you are interested in meeting up and what time works best for you.
Thank you!
Mark Branson
Email after meeting at conference
Hi Paula,
I hope you liked the ABC conference as much as I did. How did you like the speech Mark from Y company gave? I really loved that presentation.
I also managed to stop for a while at your booth, and I truly believe you guys at X company are going to grow big in the medical field. The software you are working on looks really promising to me.
We at N company distribute the best solutions for medical purposes in Eastern Europe. And we would be happy to have your software presented in our store.
Let me know if you are interested so we can set up a time for a call.
Thank you!
Chris
Consider cold calls
In case the conference organizers can't provide you real names of the event meeting attendees, consider calling the target company and asking for the department you are interested in. Then introduce yourself and say that you are going to the conference and would like to connect.
Issue a press release about the meeting conference
Prepare a press release and post it 3-4 weeks before the event. Also, you can make a short article and guest post it.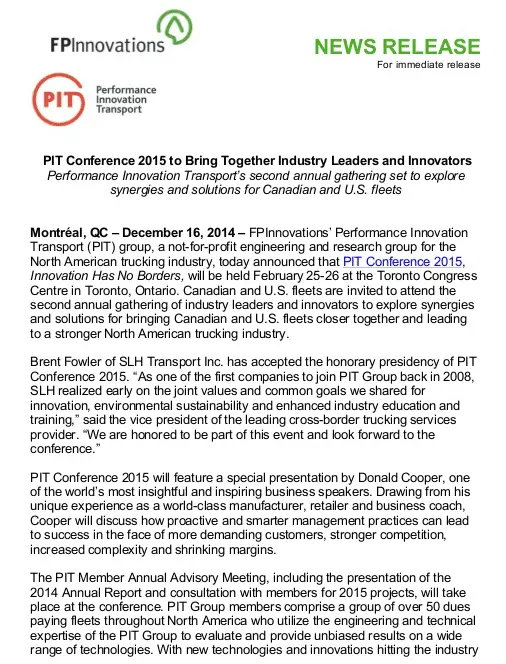 source: Slideshare
Be active on social media
Keep your followers informed
Let people know that you are attending a conference on social media. Then continue making posts telling your followers where you are and what you are doing at the conference to make it easier for them to find you.
Make sure you are active in groups about the event or similar ones.
Create sponsored campaigns on LinkedIn
Consider creating a general campaign about products or services you have to offer. Promote your recent case studies, white papers, eBooks. And make a banner about the speaker (include their photo, bio, the topic they will present, day and time of the event). You can also create an invitation to set up meetings at the conference.
Advertise on Facebook and Twitter
The approach described above can work well on Facebook and Twitter too.
Pay attention that LinkedIn, Facebook, and Twitter allow uploading email and contact lists to match with the profiles of professionals registered with the networks.
Use Google Ads
Don't limit yourself to advertising on social media only. Not all professionals use social networks. But you can use remarketing for those who visited the conference page or your landing page.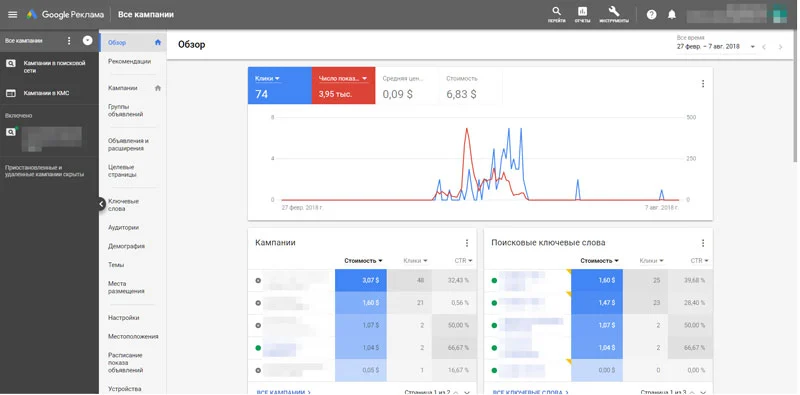 source: Ads.google
Useful tools for empowering your conference cold outreach campaign
To help you further on your task to market an event you are attending, we prepared a list of tools you can benefit from.
It is an easy-to-use tool for creating cold mailings. It offers a variety of templates, automated follow-ups, tracking of clicks & responses, and more.
Woodpecker is perfect for human-like email sending, automated follow-ups, campaigns scheduling, and more.
Built specifically for LinkedIn sales outreach, Wiza is a perfect tool for LinkedIn prospecting, building email lists and exporting the contacts directly from LinkedIn Sales Navigator to a CRM.
Reply.io is a sales engagement platform that automates personal email outreach, calls, and tasks.
Developed for entrepreneurs, salespeople, and marketers, Autoklose has a wide range of useful features you can gain an advantage of. The features include automated scheduling of appointments with targeted leads from A to Z, highly personalized and engaging emails, email sequence templates, campaign scheduling, etc.
Stripo is an online platform for creating professional email templates and automating routine work on layout and design of emails.
Looking for a solution to add a banner about conference with a link to the calendar to your email signature? Try Newoldstamp.
The tool is convenient for making calendar appointments.
With Canva, you can create design posts for social media, make various beautifully-looking posters, menus, business cards, invitation cards, etc.
Buffer is one of those great tools that allow scheduling posts about the conference in your social media accounts.
Conclusion
Conferences, trade shows, and other networking events can increase profits and sales, improve your brand, spread awareness about your business & what you do, and establish relationships between you and your customers. You can just go and have a good time with like-minded people, but you can also take some extra steps and get the most out of the event.
Here is a short guide to help you:
Conduct a full conference and attendees research
Add a conference landing page to your website
Run ad campaigns for heightened visibility
Send out personalized emails
Add your event to your email signature

Email after meeting at conference

Reflect on what could be done better next time