Event Email Marketing: How to Skyrocket Your Event in a Few Clicks
In this age of explosive new technologies, many companies are taking advantage of the web to facilitate the growth and to reach global audiences more effectively. Obviously, operating on a global scale has become a much easier task today.
On the other hand, organizations have to improve the business of marketing if they want to lead a company to a great success and development. Therefore,many startups and established companies are starting event marketing campaigns to promote their various activities, generate leads and appeal more customers.
Using the Right Technology
Effective event marketing campaign starts from sending the right email messages at the right time to the right audience. The best way to do that is to use email marketing automation tools.
Email marketing automation refers to the use of emails which are automatically sent to a targeted person at a particular time. This helps to let your target audience know about a particular event, product or service a company is offering. Such emails can be further forwarded or shared by the initial recipients to their friends and colleagues who can further subscribe and buy a product, use the service or participate in the event from that particular company.
Using the email automation has become a trend in the business industry and for obvious reasons. However, only the best email marketing campaigns lead to successful events. Companies must ensure they do their homework before proceeding to develop their own email marketing campaigns to promote a particular event.
This article gives the appropriate information on how companies can make their events more successful by focusing on the development of their email marketing campaigns.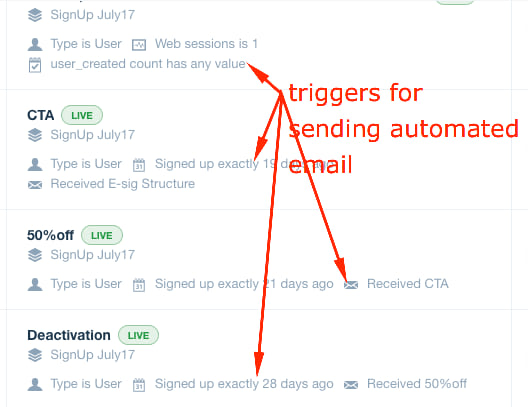 Types of Event Email Marketing
Hosting email marketing event has become a very valuable way for many companies to engage with their audiences. They are an effective way of getting the attention of subscribers and giving as much information as possible about a particular product so that the subscribers will develop a familiarity with the companies.
Using events is also a method used by various companies to build the audience size, especially after their current subscribers are fully satisfied with what the companies are offering. There are basically two types of events that require email marketing - these are online and offline events.
1. Online events
Online events are held through the web and are a very effective way of interacting with a global audience. One of the best advantages of using online events when promoting your business is its affordability. Looking for a physical location to hold the event and staff to hire is not necessary. So, you are going to save a lot of time and money. Some of the examples of online events include:
Virtual events

Webinars

Live –streaming events

Twitter chats
You can easily manage your events by using different applications. For example, some tools can help to confirm attendance online, so you do not need to worry about overbooking. You can accept and manage online registrations and payments for your events if needed.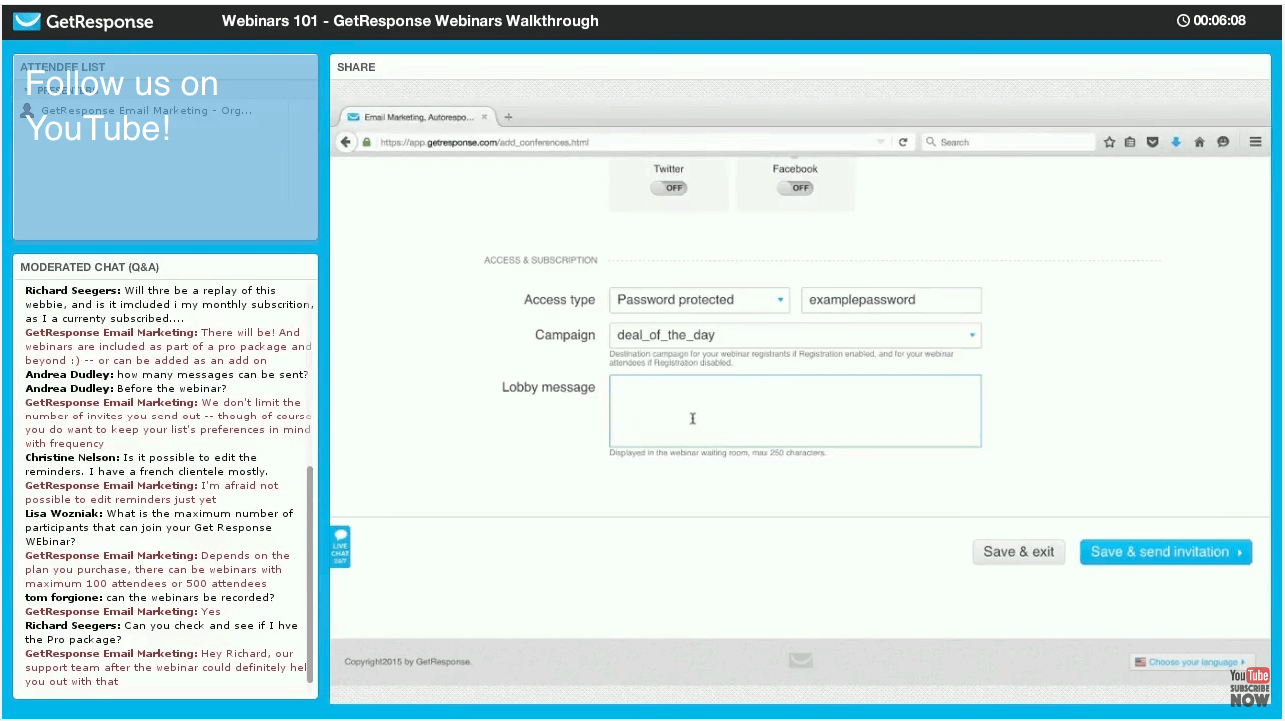 2. Offline events
Automated email campaigns can also be used to influence individuals to attend an offline or real-life event. Physical events are more time consuming and require a lot to money to make them possible. Therefore, having a very good event marketing strategy must be a top priority in such a case. Here are the different ways companies can physically interact with their audiences:
Conference

Seminars

Trade shows

Meet-ups

Launch-n-learn
Clearly, there is much more on the path when you initiate an event and host it at the physical place. You need to think through more funds, supplies, resources, rentals of space and more.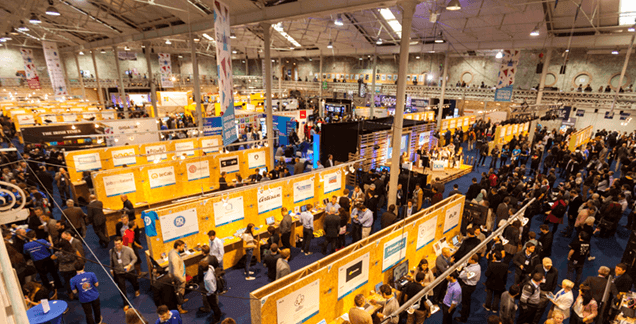 Planning Your Event Email Marketing Sequence
The success of any kind of event will depend on the effectiveness of your email marketing sequence. Many companies have realized this and more of them are putting more effort to improve the email sequences.
One of the most effective ways in ensuring your email marketing sequences is paying keen attention to the email sequence template. A well-done template has the capacity to make your campaign more successful. It will appeal more individuals who proceed to attend your events.
Another way to ensure the success of your email marketing sequence is putting enough research into looking for prospects. Knowing the group of individuals who are more likely to attend your events is very important. This way, you will not have any problems looking for attendees in the future events.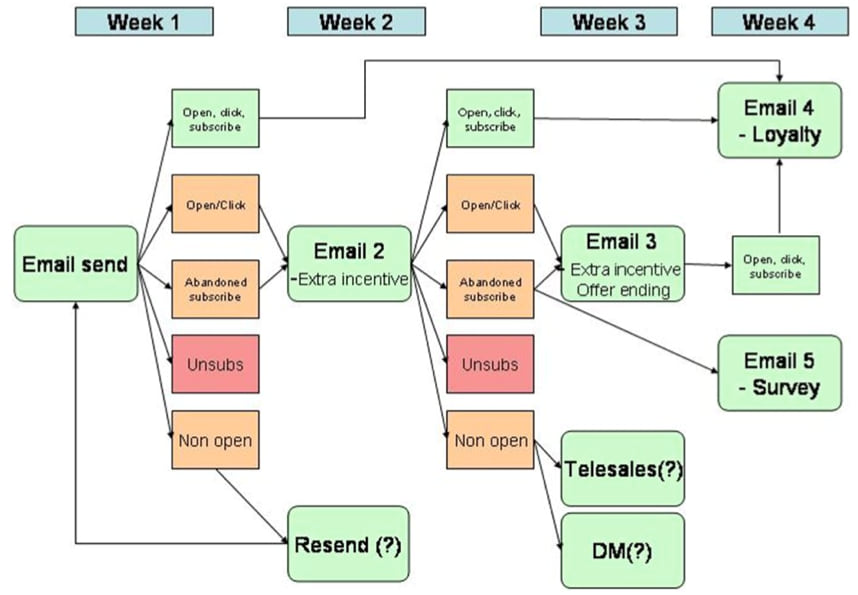 source: http://www.smartinsights.com/
Tips for a Successful Event Email Marketing
The best companies have one thing in common - they make a good plan before starting to engage their customers. A strong strategy is crucial when it comes to making sales or looking for more areas to expand their business. So, how do they do it?
The answer is pretty standard - they all know how important a successful email marketing sequence is for their business, which leads them to put more effort into making sure it is always perfect. The following tips can be used to make sure your email marketing is a success
Creating a targeted list according to your audience
The first step in making sure your event email is well responded by the audience is by having various groups to which you will send specific emails. By doing this, you will be almost certain that a specific group of individuals have a positive response to your emails.
This is basically the base of email marketing. It also promotes structural order, especially in situations when the company is trying to promote various products targeted at multiple audiences. Companies must have an email checklist for event promotion - it is the way forward and usually leads to email marketing.
Email automation has become a very important tool in running a business of any size. For example, it helps small business to build up their audiences without worrying about making any large expenses and helps a large company develop a personal relationship with each of their clients. Some of the best automation tools (as of 2017) include:
Determining if your subscribers will respond to or ignore your messages is a very important point when creating an event email. Thus, you have to make a great first impression. By using an email signature creator, you can easily get the attention of your recipients to the promoting event.
The email signature is a wonderful place to advertise your products or services. You can include to your signature one of the most important features of the event email - the event banner. Signature banners not only help to present information but also enhance your event attractiveness. Email signature requires a much lower investment compared to other marketing channels and gives marketing teams the broadest reach of the target audience.
Creating beautiful templates
Many recipients of your email will definitely look at the appearance of your email before they can proceed to find out what it is all about. Putting enough effort in improving the appearance of your emails can be a pivotal step to improving the response you get from your clients.
The event banners for email signatures must be well designed to grab the reader's attention. Studies have shown that humans are more likely to first respond to color and to the general appearance of an object. Check some of the best email signature templates: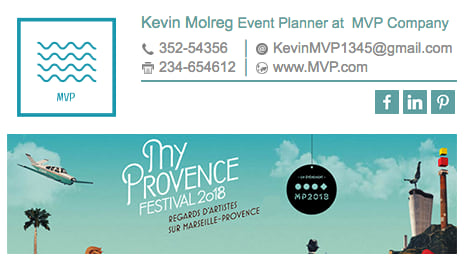 A/B testing is a technique many businesses use to make sure they release the best possible version of a particular product. Usually, two products created for the same purpose are exposed to the public who determine which one they prefer to help such businesses make more beneficial decisions.
A/B testing can also be used to determine the effectiveness of email components such as the event email subject line or event banners. A/B testing is a great way to get valuable data. So, send out your every email copy or banner screen to your users — test all your projects and apply those results to the next strategy.
Making a follow-up campaign
Understanding the importance of the follow-up is a huge thing for the growth of any business. This is one effective way of making past customers feel appreciated and important which can usually lead to making more sales and deals in your business.
Appreciated customers are more likely to react to a different event reminder email compared to those that do not feel acknowledged by a business. It is, therefore, a very good practice to post an event thank you email to subscribers who help promote your business to make them feel appreciated.
Best Email Marketing Campaign Examples
As a business owner, your main priority is to have as many people and potential customers looking your direction as possible. Excellent email marketing strategies will allow you to be able to achieve this goal.
So, how do you know your email marketing campaign has all the necessary qualities to succeed? A lot of individuals tend to have very busy inboxes. This means there is a very small chance that your business's emails are even looked at by such individuals who might further proceed to unsubscribe from your emails. Therefore, the best email marketing campaigns have to be concise. They have to be physically appealing and adaptable to any device that might be used to view them.
The best email marketing campaigns today have one thing in common: they all have the above-named qualities. You can check the following list of some companies who apply such techniques to their campaigns:
Social Sprout: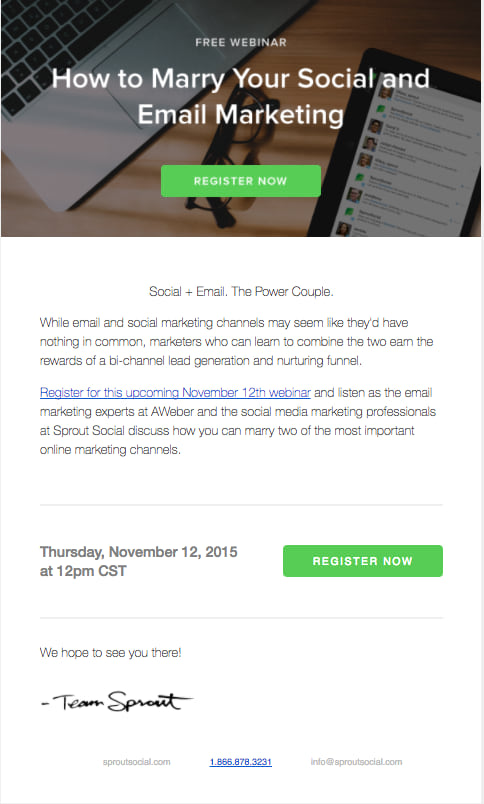 Grouphigh
Niel Patel: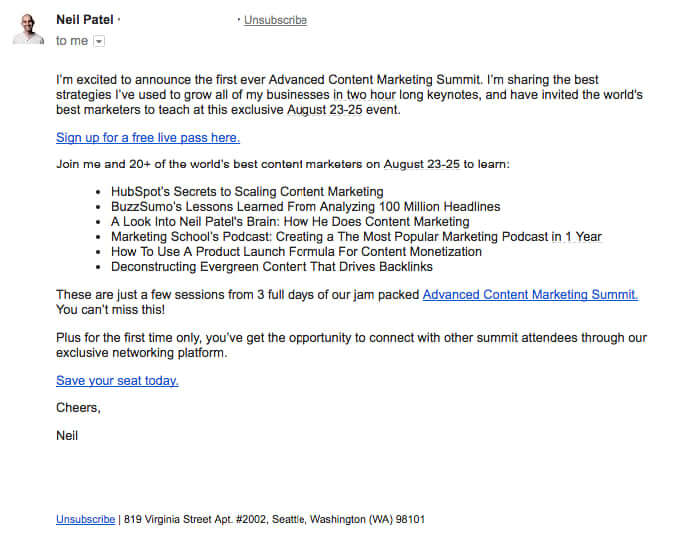 Litmus: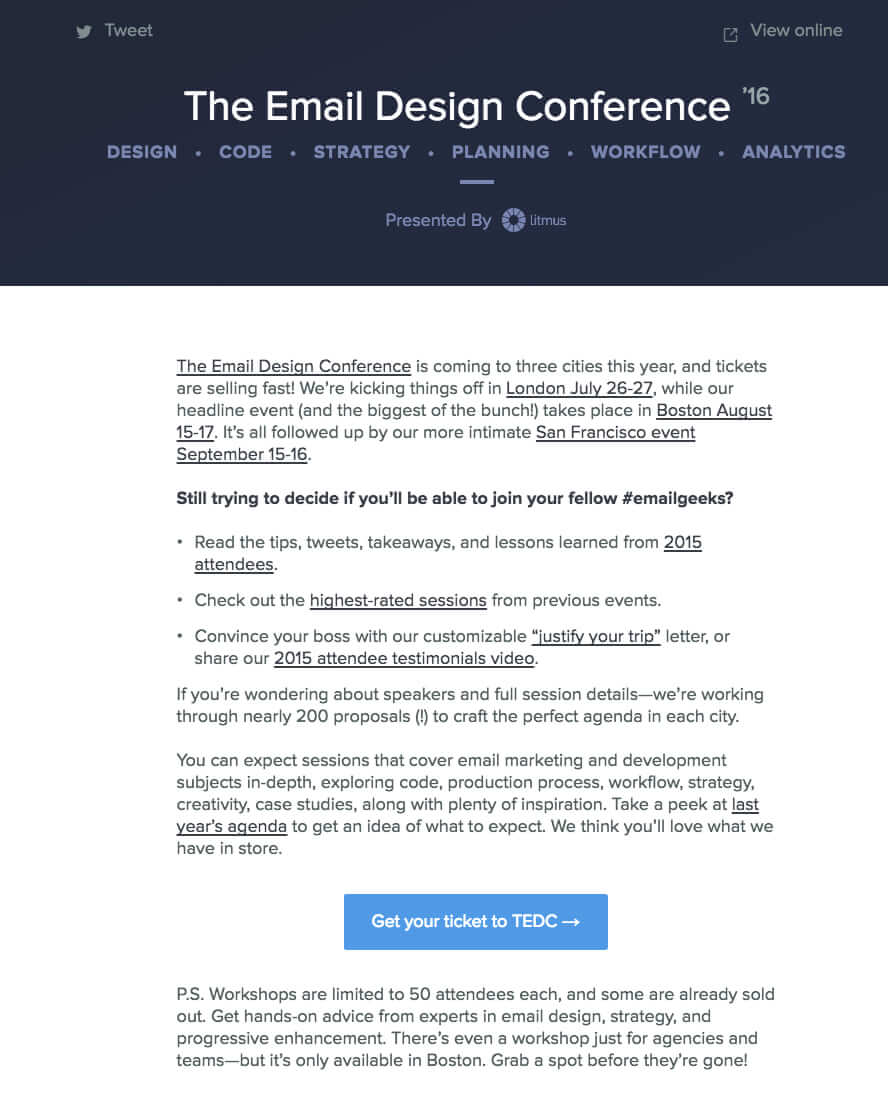 Bringing It All Together
The value of event email marketing is well known and it should be at the core of your promotion strategy. If you want to get the best ROI, you can also experiment with the event email sequences. And by embracing behavioral tactics, you can also create the best event email message to attract more attendees.
Just focus on whatever produces great results. You can try the NEWOLDSTAMP email signature generator to promote events by using banners. The email signature will definitely help to attract more attention to your event. Using the signature and including the right content for your target audience will give your event emails a more personal feel and increase the possibility of people subscribing.
Another important stage of any event email marketing is to take the time to analyze your campaign. You can do this by using the A/B testing. Moreover, there are so many events happening, you need to use all tools and techniques to stand out in the crowd.
If you need some help with your event email solution, you can contact us today or check more information here.