Event Email Marketing: How to Skyrocket Your Event in a Few Clicks
1. Why is email marketing vital for event promotion?
2. Event email marketing strategy tips and tricks
3.Event email marketing best practices
4. Email automation tools for event promotion
It doesn't matter what type of event you're planning to run; email marketing is one of the best methods to reach your audience and increase the number of attendees.
In this guide, you'll get a comprehensive list of 17 ideas for your event promotion emails. These include:
10 event pre-launch email ideas;

3 email ideas for live events;

4 post-event email ideas;

10 tips and tricks to improve your event email.
On top of that, you can download email strategy templates for any event.

So if you'd like to learn how to create event email sequences, what tools to use, and get inspired by the best examples, read further.
Why is email marketing vital for event promotion?
In recent years, we can observe how event creators reach us using social networks and influencers in combination with paid advertising. However, according to statistics, 78% of marketers say that email still remains their preferred method of attracting an audience to their events.
And although the pandemic made us switch to hosting online events mostly, the approach to email marketing stays the same as with offline activities. 76% of respondents claim that email appeared to be the most effective way of driving virtual event registrations.
Event email marketing strategy tips and tricks
Successful businesses have one thing in common – they make a plan before starting to engage their potential customers. So how do they do that? Let's dive right in.
Tip # 1: Start with list segmentation and targeting
For starters, you need to create various groups to which you will send specific emails. This will increase the chances of you getting responses.
CampaignMonitor reported that campaigns with proper segmentation had a 760% increase in revenue. So isn't it worth trying?
Below are a few ideas of basic segmentation:
Last year event visitors (you can share memories from past events);

Last year event participants (those who had a booth or stand. Remind how effective it was);

Last year speakers;

Last year sponsors;

Those who subscribed to your newsletter;

You can also segment by title, sub-industry to share more relative information about the event. If your event has different stages, try to segment the list by them.
Tip #2: Write an event announcement email
Using emails to promote your event before it happens is an essential part of any event marketing strategy. This email should help you motivate recipients to sign up; grow your email list. So be creative, experiment, and remember about your brand's voice.
Below are a few ideas that can draw people's attention to how amazing your event will be.
Example #1: Framer's event announcement email
Framer's email is short and to the point. Recipients understand from the first lines what it's all about. A clear call to action button provokes action.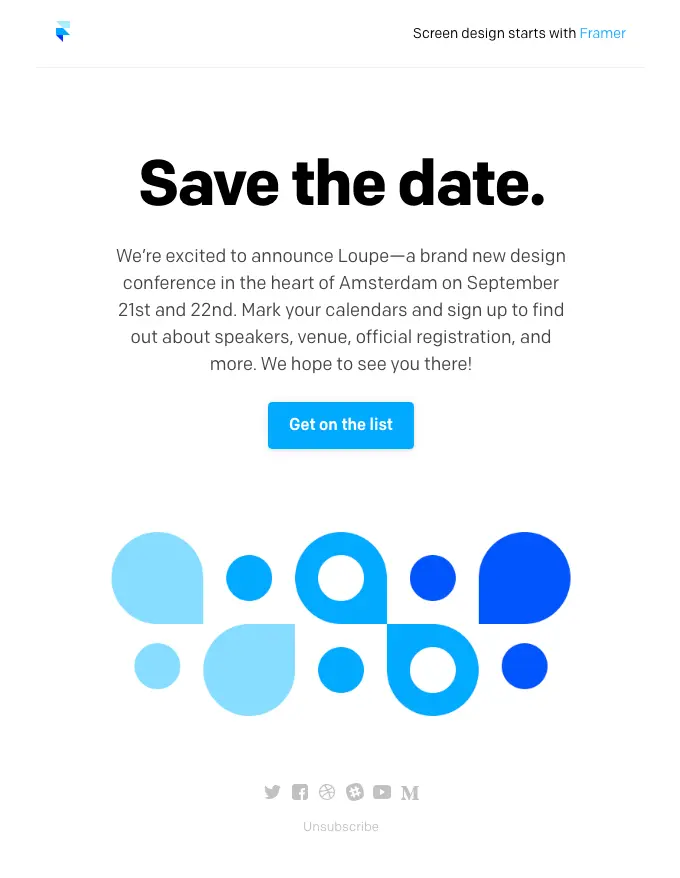 source: Really good emails
Example #2: Eleganto's event announcement email
This one is pretty creative and keeps recipients intrigued. People might want to get a peek at what their favorite brand is planning.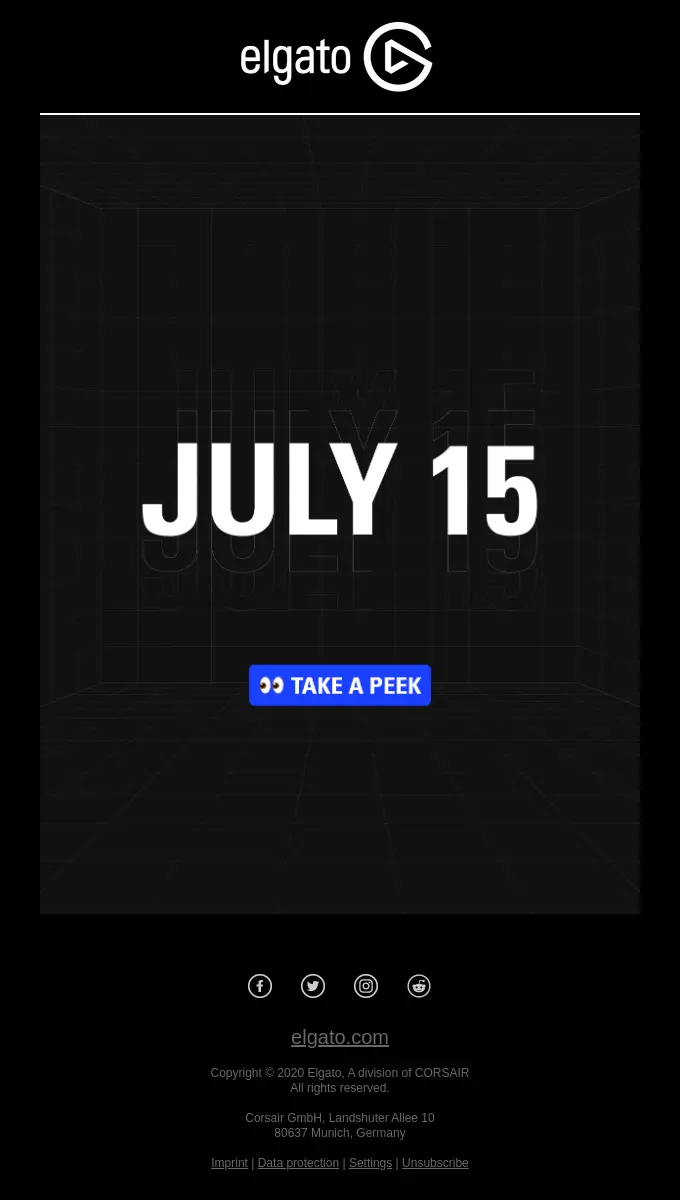 source: Really good emails
Example #3: Litmus Live's event announcement email
Although the email is long, it's well-structured. As you can see, the conference is happening in different locations (London, Boston, and San Francisco). Having separate blocks for each city will help Litmus segment the audience to send relevant updates. At the bottom of the email, they also address the FAQ regarding tickets, clarifying all the information.

source: Really good emails
Tip #3: Create an early bird tickets email
Everyone loves saving money. So consider offering discounted pricing for those who'll be the first to buy tickets from you. You can also use a sense of urgency to drive registration and make recipients feel special. See the example below.
Example 1: Neil Patel's early bird email
In his email, Neil Patel wrote that "Early bird is coming up on an end," though there was no prior notification. The sentence "And I wanted to shoot you over the chance to get it before it runs out" makes a recipient feel like they're on a special list.
Neil gives readers a reason why they need to get the early bird. He says, "You'll get live access to over 200+ hours of material."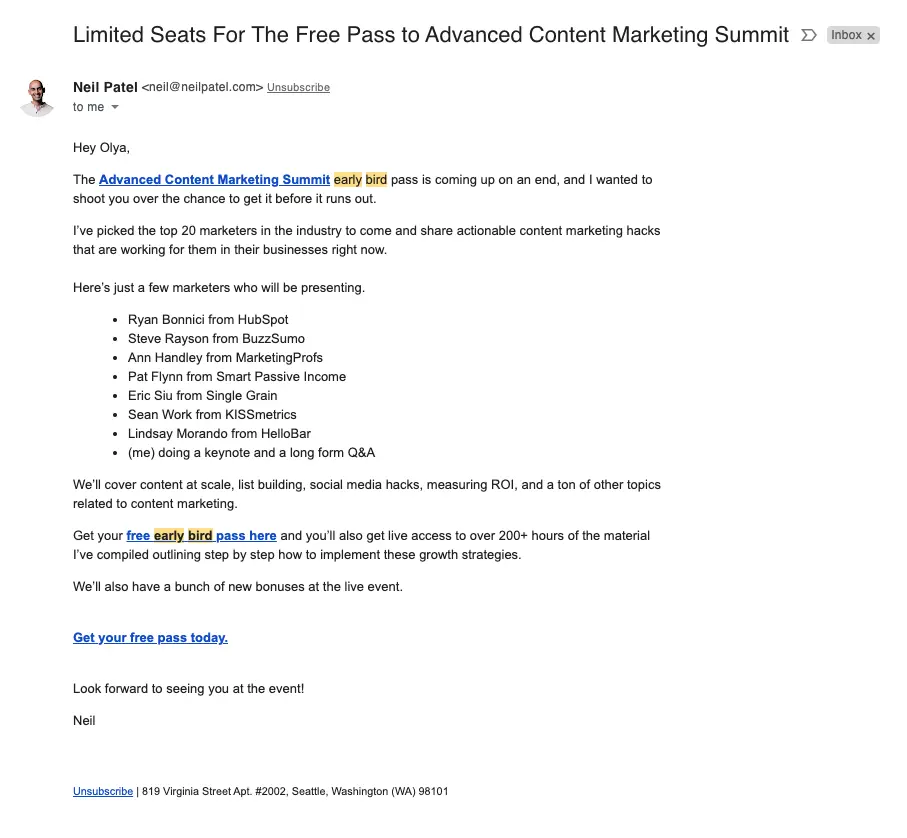 Tip #4: Think of the first and keynote speakers introduction email
Often people don't buy tickets for the event until they learn more about speakers. So as soon as you know the names of the speakers and the topics they cover, share this info with your email list. This is an excellent opportunity and an additional trigger to sell more early bird tickets.
Example 1: Emma's event speakers introduction email
The company introduced the two key speakers from the previous conference. On top of that, they added links to their presentations with valuable tips. And, of course, there is an option to buy early bird tickets.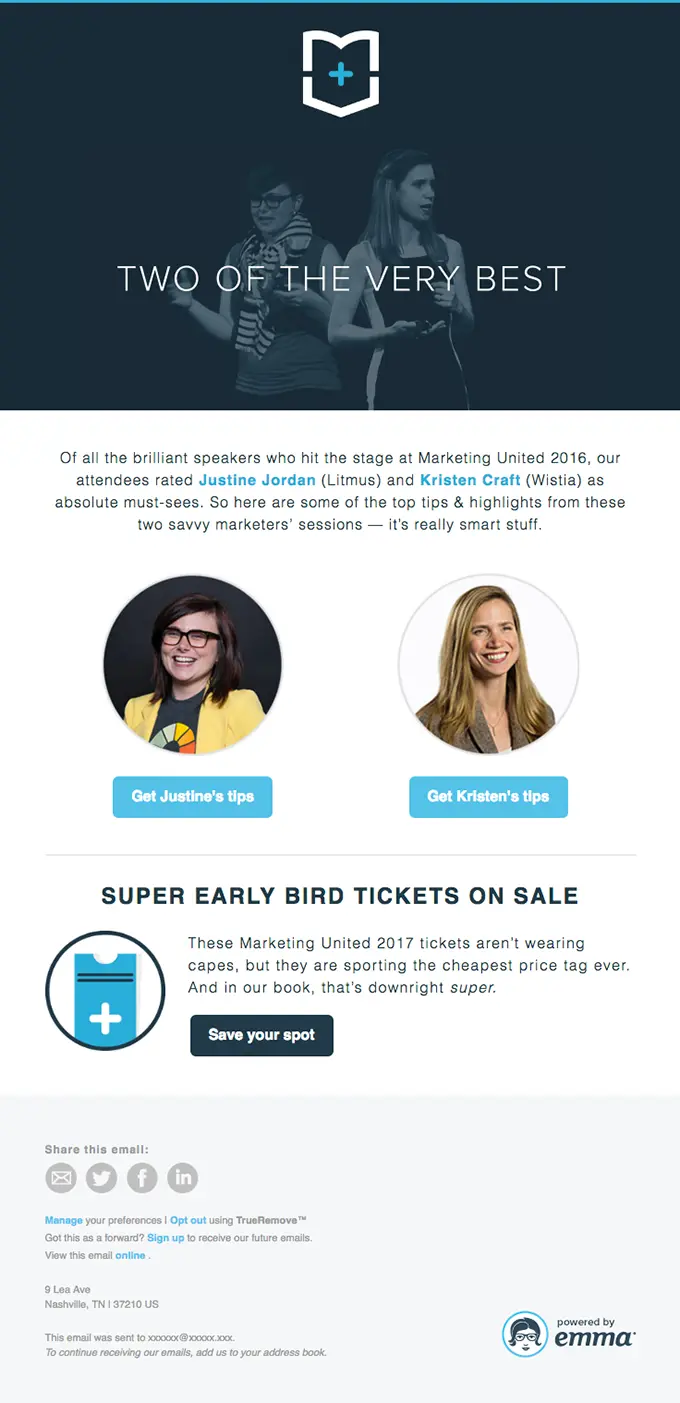 source: Really good emails
Example 2: Synapse's event speakers introduction email
In this email, the sender talks about the speaker, uncovers the topic, and explains what you'll learn at the conference. Synapse also offers to buy tickets at a discounted price.

source: Really good emails
Tip #5: Send an official invitation email and start ticket sales
Set the date when you open registration and start ticket sales. Make it super clear why recipients should attend the event. Let's look at the example of Bit Bash.
Example 1: Bit Bash's official invitation email
Bit Bash announced ticket sales two days before the launch. This raises the feeling that something huge is happening soon, as well as the fear of missing out.
The first screen provides all the essential information to make a decision (date, time, and price). The second screen describes activities and contains a call to action.

source: Really good emails
Example 2: Litmus' official invitation email
They made it easy for recipients to buy tickets right from the email. They also included information about limited early bird discounted tickets as the fear of missing out.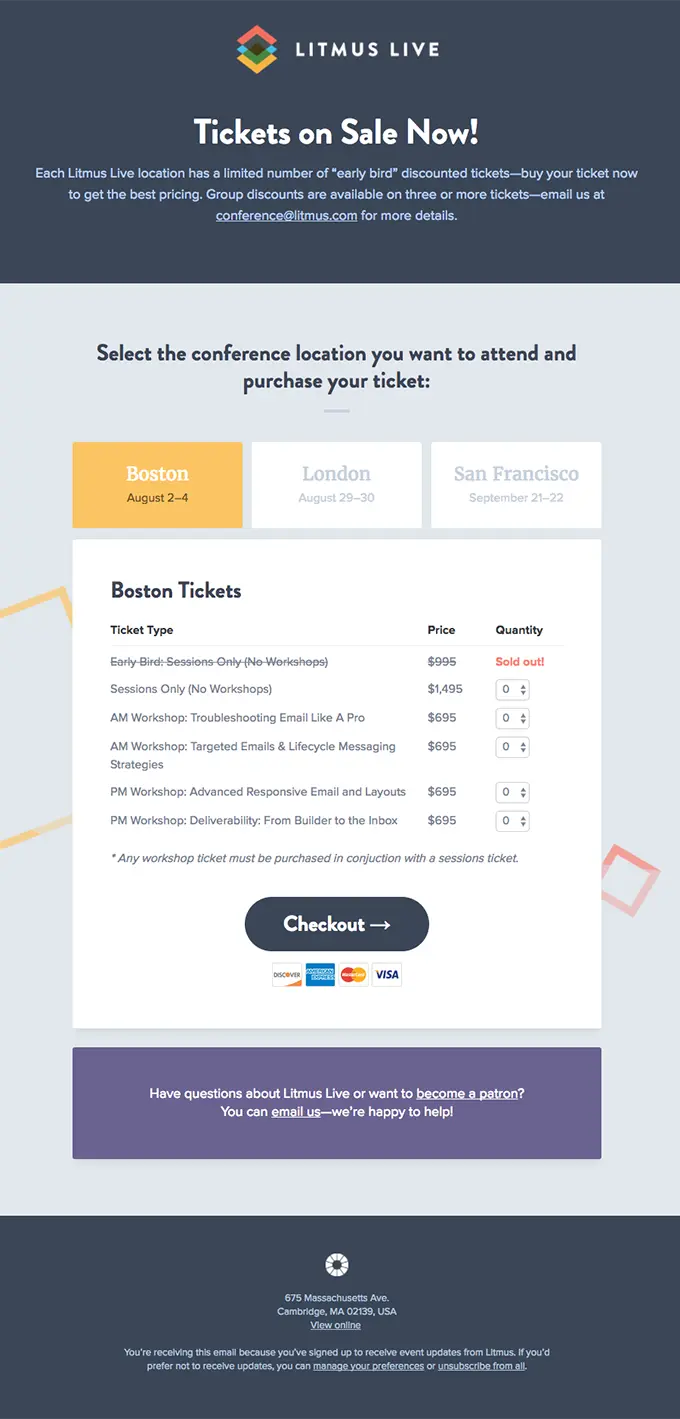 source: Really good emails
Tip #6: Write a teaser email with testimonials from past attendees or speakers' quotes
88% of respondents trust reviews when making purchasing decisions. So why not leverage feedback from past attendees? You can also involve speakers as people trust their experience. Get inspired by the examples below.
Example 1: It's Nice That's teaser email with speaker quotes
The email has a nice story and quotes from the speakers. These quotes keep your mind open with the question, "what's next," but you could understand what that was about.

source: Really good emails
Example 2: WebSummit's teaser email with quotes from media
The company decided to use quotes from the most popular media such as Forbes, Inc, Yahoo, and others. If they find the event worth visiting, readers are likely to come.

Tip #7: Announce sponsors
People don't like direct ads, but you can play this in a nice way. For example, you can organize a contest with rewards from sponsors. Or maybe your sponsor can give away coupon codes for % off the event tickets.
Don't forget to track these emails, as you have to provide all the data to the sponsor. You can also use this information to promote sponsorship packages for the next event.
Tip #8: Tell about special offers
Special offers are a good way to increase ticket sales. Consider preparing different offers for different recipient categories. But don't send them all at the same time. Test, measure results, and try to find the best timing for each category.
Here are a few great examples to get inspired.
Example 1: WebSummit's special offer
A woman receiving this email may feel special. WebSummit also gives access to exclusive women in tech extras.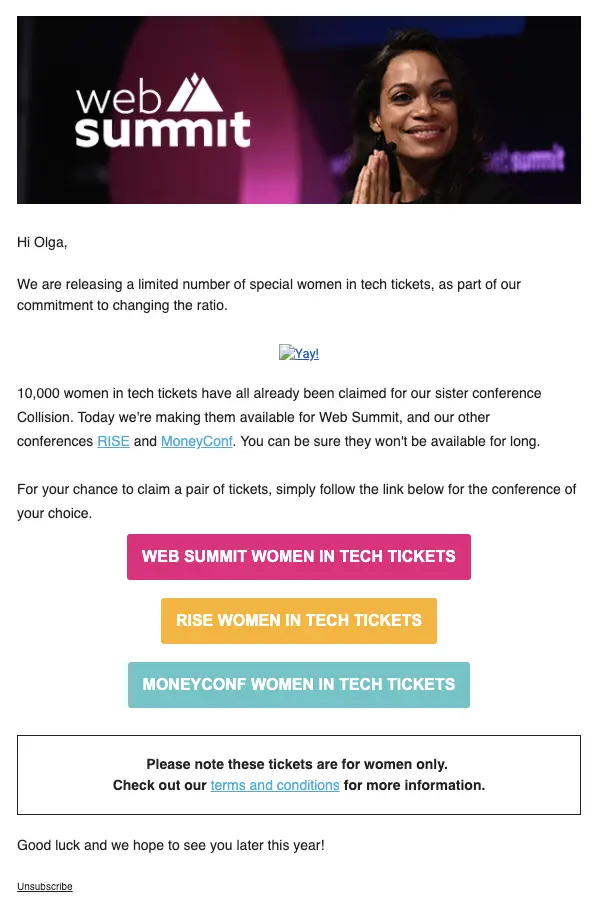 Example 2: WebSummit's special offer
WebSummit offers women in tech to save some money by buying a pair of tickets for the price of one. Notice that it's a time-sensitive offer with a countdown, which should make you decide faster.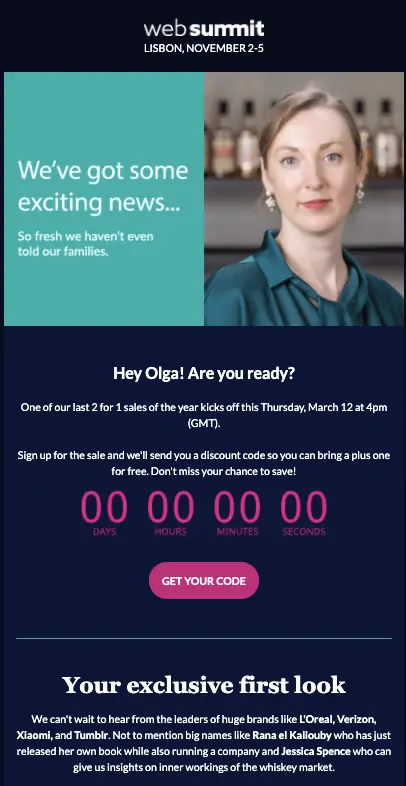 Example 3: Collision's special offer
Another email with a time-sensitive offer to buy a ticket belongs to Collision. In addition to a pleasant discount, there is a lot of information about the event in the email. All this content is intended to foster a recipient's desire to attend the conference.


Tip #9: Send an event reminder email
Sending reminder emails close to the event dates is a common practice. Usually, it's an email with the event's agenda. But you can also remind recipients to book their seats because the tickets are almost sold out or because the price goes up soon. This type of email should have a sense of urgency and one bold call to action.
Example 1: WebSummit's reminder email
The email's goal is to remind recipients that the regular price increases tonight. And the countdown spices up the hurry-up feeling. They also added some info about the conference keynote speakers. Isn't it a good idea to buy a ticket to learn from these people?

Tip #10: Learn how to justify your visit email
As a rule, tickets for such events aren't cheap. However, there's a good chance of employees convincing their bosses to approve a budget for the event. Let's look at the example from ConfidenceConf.
Example 1: ConfidenceConf's justify your visit email
Shopify, Uber, Wix, Booking, Intercom – the conference holders gathered all the stellar names to motivate potential attendees. They even shared a template that could help convince the boss.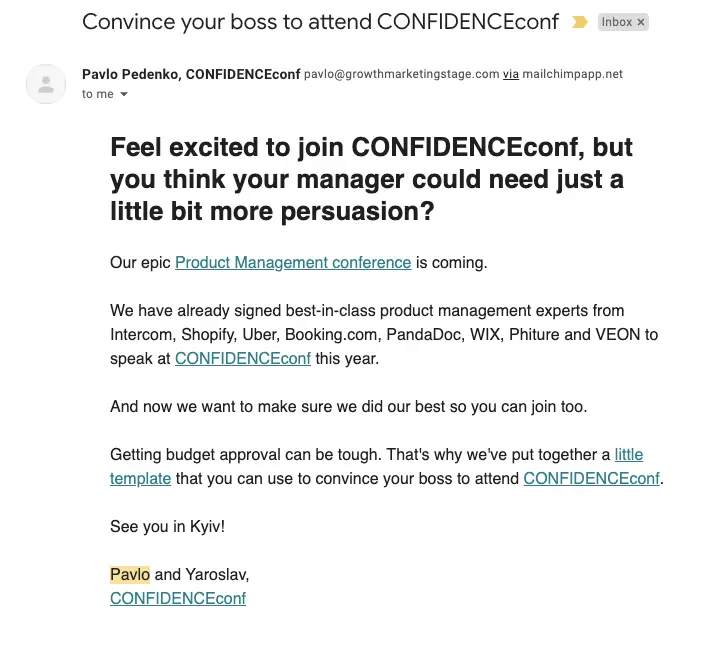 Example 2: TNW's justify your visit email
Another excellent email belongs to the TNW Conference. Firstly, they gave readers convincing reasons to attend. For example, 150+ experts on stage (including speakers from Google, Ubisoft, and Microsoft), 60% off for early birds, 5 conferences in one, and more. On top of that, they added a link to a landing page with detailed tips on how to convince a boss to pay for your ticket.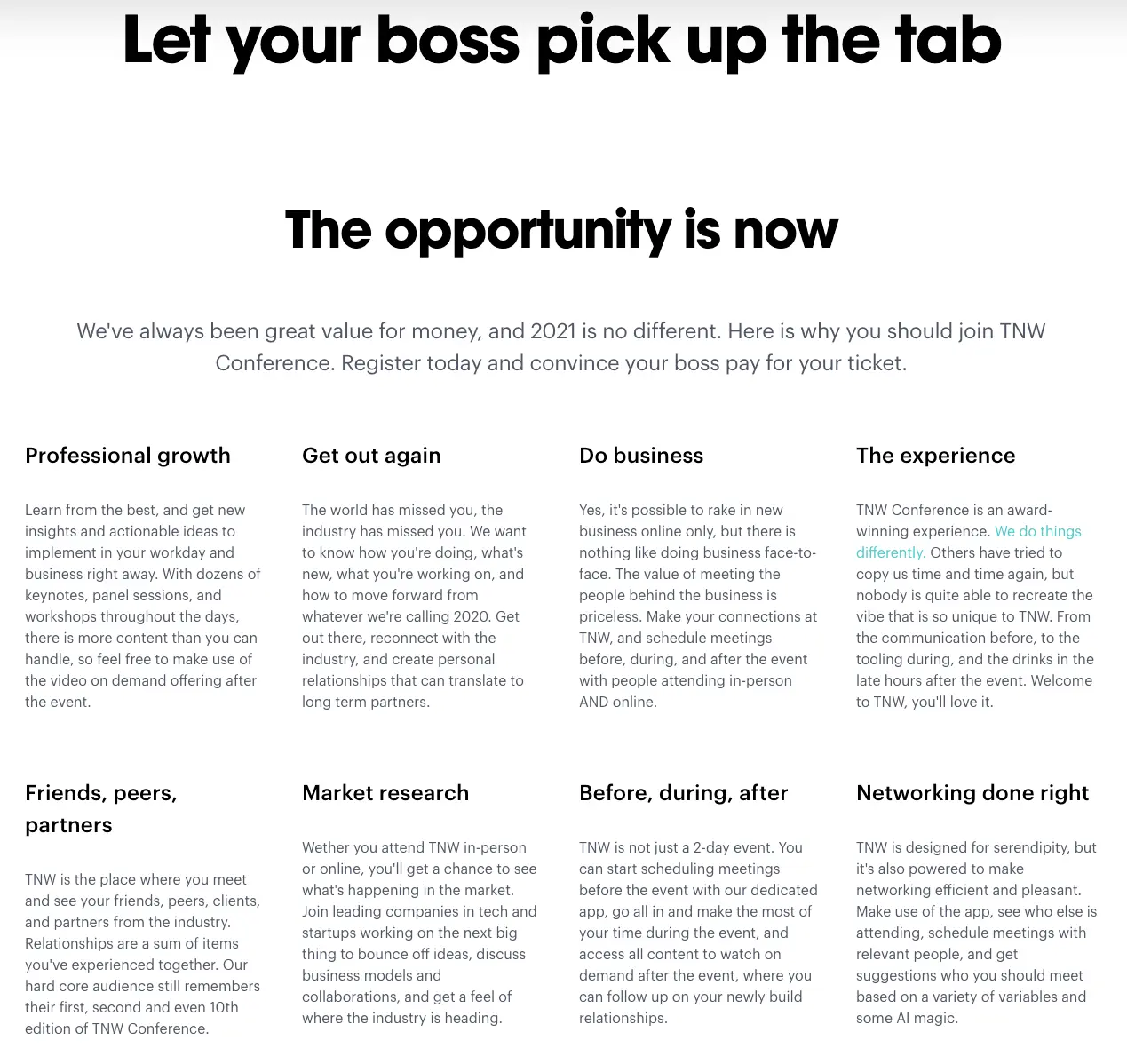 Emails for registered users
Now, when you've already formed a list of registered users, it's time to send out email sequences you prepared for them.
Tip #11: Write a "get ready" email
Put valuable event information for those who will attend in this email. This can be:
Location details and how to get to locations;

the time when registrations start;

dress code;
schedule;
hashtags to use;
afterparty information;
tips on how to connect (in case of a virtual event).
Example 1: Litmus Live's "get ready" email
Litmus is the king of long emails. However, all the information is relevant and useful for attendees. For example, the first screen provides timing details (breakfast, registration, lunch, networking) and hashtags to use on social networks. The second screen explains how to find the location and gives more details about the conference activities.
source: Really good emails
Tip #12: Offer to download the app
If you have an event application that provides visitors with content, schedules, speaker information, and maps, remind them to download it. While you can't force an attendee to install your app, you can explain to them that it's the only place they will be able to find event-related information.
It's also an excellent idea to promote your event as a green one. For example, you can replace paper schedules, maps, and other printed materials with your event app. Chances are attendees will gladly support this initiative.
Tip #13: Tell about changes in schedule and remind about talks to visit
Who says you need to stop sending emails just because the event is here? Continue to stay in touch with attendees during the event and send daily reminders about keynote speakers or mini digests to keep everyone connected and in-the-know. Also, if there are any changes in schedule or other updates, don't forget to notify visitors about them.
Example 1: Growth Blazer's email reminder email
For example, Growth Blazers reminds attendees about the live conversations not to miss.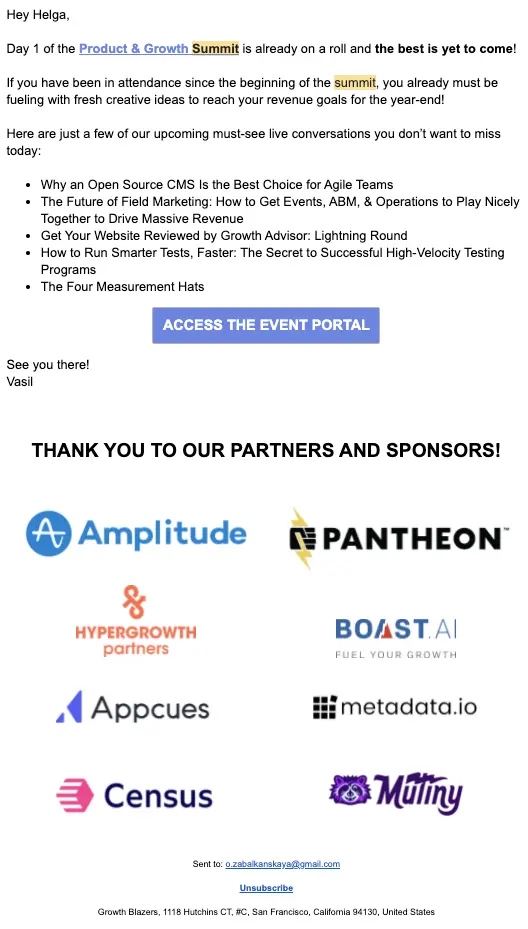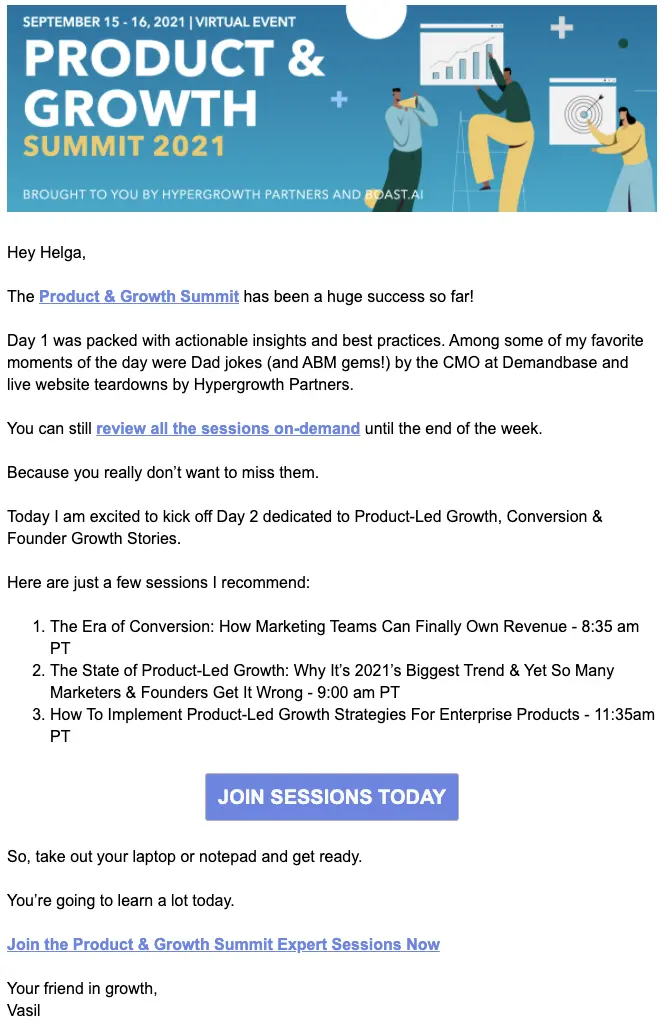 Post-event emails
The event is over. Good job! Now is the time for post-event emails. Below are 4 ideas to keep people engaged.
Tip #14: Don't forget about a thank you email
Everyone loves a good recap and appreciation. Sponsors and speakers will be happy to see a sincere "thank you" from you. Attendees will enjoy access to recorded content. In your thank you email, you can send photos, videos, event stats, and more. Just make sure you provide an option to share because if people had a great time, they probably would want to let others know about that.
Example 1: Invision's thank you email
You can copy a template from Invision if you like it. They share photos that remind attendees about positive emotions. They also have a nice trick to increase Facebook page activity by adding a call to action, "Find yourself on Facebook.".

source: Really good emails
Tip #15: Send an email with a survey
Even the most successful event has something to improve. So consider sending an email asking for feedback. This will help you understand what was super popular and what needs a change. Don't be shy. Ask about organization things, speakers, location.
Example 1: Litmus Live's survey email
Litmus says, "We want to be even better next year." After a small intro, they include a button that links to a survey. Giving your subscribers an opportunity to share their opinions shows you care about what they think and you want to improve.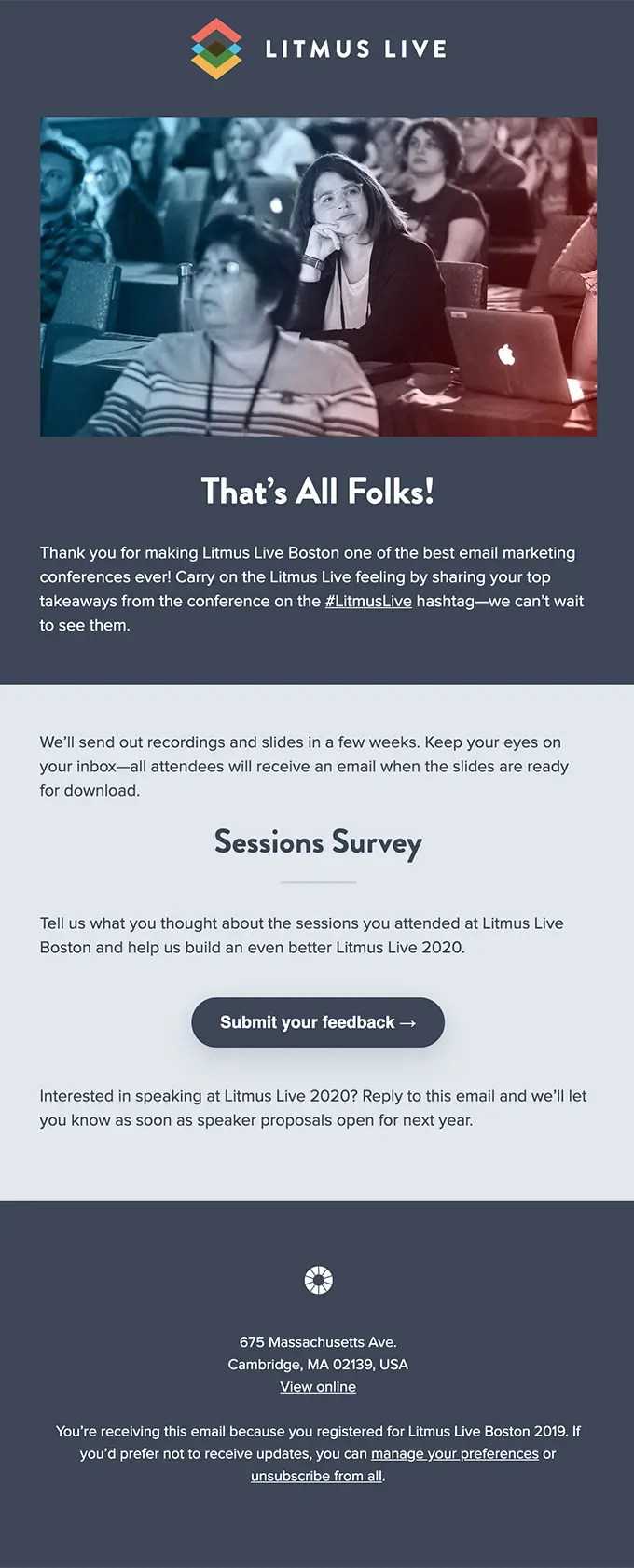 source: Really good emails
Tip #16: Create an email with slides from talks
Obviously, speakers shared lots of practical information during the event. So don't forget to provide visitors with slides containing that info.
Example 1: Growth Marketing Stage's email with slides from the event
The event holder offers recipients to fill in the survey in exchange for all the info shared at the event that day.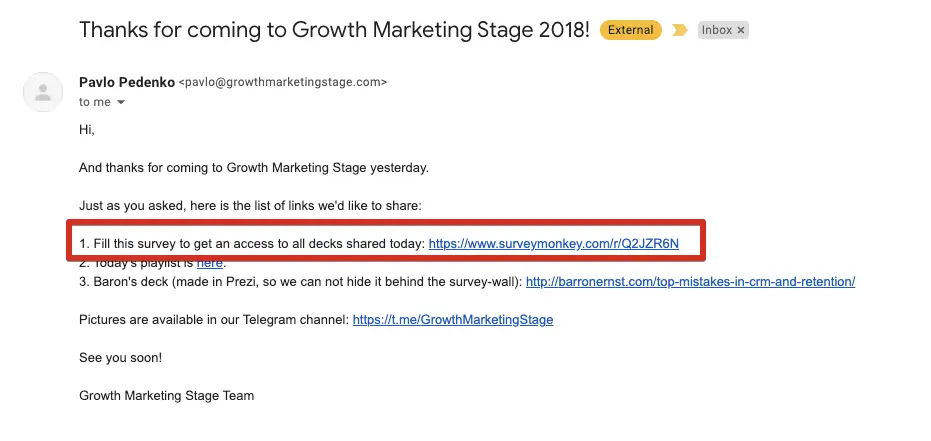 Example 2: Growth Marketing Stage's email with video from the event
Another great post-event email with links to videos from the conference.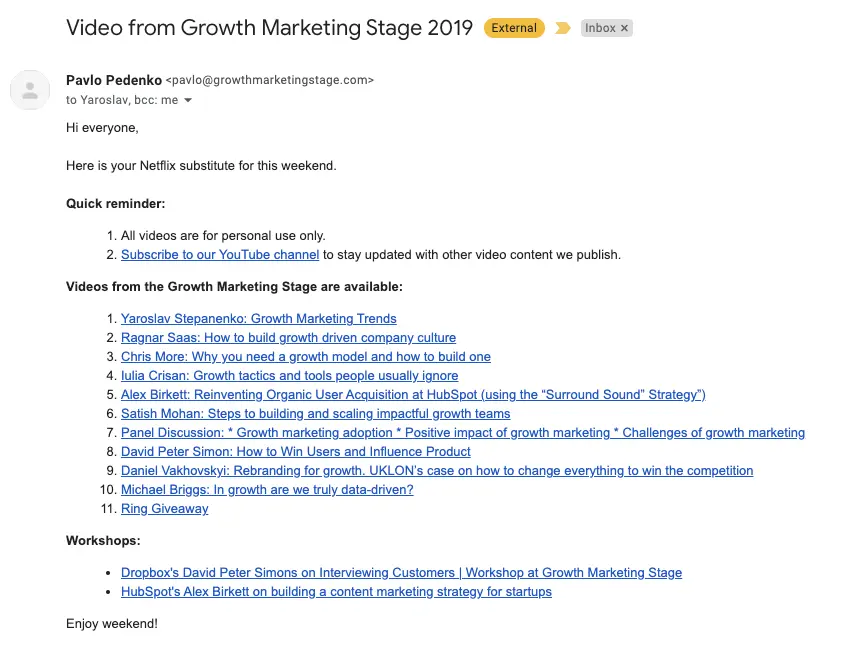 Tip #17: Share information about the next event
By creating all this engagement and featuring past events, you're generating interest in your future events. Below is a good example from WebSummit.
Example 1: WebSummit's next event email
They mention a month instead of the exact date and share the number of attendees & speakers. They also offer to pre-register and get a big discount for the upcoming event tickets.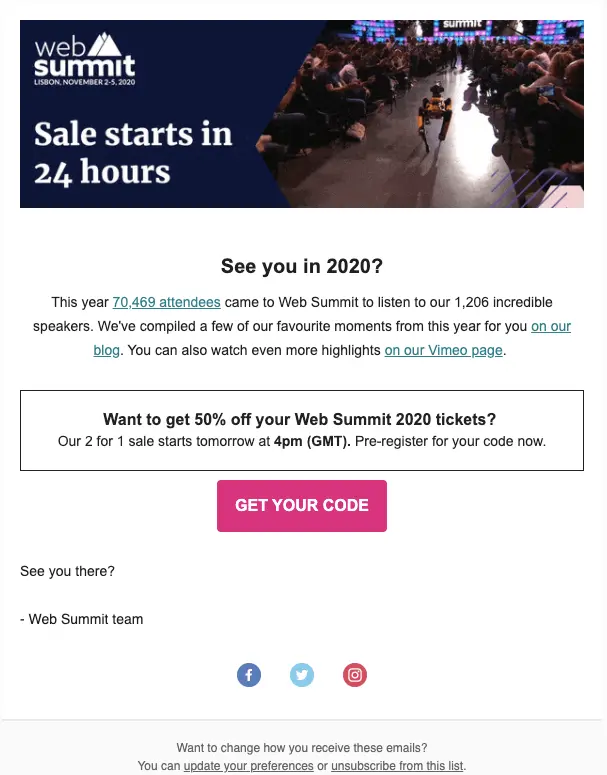 Event email marketing best practices
You can create event campaigns that get high open, click, and conversion rates with these email marketing practices. Let's dive right in.

1. Stick to general event branding guidelines
Create emails with a consistent style to make them resonate with your audience. Once people open your message, they should immediately understand who it came from. Ensure that things such as an event site, landing pages, email campaigns, an event application, banners, and posters complement each other and blend harmoniously.
2. Write strong CTAs
If you want to drive email recipients to action, you need to include a clear and bold CTA button in your emails. Keep in mind that people are often busy and they scan emails instead of reading them backward and forwards. So make sure that they notice your CTAs and immediately understand what you expect them to do. When designing the CTA, think of color, size, background, and whitespace around the button.
Pay attention that using CTA buttons instead of hyperlinks can bring you a 28% increase in clicks.
3. Use GIFs or videos
As we already mentioned, people scan emails. And if you don't catch their attention, they can quickly switch to the next email or other activity. To prevent this from happening, marketers use video and animations. According to stats, video can boost click-through rates by 65%.
​​If you add the word "video" in your email subject line, chances are the open rate will increase by 19%. Furthermore, it can help reduce unsubscribes by 26%!
4. Add dynamic content
Using dynamic content in your event emails can increase relevance and engagement. With the help of a few details that you already know about your audience, you can be sure you deliver relevant content to every subscriber. These details include location, demographics, or customer preferences based on previous engagement.
5. Don't forget about a subject line and preheader
What makes a potential attendee want to open an email about an upcoming event? Usually, it's a subject line. Make sure yours is short and to the point. Consider using FOMO (e.g., "almost sold out") and social proof (e.g., speakers' names). Preheader (also called "email preview text") is another chance to motivate recipients to open your email. Use it too!
Be sure not to repeat the subject line, but build curiosity or even include a CTA. Below is an example of what the email preheader looks like in Gmail.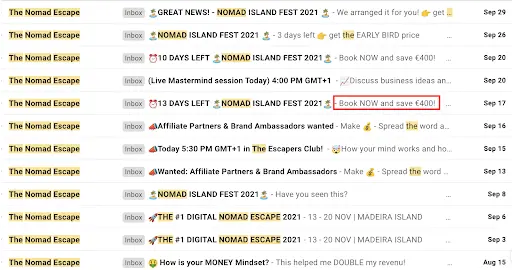 6. Add an email signature with a promotional banner
Your email signature is the right place to advertise your products, services, and events. If your email is simple, with no complex design and bright images, you can send it from a person (e.g., CEO) and add a promotional banner. But keep in mind that the banner content should support your email content and serve as an additional place for a CTA.
Click here to create a professional email signature to promote every event you are running.
7. Personalize emails
You send an email to a human, not just an inbox. So be sure to personalize every message. And it goes far beyond recipients' names. Like with dynamic content mentioned above, it's about sending content that is relevant to your segments. Letting subscribers choose what they want to see in their inboxes about your event is an excellent idea. Ask them.
8. Run A/B tests
To determine the effectiveness of email components such as CTAs, subject lines, types of content, and more, run A/B tests. Use only some part of the subscribers for the test. Then, if you're satisfied with the results, implement the same for other recipients.
9. Make it mobile-friendly
Many people check mail from smartphones while on the go. If you don't want them to get a terrible experience with your email, make sure to test it on various email clients and devices.
10. Add Alt text for images in the email
Event promotion emails usually have a lot of images. In case of slow Internet connection or blocked images, recipients will see at least a description.
Email automation tools for event promotion
Effective event marketing campaigns start from sending the right email messages at the right time to the right audience. The best way to do that is by using email marketing automation tools.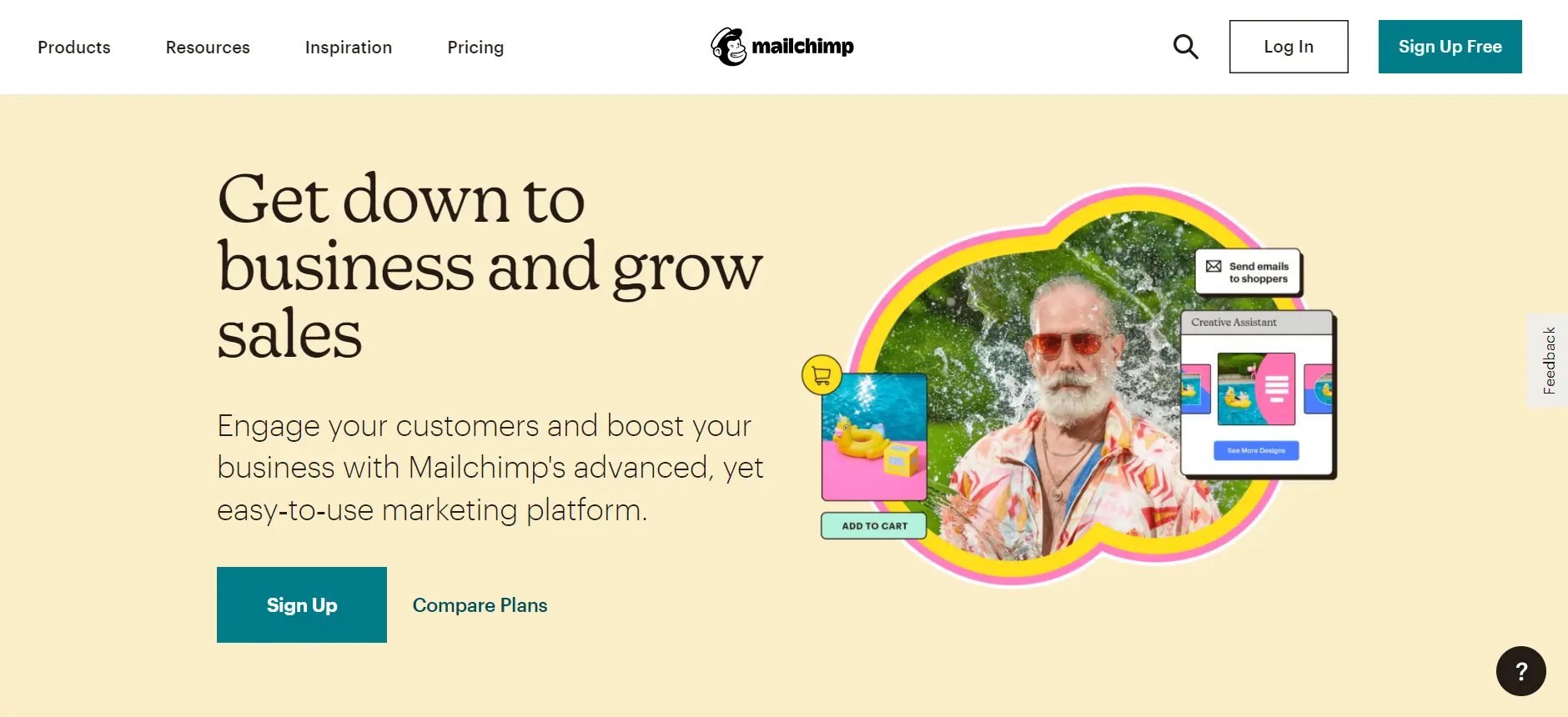 The tool makes it easy to create and send promotional email campaigns to your subscribers. You can segment your audience, add dynamic content, track & analyze campaigns. You can use MailChimp for free if your email list doesn't exceed 2 000 contacts. The cheapest plan will cost you $9.99 per month.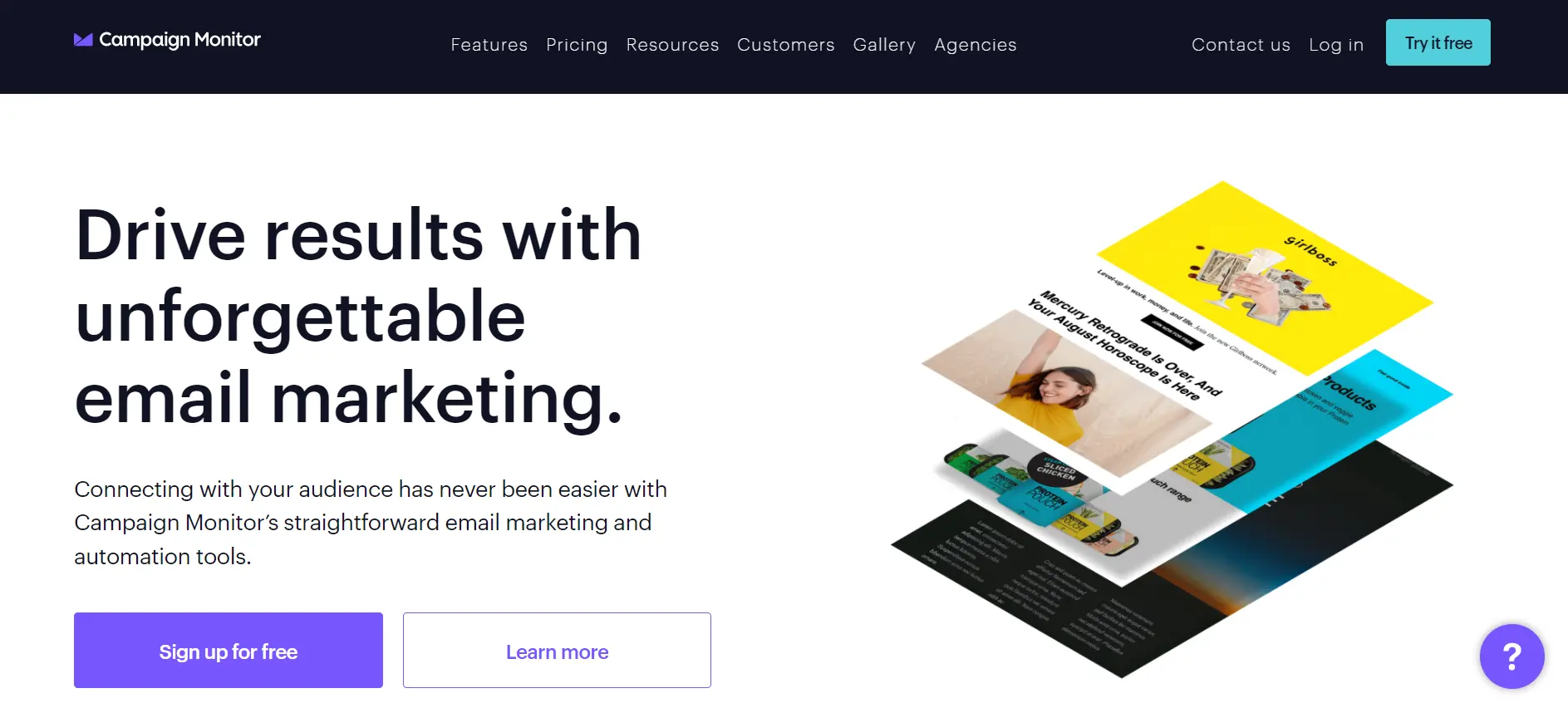 Another straightforward email marketing tool is Campaign Monitor. It offers its users mobile-friendly templates, email automation, dynamic content, personalization option, audience segmentation, A/B tests, tracking & analytics, and more. The cheapest plan (up to 500 email list subscribers) will cost you $9 per month.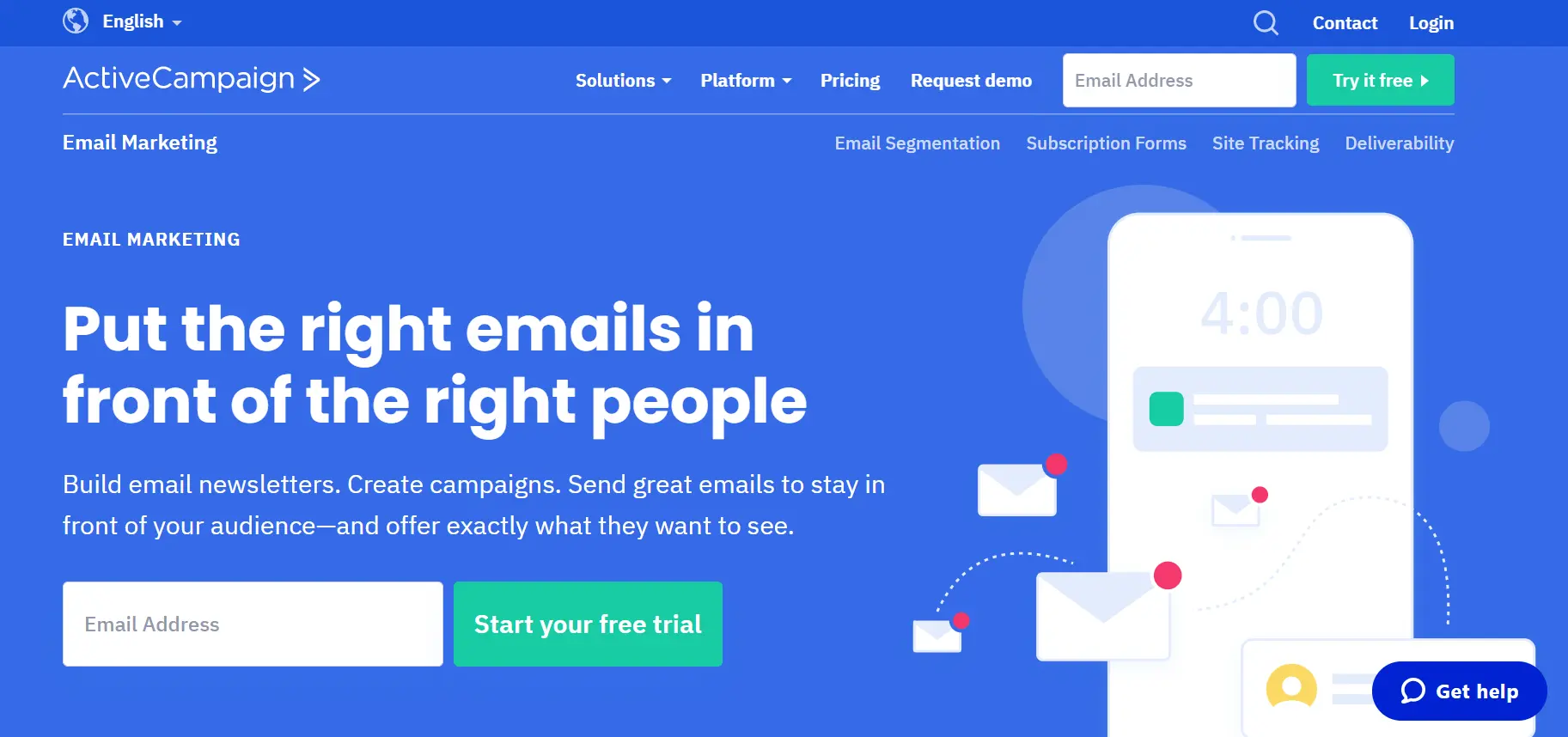 It's a multifunctional email marketing platform with a rich list of features. These include list segmentation, a wide range of pre-designed email templates, autoresponders, subscription forms, and more. Prices start from $7.50 per month.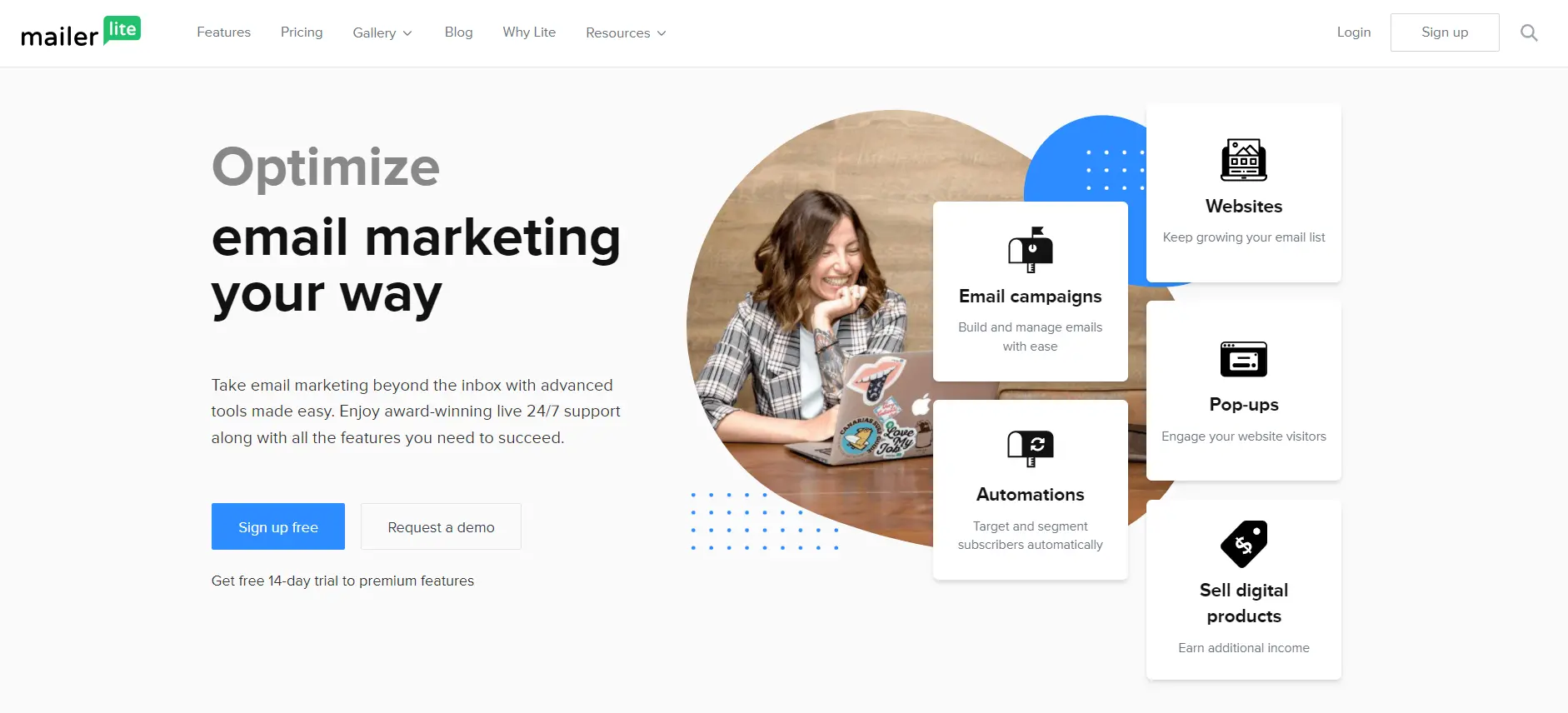 Its key features include audience segmentation, email automation, personalization, A/B testing, promotion pop-ups, various email templates, analytics tools, autoresponders. MailerLite is forever free if your email list isn't bigger than 1 000 subscribers. You can send 12 000 emails per month. The cheapest subscription plan with all features included will cost you $10 per month.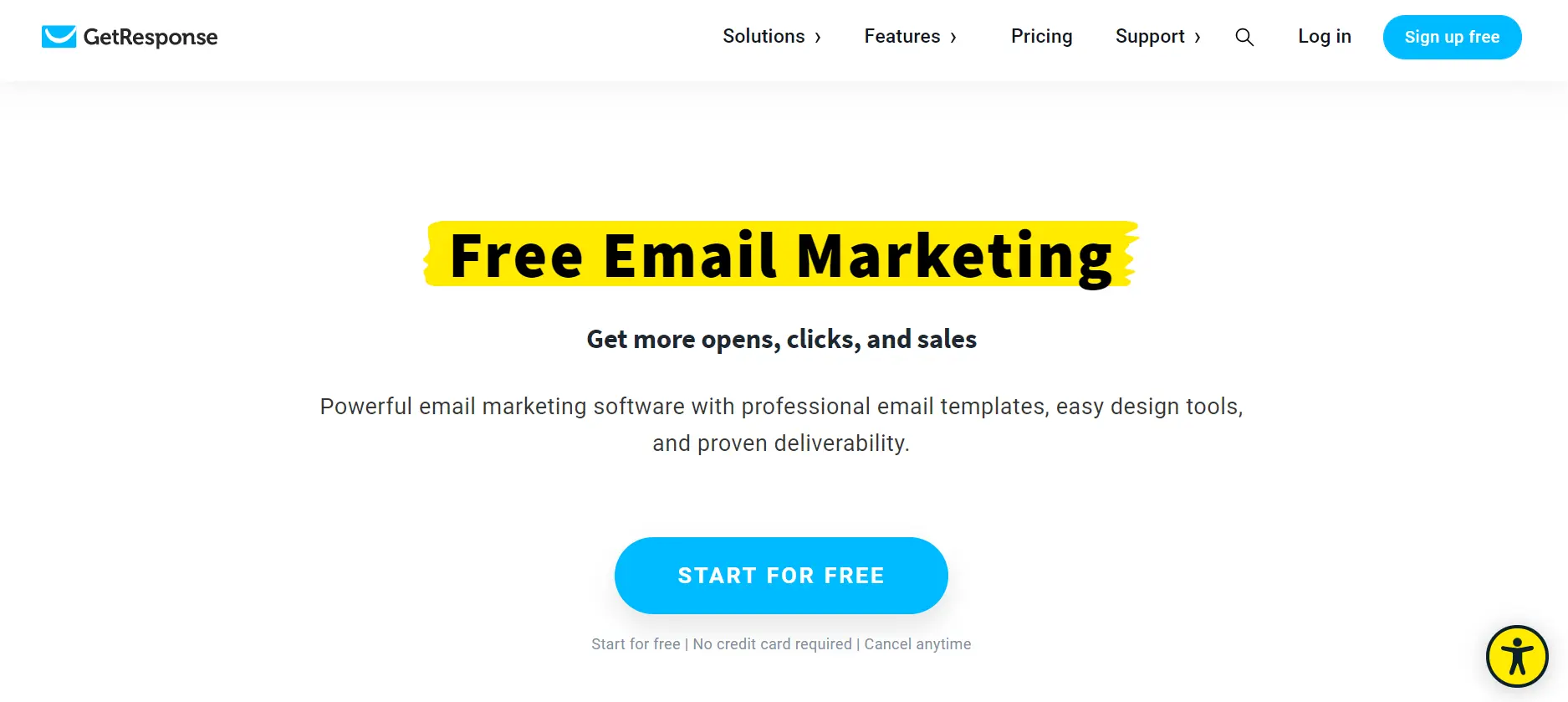 Create effective mailings for your event by utilizing GetResponse's most powerful features such as automation option, autoresponders, professional email templates, custom segments, dynamic content, and more. Prices start from $15 per month.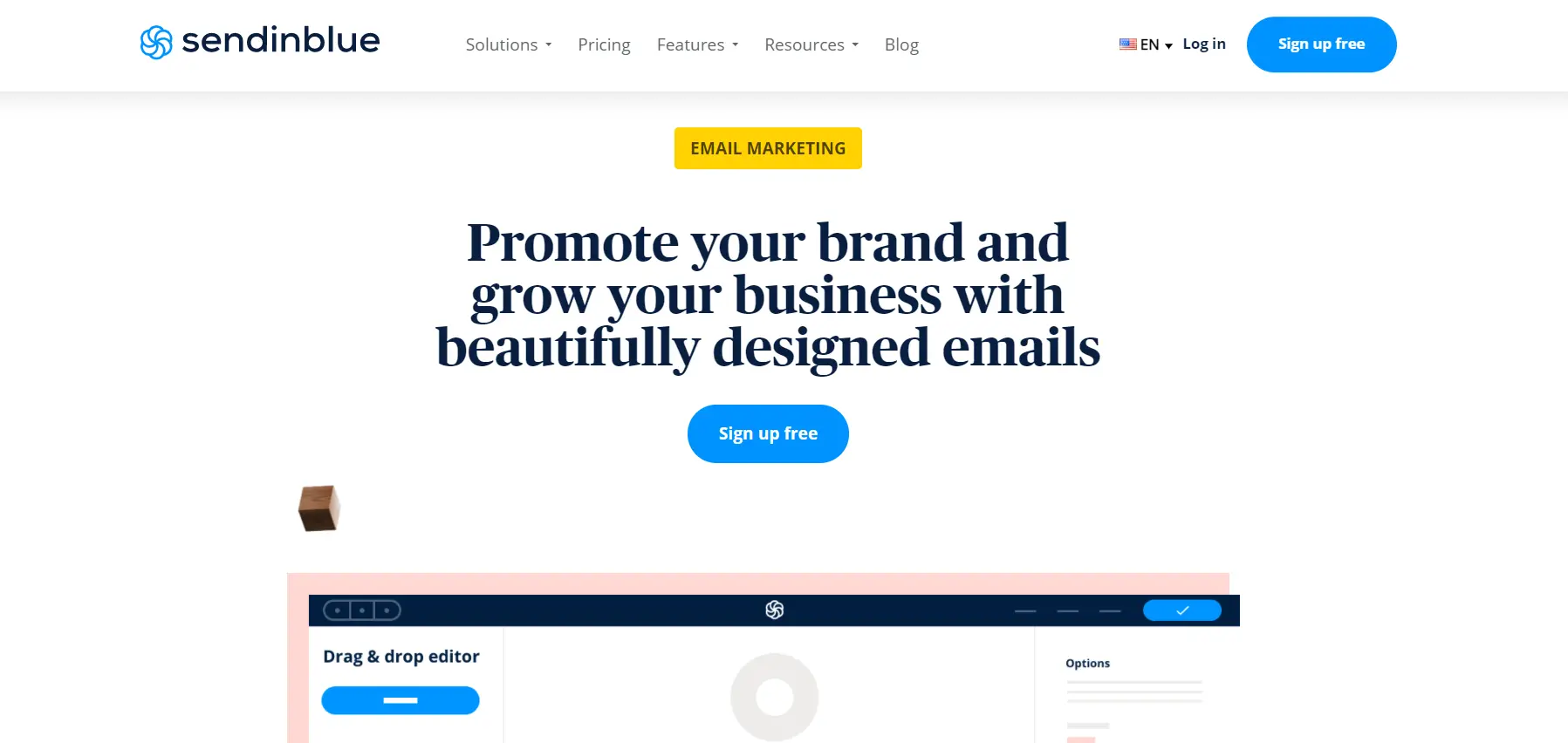 A simple mobile-friendly design, large library of email templates, audience segmentation, email personalization – this is what SendinBlue has to offer. The tool is free until you reach 2 500 contacts in your email list. Prices for users with a bigger number of subscribers start at $25 per month.
Takeaway
You're organizing a new event. But even if you have the best location, reputable speakers, and great sponsors, you still can experience the lack of visitors. So you definitely need to figure out how to promote the event to make it a success.
By adopting the practices given in this guide, you can put together an effective event email marketing strategy that will increase the number of attendees.
On top of that, we share lots of different emails you can copy or get inspired by. Good luck.