How to Create Email Marketing Sequences to Make Your Event Successful
1. What Is an Email Sequence?
2. Why You Should Create Email Sequences
3. How to Create Email Marketing Sequences
4. How to Write a Great Email Sequence
5. Tips to Succeeding in Email Marketing Campaign
Useful tools:
1. Newoldstamp - Email signature marketing
2. SendGrid - Email builder and sender
3. Boomerang - Tool for scheduling emails
4. Mailtrack - Email link opens tracking
5. Canva - Online tool for making designs
Email marketing sequences have become one of the most effective marketing tools. Many businesses and startups are realizing the importance of email sequences and use them to generate more sales and productivity.
Email sequencing has allowed marketing teams to take advantage of sending emails to clients about various campaigns, including event ads and reminders. It is a cost reductive method that allows expanding your business without spending any money on ads.
This article is a guide to how you can use email sequences to expand the boundaries of your business. It has a detailed description and careful breakdown of email sequences and how to successfully make them a part of your business.
What Is an Email Sequence?
An email sequence is simply a sequence of emails that are automatically sent to a specific group of individuals and customers on an email list you have generated by following a particular time interval (autoresponders). These groups are created based on the amount of activity or the responses they have towards company emails.
More businesses are practicing the email marketing sequencing campaign to make more sales. This is because email sequencing has a profound effect on how you can engage with your email lists. The email sequencing leads to the development of a better relationship with email recipients and eventually convincing more of these individuals to make a purchase of your products or services or to attend your events.
Email sequences have also enabled companies to make more sales by identifying different groups and ineffective methods. For certain groups, new tactics are developed in order to make the group more productive.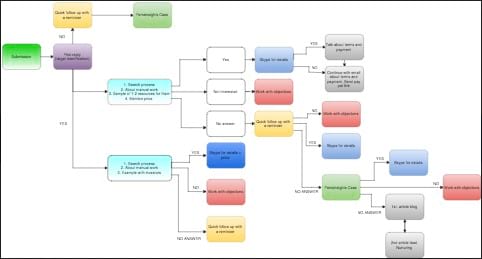 Why You Should Create Email Sequences
Email marketing automation is crucial for the advancement of a business. The next question you'll probably ask is: what exactly does creating emails sequences do for you? Here are some of the best reasons why you should create email sequences:
Due to the automated nature, email sequences can be triggered at a specific time when they would be more likely to create a bigger impact. So, if you are writing every email, every single time, you need to build sequences.

Email automation

is an effective way of boosting the relationship between you and your subscriber. A typical example is when subscribers get to know about you when they share your content. Building a good relationship between you and your subscribers is a good ingredient to expanding your business.

Email sequences can play a huge role in the development of any business. This means that any business, from a software company to an ordinary e-commerce shop, can use email sequencing to expand their business and achieve their goals. As well, when setting up sequences, you can add an email signature and personalize your messages.
If you want to increase your event attendance, the email sequences are by far an efficient and not pricey marketing strategy. This is a great option when running a successful email marketing campaign - your customers will keep coming with an automated email flow.
According to eMarketer email marketing drives customer acquisition and retention: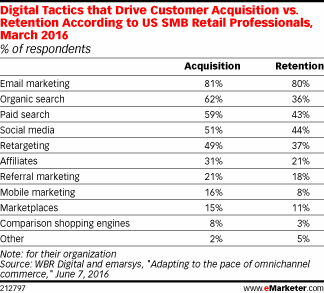 How to Create Email Marketing Sequences
It can be tempting to set up email sequences and forward the event invitations and reminders to all recipients, customers or connections. But you risk causing unsubscribing from all your further email messages. And sure thing, you have to make unsubscribing easy or you risk being sent to the spam folder. When creating email marketing sequences, entrepreneurs need to think all the steps through.
Build your email list for sending targeted email sequences
One of the most important assets you can have in your business is a strong email list. Therefore, building a strong one is important. There are various necessities for building up your own list.
One, if not the most important is finding a very good email service provider. Other important points to remember when building your list are: offer something enticing in exchange for people emails and add opt-in forms.
According to recent MailChimp research segmented campaigns performed better than non-segmented: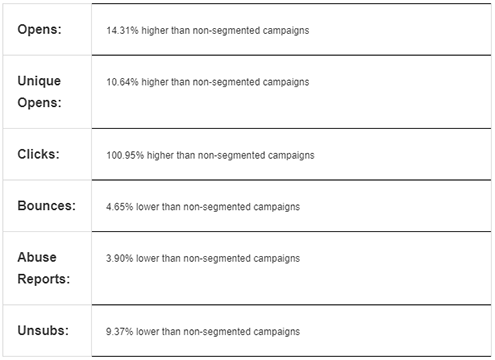 Use a trigger email to make a buzz
Using trigger emails is one of the ways adopted by many businesses to improve their sales. It is simply done to make the subscriber feel like they are valued.
Trigger emails are usually sent automatically at important times when the subscriber may need the particular product, service or event invitation you are providing. They can also include a very effective email subject line and event banners in the email signature.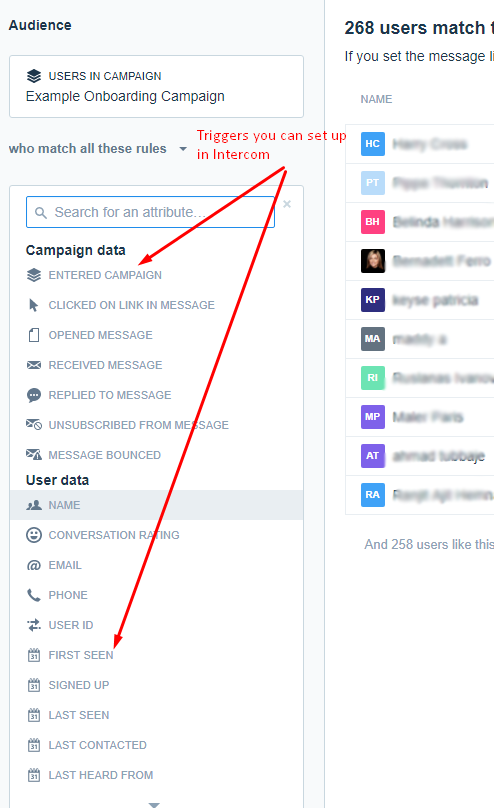 Send email event summary with a prominent CTA
Make sure you have an effective call-to-action in your emails. In order to do this, you must have a good understanding of the importance of your email marketing campaign. Once you know the action, you can add a strong CTA to inspire recipients. You can promote your event by adding a prominent banner with call-to-action to an email signature block.

The signature CTA phrase can compel attendees to click the link which will lead to the conversion pathway. So, make sure you know the email signature format. A professional event email signature with detailed event banners and strong CTA will make your marketing campaign not only simple and attractive but more effective as well.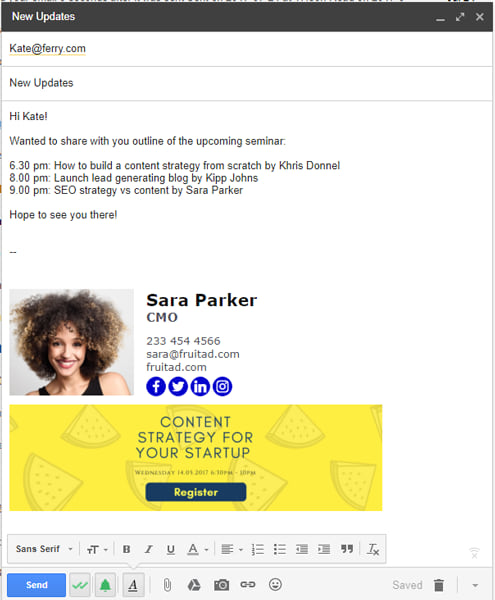 You must be able to create successful event email subject line when making updates and sending reminders. The information has to be added to your event email message to let your subscribers know what you are offering.
It is very important to comprehend the importance of a good subject line, which is the first thing that your subscriber reads. Another point to remember is to make full use of the email checklist for event promotion.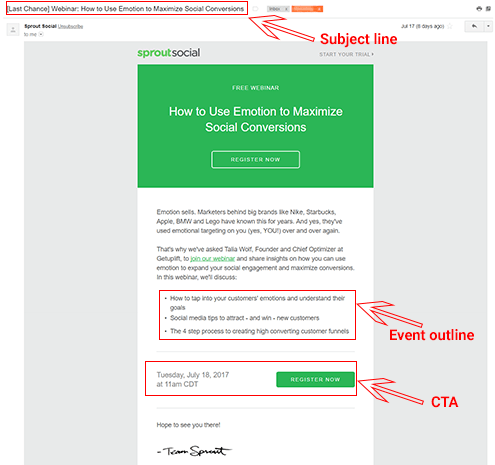 RSVP or confirmation email
Confirmation emails are usually neglected in the world of marketing, which should not be the case. It has been found that confirmation emails have begun to receive high click-through-rates, showing that businesses can be more productive if they put more work into creating their confirmation emails.
For example, you can make your confirmation emails more appealing by adding an email banner to the footer. This will promote your business further.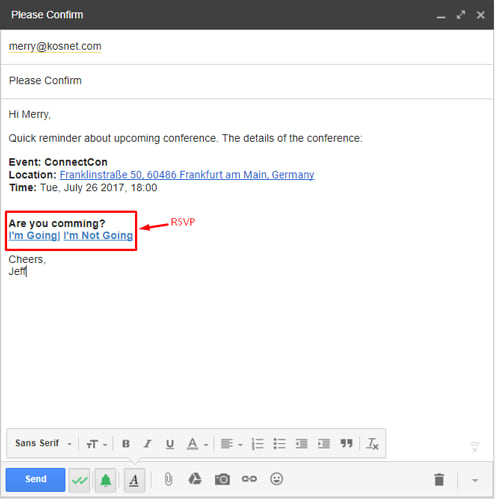 Post event thank you email
Post event thank you email is very useful in showing appreciation to your subscribers for their participation. It is a very effective way of making them feel valued, which usually leads to the development of a better relationship with your subscribers.
Email sequences made for post events thank you notes are an exceptional chance to partner with the potential customers and companies, make a direct line to further potential attendees. Also, it helps to enable personalized messages from the sales or management departments.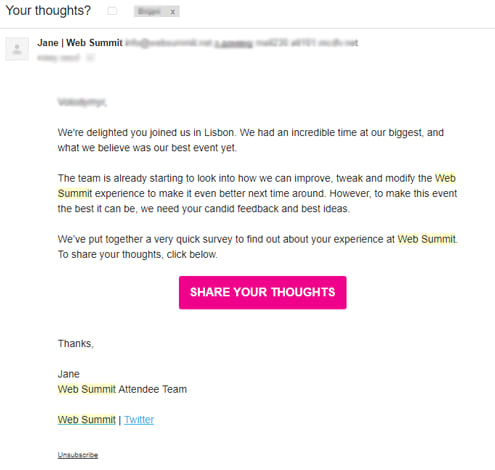 Designing your event reminder email should be done carefully. It is not always a simple process to encourage your subscribers to show up (digitally) to a particular event you are holding.
It is important to use simple event reminder email templates with concise email wording. A simple and well-written reminder email has a high chance of attracting a bigger audience to your event.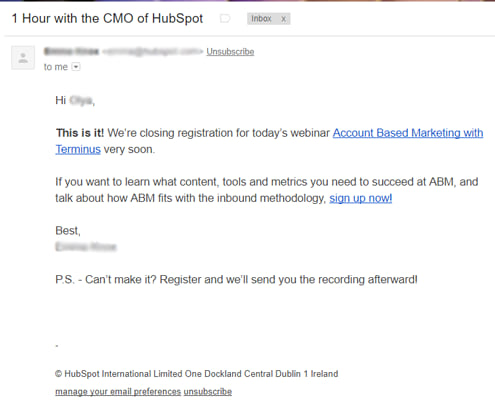 How to Write a Great Email Sequence
The impact of an email signature is closely tied with how it is written. Therefore, writing an email sequence must be a top priority of any business. The following tips can help guide you while writing an email sequence:
Use evergreen content - never use content that is limited by time. It is wiser to look for material that will be important even a few years into the future. So when it comes to content marketing and you need to attract new attendees when promoting an event, use "evergreen content." Or in other words, use an email content which is SEO friendly and continually relevant to email recipients.

Personalize whenever possible - personalized emails usually have a high conversion rate and this quality should be capitalized on. Having personalized

evergreen messages

will not only ensure your business success in the present, it will also provide a foreseeable future expansion.

Plan your sequence goals prior to creating content - planning ahead is always wise in any situation and creating a great email sequence is no exception. You must have a clear picture in mind about what you would like to achieve with your email sequence, this will help you figure out the best content to add to it and whether to

personalize your emails

or not.

Taking your email sequences to the next level - you can make your email more effective and use them with a guarantee of conversion. All you need is to remember all the basics, especially the ones previously mentioned. You will be able to take full advantage of your email sequence only if you follow the biggest rule of them all:

Plan sequence goals

before you do anything else.
Tips to Succeeding in Email Marketing Campaign
There is no doubt that using emails is an essential part of your marketing campaign. The email campaign provides a multitude of advantages. However, using it to develop a business seems to be the biggest issue. Here is how you can succeed in your email marketing campaign:
Combine multiple sequences
This method will allow you to focus on bigger audiences by combining multiple sequences structured sequentially. This tactic has proven to be very effective and will improve your overall automated email campaigns.
Combine website and email usage
Another way of making sure your emails are helping your business grow is by bringing your website into the picture. Using these at the same time is a recipe for growth.
Integrating sequences with a sales team
The marketing team should prepare a campaign, perform it within the email provider's platform and estimate the outcomes of various sequences. The sales team should capture the leads and work with the conversion rates. A sales team have to make sure nothing is overlooked.
By using email sequences, you can also promote through the email:
Webinars - when hosting a webinar, ensure you provide free valuable information. You can send three marketing emails to attract attendees: an invitation to the webinar, reminder and post event thank you note.
Virtual meet-up events - connecting with individuals and colleagues online is a crucial moment when building relationships. Try to build up excitement around a new event and show that the event will really provide value to people who come.
Email and digital channels are a great way to send and promote more events than ever. Email sequencing will ease your life when sending invitations and give you more opportunities to contact with your audience, potential attendees or marketing companies without breaking your budget.
We have added lots of information about email sequences here. Now you can apply the email sequences strategy and include your email CTAs to work with compelling email signatures. If you have any questions, we would be glad to answer them. You can contact us and share your comments by using our social accounts!