Ultimate Guide to Email Sequences
1. What is an email sequence?
2. The benefits of setting up email sequences
3. Types of email sequences and email sequence examples
4. How to create email marketing sequences properly
5. Email sequences tips
Useful tools:
1. Newoldstamp - Email signature marketing
2. SendGrid - Email builder and sender
3. Boomerang - Tool for scheduling emails
4. Mailtrack - Email link opens tracking
5. Canva - Online tool for making designs
Email marketing is one of the most powerful and effective tools for businesses of any type.
Why?
Because once a person opted-in for your correspondence, you can email them as much as you like without spending extra money on advertising (so long as they don't unsubscribe).
Automating email marketing with email series can take it to another level because you are putting everything on autopilot.
In this guide, you will learn how you can use email sequences effectively to expand the boundaries of your business. The article provides a detailed description along with a thorough breakdown of email sequences, great email sequence examples, and tips.
What is an email sequence?
To make sure we are on the same page, let's start this article by defining an email sequence and explaining how these can be used in digital marketing campaigns.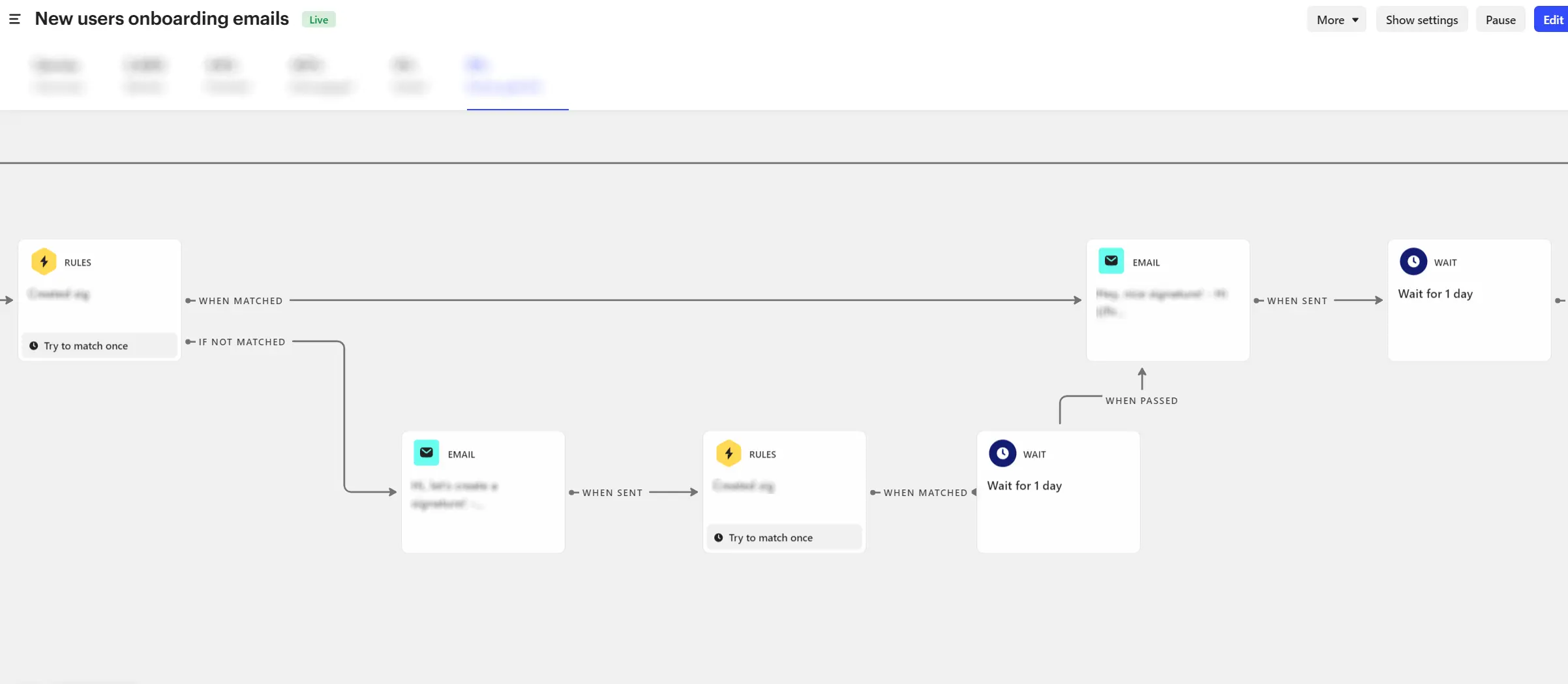 An email sequence is a series of emails automatically sent to a specific group of individuals and customers on an email list you have generated by following a particular time interval. These groups are created based on the time, amount of activity, or responses they have towards company emails.
Trigger-based automated emails can be sent whenever a user takes action on your website or within your email campaign. For example, a person will receive an email if they haven't logged into your app for a week, clicked a link in your initial email, etc.
A time-based sequence could involve messages that are sent at predetermined intervals. For example, if a person bought a product or service from you 30 days ago and may need more, you can send them another engagement sequence. The time-based sequence of emails is also referred to as "email autoresponder."
The benefits of setting up email sequences
Many businesses are practicing sending engagement sequences to develop better relationships with customers and eventually convince more of them to purchase their products or services or attend events.
Due to the automated nature, email sequences can be triggered at a specific time when they would be more likely to create a bigger impact.
For example, if new customers add products to their carts but don't purchase, a triggered email series (that you only have to set up once) can follow up with those people to remind them to complete the purchase.
image source: bronto
Or imagine a new customer testing out your software during a trial period. When you set up an educational email sequence, you can gradually share a lot of useful information with the customer without making them browse your website or get in touch with your support team over and over again.
Types of email sequences and email sequence examples
There are many types of email sequences you may come up with. Let's look at the basics.
The Welcome Email Sequence
Welcome emails (also called onboarding emails) are one of the most common types of sequences that every business will create at some point. These are sent to new subscribers to welcome them and create a connection. Because your audience is usually not uniform, your onboarding sequences can really vary. Your welcome email series might include sharing how-toes & guides, explaining your product or service features, offering to read your best content, and more.
Let's look at a few onboarding email examples.
Email 1
In your first email, you can greet or educate people. It's a good idea to explain to them what they can expect from your onboarding email sequences. Customers like to know what they just signed up for and how it will benefit them.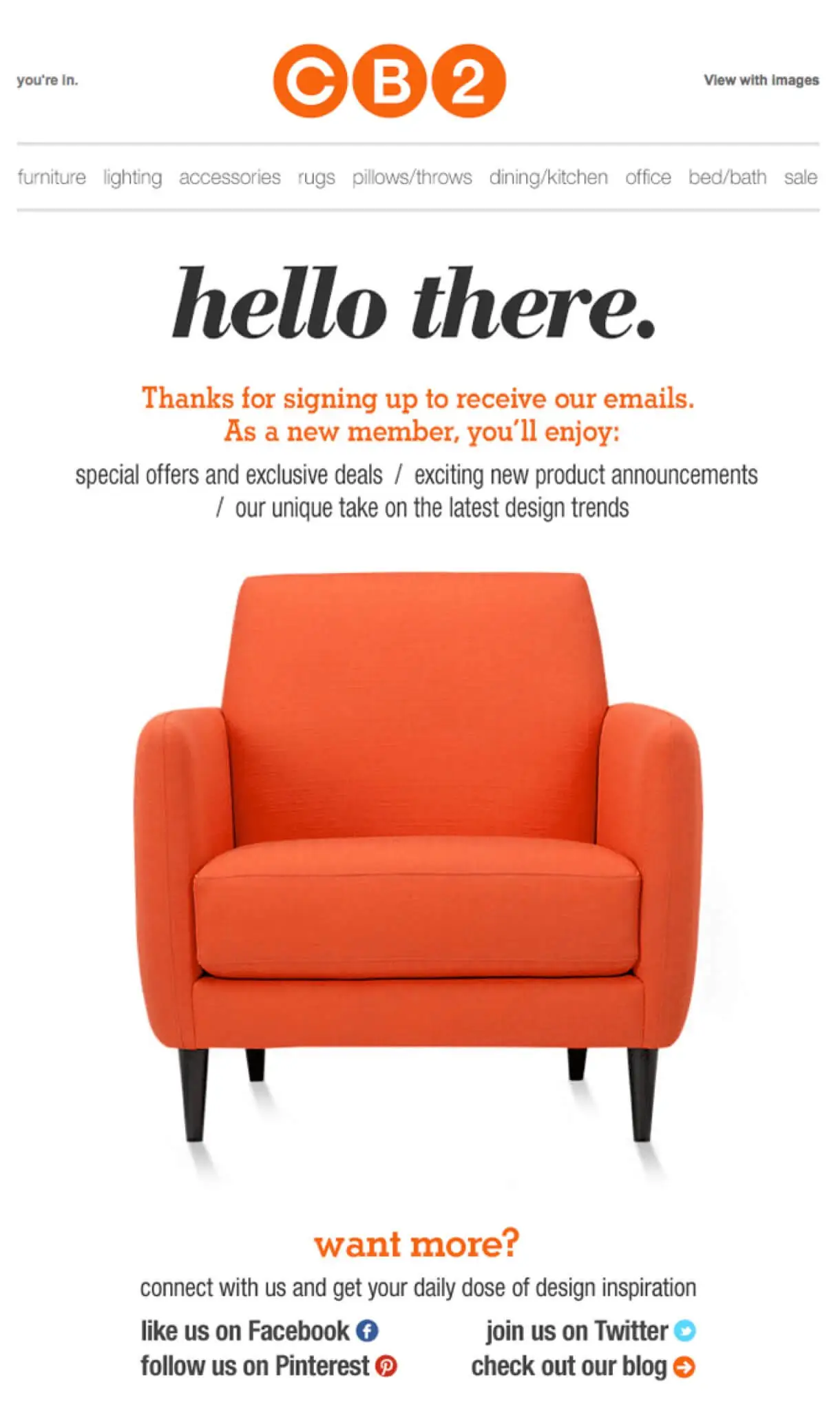 Email 2 and email 3
These can be something of value. You can teach your subscribers how to do something that's related to whatever you are selling. If it's an online course, you can share a quick intro video. If it's a SaaS product, consider sharing a bunch of useful blog posts.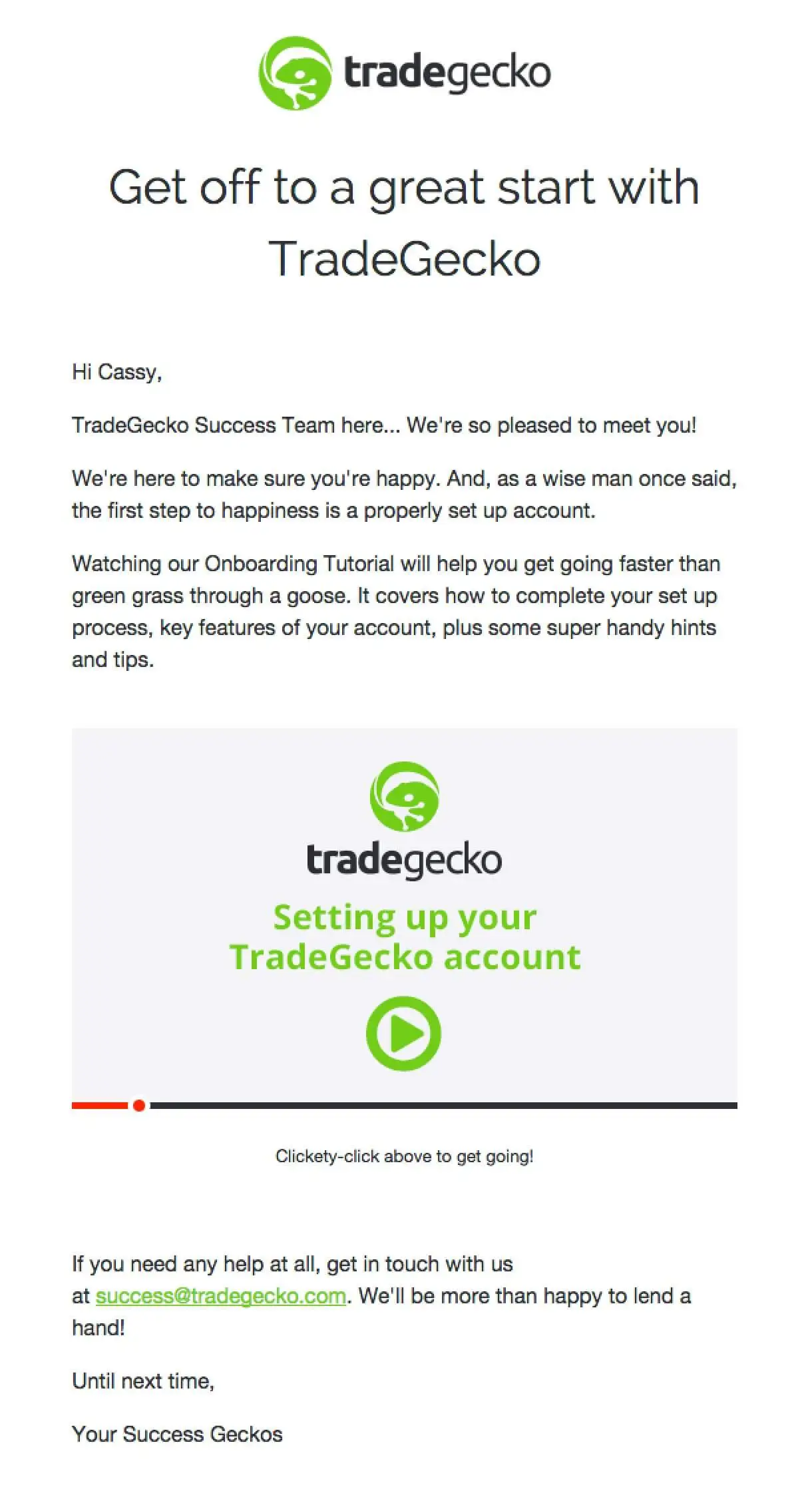 Email 4
Only after you give some value, it's time to make a soft pitch. For example, "If this is helpful to you, we would like to have you in our private Facebook community where we talk about similar challenges every day." If you feel that your audience is ready for more of a hard pitch, then go for it.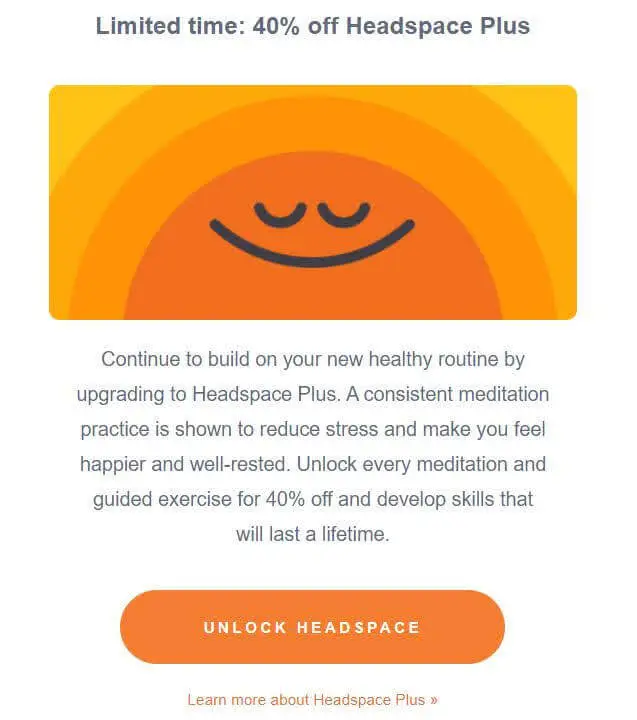 The Training Sequence
This series of emails often follow a good welcome email sequence. Ideally, it should be more about the customer and less about you. Create an email that will teach your new customers how to get the most value out of your product or service.
Email 1
Email 1 can introduce the main feature.
Email 2
Then you can introduce more features and explain them. For example, a company having an email marketing platform can do an email series or host a webinar called "What Makes a Good Newsletter?" By training new customers, you will answer fewer questions and spend less time educating each user via email.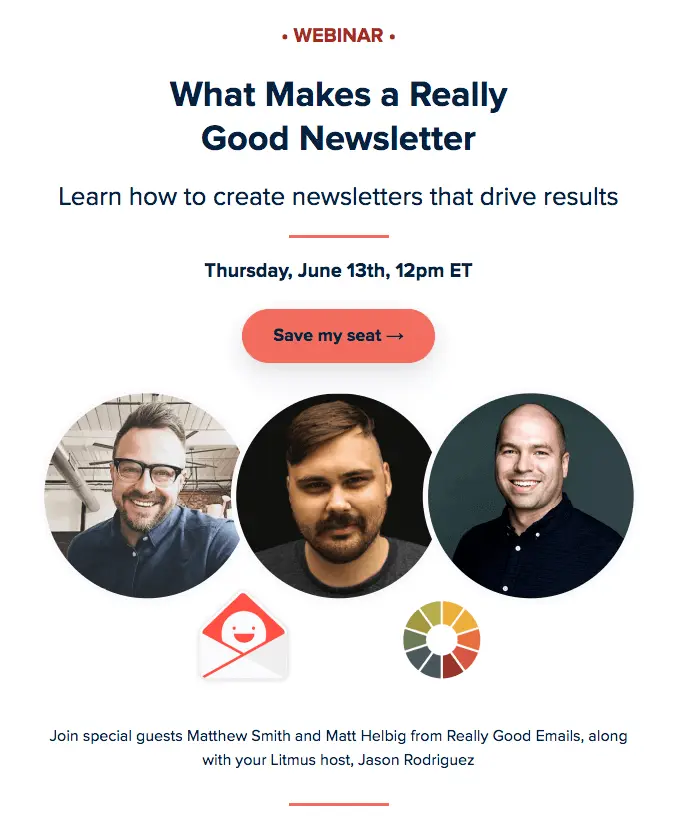 Purchase Reminders
Purchases don't always happen at the first attempt. It can be failed checkout, customer frustration after seeing shipping costs, or distraction that results in cart abandonment. If you want to sell, don't forget to remind customers to buy, so they place their order with you.
If you know that a customer might need to renew your service or require more items from your store, you can also use automated email sequences. For example, a physician's office can remind a patient that it's time for their annual exam and offer a way to book an appointment.
Email 1
The first email can be a simple reminder to finish a purchase or restock.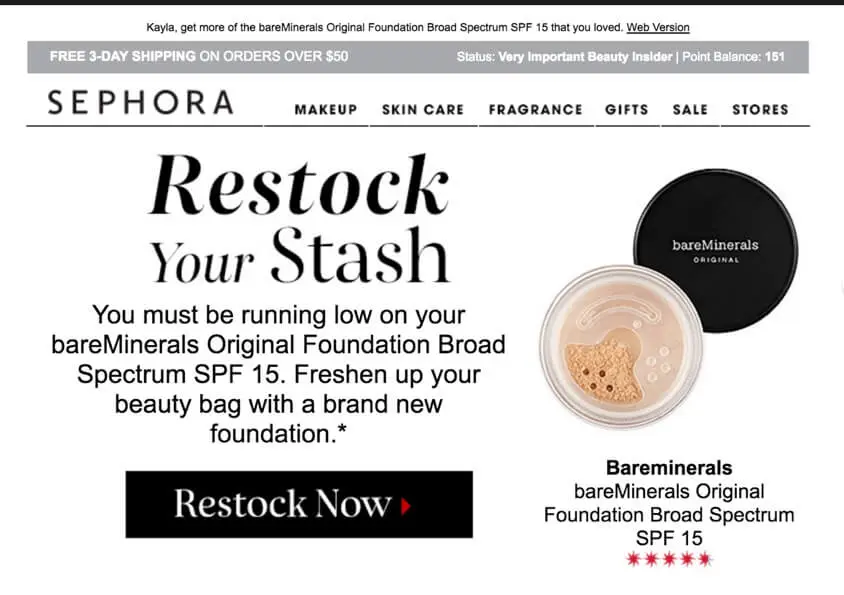 Email 2
Of course, you can offer discounts right away, but many companies save this for a second purchase reminder email.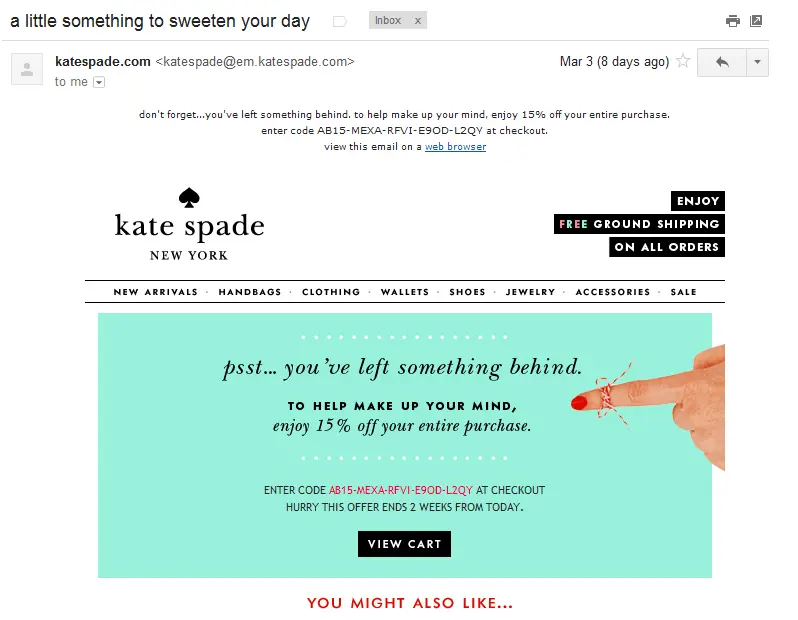 The Upsell Automated Email Sequences
Often, it's easier to sell to your existing customers rather than looking for new ones. They already trust you. This type of email series is especially relevant for those who sell different types of services or higher-priced plans & subscriptions.
Email 1
Ideally, your upsell email should clearly show the value of the additional purchase. For example, a clothing brand can offer some additional items that perfectly match the recent purchase of a customer and will complete their look.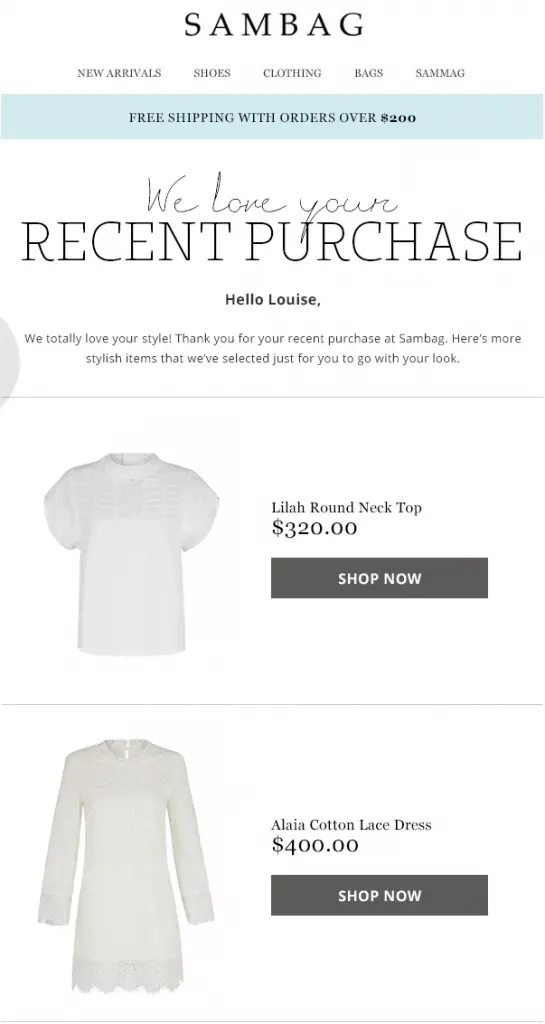 Email 2
Offer solutions to customers' problems.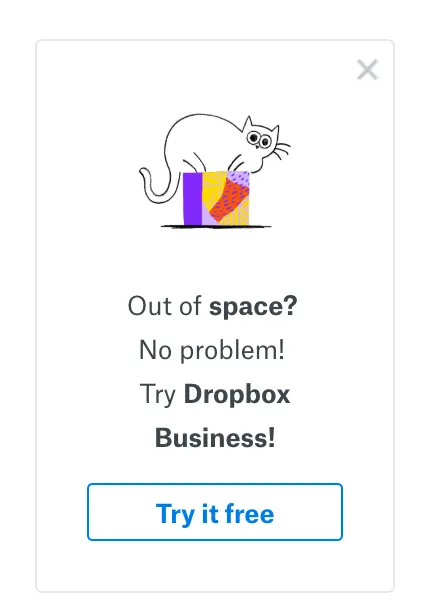 There are more types of email sequences. Those include transactional emails, re-engagement sequence, abandoned cart emails, and more. Create as many as you need according to your goals. We will talk about the goals later in this guide.
How to create email marketing sequences properly
It can be tempting to set up email sequences with attractive subject lines and send them to all recipients, customers, or connections. But by doing this, you risk causing unsubscribing from all your further email messages. When creating these sequences, you need to consider all the steps carefully.
Here are the essential steps you need to take before clicking the "Send" button.
Step 1: Build and segment your email list for sending targeted email sequences
One of the most important assets you can have in your business is a strong email list. To make the process of collecting email addresses go easier, make sure you offer something enticing in exchange. For example, give people a guide with valuable information or tell them that you send special offers only to your email list subscribers.
Keep in mind that a good email list isn't equal to good open and response rates. List segmentation is essential. According to recent MailChimp research, segmented campaigns performed better than non-segmented ones.
Step 2: Always know the goals for your email sequence first
Email automation can be of great help but make sure you know what you want to achieve with your automated emails.
You might want to do the following:
Increase repeat website visits
Create trust
Strengthen your relationships with customers
Reduce refunds
Increase order frequency
Reduce customer support requests
Increase order size
Encourage upgrades
Develop a community
Educate on benefits
And more.
Step 3:
Use a trigger email to make a buzz
Using trigger emails is one of the ways adopted by many businesses to improve their sales. This helps to make subscribers feel like they are valued.
Trigger emails are usually sent automatically at specific times when the subscriber may need the particular product, service, or event invitation you are providing. Ideally, these emails must include an attractive subject line, the recipient's first name, and various types of banners in the email signature.
Step 4: Write a prominent call to action CTA
Make sure you have an effective CTA in your emails. This will help recipients understand what you expect them to do. For example, "Start a free trial," "Reserve a seat," "Shop gifts," etc.
By the way, you can promote literally everything in every email you send by adding a banner with a CTA to your email signature block.
See how it can look at the example below.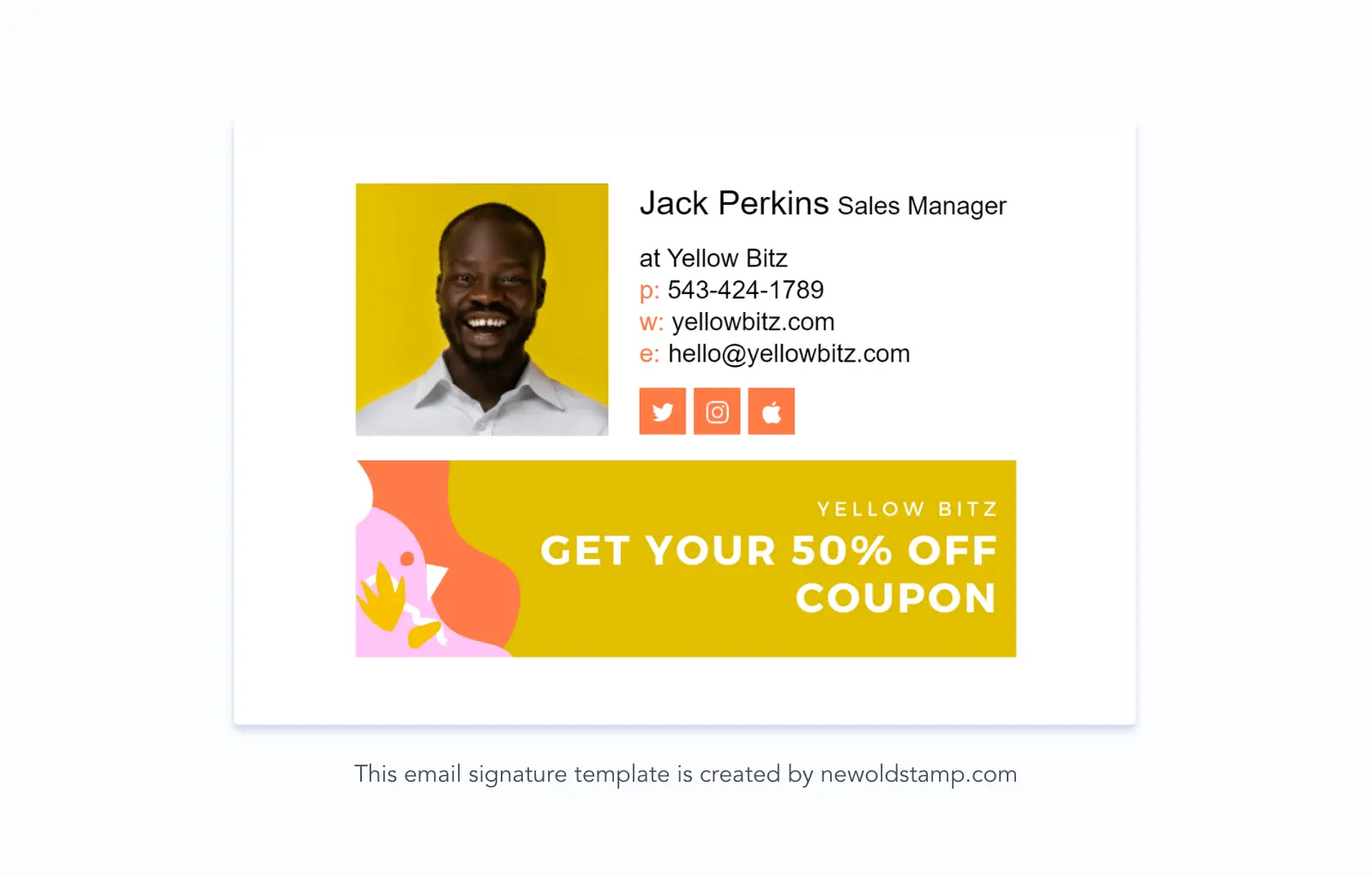 Step 5: Consider confirmation emails
Confirmation emails are often neglected in the world of marketing. However, these emails usually receive high click-through-rates because people expect them. Why not benefit from this? By making a few smart moves, you can promote anything, even in your confirmation emails.
If you add a well-designed professional email signature with a promotional banner, recipients won't likely be able to resist but click on your banner.
Step 6: Consider thank you emails
Thank you emails are very useful in showing appreciation to your subscribers for their support/ participation. By sending such emails, you will make them feel valued and appreciated, which usually leads to the development of stronger relationships with each other.
Email sequences tips
In the last paragraph, we will move on to some useful tips.
Tip #1: Know your reader
Relevancy to the email recipient is everything. Knowing your audience is vital because when you understand what is going on in your prospect's mind, you can speak to it.
Tip #2: Create irresistible subject lines
One of the most important parts of any email is its subject line. If it doesn't catch people's attention, nothing else gets read. Check your inbox and see what emails you opened and which ones you ignored. Analyze subject lines. If you want to learn how to write the best subject lines, read this article.
Tip #3: Personalize
Try to make all emails sent by you feel like they were written to the recipient, not to the entire email list.
Many companies customize the entire email, and these look amazing. However, if you are new to this, just stick to personalizing the first name. Also, when setting up sequences, you can add an email signature to personalize your messages.
Learn more about email personalization here.
Tip #4: Don't write about yourself all the time
Put yourself in the customers' perspective. Do they really care that your brand has new software and you have been in business for twenty years? Of course not.
Customers care about what you can do for them.
Make a list of all your audience's pain points, hopes, and fears and write to address these issues.
Tip #5: Make your call to action crystal clear
Make sure your CTA is clear and impossible to resist. Try to make the recipient feel like they will miss out if they won't take the requested action.
Give them a reason to take the next step.
For example, "Learn [how this works], so you can [achieve this]."
Tip #6: Play with email frequency and length
There is no single recipe here. But if your tips require longer emails, then consider sending them less frequently. Maybe twice a week. If you can fit your content in shorter emails, then consider sending them daily or every other day.
Tip #7: Use evergreen content
Try to decrease the amount of content that is limited by time. It is wiser to look for material that will be important even a few years into the future. This will help you avoid updating your email sequences all the time.
Tip #8: Combine multiple sequences
This method will allow you to focus on bigger audiences by combining multiple sequences structured sequentially. This tactic has proven to be very effective and will improve your overall automated email campaigns.
Tip #9: Combine website and email usage
Another way of making sure your emails are helping your business grow is by bringing your website into the picture. Link your website with your email marketing service. This will allow you to target website visitors based on their behavior, preferences, and previous orders. Then you can personalize each client's experience and improve the relevance of your automated email campaigns.
Tip #10: Integrate sequences with a sales team
A marketing team should prepare a campaign, perform it within the email provider's platform, and estimate the outcomes of various sequences. A sales team should capture the leads and work with the conversion rates. The sales team has to make sure nothing is overlooked.
Tip #11 Improve your email templates by measuring their performance
Always track your email performance to see what works and what you need to improve.
Conclusion
Now, you have a guide you need to write your first email sequence. It may seem complicated at first. But you know that practice makes perfect. First, find a reliable email marketing service with an email automation feature. Then figure out what your goal is. Read our tips carefully and only then start to write your emails.
Start small and have fun with it. Good luck!