13 Great Event Reminder Email Techniques That Really Work!
Why Adopt Email Reminders in Your Email Marketing
Event Reminder Emails Techniques
1. Standard classy event email reminder
2. Event email reminder with a countdown
3. Event email reminder with incentive
4. No CTA and soft sell
5. Personal event email reminder
6. De-personalization
7. Next-level personalization
8. Event email reminder with a new announcement
9. Event email reminder with RSVP request
10. Event email reminder with agenda
11. Getting past promotions tab
12. Provocative event email reminder (non-traditional)
13. Event email reminder with a negative approach (don't come)
Useful tools:
1. Newoldstamp - Email signature marketing
2. Mailchimp - Email builder and sender
3. Reply.io - Personal email outreach, calls, and tasks
4. Mailtrack - Email link opens tracking
5. Canva - Online tool for making designs
If you're surfing the web on how to make an event email reminder or how to drive traffic towards the event, or what techniques should be used to write emails, then you can rest your worn-out fingertips and read this. This article is all about creating a friendly reminder email for an event and will provide the 13 best techniques to come up with cool event reminder emails that will make your audience want to come to your event and will make your attendees save the date in their calendar. We've tried to list all the possible techniques to compose interesting emails from which you may choose the one that suits your event. So, if you haven't found out the ideal way to send an email reminder for an event, you'll find it here.
Why Adopt Email Reminders in Your Email Marketing
Email is as of writing this, the best channel to remind people about any event. An event invitation email is the best strategy for event marketing. It gives you an opportunity to be creative yet formal. If you think that email marketing is an old method of advertising and that nobody reads emails anymore, think again.
Using your email as a marketing tool can actually be super effective. In addition, you can apply different tools such as an email signature. For example, your email signature can include not only contact details but social media icons and promotional banners.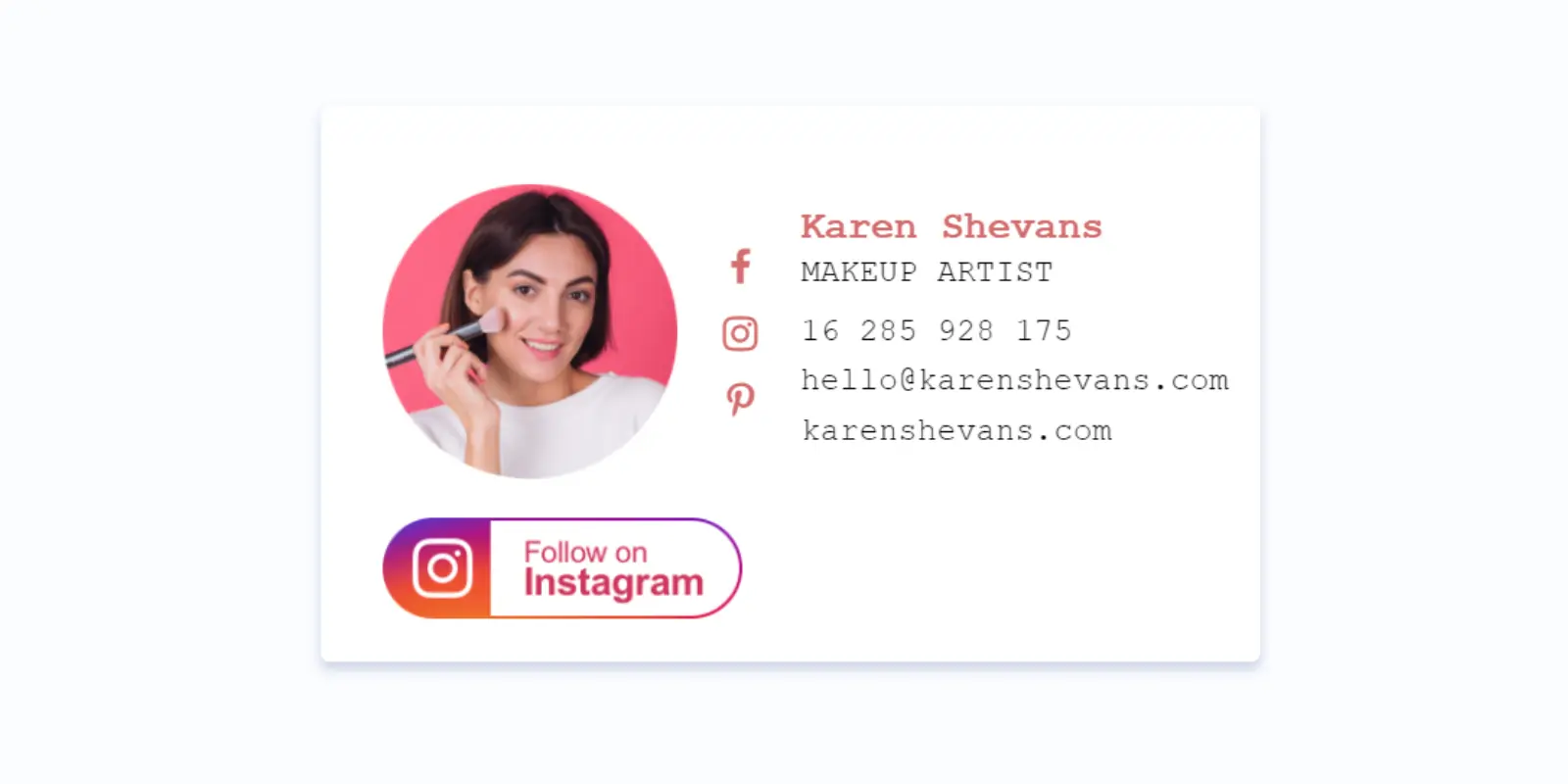 Social media links, which can be added to an email signature block, are the best way to generate buzz about the event. However, people simply spend less than half of their time on emails than on social media pages all together. So, the best way to work this through is to attract the recipients' attention by uploading great promo content with CTA (call-to-action) and email signature banners.
Here are some of the reasons writing emails is a thing for event marketing:
People have to be reminded about things and that is where email reminders play an important role.

Emails not opened - yes, it's possible that the email you sent is not opened or read and there could be ample reasons behind this. So, make sure the emails are sent more than once with a catchy event email subject reminder, which will attract the recipient and make them open it.

Rescheduling - there might be the possibility that your event program schedule has changed. Therefore, it's your duty to write an email informing them about these changes. For obvious reasons, you have to send new details of your event. Otherwise, you can face lots of issues during the program.

Important progress - the best way to advertise your event is by providing your audience with incentives about the event. You can write about the minor progressions going on in the event planning and a sneak intro into the important programs which are going to take place.
Event Reminder Emails Techniques
Now that you know that emails are crucial for event marketing, it is time to know some tricks that actually work in email marketing. For many years, people thought that it is an official way of communication but less did they know that it can become a platform for advertising and marketing. The following are some of the well-researched techniques that you can use in your email invite and make them work:
1. Standard classy event email reminder:
Such emails are simple and classy. A great event with important guests and international attendees requires this type of standard email. These emails can be used to confirm registration or remind attendees about what to bring. You can use this typical email format with friendly event reminder email wording and guide them through the event's program.
You can explain details regarding the event. Also, you can send it to the registered people who are waiting for your reply eagerly about 8-9 days prior to the event. The punch in this email should be your subject email. Adding value proposition in the email is a priority in your email checklist for event promotion.
2. Event email reminder with a countdown:
Another technique frequently used to increase your audience is the countdown method. These emails are sent counting down to the event date and saying about some necessary details and required things.
Start sending these emails about a month ahead of time and continue sending them while counting down the days. Below is an event reminder email template or event reminder template with the countdown technique:
3. Event email reminder with an incentive:
Everyone is looking for something to learn in these events or in short looking for incentives. Incentives are included in the value proposition. Attendees might have been motivated at the time of registration but with time, plans change, and therefore, it's important to remind them about certain offers that would motivate them to attend the event, such as "Meet the Nobel prize winner", "Chance to win $2000", or "Learn from experienced trainers."
Write briefly about the incentive and provide a link to the actual web page or social media, landing pages that describe more details.
4. No CTA and soft sell:
CTA refers to call-to-action. Every email generally invites the recipients to carry out some action while reading the email. Just provide a teaser to the program or the necessary action to be taken with "sign-in" or "register now" option.
This will foster the desire to attend events more than the emails with CTA. Following a "No CTA" email and sending the email with a link to registration is in some cases a better choice.
Another tactic is the soft sell. Here, the sale philosophy is oriented toward classifying the consumers' needs and desires through examining questions and accurate listening. It's the opposite method to a hard sell which advertises an app of psychological pressure to make a comparatively fast sale.
5. Personal event email reminder:
As stated before, emails are sent to make your audience feel important. Sending personal email reminders is the best way to do that. In such emails, you refer to the attendee by his/her first name and thus you try to get his/her attention. When you are using this type of email reminder, try to apply an HTML email footer or HTML email signature with fewer links and more information.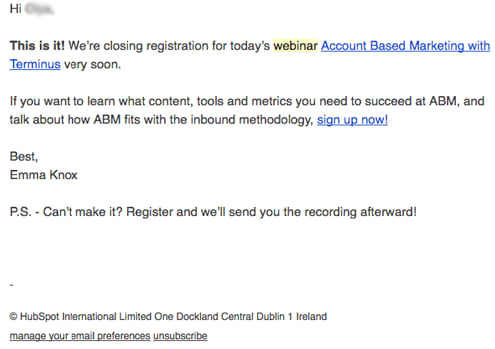 6. De-personalization:
Not using first names and having a catchy, short, and official subject line is what leads to more RSVPs. This is completely opposite to how marketing has always been done.
However, lots of companies have been really slow to take up the de-personalization marketing method. So, when it comes to your business, consider using the de-personalizing strategy for your event email marketing as it will help to succeed and attract more attendees.
Also, you can check if this strategy is working by setting up automated behavioral trigger emails. The behavior-triggered technique is a real-time reaction to how your recipients are utilizing the product or services.

7. Next-level personalization:
Take your personalization skills in the email to the next level and try to think up something funky. You can do a whole lot of things with personalization. Using "Fwd" or "Re" are some of those keywords that grab instant attention.
These words remind people that this is important or that they forgot to reply or mention something or at least that these are not simple marketing scams.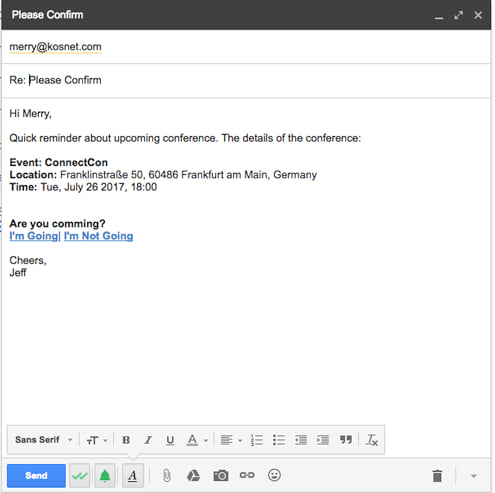 8. Event email reminder with a new announcement:
Another sly trick to be utilized. However, try to remember to use it less frequently. Writing about some new and interesting progress in the "names of famous people who will be attending", "well-known trainers", "new sponsors", or other similar stuff. Be as brief and precise as possible using informal wording and highlighted names.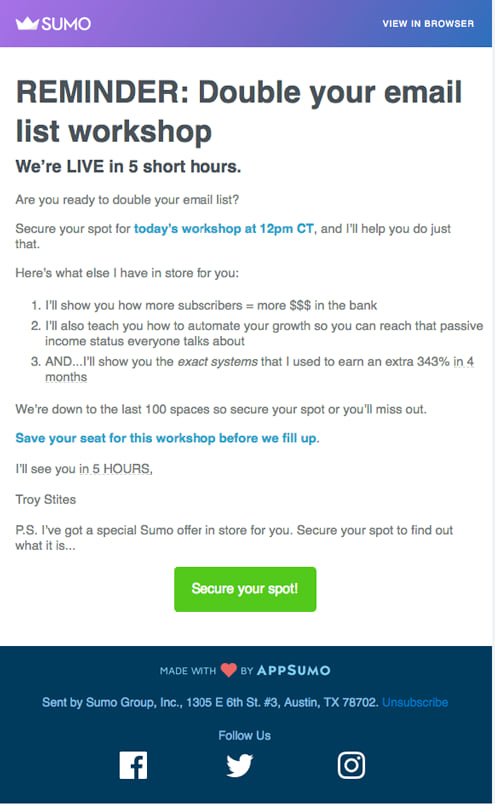 9. Event email reminder with RSVP request:
The main aim of emails is to get the target audience to attend them. The best way to assure it is to get responses from them. Therefore, adding RSVP requests is a good way to confirm their presence.
Don't forget to mention what they have to write while replying and also ask them to share this information with their friends via social media in the events banner.

10. Event email reminder with agenda:
A few days before the event, you can send your audience an email reminder talking about the agenda. You can either add an attachment or just list the main events. Such an email is useful and not annoying to the recipients and your potential customers. In addition to reminding the registrants about the event, it will provide useful information that the attendee requires.
11. Getting past the promotions tab:
For example, the Gmail service has a promotion tab wherein all the emails related to event promotion can be found. However, you don't want your email to go into the promotions tab because most recipients don't read these promotional emails. Therefore, it's vital to get the attendee's reply so, from that time onwards, emails can reach the inbox.
Additionally, there are various online signature makers like NEWOLDSTAMP. This tool allows you to use special banners with CTAs that will most definitely make people want to answer. You can choose from a library of different promotional stuff or upload your own banner (which you can draw in Photoshop, for example).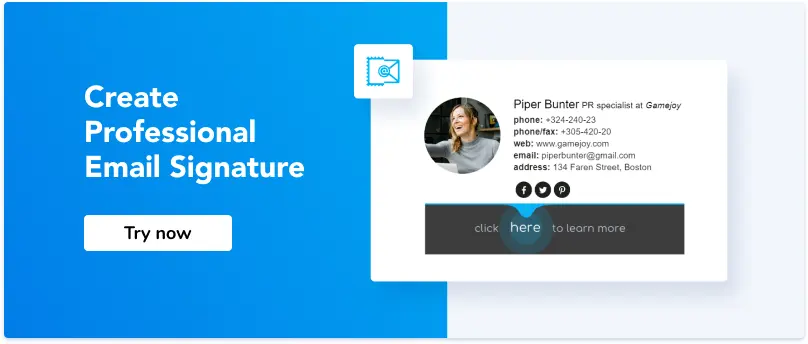 But make sure you include a less promotional and more formal signature for your event. You can check the following tips, so your promotional emails reach the main inbox:
Decrease links

Add fewer images

Add less info into the

email footer

Make formal

email banner
The following is an example of great email banner templates that will not get the promotional and spam tabs: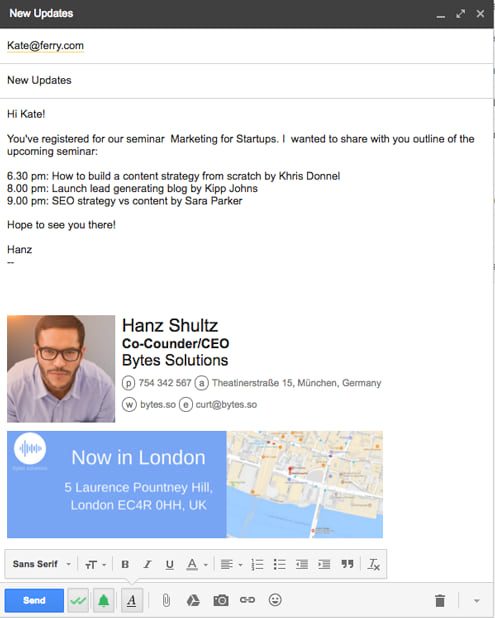 12. Provocative event email reminder (non-traditional):
Sometimes, it's necessary to create some emails which are not like the rest. When some recipients are not replying after a series of such email reminders, it is time to send some provocative emails. So, the event email subject line should provoke the audience to register or reply, or even click on the CTA link.
This is different from the traditional emails and may lead to some people unsubscribing from receiving such emails, but just remember that they were not the audience you were looking for. Your target audience will definitely RSVP to such emails with subject lines like "Reply or Leave".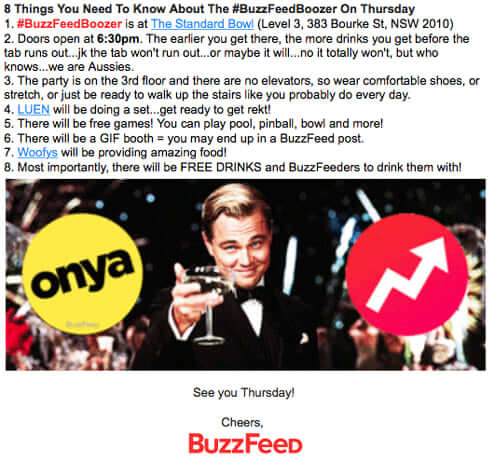 source: eventfarm
13. Event email reminder with a negative approach (don't come):
Just like you, many other event managers are sending emails to the target audience. So, your attendees must be receiving many emails. Therefore, it is crucial for you to be different to increase your email open rate. Try to be unique and send messages with great and interesting content.
There is another method to use - the negative approach. It means writing a subject line like "Don't come to this event", "Never attend this program" will definitely catch your recipient's eyes and will lead to the opening of the email. You can use this negative approach and talk about the value proposition and incentives that the attendee will be missing.
The following is an event reminder email example or reminder email sample with a personal message and request for RSVP: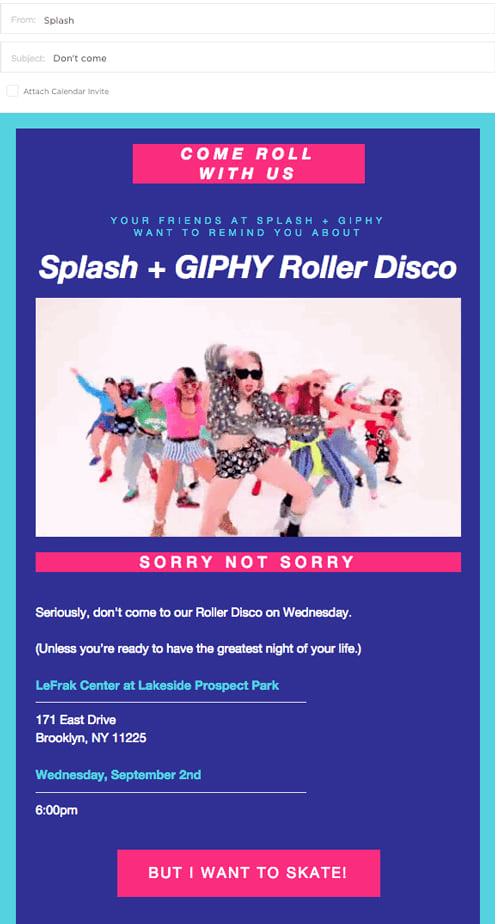 source: splashthat
In short, we can say that all the above approaches are based on research. It's entirely possible that your event has a very important theme and a good host but event marketing is the real key to its success.
So, go ahead and try out these cool event reminders and see how your number of registrants increases.