Ultimate Guide: How to Create a Professional Event Reminder Email to Drive Attendance
Event planning is an exhausting and tense activity. After you've promoted your event, it's the right time to take care of the people who are registered for it.
A registration to your event does not usually guarantee full attendance of subscribed members, especially if you arrange a free event. There are high chances that people will be distracted by their ordinary tasks if the event takes place, for example, in a month. However, a series of event reminder emails will help you achieve the maximum attention to your event and reach potential attendees.
Additionally, you can use different tools and methods to make your life easier. You can include an email signature block, so your attendees know how to contact you if they have any questions. It might seem like lots of work for nothing. However, when everything is organized right, you'll be glad you put that effort in. Plus, your recipients will notice your attention to detail.
Why Do You Need an Event Reminder Email?
A reminder email for your event is a great way to increase your attendee's engagement and awareness. By sending several emails before the event, you will boost attendees' interest and provide them with additional information. For instance, an event reminder email can include answers to such important questions that relate to dress code, information about speakers, or bonuses.
Your emails will show your target audience that they are welcomed guests at your event. You will also create an emotional contact with your attendees that will encourage people to visit your following events. Besides, you can ask registered members to advise your event to their friends in exchange for benefits.
Therefore, event reminder emails are important for your business, as they make your event-goers happier, help to generate potential leads and turn them into loyal supporters and clients.
How to Structure an Event Reminder Email?
The main goal of an event reminder email is just to let your registered attendees remember about your event. So, there is no need to repeat all the details you sent in an invitation letter, but the key data about your event should be included. Here is a detailed structure of an event reminder email.
In particular, an event email subject line is what the attendees will see when they open their inbox. Pay a special attention to it, as the subject line determines whether your target audience will open your email or not.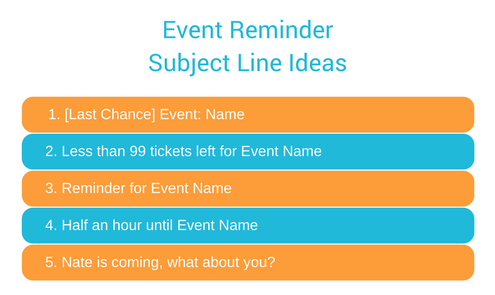 A good subject line should let the reader know what the letter is about and catch the interest of your registered members. You can appeal the potential participants by an urgency or importance of your session and call the reader click on your email without any hesitations.
Keep in mind that the subject line should include no more than 50 characters, so it will be visible on any device.
Make your reminder more personal. We tend to establish emotional contacts with real persons rather than companies. So, address your attendees by name at the beginning and end your email with details of a contact person, who your attendees can consult in case of necessity.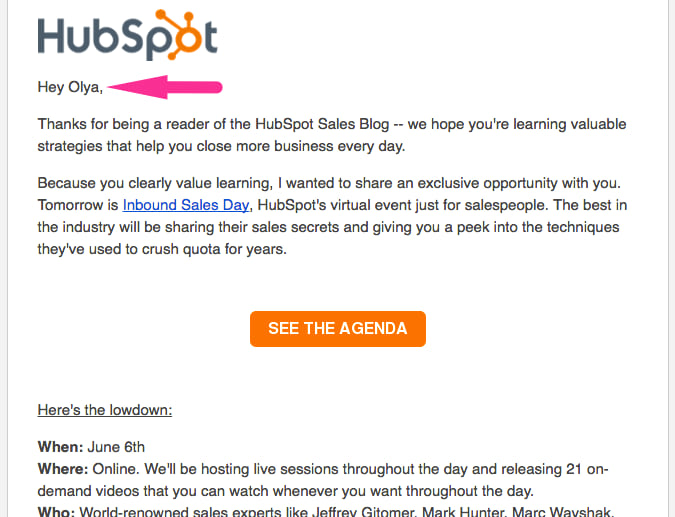 Moreover, you can make participants feel like insiders with the behind-the-scenes opportunities. Figure out, how you can use social media, quizzes or polls to make a better connection with possible visitors.
Your attendees may lose interest in your event with time or forget some important details. So, remind them in a friendly tone when your event begins and where it takes place. If it is a physical event, mention the full address and add information about dress code and parking.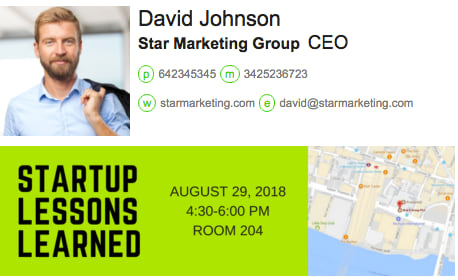 You can do these by using the NEWOLDSTAMP email signature generator. If you want to remind about an online event, you can simply include link and details about authorization to the signature block.
Additional Details and Bonuses
An event reminder email can also provide attendees with additional information in order to keep them up-to-date. Besides, just by reminding them about your event, you can also add some helpful details, tips, and even bonuses.You can use email signature block to include the following:
Banners for promoting your event

Social media info about the event

Information about speakers

Discounts for past participants

Bonuses for early birds and more
This additional information will inspire the readers for actions. So, you can check the efficiency of your email, if the action has been completed.
To share the contacts of the event, you can add an email signature. HTML email signatures can include contact details of your company and social media buttons. The NEWOLDSTAMP company also gives the opportunity to add event banners for email signatures. Thus, you will show the reader that your conference or webinar is arranged on a professional level. Place a promotional banner at the bottom of the email, so your attendees can see contacts of the upcoming event.

Best Timing for Sending Event Reminder Email
Before you disturb your registered members yet again, take into account the type of the public occasion. The best time for sending a reminder email depends on the type of your event. If it is an online event, you can boost the anticipation of attendees in three days, two days, and a day prior to the event. You can also send an email right before the start of your event for those who may be distracted by their working routine.
For other events like conferences or workshops, send reminders several weeks before to make sure that people will arrive on time. For example, send a reminder two weeks, a week, and 3 days before the public occasion.
Optimizing Your Event Reminder Email
Once you've created all that great copy, added contact details to your signature, it's significant to start driving traffic to your sign-up link. It's good if you can make conversion best practices and get as many registrations as possible. Here are a few tips to take into consideration:
Make your email reminder prominent - it's nice if you make your event banner stand out by attaching stunning pictures or carrying an excellent design. Nonetheless, be sure to keep the email reminder simple and add links to your event page support.
Call-to-Action should jump from the banner - you'll want your participants to clearly detect where they can register for an event and know how to do that.
Provide full information - it's good if you communicate properly with your attendees and give event info that will not cause difficulty, by replying to a specific FAQ.
Present contact details - you can add email signature with full contact information, so your visitors would easily know your email, social accounts, etc. This way they can purchase their tickets from you. Check out this example: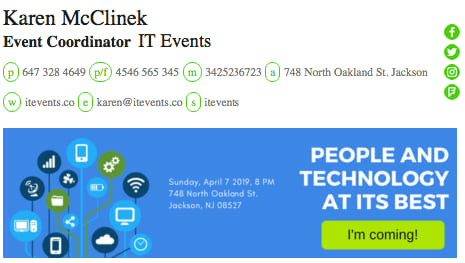 Best Event Reminder Email Templates
Wording an event reminder is just like developing a website, where each word must be at its place to catch up the reader's attention. The following tips will help you create the best event reminder email sample for your event:
Event reminder email wording

must be vibrant, precise, and creative

Write a short letter that people can read on any device without scrolling

Use different types and prints, but no more than three

Add bulleted lists if you provide event's timetable or present speakers

Divide your text into paragraphs of no more than three lines each

Apply a text on images, so the reader sees it in case image is blocked
Burning Man Email Reminder: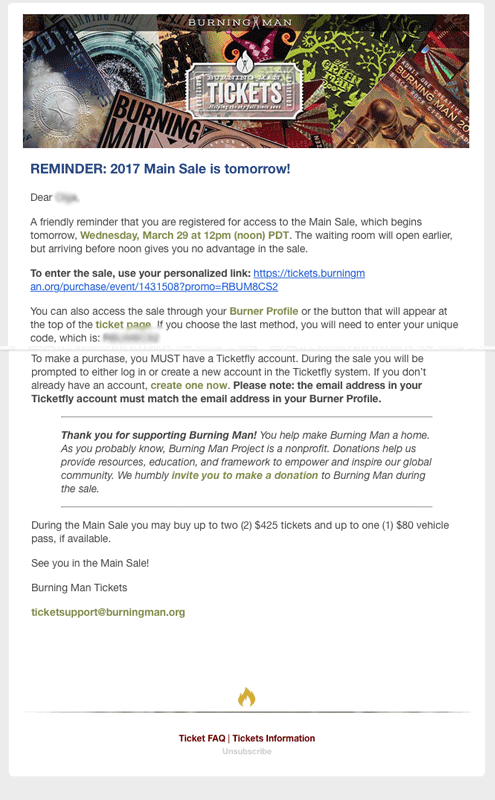 Template from Unbounce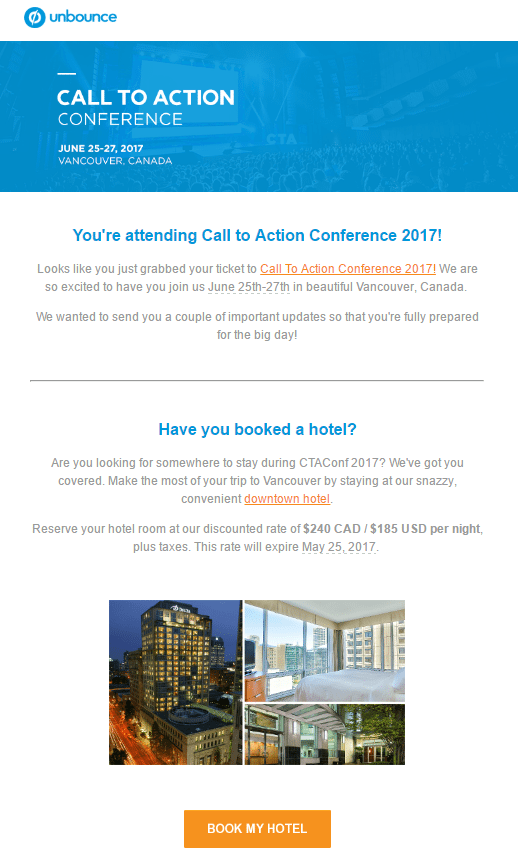 Template from Emmy Jonassen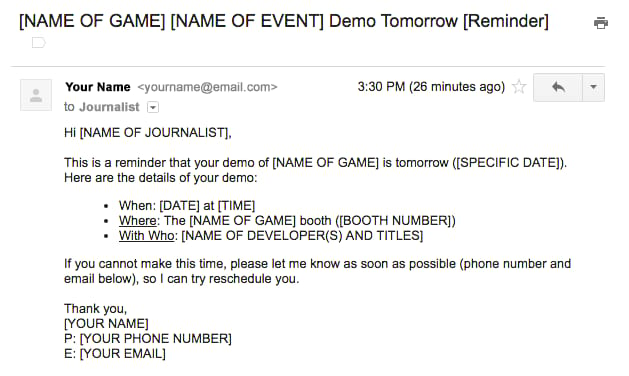 Post-Event Wrapup
Several days after your event are the best time to collect feedback from your attendees and turn them into your clients. Therefore, you can send a post-event thank you email one or two days after your event.
You can use the email to express your appreciation for visiting your public occasion and remind the positive experience people got at your session. You can attach photos or videos, and audio materials from your event. Ask your target audience to share their impressions or contact you for further cooperation. You can send t-shirts and share mugs with VIP participants and event enthusiasts. Do not forget to retweet posts of fans and your participants - it's a free marketing option to promote your services, products or future events.
Here is an example of copy and an event follow up email: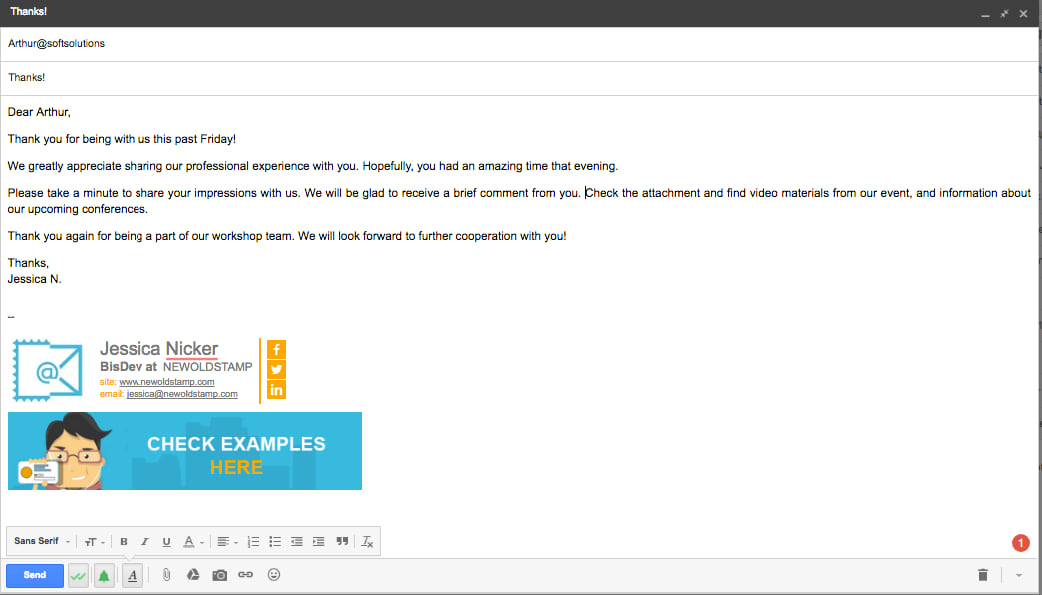 And this is what you get from Rise Conference: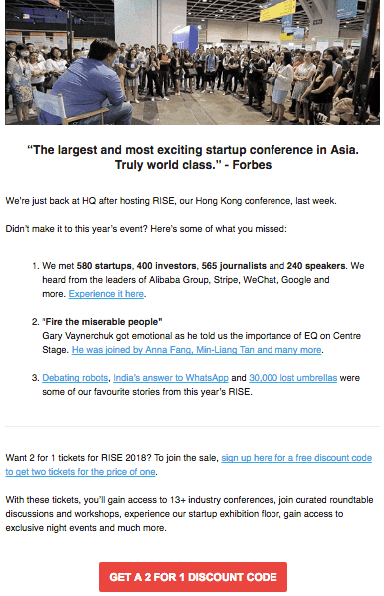 Summary
Hopefully, this ultimate guide provides you with all important information for developing a successful strategy of email communications. Of course, your first attempts may not fulfill all your expectations, but you will be able to analyze the achieved results and improve your emails and signatures for upcoming events.
Do not afraid to implement new ideas and experiment with your recipients. Your attendees will appreciate your friendly and professional tone and become more open for further contact and cooperation.
Thank you so much for reviewing the event reminder email guide. If you have any questions, we'd love to hear from you!