How to Write a Successful Job Inquiry Email: The Finest Guide with Examples
1. Why you should write a job inquiry email
2. Tips on how to write job inquiry email
3. What you can include in inquiry email for a job
4. Job inquiry email template structure
Useful tools:
1. Newoldstamp - Email signature marketing
2. Mailstrom - Tool for cleaning your inbox
3. Reply.io - Personal email outreach, calls, and tasks
4. Mailtrack - Email link opens tracking
5. Shift - Desktop app for streamlining all of your email and app accounts.
Are you looking for a job but struggling to find decent job openings in your field? Don't be upset. You don't need to postpone it. Consider a more efficient, prospective approach and send out job inquiry emails.
Why you should write a job inquiry email
Some job-seekers use such emails (also known as letters of interest) to look for potential employment opportunities. Within this email, you can add your resume, explain your qualifications, and express your interest in working with the organization.
Sometimes, companies are hiring but haven't advertised job openings. If they aren't, you still have good chances to get a job. During a period of no hiring, they are more likely to see your resume. If they like it, they'll keep it on file for future positions or even invite you to join the team right away.
However, to get any real benefit from this approach, you will need to learn the proper way to craft job email introduction letters. To do this you must discover how to write an inquiry email.
Fortunately, we have some great tips and a job inquiry mail sample you can follow to learn how to inquire about a job via email.
Tips on how to write job inquiry email
So, here is essential information on how to write an email inquiring about jobs.
Tip #1: Do research beforehand
Even if you send a job email to a company you know well, it's highly recommended to research them further. First, you should find the name of your hiring manager. Ideally, you should know a few important professional facts or their interests to draw their attention to your candidacy. For instance, while looking through a hiring manager's social media, you may discover that you have a mutual interest in yoga or share a common hometown. Mention that within your job email of interest, and you will get a better chance of getting feedback.
Tip: If you couldn't find the hiring manager's name on social media, Google, and the corporate website, consider calling or emailing the company and asking for the direct contact info of a person responsible for filling the position.
You may also like: "How to Get Noticed by Employers and Land Your Dream Job?"
Tip #2: Start with a draft
While inquiring about a job by email, take it seriously and professionally. Write multiple drafts, read your email aloud, and edit it thoroughly. Also, you can use a resume builder, if you don't have ideas on how to start.
Tip #3: Use a clear subject line
The email subject line for the job application is the first thing hiring managers will see when they receive your job inquiry email. If a subject is well-written, it can drive a recipient to open your email and review your resume. If your email subject for job inquiry is not clear, chances are the recipient will ignore your letter.
To create a compelling subject for job inquiry email, use the following practices:
use a mutual connection:

Referred by Helga Johnson for Marketing Assistant;

mention your skills (not many) or professional credential:

Talent Acquisition Specialist with 10+ years of experience;

use keywords:

Job Inquiry: Natalie Polly – Content Marketer.

Tip #4: Add proper salutation
Just like with any other business email, you need to know how to inquire about a job. Include an appropriate salutation at the beginning. Of course, it's best to address your letter to someone specific, rather than using a generic greeting such as "Dear Sir or Madam" or "To Whom It May Concern." Once you find the name, you can use a usual greeting with "dear." For example, "Dear Mr. Johnson." You can also use a "Hi + name" formula to sound friendly, professional, and not too formal. For example, "Hi Mr. Johnson." However, it depends on a communication culture in the company you are getting in touch with. Unless you know exactly, it is better to go with the first example.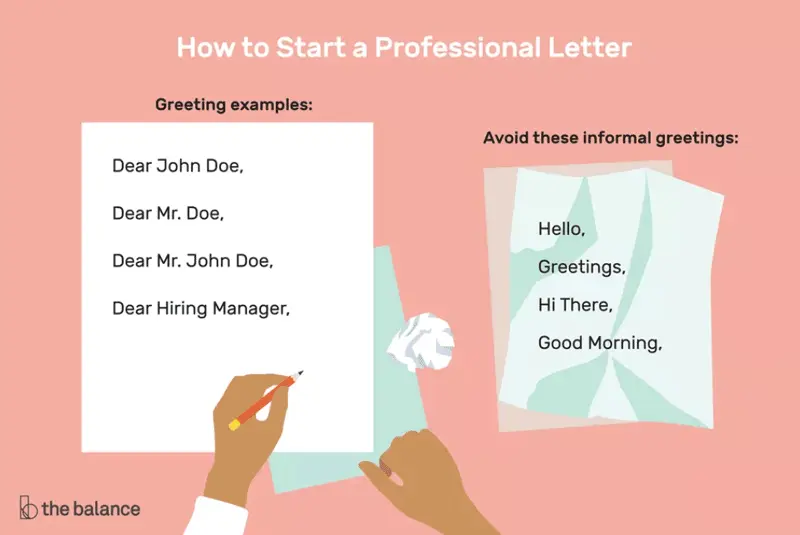 source: Thebalancecareers
In case you know the name but don't know the gender, just go with a gender-neutral greeting such as "Dear Taylor Johnson."
The only time it's acceptable to address the recipient with their first name (for example, "Dear Andy,") is if you're sending a job inquiry email to inquire about an internal position in the organization you work for, or if they already know you.
If you were unable to find the hiring manager's name, please avoid out-of-date greetings such as "To Whom It May Concern," and "Dear Sir or Madam." Instead, use a generic salutation such as "Dear Hiring Manager."
Tip #5: Use proper language
Before hitting "Send," remember that you're approaching a company as a professional that may represent them someday. That's why your language should be professional, polite, and not too informal.
You should also know how to end a job email. Use "Best regards" instead of "Cheers."
Tip #6: Make it clear and short
Don't try to squeeze everything in one email. After all, you have a resume. Certain companies even ask job applicants to pitch their cases in a specific number of characters. So, learn how to write concisely, yet find the right words to sell your skills.
Consider adding a compelling call to action in the end or in the middle of your letter of interest. This can be a request for an interview or a meeting to discuss a potential employment opportunity.
For instance, "I'd love to schedule an interview within the week." Look at inquiry email sample below.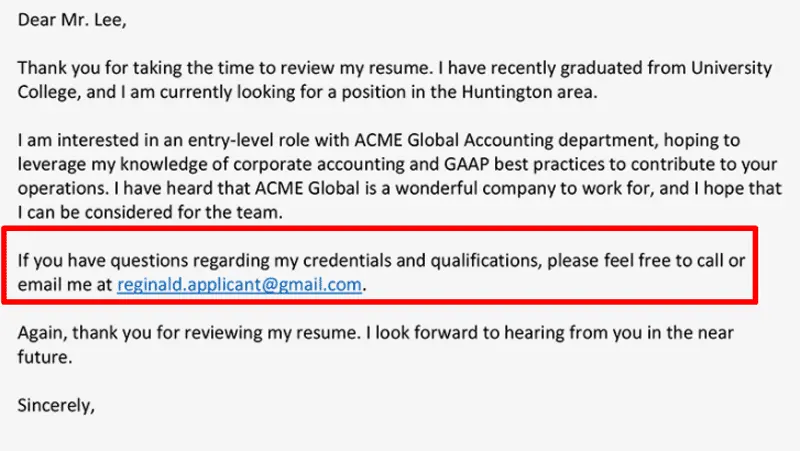 source: thebalancecareers
Saying "Thank you" is an excellent way to increase the chances of your email being answered and one of the most natural methods to become a happy person. You may say: "Thank you for your help," "Thank you for your time," "I appreciated the opportunity to…"
Tip #9: Try to mention your expertise
You can provide some info about your skills or expertise, but do not add too much. For example, "I'd be a particular asset because I have five years doing [add a skill or experience], etc.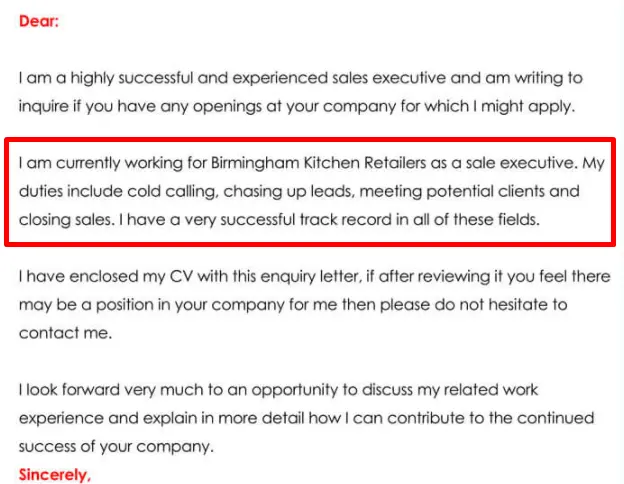 source: Doctemplates
Tip #10: Proofread and spell check
Finally, don't forget to proofread your letter of interest. Proofreading enables you to pick up on and amend mistakes. Pay special attention to the hiring manager and company names.
It may also be a good idea to ask your friend to read your email after you.
What you can include in inquiry email for a job
Send your resume with more detailed information about your skills and experience. Keep in mind that some hiring managers don't like attachments. So, consider providing a link or include it with your email signature. We'll discuss CTAs in signatures later in this article.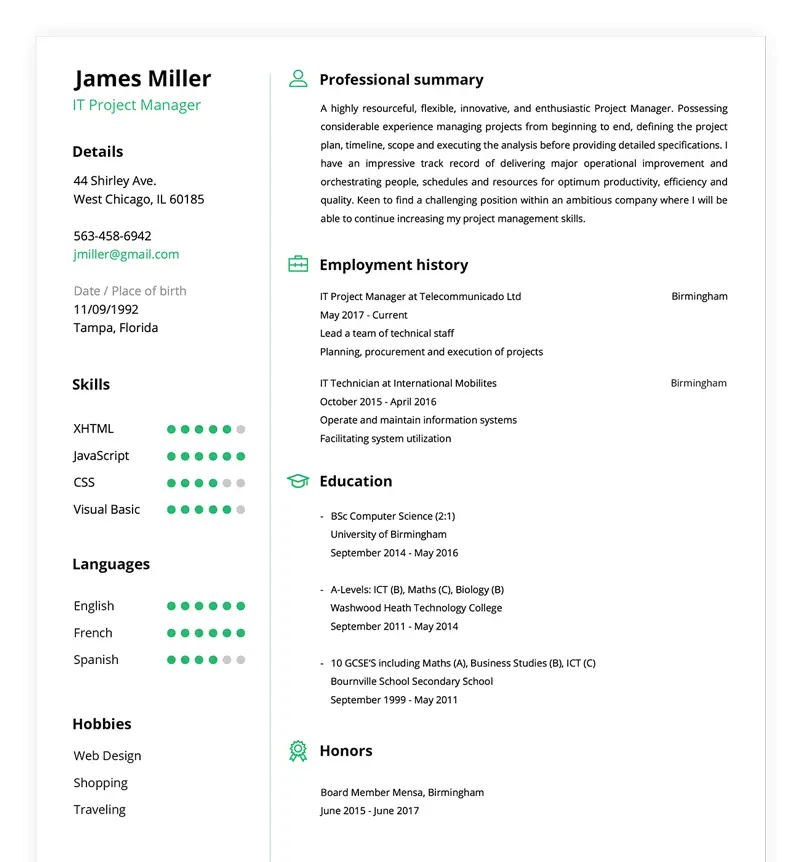 source: Resumebuild
We send job inquiry emails to companies that may be intending to hire, but they haven't formally advertised their jobs. And we write cover letters when we apply for positions that have been posted. When writing your job inquiry letter, you can use the practices that apply to cover letters. If you are a freelancer, you can use proposal templates to provide a whole host of important information straight off the bat. It's your opportunity to explain who you are, demonstrate your skills and experience, provide case studies and testimonials, outline your payment terms, and (crucially) guide your prospect through the solution you're proposing.
Make sure you also add a professional email signature at the end of your email. This way, you can present your name, contact data, and a link to a resume or portfolio professionally. Plus, you can place a call to action on your signature to make it more noticeable.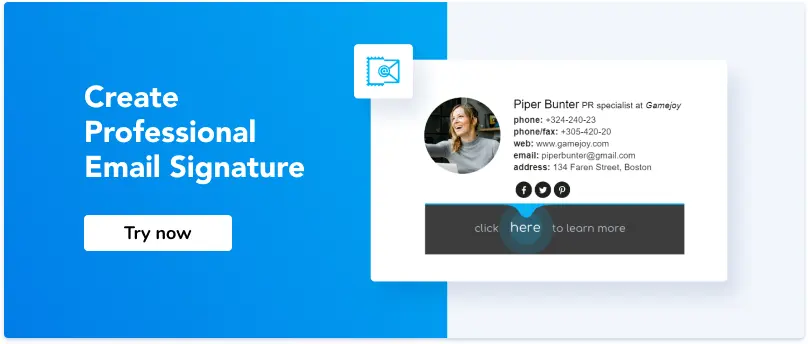 Job inquiry email template structure
Below, you will find an outline for writing a job inquiry letter. We have provided some sentences and explanations to help you write.
Job inquiry email subject
Be specific.
For example, "Job Inquiry: Natalie Polly – Content Marketer."
Start with a proper salutation. Try to address the employerdirectly. It is a good wat to show that you took the time to research them.
For example, "Dear Ms. Nikson."
If you can't find a name, "Dear Hiring Manager" will work.
Introduce yourself and make it clear that your email is intended to be a job inquiry.
For example, "Currently a student at Heidelberg University, I am studying Marketing with a focus on Consumer Behaviour. With this major, I hope to pursue a job at ABC company."
Or if someone recommended you to contact the company, mention that. For instance, "My name is Natalie Polly, and I was encouraged by Angela Smith to contact you about …."
The length of this paragraph might vary depending on the industry. Use this part to describe your interests and give a broad overview of your skills and experiences. You can also refer to something you know about the company (why they are the best, how they are growing, etc.)
For example, "I have been working in sales and marketing for three years, and have watched your company's progress with interest. Now, I am searching for new opportunities in the industry, and I couldn't miss a chance to try my hand at your company." And "I'm confident my education, experience in the field, and a unique skill set can be of real value to ABC Inc. "
Refer to your resume throughout this section.
Invite a hiring manager to contact you and welcome the opportunity for a meeting to discuss a potential employment opportunity.
For example, "It would be my great honor to meet with you to learn more about your requirements and explain my qualifications in more detail."
The end with email signature
How to write inquiry email ending? Say "thank you," "I hope to hear from you soon," and "Best regards" in a final section of your inquiry email. Then add your email signature with contact information, photo, links to resume, portfolio, social profiles, etc.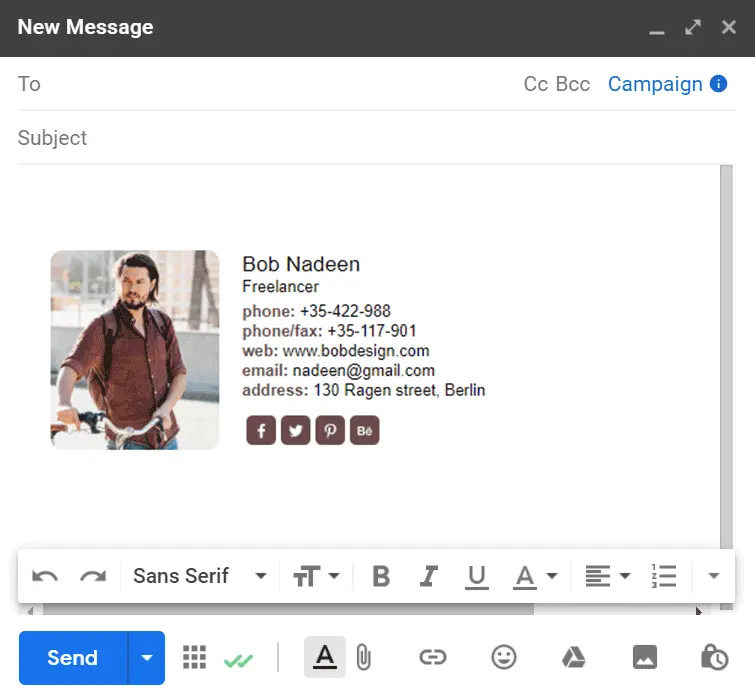 Click here and a recruiter will not miss your job inquiry email ended with professional email signature.
Conclusion
Sending a job inquiry letter is an excellent way to introduce yourself to an employer and establish a connection. Since it is an unsolicited email, it shows that you have a genuine interest in the organization and makes you a more desirable candidate once they have some open positions. You can also use inquiry emails as an opportunity to schedule a meeting to discuss where you might fit even if there are no job openings in this company. That's why is a critical to know how to write an email inquiring about a job.
When you know how to write an email for a job and follow the best practices of writing job inquiry emails, you increase your chances of landing your dream job faster. In this article, you will learn how to write a job inquiry email beginning, how to end an inquiry email professionally, what to include with it, and other essential things.