1. What is a business email signature?
2. Why are email signatures important for your business?
3. How to structure professional email signature
4. Email signature design tips
5. Professional email signatures as a marketing tool
6. How to manage email signatures for the whole team
7. Mistakes you should avoid in your business email signatures
What is a business email signature?
Earlier, when email services first appeared, people ended their emails with their name and sometimes with their contact information. But as time went along, email signatures have become a kind of digital business card. So, basically, email signature (also called an email footer) is a text used at the end of an email message that provides a recipient with the information about a person or a company and helps recognize them. However, modern email signatures go far beyond just a sender's name and contact information by showcasing the sender and showing off their brand.
Why are email signatures important for your business?
You probably agree that it wouldn't be convenient for you to look through a website or a blog to find out someone's contact information. Most likely, you'd prefer to be able to get it immediately with no effort involved. Therefore, a professional email signature is nowadays not an option, but really an essential element of every email we send. Furthermore, it can perform several functions at once.
Email signatures represent your brand in every email
Studies have found that an average office worker receives 90 and sends 40 business emails a day. It's pretty obvious that companies need to take their corporate email signatures seriously and consider them as a huge opportunity towards brand recognition.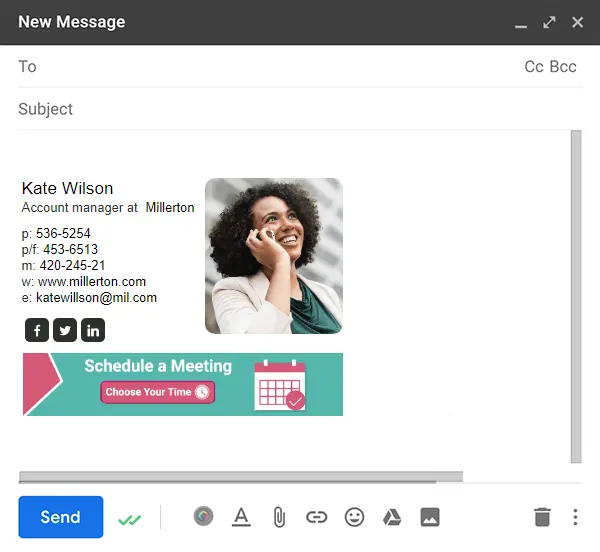 Email signatures increase trust in your business email
People judge by appearances. That's why lots of companies spend lots of time and money perfecting all aspects of their corporate branding. Now imagine that you've received an email with a messed up email signature at the bottom from a company whose brand image is polished and consistent. What would be your impression of the organization or individual that sent it? Letting people know who exactly maintains email correspondence and what your team members look like in professional email signatures is an excellent way to increase trust and build positive business relationships.
Signatures make your email more professional
A good business email signature not only makes your brand well-recognized among prospects and partners but also signals to people that you act on behalf of your company. This gives you more credit in the business world .
A corporate email signature can drive additional traffic to your website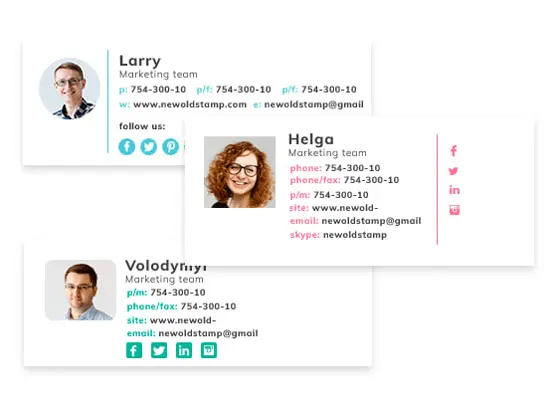 Ask your employees to use a link to your company website in their email signatures. The chances are that some recipients will check out your site and this will result in more sales.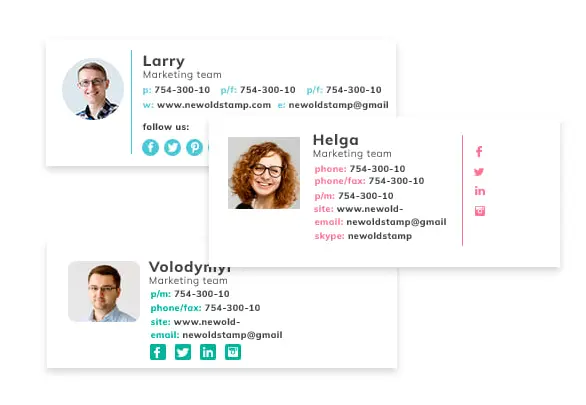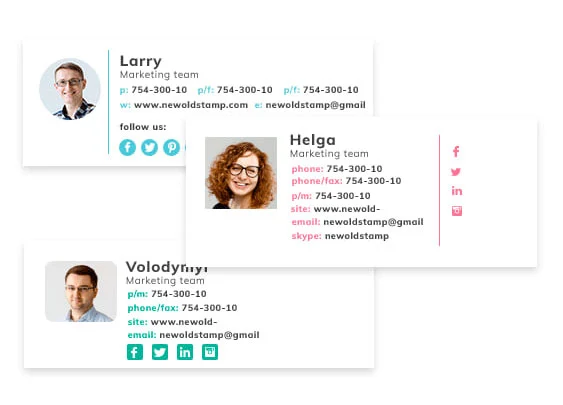 Email signatures are your digital business card
Professional email signatures may be equal to business cards. Instead of chasing potential clients offline with a paper card, you can share all the necessary information with them online.
A professional email signature can be used as an additional marketing channel
Whether you are a large or small business, it's always a good idea to utilize corporate signatures for different marketing and sales purposes. For example, you can easily share special promotions, offer demos and consultations, promote content on your corporate blog, share important announcements, increase social media engagement, and more. This is all with the help of your professional email signature. Read this article to find out more.
How to structure professional email signature
You probably already understand the importance of email signatures and want to give up reading this article to jump right into creating your own email footer as soon as possible. But hold your horses there, don't go away just yet. We know many people who end up creating a heavily cluttered or uninformative email signature. In this section, we will help you find the right balance.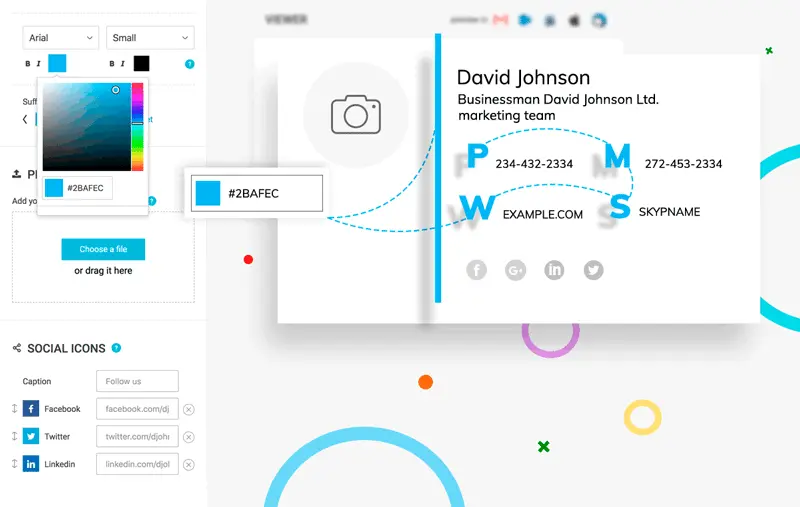 Required fields of all signature templates
Keep in mind that a great email signature doesn't have to be complicated, in fact, the simpler, the better. First and foremost, it should provide basic information about you, such as your name, business name, position, contact details.
You'd be surprised, but about 30% of email footers don't even have a name, which may negatively affect your company's image.
It's important to include your job title to let recipients know who they are dealing with and if you can help them handle their issues.
If you represent a company, your email footer should have your company's name in it as well.
You can also use your corporate logo, but make sure it fits in with the rest of your email footer's aesthetic. Also, we recommend limiting yourself to two images max. If you represent a personal brand, it's a good idea to add a photo of you to your sig. Prepare a quality headshot with a friendly and relaxed facial expression.
If you have a website and are looking for ways to bring in traffic to it, consider adding the website URL to your corporate email signature. Or you can also try including another useful link. For example, if you are a customer service person, it'd be logical to add a link to an FAQ page.
✓ Email address
Some articles contain advise not to include your email address if you want to create a good email signature. But it is not always true. Of course, recipients can hit "Reply" to answer your message, but some email clients display names rather than email addresses in the "From" field. And when a person forwards your message, recipients will see your name, not the address.
✓ Phone number
Avoid using too many phone numbers. This may be irritating for the reader especially if they use mobile devices to read your email.
✓ Address
A basic email signature may not provide your address. Before you include your business address, make sure it doesn't overload your sig. Ideally, keep it to one or two lines of text.
Recommended elements
These are needed to promote your social presence and to keep your clients up-to-date on what you're doing. To avoid all the mess in your email footer, never use social media links here. Add icons instead. If you aren't all that tech savvy, consider using signature generators to effortlessly create an HTML sig with icons of your social media profiles.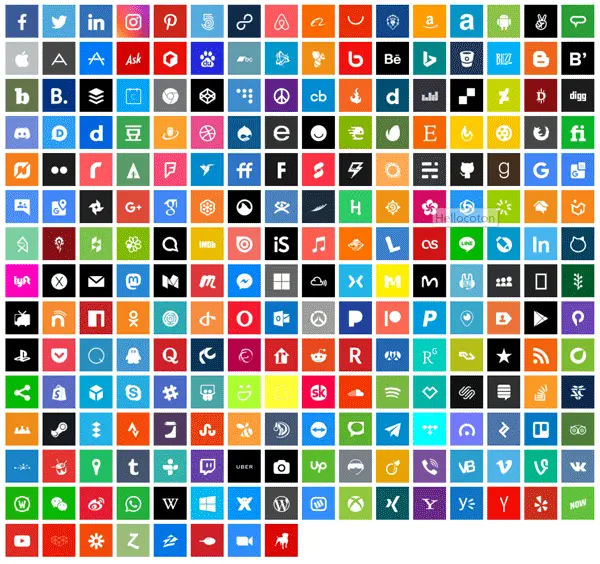 Banners play monumental promotional and informative roles. They help to support your marketing and sales activities. Although many of us imagine those annoying animated ads when we hear the word "banner," but we can assure you; modern signature generators can help you create nicely minimalistic and visually appealing banners.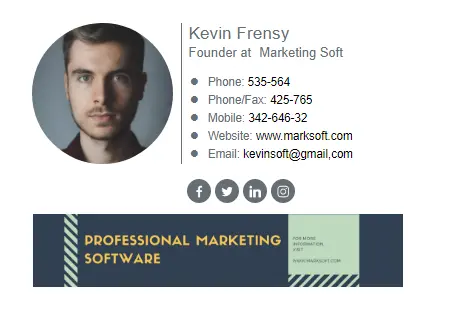 An email disclaimer (also called an email disclosure, confidentiality notice, footer, or sign-off) is required for corporate email in many countries. Not to put your company at risk of fines, get the info about legal requirements in your country. Keep in mind that most well-crafted email signature examples have short and readable disclaimers.
Additional call to action buttons
When you check out great signature examples, you'll notice that CTAs in them are very simple, not too pushy, and usually aligned with the theme of the message. We'll go over CTAs again later in this article. Keep reading!
Learn more about the most effective ways to structure your email signatures to kickass your business communication.

Email signature design tips
And now it's time to work on your email footer's aesthetics.
Make email signature design neat
When it comes to email signature designs, it's important to go easy on all the various graphical elements, colors, and fonts. Try to avoid using more than two or three colors, including too many social media icons, adding irrelevant information.
Use visual hierarchy principles for the contact details and other elements
Visual hierarchy is a way of arranging design elements in order of importance. For example, on most good email signature examples the sender's name is placed on the top to attract the most attention. In general, when deciding on which parts of your design should go first or be highlighted, note that your goal is to help guide the eye of the recipient through the design logically. When creating email signatures for office, you might like the following formula : name -> title -> business address -> phone number -> email address -> website URL -> social media profiles.
Go beyond black and white colors in your signatures
Colors can bring a new dimension to your signature. They can also help you better direct the recipients' attention to important lines of text or call to action buttons. Learn how to select an effective color scheme for email signature.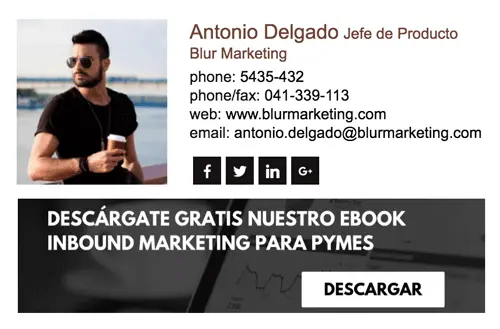 Sometimes people feel the need to highlight some titles and pieces of information, so they use many different fonts and colors. As a result, they create emails that don't look clear and readable, but ugly and unprofessional. A simple way to fix that is to mix up your font size or colors instead of using a new font entirely. Plus, pay attention that there is a list of fonts that work best when it comes to signatures for emails.
Remember that most good email signature examples are simple and to the point. Not to distract users' attention, try to reduce the email footer overload. For example, if you actively use Twitter and Facebook to communicate with your audience and almost never use the phone, maybe you need to remove the phone number from your signature?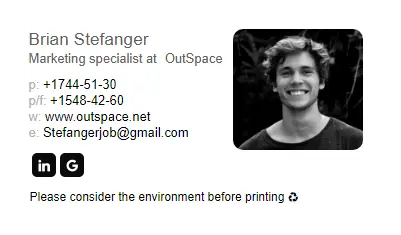 Many email signatures contain a photo of the sender. It puts a face to your name and helps to build a relationship with recipients. As a rule, we recommend using a professional, quality image with no distracting elements on it. Of course, you might want to use your vacation photo where you are wearing shorts and holding a cotton candy to stand out or look more friendly and human, but chances are people might begin to doubt in your professionalism.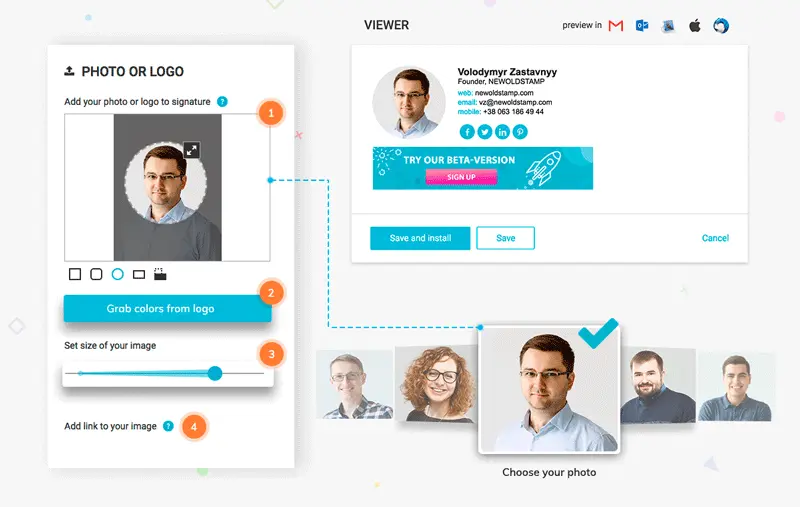 Adjust the style of social media icons
If you decided to add social media icons in your signature design, take the time to look for some that will complement the rest of your design and fit within it.
Make your professional signatures mobile-friendly
Today, many of us use mobile devices not only for entertainment but also for work. That's why it's critical to make your sig mobile-friendly. Keep in mind that smartphones are significantly smaller than computers, so be sure that both your typeface and images are legible when scaled down onto smaller screens.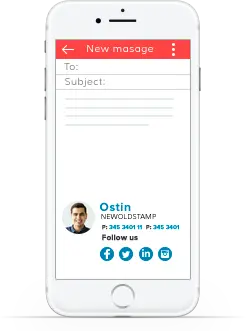 Create a simplified email signature for replies and forwards
It's ultimately a good practice to create a separate signature to be used in long email conversation threads. This sig should include only essential information such as a name, company, phone number, and website.
Pay attention to email signature size
If you know what devices your audience commonly use, it would be easier for you to get your signature displayed in the right way. For instance, for mobile users, it's preferable to make it no larger than 320px (pixels) wide. For desktop users, email footer with the dimension of 600px wide would work perfectly.
Professional email signatures as a marketing tool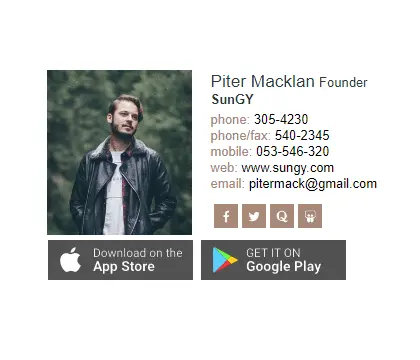 With the right approach to mail signatures, companies can utilize them as high-performing marketing tools. As we have mentioned above, an average office worker sends 40 business emails a day. Excluding vacations and weekends, that's about 10,000 emails a year. Now multiply these emails by the number of employees in your company. If you are not using this to your benefit, you are really missing out. If you haven't optimized your sig for conversions, start experimenting with the following ideas:
Use email signature banners to:
✓ Promote special offers
✓ Share your awards
✓ Share content updates
✓ Share ebook, case study or white paper
✓ Invite to event
✓ Ask for feedback
Use additional call-to-action buttons to:
✓ Schedule a demo
✓ Follow us on social media
✓ Get in touch
✓ Sign up
✓ Subscribe
✓ Promote marketplaces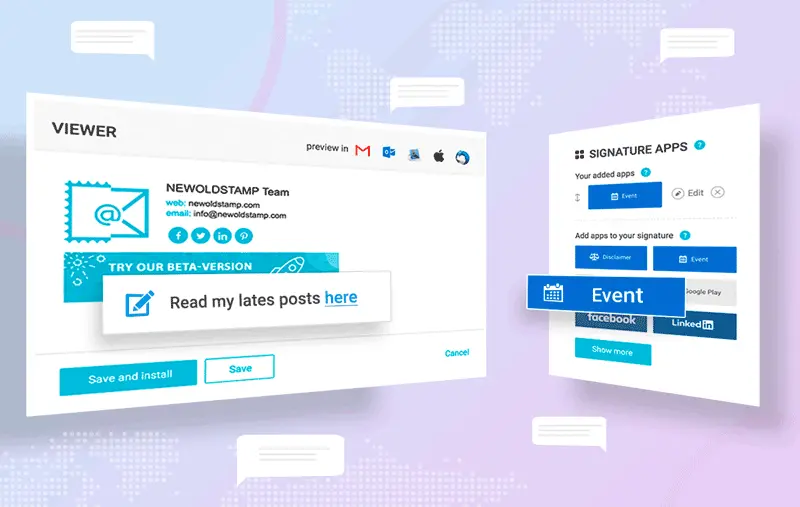 See this article to learn how to get the most out of your sig when using it as an additional marketing channel.
How to manage email signatures for the whole team?
Whether you're a freelancer, small business, or large organization, your signature design should reflect your business's professional standards. And while in the case with freelancers and very small teams, it may be pretty easy to create consistent and perfectly branded sigs, crafting and managing multiple email footers for a large number of employees may become a complex task. What are the things to consider?
Use one email signature template for all team
Consistency is a number one priority for your email signature template. Inconsistent sigs give the impression of chaos and unprofessionalism.
Create different signatures for different departments
So you decided to set up email signatures across the entire company and understood that they need to be consistent to represent your brand in the best possible light. That is right. However, that doesn't mean that different departments can't have different information included. For instance, your marketing team is more likely to need social media links in their sigs than employees who manage finances.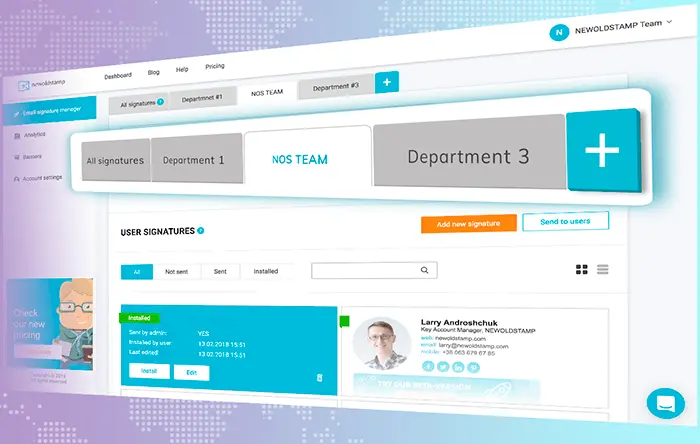 Run email signature banner campaigns
Make sure you're getting the most from the space on your email and use banners to spread the news about events, special offers, new products, show your certificates and awards, invite to follow you on Facebook, and much more.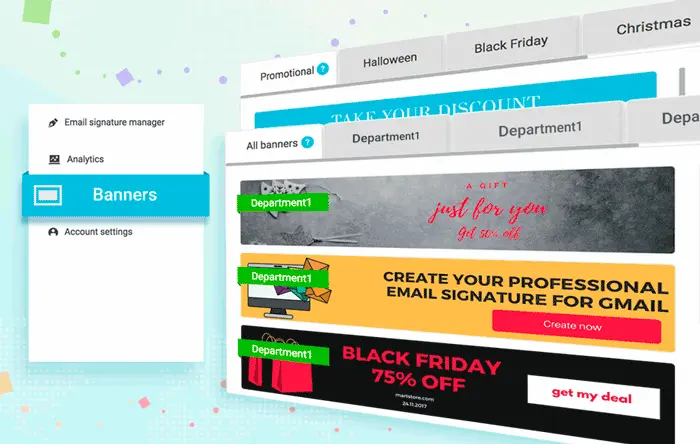 Use email signature management software
While for some people it may be easy to create a great email sig themselves, it may be downright challenging to get it to display fine across various email clients. To be sure your sig will be displayed properly on various devices and email clients, use paid or free email signature generators which offer a variety of templates and good technical support, are created by professional designers, and compatible with almost any email client. Furthermore, you can make multiple signatures faster, because you can create one master sig and then upload a file with contact data, and the system will work on signatures by itself.
Ways to create and manage professional email signatures
By now, you've probably already decided that you need a distinctive, standardized signature template for emails coming from all your company's mailboxes. But, wait: Where can you get one?
Ask a designer and developer
Your department of developers can create and take control of email signatures management, but they hardly become a source of images and designs. Therefore, you'd also need to involve a designer. Besides, you've got to negotiate with them every time you need to update the signatures.
Hire a freelancer from special platforms
Some companies prefer to hire freelancers who have the relevant email signature design experience using freelance platforms like Fiverr. Although this might be cheap, you should bear in mind that every time you need to improve your sig, you'll have to contact that freelancer for updates. Also, some designers use email signature generators which we are going to talk about right away.
Use an email signature generator and its benefits
You might very well be surprised, but you don't need any coding or graphic design skills to make a cool email footer using a signature creator. All you have to do is to input your personal information and upload images such as a company logo, headshots, etc. to the website.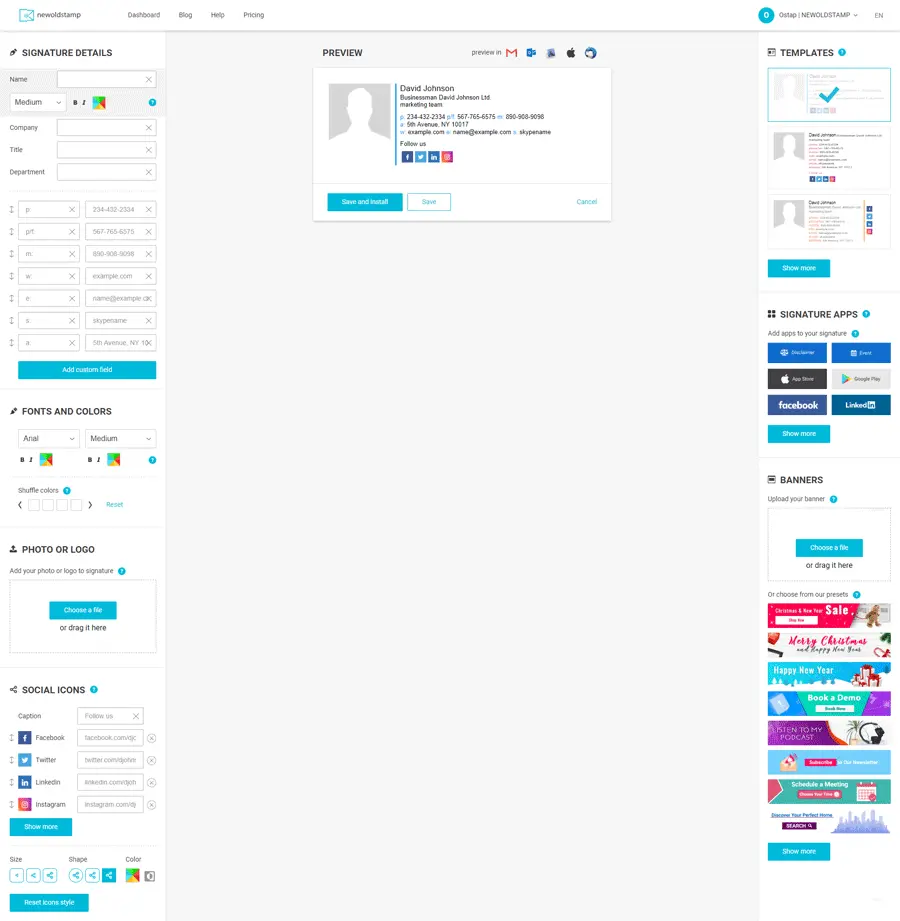 Use of such software not only saves you a lot of time but also provides you with the following advantages:
✓ Ability to manage all signatures in one place
The software unifies signatures and disclaimers for the whole organization and lets you to centrally manage them at any time that is convenient for you.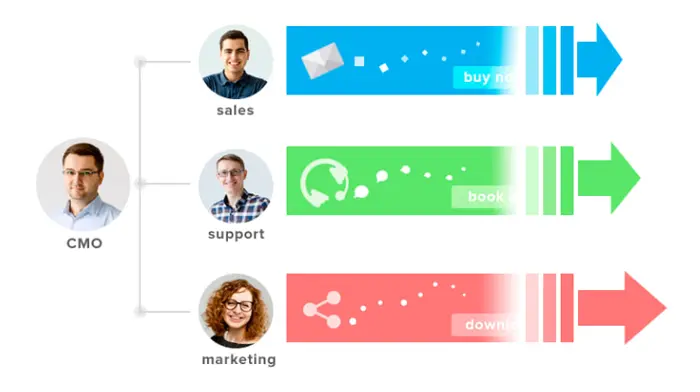 ✓ Make automatic updates for banner campaigns
Change banners from the dashboard without asking your team to update their sigs in their email client.
✓ Keep your email branding consistent
With the help of email signature management platforms, you can eliminate inconsistencies in your branding. Say no to sigs with irrelevant information or inconsistent designs in your company!
✓ Simple signature implementation
A professional signature generator + email signature management software = a ready-to-use signature with so little effort from your side. All you have to do is enter your personal data, distribute the sig to your colleagues, and ask them to copy and paste it.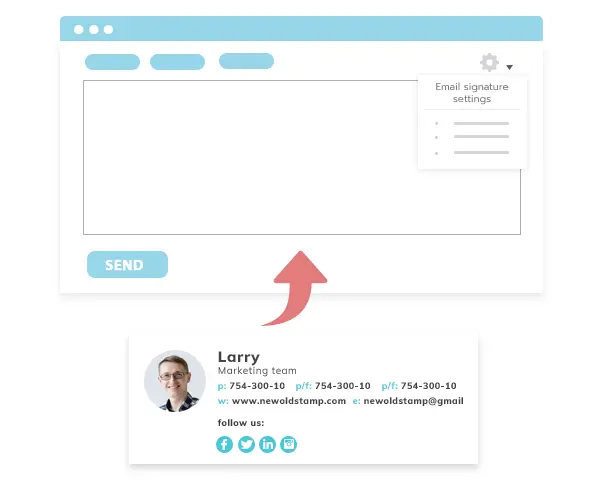 Still don't know to whom you should entrust crafting email signatures for office? Read our blog post about the most popular ways to create e-sigs & their pros and cons.
Mistakes you should avoid in your business email signatures
Allow employees to create signatures by themselves
One of the simplest ways to harm the image of your company, is to ask your employees to get creative and design their sigs for emails by themselves. It's a certainty they won't agree on a standardized email signature template. Goodbye, brand consistency, hello, chaos!
Not using brand colors or using too many
If you want your signature to look professional and stylish, never use too many different colors. It's a good idea to choose a few specific colors from your corporate logo to highlight elements of your sig.
When it comes to selecting fonts, be sure to check if they are web-safe.
Adding too many social icons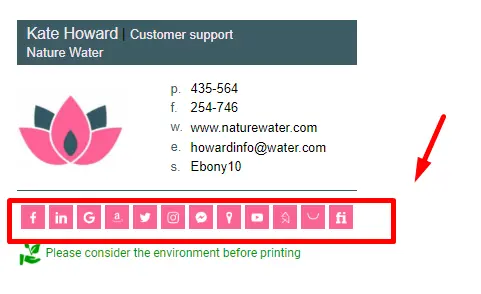 Your email footer will look cluttered if you add an icon for every social media network your organization uses. We recommend including only the channels that are most regularly updated.
Adding inspirational quotes
If your company has a professional-sounding slogan like "Just do it" by Nike or "Quality is job one" by Ford, those can become excellent sign-offs to your signature. But try to avoid funny, controversial or inspirational quotations not to look corny or offensive.
Adding irrelevant information
We've seen it all – five phone numbers, links to too old blog posts, daily affirmations, quotes from "Sex and the City" TV-series, etc. Never do this. It dilutes your brand.
Making your signature too long
When it comes to choosing what information you should include, stick to the rule "less is more." Keep in mind that the best email signature examples are about five lines of text.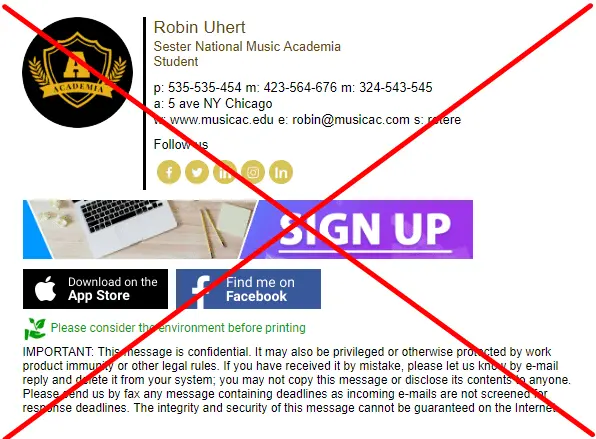 Bottom Line
These days an eye-catching email signature seems to be a vital part of any business. More and more small firms, large enterprises, nonprofit organizations, and freelancers want to create a professional and good-looking signature as they know that it can tell the recipient a lot about them depending just on the way it would be presented.