Successful Event Email Marketing: Do's and Don'ts for Your Excellently Crafted Campaign
1. Event Marketing
2. Start your Email Campaign With Quality
3. The Subject Line and Your Email Headers
4. The Body of Your Event Invitation Email
5. The Footer of Your Event Invitation Email
6. Do's & Don'ts of Email Marketing
Useful tools:
1. Newoldstamp - Email signature marketing
2. SendGrid - Email builder and sender
3. Boomerang - Tool for scheduling emails
4. Mailtrack - Email link opens tracking
5. Canva - Online tool for making designs
Using email signatures in your email marketing strategy is a great way for promoting various campaigns and events. If you want your attendees to get excited about an upcoming event, a great way is to send out an event email with a signature promoting your event.
Event Marketing
Unfortunately, a lot of people make some common mistakes in their emails, like having too many links in an email banner or following the same event email template every time. This can lead to either your event email ending up in the promotion tab or even spam, or the attendees will find your messages boring and annoying and might change their mind about attending.
Moreover, people are usually more attracted to new rather than familiar and emails are no different. So, if you want your event to be successful every single time you host one, we've got just what you need. This article will reveal the secrets of event marketing, the do's and don'ts to create an excellent event campaign. Let's start!
Start Your Email Campaign With Quality
First, before jumping to the secrets of event email marketing, let's go through the basics of an event reminder email. It's important to use soft but professional event reminder email wording. It's the wording that sets the level of quality, but at the same time, remember to add some images. You can use a short google form, quick videos, flyers, and discounts to catch attention.The following parts and related information of an event email template must be present in an email:
The Subject Line and Your Email Headers
This is by far the most important part of the email, which then decides whether your target audience will open the email or not. There have been many reports of many emails not being opened.
So, as you can see it's quite less and there is enormous competition from other event organizations. Therefore, you need to choose your titles and event email subject lines wisely which will contain relevant information and will attract attendees to open it.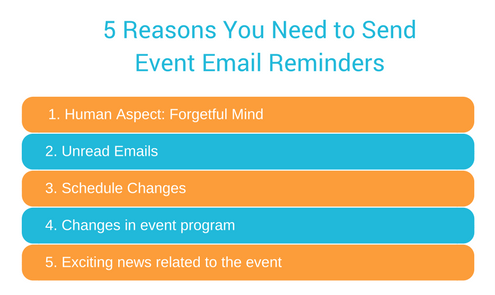 You should use the event name and in case its long, keep it short. You have to capitalize the first letter of each word and you can highlight it. Sometimes the organization name can also be used in case it is well known worldwide.
And you do not want to misspell your own name in an email. So, check your content and text for any typos. You can use grammarly.com or other services to cope with such issues.
The subject line is one of the most important things that maintains the interest of the attendees. While you make the event planning, try to come up with catchy subject lines and then send your event invites and reminders. You can use Call-to-Action and other different techniques to attract attention.
The best event email subject line must be appealing but at the same time, provide the information that your attendees are looking for. The following copy is an example of some good subject line: "Time to register!", "Don't forget to take tickets!", "Planning for conference - We will help you!".
Preheader text is what you see after the subject of the email in many inboxes. You should provide relevant information that the email is going to talk about.
Make sure you preheader is short and crisp. Your preheader has to be a minimum of 90 characters to optimize for the inbox. You can use either personal approach towards your target audience or the de-personalization.
The Body of Your Event Invitation Email
When an attendee opens your email, a quick look at the body helps make your potential customers decide whether to read it or not. Therefore, you should add some (but try not to be too excessive with the content) visually attractive images or a link to a video but with fewer words.
As already stated, use friendly wording and provide information in bulleted points to make it more clear. If you put too many pictures then an email will end up in promotions tab or in a spam folder. And trust us, nobody opens promotions tab and spam folders - people open junk folders to only clean it up. So, consider the following parts of the body that have to be put in your email:
You can use your company logo or event logo to highlight that this email is for a particular event. If you do not have one, you can order logo online but make sure you add the logo in email so that it does not end up in spam.
Use soft but official event reminder email wording. Briefly explain about the event, providing important data and details for attendees. As well, you can include a link to the actual website or social media accounts where your participants will find additional information about the events and promotional offers. You can also include a RSVP tab. Use around 100 - 200 words.
If you want your target audience to register or provide RSVP then add a relevant tab or link in the email. Sometimes, it is good to not provide any CTA which then becomes a seed in the attendees' minds. You may provide RSVP in the next email which will guarantee more registrations.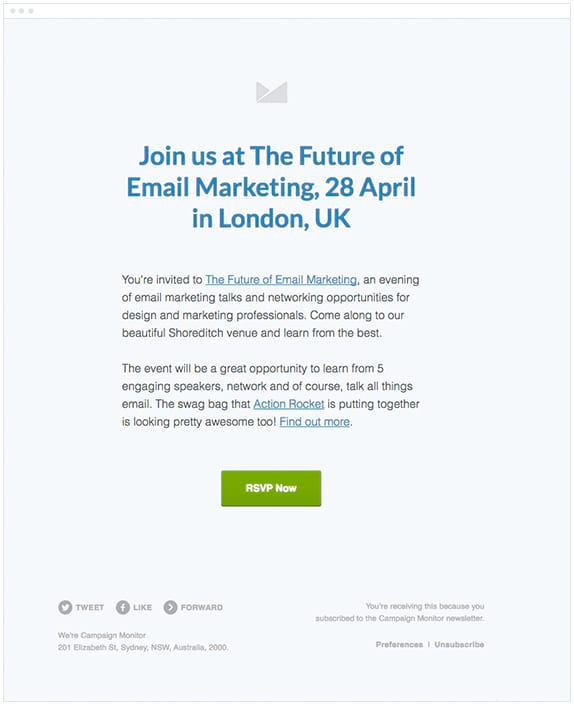 The Footer of Your Event Invitation Email
Your email footer should be designed in a way that it passes promotions tab and reaches inbox. To do this include the least number of links which are important for the attendee with proper email footer design.
Here you have to provide an attractive email banner design and appropriate email banner size which should include event host's name contact information and social media links.
Facebook, Instagram, Twitter and other social media links can be provided in the email signature and email banners. They should be represented in small icons or links. Email marketing with social media campaign is still the quickest, most direct way to communicate with participants and customers.
Address and Contact Information
Organisation's contact information, which must include at least two phone numbers and an official email address, could be also a part of your email signature. You can include these details in your email signature banner.
In case it is an international event, try to provide contact information of the responsible person or host. It is of utmost importance that the phone numbers are valid and a person is responding the calls.
You need to make an unsubscribe tab at the end of email footer. You can add a button with unsubscribe text at the bottom of the email your recipients will receive. Just in case the attendee really doesn't want to receive any further emails about the event. This makes you look less desperate and more professional.
You really do not want your potential customers get an email, that is clearly a mass email, that they didn't ask for, that they don't want, and there is no unsubscribe option.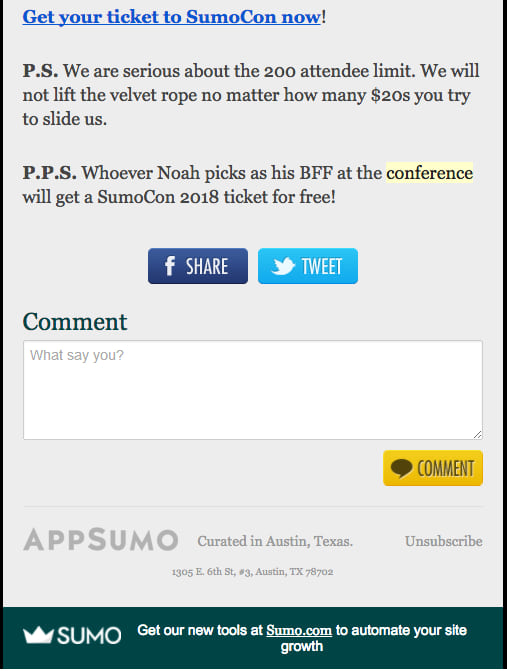 Do's & Don'ts of Email Marketing
There are certain things in the email that should be added. Without these details the email will be incomplete and will make the attendees change their mind.
On the other hand, there are certain points which should not be put in the email. These points make your email look annoying and boring. Make sure you go through all the following points carefully and employ them while writing your email invite and reminder:
The Main Do's
The following DO's will increase your chances of having higher attendance and higher opening rate of emails:
Segment your target audience to smaller lists
This is very important because then you can send different emails to different types of audience. For example, an email to an international attendee will be different from a local attendee. List out different kind of audience according to region and themes of event.
Test your event email subject line
The event email subject line is the first sentence that catches eye of the attendee. So, make sure you test your subject line before actually sending them out. This will increase your email opening rate.
One advice, appealing and interesting subject lines which also refer to information that is given in the email, become the best subject lines.
Create sequences in advance
The sequences of email information must be created during event planning. Make sure you have an email checklist for event promotion. Try to add all the necessary things like what to bring, incentives for audience, venue, time and date of the event in the order of importance for the event.
Add value proposition to all emails
Value proposition is what makes the audience attend your event. Briefly provide what is it in your event that the attendee must not miss. Here, you may provide the theme of the event and its use in their life along with important people attending the event.
Send post event thank you email
Such event follow up email increase bonding and chances of them attending your next event. This email makes your audience feel treasured and increases your success rate.
The Main Don'ts
These points must be avoided to prevent your registrants from backing off:
Use more than one Call-to-Action (could be several buttons but with one CTA)
It is recommended to have only one CTA or no CTA at all in an email. That makes your audience wanting to attend the event even more. If you add too many CTA buttons then your attendee might get confused leading to changing his or her mind. Just keep it simple and clear.
Use too many signs, marks, and Caps Lock
Too much of anything is not good and CAPSLOCK, the exclamation marks, emoticons and smileys are no exceptions. When you use too much caps lock and exclamation marks the email is not visually attractive and it makes the recipient address a non-professional work.
Send plain text without email signature
As already stated, some images make your email look appealing so an image or two is fine in an email. This will pass the promotions tab and spam folder in Gmail.
The HTML email signature, for example, adds a professional touch to the email which makes the audience believe in the organization. If you don't have your signature yet, you can use the NEWOLDSTAMP online signature maker. The service will help you to create professional signature banners and add the information you want.

Irrelevant but beautiful images
We know you like images with pets and selfies. But do not provide any information that is irrelevant to theme or event. Beauty is not the main aim of email. Therefore, irrelevant beautiful images do not matter at all. Try to add good quality photos that are relevant to your event.
Do not fill the email with ample number of images and links. Therefore, you need to write a series of email and provide one or two links in one email. Also, providing irrelevant and exaggerated information makes your recipient unsubscribe from the email. A brief, professional and relevant email is what your attendee is looking for.
The following are some event email examples: