Professional Tips on How to Apply a Proper Format for a Business Email Signature With Examples
1. Why is a proper business email signature format essential for your brand?
2. What elements are the most important to include in a proper business email signature?
3. How should you design an email signature content?
4. Make sure you never make these easy mistakes in your business email signature
5. What problems can an online email signature generator solve?
6. The most powerful business email signature format examples
What does an ideal email signature look like? What does it say about you? Does yours confirm that you are a person that is professional and pleasant to deal with, or, on the contrary, show that you do business as carelessly as you treat your branding?
Why is a proper business email signature format essential for your brand?
Whether you are communicating with your partners or potential investors, sending cold emails, or offering support to your customers, your email signature, which is attached to every email you send, influences each contact's perception of you. When designed in an informed manner, a business signature in email can help you make the brand and the company logo recognizable; evoke greater interest of the recipients; help them contact you easily; make them visit your social media profiles, like your posts, and remember you; show the sender's personality, etc. In today's article, we will discuss what you should include in your email signature to make it look professional. We will also give you valuable design tips and teach you how to generate your own signature.
What elements are the most important to include in a proper business email signature?
Even the smallest details are important for making a positive first impression. Colors, fonts, the number & size of social media icons, image size & quality, calls to action: all of these elements should be considered. So, how to format email signatures to win the customers' minds? Here is a list of the most common questions with answers.
Why is it essential to add both your personal and company name?
Imagine receiving an email from someone you don't know. The person is offering you some service or inviting you to visit an event. You are not sure if you are interested in what the sender is offering you, or whether you can trust the company. If they included both a personal and company name in their business signature, you could open a new tab in your browser and start researching if you need to. If you receive an email from John Doe, and no company name is included, it might take too much time to look for this person on the Internet. And in case you receive a message from some ABC company, you'll probably find it completely generic, non-personalized.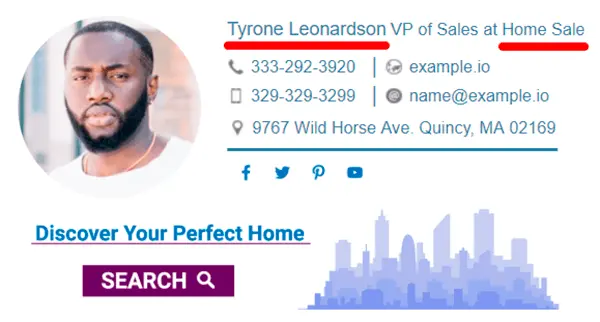 Should you add a company logo or a personal photo to the signature?
Images always capture people's attention when they see the information on the screen. That is why we recommend you to make the signature with an image. If you decide to add a logotype, you advertise your business one more time. And it should significantly contribute to your brand recognition because you gently remind a recipient of your company each time you send them an email. Later on, a person even may not notice where they remember your company logo from, but probably it will stay in mind. In case you add an image of yourself, you go even further. Headshots in email footers prove that there is a real person behind the email.
What contact information do your recipients really need?
Providing too many details is a common mistake of newbies. Adding your name, position, company name, website, and phone number will be enough.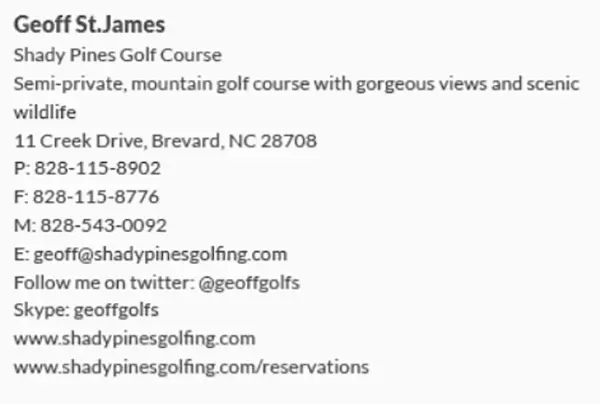 image source: propeller
How many social media buttons to add, and which ones matter the most?
If you want to drive people to your social media pages, consider adding clickable social media buttons in your email footer. We would recommend using a maximum of four icons to keep the space uncluttered. Priority should be given to those networks that you are using the most.
What can you include to your promotional banner in a signature?
By utilizing banners, you can transform your business email signature into a powerful marketing tool. You can both warm up and educate your leads by providing links to your recent article in a blog, promoting events in which you are going to participate, reminding people about giveaways, and so on.
Related: "13 Smart Ways to Use Promotional Banner in Email Signature."
When do you need to have legal disclaimers in your business email signature?
Companies often include signature disclaimers if they want to protect the information contained in corporate email messages.
What should CTA buttons look like?
When you check out the best business email signature examples, you will notice that most of them, as a rule, have a straightforward, action-oriented call to action (CTA). Try experimenting with adding various types of calls to action to your email sig. Include offers to subscribe to your YouTube channel, links to your recent blog post, requests to make a donation or fill out the form. A good call to action stands out from everything else on the page, contains words that provoke emotion or enthusiasm, gives recipients a reason why they should take the desired action, has a well thought out design, is short in length.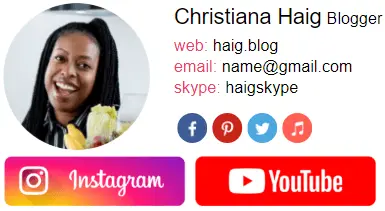 How should you design an email signature content?
When it comes time to design an email signature, follow these simple rules:
Stick to your brand colors
When creating an email footer, consider using your corporate colors and fonts. We recommend choosing a maximum of two or three colors not to distract the reader.
Organize all the elements wisely
The key elements of a business email signature typically include your name, position, company name, and phone number. You might also choose to add an address, your company's website, and social media pages. Be sure to present the most important elements at the top, experiment with font size and format. To organize all the elements of your signature wisely, you can use the following formula: name > title > address > phone number > email > website > social media accounts.
Keep your signature short and appealing
A professional email footer should be short and sweet. Ideally, keep it no more than three or four lines of text.
Don't add too many social links
As we mentioned above, it is better to avoid using more than four social media buttons unless you want to make it look cluttered. However, if you still need to include more social media buttons in your signature design, see if you can cut back on the other content.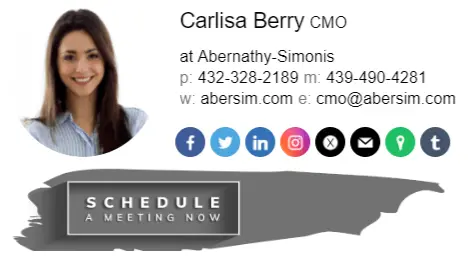 Make sure the images are not too big
If you include a headshot or a logo in your email footer, keep in mind that they don't need to be large to stand out and be memorable. If you use excessively large graphics, chances are your email recipients will wait too long to download them, especially if they have a slow internet connection. Plus, in a long thread, it becomes really annoying to scroll past.
Check if your business email signature looks good enough on mobile
Today, people read email on their smartphones more often than ever before. So don't be that person whose email footer becomes obnoxiously huge or tiny on a mobile screen.
Make sure you never make these easy mistakes in your business email signature
Here is our list of five pitfalls you should consider when making your email signature marketing.
Making it too colorful
When making a colorful email signature, you imagine how people are in awe of your designer skills. But in reality, they think: "Well, this guy likes green, and yellow, and purple, and blue, and red, and omg...turquoise. And what an ugly signature he has." Believe us, picking one of those colors and mixing it with a nice subtle grey or black text color will give your text a much better visual impact.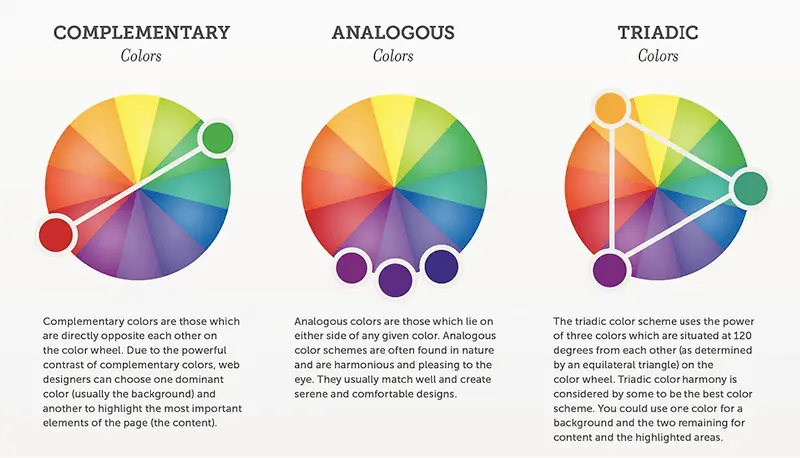 image source: crazyegg
Adding unnecessary quotes to a business email footer
Poor knowledge of business email etiquette can get you into some trouble. For example, if you share personal quotes in your email footer, some readers can be easily offended or may not like the humor you are using.
Inserting funny GIFs to a professional signature
Funny animated GIFs in email footers seem like an excellent idea, but unfortunately, they won't work on all email clients. Plus, your email recipients might think your GIFs are unprofessional.
Making your photo take most of the signature's space
A common graphic element to use in business signatures is a headshot of the sender because it helps build more of a personal relationship and create a feeling of trustworthiness. However, there is one common rookie mistake you should avoid. Don't choose too large photos of yourself to use in your email footer. Think about it, how would you feel if you received a life-size version of some person in your inbox each time you talk with them via email? Our best guess, it could be a little startling unless you are in love with that person.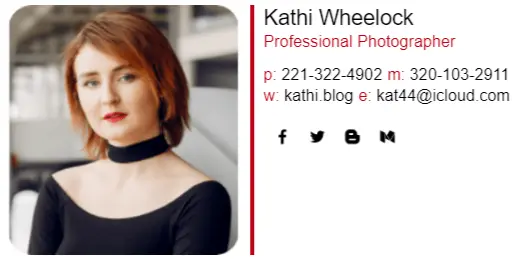 Creating a business email signature template yourself
Problems with visibility in various email clients, signatures are not mobile-friendly, spam issues, long time for uploading in email, problems with distribution across all team members - you may face all these and many more issues if you decide to make a business email signature template yourself. If you don't know how to create business email signatures quickly and effortlessly, keep reading.
What problems can an online email signature generator solve?
Creating identical email signatures for all your departments and employees
Your employees send dozens if not hundreds of emails every day. This is a great opportunity to promote and spread your company's values in every email. That is why it is important to have corporate signatures for all employees. However, bear in mind that it won't be effective if they create these signatures on their own. It is recommended to create an official, standardized business email template for all the signatures coming from your company's mailboxes.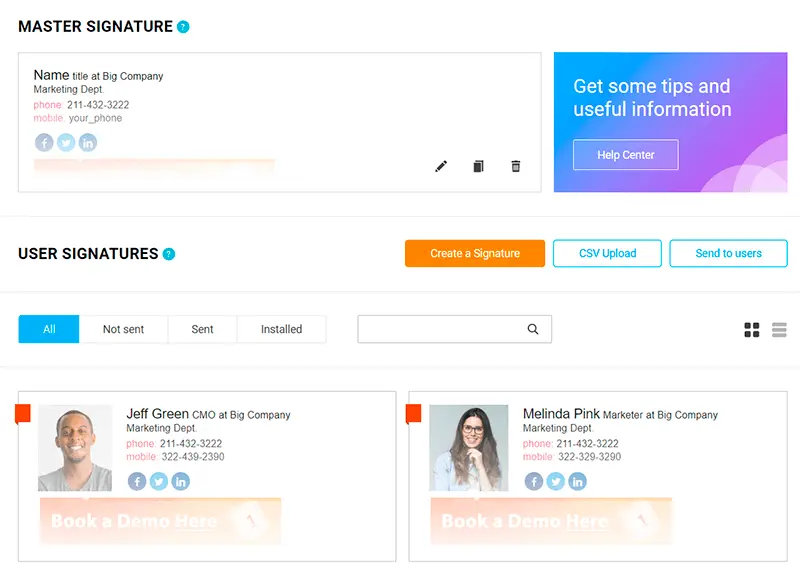 Having to tell your employees to change their signatures manually all the time
Email signature generators let you to centrally manage and deploy sigs for any scope of mailboxes in your company. This means you don't need to control if the employee installed or updated the sig on time.
Having to involve design, IT, and marketing teams to make appealing email signatures
Let your people spend less time fixing problems with signatures and more time performing their regular duties.
Spending too much time on creating and editing email footers
With email signature template generators, you will save a lot of time because you won't need to hire a designer, test signatures, re-configure and perfect them from time to time.
Standardizing signatures for different email clients
Email footers created with signature generators can be installed in nearly all major email clients including Gmail, Apple Mail, Outlook, iOS, and more. Furthermore, you can be sure that your signatures will look good in all those email clients.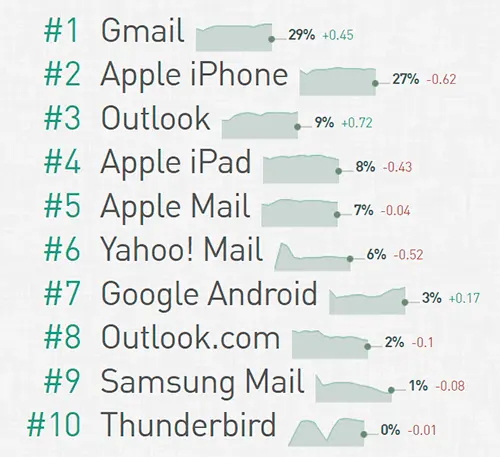 image source: emailclientmarketshare
Updating all the signatures regularly
You can update your signatures for the holidays, special events, or sales across the entire organization with just a few clicks.
Using email signatures as a marketing channel
Banners in email signatures, which can be regularly updated, can be an excellent distribution channel to promote your company's most important events, content, news, product demos, and more.

You may also like: "How to Design Outstanding Corporate Email Signature."
The most powerful business email signature format examples
And lastly, we want to share some great email signatures templates to inspire you. Enjoy!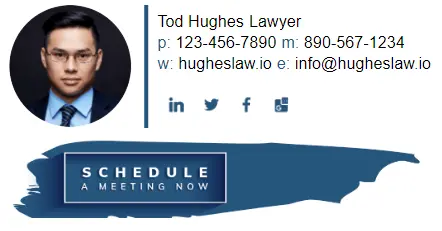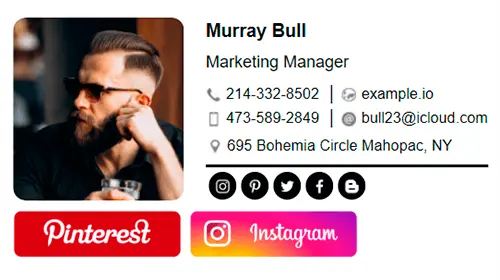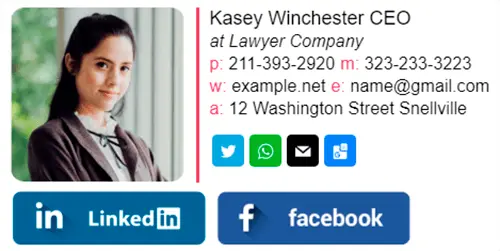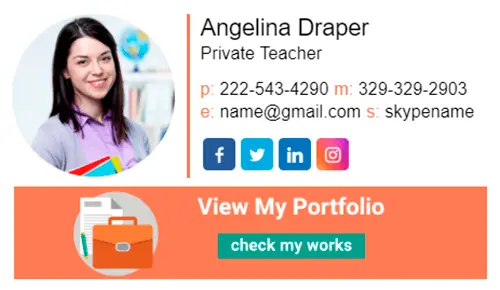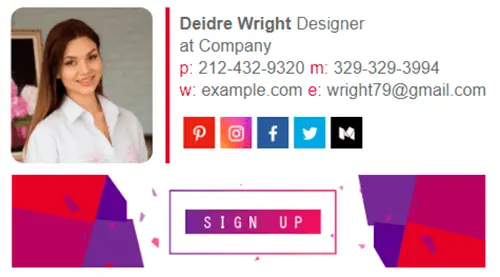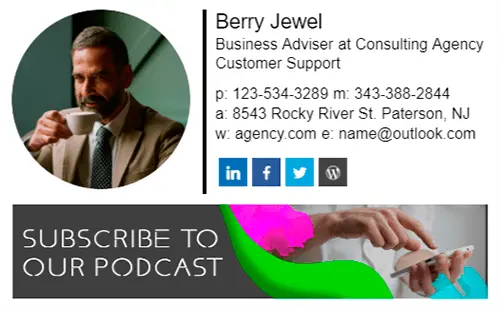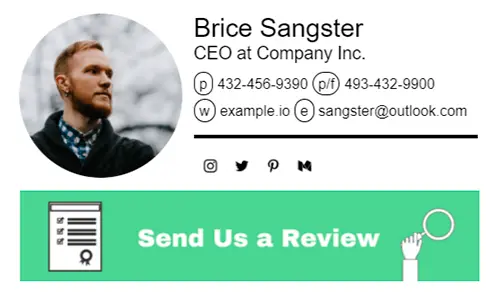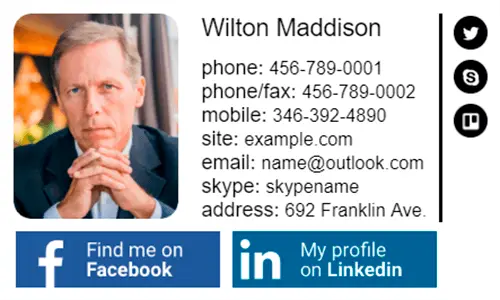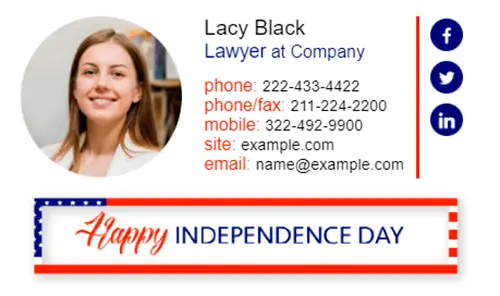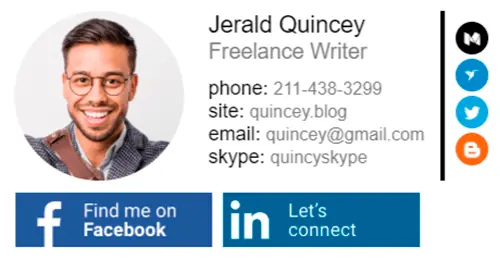 Powered by Newoldstamp
You may also like: "7 Smart Ideas to Use Email Signature Templates."