Best Tips for Real Estate Social Media Marketing
1. Find the best social media
2. Build your brand
3. Use social media analytics
4. Build an advertising strategy
5. Squeeze every last drop
6. Avoid making obvious mistakes
Useful tools:
1. Newoldstamp - Email signature marketing
2. Mailchimp - Email builder and sender
3. Hubspot Email Marketing - Marketing automation platform
4. MailerLite - Landing page builder
5. Canva - Online tool for making designs
Social media has become a vital tool for businesses and entrepreneurs to engage with the audience and succeed in the marketplace. The real estate industry benefits from social media too: 84% of real estate professionals use social media platforms for work. Social media real estate statistics also show that 79% of agents have Facebook accounts, 48% have Twitter, and 29% use LinkedIn. But what are the best social media platforms for real estate? Let's find out.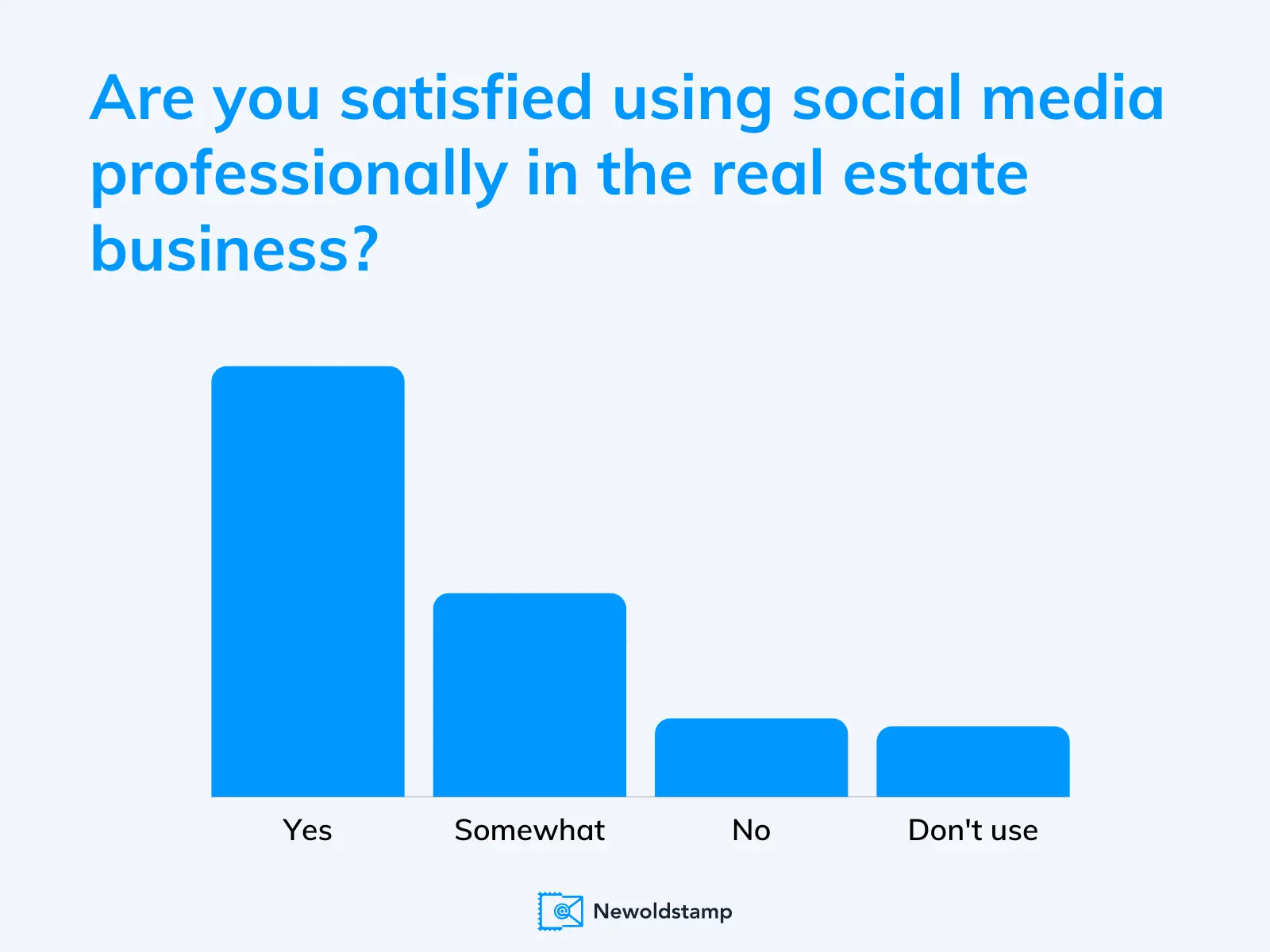 Find the best social media for your real estate business
Today, there are tons of platforms to choose from, but keep in mind that you will see the most effective results by focusing on just a few in the first instance. Which platforms should you first pay attention to? Well, a lot depends on your audience. So, your first step would be finding out where your target audience spends their time online. For example, if you sell homes in "retirement" communities, you most likely wouldn't want to launch a Snapchat strategy because this channel is popular with teenagers and young adults. Also, consider using different platforms based on what they are best at.
How to use Facebook for real estate marketing
Facebook is ideal for keeping in touch with former clients. For instance, if your past client has a business, make sure you liked their page and have an ongoing engagement. This platform is also great for providing your followers with curated articles, blog posts, home buying tips, etc.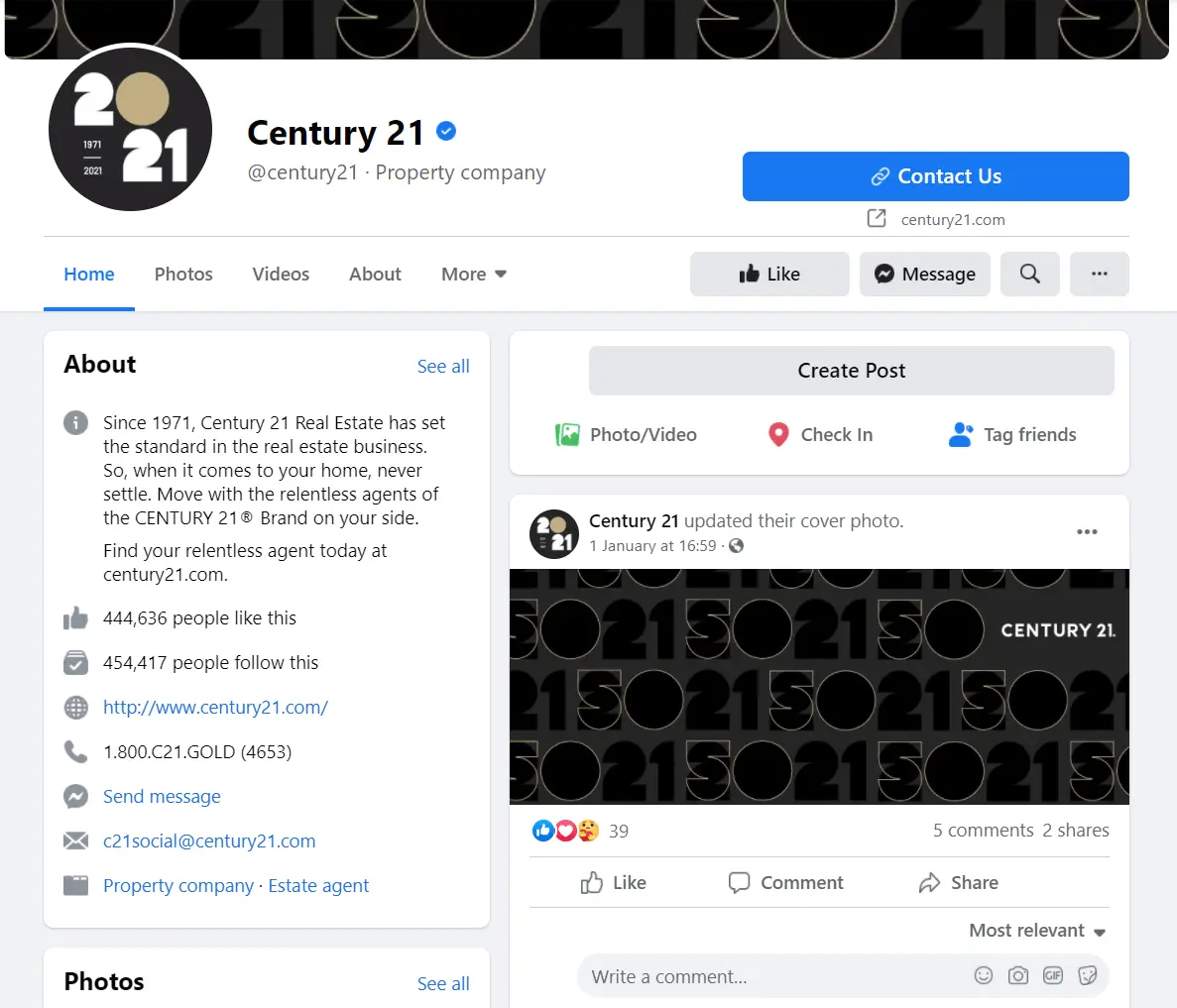 source: century21
What Instagram content for realtors works best
On Instagram, you can get great results with polls and stories. In stories, you can show off your best listings and include direct links to properties on your website. Experiment with various hashtags, photography, and video styles. Remember, no matter what you are going to share, it should always look appealing. So, be sure to upload only the highest quality images and videos.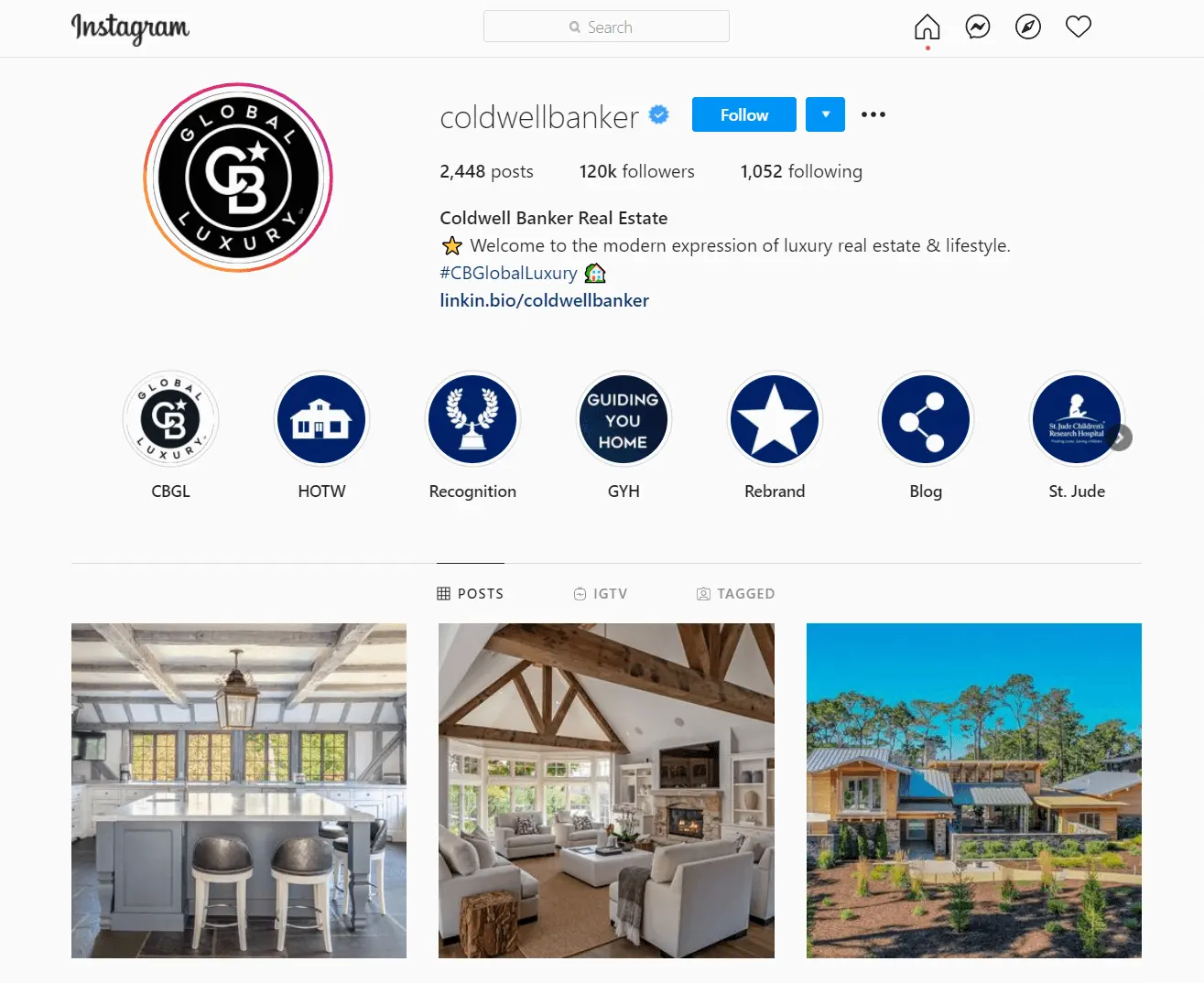 source: coldwellbanker
How to make the best YouTube real estate videos
According to the National Association of Realtors, 85% of buyers and sellers prefer to work with a real estate agent who uses video. According to YouTube statistics, people watch over 1 billion hours of YouTube videos per day. This is more than Netflix and Facebook videos combined. So, realtors definitely need to incorporate video content into their marketing strategy. In fact, real estate video marketing possibilities are seemingly endless. Realtors can film listing videos, interviews, real estate news roundups, live streams, testimonial videos with their most satisfied customers, how-toes, and many more. A lot of realtors go even further. They hire qualified videographers to make some quality engaging video of the interior, exterior, neighborhood area using professional equipment like drones. Such content differentiates them from the crowd. However, don't be upset if you have no resources to create professional footage. Experts recommend using video even if it is not perfect.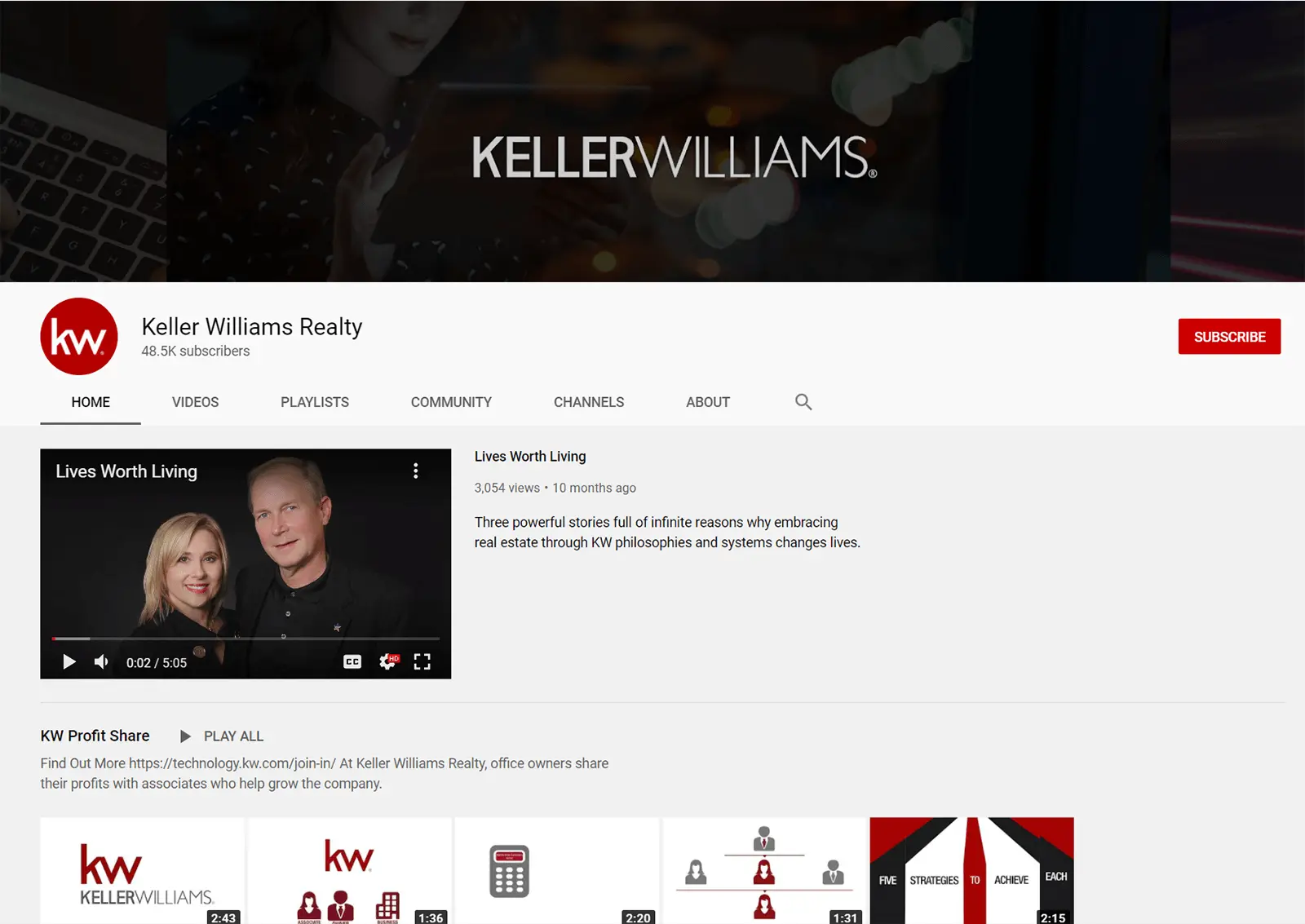 source: kellerwilliams
Can you use Pinterest for real estate marketing?
Pinterest can actually be compared to a search engine. It works just like Google but has better images. Since Pinterest is similar to a search engine, you will need to learn how to optimize your pins correctly (we will show you how later). We recommend you to create at least 10-15 Pinterest boards about your real estate niche. Boards are folders or categories for similar images. Once you have them, you will be able to send an immediate link to answer any question potential buyers might ask on different properties or communities. Now, returning to optimization, be sure to make your descriptions keyword-rich but try to keep them short. For example, "home buying tips," "homes in LA." When creating your boards, focus on the things your prospective client might be interested in and is actively searching for. For example, "Home Decorating and Inspiration," "Luxury Bathrooms," "Best Kid Rooms," "Luxury Homes in [location]," "Historic Homes in [location]." If you have trouble finding the right keywords, keep in mind that Pinterest can show you the most popular search terms that users enter when searching on the site. Simply start typing in the words that you think are relevant to your target audience.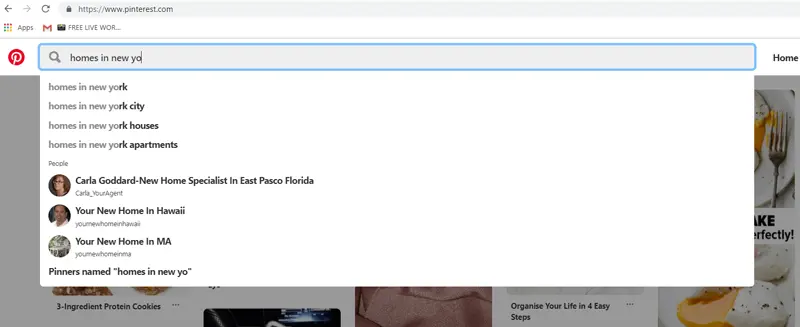 What do the best real estate Twitter accounts look like?
Twitter can be used to share listings, blog posts, website landing pages, Instagram photos/videos, and much more. Here are some top real estate Twitter accounts to be inspired by: @sueadler, @ChristiesHomes, @deniroteam, @Chris_estate_.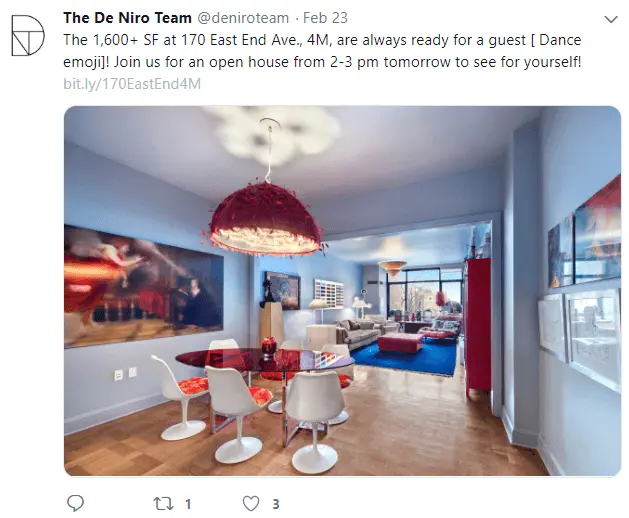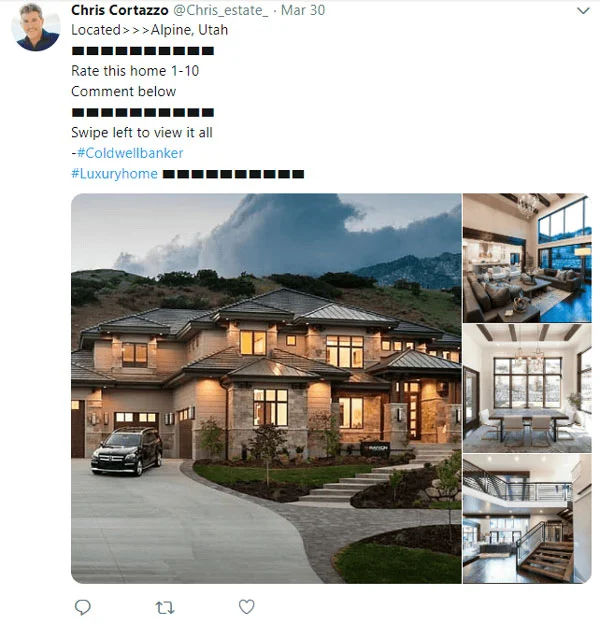 How to utilize LinkedIn for real estate social media marketing
Everyone knows that LinkedIn is perfect for networking. It's no different in real estate. This social media channel can also help you connect both with other agents and with leads. To build your network quickly, you can start by connecting with your subscribers from your existing email list, and then connecting with their connections, and so on. You can also use LinkedIn groups to publish and promote your blog articles. Many realtors even choose to start their own professional groups.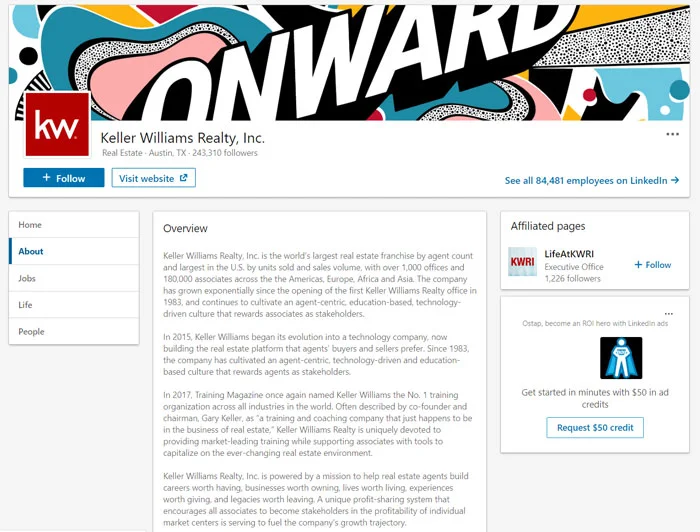 source: kellerwilliams
Build your brand and promote it using social media for real estate
Steve Jobs, Lady Gaga, Michael Jackson, Angelina Jolie, Donald Trump, Mark Zuckerberg; what do all these people have in common? The fact that you know them. But there are two more important similarities. Firstly, these are money and success. Secondly, each of them has an individual, clear, and attractive image. In today's world, standing out (having a personal brand) means getting more out of life: customers, loyalty, connections, profits, more favorable terms of cooperation. That is why it so important to create a brand that leaves an impression and something people tell their colleagues and friends about. You can start with social media, but keep in mind that you need to carry it through the entire experience you are offering to people.
Be consistent throughout all your real estate social media accounts
Brand consistency is about getting potential clients to trust you. Staying consistent is also crucial when posting content to social media. Make sure that your posts on Twitter, Facebook, etc. look the same if you want to stay in your audience's minds.
Stick to a particular style in any visual and text content that you post
The logos, colors, visuals, and even tone & voice used on your social media accounts will affect how your followers perceive and remember you.
Be a trustworthy specialist in real estate who people want to communicate with
If your brand is constantly changing, your audience will probably see you as less honest and reliable. On the other side, if your messages are consistent and do validate your brand promise, people will trust you easier. Also, remember to be transparent, provide value, make your customers feel important and appreciated.
Read our article "10 Tips to Create an Awesome Personal Brand."
Use social media analytics to measure your reach and evaluate the target audience for real estate
How are your pins performing compared to your Facebook posts? Should you be posting on LinkedIn or focusing on Twitter? These are the questions you should answer not to waste your time on tactics and activities that aren't paying off. Fortunately, it isn't hard to check which posts get the most engagement regarding likes, comments, and retweets. You can use both the social networks' own analytics toolkits (such as Facebook Insights, Twitter Analytics, Instagram Insights, etc.) and the third-party social media trackers to find all the relevant mentions (such as Buffer, Crowdfire, Audiense, and others).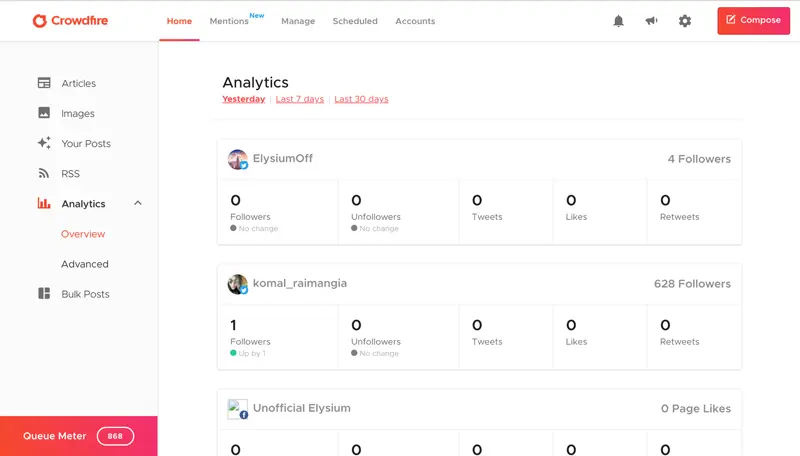 source: crowdfire
Make every post in your social account interesting, relevant, and appealing
To achieve success, realtors need to fill their social media pages with content that people want to see daily; content that keeps followers looking for on their newsfeeds. If you are searching for some ways to do that, you might try the following:
Use quality content in your social media posts
What are the main indicators of high-quality content? A lot of SEO professionals and other marketers say that quality content should be: informational, unique, entertaining, highly shareable, optimized, and valuable. We would like to add that quality content is content that achieves its marketing goal (e.g., real estate lead generation, brand awareness increase, etc.) Below you'll find five tips on how you can create quality content:
Do research;

Apply your own data or experiences;

Experiment with different content forms, such as pictures, screenshots, infographics, video, memes, and charts;

Always review the final piece to correct the mistakes and ensure that what you publish looks the best it can;

And don't forget to measure your content's performance.
Advertise the city you work in, not only the house
People who want to buy a home in a new place want to know as much as possible about the city where it is located. So, imagine that you are not just selling a house but a whole city or area. And showcase the best it has to offer using quality images of local city landmarks and familiar sites.
Use social media platforms to educate your leads in real estate
Every winning social media strategy for real estate most likely includes a list of activities aimed at educating potential buyers. Real estate agents often create blogs where they publish articles with useful home-buying tips. And then they use social media to promote these articles.
Build an advertising strategy in social media for real estate
Instagram, Facebook, Twitter, LinkedIn, and other social media channels can be either a lame horse or a supercar. A well-thought-out advertising strategy in social media makes a difference. So, where do we start?
Use PPC (pay-per-click advertising) that lead to your real estate social media account
Search engine advertising (SEA) is an excellent way to get more real estate clients quickly. Users who search for things in Google are very high intent. They are often ready to take action right away. If a person searches for "Open houses this weekend," you probably can offer them just what they are looking for. And you only pay when an interested user actually clicks on an ad you made.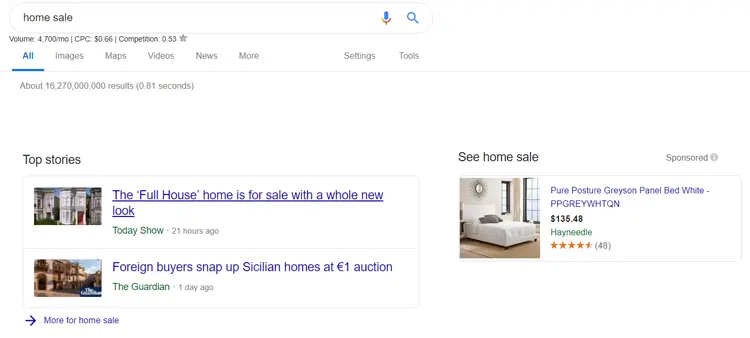 Make real estate Facebook Ads
Use Facebook Ads to target potential buyers in a local realty area. If you are not familiar with Facebook ads yet, feel free to use our "Facebook Ads Starter Guide: Key Aspects to Launch Your First Campaign."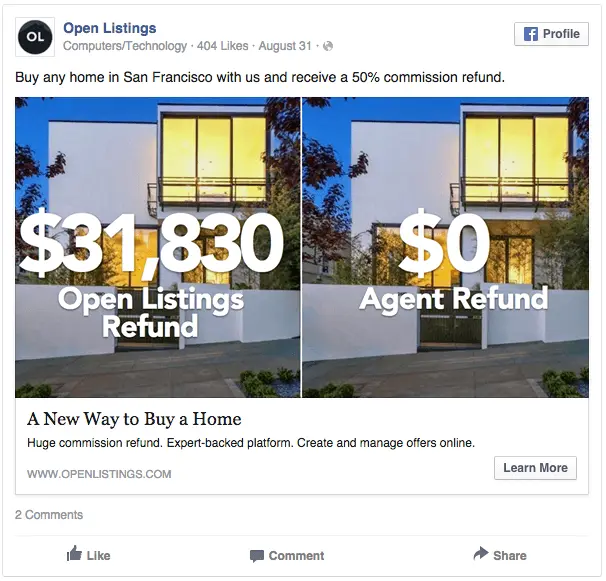 source: openlistings
Get a business account on Instagram and use stories to advertise
Instagram can also be a powerful tool to grow your engagement numbers due to the highly visual nature of this social networking service. Make sure to switch your profile to business (if you had not yet done so). This will allow you to get access to Instagram Insights, a valuable set of data that helps find out more about your audience and how they engage with the content or ads on your profile.
Ask for help from YouTube influencers to increase your lead generation
Connect with potential influencers. To determine who is the best fit for you, you need to define your target audience. Do you want to attract families and professionals? Or maybe you are looking for millennials? Keep in mind that people tend to follow those who represent the lifestyle they hope to achieve too.
Write guest posts and collaborate with possible partners
Consider creating some great, original content for strong authoritative websites.
Make sure you include hashtags to get the most benefits of social media
It's hard to imagine social media for real estate with no #hashtags. If you use relevant hashtags, they could help your content show up in the search results that potential buyers may see. However, be cautious about the number of hashtags you are going to use. Two to five would be enough.
Use email marketing to promote your realtor social media channels
Drive traffic to your social media profiles with the help of emails. For example, you can add buttons that link to your FB, Twitter, Insta, etc. accounts at the bottom of every email. Or you can even create some emails for the sole purpose of promoting your social media channels.
If you want to maximize the impact of email marketing, make sure to use a professional email signature. You can add all of your social media links to your email signature, as well as create a call-to-action banner that will easily drive conversions.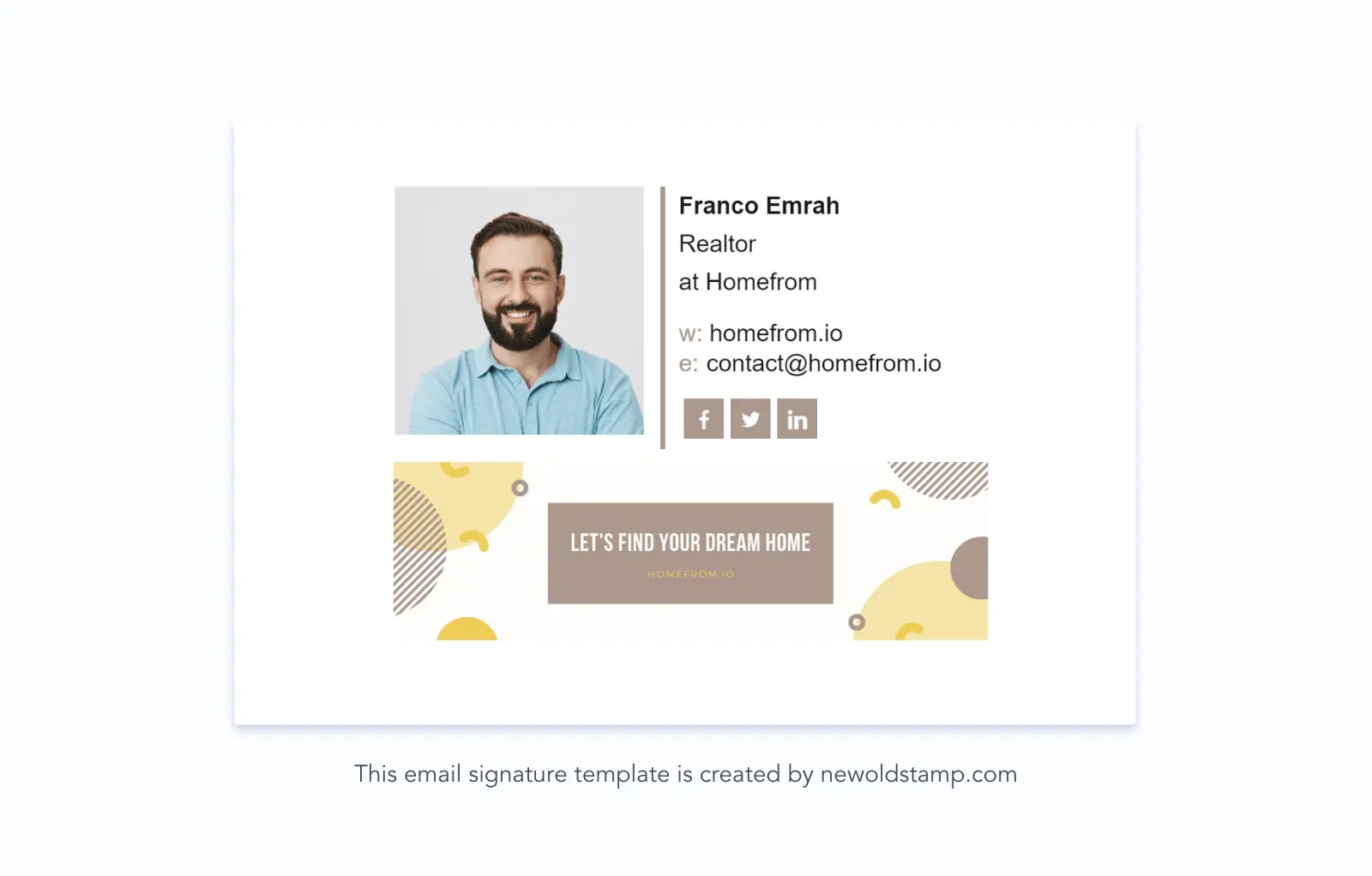 Related: "The Ten Best Real Estate Email Marketing Platforms You Can Hop on Now."
Squeeze every last drop from social media marketing
Get some copyright photos from free platforms and use them in your social media strategy
Look for some beautiful images to accompany your posts. However, don't use photos from the Google image search or Pinterest. This isn't the best practice; and not only because it's illegal. To get quality images for free, check out the following resources: Pixabay, Magdeleine, Skitterphoto, New Old Stock, and others.
source: pixabay
Draw some colorful charts and infographics about real estate
Did you know that infographics have one of the best click-through rates among the content on the Internet? Commercial real estate professionals use infographics to summarize processes, announce new or sold listings, present market reports, compare information (a comparison of buying and renting a house), share some tips to potential buyers (first-time homebuyer mistakes or top home improvements that pay off), and so on.
Automate posting in all your social media for real estate accounts
Using automation can save you time and money while keeping your posts on multiple social media platforms up to date and consistent. Also, you may want to:
Get some help in social media apps for scheduling
There is a variety of social media services for real estate agents that make life easier. We recommend trying Buffer and Hootsuite if you need to schedule social media posts for your business.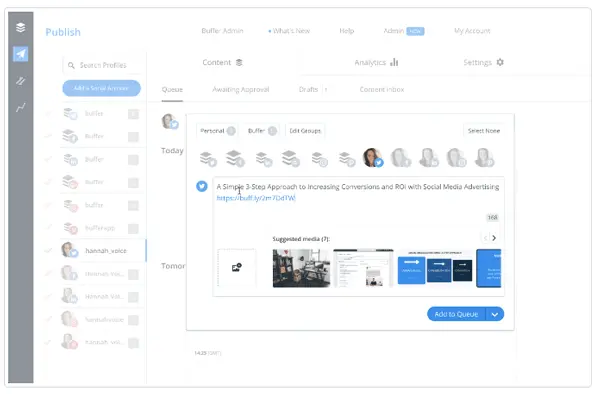 source: buffer
Schedule your posts beforehand for the upcoming month
Marketers say that it is easier to spend several hours on a Monday morning planning your social media content rather than 30 minutes (or more) each day thinking "Oh, I haven't posted in a while".
Write a blog on your real estate websites and repost it in social accounts
A lot of realtor websites have blogs, but sometimes these resources are either inactive or even useless. If you want to achieve success in this area, create blog posts that help you show and prove your expertise in the real estate market. They also should be optimized to attract more people to your website and social media channels.
We have a cool article about the best tools for real estate agents for all purposes. Check it out!
Avoid making these obvious mistakes in your social media real estate marketing
While social media marketing is something that everyone is doing now, there are some typical mistakes most real estate marketers make.
Playing a business person instead of being a friendly realtor
Often, we want to seem like very serious professionals in the eyes of our clients. We believe that they will trust us more because of that. In reality, people would love to make a personal connection with those with whom they do business. So, don't try to be someone else and infuse more of your personality into your social media.
Not using comments and chats on real estate social media pages
Today, customers are less likely to call realtors with questions. Instead, they prefer chatting via social networks. And of course, they expect to get a reply quickly. Realtors should be ready for this outreach, answer all the questions as soon as possible, and use these questions as a good opportunity to start a conversation with potential buyers who might be in the early phases of the buying process. Also, we would recommend you always to answer any comments (except abusive) you get on social media.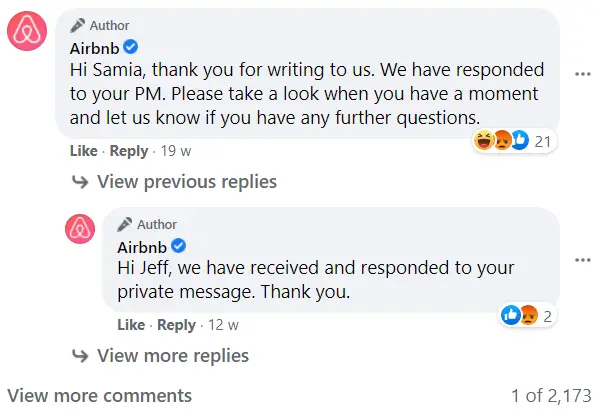 Neglecting video materials with all their power
Shooting and editing quality video content requires skills, money, and time. But remember that the brains of most people love visual content. Furthermore, the video is usually received better than photo-based listings.
Assuming you are only connecting with first-time buyers
Many realtors assume that they deal mostly with first-time homebuyers on social media. However, statistics show that more than 80 million users on Facebook are 45 or even older. And that could mean that they have already bought real estate before. That's why it is important to create content suited for different levels of the home-buying experience.
Forgetting that your loyal clients also look for some content
Why not invite your previous buyers to like and follow you on social media? These people might be your strongest property advocates. In exchange, regularly provide them with valuable content.
Conclusion
When using social media for real estate, make sure to develop a unique personal tone and voice, be consistent throughout all your social media accounts. Make every post interesting, relevant, and appealing. Educate your leads, shoot videos, connect with potential influencers, automate posting, and just be yourself.