How to Build an Awesome Personal Brand
1. Identify your target audience
2. Be an expert in your industry
3. Share your expertise to be visible and accessible
4. Develop a strong value proposition
5. Choose main channels of communication
6. Use your social accounts to increase trust
7. Practice two-way networking
8. Develop your personal style
9. Practice your rhetoric skills
10. Create Q&A sessions
Useful tools:
1. Newoldstamp - Email signature marketing
2. Mailchimp - Email builder and sender
3. Reply.io - Personal email outreach, calls, and tasks
4. Mailtrack - Email link opens tracking
5. Canva - Online tool for making designs
Individuals can market themselves just the same as companies. All that is needed is a strong personal brand. In this article, we'll see the components of a personal brand, talk about how to create a personal brand, and view how one can maintain his or her positive brand.
What is personal branding?
To talk about branding, we should first understand what is a personal brand.
Originally, a brand is a distinguishing mark, something that helps to differentiate a person, company, or an organization from others. It can be represented by words, ideas, images, design, a set of values, or a particular professional approach.
Your personal brand constitutes the following: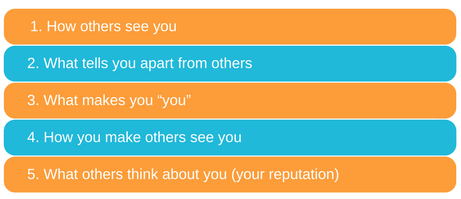 Your characteristics, your values, your approach to work, your expertise, and your personality are all building blocks of your reputation. It is not forged in one day. Quite on the contrary: you build it step by step while investing your time and efforts. Here is where personal branding comes in.
"Personal branding is the practice of people marketing themselves and their careers as brands — the ongoing process of establishing a prescribed image or impression in the mind of others about an individual." (Matt Sweetwood on Entrepreneur)
To sum it up, personal branding refers to all the activities that are aimed at
creating a lasting image of you in the eyes of others

and making you different from your competition.
Why should you build your personal brand?
If you don't work on building your personal brand, others will do it for you. You'd better have everything under your control and contribute actively to the development of your brand.
"Taking control of your personal brand may mean the difference between an unfulfilling job and a rewarding career." (Dorie Clark on Harvard Business Review)
Creating a personal brand can open for you the door to many great opportunities. When you put your heart and soul into building your brand and nourishing it, it will help you:
To stand out from competitors

To get noticed

To establish your expertise

To make new contacts

To build a loyal audience

To grow career opportunities

(If you represent a company) to find the perfect employees

To find the right clients

To meet business partners
While the importance of personal branding is pretty clear, it is the strategy of personal branding that needs a deeper understanding. You will need to learn the answers to these questions if you want to know how to develop your personal brand:

And it is precisely what this article is about. We have collected here the essential tips on how to build personal brand that will guide you right through the process.
10 tips to create an awesome personal brand
1. Start building a personal brand from identifying your target audience and industry
Tie your brand to an industry you've been working in. On the other hand, an industry is often too much. Consider choosing your particular niche within that industry. Take software development as an example. You cannot be an expert in the entire field, and your audience will be far too big to tend to. Try to narrow it down. Perhaps mobile development? Or even better — development of productivity apps for iOS devices. You can do that with any field of expertise. The key here is to be specific.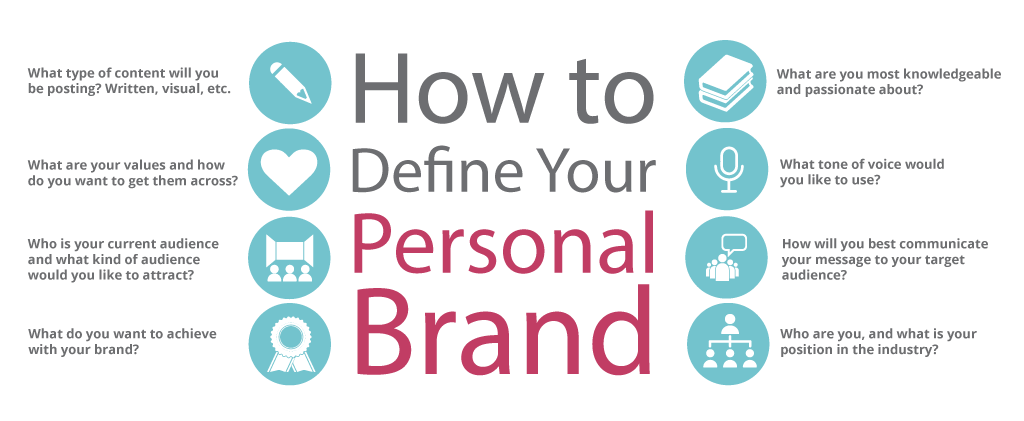 via sourced.kiwi
When you find a niche and understand your place in it, it will be easier for you to know your target audience. These are the people you want to appeal to. You are creating your personal brand for these people; to make yourself and your expertise useful and valuable to them.
2. Be an expert in your industry
Becoming an industry expert is one of the most crucial personal brand tips. Once you've chosen your niche industry, make sure you know it well. You must follow the news, stay up to date with the trends, be familiar with the big players and recognize your competitors. Being an expert means having the skills, knowledge, and experience in your field. What's more, you should never stop learning and expanding your expertise. Read literature, talk to people, attend events, follow threads on social media, and use your knowledge on practice.
3. Share your expertise to be visible and accessible
Do not be silent about what you do. Establish your presence both online and offline. Share your knowledge and offer your expertise to your audience. Tell others about what you know and what you are good at. Teach people, coach them, mentor them, and let them grow with you. You can establish yourself as an expert only by sharing your knowledge with others. If you are going to use online media for that, you might want to consider having a content marketing strategy.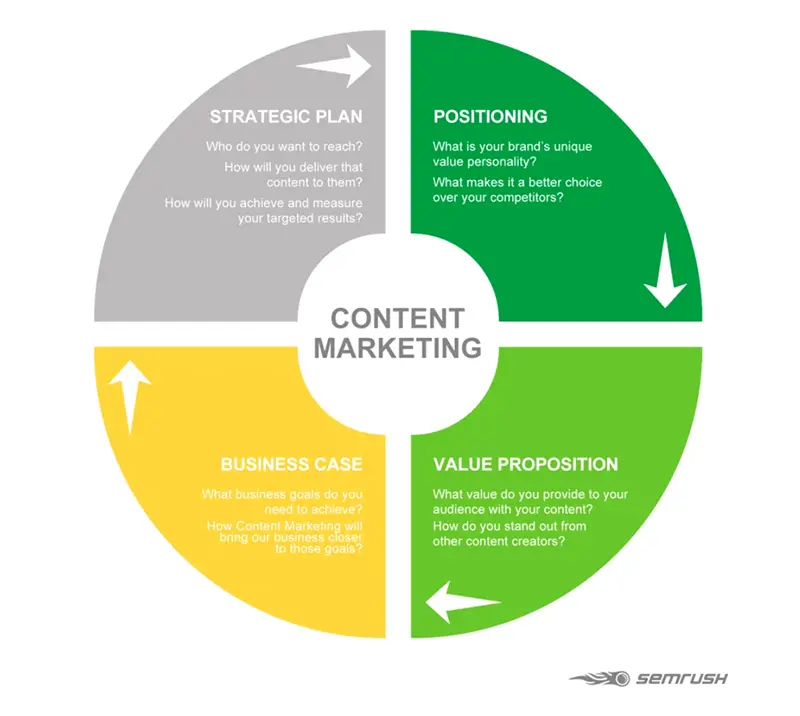 source: semrush
4. Develop a strong value proposition
Create a personal brand by becoming exceptionally useful and valuable. Think about the following:
What is it that you can and would like to offer to others?

Why should they care?

How will it address their needs and help them solve their current problems?

How are you different from your competition?

Why should you be trusted?
Generate content that will answer all those questions and will help your (potential) audience choose you over your competitors.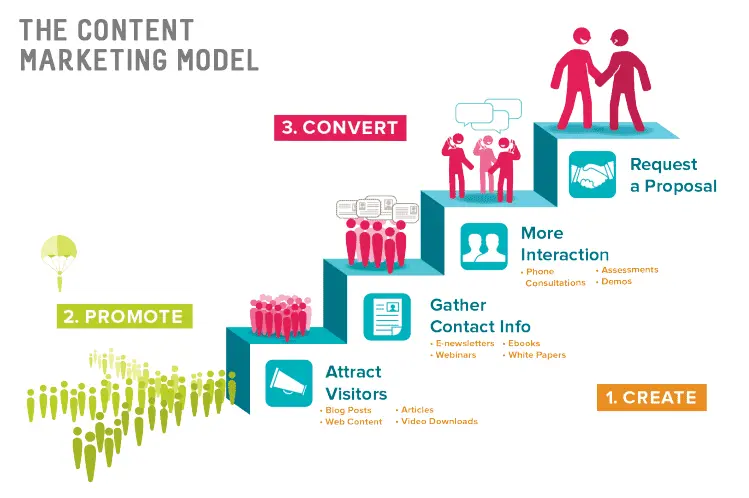 source: tinobusiness
5. Choose main channels of communication with your audience
Define the means of communication with your audience. First of all, you should have a website where people can learn more about you. Fill it up with content: this will help you rank higher on Google. Have a feedback form on your website. Start a blog or use publishing platforms, such as Medium. Put a newsletter together and send it regularly.
Most importantly, ask yourself a question: where do people in your audience come from? What channels do they communicate through? Be there for them. Let them find you where they already are. Make use of the the social channels (LinkedIn, Facebook, Twitter, and others), as well as professional networks (GitHub, Behance, etc.).
6. Use your social media accounts to increase trust
Apart from your presence on every major social channel as a brand, do not underestimate the value of personal communication. Use your personal accounts to speak with your own voice and to show your true self. Do not use them to promote your company only. Increase people's trust by being human. Connect with people and have conversations with them. Tell others about your daily experiences. On the other hand, you must not be too intimate with your potential prospects. Keep it professional.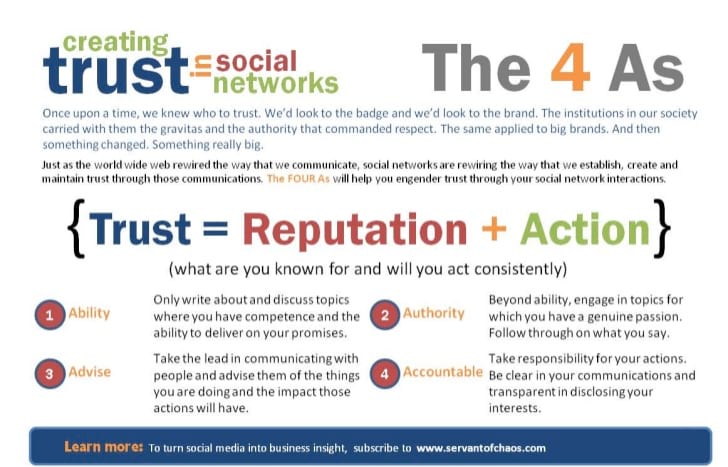 7. Practice two-way networking
Do not talk alone. Make it a conversation with your audience. Create a space for exchanging information with your users and followers. Build and nourish your community by following people and engaging with them, by encouraging feedback and facilitating communication. Listen to people and respond to them. You can find really affordable tools on the market like Brand24, which collects all the public mentions about your brand and can help you to react in a real time. Being responsive pays off.
There are many ways to do that. For example, follow people back on social media, comment on their statuses and repost the ones you find particularly noteworthy. Answer people's questions in your field on Quora. Ask your audience's opinion on different issues, let them pitch you with topics that interest them.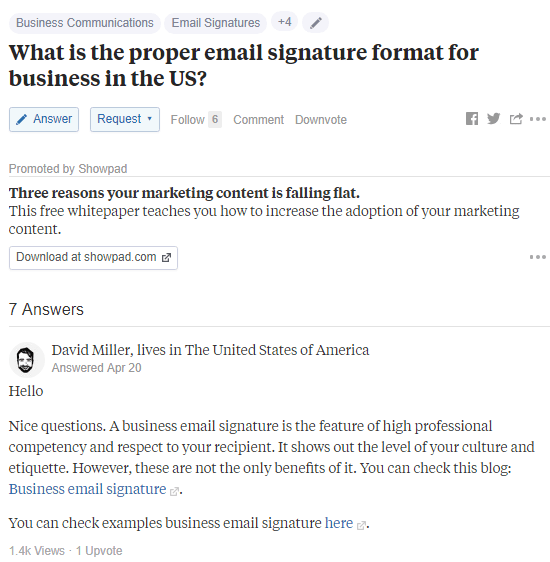 8. Be yourself and develop your personal style
In order for others to notice and remember you, find and develop your personal style. Use your own voice when creating content; stick to your visual style; write on the topics you are passionate about. Speak with your values, show your personality, make personal statements. Do not be a generic person; stand out from the rest. Also, never try to be someone you are not. Being honest with people and yourself will make others see you as a trustworthy person.
Take a look at these 20 great brands which developed their style and the way of communication with a target audience. Using their own voice to help them reach enormous brand loyalty.
9. Practice your rhetoric skills to speak at conferences
Personal branding often requires going out to speak to people live. You might have to attend meetups, speak at conferences, pitch investors, conduct workshops, or organize events. You need to be prepared for this. So take public speaking courses; learn the art of persuasion; take writing courses to boost your argumentation skills (you might be writing lots of emails in the future). Learn to tell stories to mesmerize your audience.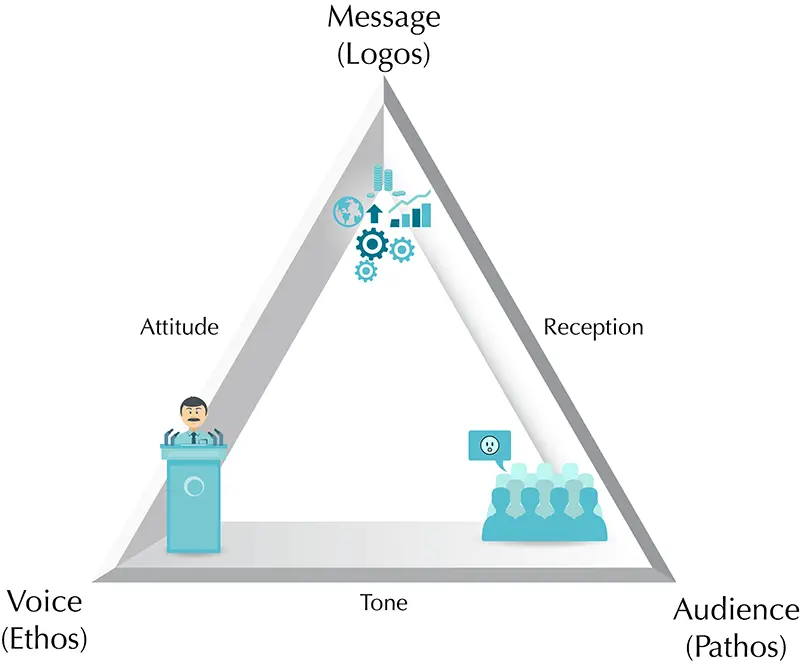 source: mytext
10. Create Q&A sessions to answer questions from your audience
Occasional Q&A sessions will help you to establish yourself as an expert in your area. This is one of the best ways to share your knowledge with those who are interested. Offer your time and expertise to people who might have questions. Do AMAs (Ask Me Anything) on Reddit, organize webinars, meetups and discussions. Encourage questions via social media or in your newsletter. This is your chance to prove your value to your audience and to build a personal brand on trust.
Conclusion
The importance of personal brand is undeniable when it comes to building your professional image and reputation. You need a good branding strategy and consistency in all your steps.
Before you start, you must acknowledge your strengths and weaknesses and commit to continuous learning. Now, follow the main tips to create a personal brand: find your niche, be yourself, be knowledgeable and passionate about your field, share your knowledge, make yourself visible, maintain constant dialogue with your audience, learn to tell stories.
Finally, remember that your brand should always grow and improve with you.