How to Use Email Signature for Business Promotion
Many business owners have already discovered the benefits of using an email signature. This short text at the end of each electronic letter, sent by you or your employees, makes wonders when it comes to business promotion. In fact, an email signature has become an integral element of a successful business marketing strategy. It helps spread a word about your company, attract new customers and therefore increase sales and revenue.
Here are a few useful hints on how to use an email signature for business promotion.
First of all, to avail all benefits of using an email signature, make sure it includes the following basic information:
company's name;

your name, job title or position;

contact information (address, phone numbers, fax, and email address);

website and blog links (make sure the links are clickable).
Except for basic details, email signature may include:
Facebook and Twitter links;

invitation to sign up for your newsletter;

links to information about new products, special offers or sales;

a link to a webinar or any other event organized by your company.
Many business owners use customer testimonials to enhance promoting the power of their marketing campaigns. So, this particular information can be also included in your email signature. Do not forget adding, that the testimonial belongs to your loyal customer.
If you use Twitter for business promotion, consider including the most popular or recent tweets to the email signature. You may emphasize that this post has more than 100 retweets. In doing this, you will attract more followers and improve the credibility of your Twitter presence.

Read more: "How to Run a Successful Email Signature Marketing Campaign"
Customers are always happy to get free advice. You can give such advice to all your recipients, by just adding a short solution (one sentence is more than enough) to a common problem to the email signature.
When creating your own email signature, make sure it is not too "accessorized", otherwise you risk to scare away potential customers. It is recommended to avoid using images, like images of your products or your own photos.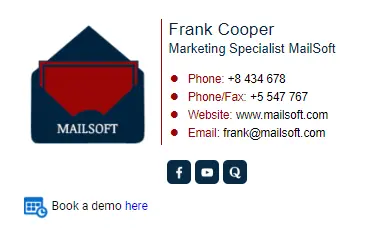 Glaring colors and fonts are also not acceptable and can do more harm than good. Your email signature should be eye-catching, however not too splashy. In other words, finding a happy medium is key to success.
You do not have to include all elements described in this post into one email signature. Just choose a few that seem the most suitable at the moment. You can have several signatures and do not forget to adjust them to the current requirements of your business.
You can easily create an original email signature for your personal brand or business right now in our Newoldstamp signatures Editor.
Also, you can see some signature examples here.